What's better on a crisp winter morning than a warm cranberry-orange muffin with butter melting into it? Cranberry and orange are two flavors that signify winter and Christmas in particular for me.
Make these low carb breakfast muffins, drizzle a little cream cheese frosting over the top, and you've won my heart.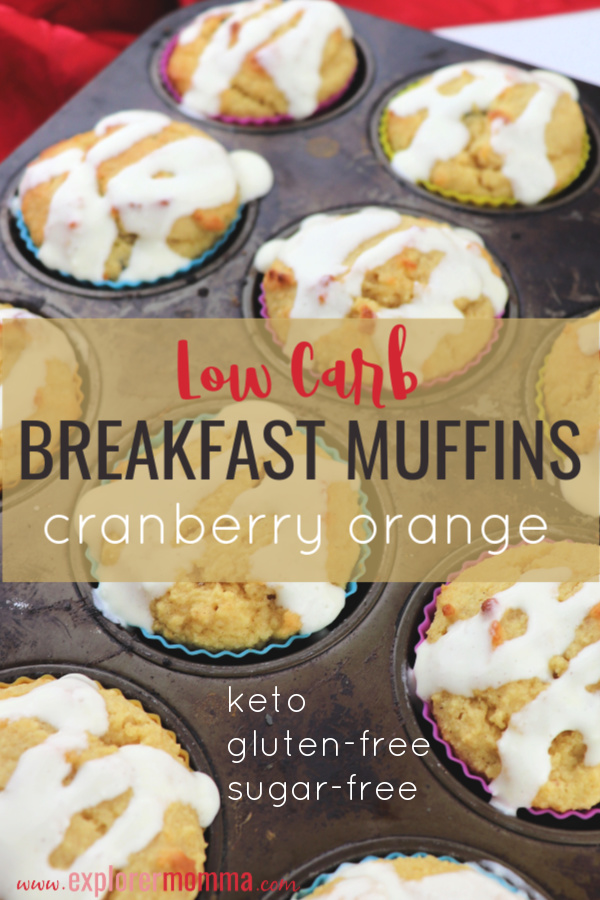 This post contains affiliate links, which means I receive a small percentage if you make a purchase after clicking on my links.
I love muffins. What's easier in the morning when you're in a hurry than a grab and go keto breakfast muffin?
Some days you just don't feel like cooking up a storm in the kitchen for every meal or don't want to smell the house up with bacon and eggs.
Muffins are the perfect answer when I have to quickly run out the door in the morning, and cranberry orange is a great option for any time of year!
In a hurry?
Scroll down to the bottom for the printable recipe or PIN it here for later!
🍽 Equipment
Kitchen items to make these low carb breakfast muffins: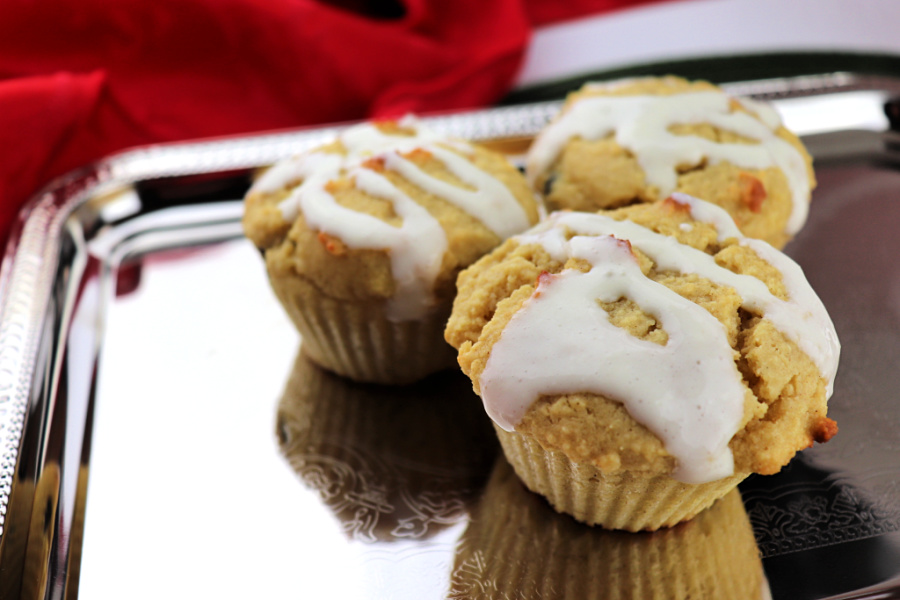 🔪 Instructions
How to make cranberry orange low carb breakfast muffins
If you've read my other muffin recipes you'll know I like to make a big batch of low carb breakfast muffins on Sunday and freeze the whole thing to have one every day for breakfast as long as they last.
The easy grab and go is great for my schedule, and there's something rather fabulous about a fresh cranberry orange muffin with butter melting into it along with a steaming cup of coffee to start your day.
To begin, pull out a regular muffin tin and line it with 12 silicone baking cups or other liners. Silicone liners are fabulous because you can use them over and over again, and they make the muffins super-easy to get out once they're baked. Preheat the oven to 325 degrees Fahrenheit.
Now, here's where there are a couple of ways to do things.
Because it's the one I use all the time and the simplest for me, I'm going to start with my preferred method. To begin, take out your blender. I use a high-speed Vitamix, but most any would most likely work for this.
Blender Muffin Method
Next, assemble all your ingredients together. Then, place the eggs, cream cheese, vanilla, sweetener, orange zest, and orange oil in the blender and blend on high speed for 30-40 seconds or until it's all well combined without any white bits of cream cheese noticeable.
I like this way because it's quick and easy, and I can get impatient when I forget to set out the cream cheese and eggs to warm up to room temperature. Because of this, I love the fact the high-speed blender doesn't care if the ingredients are cold or warm and whips them into shape, and combines them perfectly together without any little cold bits.
Mixer Muffin Method
If you don't have a blender or prefer a mixer, you can also combine these ingredients together in a standing or hand mixer. When you use the mixer, all the ingredients need to be room temperature or even a little warmer to combine properly.
But not to worry, it can be done easily if you plan and get your ingredients ready beforehand.
How to prepare the low carb batter
Take out a large bowl and whisk together the almond flour, coconut flour, baking powder, salt, and cinnamon. Then, pour the blended wet ingredients into the bowl of dry ingredients and stir to combine them completely with no lumps.
For the last ingredient, stir in the cranberries evenly with a spoon or spatula, and boom! Your batter is ready.
In order to get your muffins about the same size, I like to use an ice cream scoop to place the batter in the muffin cups.
Fill the muffin cups about two-thirds of the way full and bake them in a 325-degree oven (Fahrenheit) for 25 to 30 minutes. Keep an eye on them and pull them out when they start to brown and the center bounces back up when tapped.
Take the low carb breakfast muffins out of the oven and let them cool completely.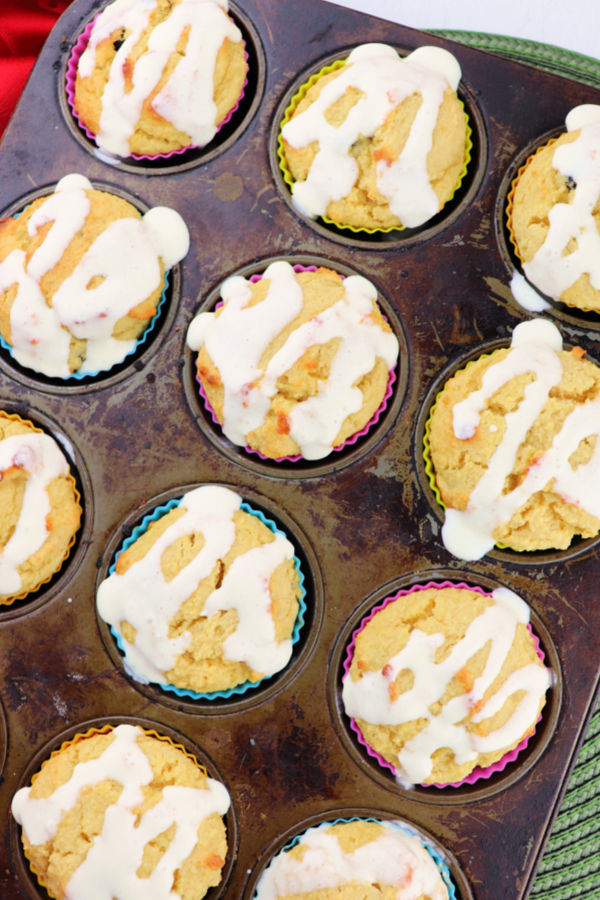 Cream Cheese Drizzle Frosting
Cream Cheese Drizzle Frosting is awesome on this low carb breakfast muffin recipe, especially if you get the orange flavoring in it with essential oils or orange zest. It's also super-simple to make, which is always nice.
In a small bowl, combine the cream cheese, almond milk, sweetener, and orange oil or zest. Use a small whisk or fork completely bring the frosting together. If it seems too thick to drizzle, add a bit more almond milk.
Drizzle the frosting over the cooled (or mostly cooled) muffins, and serve!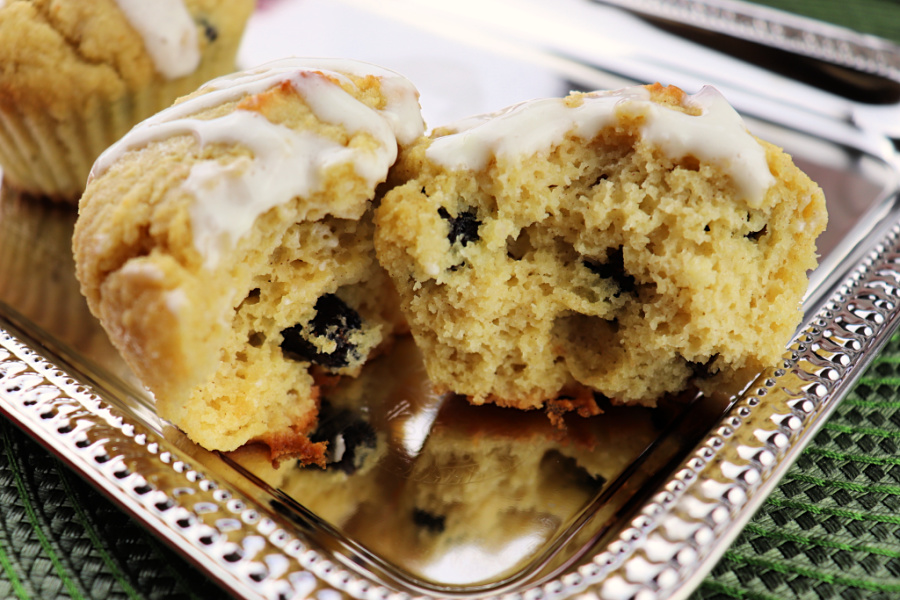 Printable Recipe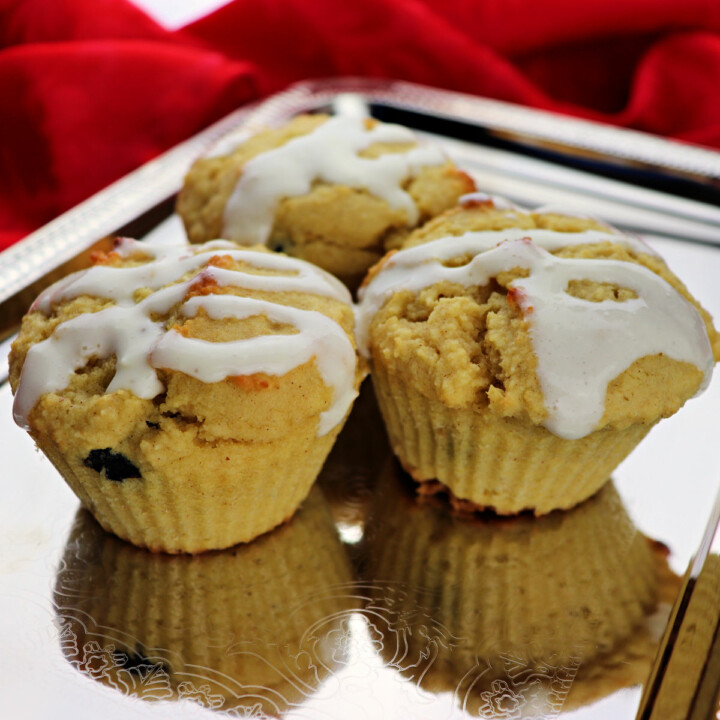 Low Carb Cranberry Orange Breakfast Muffins
There's just something about the flavors of cranberry and orange combined together in perfect low carb breakfast muffins! Perfect for Thanksgiving, Christmas, or all winter long!
Ingredients
4 eggs, large
4 oz cream cheese
1 tsp vanilla extract
1 tbsp orange zest
4-5 drops orange essential oil
1/2 cup sweetener, Swerve or other equivalent
2 cups almond flour
1/4 cup coconut flour
1/2 tsp cinnamon
2 tsp baking powder
1/4 tsp salt
3/4 cup cranberries, fresh or unsweetened dried
Orange Frosting
2 oz cream cheese
1 tbsp almond milk
3 drops orange essential oil, (use 1 tsp orange zest if not using essential oil)
1 tbsp powdered sweetener, Swerve
Instructions
Place eggs, cream cheese, vanilla, sweetener, orange zest, and orange oil in a blender and blend well.
In a large bowl whisk together almond flour, coconut flour, baking powder, salt, and cinnamon.
Pour the blended wet ingredients into the bowl of dry ingredients and stir to combine completely.
Mix in the cranberries evenly.
Turn on oven to 325 degrees Fahrenheit and line a regular sized muffin pan with silicone or other liners.
Using an ice cream scoop or spoon, evenly fill the muffin tins about 2/3 full and place in the oven to bake for 20-25 minutes.
To prepare the frosting, cream together the cream cheese, almond milk, and orange essential oil or zest.
Add more almond milk to thin if necessary or drizzle over cooled muffins.
Notes
Nutrition Facts
Servings 12.0 Amount Per Servingcalories 115 Total Fat 9 g Saturated Fat 4 g Monounsaturated Fat 2 g Polyunsaturated Fat 1 g Trans Fat 0 g Cholesterol 76 mg Sodium 204 mg Potassium 49 mg Total Carbohydrate 4 g Dietary Fiber 2 g Sugars 1 g Net Carbohydrate 2 g
Nutrition Information:
Yield:

12
Amount Per Serving:
Calories:

115
Unsaturated Fat:

0g
*Nutrition Facts per MyFitnessPal.com. For the most accurate facts, you may figure your own with the specific ingredients you choose.
What's your favorite low carb breakfast?
Are you a muffin person or a donut person? Or maybe more of a Danish fan? There are so many ways to make delicious low carb, sugar-free, gluten-free versions of my favorite baked goods, I no longer even miss the carbs. What's your favorite grab and go breakfast? Or maybe, what do you miss that you would like to see in a low carb form?
I hope you enjoy the cranberry orange low carb breakfast muffins. If you make them I'd love to see a picture if you tag me on Instagram!
Tag me in your recipe pics on Instagram @explorermomma.
If you LOVE this recipe please consider giving it a five-star rating in the review area below!
Thanks all!
Nutrition Disclaimer
Please be aware I am not a medical specialist or nutritional professional. On this blog, I share recipes and what works for me. Please do not take anything on this blog as medical advice and always consult with your doctor before starting any diet or exercise program.
I use MyFitnessPal.com to calculate nutrition facts as a courtesy to my readers, and I remove erythritol from the final carb count and net carb count because does not affect my own blood glucose levels. This is as accurate as possible, but it's best to independently calculate nutritional information on your own with the specific ingredients you use. I expressly disclaim any and all liability of any kind with respect to any act or omission wholly or in part in reliance on anything contained in this website.