Preview: Here's your list of fun historical Christmas mystery books to read next! Grab a cushy seat by the fire, a blanket, and spiced tea. Now, read!
I don't know about you, but at Christmastime, I naturally like to read books set in the same season. There are so many fabulous traditions and fun characters to be found, and so many problems to get mixed up in and hopefully then fixed at the family manor! Yes, one of my favorite genres at Christmastime is the historical mystery.
So, come on snow! Let's get those yuletide fires going, spiced scents filling the air, and time to enjoy some good Christmas mystery books. Let's go back to the Downtown Abbey Christmas mood with a twist of mayhem and detective work!
This post contains affiliate links, which means I receive a small percentage if you make a purchase after clicking on my links.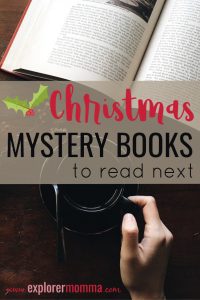 Why Christmas mystery books?
The historical mystery is always one of my favorite genres for de-stressing and getting a break from daily life. I find it especially important to make an escape a during the holidays and take some time out for myself. Also, I tend to be more of an introvert and so crave and need that time by myself to regroup and be ready for the next thing. What about you?
If you also need that time to yourself to recharge, don't be afraid to send the crowd away for a while and enjoy a good book. Suggest they go on a fun ice skating outing or to a movie. Then you can take that time and dig into a stress-free murder mystery.
Christmas mystery books to read next

by Stephanie Barron
Jane and the Twelve Days of Christmas is a very enjoyable peek into an 1814 Regency Christmas with some detective work and murder thrown in. Jane and her family are invited to The Vyne, the ancestral country home of the prominent Chute family. Other friends and well-wishers join the Christmas party, and we have a traditional snow-bound Christmas.
With so many people unable to return home, one of the guests comes to an unfortunate fatal accident. But is it an accident? Jane and others investigate the politics, personal conflicts, and all the house suspects.
I found it delightful and fun to see Jane developing the characters for her next book, Persuasion, on the heels of the successful Mansfield Park. Jane Austen is one of my favorite authors, and I've read all of her books multiple times and like Bridget Jones, obsessed on the BBC's miniseries version of Pride and Prejudice. Therefore, I'm preparing you before you read this book. Be warned! Jane Austen is being turned into a character here. I personally feel it's fun, well-researched, and excessively diverting, so don't let the real-life author turned character bother you.
Explorer Momma's rating: ***** 5 stars
Spoil yourself and order it now on Amazon by clicking here!

by Michelle Griep
Don't you just love this cover? It immediately invited me in because I think I know what to expect. It's cozy and comforting and another snow covered Christmas at the manor! Set in the Victorian Era, there's a twist to this one. In the case of Bleakly Manor, the guests are invited for various reasons and enticed with personal motivations, but alas the host is absent!
I read a review of this book that said it was reminiscent of a mystery dinner theater, and who doesn't love that? In fact, I'm a huge fan of going a step further to the mystery dinner parties where you're assigned a character, but I digress. With just a hint of romance and almost exaggerated characters, I had a wonderful time reading this book. Perhaps I'm being generous with the rating due to the Christmas season, but it was a fun escape to the English manor and an enjoyable read.
Explorer Momma's rating: ***** 5 stars
Why not order it now on Amazon by clicking here?! (You know you want to)


Murder for Christmas
by Francis Duncan
Oh, look! Another Christmas party at a country home. Now we're in the Golden Age, and with Murder for Christmas, we are introduced to amateur detective Mordecai Tremaine (if you haven't already met him before in the series). Mordecai Tremaine reminds me of a mix between Miss Marple and Hercule Poirot. He's well-known for solving mysteries and murders, but when people meet him, he comes off as harmless and maybe not completely capable of comprehending what's happening around him.
However, of course, he's not the tottering old man perceived! Will he aid the police to discover the Christmas Eve murderer or be a thorn in their side? Who killed the man dressed as Father Christmas found at the foot of the Christmas tree?
This book is another good distraction and amusement, although because the writing does jump around slightly making it not quite as easy to follow, my rating is slightly lower.
Explorer Momma's rating: **** 4 stars
Would you like to pick it up now on Amazon by clicking here? Enjoy!


The Mistletoe Murder and Other Stories
by P.D. James
P.D. James, or rather Phyllis Dorothy James White, Baroness James of Holland Park, was born in Oxford, England in 1920. She is best known for her detective Adam Dalgliesh of Scotland Yard, and this book indeed includes two of his stories.
The Mistletoe Murder and Other Stories is a compilation of four stories by this great mystery novelist. With a more serious and sinister tone than the first books in this list, yet with a sly humor, these stories reveal the good, bad, and difficult aspects of human nature. A novelist recounts the story of a crime she herself was a party to 50 years previously, Dalgliesh's godfather asks him to re-investigate the details of an inheritance, and so forth.
A good set of whodunits for the Christmas season, although the holiday aspect of them is not as in your face as some of the others.
Explorer Momma's rating: **** 4 stars
Order it on Amazon by clicking here!
What Christmas Mystery book list is complete without Hercule Poirot? I'm always up for a good Agatha Christie novel!

by Carola Dunn
It's December of 1923, and Daisy Dalrymple Fletcher is the daughter of the imperious Dowager Viscountess Dalrymple who's decided they will all spend Christmas at, wait for it…the ancestral home of Lord Westmoor in Cornwall. Daisy is her own woman and displeases her mother by writing articles for publications such as Town and Country.
On this occasion, Daisy arrives at the home before everyone else to complete an article on the house itself and it's history. When more guests and colorful characters arrive, although Lord Westmoor is absent, our scene is set for a colorful set of ghosts, schemes, and murder.
Daisy and her husband Detective Chief Inspector Alec Fletcher of Scotland Yard investigate along with the help of their two children and Lord Westmoor's poorer relations. I had fun with Daisy and the characters in this book and series.
Explorer Momma's rating: ***** 4 1/2 stars
Treat yourself and order it now on Amazon by clicking here!

The Twelve Clues of Christmas
by Rhys Bowen
What can I say about The Twelve Clues of Christmas? Set in 1936, this is the sixth book in A Royal Spyness Mystery series. It can definitely be read as a stand-alone, and score! Once again we have a house party, but this time it's the local villagers who are being murdered.
Penniless Lady Georgiana Rannoch finds herself stuck in her brother's castle in Scotland facing a bleak Christmas with her penny-pinching sister in law and family. Her MIA boyfriend is exploring somewhere in South America so she gets herself a position as a hostess for a large house party in Devon, in the quaint village of Tiddleton-under-Lovey. Unfortunately, the villagers keep having fatal unrelated accidents.
Georgie begins her own investigation, of course, and looks into her list of house-guest suspects. A bonus in this book is the description of all the traditional English Christmas fare and joy! an appendix with recipes. I'm hungry.
Explorer Momma's rating: ***** 5 stars
You need this book. Find it here on Amazon!

by Anne Perry
Now, what Christmas Mystery Books list is complete without representation by Anne Perry? I love a good Anne Perry mystery, her Charlotte and Thomas Pitt series, the Monk series, and my favorite the WWI series. Truly, I've read a lot of Anne Perry's novels, and most Christmases I read at least one of her novellas or, in this case, Christmas novels.
The Christmas stories often make a supporting or side character of one of the series into the main character with their own Christmas mystery adventure. In this sentimental book, a nine-year-old former river urchin named Worm enlists the help of Squeaky Robinson to go to the aid of a kidnapped woman just before Christmas. Squeaky works in Hester Monk's clinic and so here we have a new adventure with lesser-known characters in the Monk series. How can they help a woman who doesn't want to be rescued?
I'm always happy with her Christmas books and really any of her novels. They are familiar friends, with characters I can depend on.
Explorer Momma's rating: **** 4 stars
Order it now on Amazon by clicking here!
Give me some good Christmas mystery books
Now some of you, in fact, many of you, will say, "Give me a good Hallmark Christmas story". I can do that. Sweet girl from the city has some major failure and fight with big city boyfriend. Girl goes to small town USA and falls for the local boy in a Christmas sweater who helps everyone in town. However, I can only do a couple of those a year and truly love that escape.
Give me some variety! Manor houses with snowbound guests, English puddings, and murders. Oh, yes. Throw a couple of those into your yearly Christmas readings. It's the season for traditions and cozy family time. Take some time out of the Christmas rush and start another tradition, a good Christmas mystery. Cheers to you!
Merry Christmas!
Check us out on Instagram @explorermomma!
Pin it for later here!