Preview: How to and why you should visit the Corning Museum of Glass with kids. Corning, New York is in the beautiful Finger Lakes region of New York State and the Museum of Glass is a must-visit.
Kids love to create, to make art, and figure out how things work. You may think oh! The Corning Museum of Glass, eek! That sounds dangerous just thinking about my kids in that place. Not so! I'm going to tell you why this is an awesome outing and truly memorable experience for kids and the entire family.
This post contains affiliate links, which means I receive a small percentage if you make a purchase after clicking on my links.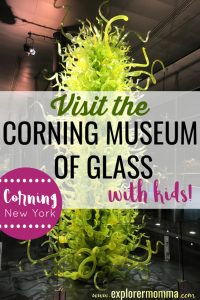 Where is Corning, New York?
First things first. Where is Corning, New York? Well, Corning is an amazing town located in the Finger Lakes Wine Country of New York State, just 10 minutes from the Elmira, New York airport. It's about 250 miles from New York City but only about 100 miles from Rochester, New York.
Therefore, you have many options when it comes to transportation in and around the area. If you arrive by plane, any of the nearby airports make sense, Elmira, Rochester, Buffalo. Once the plane has landed, we really like to have the freedom to explore the entire area and so a rental car is the best bet for our family. That way we can get to every little pumpkin farm, waterfall hike, and art show in the area as well as to the further afield destinations like Niagara Falls and New York City! Then make your way back to the Corning Museum of Glass with kids. There are also Greyhound buses in the area and Lyft and Uber drivers when you need them.
What is the Corning Museum of Glass?
Have you heard of Corningware? Pyrex? Yes, these famous traditional dishes found in so many houses today all came from Corning, New York. But is glass just about dishes? By no means!
The Corning Museum of Glass is dedicated to telling the story of that amazing material: glass. Nearly 50,000 objects are displayed in the galleries, with historical pieces dating back to the Pharaohs to the modern glass art of today. Interactive displays and the innovation lab make it the perfect place for kids to learn about art and science and how the two intertwine in glass.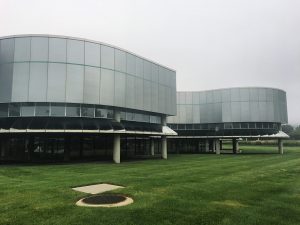 Top things to do at the Corning Museum of Glass with kids
Make your own glass art
Kids' favorite thing to do at the Corning Museum of Glass is to make a piece of their own glass art. As I said before, kids love to create! They love to see the magic of glass blowing, fusing, cutting, and they are shocked when they get to form their own glass masterpiece. The Corning Museum of Glass is so awesome because they have so many classes and options to make glass art creation available to all ages.
You can sign up to make a seasonal piece of glass, such as a fall pumpkin or winter Christmas tree! There are also options to make picture frames, glass ornaments, bead making, and so much more. I recently got to make my own glass flower with the help of one of the museum's well-trained glass blowers, and was so excited about it I felt like a kid myself.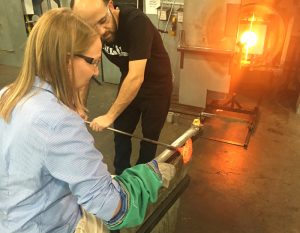 First, I had to decide what I wanted to make. Second, I picked the colors I wanted in my flower. Then I got to work! Word of warning, the fire is hot! I didn't get near it or actually heat the glass, but I did wear protective eyewear and gloves to use the tongs and bars to shape the glass.
Do you know what? My flower is not perfect, but what an experience to actually feel the hot glass pulled and shaped with my tongs, by my own hand! I loved it, and I LOVE my piece of art, my glass flower.
Glass etching project
Each class or project has an age requirement to it for obvious safety reasons, but there are fun projects for almost any age. Another project available for all ages is to sandblast a drinking glass. To complete this project you are given a drinking glass. Kids and adults alike pull out the artist inside to create a design on the glass using stickers. Once the stickers are exactly as you want them, a museum helper will take you to the machine to sandblast the glass. Tiny scratches create a white snow all over the parts not covered in stickers. You remove the stickers and voila! Your creation is complete and ready for display!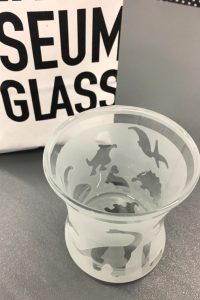 Check out the current classes and make your own glass projects here!
Glass demos
Kids can't do everything by any means, so that is why the glass demos are a big hit as well. One of the coolest, how do things work demos loved by aspiring 6-year-old engineers is the glass breaking demonstration. In the innovation lab, questions like: How does glass break? How can we make it stronger? and Why does glass break differently in your car than the windows or glass dropped at home?
In the Windows Gallery of the Glass Innovation Center, you can actually meet some of the inventors who create better-performing glass for space shuttles and all the screens we watch and touch every day.
What else can you see demoed? Go to a glassblowing session and see a piece of art formed. Watch a flameworking demo or see how optics are made. It's fascinating.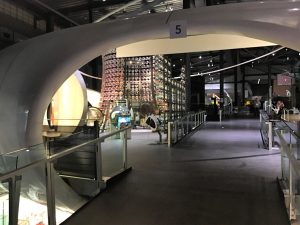 Explore the Corning Museum of Glass with kids
Where is the best place to go at the Corning Museum of Glass with kids? It depends on the child! What are they interested in? I would invite you to wander the galleries, find the glass of ancient Egypt, see the glass fruit larger than a toddler, and wander the Vessels Gallery of light bulbs, orbs, and glass containers of all kinds. It really is a magical eye-opening experience they will remember.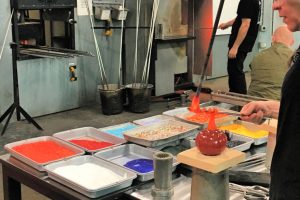 My favorite area of the Corning Museum of Glass
I'm not usually one to go for the contemporary. Actually, I'm always more of a let's look back at history to see what's been done hundreds and hundreds of years before type of gal. Which is why I was so shocked to find the Contemporary Art and Design wing was my favorite area of the museum. The white space around each piece of art, the lines and curves, they all calmed me and made me want to spend more time just breathing in the beauty and calm.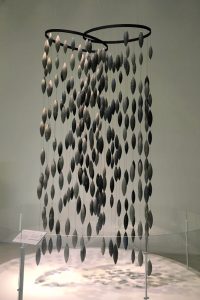 My "insider" tip for free admission to the Corning Museum of Glass
We have a family membership to the Denver Museum of Nature and Science. Okay, what does that have to do with the Corning Museum of Glass you may ask! Well, both museums participate in the ASTC Travel Passport Program. Because we are members of a participating science center or museum, we're eligible for free admission to other centers outside of our area. There are certain parameters, like the museums have to be more than 90 miles away, and I like to double check with the museum beforehand to be sure they still participate.
You can check out the list of science centers and museums that participate here. Whenever we travel, I like to see what museums are on our route take part in the program. It's always a fun and educational stop, and the kids love it! There are museums all over the United States and the world where your local museum membership will benefit you and save you money.
We love the ASTC Passport Program!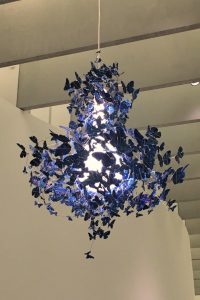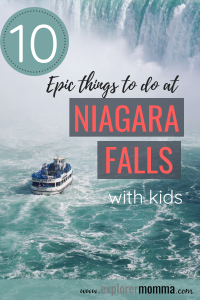 A glass art family tradition
When I was a child, one of my favorite things to do was to visit my grandmother in her stained glass shop. She encouraged me to touch the glass and play with the stained-glass kaleidoscopes she made. She always urged me to embrace my own creativity. We made glass jewelry, ornaments, and had a wonderful time together. Now, my own daughter has been exploring the art of stained glass ornament making with my father. They love to work on projects together and be able to create and have their own grandpa and granddaughter time.
If you're near Corning, I highly recommend a visit to this amazing museum. Plan to spend some time to wander there, make a glass project, and visit demonstrations. Isn't it amazing what all this one little material can do?
Have you been to the Corning Museum of Glass with kids or on your own? Tag me in your pics on Instagram @explorermomma.
I'd love to see them!