Embrace the leaf-strewn autumnal mornings with your own healthy dose of pumpkin spice! This creamy, low carb, keto pumpkin spice smoothie is the perfect seasonal break your fast meal.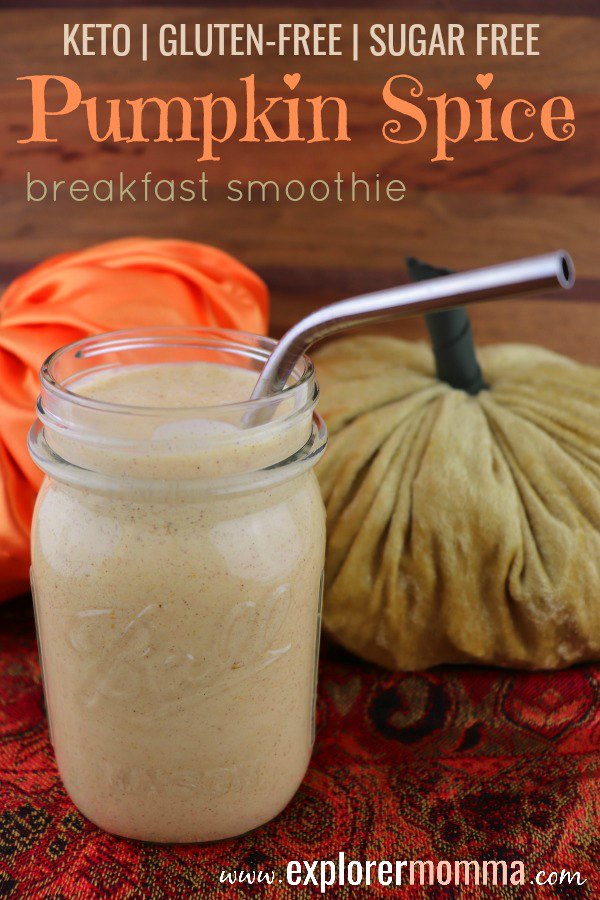 This post may include Amazon links. As an Amazon Associate, I earn from qualifying purchases.
Wondrous woodlands, changing colors, chilly crisp mornings, come to me! Fall is my favorite season for so many reasons. I love the cooler weather, the golden aspens, red maples, school starting, and of course all things pumpkin spice!
In the US we usually call this brilliant season fall unless we're in a particularly poetic mood, then we speak of autumn. Did you know that even before that it was simply called harvest?
The fall harvest moon lights up the sky when the full moon is closest to the autumn equinox. In addition, in times before electricity, that light was key in allowing farmers the time to bring in the crops and prepare for the coming winter.
Delicious autumn! My very soul is wedded to it, and if I were a bird I would fly about the earth seeking the successive autumns.
I delight in this time of year when I bring out haunting Celtic music, take the kids on misty walks in the woods, and huddle in scarves and sweaters reading new books. Of course, the change in season also brings out the traditional fall flavors of pumpkin, cinnamon, ginger, clove, nutmeg, and mmmm so much more!
I love to start my day with a chill in the air and my keto pumpkin spice breakfast smoothie. You know, I really could call it a shake it's that creamy and good. I hope you try it.
Scroll down to the bottom for the printable recipe or PIN it here for later!
? E

quipment
a blender. I use a high-power Vitamix, but whatever you have should work for this recipe.
a glass or
This is super simple folks! Awesome possum!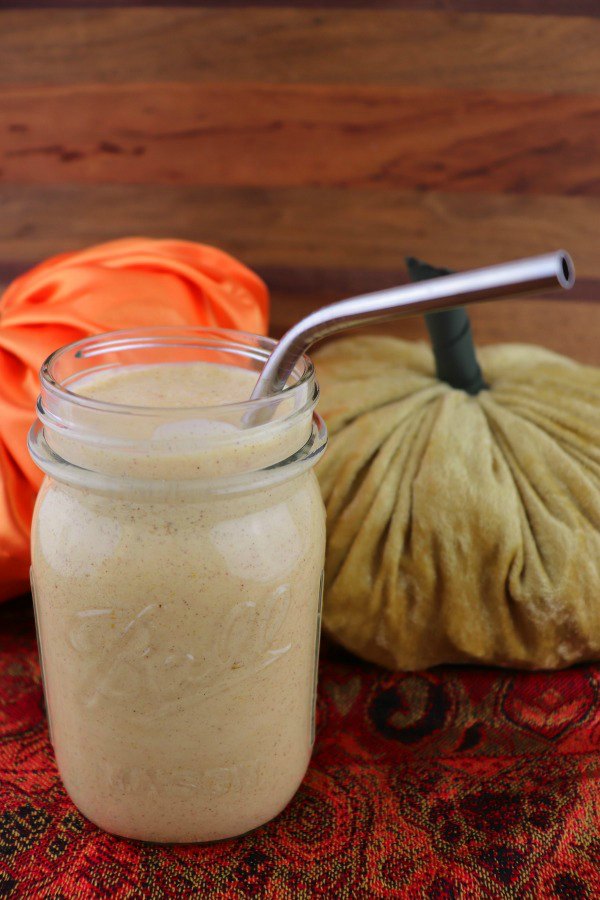 ? Ingredients
almond milk, unsweetened
pumpkin puree
cream cheese
MCT oil
vanilla extract
powdered sweetener, Swerve confectioners or other
collagen peptides (one serving)
pumpkin pie spice
ice cubes
? T

op tips

To make the best-tasting and healthiest keto pumpkin spice breakfast smoothie you want to get quality ingredients.

When I make anything this time of year with pumpkin, if humanly possible I use pumpkin purée made out of a home-grown organic pumpkin. Mmmmmm, yum!

The flavor's so much better than what you get in a can, and you get that fabulous sense of fall harvest accomplishment!

If, sadly, you don't have any pumpkin from your garden, buy a good pumpkin from the store and prepare your purée. Ideally, you can keep the home-grown or home-made store pumpkin purée in the freezer for that inevitable last minute fall pumpkin purée emergency!

However, if completely pressed for time and you are forced to buy a can, be sure to select the best quality you can. Sigh. Don't worry, it will still be fabulous!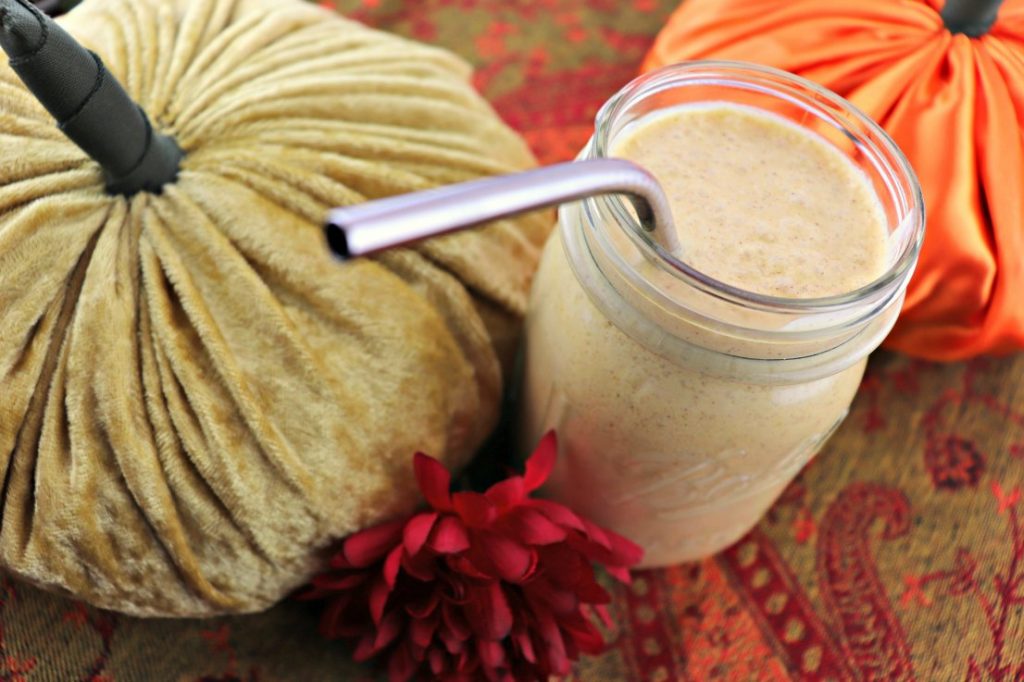 How to make your own pumpkin purée
I grew up in a household that only ever used our own garden pumpkin for the holiday pumpkin pies, breads, and all traditional things pumpkin spice. If you grow your own pumpkin or get a good one from the grocery store it's actually pretty easy to make your own pumpkin purée.
First, cut your pumpkin in half and remove the inside glop and seeds. Second, place the two halves upside down on a baking sheet. Then bake the pumpkin at 350 degrees Fahrenheit for about an hour.
The pumpkin halves are placed on the baking sheet so that the air is trapped in between the flesh of the pumpkin and the baking sheet, and the skin on the outside seals it in. This means the moisture from the pumpkin is also trapped in while it bakes.
Be sure to check the pumpkin, depending on the size at around forty minutes. I press the outside skin down with my finger (or a spoon if you don't want to burn yourself!), and if it feels soft like a well-baked potato, it's about ready.
For a regular pie sized baking pumpkin, an hour is my usual timing. After an hour, pull it out of the oven to cool slightly, and flip the halves over. That way you can see the lovely baked orange pumpkin inside.
When it's not too hot, spoon it into a blender. It should literally almost fall from the pumpkin skin. Blend it up, and it's ready to use or put in 2 cup freezer bags for future pumpkin purée needs!
Designers want me to dress like Spring, in billowing things. I don't feel like Spring. I feel like a warm red Autumn.

– Marilyn Monroe
? Instructions
How to make a keto pumpkin spice breakfast smoothie
This recipe is fabulously easy, perfect for that rushed morning on the way to work or school.
Are you ready?
First get out all the ingredients and equipment. Then, place all the ingredients together in a blender.
Finally, blend on high for 30-40 seconds or until everything's combined and the ice is in tiny blended pieces.
A note on collagen peptides. I prefer to use the unflavored collagen peptides so there are not any unwanted ingredients included. Read label on any you purchase, but you can get the unflavored collagen peptides from Primal Kitchen or any other brand that works for you!
Collagen is a great protein that is said to support healthy hair, skin, nails, and joints. They say it even promotes muscle repair, and who doesn't want support in those areas?
Also, you can double this awesome keto pumpkin spice smoothie recipe easily for multiple family members, and I love to throw it in an insulated travel coffee mug for on the go!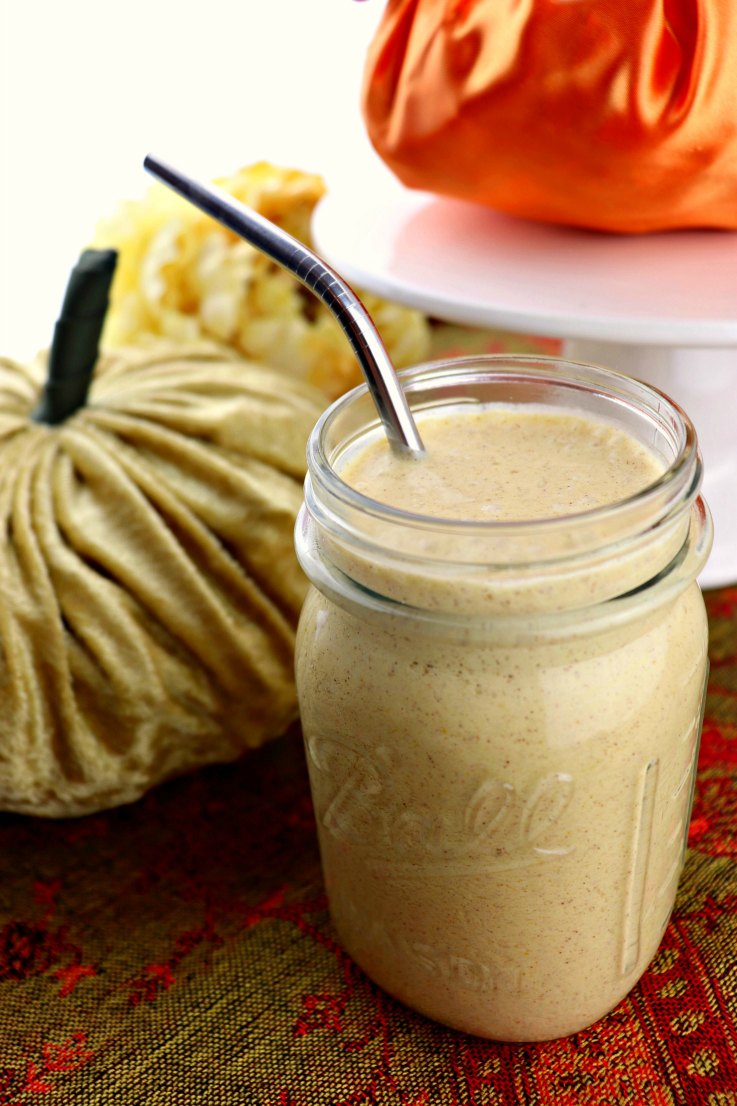 The spring, summer, is quite a hectic time for people in their lives, but then it comes to autumn, and to winter, and you can't but help think back to the year that was, and then hopefully looking forward to the year that is approaching.
What are your favorite fall flavors?
What are your favorite fall keto pumpkin spice recipes? Or even non-keto pumpkin spice recipes? My daughter is a huge fan of pumpkin pies and breads so we enjoy coming up with amazing keto recipes for these classics.
I hope you have an inspirational rust-colored fall with pumpkin-spice flavors, laughter, and leaf-throwing family fun!
Visit your local pumpkin farm or apple orchard and just breathe in those wondrous sights and smells of this perfect season.
Tag me in your recipe pics on Instagram @explorermomma.
If you enjoy this recipe, please consider giving it a five-star rating in the review area below!
Also, if you're on Pinterest, I would love for you to PIN it here!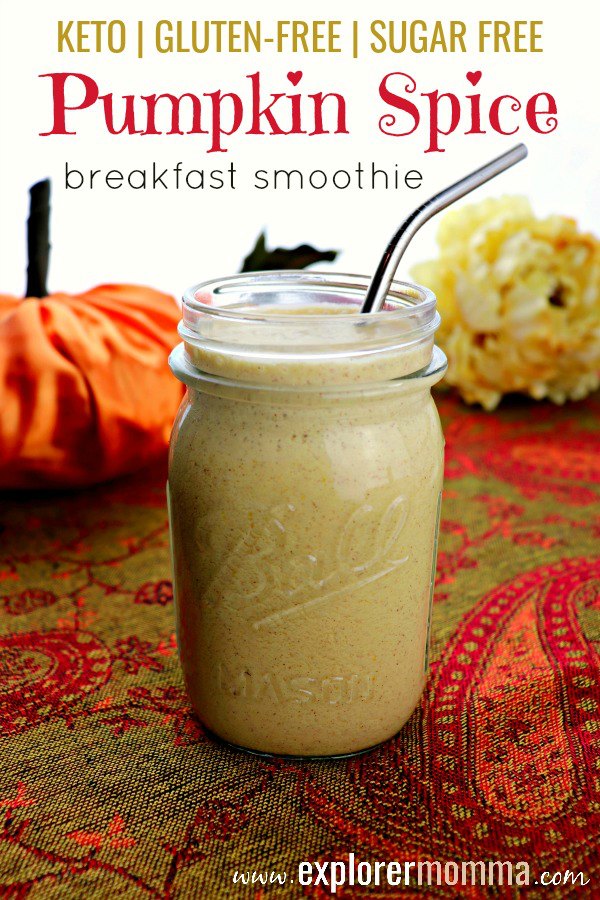 Thanks all! Joyous fall!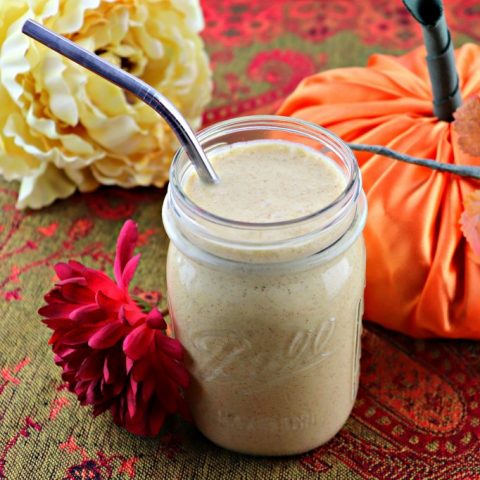 Keto Pumpkin Spice Breakfast Smoothie
Embrace the leaf-strewn autumnal mornings with your own healthy dose of pumpkin spice! This creamy, low carb, keto pumpkin spice smoothie is the perfect seasonal break your fast meal.
Ingredients
3/4 cup almond milk, unsweetened
2 tbsp pumpkin puree
1 oz cream cheese
1 tbsp MCT oil
1/2 tsp vanilla
1 tbsp powdered sweetener, Swerve confectioners or other
1 scoop collagen peptides (one serving)
1/2 tsp pumpkin pie spice
3-4 ice cubes
Instructions
Add all ingredients to a blender and blend on high speed for 30-40 seconds or until mixed well and ice is in tiny pieces.
Pour into a glass or insulated drink container and enjoy!
Notes
Nutrition Facts
Nutrition Facts Servings 1.0 Amount Per Serving Calories 322 *Total Fat 29 Saturated Fat 22 g Monounsaturated Fat 3 g Polyunsaturated Fat 0 g Trans Fat 0 g Cholesterol 32 mg Sodium 311 mg Potassium 248 mg Total Carbohydrate 4 g Dietary Fiber 1 g Sugars 2 g Protein 14 g
Nutrition Information:
Yield:

1
Amount Per Serving:
Calories:

322
Unsaturated Fat:

0g
*Nutrition Facts per MyFitnessPal.com. For most accurate facts, calculate your own with the exact ingredients you use in the recipe.
Nutrition Disclaimer
Please be aware I am not a medical specialist or nutritional professional. On this blog, I share recipes and what works for me. Please do not take anything on this blog as medical advice and always consult with your doctor before starting any diet or exercise program. I use MyFitnessPal.com to calculate nutrition facts as a courtesy to my readers, and I remove erythritol from the final carb count and net carb count because does not affect my own blood glucose levels. This is as accurate as possible, but it's best to independently calculate nutritional information on your own with the specific ingredients you use. I expressly disclaim any and all liability of any kind with respect to any act or omission wholly or in part in reliance on anything contained in this website.