A delicious and super-easy low carb skillet breakfast hash (without eggs) packed with sausage, cauliflower rice, green pepper, and more, all in an Italian pizza sauce. Oh, and did I mention cheese?!
When it's one of those weeks, what do you make for a super quick and easy breakfast or even dinner? I love one pot and skillet meals because they're easy, and you don't have to wash a million dishes.
This easy low carb skillet breakfast hash came out of my need to throw something low carb together really quickly. Also, I needed it to be a filling and substantial meal without having to pull together a lot of other sides.
PIN it for later here!!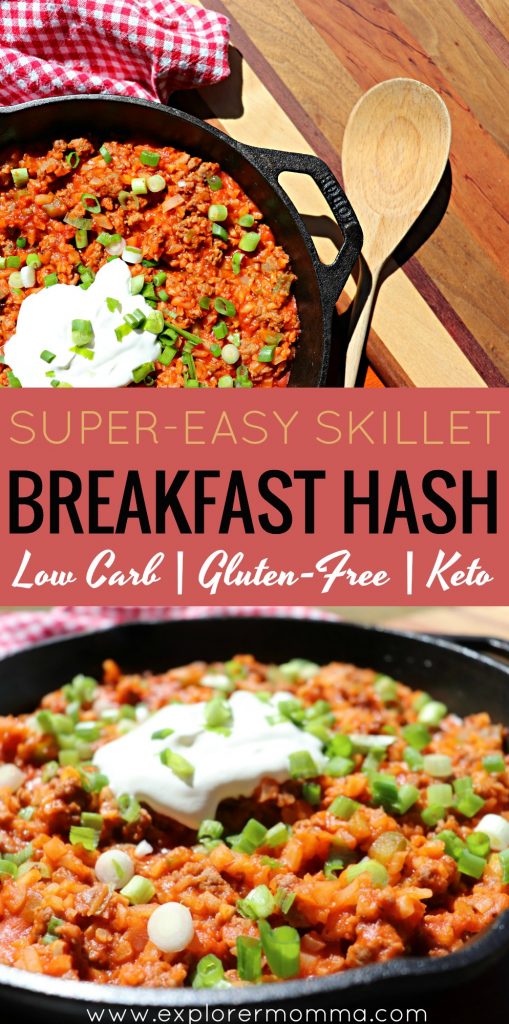 As an Amazon Associate and member of other affiliate programs, I earn from qualifying purchases.
Do you ever have one of those weeks? You know the kind. You have a million things planned to accomplish in the couple of hours the child is in preschool a few days a week, extra kids to transport home from school, to karate, and to swimming. Then the automatic ice maker breaks and shoots water all over your freezer, which then, of course, turns to ice.
Next, the car battery dies, and you can't go anywhere until you beg someone to come jump it for you. Then suddenly, the older child gets sick and is home from school for two weeks (and in our case the third week in the hospital!). Somehow, none of the stuff you'd had planned to do on your to-do list ever gets done!
This is exactly the time you need some quick and easy low carb skillet breakfast and dinner recipes on hand to comfort and calm you down! I'm a huge fan of simple meals you can pull together quickly with only a few ingredients. So let's try one, shall we?
Easy low carb skillet breakfast hash
Start with a pound of ground sausage. My daughter LOVES sausage so it's often a go-to item in our house when I can get a good quality meat. I generally prefer a spicier Italian sausage; however, I want the child to eat it too so we have to compromise! Usually, I either make this with a good quality mild Italian sausage or just recently we tried it with the breakfast sausage from our ButcherBox.
ButcherBox offer
What is ButcherBox you say? Why it's only the most convenient way I've found to get amazing meat. It's 100% grass-fed beef, free-range organic chicken, and heritage breed pork delivered directly to my doorstep. We order a box every couple of months, and right now you can get:
$30 off your first ButcherBox when you click my link here! (I try to keep this link updated but sometimes the offer changes)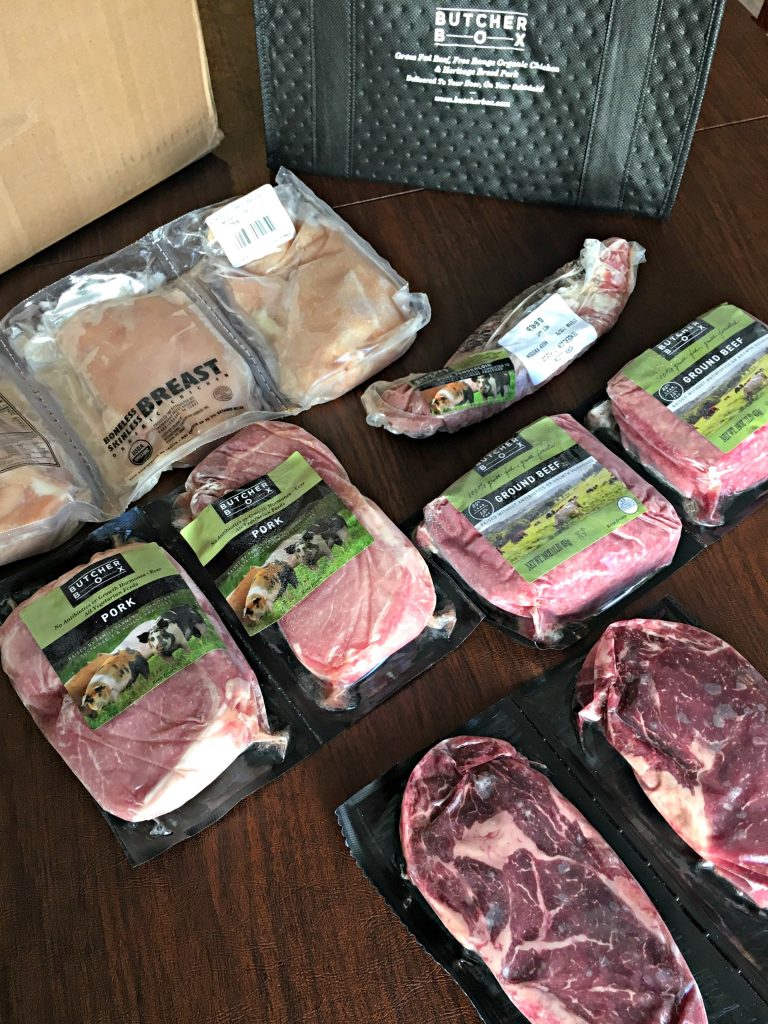 Jump on over to their website or check out the unboxing video and blog post I did about our first box, my first ButcherBox unboxing event.
How to make a keto breakfast with no eggs!
Low carb skillet breakfast hash
First, melt a tablespoon of coconut oil in a 10-inch skillet (I prefer cast iron) on a medium-high heat. Then, take your pound of Italian or breakfast sausage and cook it through to brown. If your sausage is in the casings just remove those and break the meat inside apart to cook.
Next, you can either chop up half a cup of green pepper or if you're super short on time grab the already chopped green pepper out of the freezer. As a mom often in a hurry, I ALWAYS buy the frozen bags of chopped green pepper and have them ready to go in my freezer.
Add the veggies
Cook the green pepper with the sausage until the green pepper is soft, just a couple of minutes. Then add in the bag of cauliflower rice and pizza sauce and stir to combine.
I absolutely LOVE the fact you can find riced cauliflower so easily now. I used to make it myself, and let's just say it was not a time-saving or efficient process. There are many brands out there now you can buy frozen and ready to go. Awesome.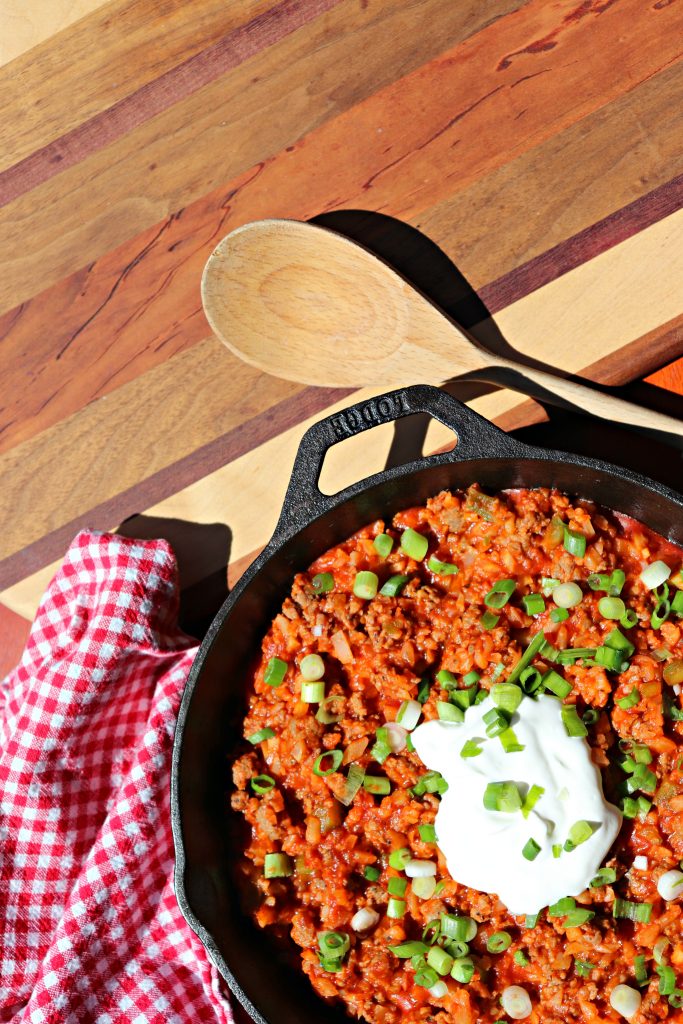 Cook the breakfast hash
It will take about five minutes for all these ingredients to combine, cook, and get happy. Now, are you waiting for more directions?? Can you believe it's basically already done and ready to go?
The cauliflower will absorb the flavors so add salt and pepper to taste. To be honest, I don't find it necessary to add salt and pepper if the meat was well seasoned to begin with. If it wasn't you may want to add other spices as well, but that's up to you!
After that, I've found melting a cup of shredded cheddar cheese over the entire skillet is quite delightful, but is optional. I've made it both ways many times and both are good. Last, chop up some green onions.
Serve portions with a good dollop of sour cream and the chopped green onions prettily over the top.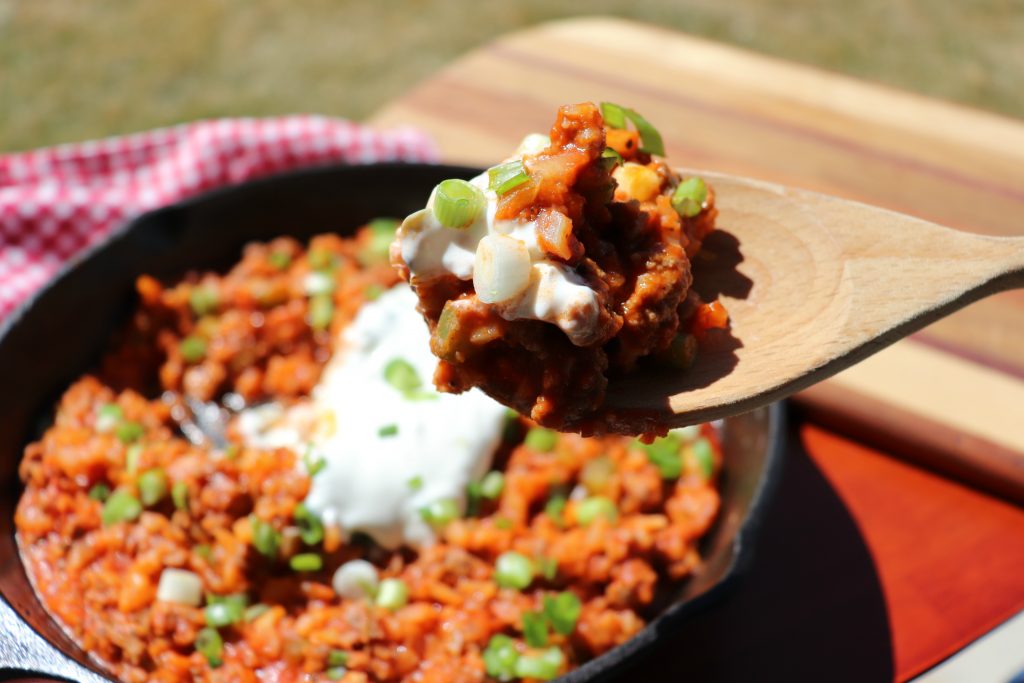 This makes a great meal on its own, but if you want you can also fry or scramble up some eggs to serve on the side. Then get yourself a strong black coffee and a big glass of water, and you'll be ready to tackle your day! Now see, wasn't that super easy?!
Want more info on keto veggies?
Read my article on what to plant in your keto vegetable garden!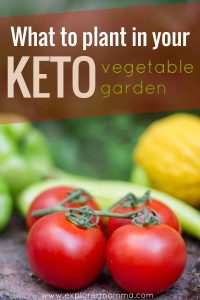 What do you like to eat for a low carb breakfast?
If you follow a keto diet like I do, an easy throw together meal can be a lifesaver. Breakfast is simply what I call my first meal of the day whether it be at 6 am or after my exercise class at 10 am.
It breaks my fast, and I tend to rotate between low carb muffins, high-fat smoothies, bacon, and eggs, or an easy low carb skillet breakfast like this one.
Or, for another breakfast sausage recipe I'm loving right now, try keto sausage pizza bites. I'm really fine with them for any meal of the day!
For me, planning and preparation are huge, and I love my lists and meal plans! However, I'm always up to try something new! What are some of your favorite keto breakfasts?
Printable Recipe:
Easy Low Carb Skillet Breakfast Hash
An easy keto skillet perfect for breakfast or dinner! A great keto breakfast without eggs.
Ingredients
1 tbsp coconut oil, or olive oil
1 pound Italian sausage, or breakfast sausage
1 14 oz jar pizza sauce, (no sugar added)
1/2 cup green pepper, chopped
1 12 oz bag cauliflower rice, frozen
1/4 cup sour cream
3 tbsp green onions, chopped
3/4 cup cheddar cheese, optional
Instructions
Melt the coconut oil in the skillet over medium-high heat.
Brown the Italian sausage. Cook until done.
Add the chopped green pepper and stir. Cook for 2 minutes or so until green pepper is soft.
Pour in the jar of pizza sauce and cauliflower rice.
Stir together and cook for about 5 minutes until the cauliflower is warmed through and absorbs some sauce.
Serve with a dollop of sour cream and chopped green onions sprinkled over the top.
Notes
Nutrition Facts
Servings 6.0 Amount Per Serving Calories 319 Total Fat 27 g Saturated Fat 10 g Monounsaturated Fat 12 g Polyunsaturated Fat 3 g Trans Fat 0 g Cholesterol 64 mg Sodium 799 mg Potassium 434 mg Total Carbohydrate 6 g Dietary Fiber 2 g Sugars 3 g Net Carbohydrate 4 g
*Nutrition Facts per MyFitnessPal.com. For most accurate facts, calculate your own with the exact ingredients you use in the recipe.
**Calories and carbs do not include cheddar cheese.
Nutrition Information:
Yield:

6
Serving Size:

6 servings
Amount Per Serving:
Calories:

319
NUTRITION DISCLAIMER
Please be aware I am not a medical specialist or nutritional professional. On this blog, I share recipes and what works for me. Please do not take anything on this blog as medical advice and always consult with your doctor before starting any diet or exercise program.
I use MyFitnessPal.com to calculate nutrition facts as a courtesy to my readers, and I remove erythritol from the final carb count and net carb count because does not affect my own blood glucose levels.
This is as accurate as possible, but it's best to independently calculate nutritional information on your own with the specific ingredients you use. I expressly disclaim any and all liability of any kind with respect to any act or omission wholly or in part in reliance on anything contained in this website.