A tart and tangy salad dressing with a hint of sweet, sugar-free lemon poppy seed. It's the perfect keto salad dressing for a holiday salad or an everyday low carb meal. Now, let's eat those greens!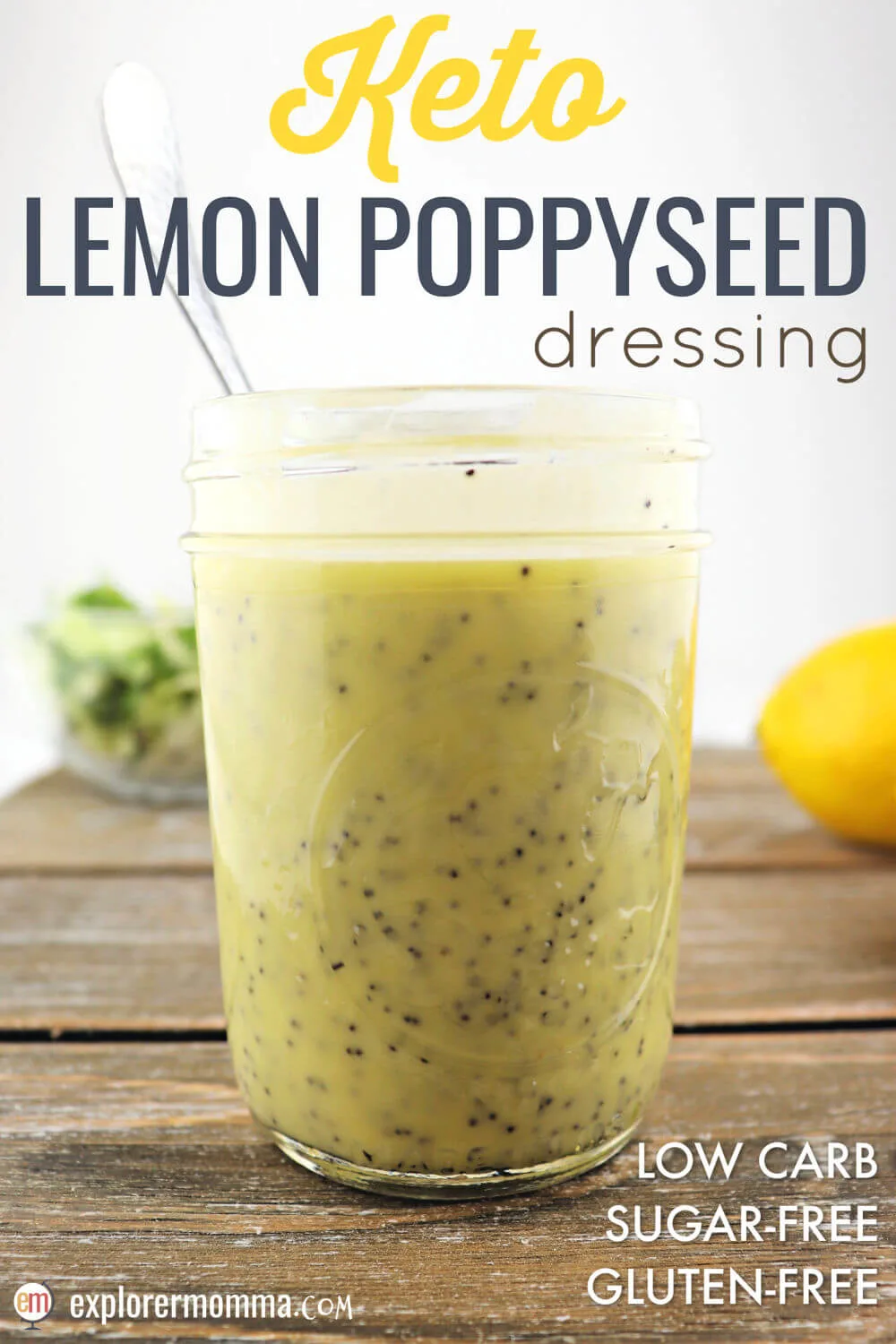 This post may include Amazon links. As an Amazon Associate, I earn from qualifying purchases.
One of my favorite salad dressings has always been a sweet poppy seed dressing. I used to put on all sorts of greens and pretend it was healthy because it was salad. Then I took a second look and realized just exactly how much sugar was in it.
Take a look at all the dressings in your fridge if you still have them. What do you almost always see as a listed ingredient?
Sugar.
There's sugar in so many of the pre-made items we buy. What have I learned on this keto journey? Many things, to be honest, but there's one that's huge but seems so simple. Read your labels. Yep. That's it.
What's in the foods you buy and consume without thought? A keto way of eating, and any healthy lifestyle, will make you review those food choices. Do you know what I've found? It's almost always better to make your own. And it really doesn't take a lot of time if you have the ingredients.
Keto salad dressings
So if you're looking for an approved salad dressing for keto diet, homemade keto dressing is generally going to be your best bet. You may find a keto friendly salad dressing at the store if you're in a hurry, Primal Kitchen does make some good ones, but I prefer my own keto salad dressing recipes.
This gluten free poppyseed dressing is a regular around my house!
In a hurry?
Scroll down to the bottom for the printable recipe or PIN it here for later!
There was an Old Person of Fife,
Who was greatly disgusted with life;
They sang him a ballad,
and fed him on salad,
Which cured that Old Person of Fife.

– Edward Lear
How to juice a lemon
Have you ever juiced a lemon? I was talking to a friend the other day who said she'd never juiced a lemon before. She thought it was too much trouble and just bought a jar of lemon juice.
I may have looked slightly shocked.
Can I tell you a secret? Fresh lemon juice is ever so much better than the old, bottled kind! You know the bland, flat, juice in the plastic lemon in the produce section? Don't be tempted! Buy the real thing.
💭 Top tips for low carb poppy seed dressing
Juicing a lemon is not all that difficult and is quick to do. First, select a bright ripe lemon, one you can slightly squeeze and is not too hard.
Second, roll the lemon on the counter, pushing down as to squeeze it inside the peeling. In this way, you begin to break some of the membranes and release juice inside before even cutting it open.
Third, slice the lemon in half and select your chosen juicer. If you don't think you have a juicer, well you probably do. I call it a fork.
How to juice a lemon with a fork
To use a fork to juice a lemon can be a bit messy, but it works! Place a bowl on your work surface to catch the juice. Then stick the fork in the center pulp side of the half lemon. With one hand, hold the fork and with the other, the lemon half.
Squeeze tightly and move the fork around the inside of the lemon so the juice runs in your prepared bowl. Next, move the fork all around the inside of the lemon, still squeezing with the other hand to get every bit of juice.
Lemon juicers for your keto salad dressing
If you have a citrus juicer or are looking to purchase one, there a many kinds out there. It's really your own preference which one you use.
I like the old-fashioned one with a glass dish and lid on top to push the lemon on and the juice falls through to the bottom. With it, I seem to get the least messy and can pretend I'm in a one-room schoolhouse making fresh lemonade.
For any of the juicers, press the lemon firmly in the juicer according to the instructions. Move it all around to get every bit of juice from all edges of the lemon.
🍽 Equipment for keto salad dressing
To make lemon poppy seed keto salad dressing you'll need: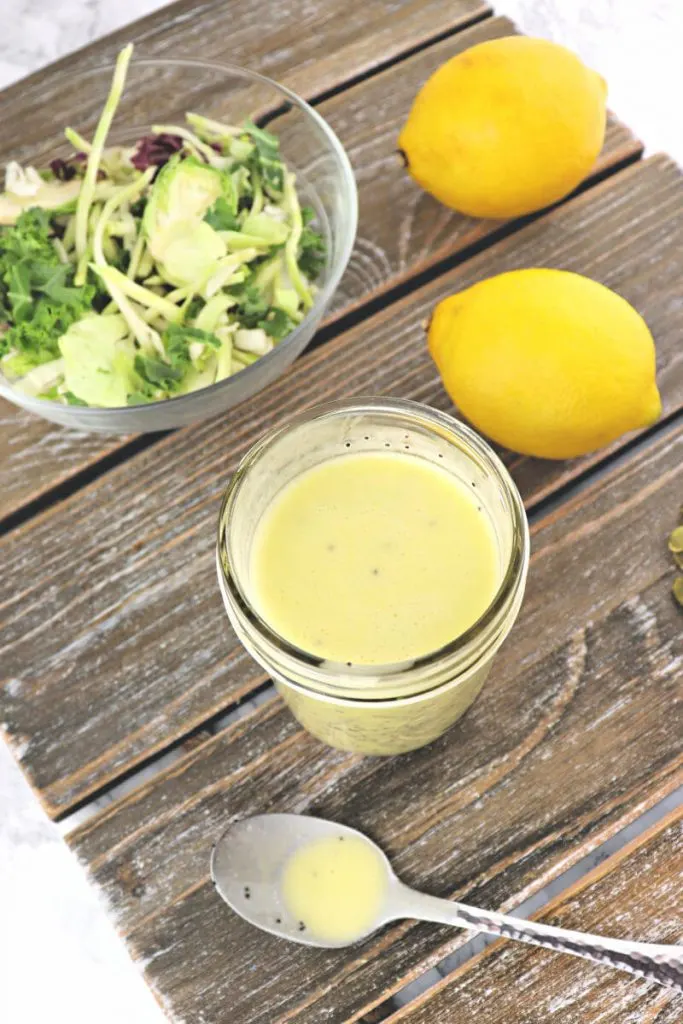 🥘 Ingredients in keto poppy seed dressing
2 tbsp raw apple cider vinegar
6 tbsp extra virgin olive oil or avocado oil
2 garlic cloves, minced
2 tbsp powdered sweetener, (such as Swerve Confectioners)
1 tsp dijon mustard
2 tbsp lemon juice
1/4 tsp salt
1 tbsp poppy seeds
2 tbsp water, optional
🔪 Instructions
How to make keto salad dressing – lemon poppy seed
If you're making keto salad dressing for the first time, don't worry! It's super-simple and so worth the small amount of effort it takes to make your own. Grab the blender out of the cabinet and let's get to work.
First, get out all the ingredients and measuring utensils and place them around the blender container. Then set the poppyseeds to the side. Now measure in all the other ingredients into the blender.
Blend it all together on high for 30-40 seconds or until smooth and a light lemony color. This is called emusifying the dressing, which is just a fancy way of saying you're completely blending ingredients that don't usually mix together. In this case it's the oil, vinegar, and mustard.
After the emulsion is complete, add in the poppy seeds and pulse the blender a few times to just to distribute them.
Last but not least, pour the dressing into a jar at least 6 ounces, and refrigerate for 3 hours or overnight to mix the flavors.
Before you use the dressing, shake it up in the jar each time. Often, the poppy seeds will settle to the bottom or the oil may try to separate. Simply shake it up and all's good to go. Dress your salad and eat up!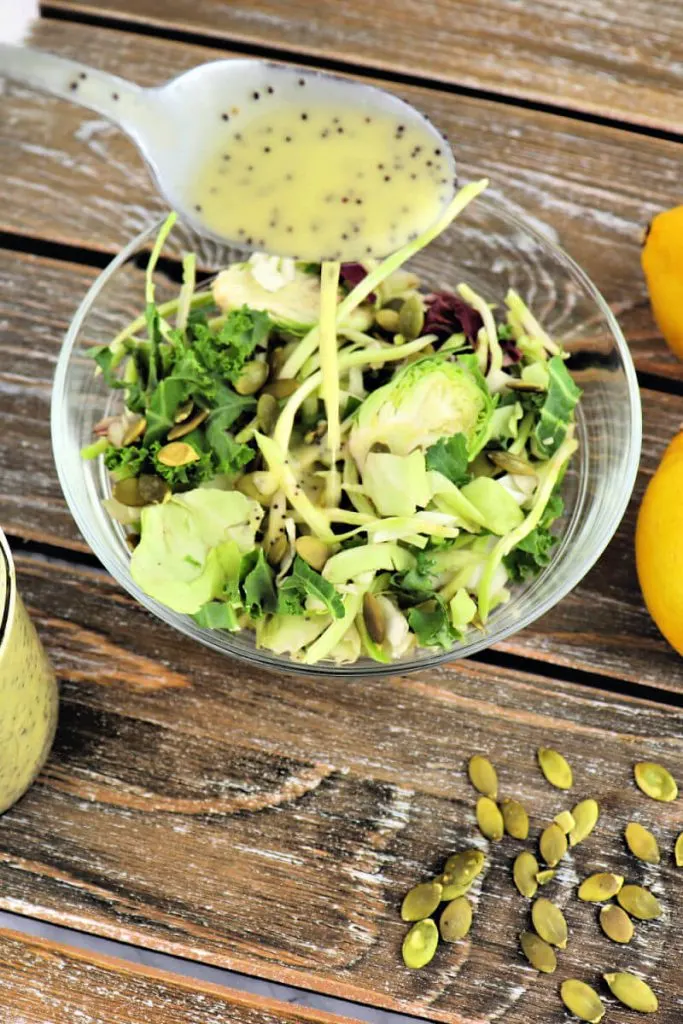 But, you must remember, whatever you eat, make sure you have at least one bowl of salad with it.

– S.A. Tawks
Why make your own keto salad dressing?
That's a good question. Why indeed make your own keto salad dressing?
Even with more keto-friendly options to buy out there lately, I still prefer to make my own. The reason may very well be my own need for control. However, there's a lot to be said for knowing exactly what ingredients you're putting in any recipe.
I feel good about what goes in this dressing. If you buy fresh, organic ingredients it's a big step in owning your diet and health goals. I encourage you to make this dressing or experiment with your own flavors.
Enjoy your trip to the market to pick out the fresh produce. If possible, I encourage doing it without taking the children along. It's your moment for your senses to experience the colors, smells, and feel of the fruits and vegetables.
I love it, and sometimes as a mom, it's those times to step back and appreciate the little things that keep me sane!
More keto friendly salad dressings
This low carb poppy seed salad dressing is perfect on my Kale Crunch Salad. Also, I invite you to try my keto blue cheese dressing or low carb keto tahini dressing! What are your favorite dressings?
I'm often asked the question, "is balsamic dressing keto?". Yes, it definitely can be worked into a keto or low carb diet. Keto balsamic dressing will hopefully make an appearance soon on Explorer Momma as it can be made as nearly a no carb salad dressing! What others would you like to see?
Pin the recipe here!:
Tag me in your recipe pics on Instagram @explorermomma.
If you LOVE this recipe please consider giving it a five-star rating in the review area below!
🥣 Related Recipes
Keto side dishes anyone?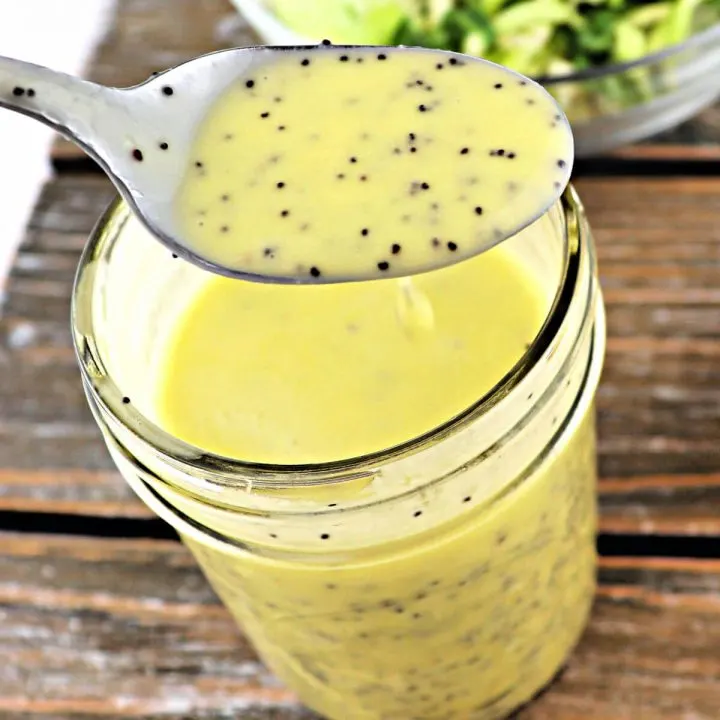 Keto Lemon Poppyseed Dressing
Tart, tangy, yet sweet. Keto Lemon Poppyseed dressing is the perfect addition to any salad.
Ingredients
6 tbsp olive or avocado oil
2 garlic cloves, minced
2 tbsp lemon juice
1 tsp dijon mustard
1/4 tsp salt
2 tbsp water, optional
Instructions
Set the poppyseeds aside and place all the other ingredients in a high-speed blender. Blend on high for 30-40 seconds or until smooth and a light lemony color.
Add in the poppy seeds and pulse the blender a few times to combine.
Pour the dressing into an 8 oz jar and refrigerate for 3 hours or overnight to mix the flavors.
Notes
Nutrition Facts
Servings 8.0 Amount Per Serving: 2 tablespoons Calories 98 Total Fat 11 g Saturated Fat 1 g Monounsaturated Fat 7 g Polyunsaturated Fat 1 g Trans Fat 0 g Cholesterol 0 mg Sodium 88 mg Potassium 18 mg Total Carbohydrate 1 g Dietary Fiber 0 g Sugars 0 g Protein 0 g
*Nutrition Facts per MyFitnessPal.com. For most accurate facts, calculate your own with the exact ingredients you use in the recipe.
Recommended Products
As an Amazon Associate and member of other affiliate programs, I earn from qualifying purchases.
Nutrition Information:
Yield:

8
Amount Per Serving:
Calories:

98
Unsaturated Fat:

0g
Nutrition Disclaimer
Please be aware I am not a medical specialist or nutritional professional. On this blog, I share recipes and what works for me. Please do not take anything on this blog as medical advice and always consult with your doctor before starting any diet or exercise program. I use MyFitnessPal.com to calculate nutrition facts as a courtesy to my readers, and I remove erythritol from the final carb count and net carb count because does not affect my own blood glucose levels.
This is as accurate as possible, but it's best to independently calculate nutritional information on your own with the specific ingredients you use. I expressly disclaim any and all liability of any kind with respect to any act or omission wholly or in part in reliance on anything contained in this website.