Preview: Soft and delicious, keto cheddar focaccia is cheese and rosemary goodness with your favorite low carb soup or salad.
I've had so many people tell me how hard it is for them to give up bread on a keto, low carb, or gluten-free diet. Do you have family members or friends who moan about how much they miss bread and how terrible all the gluten-free versions are?
I've found for myself it's hugely important to have good alternatives and options to curb any cravings. Yet, such recipes options also have to fit into my daily macros and plan. Sound familiar?
This keto cheddar focaccia is one of those recipes that is so awesome people who are not low carb or keto begin to crave it! It's difficult when half the household eats one way and the other half another. My husband regularly grabs one of these for a snack or with dinner over the bread he says he prefers. I have to bite my tongue not to say, "Hey wait a minute! We can't eat your stuff, why are you eating ours?"
Can I tell you a secret? I very rarely miss bread anymore and am not tempted by it. Once you get through that initial phase the cravings start to fade and maybe just the idea of it sounds good and the memories of good times sharing a meal with others. So bam! Introduce a new plate to the table. Keto cheddar focaccia, yum!
This post contains affiliate links, which means I receive a small percentage if you make a purchase after clicking on my links.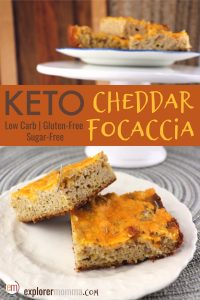 In a hurry?
Scroll down to the bottom for the printable recipe or PIN it here for later!
How to cope when family members eat different diets
Is there anyone else out there who struggles with this? We began for health reasons, and my daughter and I are very strict about what we can eat. It matters what we want to introduce into our systems. On the other hand, my husband is very much a traditional meat, bread, and potatoes guy with a gigantic sweet tooth.
What can you do when you have temptations in the house and are not allowed to completely clean out the cupboards? I will never say that it's easy, but there are a few alterations we've made that seem to have helped. A little.
1. Always have keto treats and emergency snacks available
The best way I've found to keep snacks on hand is to consistently update the supply in the freezer. That way, my daughter or I can get a low carb muffin, keto peanut butter cup, or piece of keto cheddar focaccia out whenever the need or craving arises. In addition, because I know I have good options in the freezer I'm less likely to raid my husband's stash.
2. Keep non-keto or non-low carb items together in one cupboard
In our house, this is called "Daddy's secret spot", named by my son. My husband keeps all his candy bars, Pop-tarts, granola bars, and other snacks in a higher cupboard for non-keto-friendly snacks. It's not locked or anything and always there, but it helps when it's a place I don't go into and don't see. In this way, I'm not reaching in to get the almond flour passing by the chocolate caramels or mint Christmas candy.
Yes, this can backfire if you have no emergency keto options available, but so far it's worked well for us. My daughter doesn't even try to venture into "Daddy's secret spot".
3. Be strategic in the foods you buy
What does this mean? Well, if I have to go to the grocery store and buy my husband bagels and granola bars, I buy the kinds he likes but I know my daughter definitely does not. Therefore, he's happy, and she won't be tempted.
For example, I could buy raisin cinnamon bagels because I know she doesn't like raisins and wouldn't think about them constantly in the cabinet. Then for the granola bar choice, I select a granola bar with peanuts. Why? Because although she grew out of her peanut allergy, she still cannot stand to smell or eat them. Perhaps not ideal, but as a family, you have to make life work!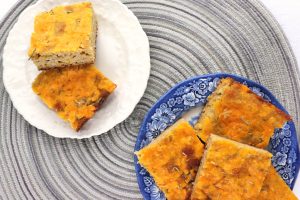 After a good dinner, one can forgive anybody, even one's own relations.
To make keto cheddar focaccia you'll need :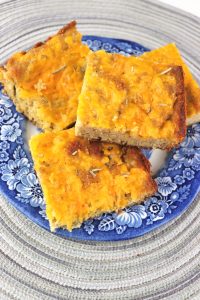 How to make keto cheddar focaccia
This is actually a pretty easy recipe to make, and the most difficult part of all may be in gathering the things you need to make it. Therefore, first, I always get out my food processor, baking dish, and other kitchen items and ingredients I need. It makes it quicker and feel simpler.
Second, take the 9 x 13-inch baking dish and grease it with butter or coconut oil. Once that's done, preheat the oven to 375 degrees Fahrenheit.
Now, move to the food processor. I like to make this recipe quickly in the food processor, but you can always do it in a mixer. Just be sure to mix it very thoroughly.
Measure all the ingredients except for the topping, into a food processor. Next, pulse and process the mixture until it's well-blended and makes a dough. Then spoon the dough into the greased baking dish and smooth it around with a spatula so it's evenly distributed.
Next, take a smaller bowl and mix together the topping ingredients then sprinkle it all over the dough. Then place it in the over to bake for about 30-35 minutes and let cool. I like to eat it when it's still a little warm, but it reheats very well also.
The nutrition facts I've included are for 20 equal-sized pieces. You can always make them a little smaller to cut the carb count down to 1, but I like a good piece to bite into with my dinner. It keeps well for about a 4 days in the fridge or up to a month in the freezer.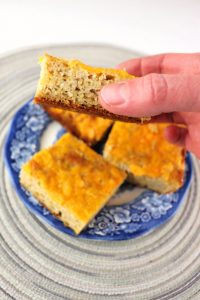 If you're afraid of butter, use cream.
Keto Diet
What do you struggle with most following a keto or low carb diet? Do you also have a family with certain members eating different diets or maybe at different times because of work and school schedules? Planning and organization are huge in these situations, but you also have to use trial and error to see what works for you.
Don't worry if you don't succeed all the time. With our kids, we always talk about the growth mindset, and it's true. We all learn from our setbacks and just haven't learned the perfect way yet. But with perseverance and determination, it can be done!! And taste pretty good along the way! Enjoy!
Pin the recipe here!: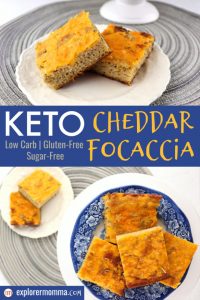 Tag me in your recipe pics on Instagram @explorermomma.
If you LOVE this recipe please consider giving it a five-star rating in the review area below!
Happy baking!
Keto chocolate truffles are chocolate perfection and great to keep in the freezer for an emergency craving!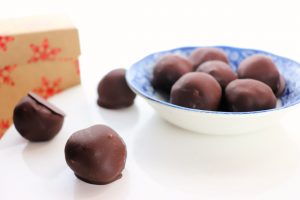 Soup recipes to pair with Keto cheddar focaccia
More keto bread recipes:
Keto 90-second English Muffins
Keto Cheddar Focaccia Printable Recipe
Print Recipe
Keto Cheddar Focaccia
Do you need a keto bread? Cheesy keto cheddar focaccia with a hint of rosemary is mouthwatering low carb goodness. Perfect for dipping in soups or eating as a side.
Ingredients
2

cups

finely ground almond flour

3/4

cup

ricotta cheese

1

tsp

baking soda

1/4

tsp

finely ground sea salt

1/4

tsp

black pepper

1/2

cup

grated cheddar cheese

3

eggs

3

tbsp

melted butter
Topping
1/2

tsp

salt

1

cup

grated cheddar cheese

1

tsp

dried rosemary
Instructions
Take a 9 x 13-inch baking dish and grease it with butter or coconut oil.

Preheat the oven to 375 degrees Fahrenheit.

Blend all the ingredients (not the topping) in a food processor until it's well-blended.

Spoon the dough into the greased baking dish and smooth it around with a spatula so it's evenly distributed.

Mix together the topping ingredients and sprinkle it over the dough.

Bake for about 25 minutes and let cool.

Cut it into 20 equal-sized pieces.
Notes
Nutrition Facts
Servings

15.0

Amount Per Serving: 1 piece
Calories

131

Total Fat

11

g

Saturated Fat

5

g

Monounsaturated Fat

3

g

Polyunsaturated Fat

1

g

Trans Fat

0

g

Cholesterol

63

mg

Sodium

350

mg

Potassium

38

mg

Total Carbohydrate

2

g

Dietary Fiber

0

g

Sugars

0

g

Protein

6

g
*Nutrition Facts per MyFitnessPal.com. For most accurate facts, calculate your own with the exact ingredients you use in the recipe.
Nutrition Disclaimer
Please be aware I am not a medical specialist or nutritional professional. On this blog, I share recipes and what works for me. Please do not take anything on this blog as medical advice and always consult with your doctor before starting any diet or exercise program. I use MyFitnessPal.com to calculate nutrition facts as a courtesy to my readers, and I remove erythritol from the final carb count and net carb count because does not affect my own blood glucose levels.
This is as accurate as possible, but it's best to independently calculate nutritional information on your own with the specific ingredients you use. I expressly disclaim any and all liability of any kind with respect to any act or omission wholly or in part in reliance on anything contained in this website.