Keto antipasto salad is the perfect keto side for a picnic or a quick low carb lunch! Refreshing veggies, mozzarella cheese, and sausage with balsamic vinegar and avocado oil dressing.
Do you ever go to a church or school function where they're serving a potluck meal and just expect not to eat anything or have your real lunch when you get home? I know how you feel! Why? I do it all the time.
How to enjoy food events
However, you can plan well (and that's sometimes a big IF for this mom of 2) and take a low carb offering to the event. Prepare beforehand, and you can join in with everyone. Moreover, at the same time, you can spread the love of keto without them even knowing it.
This keto antipasto salad recipe is a great option for just those occasions. As a mom, I've noticed food events come up all the time. Bring something to the karate picnic, Aunt Lilly's Bunko party, or the neighborhood homeowners meeting. The list goes on, and so often food is how we bond and enjoy time together. Make it easy to join in!
This post contains affiliate links, which means I receive a small percentage if you make a purchase after clicking on my links.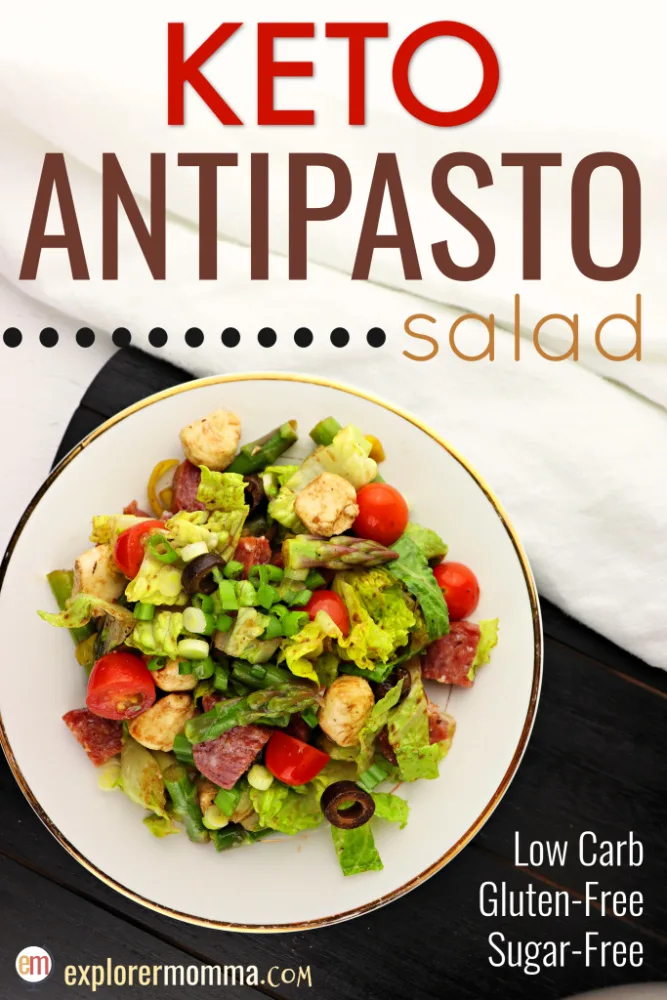 IN A HURRY?
Scroll down to the bottom for the printable recipe or PIN it here for later!
Every salad you serve is a picture you have painted, a sculpture you have modeled, a drama you have created.
What are the best green veggies for a keto diet?
I talk to people all the time who have the misconception you don't ever eat vegetables on a keto diet. "That's just not healthy," I'm told, "You have to eat your veggies!"
Well, yes, I do! I'm a firm believer in the merits of greens in my diet. Also, there are benefits to eating all that roughage! But what are the best green veggies for a keto diet? I'll tell you what I love and what's worked for me.
Broccoli
I love steamed broccoli, and it's one of my favorite sides for dinner. In fact, it's often on my menu 3-4 times a week because it's my trusty go-to easy prep veggie. You can also chop it up or grind it up for any number of soup or casserole-type dishes.
The facts: 1/2 cup of chopped broccoli has 3 carbs, 1 gram dietary fiber, 1 gram of protein, and 23 calories.
Asparagus
Asparagus is great steamed as a side, rolled in bacon, or in a brown butter sauce. It also works well in salads, like the keto antipasto salad. Traditional artichoke has more carbs than I like so I substitute asparagus instead!
The facts: 1/2 cup (about 8 spears) of steamed asparagus has 5 carbs, 3 grams dietary fiber, 3 grams of protein, and 23 calories.
Romaine Lettuce
Romaine lettuce is one I sort of use as an all-purpose veggie. I wrap burgers or deli meat and cheese in it, we also like it as a conduit for dips. In addition, it makes a fabulous taco salad! 😉
The facts: 1 cup of chopped romaine lettuce has 2 carbs, 1 gram dietary fiber, 1 gram of protein, and 8 calories.
Cucumber
Okay, so cucumber is technically a fruit, but I'm still going to include it here. Cucumber is also great for slicing up to use with dip, put in lunch boxes, and throw together for a salad. Most kids like it, including my very picky son so I count it a win!
The facts: 1/2 cup sliced cucumber with the peel on has 2 carbs, 0 grams dietary fiber, 0 grams of protein, and 8 calories.
Spinach
My childhood self would be shocked, but as an adult, I really do love spinach. I use it in all sorts of things. It's fabulous in soups, casseroles, stuffed in chicken, even in smoothies for my son we call "dinosaur juice". It's super-easy to use and grows well in my garden. Score!
The facts: 1 cup of raw spinach has 1 carb, 1 gram dietary fiber, 1 gram of protein, and 7 calories.
(the facts according to MyFitnessPal.com)
There you have it! This is not an all-inclusive list by any means but a list of my family's favorites and what I use most often. What could you add to the list?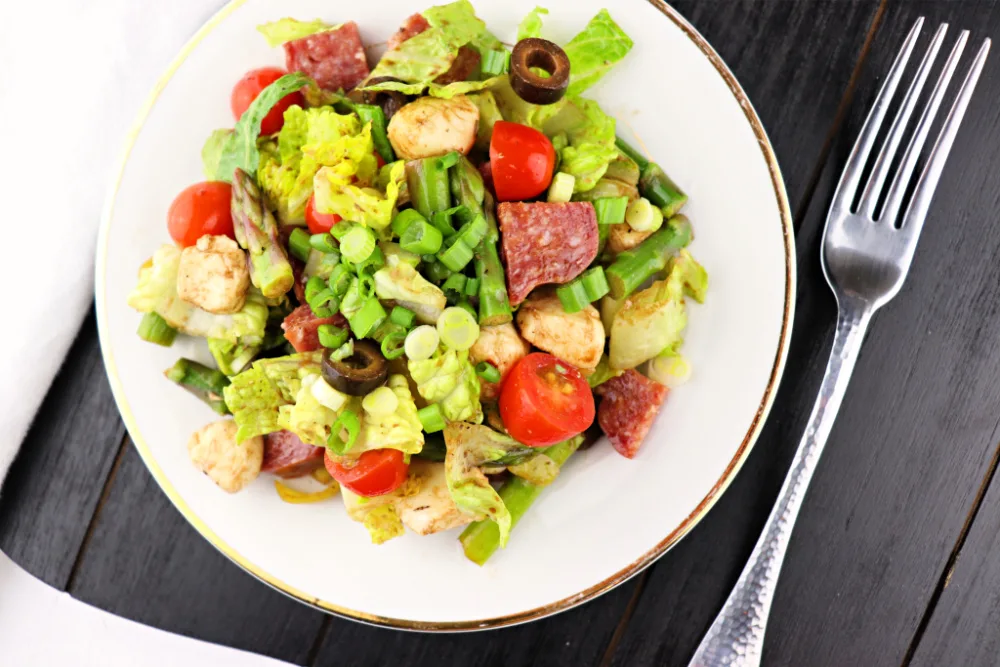 I really like the idea of asparagus in this salad, and it's a great vegetable for a keto diet. It's a family favorite vegetable, and there are so many ways to prepare it. Try this quick and easy recipe: How to cook asparagus in the oven.
How to make a keto antipasto salad
What do I love about a salad? First off, once you have all the ingredients, it's so easy to throw together. Secondly, it's fresh and flavorful and just feels healthy. So let's get started!
As I mentioned, the hardest part of this salad is just getting the ingredients together. Can I tell you a little secret? Do I go shopping at the grocery store and search all over trying to find things? Never! I've gotten completely spoiled with ordering online and doing the pickup behind the store. I use Clicklist at our King Soopers (Kroger) most often, but now Wal-mart and some other store provide this awesome service as well!
Therefore, now I just type in everything I need for the recipes I've planned for the week. This is all accomplished in the comfort of my pajamas under a blanket, with a cup of tea. Also important is it's after the kids have gone to bed (it's been cold here lately!). Now back to the real topic.
Tips to make an awesome antipasto salad
Once you have all your ingredients and bowls and things out, it's time to begin. First, steam or boil the asparagus spears for 3-4 minutes until as tender as you like. For the salad, they're chopped into one-inch pieces, and that can be done before or after they're cooked. Then put them aside to cool.
Second, take a large salad bowl and combine all the salad ingredients. Toss them together with tongs or a large spoon to mix those beautiful colors together. Don't forget to add the cooked asparagus as well. Now, set that aside and take out a medium-sized bowl.
Now it's time to prepare the dressing. It's pretty simple. Measure out all the dressing ingredients into the bowl and whisk them together vigorously. That's it!
Next, pour the dressing over the salad and again use the tongs or a big spoon to toss it and coat all the ingredients with dressing. It keeps well in the refrigerator for 2-3 days, and in my opinion actually tastes better the day after it's made.
Then, it makes it easy peasy to make up the night before your event and take with you the next day!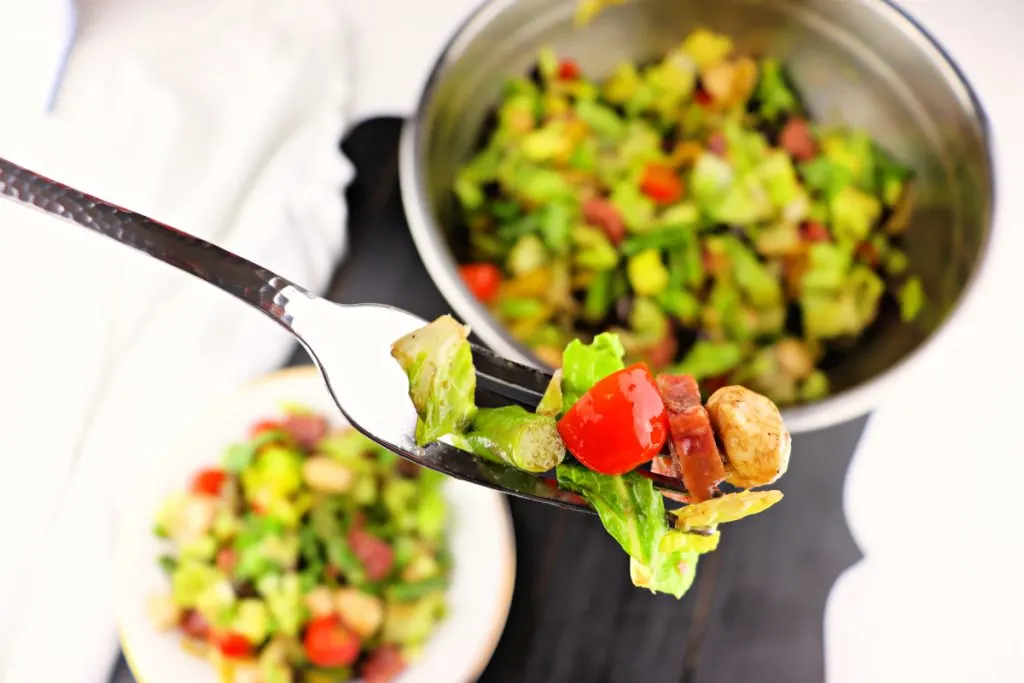 The colors of a fresh garden salad are so extraordinary, no painter's pallet can duplicate nature's artistry.
Healthy Lunch Recipes
What are your favorite go-to healthy lunch recipes? I'm a huge fan of recipes like this Keto antipasto salad you can make beforehand. Then it's ready to go and easy to pack for a lunch on the go! Or make this keto salad dressing – lemon poppy seed for easy lunches on some greens with chicken, tuna, or boiled eggs.
Do you prefer eggs for lunch? Try out this awesome Keto Avocado Egg Salad, great to pack for lunch.
So many people have the wrong idea and think if you're on a Keto diet you don't eat veggies. They couldn't be more wrong! Furthermore, I take great pride in nurturing my garden every year. Wondering what to plant in your Keto vegetable garden? Check out my suggestions here!
Here's to salad, and parties, and picnics! Enjoy!
Pin the recipe here!: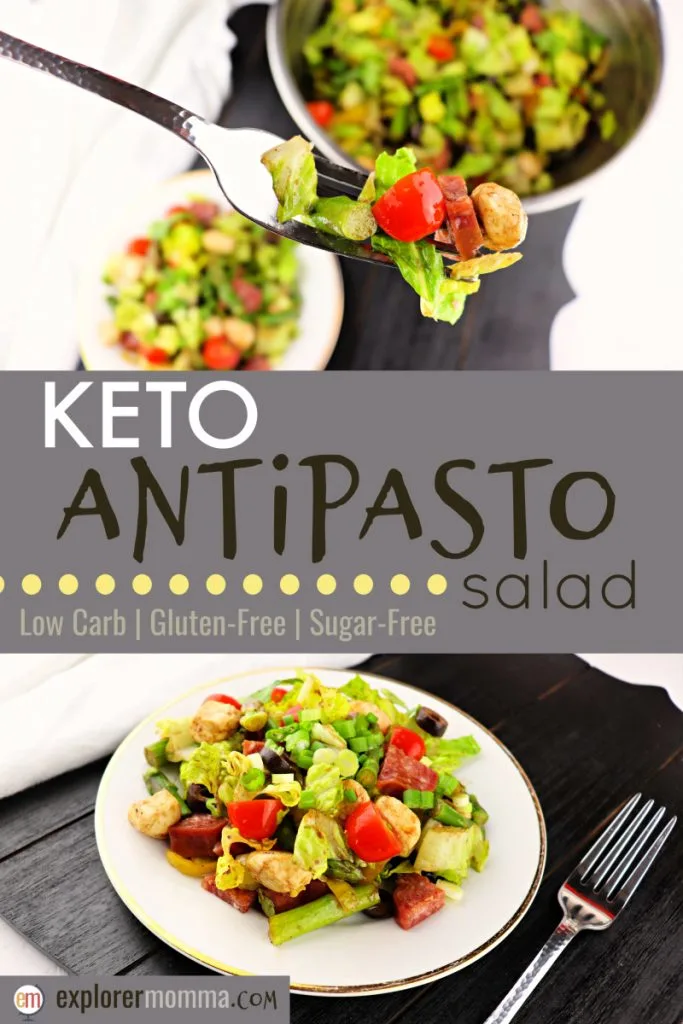 Tag me in your recipe pics on Instagram @explorermomma.
If you LOVE this recipe please consider giving it a five-star rating in the review area below!
This is a fabulous keto antipasto salad! I hope you love it too!
Do you need more veggie recipes? Try this easy low carb grilled garlic parmesan zucchini.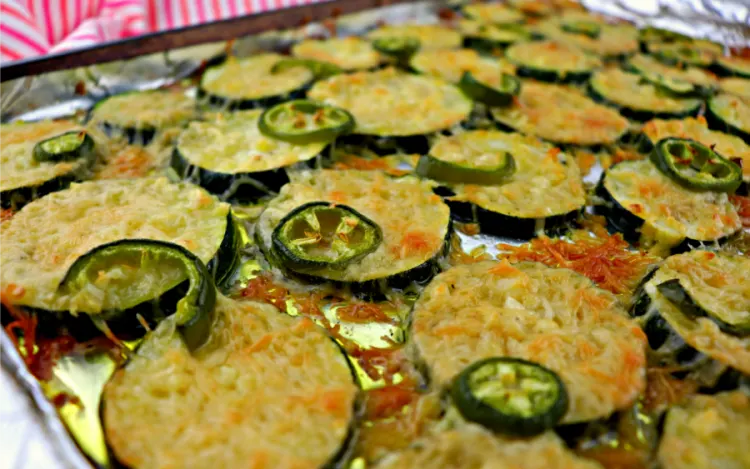 Printable Recipe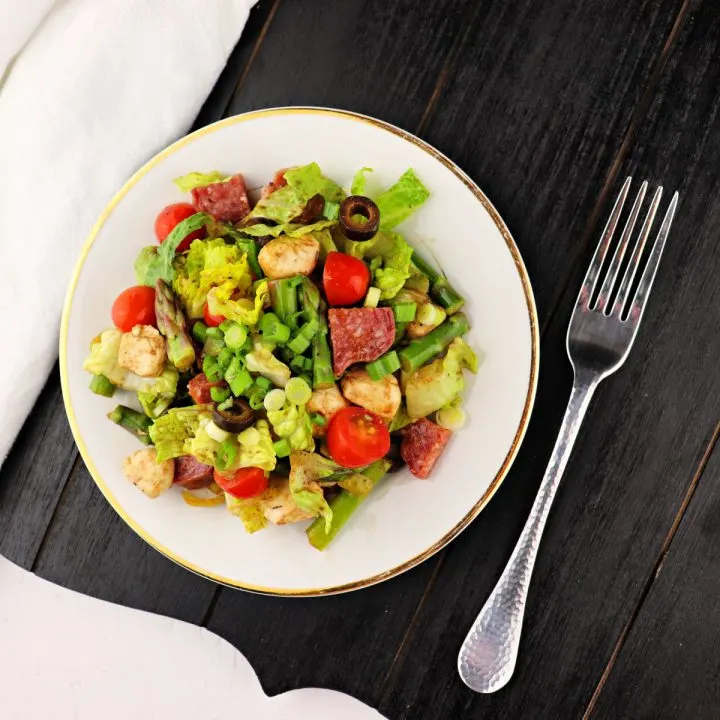 Keto Antipasto Salad
Fresh veggies, mozzarella balls, and sausage. What could be better with the bite of a balsamic vinegar and avocado oil dressing? Keto Antipasto Salad is the perfect low carb lunch or side.
Ingredients
Antipasto Salad
8 oz mozzarella balls
1 cup grape tomatoes, sliced in half
8 oz pepperoncini
8 oz hard salami, diced
4 cups chopped romaine lettuce
16 spears asperagus
1/2 cup sliced olives
Dressing
1/4 cup balsamic vinegar
1/2 cup avocado oil
1 tsp dijon mustard
1/2 tsp oregano
1/4 tsp red pepper flakes
1/2 tsp salt
1/4 tsp black pepper
Instructions
Steam or boil the asparagus for 3-4 minutes until soft. Cut the spears up into 1-inch pieces, and put them aside to cool.
Combine all the salad ingredients in a large bowl and toss to mix.
Set that aside and take out a medium-sized bowl and whisk together all the dressing ingredients. Pour the dressing over the salad and use tongs or a big spoon to toss it and coat all the ingredients with dressing.
Serve!
Notes
Nutrition Facts
Servings 8.0 Amount Per Serving Calories 316 Total Fat 27 g Saturated Fat 8 g Monounsaturated Fat 10 g Polyunsaturated Fat 0 g Trans Fat 0 g Cholesterol 45 mg Sodium 1042 mg Potassium 131 mg Total Carbohydrate 4 g Dietary Fiber 2 g Sugars 1 g Protein 12 g Net Carbohydrate 2 g
*Nutrition Facts per MyFitnessPal.com. For most accurate facts, calculate your own with the exact ingredients you use in the recipe.
Nutrition Information:
Yield:

8
Amount Per Serving:
Calories:

316
Unsaturated Fat:

0g
Nutrition Disclaimer
Please be aware I am not a medical specialist or nutritional professional. On this blog, I share recipes and what works for me. Please do not take anything on this blog as medical advice and always consult with your doctor before starting any diet or exercise program.
I use MyFitnessPal.com to calculate nutrition facts as a courtesy to my readers, and I remove erythritol from the final carb count and net carb count because does not affect my own blood glucose levels.
This is as accurate as possible, but it's best to independently calculate nutritional information on your own with the specific ingredients you use. I expressly disclaim any and all liability of any kind with respect to any act or omission wholly or in part in reliance on anything contained in this website.