The ultimate low carb keto tahini dressing transports us to a Mediterranean cafe overlooking the ocean. Sesame tahini with olive oil, lemon, garlic, red pepper, all good real ingredients.
Pin it for later here: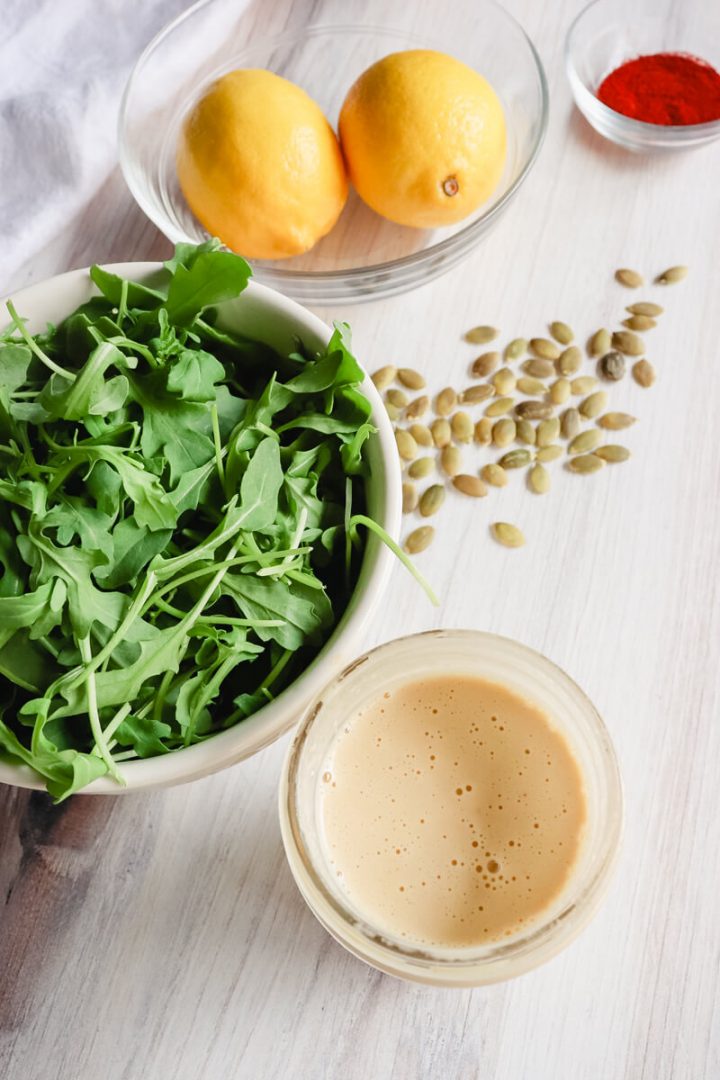 This post may include Amazon or other affiliate links. As an Amazon Associate, I earn from qualifying purchases.
Scroll down to the bottom of the page for the recipe card with ingredient amounts and printable recipe to make it NOW or PIN it here for later!
Back when I was in college I had a little obsession with hummus. This was long before I discovered keto. I would make my own in a food processor procured from a garage sale (my aunt's!) precisely for the purpose of making hummus.
In my college house, we used it as a dip, a spread, you name it. Often I would spread it on a tortilla with some veggies, roll it up, and call it lunch on my way to whatever class or activity I had going.
While I don't eat tortillas or traditional hummus anymore, I still love that flavor! A keto tahini dressing is the perfect way for me to get my "hummus" fix and remain low carb.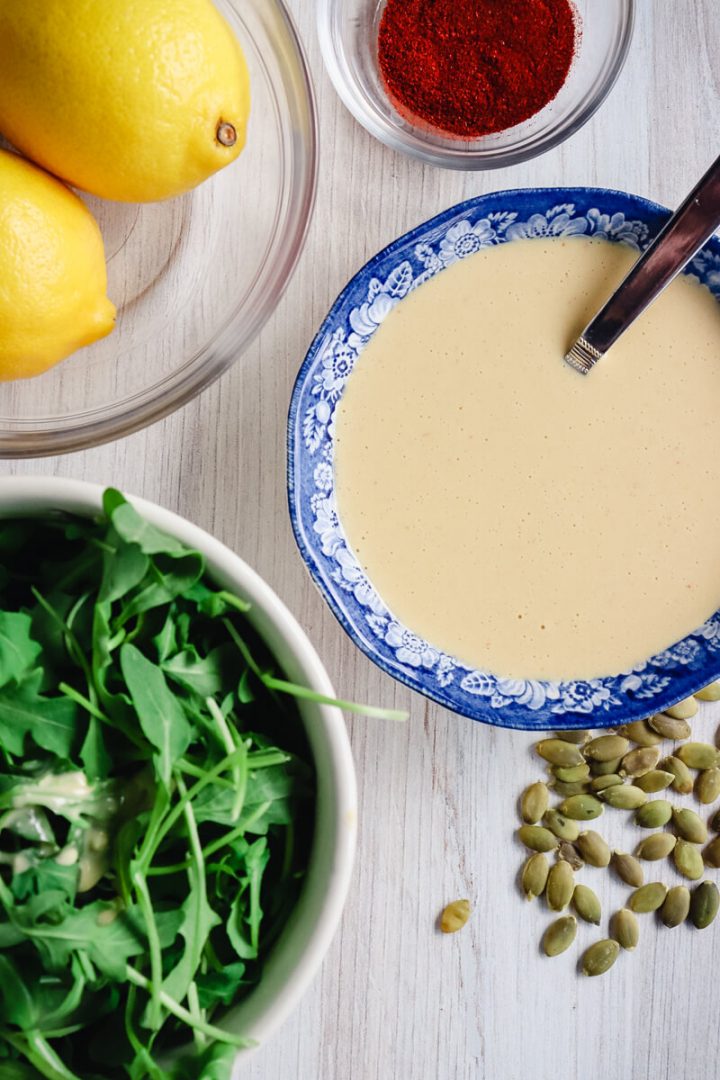 What is tahini?
If you've heard of tahini, it was probably in a hummus recipe or perhaps a baba ganoush (eggplant dip) recipe. But what is it?
Quite simply, it's a paste made from sesame seeds and oil. Or perhaps it's easier to think of it like a peanut butter, but made with sesame seeds instead of peanuts.
It's used in all sorts of Mediterranean cuisine and also often in the Middle East. Personally I love it in both sweet and savory dishes. In addition, it's naturally gluten-free.
The unique nutty flavor makes it the perfect choice for a salad dressing.
Now, what do we need to make keto tahini dressing?
🍴Equipment
whisk
a spatula
knife
small glass mason jar or air-tight container
🥘 Ingredients
1/4 cup sesame tahini
1/4 cup fresh lemon juice
1 tbsp raw apple cider vinegar
1/4 cup water (less if thicker dressing preferred)
1/4 cup olive oil
4-5 dashes Tabasco sauce (or other red pepper sauce)
1/2 tsp salt
1/4 tsp ground black pepper
1/2 tsp smoked paprika
2 garlic cloves, minced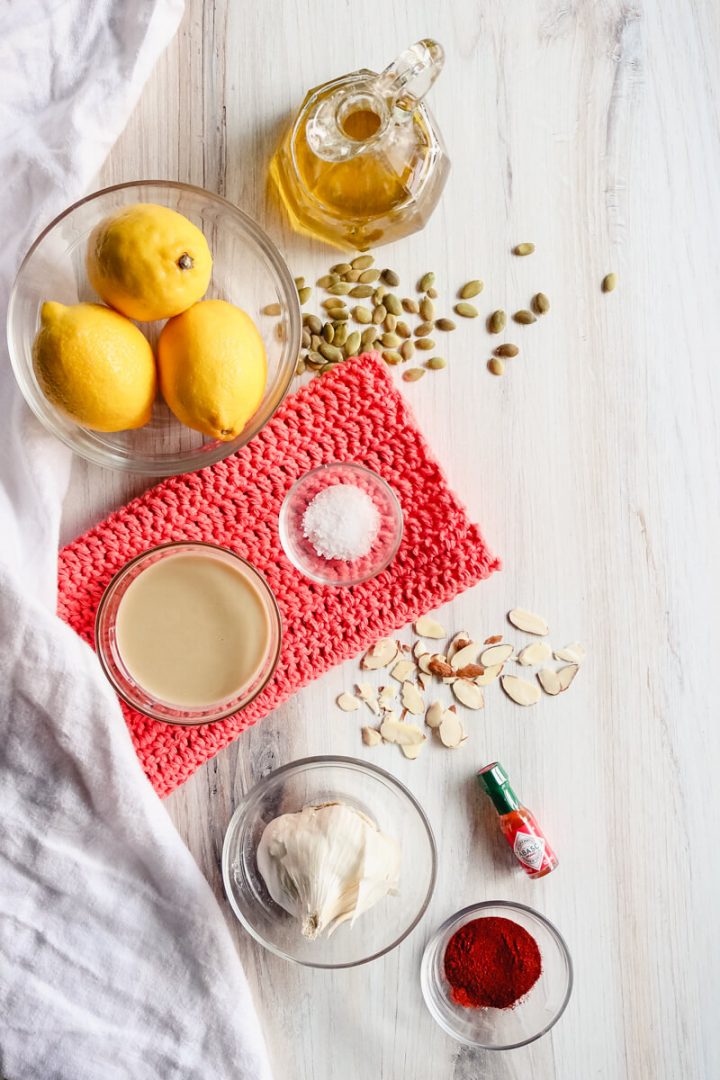 As always, when selecting ingredients, buy as fresh as you can and organic if possible.
Also, don't forget to read the ingredients even for things like tahini or smoke paprika. Surprisingly, or maybe rather not surprisingly, different brands can hide sugar, preservatives, and other unwanted items.
Another option is to make your own tahini. It's best made with hulled sesame seeds, and is very similar to making nut butters. So if you have a good food processor or high powered blender, this may be a good way to control ingredients.
The best plan is to select quality ingredients for anything you make. The recipe includes nutrition facts with what I use. However, if you're calculating macros and I always advise figuring your own facts with the exact ingredients you use in the recipe.
Now, it's time to make some keto tahini dressing!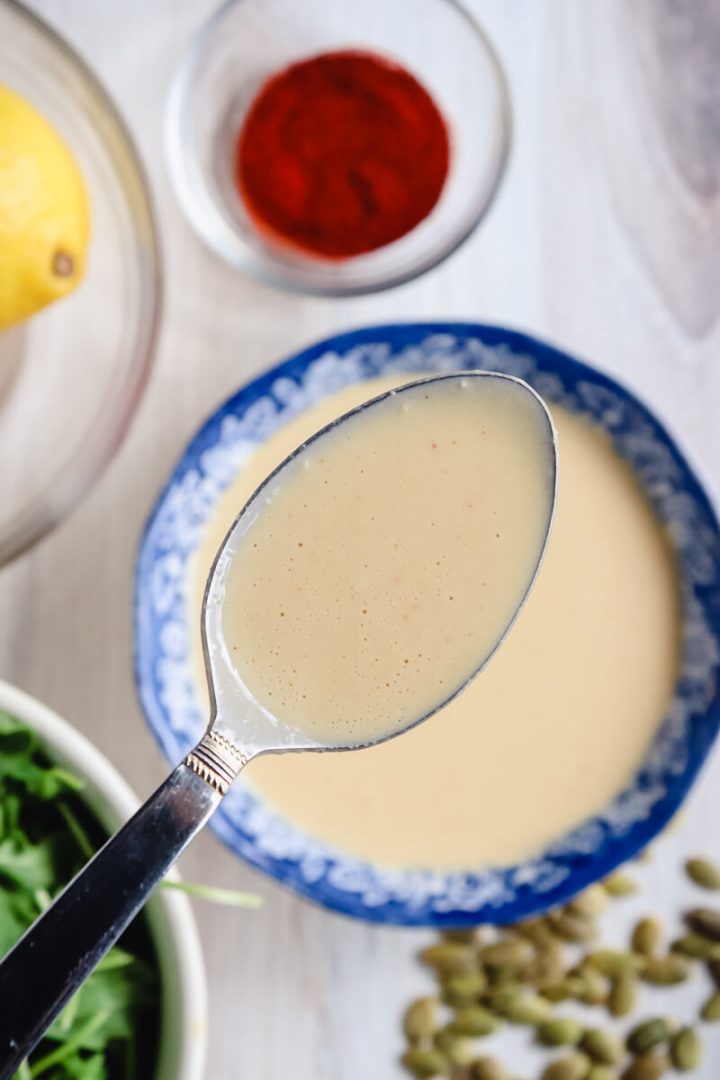 🔪 Instructions
First off, I like to assemble all my kitchen equipment and ingredients. It just makes things easier and relaxes me while I'm cooking when everything's close at hand.
Once you have all the ingredients together, this is really a simple recipe with tons of flavor. It can easily be made in under five minutes.
First, measure all ingredients and place them together in a blender. I like to roughly chop the garlic and toss it in as the blender easily takes care of liquifying it.
Second, blend it all together on high speed for about thirty seconds or until the dressing is smooth and creamy.
Pour it into an airtight jar and keep in the refrigerator. It's possible to pour it on greens or a salad immediately, but I tend to like to leave it to chill overnight and let the flavors blend.
A serving is two tablespoons.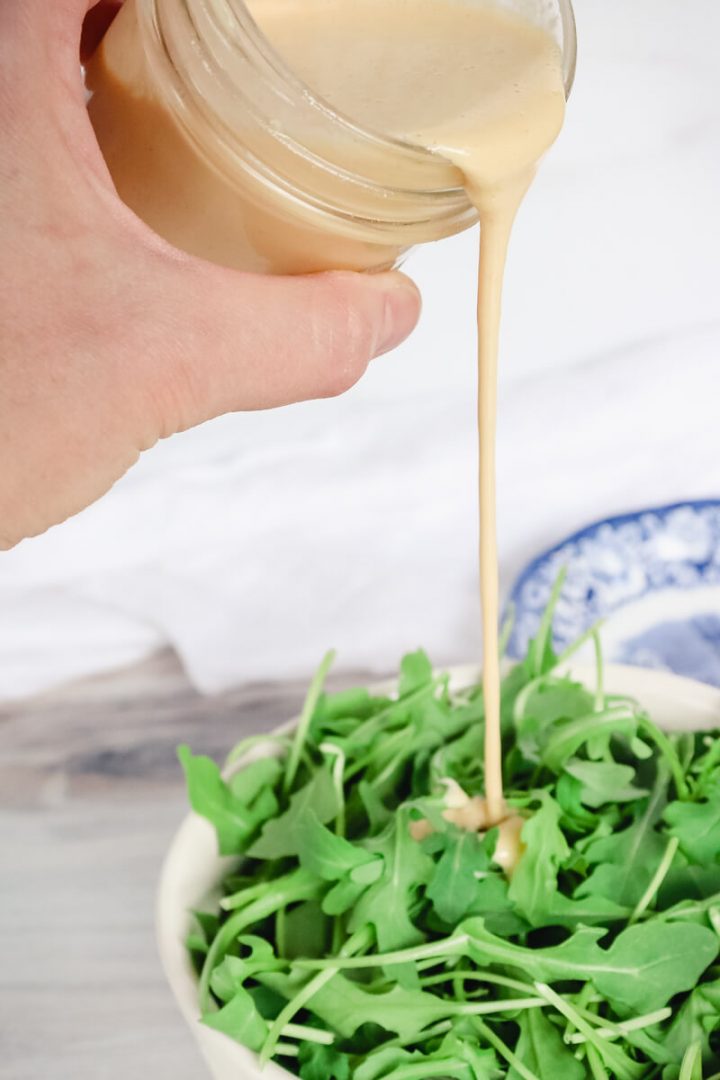 💭 Top tip
This recipe is for a fairly thin dressing. I find that works best when you want to coat arugula or other greens.
However, if you'd like more of a dip or a thicker dressing, it's easy to thicken it up a bit. Simply cut the water measurement in half or leave it out altogether. That's it!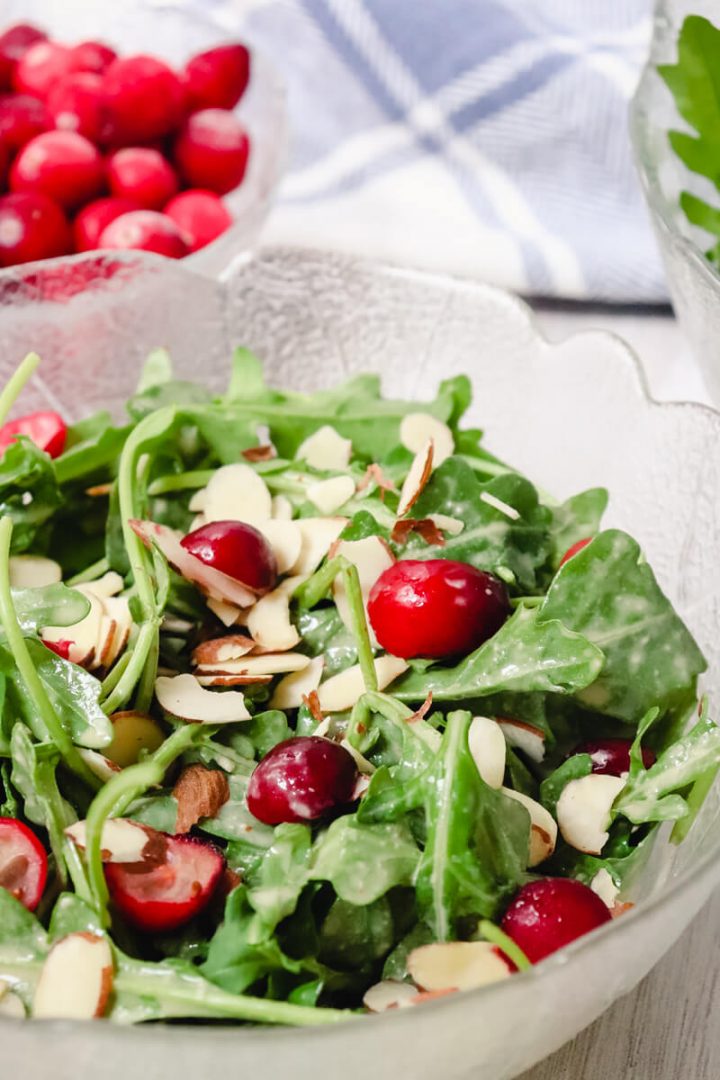 🥣 How to store keto tahini dressing
Keto tahini dressing is best kept in an air-tight glass container like a small mason jar. Keep it in the refrigerator up to a week and enjoy on all sorts of salads.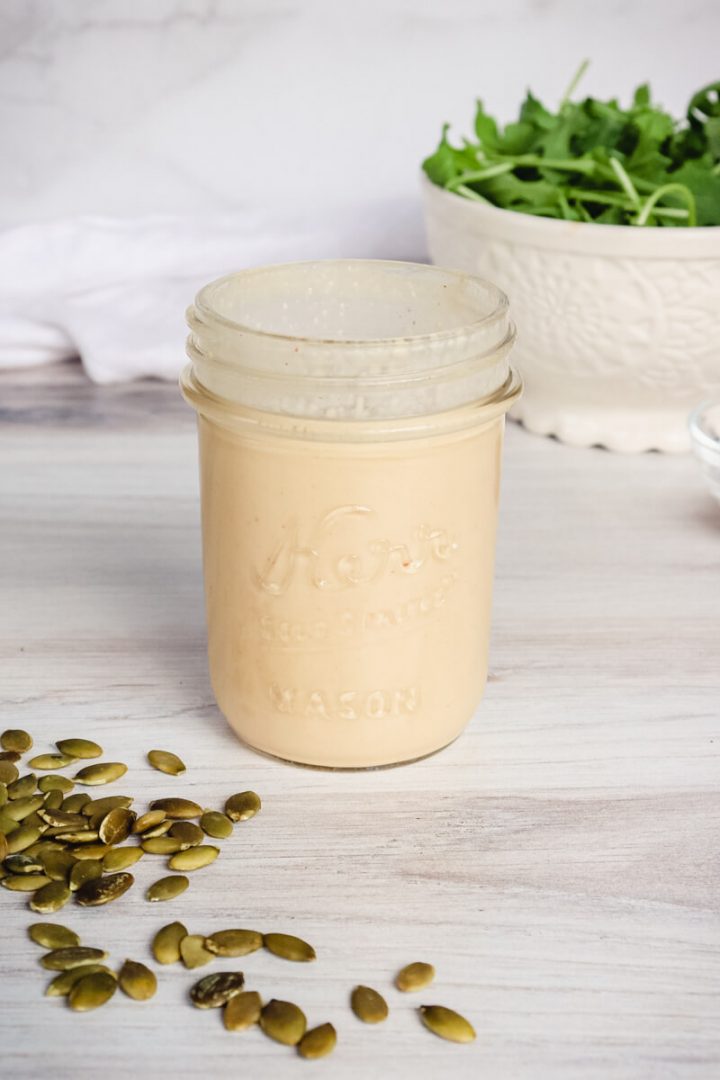 👩‍🍳 How to use keto tahini dressing
There are so many options for this delicious dressing!
Personally, my favorite is with arugula, roughly chopped almonds, and a few berries to sweeten it, such as blueberries, blackberries, or raspberries.
It can also be served as a dip with cucumbers, peppers, or other keto-friendly snacks. Think keto crackers or keto sour cream and onion chips.
🥄 Variations
While I love the simplicity of this recipe, it's easy to vary with different flavors.
For different flavor combinations add:
extra Tabasco or cayenne to spice it up even more,
avocado,
roasted red pepper,
chipotle pepper,
sun-dried tomato and basil,
jalapeño and cilantro, or
spinach
There are so many options. It's time to get creative!
For me, this dressing takes me back to those college days when I de-stressed by making hummus. Whether you've grown up with these flavors or they're new to you, I hope you love them just as much as I do!
Pin the recipe here: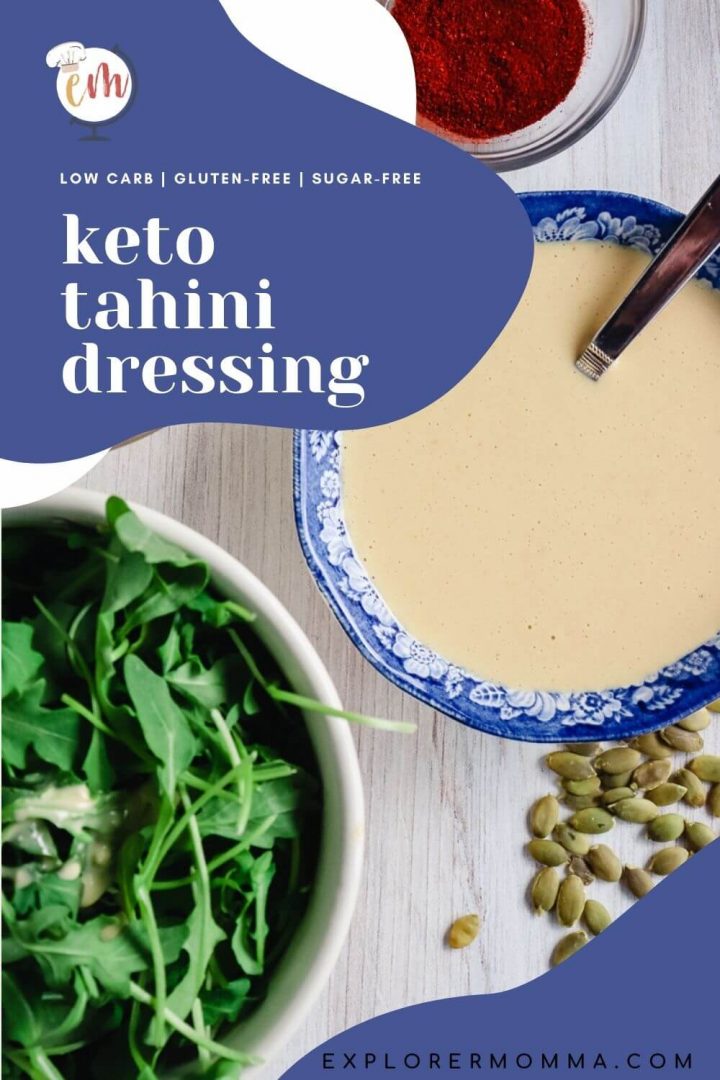 Tag me in your recipe pics on Instagram @explorermomma.
If you LOVE this recipe please consider giving it a five-star rating in the review area below!
🥗 More keto salad recipe ideas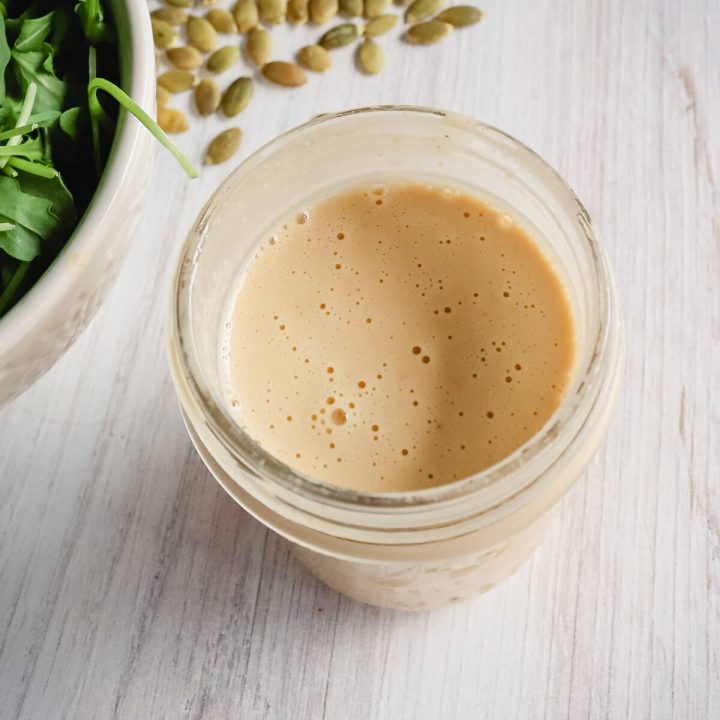 Keto Tahini Dressing
Delicious keto tahini dressing celebrates Mediterranean flavors with sesame tahini, bright lemon, garlic, and red pepper. The tastes of hummus in a low carb dressing. Blend it all up in under 5 minutes!
Ingredients
1/4 cup sesame tahini
1/4 cup fresh lemon juice
1/4 cup water (less if thicker dressing preferred)
1/4 cup olive oil
4-5 dashes Tabasco sauce (or other red pepper sauce)
1/2 tsp salt
1/4 tsp ground black pepper
1/2 tsp smoked paprika
2 garlic cloves, minced
1 tbsp apple cider vinegar
Instructions
Place all ingredients together in a blender.
Blend all together on high speed for about 30 seconds or until dressing is smooth.
Refrigerate overnight for best flavor.
Serve on arugula or other salad greens.
Notes
Keeps in the refrigerator well up to 7 days.
Nutrition Information:
Serving Size:

2 tbsp
Amount Per Serving:
Calories:

106
Total Fat:

11g
Saturated Fat:

2g
Trans Fat:

0g
Unsaturated Fat:

6g
Sodium:

162mg
Carbohydrates:

2g
Net Carbohydrates:

1g
Fiber:

1g
Sugar:

0g
Protein:

1g
*Nutrition Facts per MyFitnessPal.com. For most accurate facts, calculate your own with the exact ingredients you use in the recipe.
Nutrition Disclaimer
Please be aware I am not a medical specialist or nutritional professional. On this blog, I share recipes and what works for me. Please do not take anything on this blog as medical advice and always consult with your doctor before starting any diet or exercise program.
I use MyFitnessPal.com to calculate nutrition facts as a courtesy to my readers, and I remove erythritol from the final carb count and net carb count because does not affect my own blood glucose levels.
This is as accurate as possible, but it's best to independently calculate nutritional information on your own with the specific ingredients you use. I expressly disclaim any and all liability of any kind with respect to any act or omission wholly or in part in reliance on anything contained in this website.