Kale crunch salad is a refreshing low carb side perfect for a keto diet. Sweet yet sugar-free, pumpkin seeds and dried cranberries make it a popular holiday addition to any table.
Let's be honest.
Are you a gung-ho kale lover or more in the I suppose I really should eat kale, sigh, camp? For a while, I went on a kale craze. I heard how many health benefits this leafy green had, and I determined to get it into the family diet.
I tried smoothies, kale chips, kale soup, kale salads. Do you know what happened? Well, guess what!?
In point of fact, I put way TOO much kale in everything and my husband announced he was done with anything with kale. This taught me something. Because I had to admit it to myself, I wasn't a fan of too much kale either!
What I've come to love is a good balance. I really enjoy kale in this salad because it's a mix of many healthy ingredients. Moreover, I'm not just eating a kale leaf, but kale with broccoli, cabbage, lemon, cranberries, pumpkin seeds, and more! It's all coated in a delicious dressing, and I've come to crave it for lunch!
Don't worry – I still sneak kale leaves in my son's smoothies.
This post contains affiliate links, which means I receive a small percentage if you make a purchase after clicking on my links.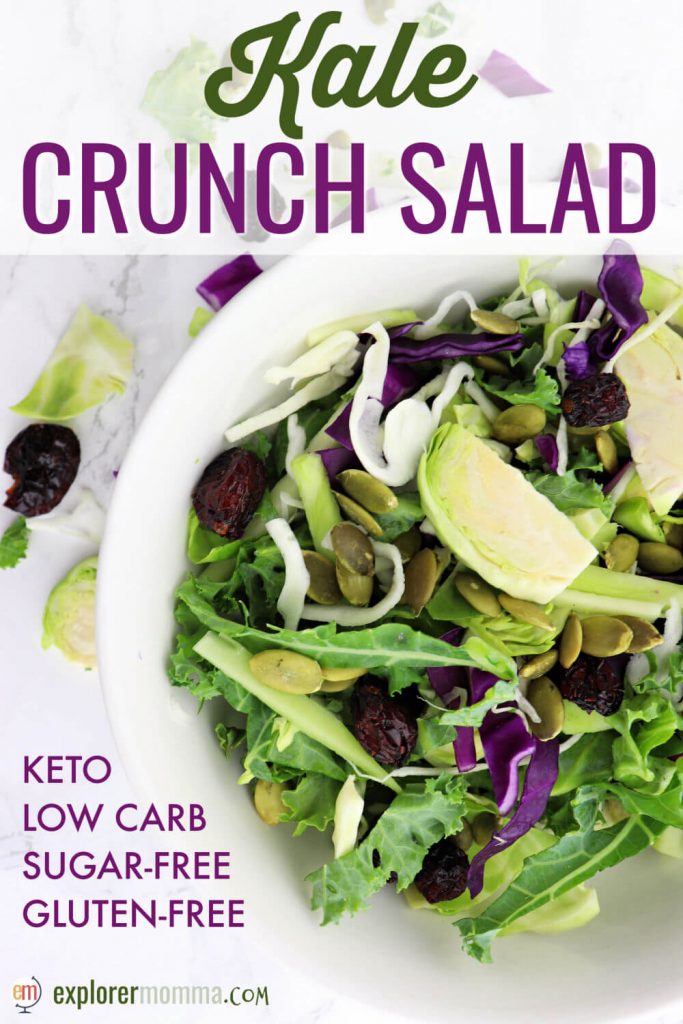 In a hurry?
Scroll down to the bottom for the printable recipe or PIN it here for later!
Leafy greens such as romaine lettuce, kale, collards, Swiss chard, and spinach are the most nutrient-dense of all foods.
How kale crunch salad came about
I've come across many salad recipes. Back when I went through my kale obsession, I also tried out many prepackaged salad mixes. Unfortunately, the problem with the salad mix is that it always seems to contain ingredients I don't want in my salad.
For example, many salad mixes have carrots, and I don't eat carrots on a keto diet. Also, the dressings typically all have a ton of sugar. Or maybe if you get a fancy premade salad you get toppings, and the cranberries have sugar. Read the labels, there's always something.
Finally, I told myself to just man up and make my own version. I'm pretty happy I did!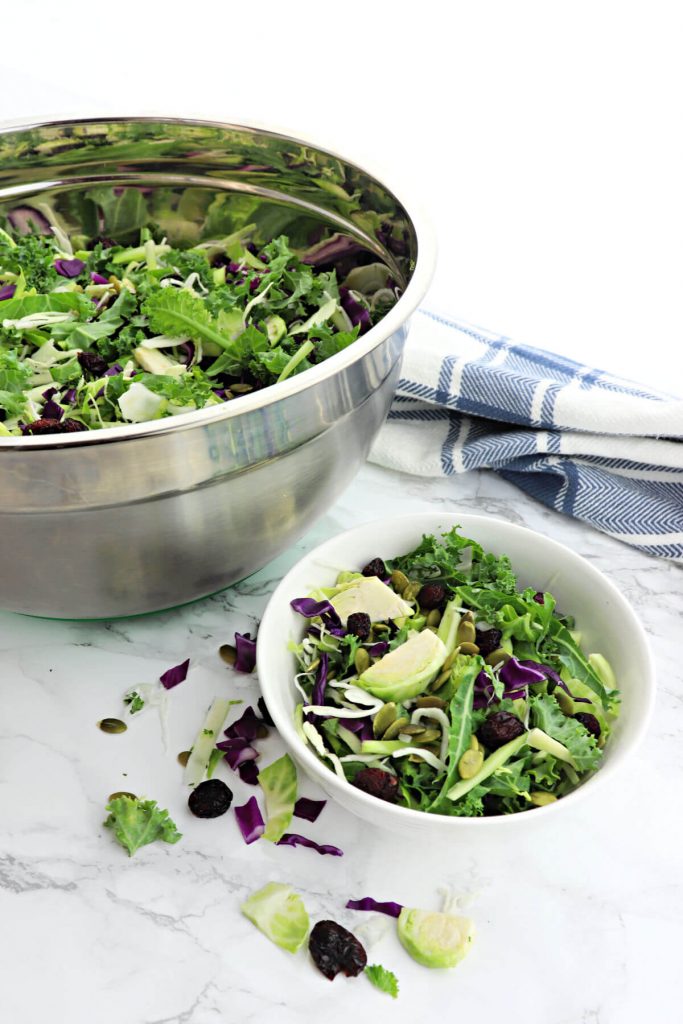 How to julienne
Now to the basics. The main time-consuming job when making a salad is chopping up all the ingredients. Actually, I find it relaxing when I have the time. However, there are ways to make it go quicker if you don't have a ton of time or the children start WWIII in the living room.
Let's start with the basic julienne cut. You'll find this term in many recipes, and yes, it's French. Despite having a fancy name, it's really quite simple.
Julienne means simply to cut thin strips, usually in vegetables, meat or fruit. The strips should be about 2 1/2 to 3 inches long, and 1/16 to 1/8 of an inch thick. I like to use it for salads because it looks aesthetically pleasing and in a practical sense makes the salad easier to eat.
Tips to speed up vegetable chopping
There are several ways to speed up the time it takes to make this salad. For one, you can buy the cabbage pre-shredded. I like to buy the angel-hair shredded cabbage, and it's not expensive.
It's more difficult to find the Brussels sprouts and broccoli stalks sliced or julienned. Sometimes I've found a "broccoli slaw" mix at the grocery store, but as I said, it almost always has things in it I don't want. How to fix this?
First, grab your fresh, organic produce. Next, pull out a food processor or even that spiralizer you bought for making zucchini noodles. Both of these kitchen gadgets should have a shredding or slicing disc or blade. Then you will easily make the right sized veggies for that perfect crunch.
Ways to use broccoli stalks
Why broccoli stalks, you may ask. Well, why not? I feel incredibly wasteful chopping off the florets to steam and throwing out the stalks.
I've found julienning to be my favorite way to chop the stalks. About that width provides the crunch I like without being too thin and droopy or a giant chunk. Experiment with a spiralizer or food processor to get your favorite cut.
There are many ways to use broccoli stalks:
make soup, puréed or chopped
cut lengthwise for crudité to go with your favorite keto dip
use with other vegetables to make a vegetable stock
steam and purée as baby food
julienne or shred for salads or coleslaw
get creative!
To make kale crunch salad you'll need: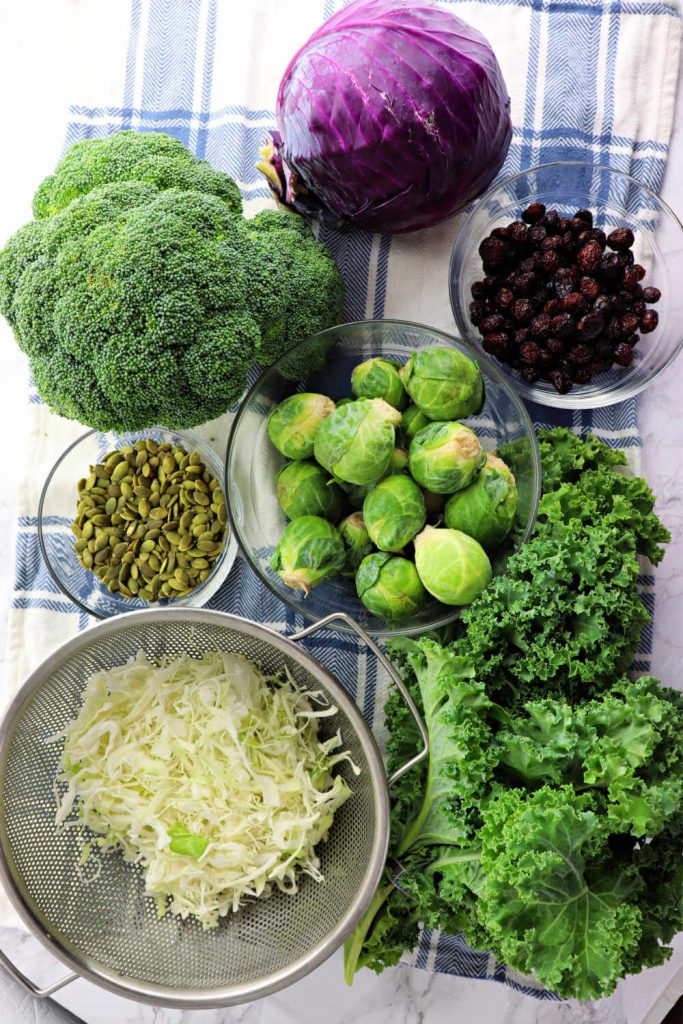 How to make kale crunch salad
As I said before, the most time-consuming part of making a salad is chopping up all the ingredients. However, once that's done, it's pretty easy to assemble.
First, place all ingredients EXCEPT for the pumpkin seeds, cranberries, and dressing in a large bowl. Then take some salad tongs and mix it all up so everything's evenly dispersed. Just think that it should be combined so you get each ingredient in every bit.
Second, about a half-hour to one hour before you're ready to serve the salad, pour on the keto salad dressing and mix it up with the tongs to coat the greens.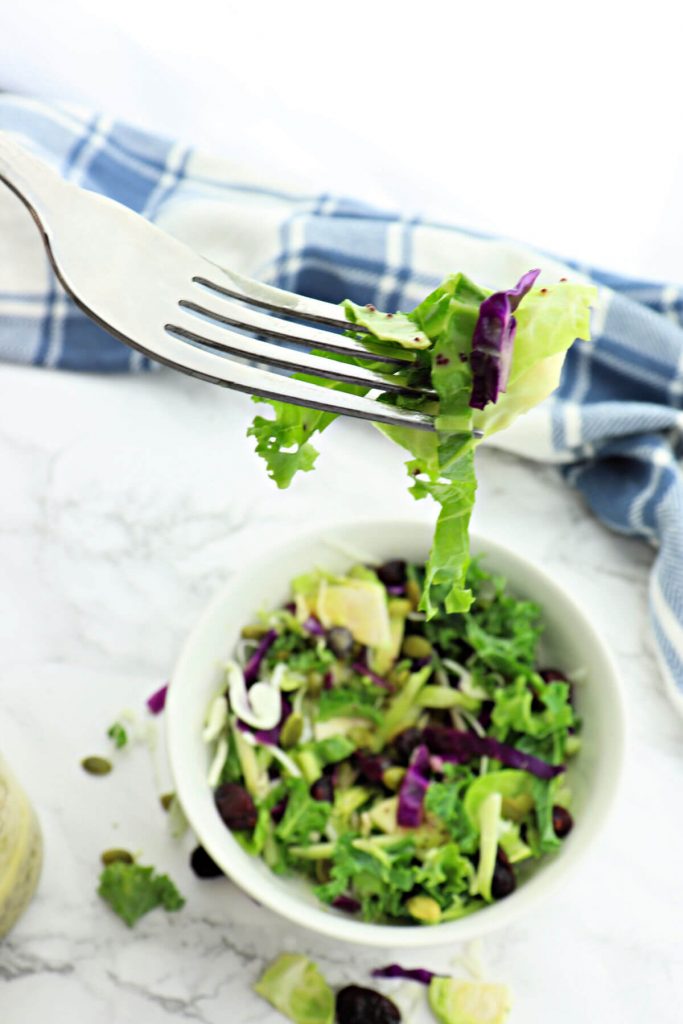 Note: If you're eating it in single portions just take out what you want to eat and use 2 tablespoons of dressing for a serving. When I get really ambitious, I like to portion this salad out in containers to meal-prep lunches for the week.
Lastly, sprinkle the pumpkin seeds and the cranberries over the top, and mix it up when it's time to serve. That's it!
It's pretty easy to do and is perfect for any holiday dinner or get together.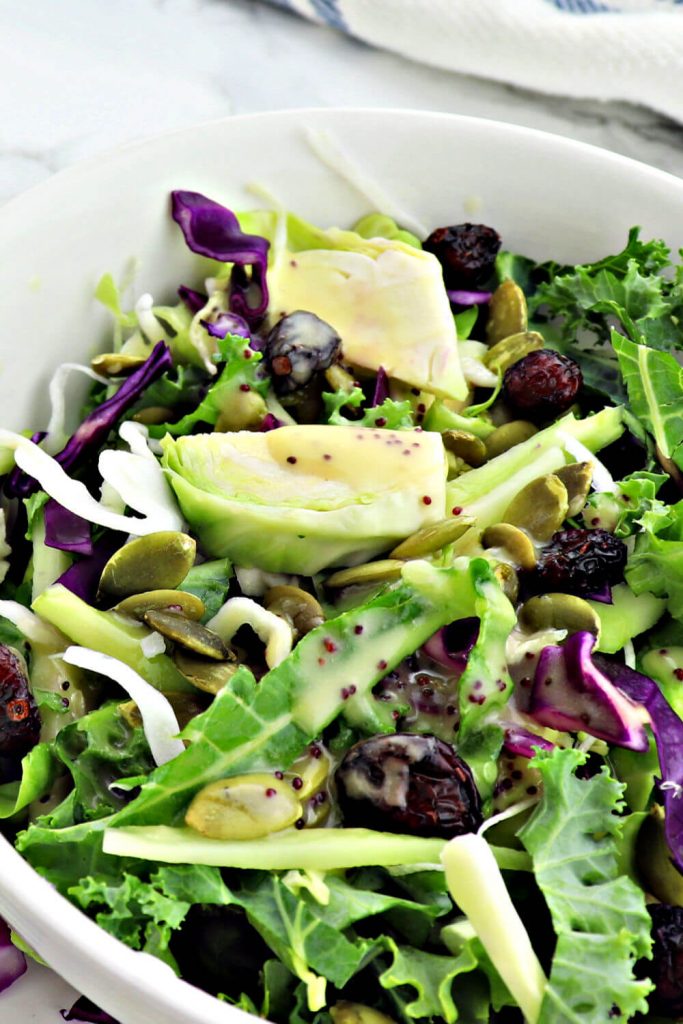 If kids grow kale, kids eat kale. If they grow tomatoes, they eat tomatoes. But when none of this is presented to them, if they're not shown how food affects the mind and the body, they blindly eat whatever you put in front of them.
Why make your own kale crunch salad?
If you ask yourself this question, it comes down to why make your own anything? Personally, I prefer to make my own salads and recipes because I can control what goes in them. There are no extra preservatives or questionable ingredients.
With all her health issues, my daughter's doctor always tells me to buy organic whole foods for her. Buy the best ingredients and prepare it yourself. It only makes sense to control what you consume, and that goes for anyone!
So come on! You're going to love kale in this salad! I know I do.
Pin the recipe here!: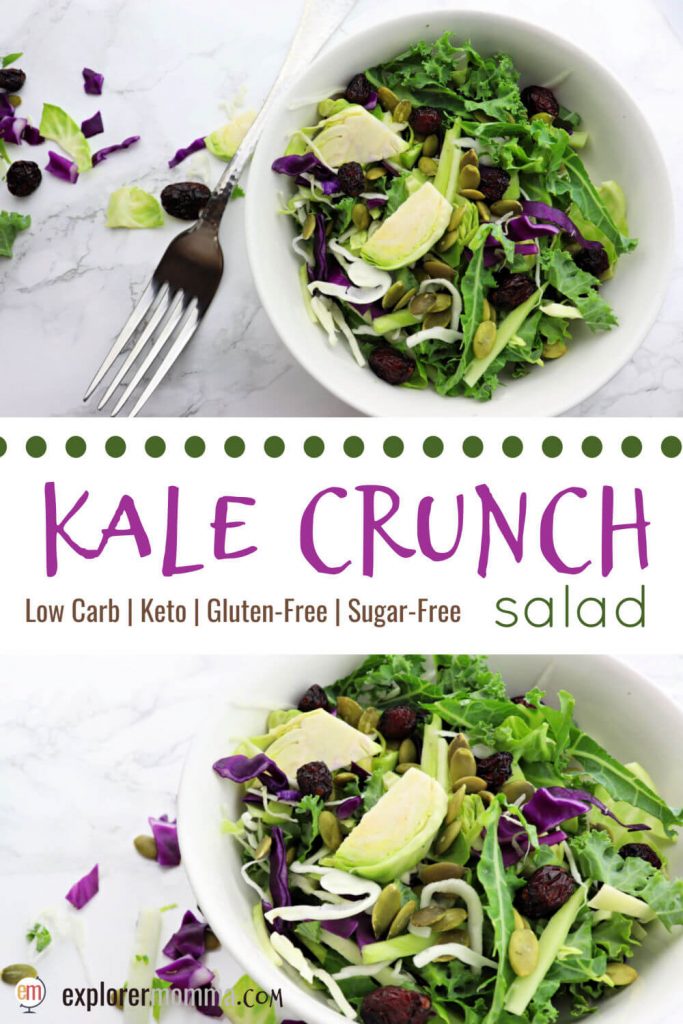 I'd love for you to follow me on Instagram @explorermomma.
If you LOVE this recipe please consider giving it a five-star rating in the review area below!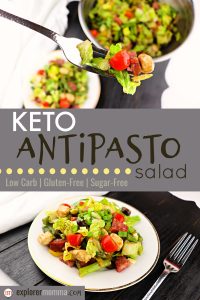 Keto sides anyone?
Printable Recipe
*Get the Lemon Poppyseed Keto Salad Dressing recipe here!
Kale Crunch Salad
A brilliant salad mix of super-greens including kale, broccoli, Brussels sprouts, cabbage, and more! Perfect for a keto, low carb, or other healthy diets.
Ingredients
2 cups cabbage, angel hair or finely julienned
3 cups kale, chopped or julienned
8 oz Brussels sprouts, finely sliced
1 cup chopped red cabbage
2 cups broccoli stalks, julienned
1/2 cup pumpkin seeds
1/2 cup dried cranberries, sugar-free
Instructions
Place all ingredients except for the pumpkin seeds, cranberries, and dressing in a large bowl and use tongs to combine.
About one hour before ready to serve, pour on the dressing and mix with the tongs to coat the greens.
Sprinkle the pumpkin seeds and cranberries over the top and mix when ready to serve.
Notes
Nutrition Facts
Servings 10.0 Amount Per ServingCalories: 149 Total Fat 12 g Saturated Fat 2 g Monounsaturated Fat 6 g Polyunsaturated Fat 1 g Trans Fat 0 g Cholesterol 0 mg Sodium 69 mg Potassium 289 mg Total Carbohydrate 8 g Dietary Fiber 3 g Sugars 2 g Protein 5 g Net Carbohydrate 5 g
*Nutrition Facts per MyFitnessPal.com. For most accurate facts, calculate your own with the exact ingredients you use in the recipe.
Nutrition Information:
Yield:

10
Amount Per Serving:
Calories:

149
Unsaturated Fat:

0g
Nutrition Disclaimer
Please be aware I am not a medical specialist or nutritional professional. On this blog, I share recipes and what works for me. Please do not take anything on this blog as medical advice and always consult with your doctor before starting any diet or exercise program. I use MyFitnessPal.com to calculate nutrition facts as a courtesy to my readers, and I remove erythritol from the final carb count and net carb count because does not affect my own blood glucose levels.
This is as accurate as possible, but it's best to independently calculate nutritional information on your own with the specific ingredients you use. I expressly disclaim any and all liability of any kind with respect to any act or omission wholly or in part in reliance on anything contained in this website.