When it comes to a unique and delicious dinner, nothing beats a perfectly cooked steak. And if you're looking for a healthy and flavorful meal to try, then this Keto Steak Marinade Recipe for Air Fryer Flank Steak is the perfect way to go. This marinade packs a punch of flavor with its combination of savory tamari, tangy red wine vinegar, spicy garlic, and smoked paprika that adds an amazing depth of flavor. Yum!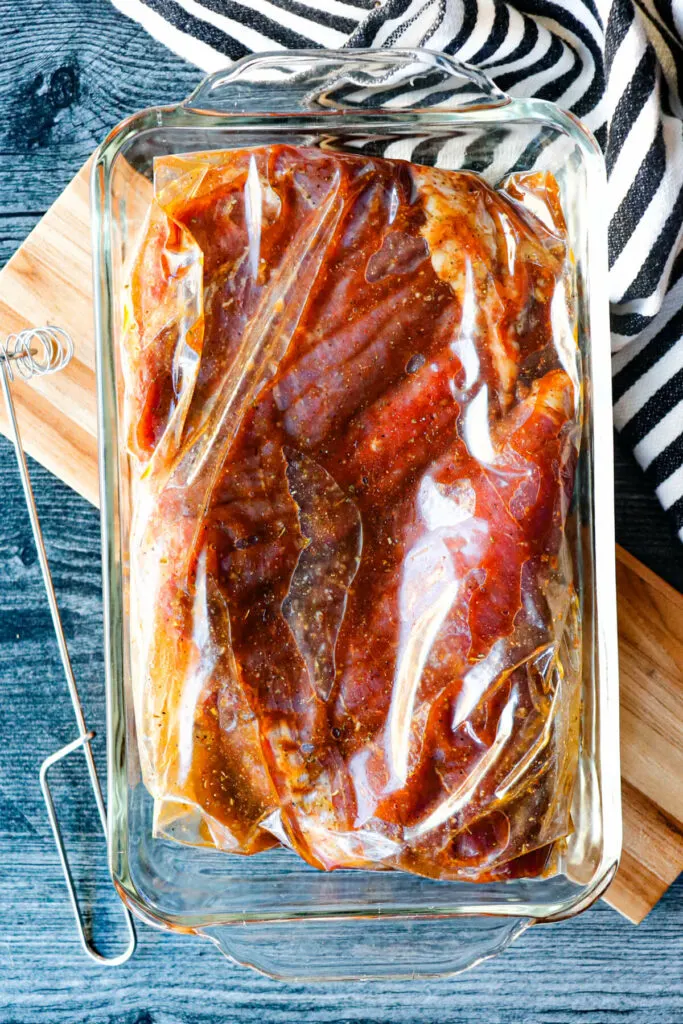 This post may include Amazon or other affiliate links. As an Amazon Associate, I earn from qualifying purchases.
Not only does it give your steak an amazing flavor profile, but it also has the added benefit of being low-carb and keto friendly. This makes it perfect for anyone following a ketogenic diet who wants to enjoy the satisfying taste of steak without the sugar or other unnecessary added marinade ingredients.
The air fryer also helps lock in all the juices while crisping up the exterior just enough to give you that classic crunch with each bite. Plus, preparing this delicious steak is so simple — all you have to do is soak your flank steak in this marinade overnight before popping it into the air fryer for an incredibly juicy and flavorful meal. So get ready to savor every bite with this keto steak marinade for air fryer flank steak.
🙋 Should you marinate steak or not?
Marinating steak is a great way to add flavor, tenderness, and juiciness to your steak. The acid in the marinade helps break down the proteins in the steak, making it more tender. And adding additional ingredients such as herbs, spices or oil can give your steak an extra kick of flavor. So if you have the time, marinating your steak is definitely worth it. Just keep in mind that the longer you marinate the steak, the more intense the flavor will be – so adjust accordingly depending on how much time you have!
🍖 What is the best thing to marinate meat in?
The best marinade ingredients are typically acid, oil, fresh or dried herbs, and/or spices. Most classic steak marinades contain a combination of these ingredients, such as soy sauce or tamari and vinegar (for the acid), olive oil (for the fat), garlic (for flavor and spice), and herbs like oregano or thyme.
🍎 Is apple cider vinegar a good marinade for meat? Red wine vinegar?
Yes, apple cider vinegar is a great marinade for meat. It adds a nice acidic flavor that helps tenderize the steak and gives it an extra depth of flavor. It also pairs well with other marinade ingredients such as olive oil, garlic, herbs, and spices to create a delicious keto-friendly steak marinade.
Which vinegar is best for marinating steak?
Generally, balsamic vinegar is known as the best vinegar to use for steak marinades, but it generally has 2-3 carbs per serving from sugars and so I like to choose zero carb vinegars. For this keto steak marinade, I believe either red wine vinegar or apple cider vinegar are the best choices.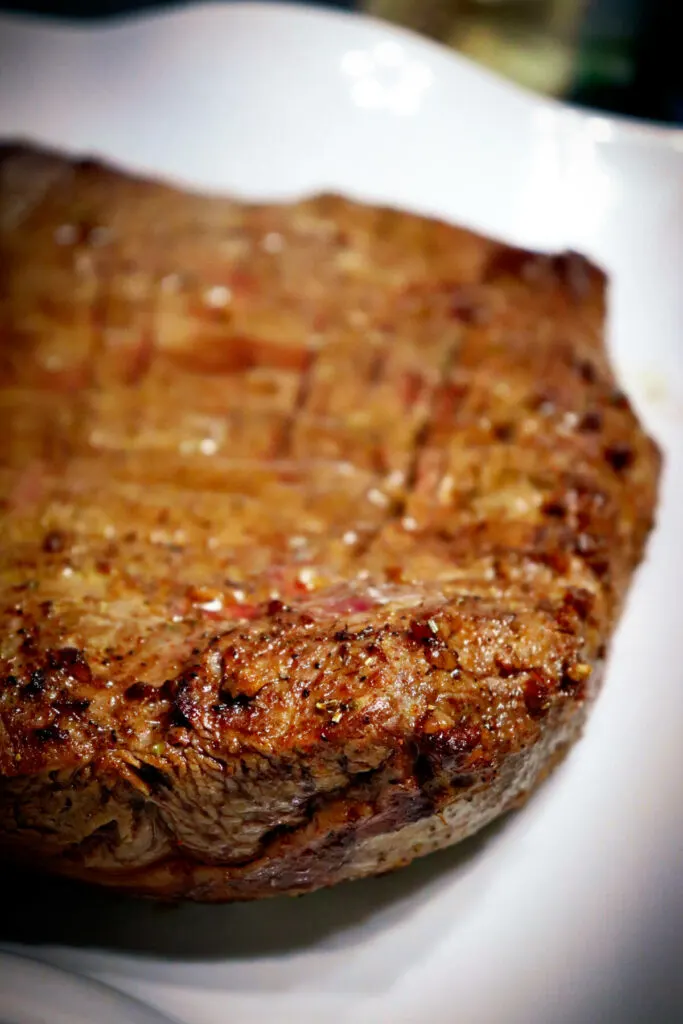 🥩 Does flank steak need to be marinated?
Yes, flank steak is best when marinated. The marinade will help tenderize the meat while adding flavor and juiciness to the steak. So whenever you're preparing a flank steak, make sure to include a marinade like this keto steak marinade. Sometimes I like to change up the spices, but this is a great base to start!
What is a good tenderizer for flank steak? How do you make flank steak not tough?
The best tenderizer for flank steak is usually a combination of acid and fat. The acid helps break down the proteins in the meat, making it more tender. For this keto marinade, I use a combination of tamari (soy sauce), red wine vinegar, and olive oil to not only add flavor but also help tenderize the steak.
Is steak good for ketosis?
Yes, steak is a fabulous keto-friendly food. It contains little to no carbohydrates and high amounts of healthy fats and proteins – all of which are important for ketosis. As long as it's not breaded or covered in sauce, steak is a perfectly keto-friendly meal. Plus, you can use marinades like this keto steak marinade to keep your steak juicy and flavorful without adding unnecessary carbs!
So if you love the flavor of steak but want to enjoy it on a ketogenic diet, then this keto steak marinade is the perfect way to get your keto-friendly steak fix.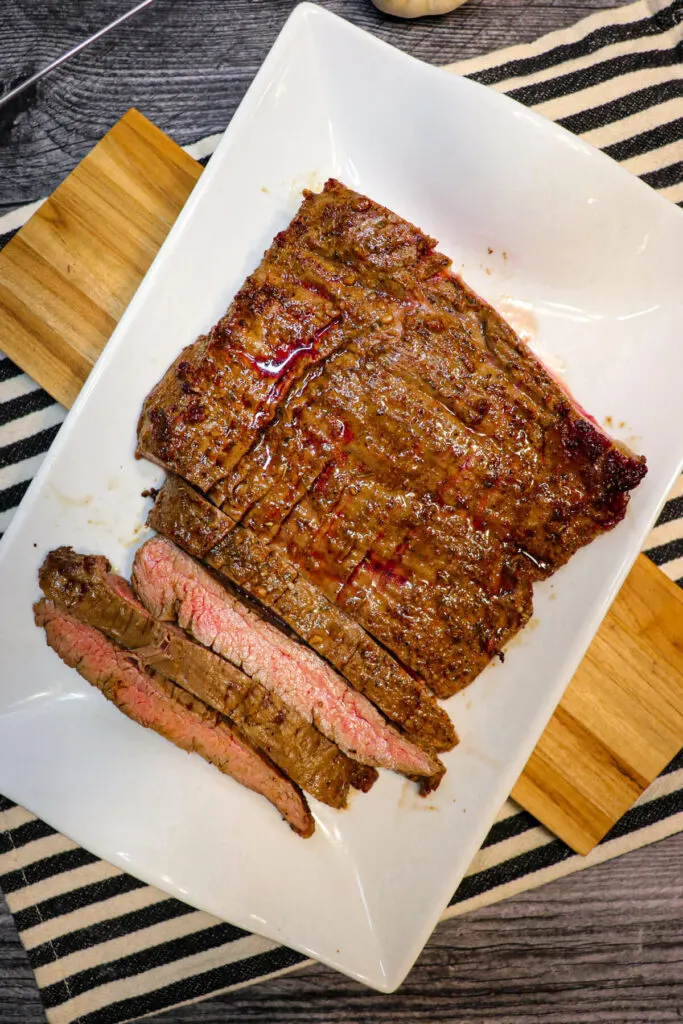 📏 Nutrition information in keto marinade for air fryer flank steak
Let's take a look at the macros. In this recipe for keto steak marinade using air fryer flank steak, one serving is 6 oz of steak, a good portion. Each serving has 441 calories, 50 grams of protein, 24 grams of fat, and 2 grams net carbs per serving.
You can always cut the portion size down to 4 oz as well and add more or less steak. The keto steak marinade yield will be enough for up to 2 pounds of meat.
The macros for air fryer flank steak in this fabulous keto steak marinade are figured with MyFitnessPal, with the ingredients I use in the recipe. I always recommend figuring out your own with the exact items/brands you use. It's super important to measure your own if you're keeping close track and want to be accurate.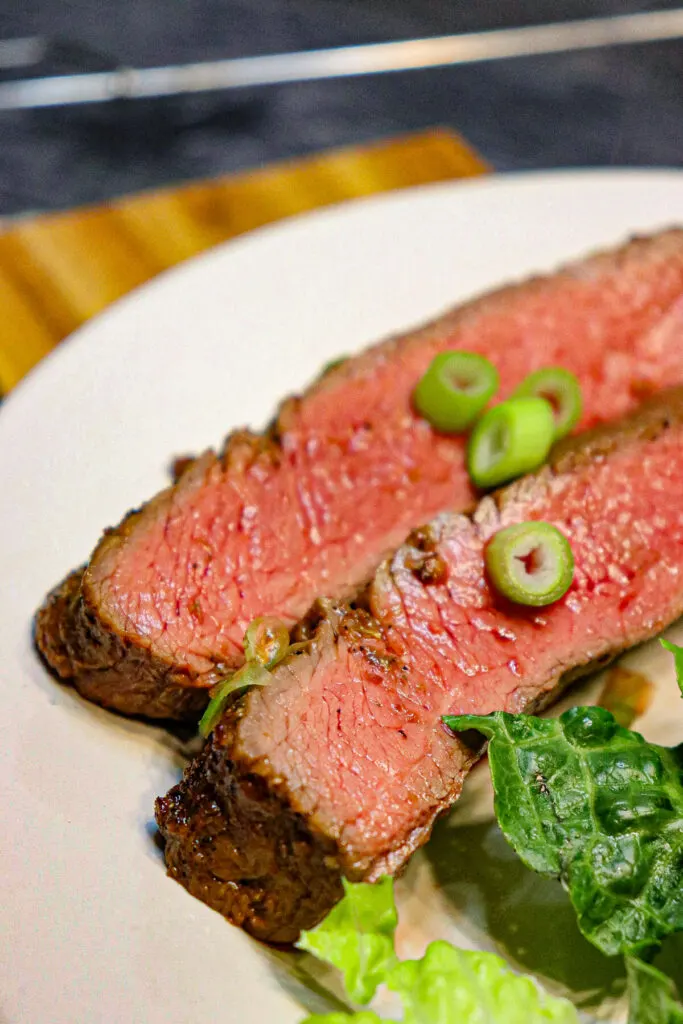 🍽 Equipment needed to make this keto steak marinade recipe for air fryer
To get started, you'll need a few basic kitchen tools. Here's a list:
a medium-sized bowl
a large zipper bag or dish with an air-tight lid
knife
air fryer (or a pan for stovetop)
👨‍🍳 Air fryers
I like to use my Ninja Foodi Air Fryer because I always have it out and it is so versatile, but a larger tray-style air fryer can work even better for flank steak.
🥘 Ingredients in low carb steak marinade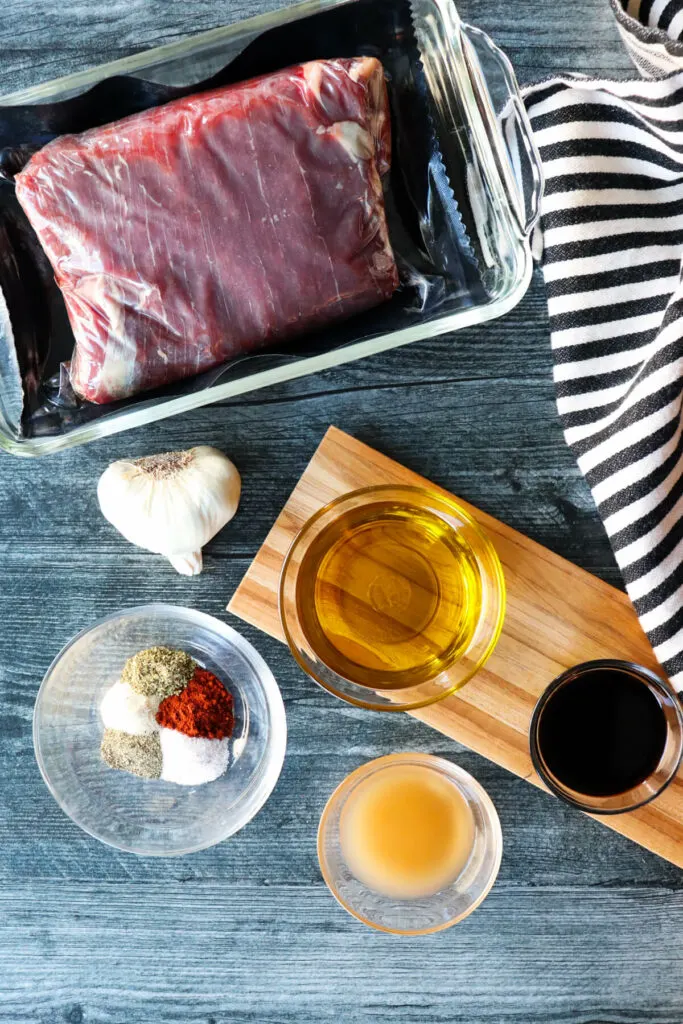 🫒 Extra Virgin Olive Oil (or Avocado Oil)
When searching for the best oil to use in your marinade, extra virgin olive oil is a great option due to its high healthy fat content and mild flavor. Alternatively, you can also use avocado oil, which has similar benefits.
🥥 Tamari (or Coconut Aminos)
This ingredient will add a delicious salty flavor to your steak marinade. Tamari is a soy sauce made from fermented soybeans that has a less acidic taste than regular soy sauce and does not contain wheat gluten. Coconut aminos is also a great alternative for those who want an even less acidic taste, but still have the same umami flavor of tamari.
🍷 Red Wine Vinegar (or Apple Cider Vinegar)
This ingredient adds both tanginess and acidity to the marinade and helps tenderize the steak while cooking. Red wine vinegar and apple cider vinegar are both perfect options when it comes to creating this flavorful steak marinade mix.
🧄 Garlic Cloves
Garlic adds depth of flavor to almost any dish with its strong aroma and pungent taste, making it an essential part of this recipe as well! Make sure you mince up your garlic cloves so that all of the flavor disperses evenly throughout the marinade mixture.
🧂 Salt
A good salt helps bring out all of the other flavors in your steak marinade recipe! Use just enough salt so that it enhances the flavors without being overwhelming or overpowering them. I like to use good quality sea salt or Redmond's Real Salt.
Ground Black Pepper
It's important to season your steak with pepper before adding it into the air fryer basket. Just make sure you don't add too much or it can become bitter! Ground black pepper provides a nice kick of heat that really elevates this dish's overall flavor profile when combined with the other ingredients.
🌶 Smoked Paprika
Smoked paprika provides an amazing depth of smoky flavor that can be hard to find elsewhere—so don't skip out on this key component!
🧅 Onion Powder (or Granules)
Onions are packed with sweetness and umami undertones that elevate any steak-based dish to next level deliciousness—and adding some onion powder (or granules) into your marinade mix ensures maximum yumminess every time!
🌿 Dried Thyme
I love thyme. Thyme adds an earthy herby note that complements most savory dishes perfectly, so be sure to include it in your keto steak marinade!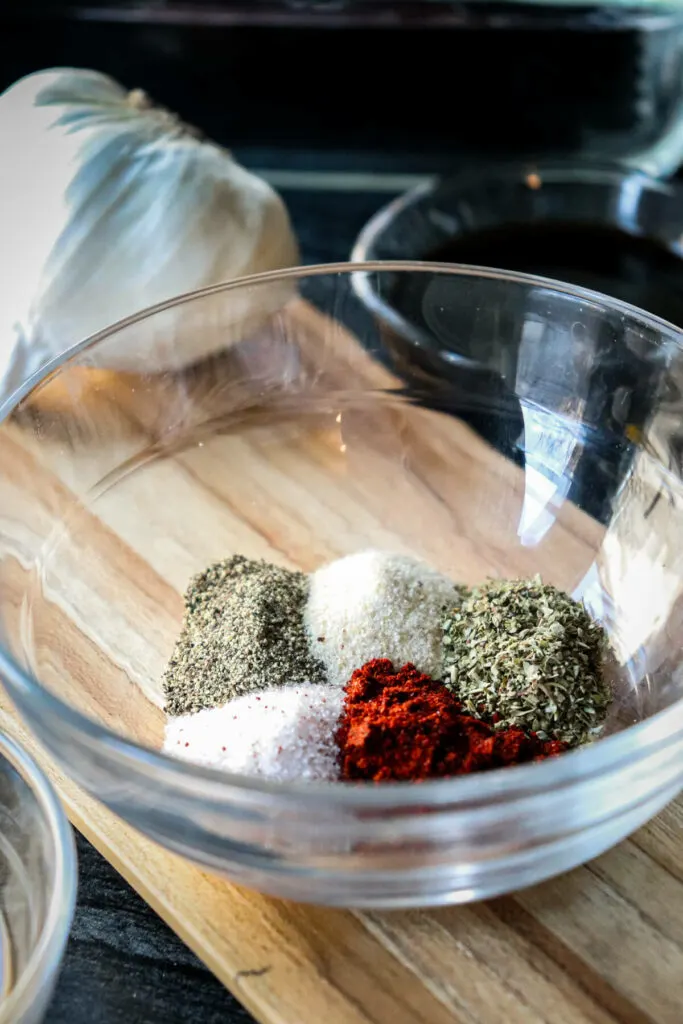 Brown Sweetener (Swerve or Lakanto Brown):
Last but definitely not least, you need some type of sweetener in order to balance off all those savory flavors from earlier ingredients like garlic or smoked paprika. I prefer to use Swerve or Lakanto Brown versions, but if you don't have any you can use the sweetener you have on hand!
🤷‍♀️ Other optional ingredients for a quick steak marinade
Dried Oregano
Dried Rosemary
Ground Coriander
Chili Powder
Cumin
Red Pepper Flakes
Worcestershire sauce
Lemon Juice or Lime Juice
Can you tell I like to play around with the flavors in marinades? However, this is my go to steak marinade.
🤔 What cut of steak can be used with this quick marinade?
Flank steak is my favorite cut of beef to use for a keto friendly marinade since it absorbs flavor quickly, cooks up fast, and remains tender in the air fryer. You can also use sirloin steak, ribeye, or even skirt steak if you wish!
🔪 Instructions
This keto steak marinade is easy to make and will add incredible flavor to your next steak dinner.
Start by whisking together the extra virgin olive oil, tamari or coconut aminos, vinegar, minced garlic, sweetener, salt, fresh ground black pepper, smoked paprika, onion granules, and dried thyme. Make sure to mix all the marinade ingredients until they are fully combined.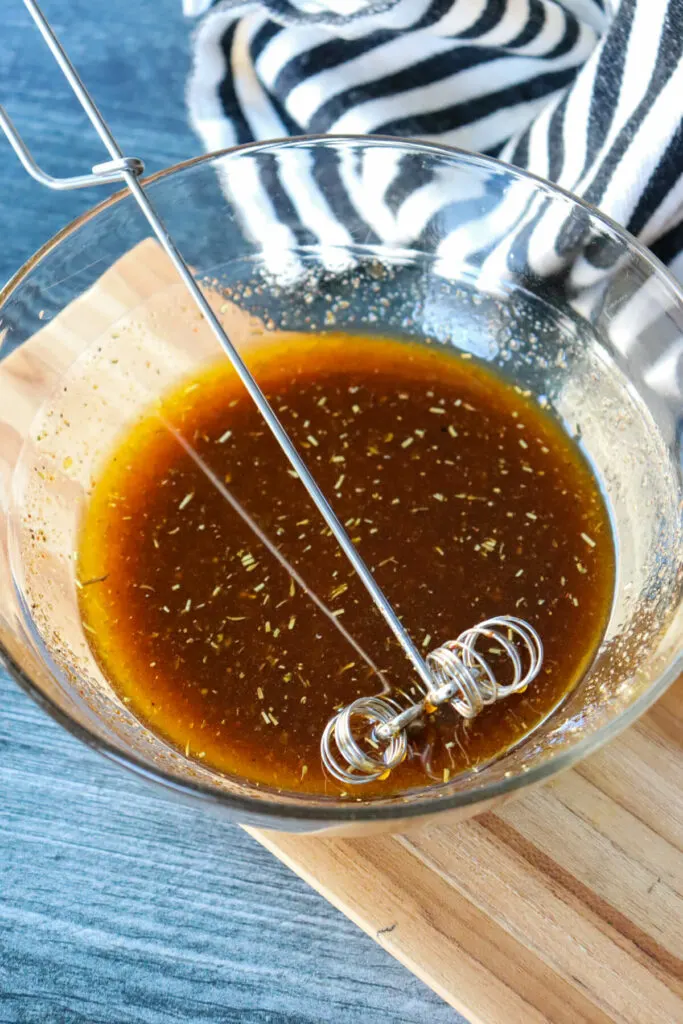 Next, pour the marinade into a shallow baking dish or a large resealable plastic bag. Then pat the steak dry and season it with salt and pepper as desired.
After that, place the steak in the dish or bag and turn it so it is coated in the marinade. Cover it up with a lid or seal the bag tightly and then place it in your refrigerator for at least 30 minutes but ideally up to 24 hours for maximum flavor.
🙋‍♀️ Can I cook steak in an air fryer?
Definitely! I cook all cuts of steak in my air fryer.
Cooking steak in the air fryer is a great way to ensure that your steak comes out juicy, flavorful, and perfectly cooked.
⏲ Cook time – How many minutes do you cook flank steak?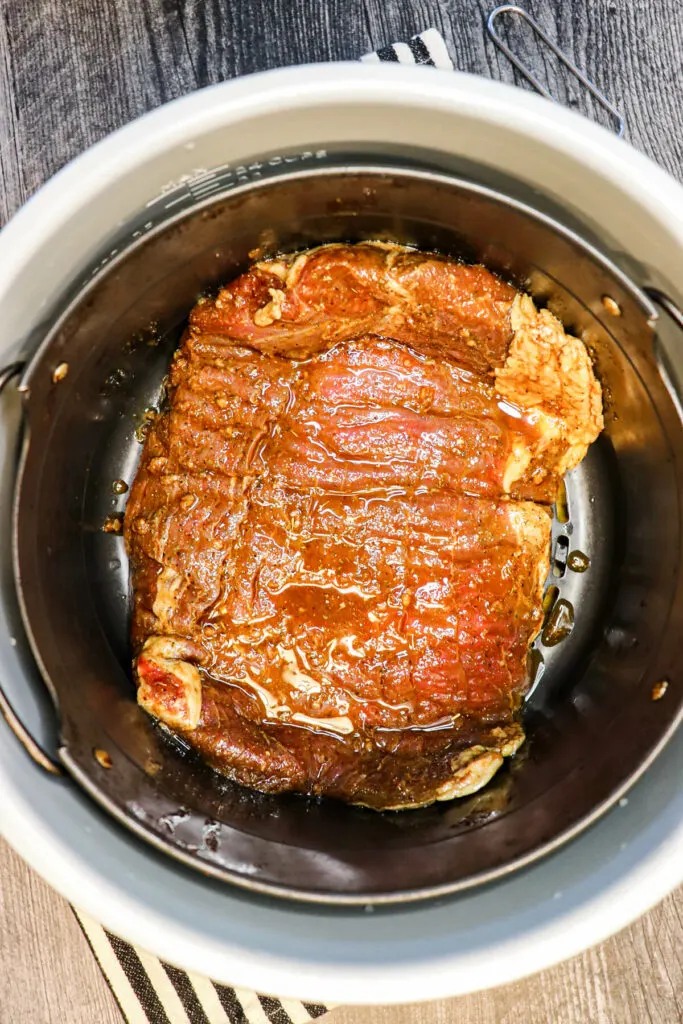 Then, when you're ready to cook, preheat your air fryer to 390°F for 5 minutes. Place the steak in the basket of the fryer and discard the extra low carb marinade.
Cook it for 5 minutes per side if you want medium rare; 6-7 minutes per side if you want medium; or 9-10 minutes per side if you want it well done.
To check for doneness, use an instant-read thermometer – 140 °F/60 °C is rare; 145 °F/63 °C is medium rare; 160 °F/71 °C is medium; and 165 °F/74 °C is well done.
When it's cooked through, use your silicone tongs to remove it from the air fryer, cover it with foil and allow it to rest for 5 minutes.
Finally, cut the steak against the grain into thin slices and serve as desired – yum, get ready for a delicious flavor!
🙋‍♂️ What is the best cooking method for flank steak?
Personally, I think the air fryer is definitely the best cooking method for flank steak! It ensures that the steak comes out perfectly cooked and juicy, with a beautiful crust on the outside. Plus, it's fast and easy – what more could you ask for?
However, you can also cook your steak on the stovetop, in the oven, or grill it outdoors. Whichever method you choose, just make sure to follow all of the instructions and keep a close eye on your steak so that it doesn't dry out.
I hope this keto steak marinade helps you make the most delicious air fryer flank steaks ever! Enjoy!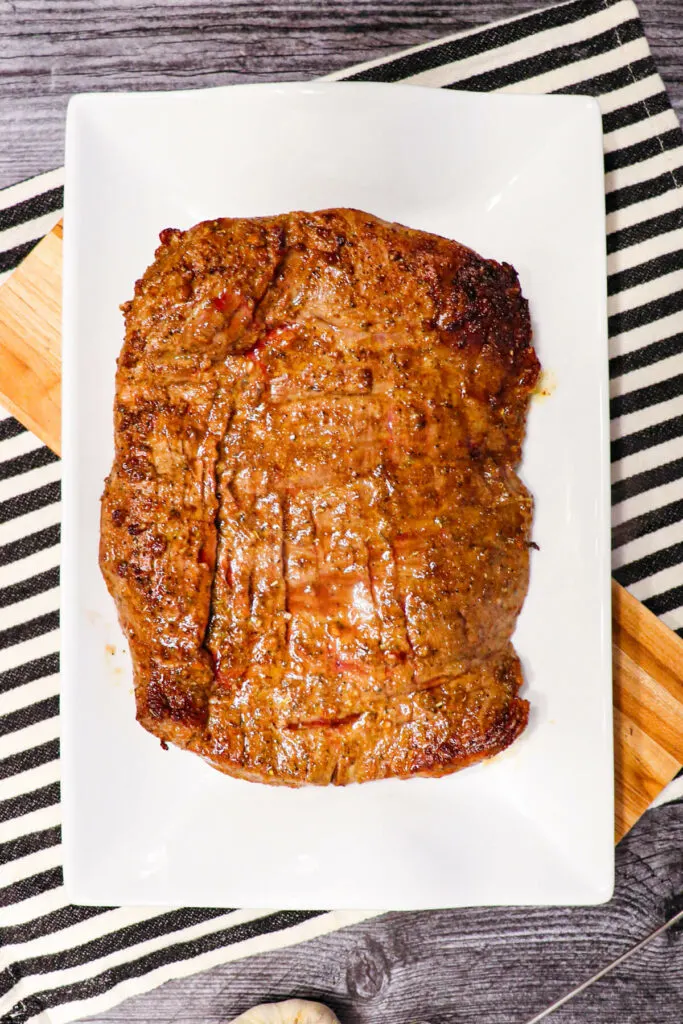 💭 Top tip: Use this keto steak marinade for other cuts of steak!
You can also use this keto steak marinade to season other cuts of steak, such as strip steaks or ribeyes. It's a great way to add amazing flavor to your favorite meats!
🥣 How to store air fryer flank steak
If you have any leftovers, store them in an airtight container and refrigerate them for up to 4 days. The keto steak marinade will also keep in a sealed jar or container in your refrigerator for up to 2 weeks.
🧊 Meal prep and freeze the keto steak marinade
Can I tell you a little secret? Sometimes I meal prep a bunch of steak and chicken in marinades in zipper bags at the beginning of the month and freeze them. Yes! You can get them all ready, thaw them the night before in the refrigerator, and throw them in the air fryer.
It's a great way to save time and energy during a busy week.
😋 Properly marinated steak
When it comes to an easy meal, you can't beat this, in my opinion, the best steak marinade for mouth-watering steak. Or, if you're in the mood for a St. Patrick's Day feast, try a smoked corned beef or another of my favorites, keto beef tips with gravy.
My family loves the flavorful marinade, especially my steak monster daughter, and I hope you add it to your list of favorite delicious recipes too.
Not only is it healthy and delicious, but it's also incredibly quick and simple to make. Win!
So if you're looking for a quick and tasty dinner idea that everyone will love, give this keto flank steak marinade a try. With its incredible flavor and ease of prep making it perfect for busy weeknights, you really can't go wrong.
Bon appétit!
👩‍🍳 Related air fryer recipes
📌 Pin the keto recipe here:
🖨 Printable recipe card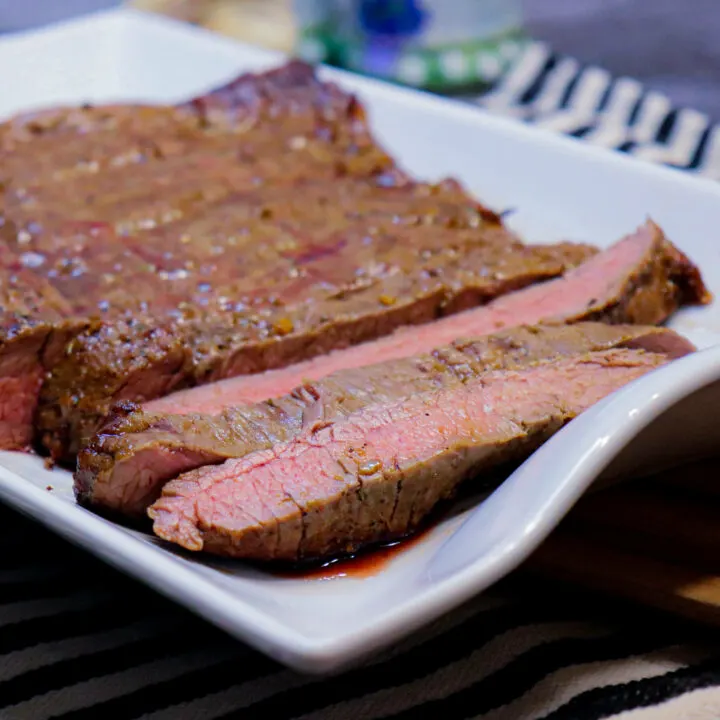 Keto Steak Marinade With Air Fryer Flank Steak
Additional Time:
30 minutes
Transform your ordinary steak dinner into a delicious and healthy keto meal with this easy-to-make marinade! This tasty Keto Steak Marinade is perfect for air fryer flank steaks and can be used to add flavor to any cut of meat for a low carb dinner.
Ingredients
1/3 cup extra virgin olive oil (or avocado oil)
2 large garlic cloves, minced
1 tsp salt
1/2 tsp ground black pepper
Instructions
Keto steak marinade
In a medium-sized bowl, whisk together the extra virgin olive oil, tamari (or coconut aminos), red wine vinegar (or apple cider vinegar), minced garlic, brown sweetener (or regular), salt, ground black pepper, smoked paprika, onion powder (or onion granules), and dried thyme. Mix until all ingredients are fully combined.
Place the marinade in a shallow baking dish or large resealable plastic bag. Pat the steak dry and salt and pepper it as desired.
Place the steak in the dish or bag and turn it to coat with the marinade. Cover and refrigerate for at least 30 minutes or up to 24 hours for best results.
Air fryer instructions for flank steak
When ready to cook, preheat an air fryer for 5 minutes to 390°F. Remove the steak from the marinade and place it in the basket of the air fryer. Cook for 6 minutes per side for medium-rare steak; 6-7 minutes per side for medium steak; 9-10 minutes per side for well done steak.
To check for doneness, insert an instant read thermometer into the thickest part of the steak; an internal temperature of 140 °F/60 °C indicates rare doneness; 145 °F/63 °C indicates medium-rare doneness; 160 °F/71 °C indicates medium doneness; 165 °F/74 °C indicates well-done doneness.
Once cooked through, remove from the heat, cover with foil and allow to rest for 5 minutes before cutting against the grain into thin slices. Serve as desired or store in an airtight container in the refrigerator for up to 4 days.
Notes
The keto steak marinade may be used on any desired steak and cooked in your preferred method. Grill, fry, bake, or air fry, but make sure you use an instant read thermometer to check for doneness. It can change quickly!
Recommended Products
As an Amazon Associate and member of other affiliate programs, I earn from qualifying purchases.
Nutrition Information:
Yield:

4
Serving Size:

6 oz
Amount Per Serving:
Calories:

441
Total Fat:

24g
Carbohydrates:

2g
Fiber:

0g
Protein:

50g
*Nutrition Facts per MyFitnessPal.com. For the most accurate facts, calculate your own with the exact ingredients you use in the recipe.
Tag me in your recipe pics on Instagram @explorermomma.
If you LOVE gluten free air fryer recipes and this keto diet recipe, please consider giving it a five-star rating in the review area below!
Nutrition Disclaimer
Please be aware I am not a medical specialist or nutritional professional. On this blog, I share recipes and what works for me. Please do not take anything on this blog as medical advice and always consult with your doctor before starting any diet or exercise program.
I use MyFitnessPal dot com to calculate nutrition facts as a courtesy to my readers, and I remove erythritol from the final carb count and net carb count because does not affect my own blood glucose levels.
This is as accurate as possible, but it's best to independently calculate nutritional data on your own with the specific ingredients you use. I expressly disclaim any and all liability of any kind with respect to any act or omission wholly or in part in reliance on anything contained in this website.