As a busy mom trying to keep up with her family's health and wellness, I'm always on the lookout for healthy treats that satisfy my and my kiddos' cravings without breaking my keto diet. That's why I'm so excited about these easy keto celery snacks!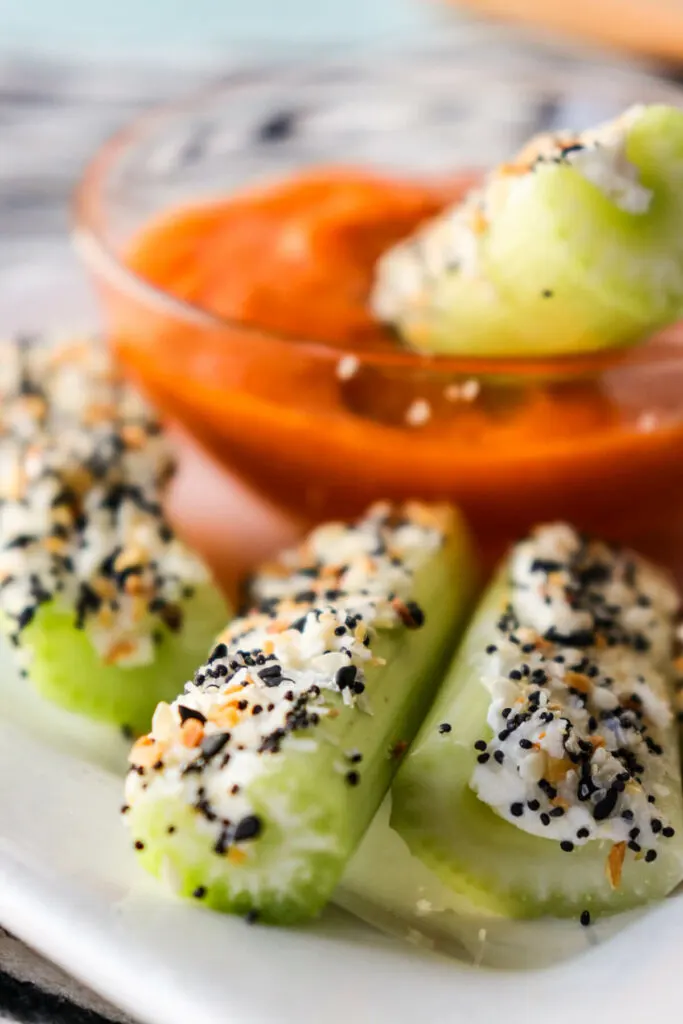 Not only are they an easy and delicious way to get more veggies into kids' diets, but stuffed celery is also incredibly simple to make. Add creaminess and spice to the crunch of the vegetable, and we have a win!
I also include a huge list of variations on this stuffed celery recipe to mix things up for a game day keto appetizer.
This post may include Amazon or other affiliate links. As an Amazon Associate, I earn from qualifying purchases.
Jump to
Is celery a good snack? | Macros | Equipment | Ingredients | Instructions | How to store? | Variations | FAQs | Keto Buffalo recipes | Recipe card
🥗 The story of celery
Once upon a time, there was a lonely celery stalk living in the vegetable drawer. Celery had always felt overlooked, overshadowed by all the other vegetables with more vibrant colors and flavors. While its crunchy texture made for a delicious snack, it just didn't seem to get the attention it deserved.
But one day, a brilliant cook 👩‍🍳 (ahem, wink) had the idea to transform the celery stick into an irresistible bite to eat.
(Well, it was actually just what was in the fridge and cabinet and sounded good.)
The chef spread a creamy layer of cream cheese over the celery sticks, then sprinkled it with everything bagel seasoning.
Suddenly, celery seemed extra special. The combination of flavors was absolutely irresistible! And because the stuffed celery is low carb and gluten free, the chef could incorporate them into her keto diet.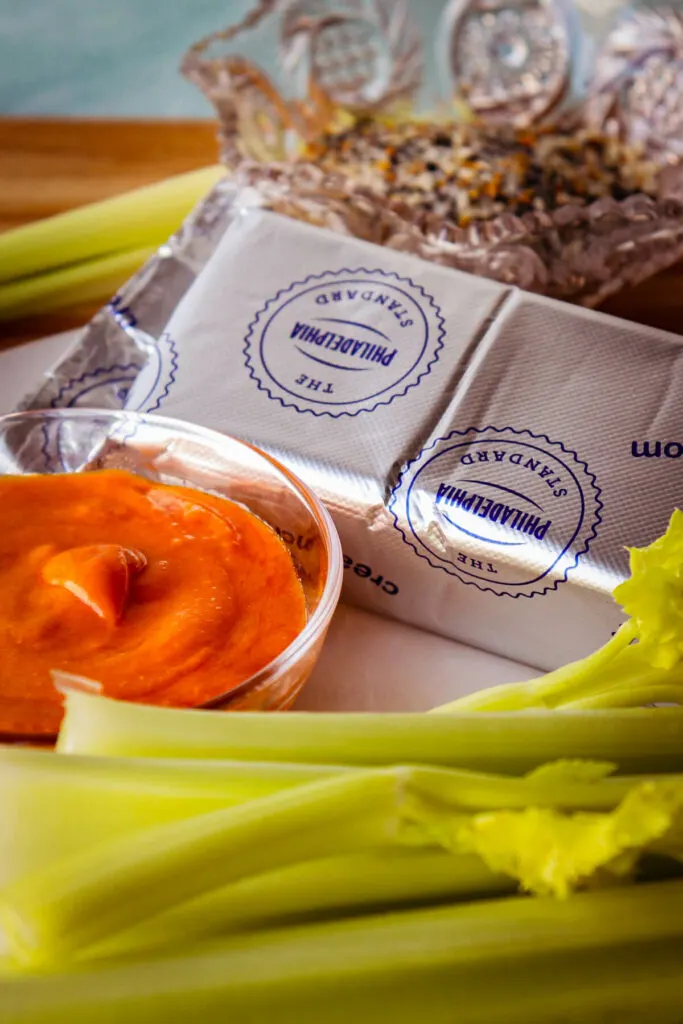 🙋‍♀️ Is celery a good keto snack?
Yes! It's an excellent keto snack as it is low in carbs and high in fiber. One cup of chopped celery contains about 1.4 grams of net carbohydrates, which makes it a great option for a quick bite when you're on the go or trying to stay in ketosis.
🙋‍♂️ Are celery snacks keto?
Definitely! This low carb stuffed celery is a tasty way to stay in ketosis and enjoy the crunchy texture. By combining cream cheese, everything bagel seasoning, and the optional (but highly suggested!) keto Buffalo sauce for dipping, you can turn this otherwise plain vegetable into a delicious snack to fill you up until dinner.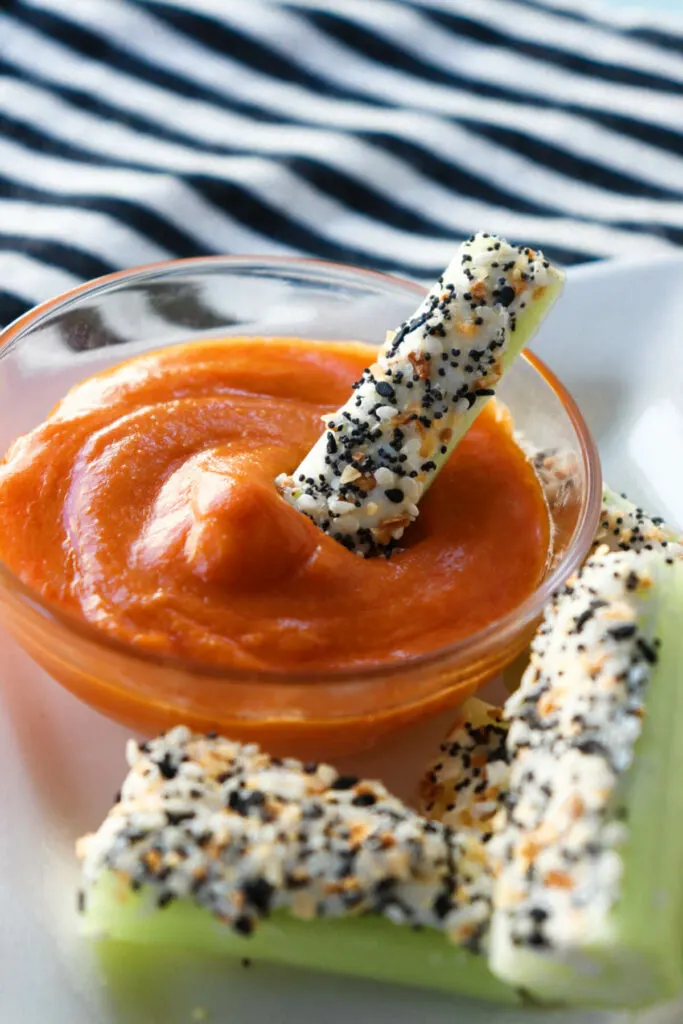 📏 Nutritional information: macros
Let's take a look at the macros. In this recipe for keto stuffed celery snacks, one serving is the entire recipe. You can always double or quadruple it for multiple servings for a group.
One serving has 172 calories, 3 grams of protein, 10 grams of fat, and 1 gram net carbs per serving.
These macros for low carb celery snacks are figured with MyFitnessPal, with the ingredients I use in the recipe. I always recommend figuring out your own with the exact items/brands you use. It's especially important to determine your own if you're keeping close track and want to be accurate.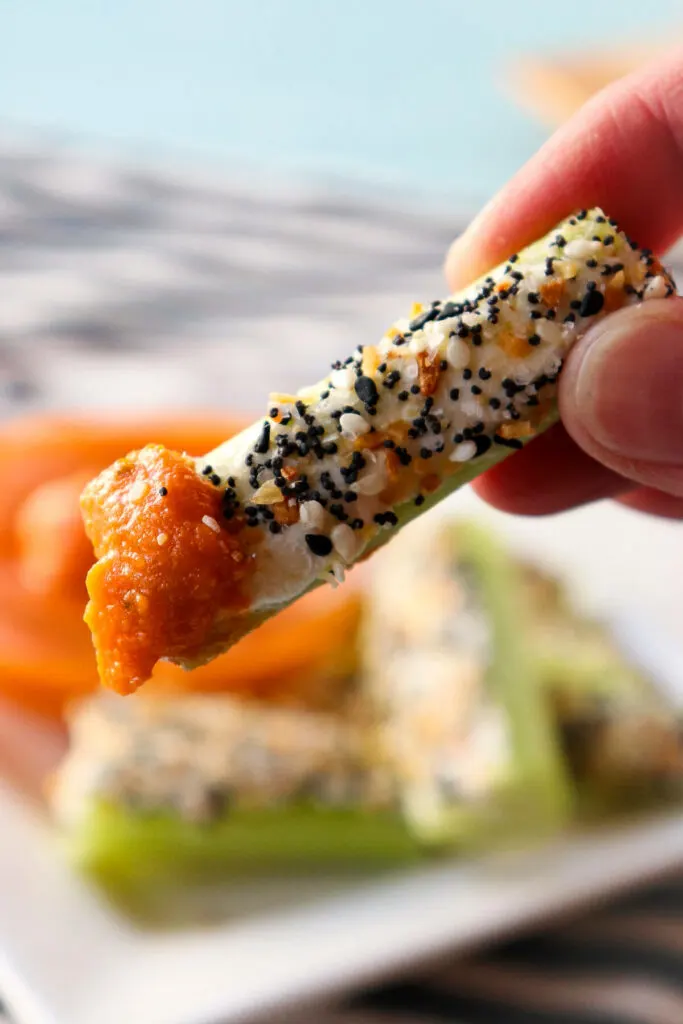 🍽 Equipment needed to make stuffed celery sticks
This keto recipe is so easy to make you need very little kitchen equipment! Here's what your should pull out to get started:
🥘 Ingredients in low carb celery snacks
When it comes to preparing stuffed celery, it is important to select the right ingredients. Here's some helpful info on what to look for when selecting the ingredients: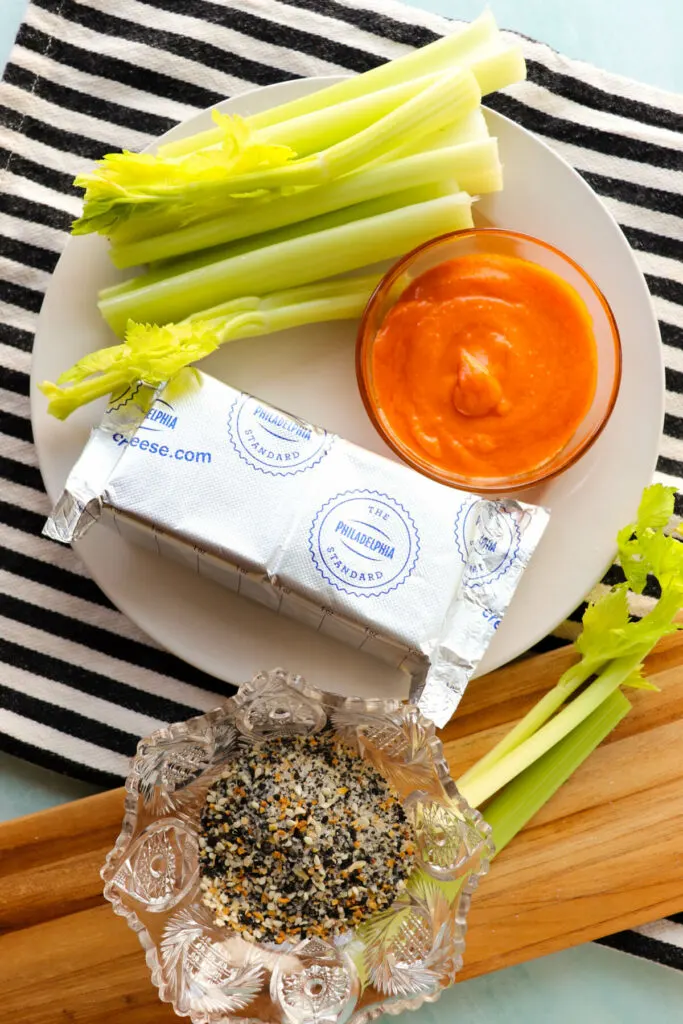 Celery
Look for fresh celery stalks that are crisp and firm with deep green leaves. Avoid wilted or yellowing stalks as they will not provide the same crunchy texture.
Cream Cheese
Choose full-fat cream cheese, which has a higher fat content than reduced-fat versions and helps add richness. I generally avoid the whipped cream cheese as it normally has unnecessary added ingredients.
Everything Bagel Seasoning
Look for an everything bagel seasoning blend that contains sesame seeds, poppy seeds, garlic, onion, and salt for maximum flavor impact.
Keto Buffalo Sauce (optional)
Choose a no added sugar buffalo sauce with few additives that won't disrupt your keto diet plan. It's so easy to make, I often have homemade keto Buffalo sauce in the fridge. You can also skip the sauce altogether or drizzle a bit of hot sauce on if desired!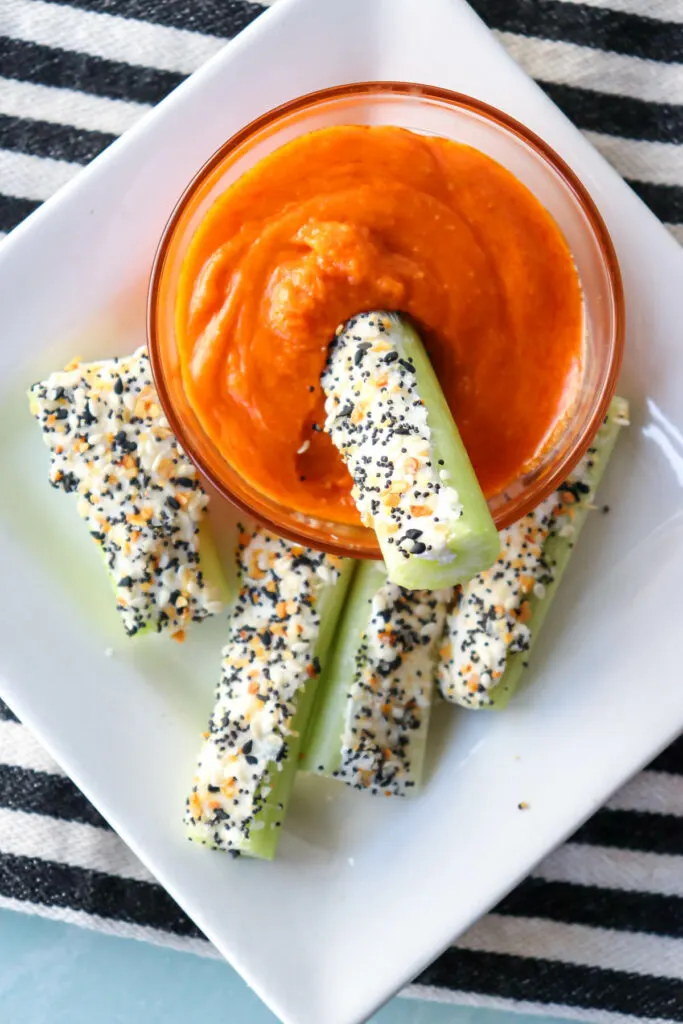 🔪 Instructions
This keto celery snacks recipe is perfect for when you need a quick and easy low carb snacks or a keto appetizer that's full of flavor! I've even been known to eat them for a quick lunch.
Start by cutting off the ends of your celery stalks (actually called ribs evidently 😉) and then cutting them in half so you have four celery sticks.
Next, rinse them with cold water and pat dry with a kitchen or paper towel.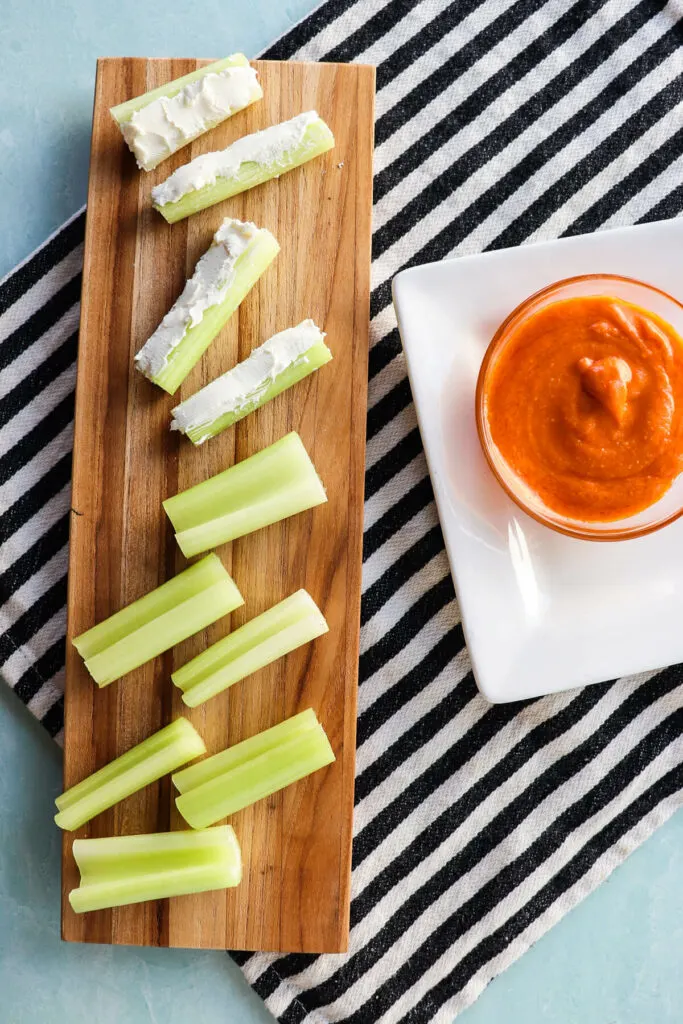 Cream cheese mixture
After that, use a knife to stuff celery sticks with cream cheese or a dairy free cream cheese alternative like Kite Hill cream cheese. It's so simple it doesn't have to be a mixture, but you can definitely add in other flavors as well.
Now, sprinkle or dip the everything bagel seasoning over each piece so that all surfaces are covered evenly.
If desired, you can then even dip this keto appetizer into my favorite keto Buffalo sauce for an extra kick before serving! Or, even easier, you can drizzle them with hot sauce if you wish.
It's time to appreciate celery once again! Don't leave this poor vegetable alone in the veggie drawer, pull it out and enjoy!
🥣 How to store keto stuffed celery
These low carb snacks are best when eaten right away; however, they can be stored in the fridge, in an airtight container. They will stay fresh for up to 3 days. I wouldn't go much beyond that.
For meal prepping the celery sticks (maybe for game day!) these treats can also be made ahead of time and stored in an airtight container in the refrigerator until ready to serve.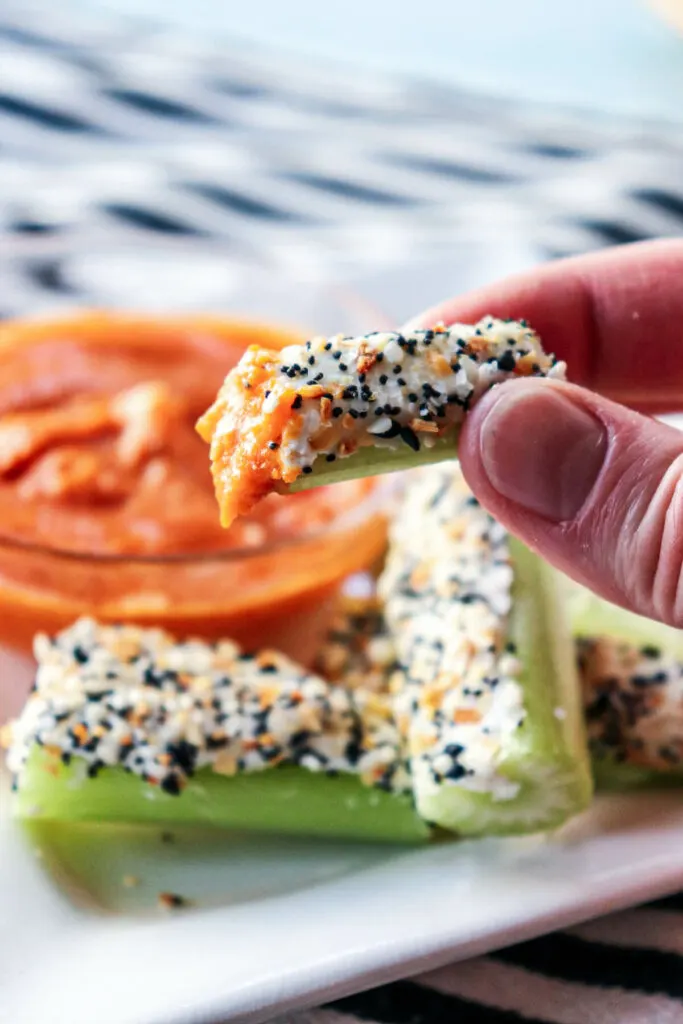 👩‍🍳 Low carb appetizers: variations on stuffed celery
For a spicy twist, add finely chopped jalapenos and cilantro to the cream cheese filling.
For a Mediterranean flair, mix in crumbled feta and fresh oregano leaves to make a cream cheese mixture.
Make a classic combo of cream cheese and chives with a kick of garlic powder or onion powder.
Take things up a notch with cream cheese mixed with grated parmesan cheese and pesto sauce for a flavor packed bite.
Get creative by adding diced sun-dried tomatoes with Italian herbs like basil and oregano for an Italian-inspired snack.
For bacon lovers, stuff with cream cheese and top with bacon pieces or bacon bits.
Try classic flavors like lemon garlic or roasted red pepper for variety.
Keep it simple by mixing creamy goat cheese with unsweetened dried cranberries for an easy but tasty option that's still low carb.
For an Asian-inspired snack, combine cream cheese with diced water chestnuts and soy sauce for an umami flavor bomb that won't weigh you down with carbs!
Give your celery snacks some crunchy texture by topping them off with crushed walnuts or almonds before serving – perfect as an appetizer or party snack!
Instead of a cream cheese, stuff celery with chicken salad!
Spice things up even more by topping your stuffed celery off with hot sauce or sriracha for a fiery twist everyone will love!
If you're wanting more keto snacks or an easy lunch, I also absolutely love this Bell Pepper Sandwich!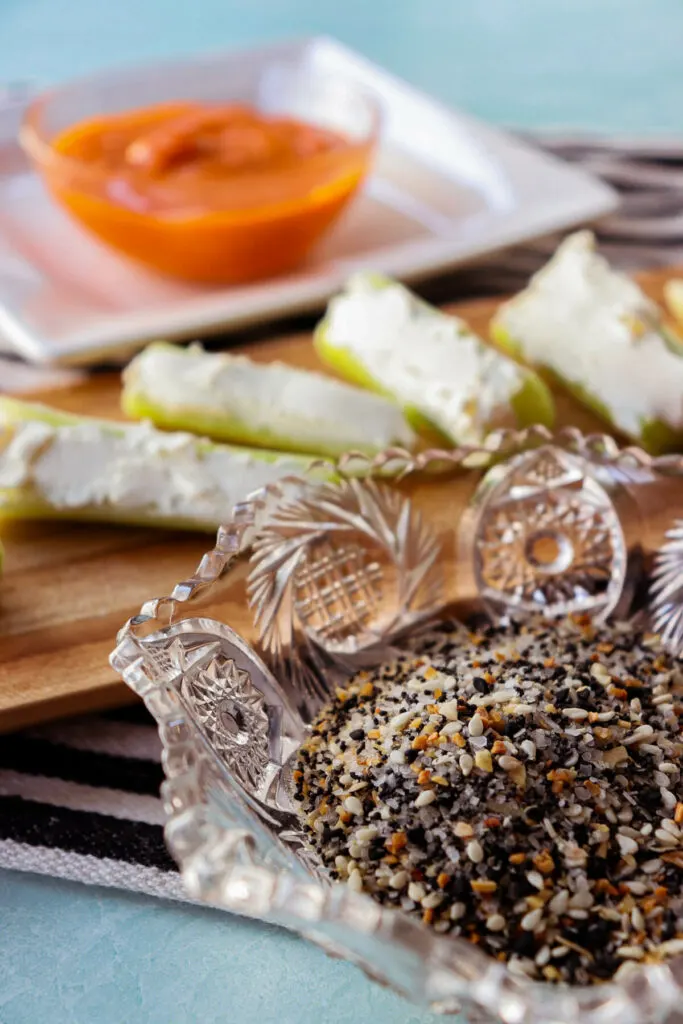 🤔 Frequently asked questions
Is celery a good keto snack?
Yes, celery is an excellent keto snack. It is low in calories and carbs and contains fiber, vitamins, minerals, and antioxidants.
Are there any health benefits to eating celery?
Yes! Celery is a great source of potassium, folate, vitamin A and C. It also has antioxidant properties which may help reduce inflammation and protect your cells from damage. It also contains fiber which can help promote digestive health. Additionally, it is low in carbs, calories, and fat making it an excellent snack for those looking to maintain a low carb diet.
What can I eat with celery as a snack?
Celery can be eaten plain or topped with healthy toppings, like cream cheese, nut butter, or Greek yogurt. You can also add crunchy toppings such as nuts and seeds for extra flavor and texture. Additionally, you can dip stuffed celery into a low carb buffalo sauce or serve it alongside some keto-friendly dips like creamy keto dill dip or easy keto taco dip.
🥜 Is celery and peanut butter a good keto snack?
Yes, celery and peanut butter is an excellent keto snack. Peanut butter provides a good source of protein and healthy fats, while celery adds crunch and fiber to the snack. Just be sure to choose a natural peanut butter with no added sugars or oils for a truly keto-friendly snack. You can read more here about What's the lowest carb peanut butter for a keto diet?
Additionally, you could consider using a nut butter alternative such as almond or cashew butter.
What can I put on celery that is healthy?
As I mentioned before, cream cheese, nut butter, and Greek yogurt are all healthy stuffings for celery that provide a good source of protein and fat. You can also add crunchy keto toppings such as nuts, seeds, or even some grated Parmesan cheese.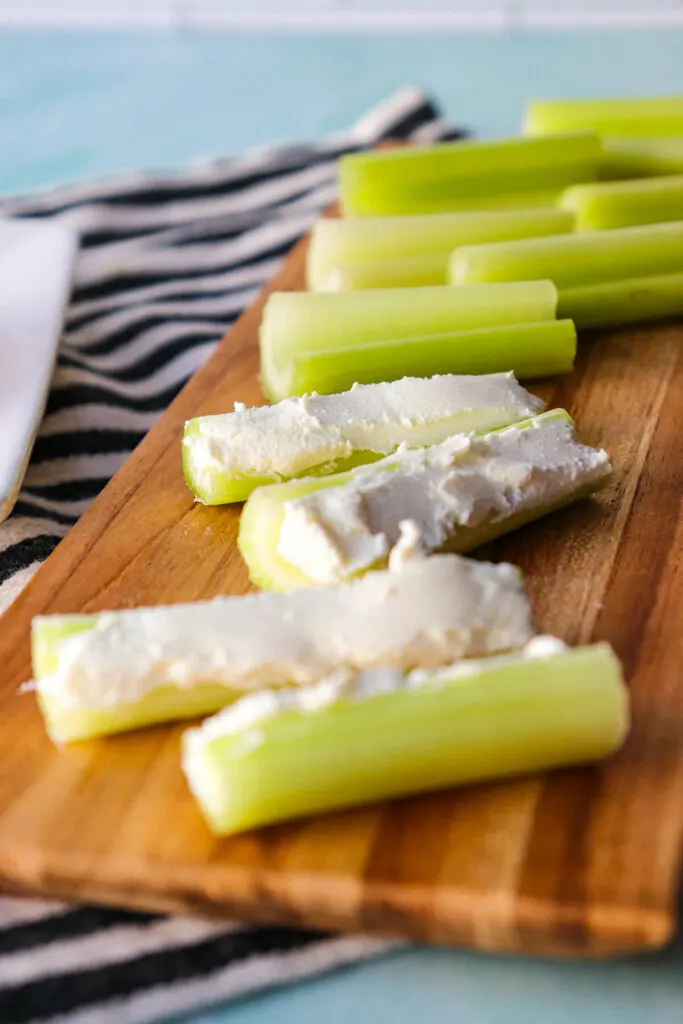 🎉 Elevate your keto diet with these savory celery nibbles!
These keto celery snacks are a great way to enjoy a delicious treat that is both keto-friendly and full of flavor.
They're easy to make, requiring just a few simple ingredients, and are low in carbs but contain protein. Also, they're perfect for those looking for a healthier alternative to traditional snacks like chips or crackers.
Plus, I love that they're incredibly versatile – you can customize the cream cheese filling with different flavors like jalapeno or pesto; you can switch up the seasoning with something like Italian herbs; you can even dip them into your favorite sauces or dressings.
No matter what you choose, stuffed celery is sure to be an instant hit with everyone who tries them – so why not make several variations for the big game? Enjoy!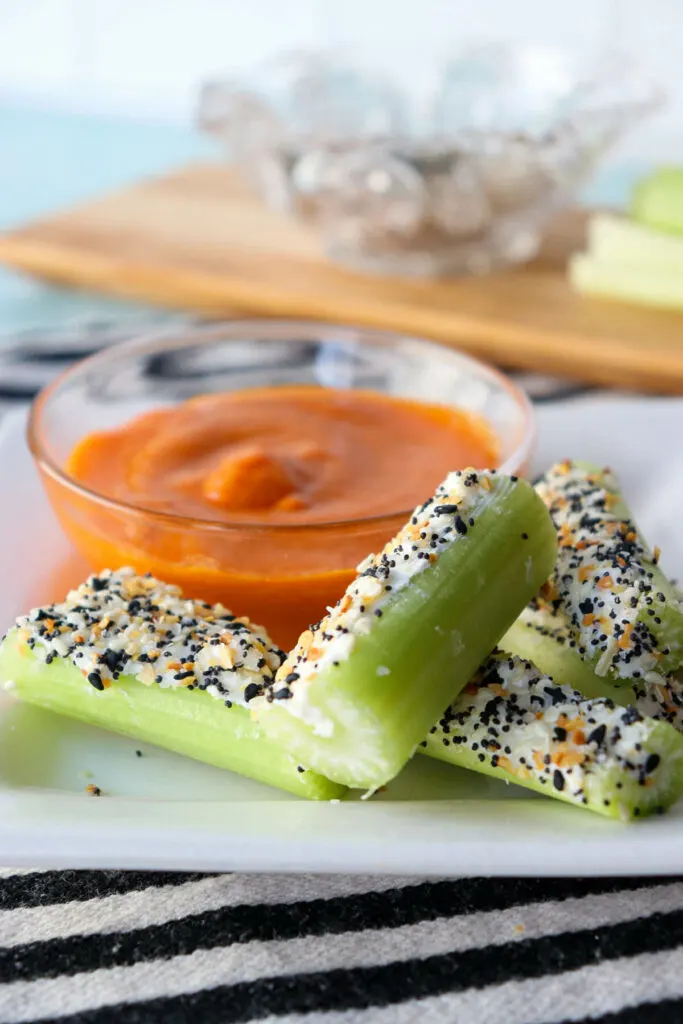 🦬 More keto Buffalo recipes
📌 Pin the keto recipe here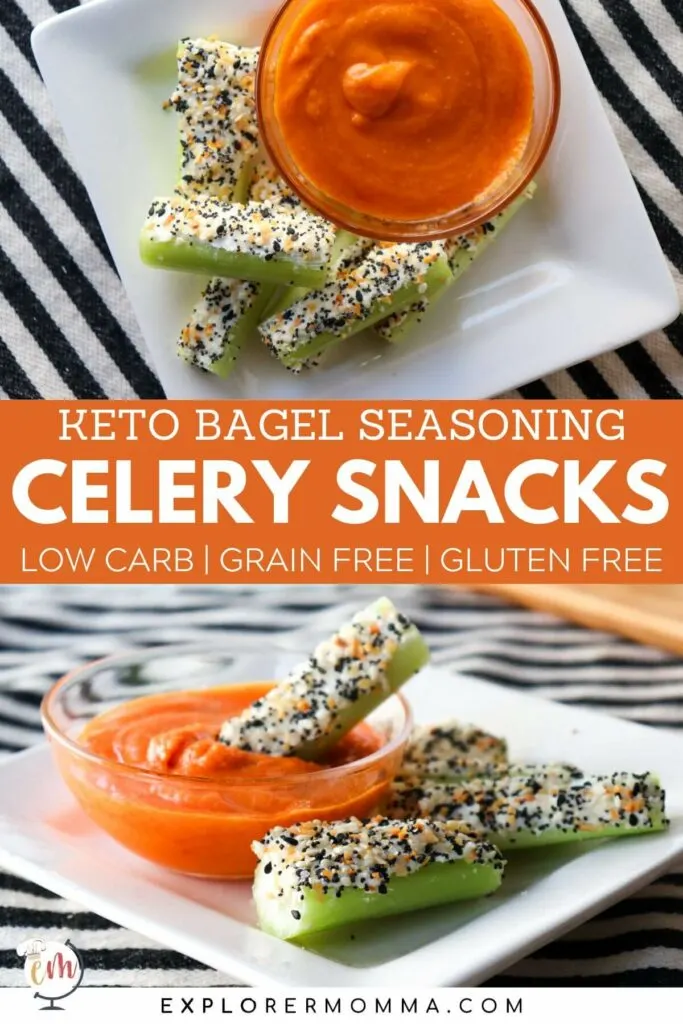 📖 Printable recipe card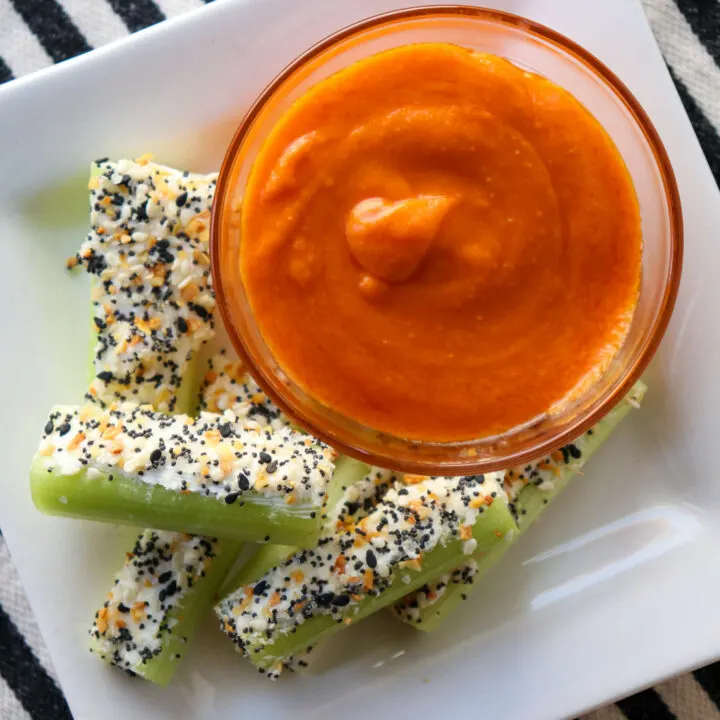 Easy Keto Celery Snacks
Delicious and crunchy Keto Celery Snacks made with cream cheese, everything bagel seasoning, and optional buffalo sauce for a spicy dip. Perfect as an appetizer or snack that fits your low-carb lifestyle!
Ingredients
2 celery stalks (ribs)
1 oz cream cheese
Instructions
Start by cutting the ends off your celery stalks (ribs) and then cut them in half so you have 4 pieces. Rinse with cold water and pat them dry with a paper towel.
Use a knife to fill the celery with cream cheese. Alternatively, you can use a vegan cream cheese alternative.
Spread the softened cream cheese onto each piece of celery, making sure to spread it evenly across the entire surface of each piece of celery.
Sprinkle the everything bagel seasoning over each piece of celery or dip them in it, ensuring that all surfaces of the cream cheese are covered evenly with seasoning.
If desired, you can dip the Keto Celery Snacks into keto Buffalo sauce before serving – this adds an extra kick!
Serve immediately or store in an airtight container in the refrigerator for up to 2 days.
Recommended Products
As an Amazon Associate and member of other affiliate programs, I earn from qualifying purchases.
Nutrition Information:
Yield:

1
Serving Size:

Entire recipe
Amount Per Serving:
Calories:

172
Total Fat:

10g
Carbohydrates:

3g
Net Carbohydrates:

1g
Fiber:

2g
Protein:

3g
*Nutrition Facts per MyFitnessPal.com. For the most accurate facts, calculate your own with the exact ingredients you use in the recipe.
Tag me in your recipe pics on Instagram @explorermomma.
If you LOVE snack cuisine and this recipe please consider giving it a five-star rating in the review area below!
Nutrition Disclaimer
Please be aware I am not a medical specialist or nutritional professional. On this blog, I share recipes and what works for me. Please do not take anything on this blog as medical advice and always consult with your doctor before starting any diet or exercise program.
I use MyFitnessPal dot com to calculate nutrition facts as a courtesy to my readers, and I remove erythritol from the final carb count and net carb count because does not affect my own blood glucose levels.
This is as accurate as possible, but it's best to independently calculate nutritional data on your own with the specific ingredients you use. I expressly disclaim any and all liability of any kind with respect to any act or omission wholly or in part in reliance on anything contained in this website.