Buffalo deviled eggs are the perfect appetizer for any game day party! They're easy to make and absolutely delicious. If you're on a keto diet, these eggs are a great way to get your buffalo fix. And if you're not on a ketogenic diet, don't worry – these eggs will still taste great! So go ahead and give this recipe a try. You won't be disappointed.
This post may include Amazon or other affiliate links. As an Amazon Associate, I earn from qualifying purchases.
🦬 What are Buffalo deviled eggs?
Buffalo deviled eggs are a fabulously spicy twist on a regular deviled egg. They have a tasty traditional Buffalo mix of hot sauce, blue cheese, and celery along with the normal deviled egg ingredients.
They have an awesome texture with a slight celery crunch. All of my taste testers absolutely loved this recipe and asked for more. If you're on the fence, give them a try for your next game day. You'll find they disappear quickly!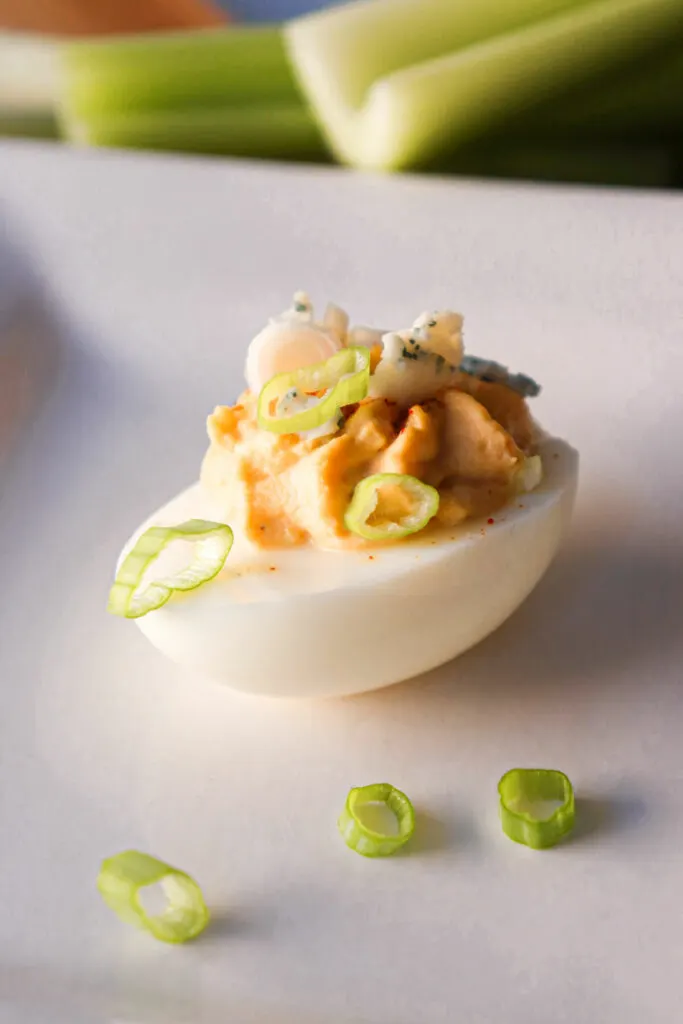 Are Buffalo deviled eggs keto or low carb?
Yes! Buffalo eggs are a great low carb appetizer.
Let's take a look at the macros. In this recipe for keto Buffalo deviled eggs, one serving is listed as one piece (I admit I usually eat 2!). One low carb deviled egg has 134 calories, 7 grams of protein, 12 grams of fat, and 0 grams net carbs per serving. Zero carbs! I like it.
How are the macros figured?
The macros for low carb Buffalo deviled eggs are figured with MyFitnessPal, with the ingredients I use in the recipe. I always recommend figuring your own with the exact items/brands you use. It's especially important to determine your own if you're keeping close track on nutritional calories or macros and want to be accurate.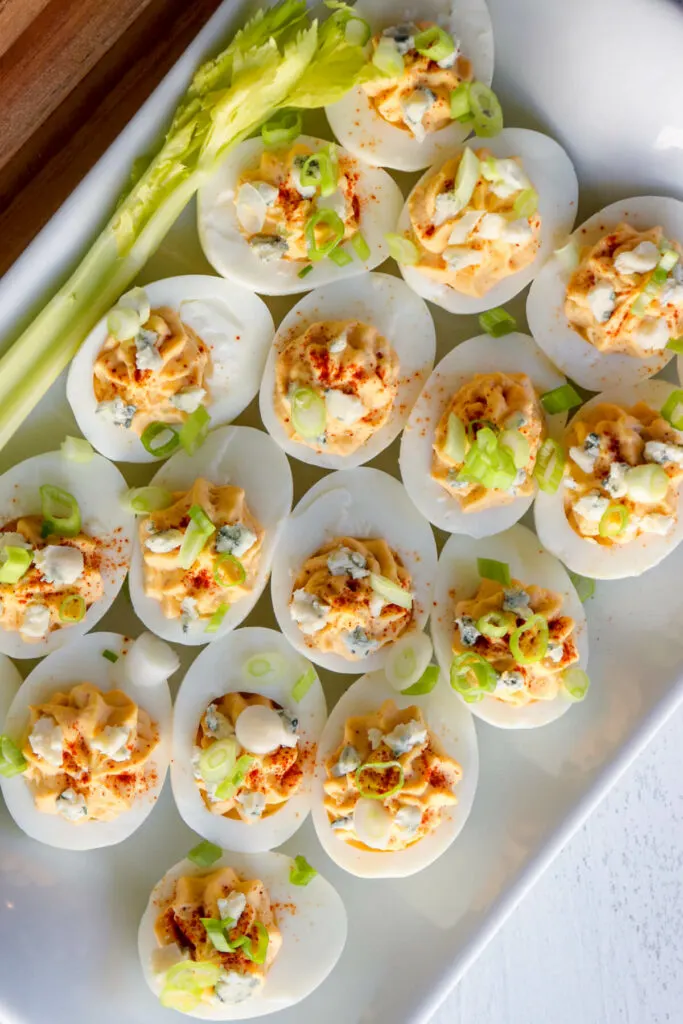 🍽 Equipment needed to make keto Buffalo deviled eggs
In order to make Buffalo deviled eggs, you're going to need a few pieces of equipment.
First, you'll need a pot to cook the eggs in. Hard boiling eggs in the Instant Pot (pressure cooker) is by far my favorite method so you can use the traditional method or pressure cooker method. More how to get a hard boiled egg in the Instant Pot below.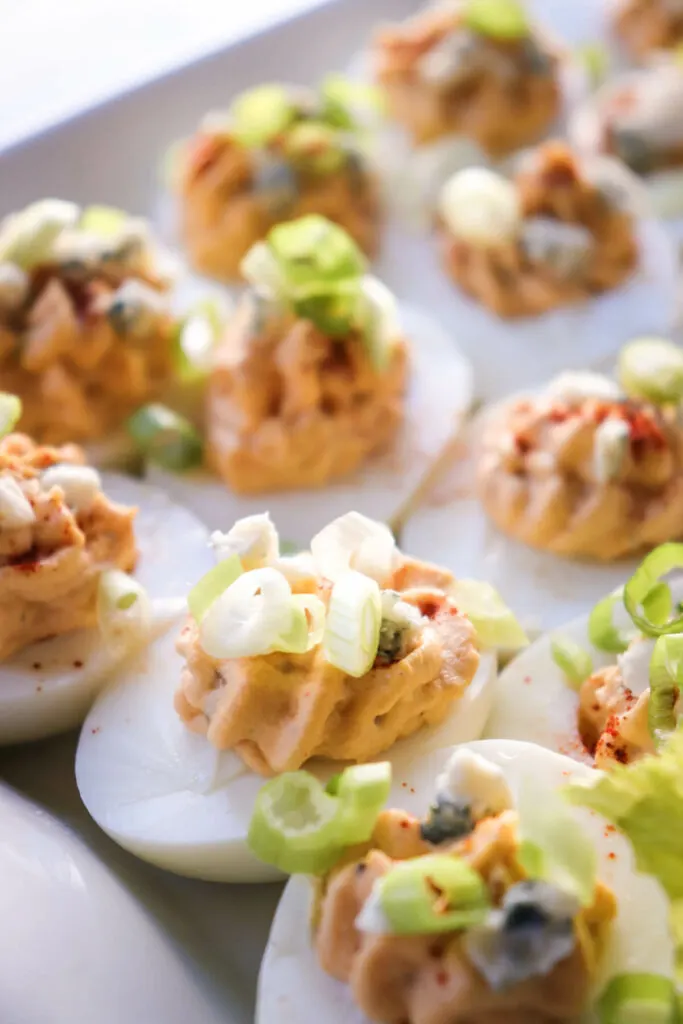 🥘 Ingredients in low carb Buffalo deviled eggs
What goes into these lovely little game day keto appetizers?
Here's the deviled eggs ingredients list: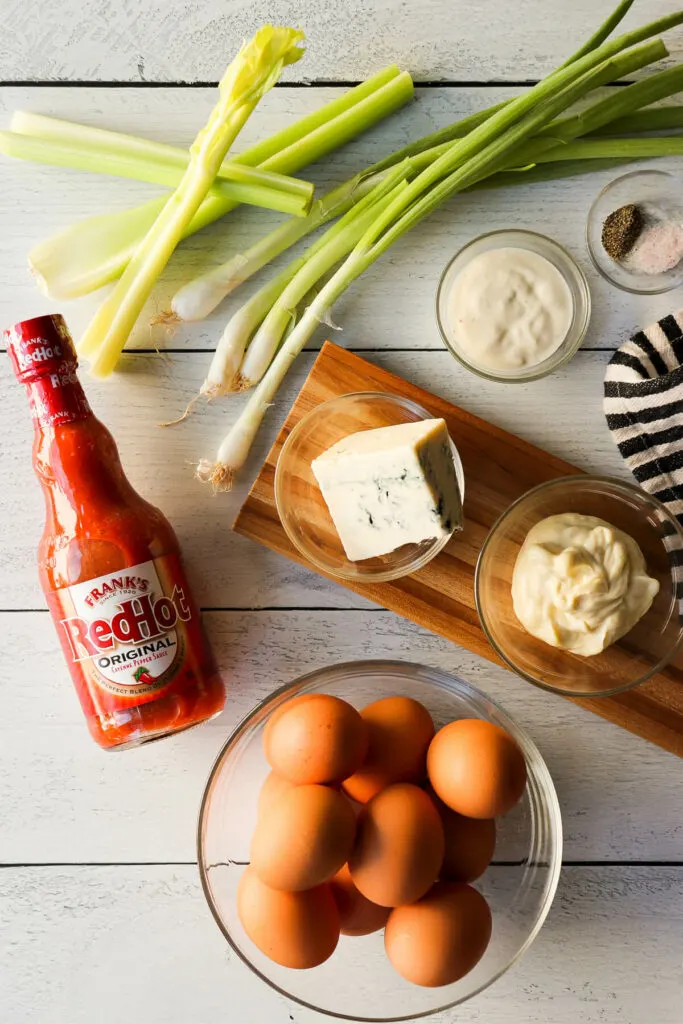 🌶 Buffalo hot sauce
What kind of spicy sauce should you use to make this low carb recipe?
For these Buffalo deviled eggs, you can use any Buffalo sauce you like. I personally use Frank's Buffalo sauce because it's my favorite. However, you could also use Texas Pete, Tabasco, or Cholula. All of those would work great in this recipe.
Here's my easy keto Buffalo sauce recipe for chicken wings or other chicken recipes.
Keto blue cheese dressing
Can I use store bought blue cheese dressing in this recipe?
Of course! While I prefer to make my own homemade keto blue cheese dressing, you can use a store bought option.
Just be sure to check the ingredients list to make sure it's keto friendly. Some brands add a lot of sugar and other additives that you may not want in your Buffalo deviled eggs.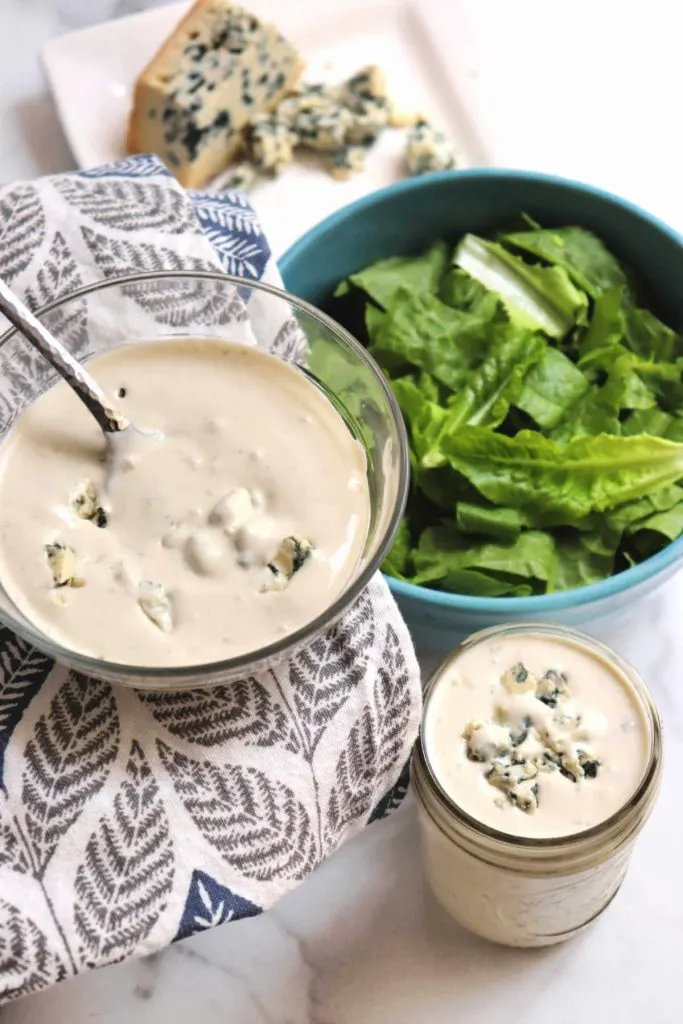 🥚 How to make hard boiled eggs in an Instant Pot (pressure cooker)
I have found that the easiest way for me to get hard boiled eggs that are both easy to cook and peel is in a pressure cooker or Instant Pot. The pressure cooker creates a higher heat environment than what is possible on the stovetop, which results in evenly cooked eggs every time. Additionally, the shells slip off very easily after cooking in the pressure cooker – much easier than when boiled on the stovetop.
To cook hard boiled eggs in a pressure cooker, put them in the pot of a pressure cooker and add 3/4 cup of water.
Next, cook them on high pressure for 4 minutes and then release the steam. Carefully remove the cooked eggs and place them in a bowl of ice water for 3-5 minutes. Use a slotted spoon to remove them from the ice water, crack, and peel!
I rarely have problems with the egg whites sticking or breaking when I use this method, which saves a ton of prep time and stress.
And let me tell you I've gotten super stressed trying to peel eggs I've cooked the traditional way or other imaginative popular methods.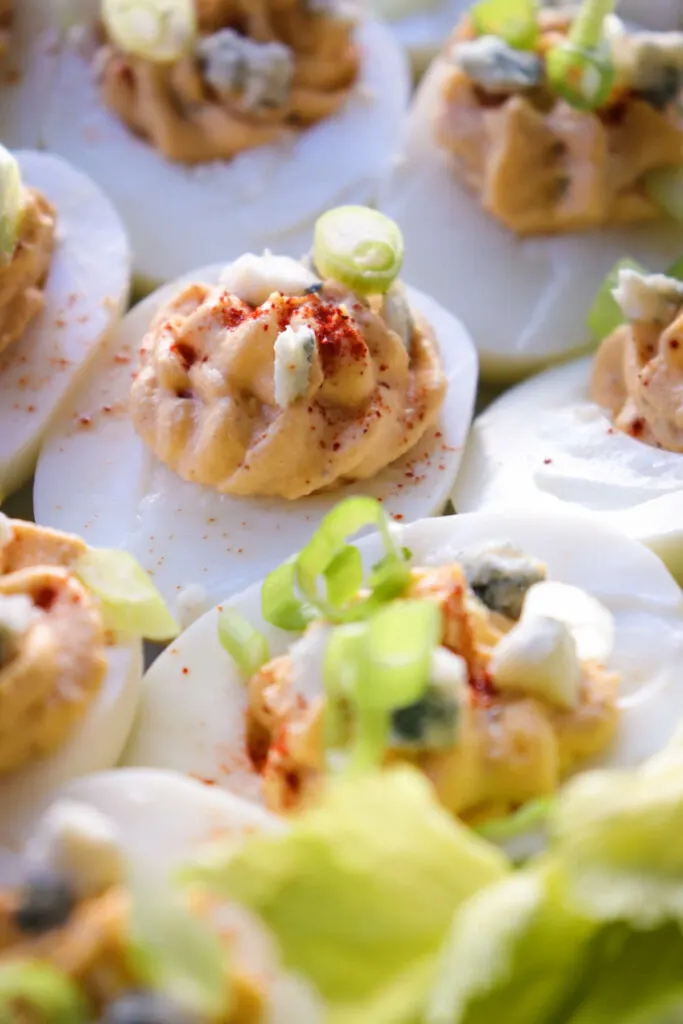 🔪 Instructions
In order to make low carb deviled eggs, boil the eggs using your preferred method. Then carefully peel the eggs and set them on a plate.
Next, slice the peeled hard boiled eggs in half lengthwise, and remove the egg yolks to a medium sized mixing bowl. Transfer the egg white halves back to the plate.
After that, to make the creamy egg mixture filling, mash the egg yolks with a fork or whisk, then stir in the mayonnaise, blue cheese dressing, hot sauce, Dijon mustard, salt, and pepper. Mix together until everything is well combined in the bowl.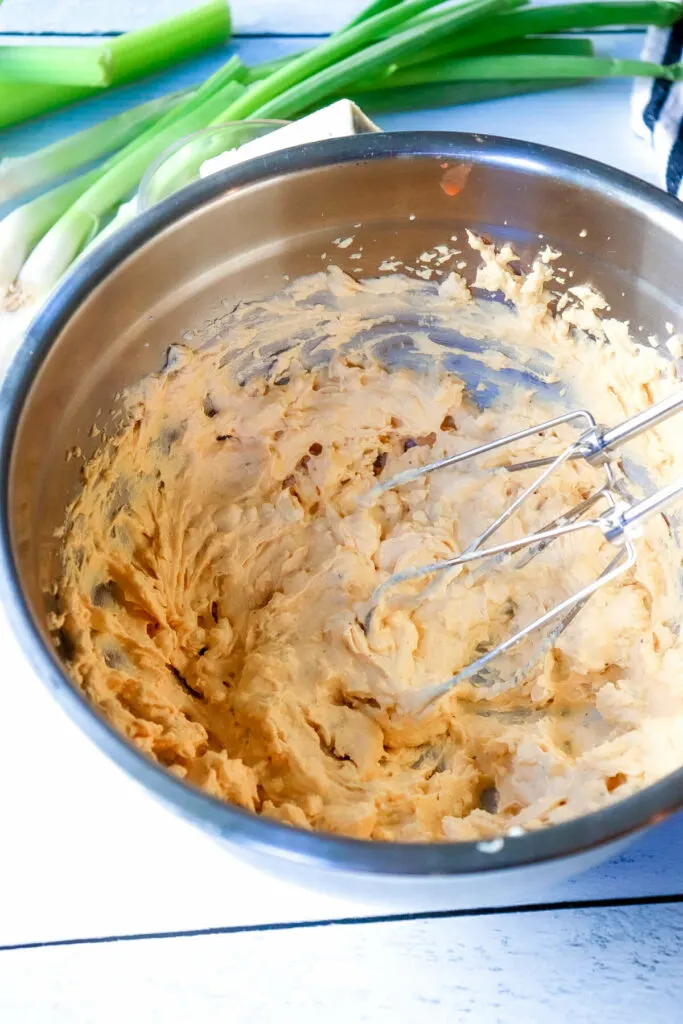 💭 Top tip
To make it easier and assure it's perfectly smooth, I like to use a hand-held mixer to prepare the filling, but you can also do it by hand with a fork or whisk.
Then add in the chopped celery to the yolks mixture and stir well.
Now, taste test the egg filling mixture and adjust the seasoning as necessary adding more salt, pepper, or hot sauce as you prefer.
Next, using a spoon or piping bag, scoop or fill each egg white half with the yolk mixture.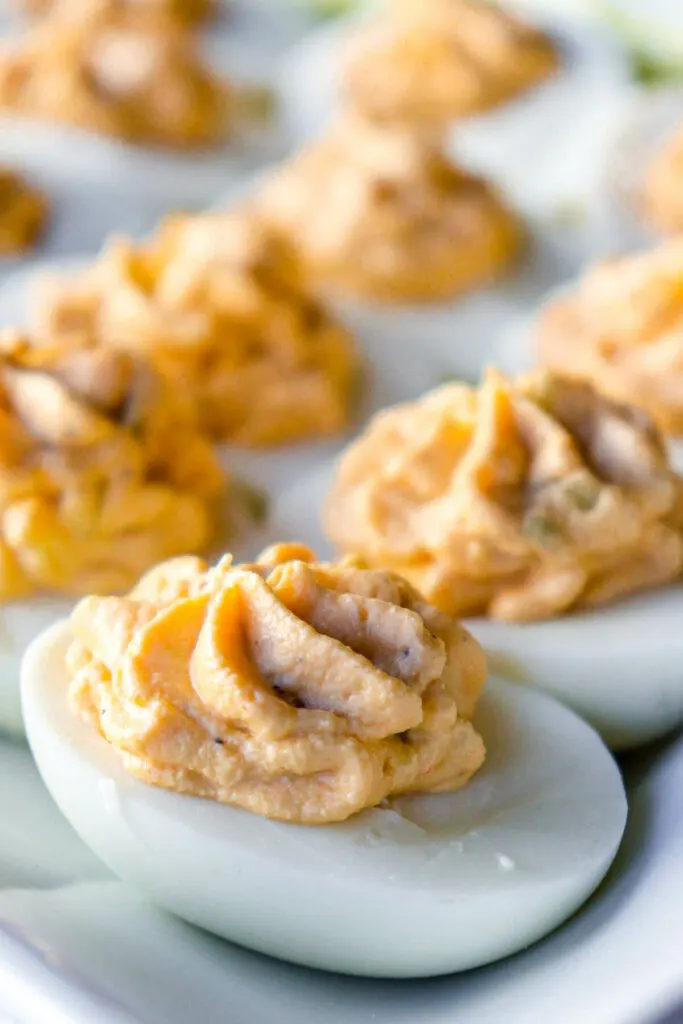 Toppings
Lastly, sprinkle the filling of the half eggs with the crumbled blue cheese, paprika (optional), and sliced green onions for garnish. The toppings are optional so you can leave them plain, but they do make them colorful and tasty! I love the flavor the blue cheese adds!
Serve immediately to friends and take your own bite or store in the fridge for later.
🏈 Can you make this keto appetizer in advance?
If you want to get ahead of the game, you can make these Buffalo eggs a day or two in advance. Store them covered in the refrigerator until ready to serve.
Buffalo deviled egg recipes are best served fresh or overnight, but they will keep covered in the refrigerator for up to 3 days.
This keto appetizer is the perfect food for your friends and family at the next game day party or Easter get together. They're low carb, high protein, and full of flavor. Your guests will love them!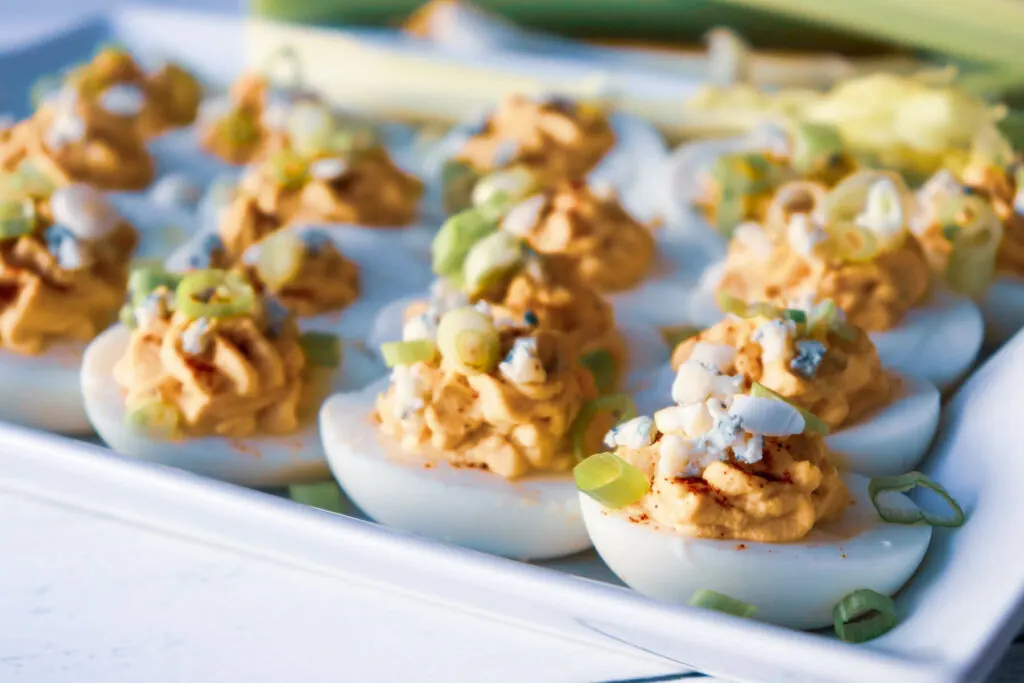 🥣 How to store Buffalo deviled eggs
I find Buffalo eggs are best served fresh, but they will last in an airtight container in the fridge for 2-3 days.
Buffalo deviled eggs are a delicious and easy low carb appetizer perfect for game day or any party! Packed with protein and spiced up with hot sauce, these Buffalo deviled eggs will be a hit with everyone. And, at just 0 grams net carbs per serving, you'll be able to enjoy them guilt free!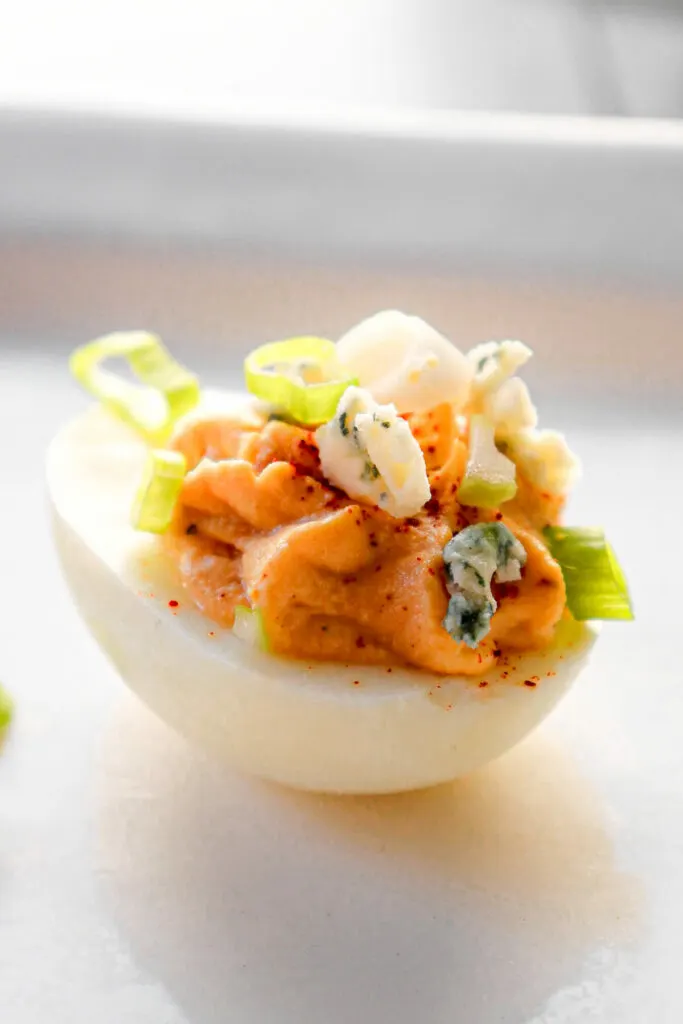 📋 Sharing recipes and cooking tips
I love sharing recipes and some of my favorite cooking tips!
Spicy food recipes can be some of my friends' favorites,
What I love about this recipe is that it's easy to make without too much prep time, and you can make it the day before serving.
Buffalo deviled eggs are the perfect game day snack. They're low carb, high protein and full of flavor. Your guests will love them!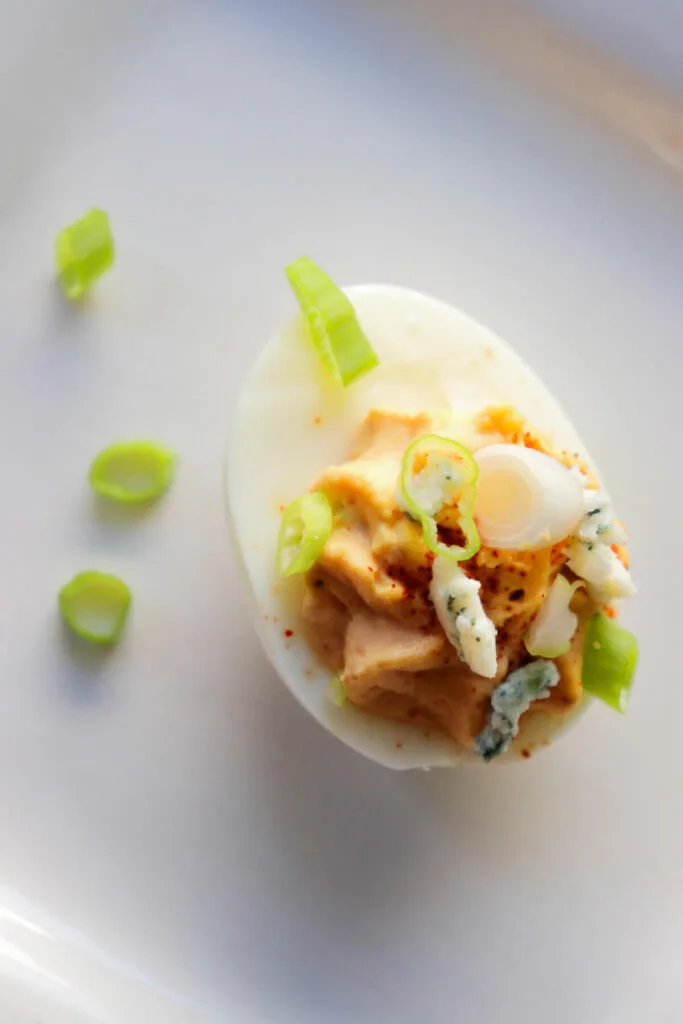 👩‍🍳 More keto recipes
For Easter food also try:
Pin the keto recipe here: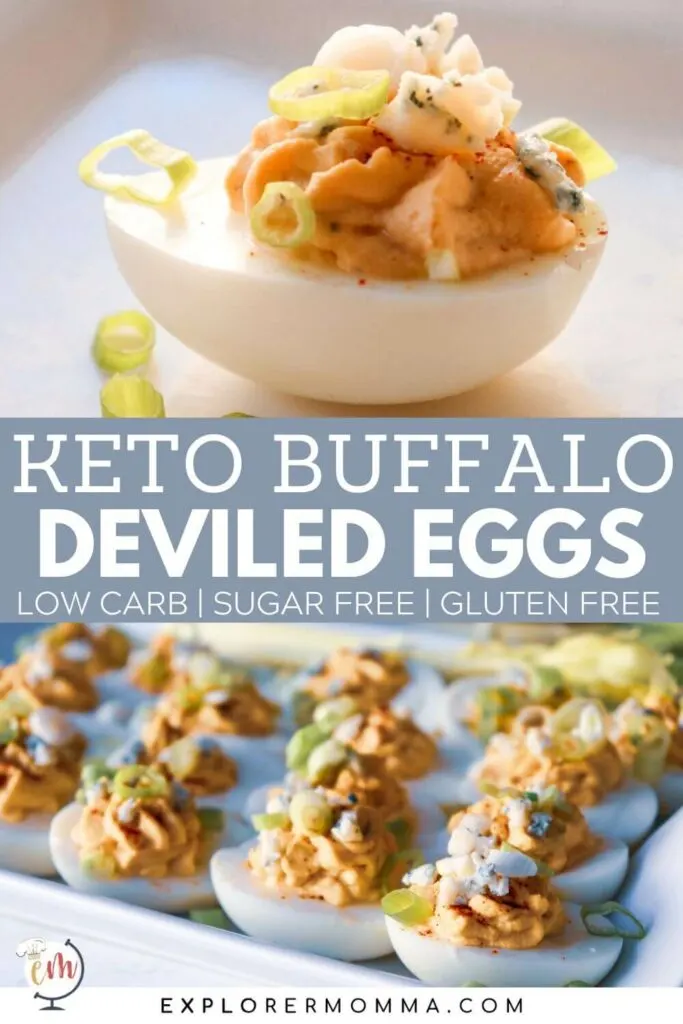 📖 Printable recipe card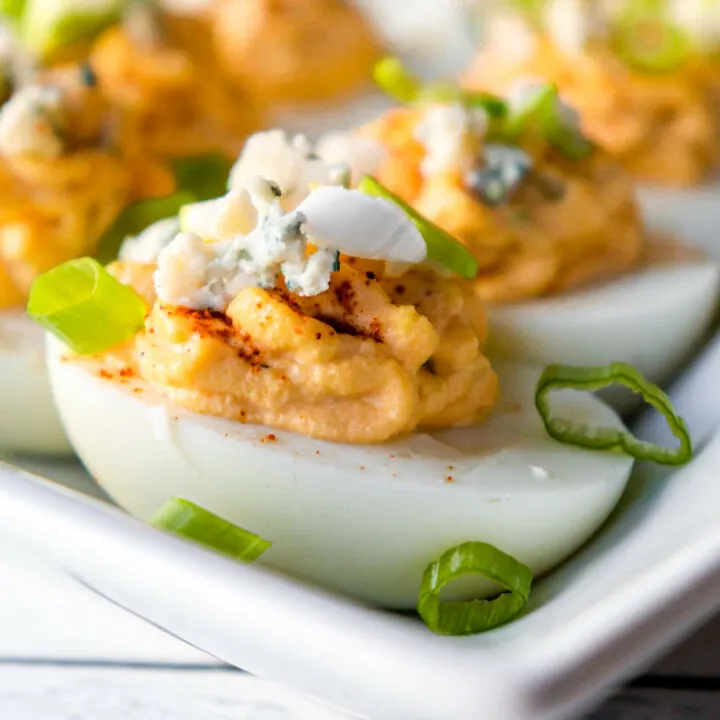 Keto Buffalo Deviled Eggs
Keto Buffalo deviled eggs are the perfect low carb appetizer for a party! Made with Buffalo sauce, blue cheese dressing, celery, and more, they are delicious and easy to make.
Ingredients
10 boiled eggs
1/4 cup mayonnaise (homemade or sugar free)
1 tsp Dijon mustard
1/4 cup (1 stalk) finely diced celery
1/4 tsp salt
1/4 tsp ground black pepper
1/4 cup blue cheese crumbles (to top)
Paprika (to sprinkle over each)
Sliced green onions (optional for garnish)
Instructions
Cut the boiled eggs in half and place the yolks in a medium-sized bowl.
Add the mayonnaise, blue cheese dressing, hot sauce, mustard, salt, and pepper. Mix it well with a hand mixer.
Stir in the finely chopped celery. Add more salt, pepper, and/or hot sauce to taste (according to your personal preference).
Spoon or pipe the yolk mixture into the empty egg whites.
Sprinkle the tops with smoked paprika, blue cheese crumbles, and green onions. Enjoy immediately or store in an airtight container in the refrigerator.
Recommended Products
As an Amazon Associate and member of other affiliate programs, I earn from qualifying purchases.
Nutrition Information:
Yield:

10
Serving Size:

1 piece
Amount Per Serving:
Calories:

134
Total Fat:

12g
Carbohydrates:

0g
Net Carbohydrates:

0g
Fiber:

0g
Protein:

7g
*Nutrition Facts per MyFitnessPal.com. For the most accurate facts, calculate your own with the exact ingredients you use in the recipe.
Tag me in your recipe pics on Instagram @explorermomma.
If you LOVE this recipe please consider giving it a five-star rating in the review area below!
Nutrition Disclaimer
Please be aware I am not a medical specialist or nutritional professional. On this blog, I share recipes and what works for me. Please do not take anything on this blog as medical advice and make sure to always consult with your doctor before starting any diet or exercise program.
I use MyFitnessPal.com to calculate nutrition facts as a courtesy to my readers, and I remove erythritol from the final carb count and net carb count because does not affect my own blood glucose levels.
This is as accurate as possible, but I find it's best to independently calculate nutritional data on your own with the specific ingredients you use. I expressly disclaim any and all liability of any kind with respect to any act or omission wholly or in part in reliance on anything contained in this website.