Italian spiced keto sausage stuffed peppers are easy to meal-prep and a delicious low carb meal. They're stuffed with Italian sausage, cauliflower rice, mushrooms, marinara sauce, and parmesan goodness.
If you know me much at all, or looked at many of my recipes you'll know I like pork sausage more than a little. This trait has been inherited by my daughter, and we love a good Italian sausage dish.
Therefore, it goes without saying, we like to experiment with it in different recipes around here!
One of my favorites is my Creamy Keto Italian Sausage Soup, and it got me thinking. What other warm comfort-food dinner dishes could we make with Italian sausage?
Well, like I said, we've been experimenting with quite a few options, but this one keeps coming out on top for me. I hope you like it as much as we do!
This post contains affiliate links, which means I receive a small percentage if you make a purchase after clicking on my links.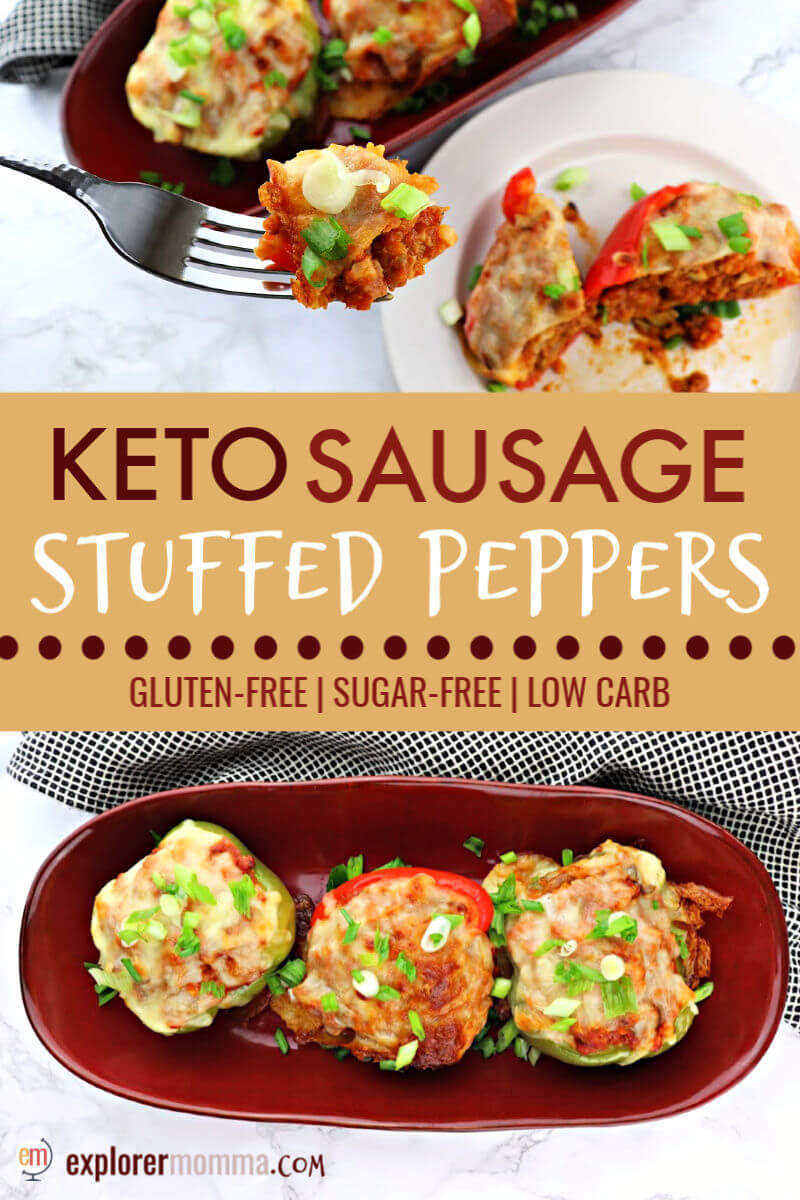 In a hurry?
While I think you'll love my super helpful tips and fun stories, I also realize we are sometimes pressed for time and just need a good recipe!
Scroll down to the bottom of the page for the printable recipe or PIN it here for later!
A tavola non si invecchia.

At the table with good friends and family you do not become old.

– Italian proverb
Exactly what is Italian sausage?
Here in the U.S., we place the title of "Italian sausage" on only a very few kinds of sausage. However, if you were to actually go to Italy and visit sausage makers (can I make that a trip?), you'd find a much wider variety.
For our purposes, here in the United States, there are generally three types of sausage labeled as "Italian sausage". The ground pork is often seasoned with garlic, onion, fennel, oregano, thyme, and other Italian seasonings.
The three different labels you see in grocery stores mean small differences.
Mild Italian Sausage
First off, let's look at mild Italian sausage. Mild means exactly what it says, mild. It's the basic Italian sausage recipe without any red pepper or extra spice added in.
Hot Italian Sausage
Second, there's hot Italian sausage. Can you guess what it means? Exactly! It's spicier. The basic recipe is changed by adding hot red pepper to the mix.
Sweet Italian Sausage
Next, we have sweet Italian sausage, and it's not as straight-forward. Sweet Italian sausage means sweet basil has been added to the meat. Also, I've noticed many brands add brown sugar or other sweeteners.
In addition, sweet Italian sausage can be mild or hot, depending on the level of red pepper in the recipe.
It's not really all that difficult to make your own Italian sausage, and I would recommend that course of action if you can. Unfortunately, we don't always have the time to make everything we wish!
What to look for in a pre-made Italian sausage
If you do purchase pre-made Italian sausage, don't forget to read the labels. What in the world do they put in some of these?!
To start, I look for a good-quality ground pork base. Avoid any meat that's been given anti-biotics or added hormones. Is it certified organic? Humanely raised?
You can make decisions on your preferences for your family.
Another important thing is to look out for sugar and other not-so-fabulous sweeteners and additives. Even on a quick trip to the grocery store, I always read through the ingredients.
I search for a sausage with few ingredients, and it's important to recognize those ingredients as real foods without sugar or gluten. And again, it should start with a good quality base meat.
🍽 Equipment
To make keto sausage stuffed peppers you'll need: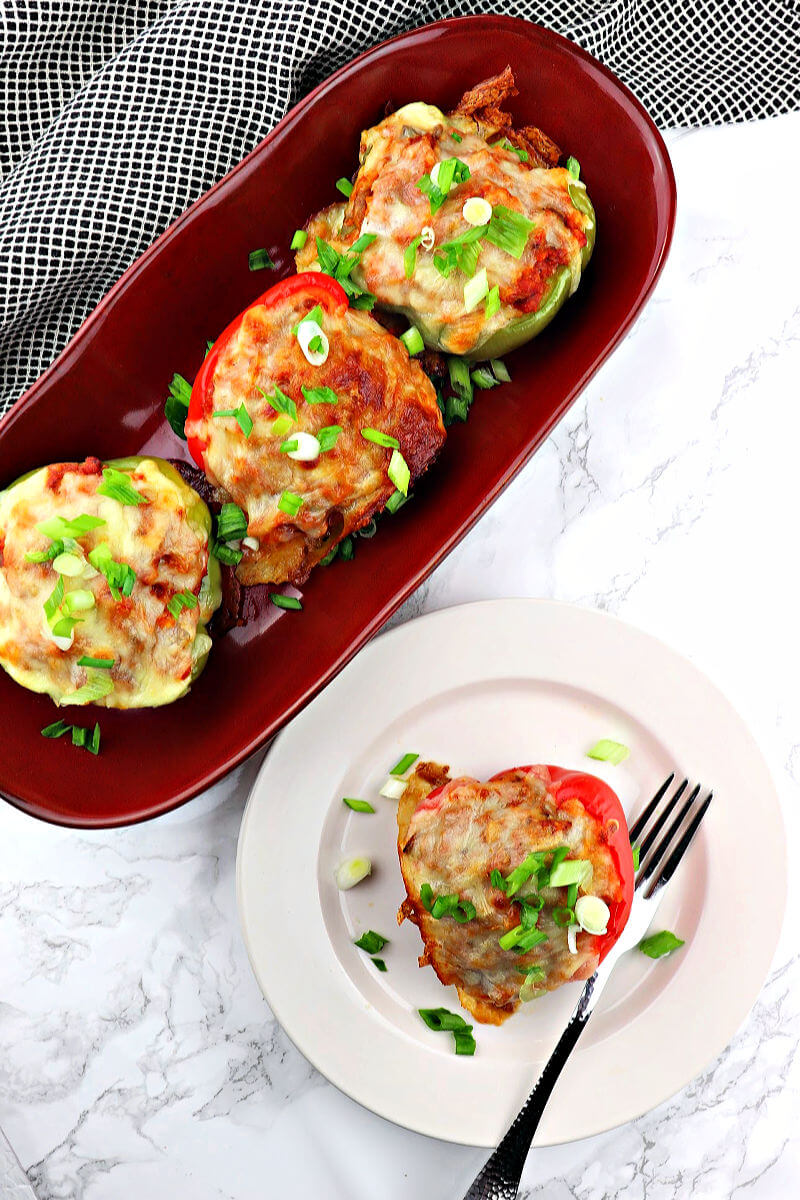 🔪 Instructions
How to make keto sausage stuffed peppers
First of all, get out all ingredients and kitchen utensils so everything is close at hand.
Second, preheat the oven to 350 degrees Fahrenheit and get out a baking dish or cookie sheet.
How to prepare bell peppers to stuff
When I do stuffed peppers, I admit I'm a little lazy. What I mean is that I like to get the peppers ready quickly.
Therefore, instead of cutting out the top and carefully cleaning out the insides, I cut the bell peppers in half lengthwise. That way it's easier to remove the seeds and membranes and actually makes them quicker to fill.
Also, I believe it makes a better-sized serving than the entire pepper.
Remove the seeds and excess membranes as well as the stem. Then arrange them in the baking dish so they're ready to fill. You can use any color of bell pepper you prefer. Make it colorful and fun!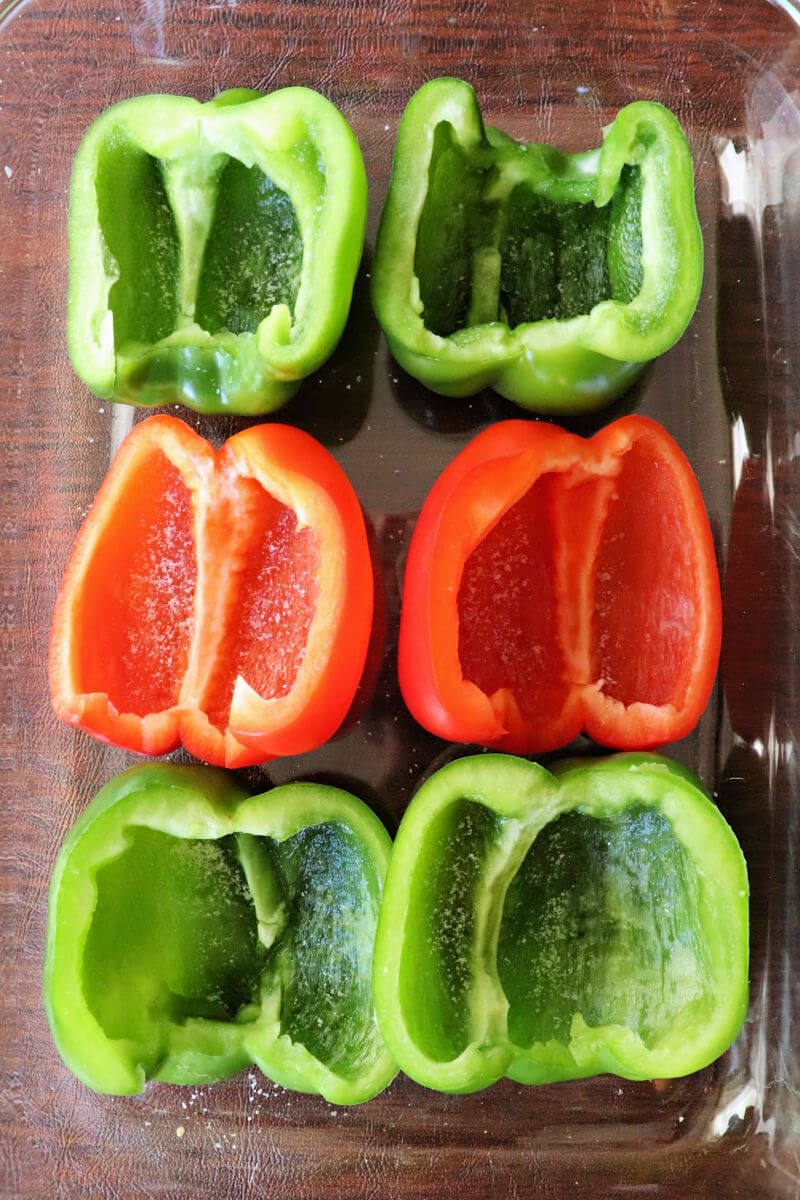 Filling for the keto sausage stuffed peppers
For the filling, first melt the butter in a large frying pan over the stove.
Then add in the Italian sausage and break it apart. Next dump in the chopped mushrooms and cook it together, all the while stirring, until the meat is browned.
Salt and pepper the mixture to taste. Now's the time to add in red pepper if you're using it.
TIP: Kids are not usually accustomed to spicy foods. If you want the entire family to eat the meal, leave out the extra spice but put it on the table for those who wish to add it.
Obviously, spice the peppers the way you wish. In my family however, it's a juggling act! Why? Because I like a medium spice, my daughter considers the mild sausage spicy, and my husband prefers mouth on fire extra hot red pepper levels of spice.
I've found the best method is to place extra spices on the table so I don't have to make three different versions.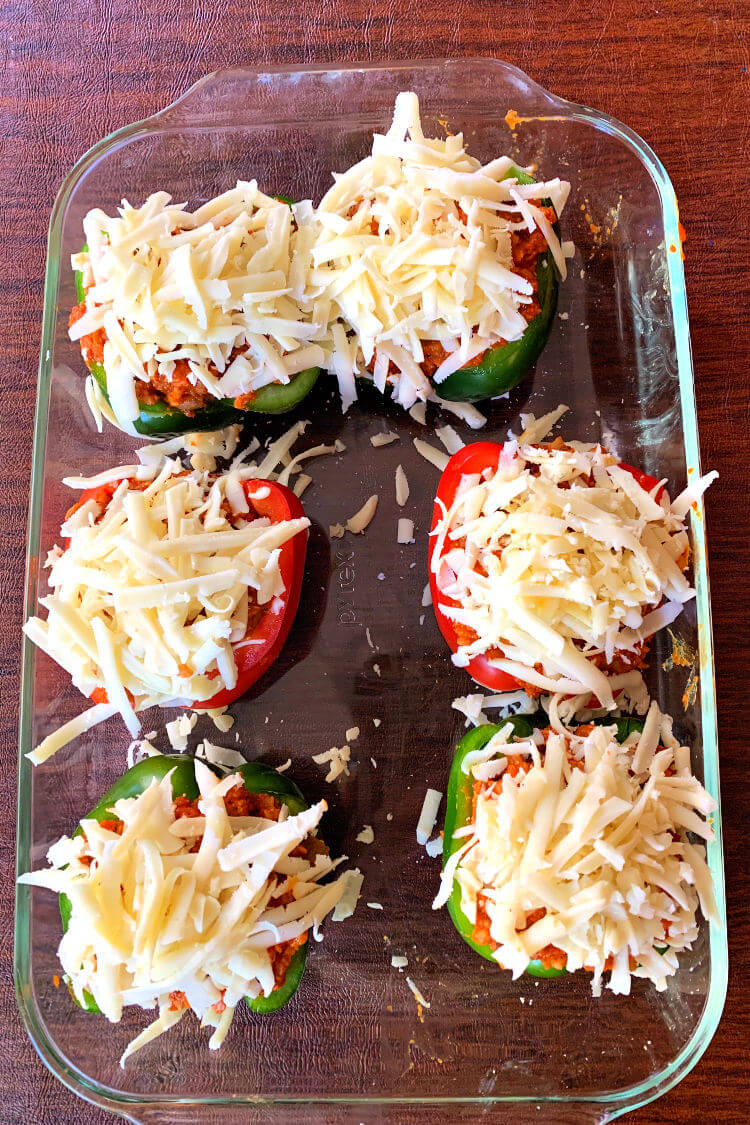 💭 Tips for easy cauliflower rice
Next, we're going to add in all the other stuffing ingredients to the meat and mushrooms.
On the subject of cauliflower rice, I used to make my own. It was not my favorite task. Nonetheless, it can be done with steamed caulflower drained of liquid then pulsed in a food processor to the desired size and consistency.
The busy mom in me now says that's completely unnecessary except for in an emergency.
It used to be you rarely found riced cauliflower at a grocery store. I remember when Trader Joe's got a brand in and there was much rejoicing.
Now, you can find frozen cauliflower rice at most grocery stores in several brands, even store brands. As usual, just read the ingredients and buy one with nothing extra added to it.
Even easier, add it to your online pickup order or have it delivered so you don't even have to look for it in the store. Boom!

Back to the stuffed pepper filling
Now mix in the thawed and drained cauliflower rice, marinara sauce, and parmesan cheese with the meat. Next, pull the baking dish over to you with the bell pepper halves and spoon the mixture evenly into each of the eight halves.
Top each one with some of the shredded mozzarella cheese.
Bake them off at 350 degrees for 25-30 minutes or until the cheese just begins to brown.
Lastly, garnish the keto sausage stuffed peppers with chopped green onions and serve.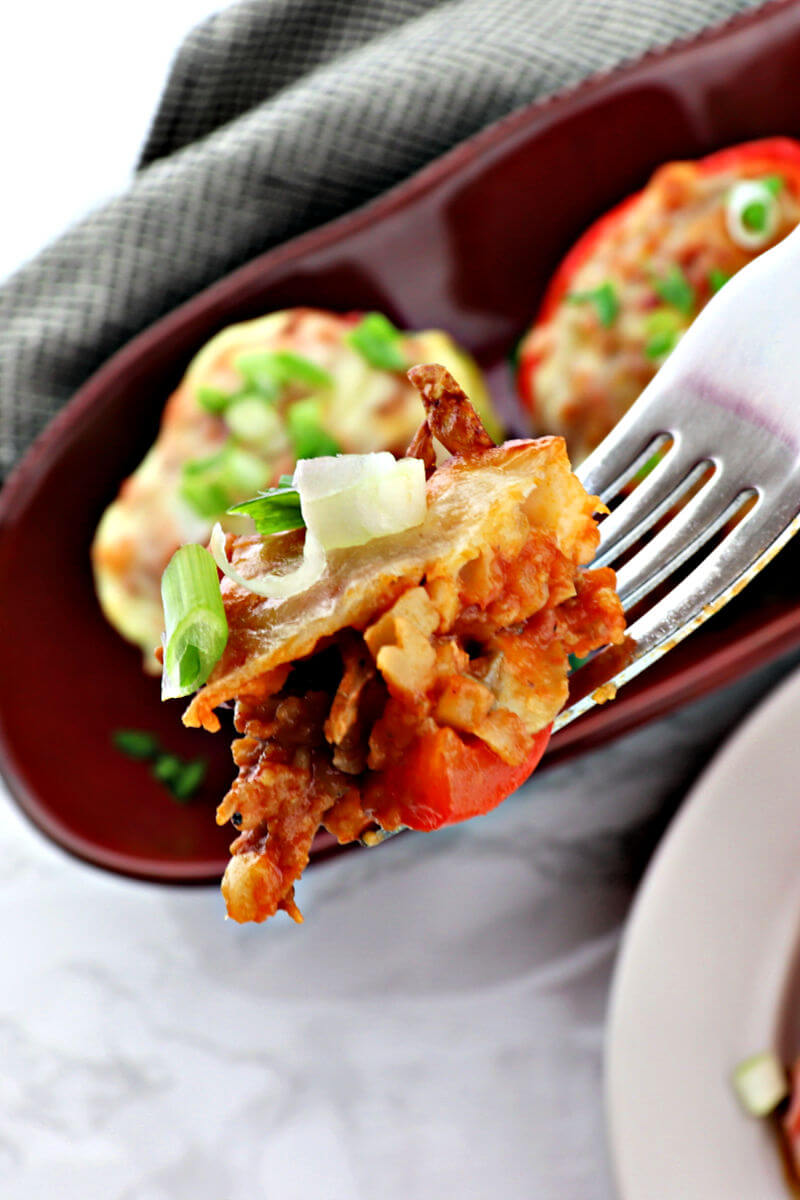 Favorite Italian sausage recipes
Do you like Italian sausage as much as I do? What are your favorite recipes or uses for it? If you have any ideas I'd love to hear about them!
But more importantly, who's up for that tour of sausage makers in Italy? I wish I could throw in a cheese tour along with it! And stay for the grape harvest. Can we go to Italy?!
Pin the recipe here: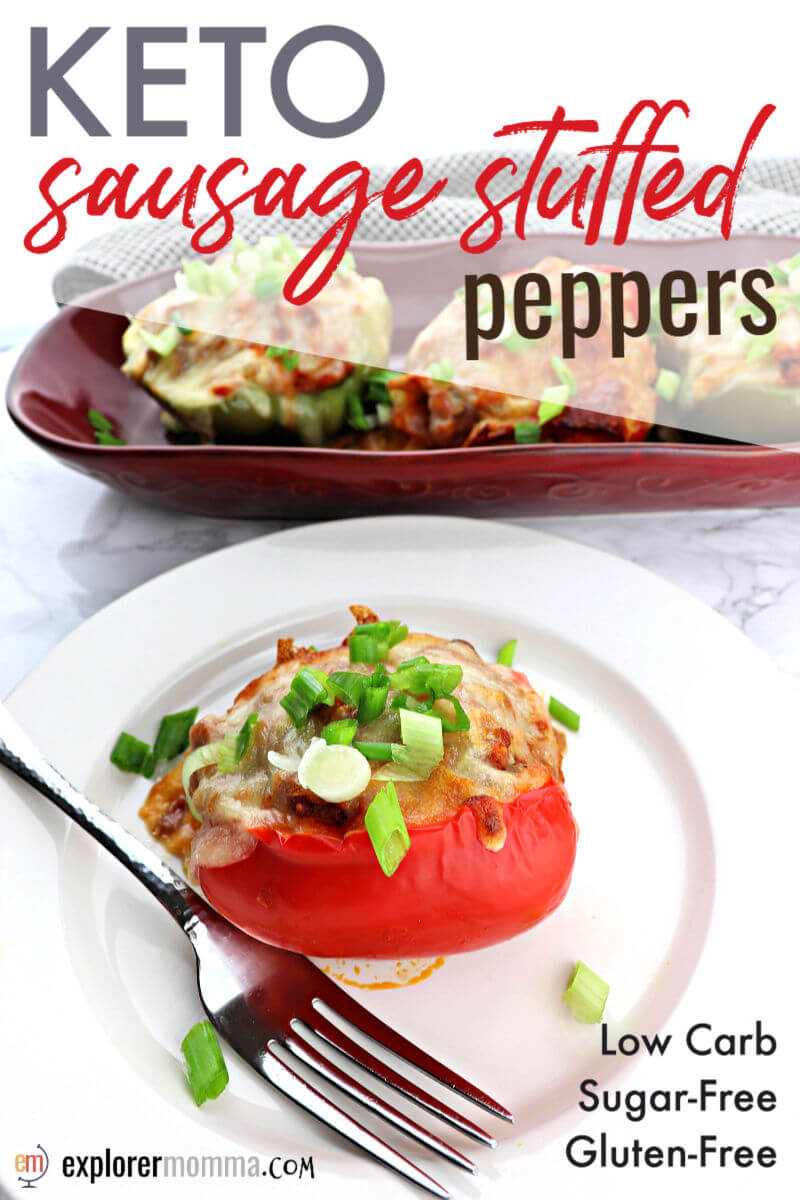 Follow me on Instagram @explorermomma and tag me in your food pictures! I can't wait to see what you make!
If you LOVE this recipe please consider giving it a five-star rating in the review area below!
🥘 Keto dinner recipes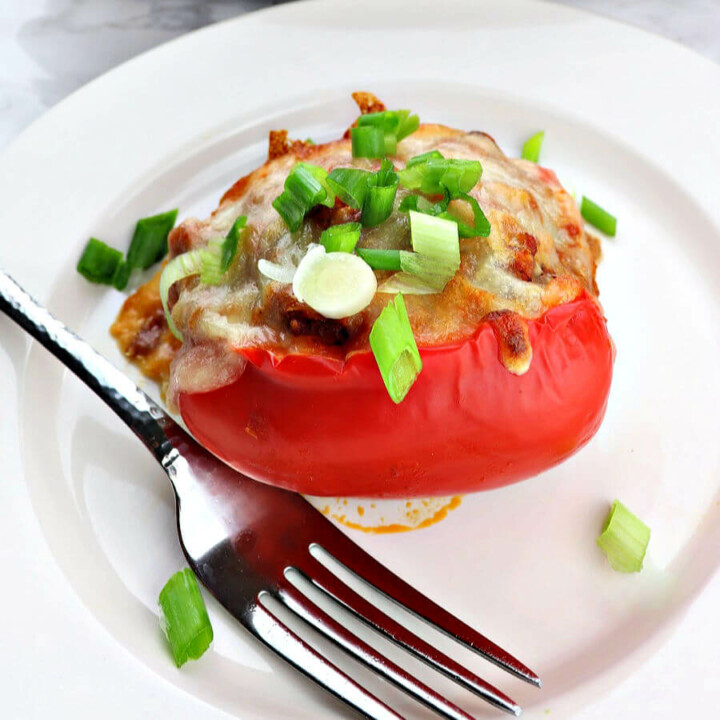 Keto Sausage Stuffed Peppers
Flavorful Italian sausage mixed with mushrooms, cauliflower rice, marinara, and parmesan all stuffed in bell pepper and topped off with melted mozzarella cheese.
Ingredients
4 bell peppers, cut in half and insides removed
1 tbsp butter
1 lb Italian sausage
2 cups cauliflower rice
16 oz chopped mushrooms
14 oz marinara or pizza sauce , (homemade or bought sugar-free)
½ cup shredded or powdered parmesan cheese
½ tsp salt
1/2 tsp black pepper
½ tsp red pepper (optional)
1 cup shredded mozzarella cheese
4 green onions, chopped, to garnish
Instructions
Preheat the oven to 350 degrees Fahrenheit. Place the bell pepper halves spaced evenly in a baking dish.
Melt the butter in a large frying pan over the stove. Put in the Italian sausage and chopped mushrooms and cook/stir until the meat is browned.
Add in the salt and pepper to taste. Add red pepper if using.
Mix in the cauliflower rice, marinara sauce, and parmesan cheese.
Spoon the mixture evenly into the bell pepper halves.
Top each with shredded mozzarella cheese.
Bake at 350 degrees for 25-30 minutes or until the cheese just begins to brown. Garnish with chopped green onions and serve.
Notes
Nutritions Facts
Servings 8.0 Amount Per Serving Calories 283 Total Fat 18 g Saturated Fat 8 g Monounsaturated Fat 0 g Polyunsaturated Fat 0 gTrans Fat 0 g Cholesterol 57 mg Sodium 827 mg Potassium 462 mg Total Carbohydrate 9 g Dietary Fiber 3 g Sugars 4 g Protein 20 g Net Carbohydrate 6 g
Nutrition Information:
Yield:

8
Amount Per Serving:
Calories:

283
Unsaturated Fat:

0g
*Nutrition Facts per MyFitnessPal.com. For the most accurate facts, calculate your own with the exact ingredients you use in the recipe.
NUTRITION DISCLAIMER
Please be aware I am not a medical specialist or nutritional professional. On this blog, I share recipes and what works for me. Please do not take anything on this blog as medical advice and always consult with your doctor before starting any diet or exercise program.
I use
MyFitnessPal.com
to calculate nutrition facts as a courtesy to my readers, and I remove erythritol from the final carb count and net carb count because it does not affect my own blood glucose levels.
This is as accurate as possible, but it's best to independently calculate nutritional information on your own with the specific ingredients you use.
I expressly disclaim any and all liability of any kind with respect to any act or omission wholly or in part in reliance on anything contained in this website.