The best easy keto Sloppy Joes are a family favorite and an easy low carb weeknight meal. Ground beef simmered in a homemade spicy Sloppy Joe sauce, can be ready to eat and on the table in under 15 minutes.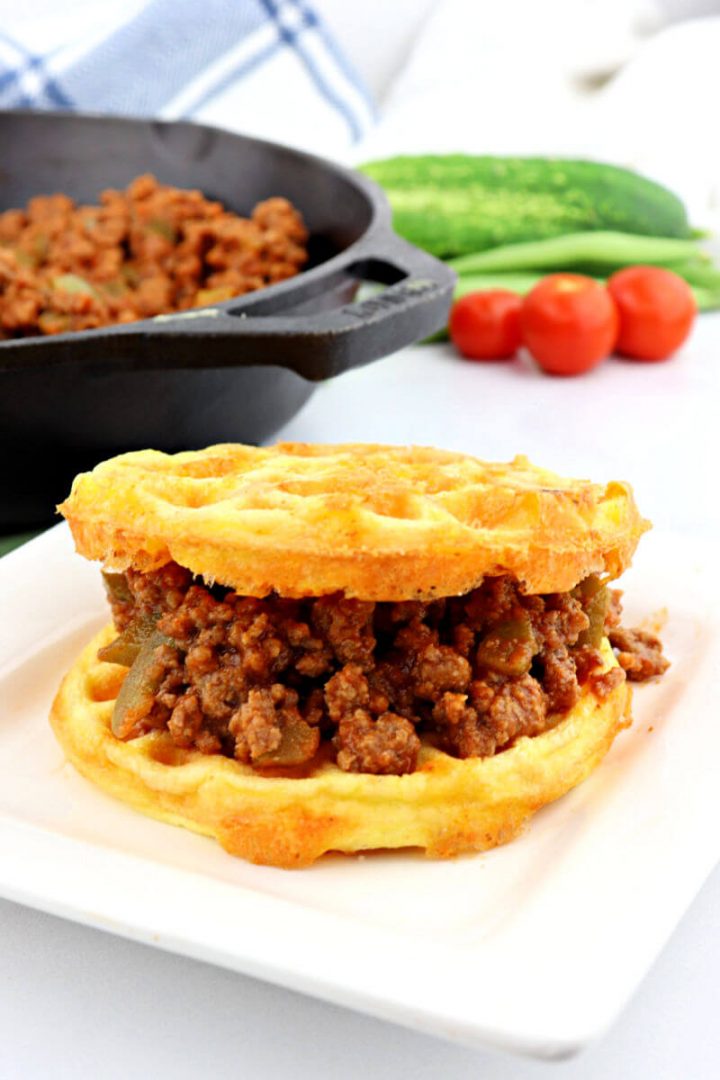 This post may include Amazon links. As an Amazon Associate, I earn from qualifying purchases.
Scroll down to the bottom of the page for the recipe card with ingredient amounts and printable recipe to make it NOW or PIN it here for later!
Keto Sloppy Joes are by far one of the most requested meals in my house. I really can't complain because they're super easy to make, and I like them just as much as the kids.
With just a few ingredients and a skillet, it's easy to whip up your sloppy Joe filling in ten to fifteen minutes. I'd say that's just about perfect for a weeknight when I want something comforting and hot on the table. The best thing is, it's always a hit with the family.
I've been making this recipe for a long time, and actually it's on our meal plan (written out by my daughter) at least once every couple of weeks. When I thought about it, I couldn't believe I hadn't shared the recipe on Explorer Momma.
Now's the time! So why not give it a try?
What do you need for this recipe? Not a lot, if I'm honest
🍽 Equipment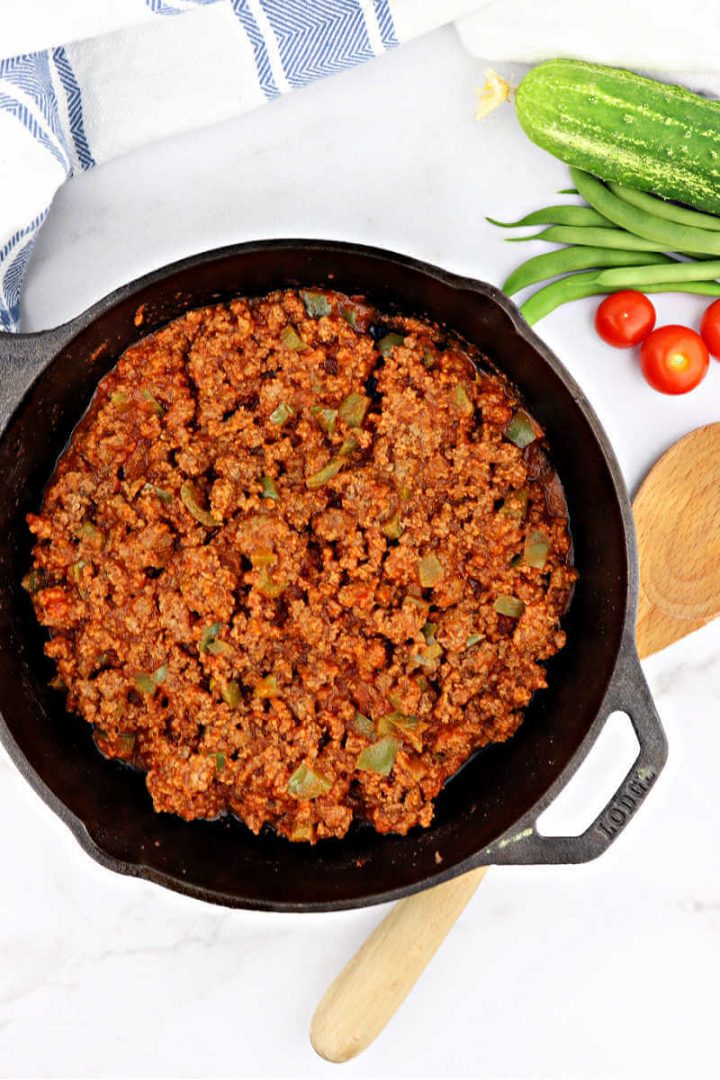 🥘 Ingredients
ground beef
chopped green bell pepper
garlic granules (or powder or fresh minced)
onion powder
cayenne pepper
salt
black pepper
tomato sauce
apple cider vinegar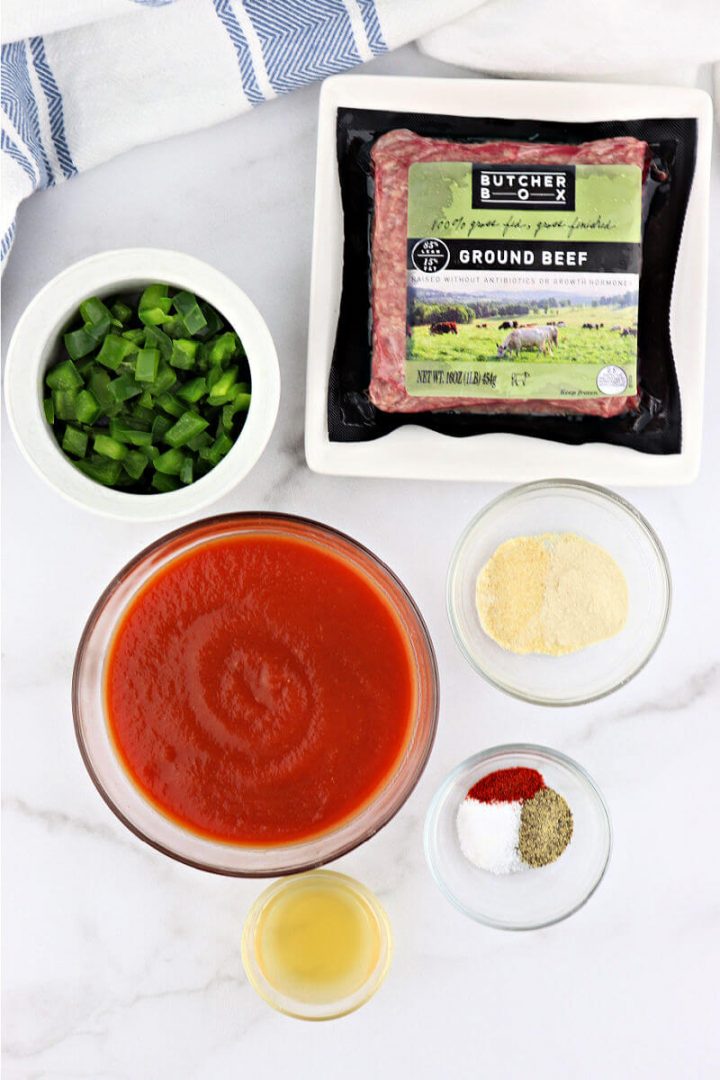 What makes a tasty meal? A good recipe and mix of flavor. What else?
Good quality ingredients.
When you select your groceries, read the labels and buy organic whenever possible. I recently discovered one of the cans of tomato sauce I'd bought before had added sugar. Really?! It's tomato sauce!
For beef, I like to buy grass-fed local beef or from ButcherBox. We have loved having our meat delivered to the front door. It's been especially helpful during this stressful time. You know I don't want to have to worry about meat not being available in the local grocery stores.
🔪 Instructions
I love this recipe because it's delicious yet so simple to make.
How to make keto Sloppy Joes
First, get out all the ingredients and equipment needed.
Second, brown the ground beef in a skillet on medium-high heat. As it begins to brown, add in the chopped green pepper to cook. After 3-5 minutes, the meat will be browned and peppers soft. Then drain off the excess fat.
If you want to keep the fat that's fine. However, the children in this house prefer not to have it oozing around their plates!
Next, sprinkle on the garlic granules, onion powder, red pepper, black pepper, and salt. Stir it all up to combine.
After that, pour in the tomato sauce and apple cider vinegar. Stir it together with a spoon or spatula, then bring it to a simmer. Turn the heat down to low, and simmer it for 5 to 10 minutes.
Mix it up again and serve!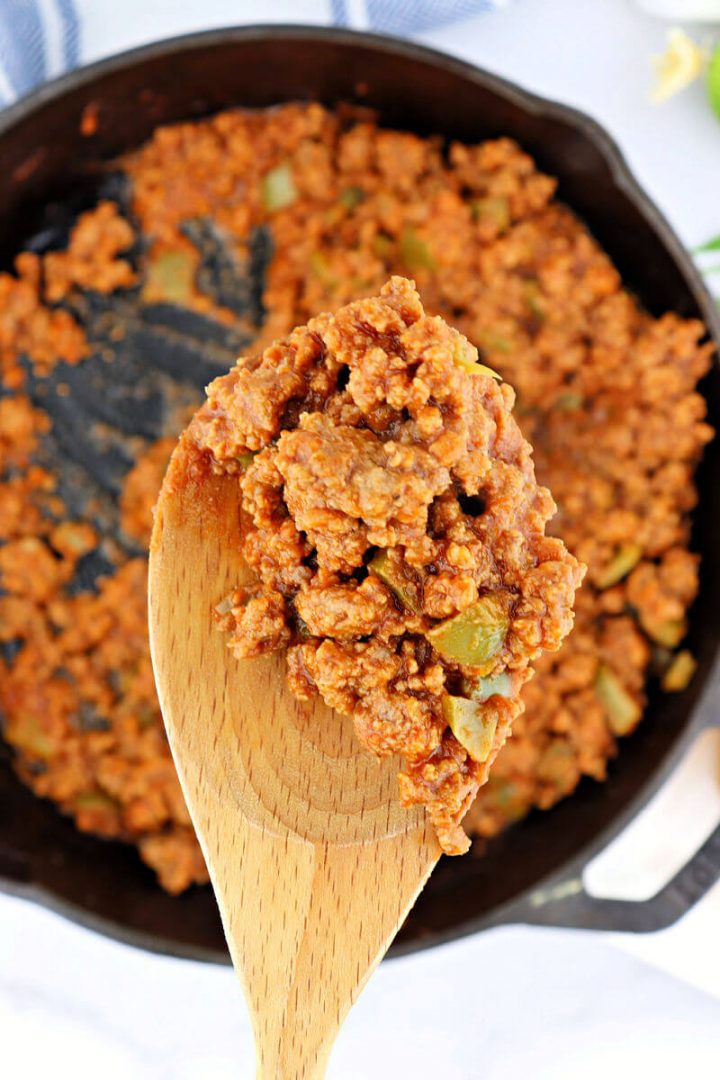 💭 Top tip
Can I tell you a secret? When I'm in a hurry on a weeknight I don't like to chop onions. What? Imagine that.
Therefore, my top tip for quick and easy keto sloppy Joes is to use garlic granules and onion powder. I keep a good quality brand of both on hand at all times, and I don't mind admitting I use them a lot.
You may be wondering why I don't always use fresh minced garlic and onion. Well, the fact is you can use fresh, but that involves more chopping and peeling, and my eyes watering.
Don't get me wrong, there are still times I prefer to use fresh garlic and onion. But don't fret, there's absolutely nothing wrong with using granules or powder to get the meal on the table and spend more time with your family.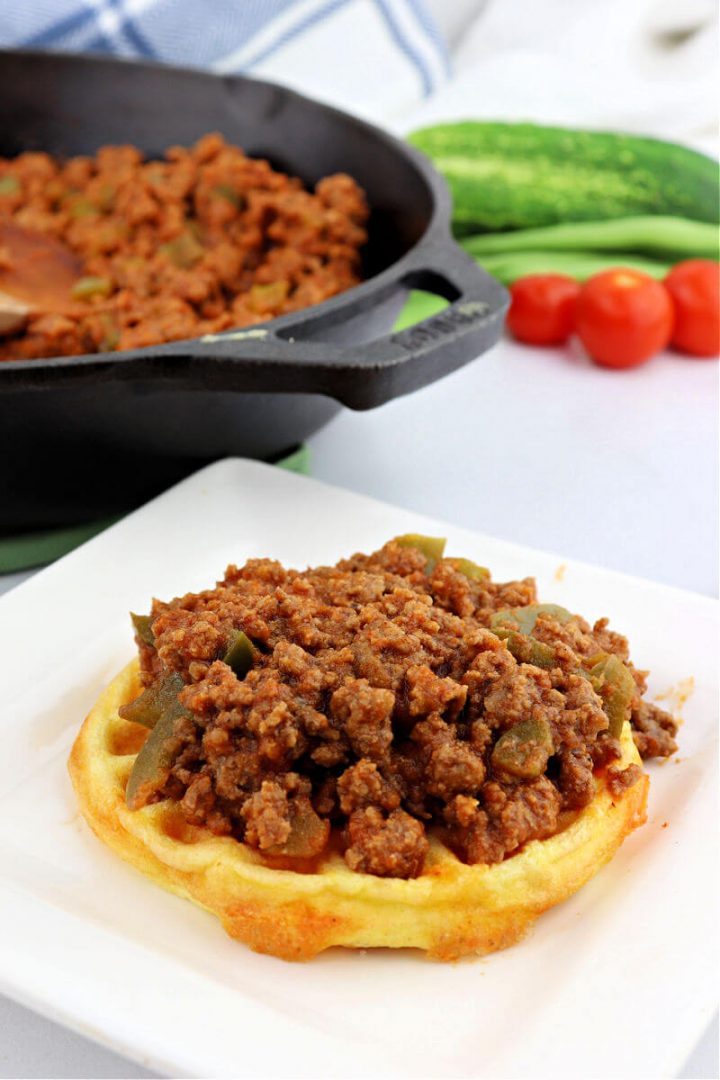 🥗 What to serve with keto Sloppy Joes
So there you have the keto Sloppy Joe filling. Now, how and with what do you serve them?
There are many ways to serve keto Sloppy Joes. When I'm in a big hurry I eat a serving of the mixture alone with a side of green beans or a salad.
If you're missing a bun there are several other options to choose from:
Make some easy chaffles like my Garlic Parmesan Chaffle Recipe. This is my daughter's favorite way to eat them.
Wrap in a strong lettuce or cabbage leaf. We like Boston lettuce.
Use your favorite keto bread or buns.
Try a cheese wrap or sandwich between two pieces of white cheddar (or any other cheese).
On the side, I like to serve a green veggie. As I mentioned before, the most common are a leafy green salad or green beans. Steamed broccoli or grilled garlic parmesan zucchini often make an appearance as well. Get creative!
🥣 How to store keto Sloppy Joes
If for some reason the four servings are not consumed after one dinner, keto Sloppy Joes keep well. Or maybe you want to freeze them in individual servings for future quick meals. Can do.
The Sloppy Joes mixture will keep in an airtight container for five to six days in the refrigerator.
For the freezer, use freezer bags or freezer-approved air-tight containers. Divide the recipe into 4 equal servings, seal, and stack in the freezer. They will be good for up to about a month.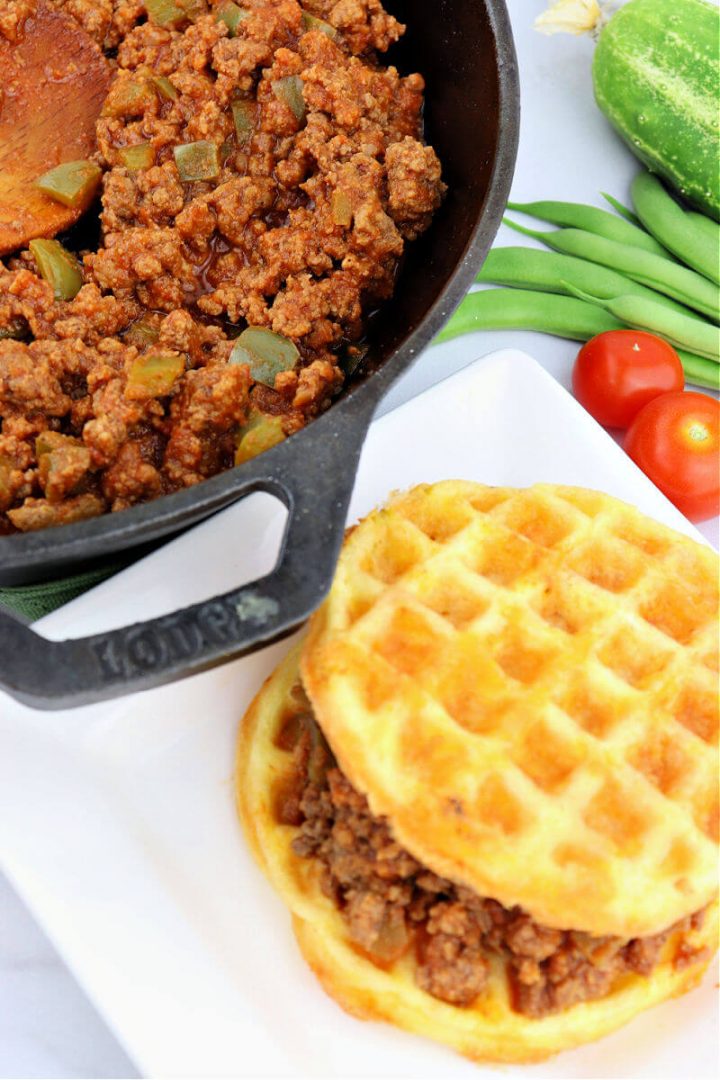 🌶 Variations
To be perfectly honest, I love this recipe and don't often vary it. However, if you want a different flavor or spice level, it's easy to do.
First, the spice.
I use 1/4 of a teaspoon of cayenne pepper in this dish. However, I also have children who don't like a ton of spice. Therefore, taste the mixture after it simmers a few minutes, and if it's not spicy enough, add 1/4 of a teaspoon more or to taste.
Second option, add other seasonings.
For more of an Italian flavor, add a teaspoon of dried oregano and basil. Stir them in with the spice.
Or, if you'd like a taco-like Sloppy Joe, add 2 tablespoons of a good taco or Mexican seasoning blend.
Get creative! Or not and stick to the classic.
Either way, enjoy!
📋 Related recipes
Pin the recipe here: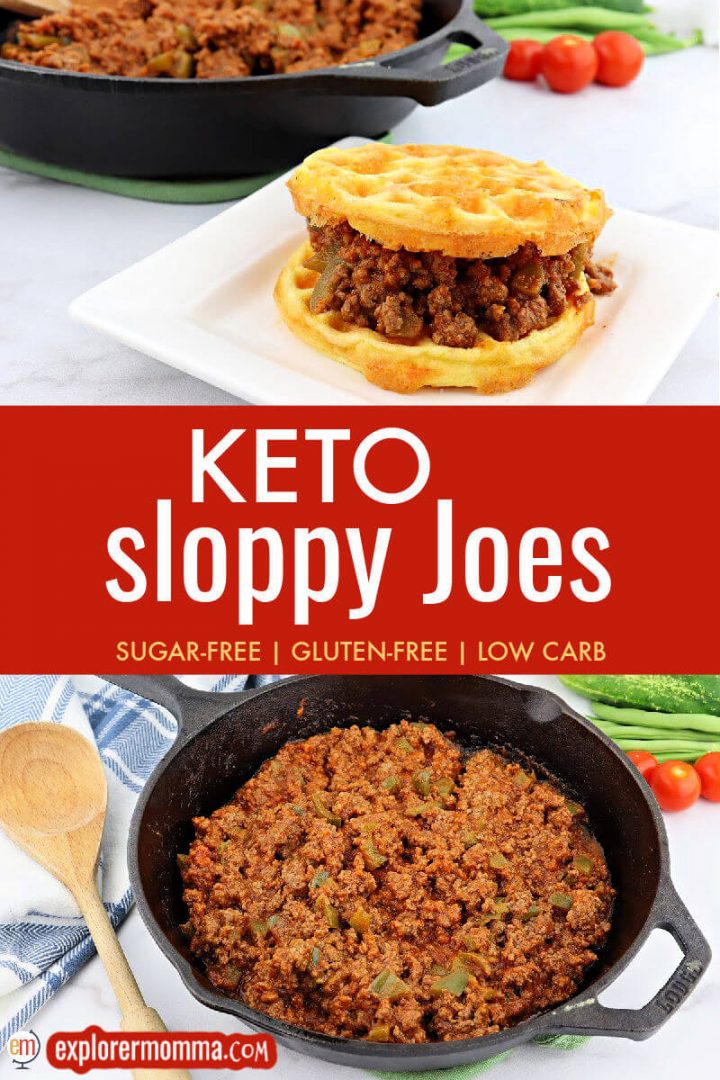 Tag me in your recipe pics on Instagram @explorermomma.
If you LOVE this recipe please consider giving it a five-star rating in the review area below!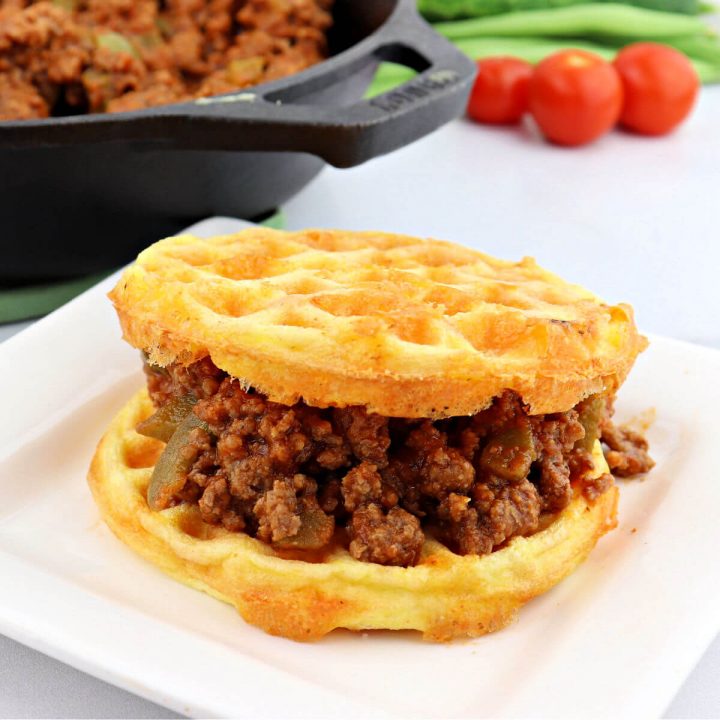 Easy Keto Sloppy Joes
Easy Keto Sloppy Joes are delicious and quick to make for a low carb weeknight meal. Spicy but with traditional flavor, they're a kid-friendly hit.
Ingredients
1 lb ground beef
1/2 cup chopped green pepper
1 tsp garlic granules (or powder or fresh minced)
1 tsp onion powder
1/2 tsp black pepper
1/2 tsp salt
1/8 tsp cayenne pepper (to 1/4 tsp depending on spice preference)
1 cup tomato sauce
1 tbsp apple cider vinegar
Instructions
Brown the ground beef in a skillet on medium-high heat. As it begins to brown, add the chopped green pepper to cook. After 3-4 minutes, or once the meat is browned and peppers cooked, drain the excess fat.
Sprinkle on the garlic granules, onion powder, red pepper, black pepper, and salt. Stir to combine.
Add the tomato sauce and apple cider vinegar. Mix, then bring to a simmer and turn the heat down to low. Simmer for 5 to 10 minutes.
Serve alone or on keto bread, chaffles, or even zucchini noodles.
Nutrition Information:
Yield:

4
Serving Size:

1/4 of recipe
Amount Per Serving:
Calories:

227
Total Fat:

12g
Saturated Fat:

5g
Trans Fat:

0g
Unsaturated Fat:

0g
Cholesterol:

0mg
Sodium:

291mg
Carbohydrates:

4g
Net Carbohydrates:

4g
Fiber:

0g
Protein:

25g
*Nutrition Facts per MyFitnessPal.com. For most accurate facts, calculate your own with the exact ingredients you use in the recipe.
Nutrition Disclaimer
Please be aware I am not a medical specialist or nutritional professional. On this blog, I share recipes and what works for me. Please do not take anything on this blog as medical advice and always consult with your doctor before starting any diet or exercise program.
I use MyFitnessPal.com to calculate nutrition facts as a courtesy to my readers, and I remove erythritol from the final carb count and net carb count because does not affect my own blood glucose levels.
This is as accurate as possible, but it's best to independently calculate nutritional information on your own with the specific ingredients you use. I expressly disclaim any and all liability of any kind with respect to any act or omission wholly or in part in reliance on anything contained in this website.