This page contains affiliate links. No-bake pumpkin spice cheesecake
Can I just say wow!? This stuff is awesome folks. You may know how I'm always making my best attempt to eat healthily and help my children make those healthy choices. When the holidays come around I stick to the daily healthy choices.
However, for the big events, I love to embrace traditions and go all out. This no-bake pumpkin spice cheesecake is one of those recipes I love, my husband loves even more, and is a fabulous taste of fall. In fact, I'd say it's perfect for that holiday dinner party or even the big day. I don't think anyone would be sad to see this as an option on that Thanksgiving dessert table spread!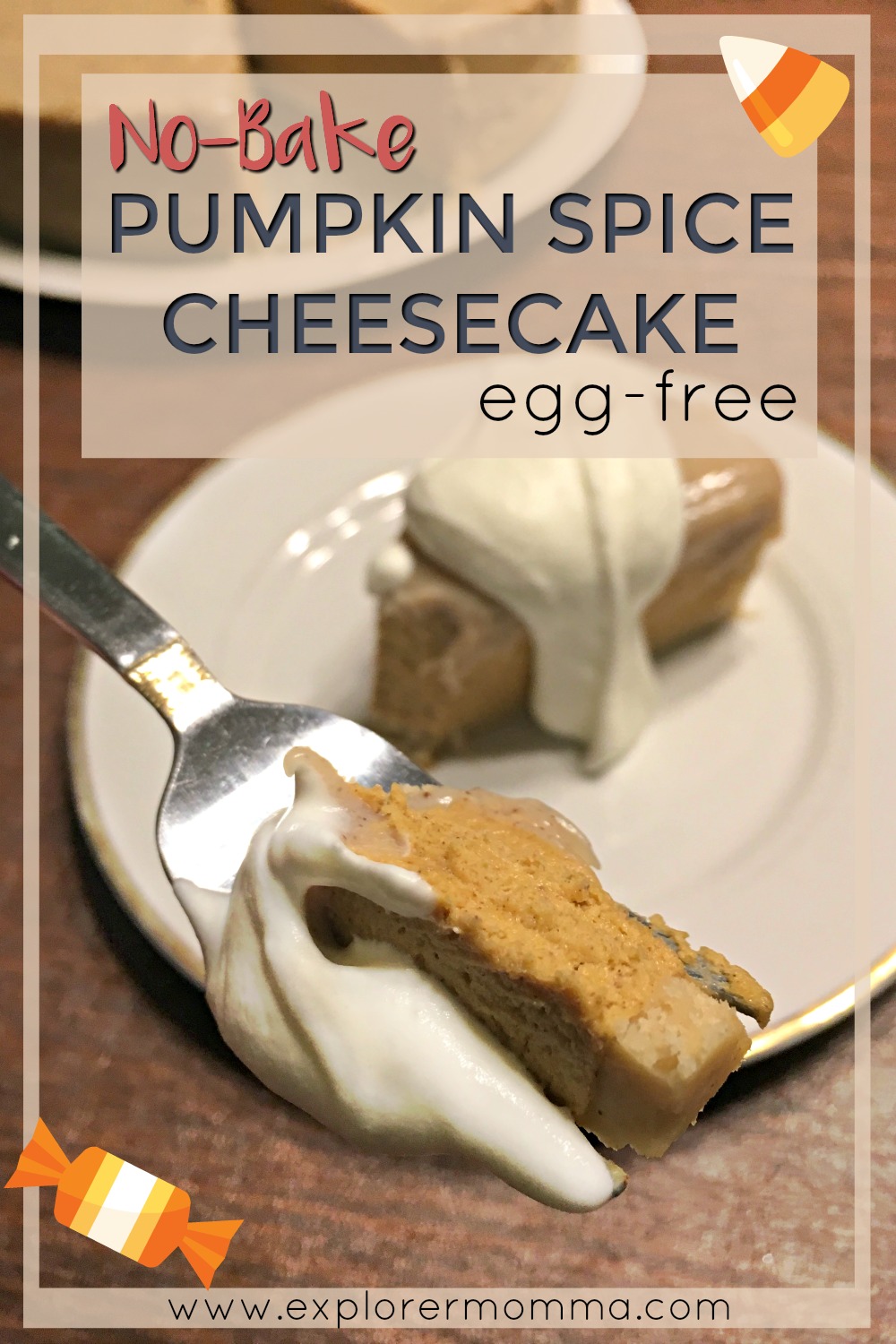 You know how it goes. You're invited to an aunt's, or maybe a friend's, giant family event, and you want to make a dessert that will WOW. When I was a kid I remember the table of pies and desserts at Thanksgiving and Christmas. Of course, then there were all the discussions about who would bring what.
There's a lot of thought and tradition that can go into holiday desserts. Still, every year there are always the completely new recipes you try out and decide if they're good enough to make the repeat list for next year. I hope this is one of those keepers for you.
No-bake pumpkin spice cheesecake
Let's get started! First, this is a recipe I altered from another no-bake cheesecake I make quite often for dinner parties or to take to events. I LOVE all things pumpkin and the fall spices that go along with it. Naturally, it seemed like the thing to do to mix things up for fall.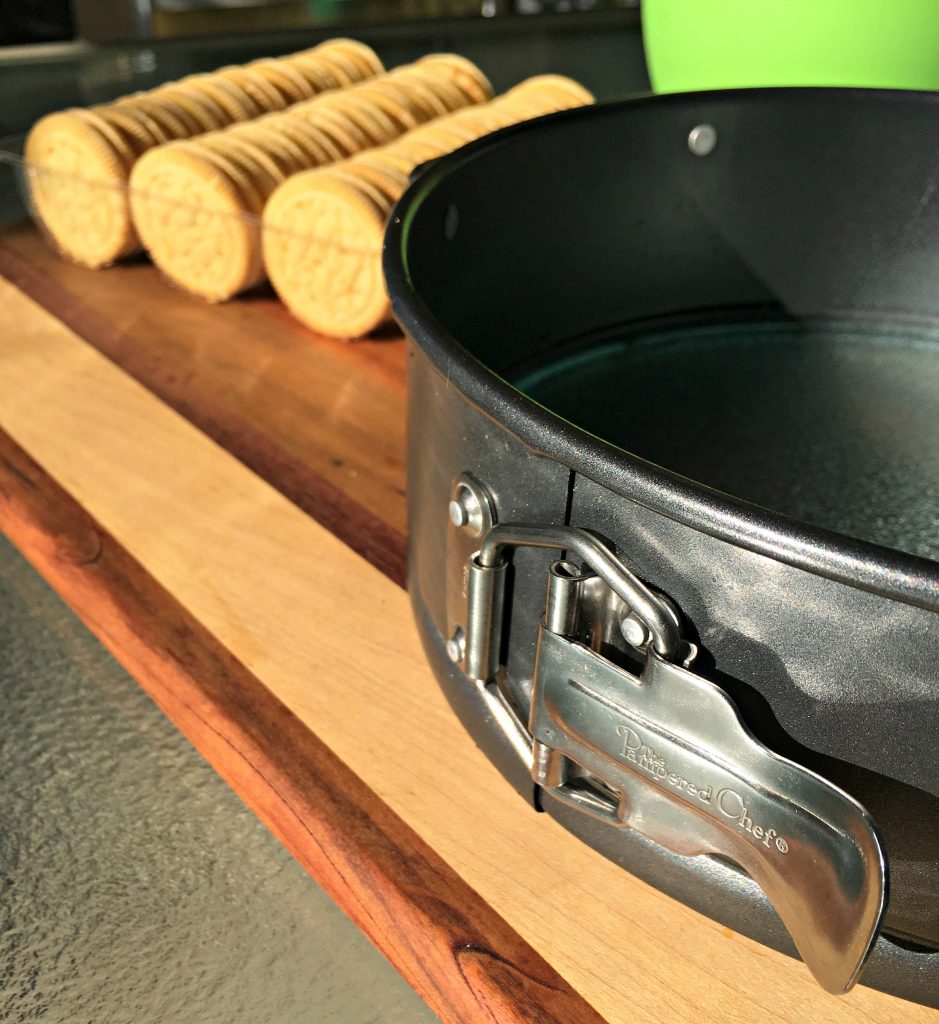 The Crust
To begin, get out a 9-inch springform pan, a family size package of Golden Oreos, or other vanilla sandwich cookies. The family size is around 19 oz., but if your store brand or other kind is a few ounces smaller don't worry. To be sure, I get the family size knowing someone in the house will eat 2-3 before I can make the cheesecake. Then get out your food processor and smash the cookies up into small crumbs.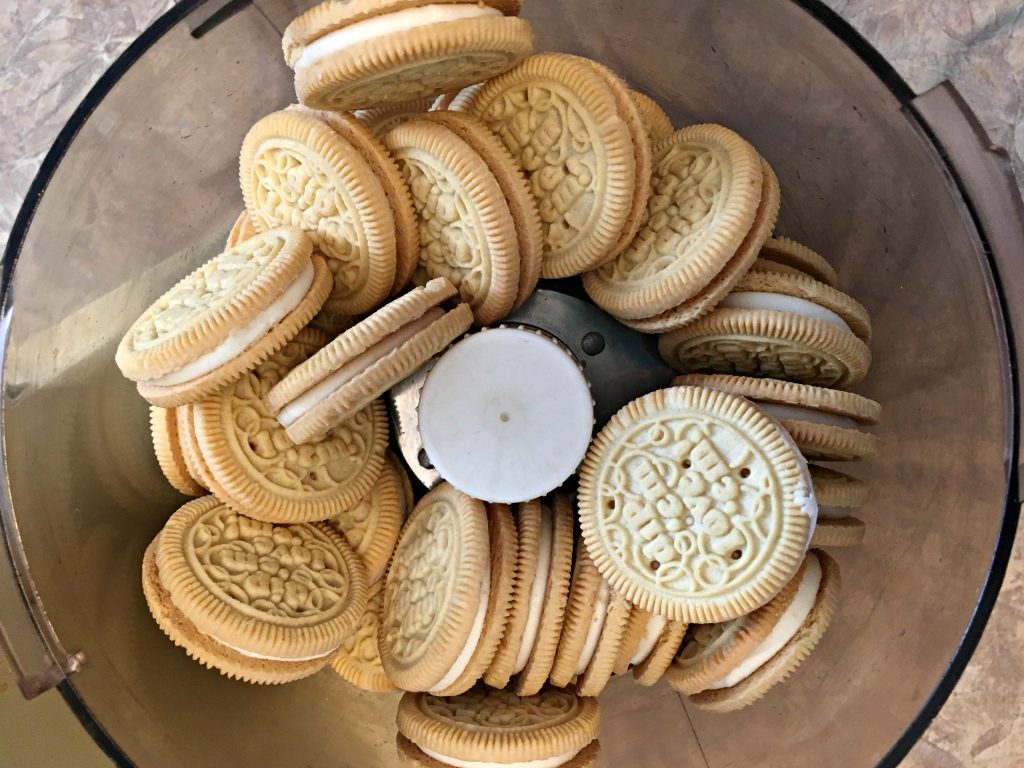 Next, melt a stick of butter on the oven or in the microwave and pour it into the cookie crumbs. Then pulse the food processor several times until the butter's mixed in.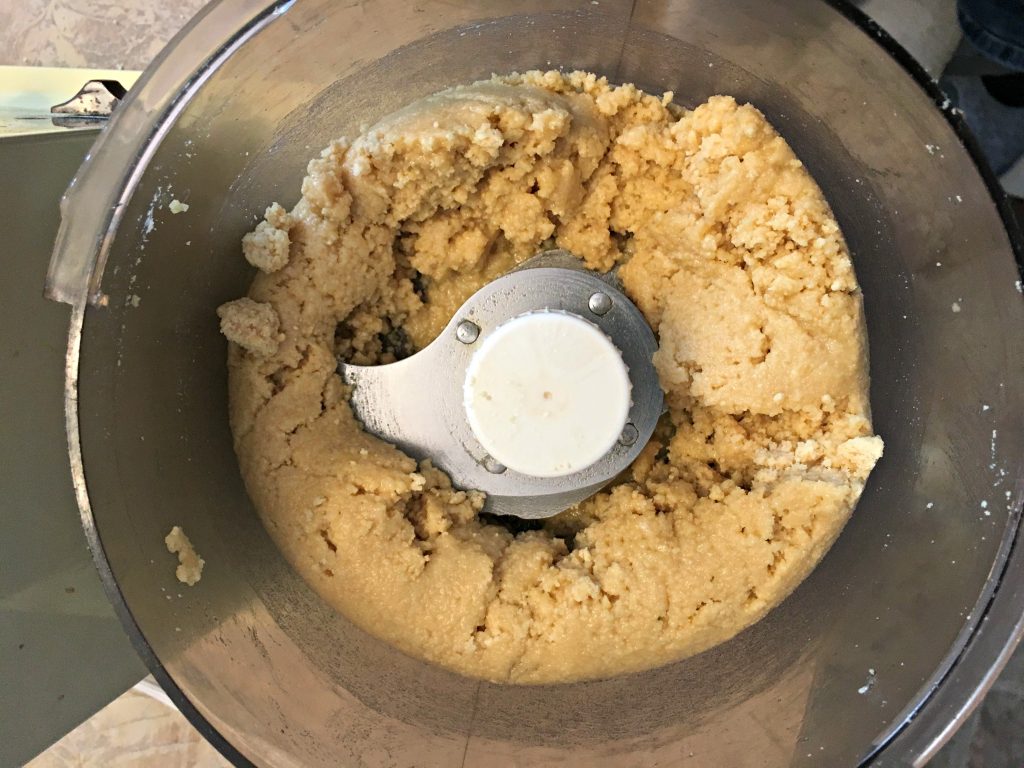 Once the crumb crust is combined, dump it into the springform pan. Press it down with your hands or a flat-bottomed glass to make an even crust on the bottom and up the sides. Form the sides with your hand or the flat glass. The glass in my picture below was not completely flat, and I had to clean out crust from the ridges. C'est la vie! That's what we had (but a straight, flat one would work a lot better. Then place the entire springform pan in the freezer to set the crust.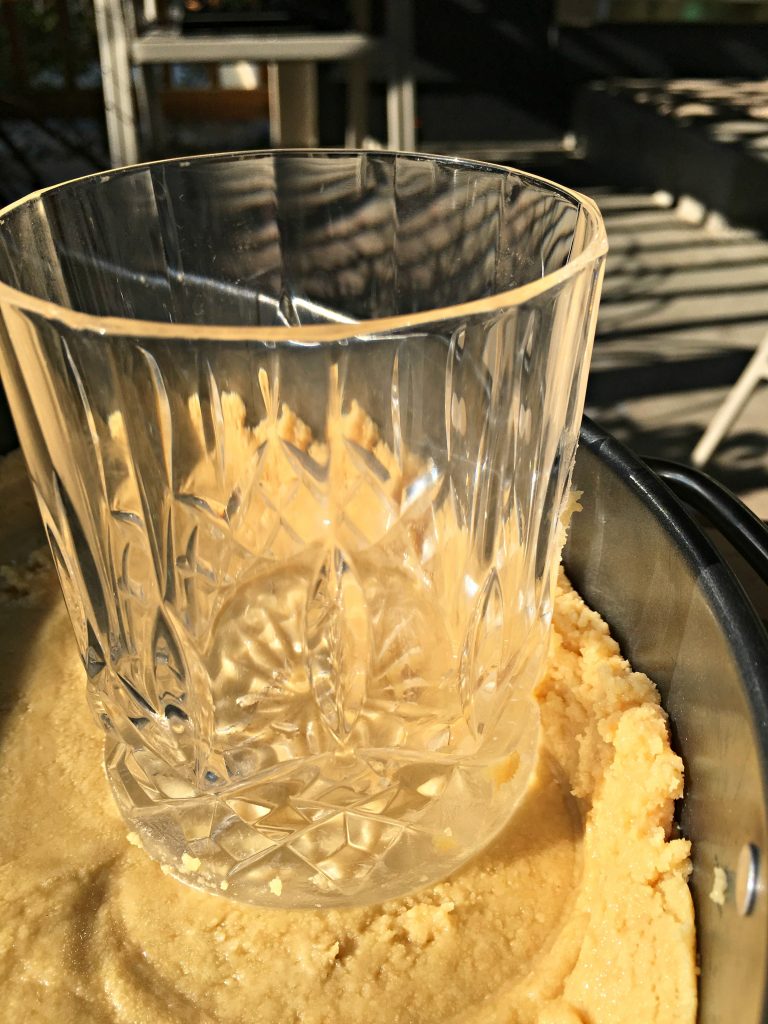 The filling
Now we move to the filling. First, take out a large bowl and put in the cream cheese, other stick of butter, pumpkin, almond butter, vanilla, pumpkin pie spice, and cinnamon. Second, mix that all up together using a standing or hand-held mixer. You can use a different nut-free butter such as soy to make it nut-free if necessary.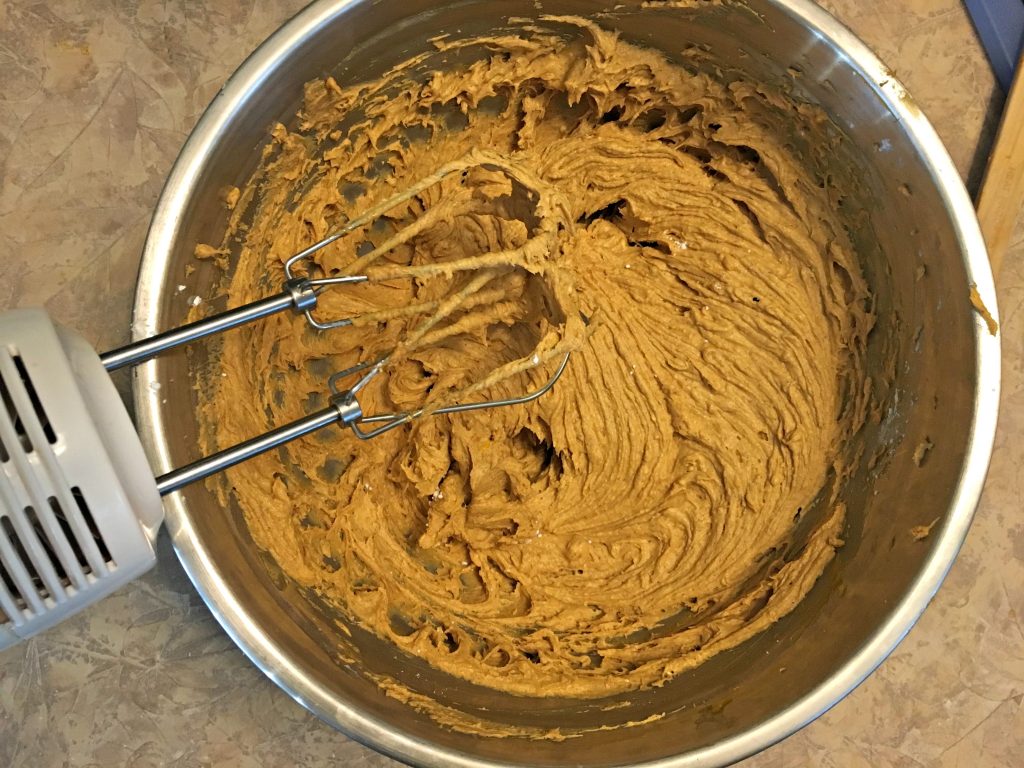 Third, add in 1/2 cup heavy whipping cream, and beat that together with your filling mixture. Use a medium-high speed and mix for 2-3 minutes. As a result, you should end up with a lighter, creamy, mixture.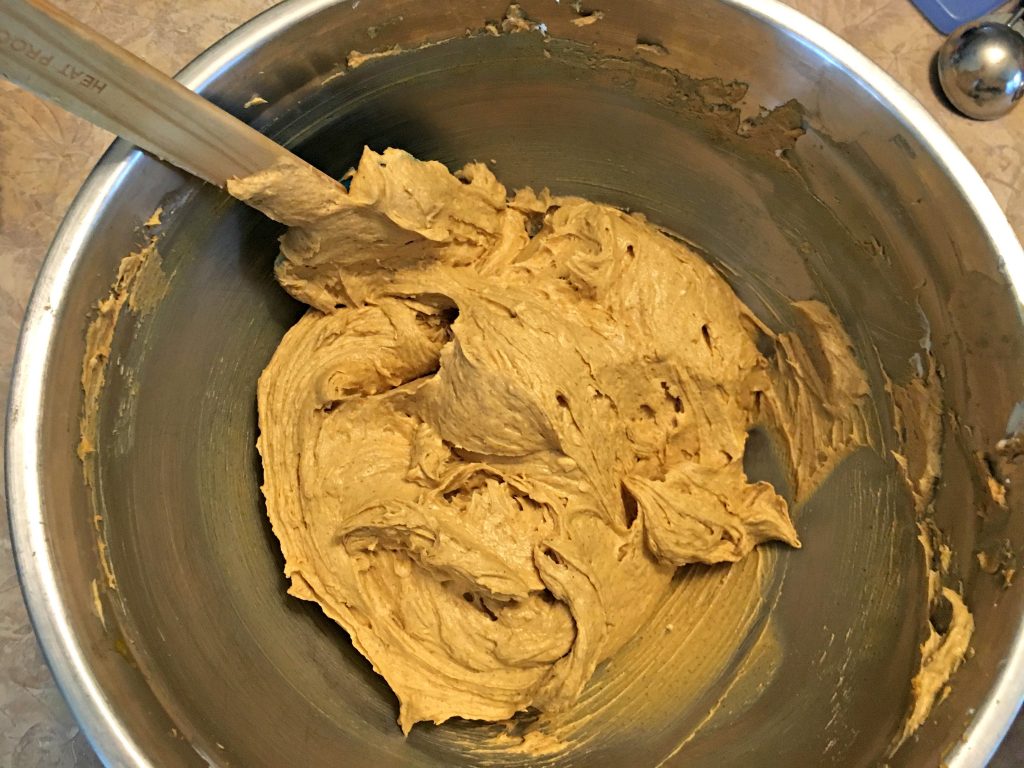 Take the crust out of the freezer. Using a spatula, pour the filling into the crust and smooth it out. Next, put it back in the freezer while you make the topping.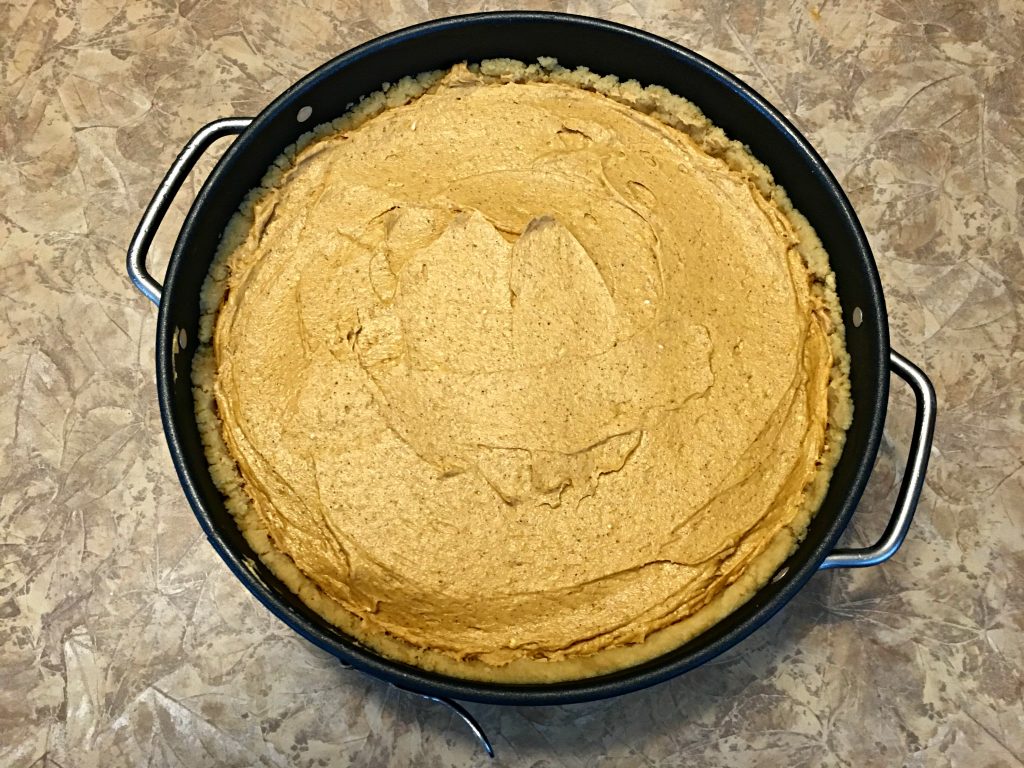 The Topping
For the topping get out the white chocolate chips, heavy whipping cream, and pumpkin pie spice. Put 1 cup of white chocolate chips and 1/2 teaspoon pumpkin pie spice in a glass bowl. After that, heat 1/2 cup of the cream on the stove or in the microwave until it's a rolling simmer. Immediately pour the cream then, over the white chocolate chips. Let it sit for 5 minutes and then mix it together with a spatula until smooth.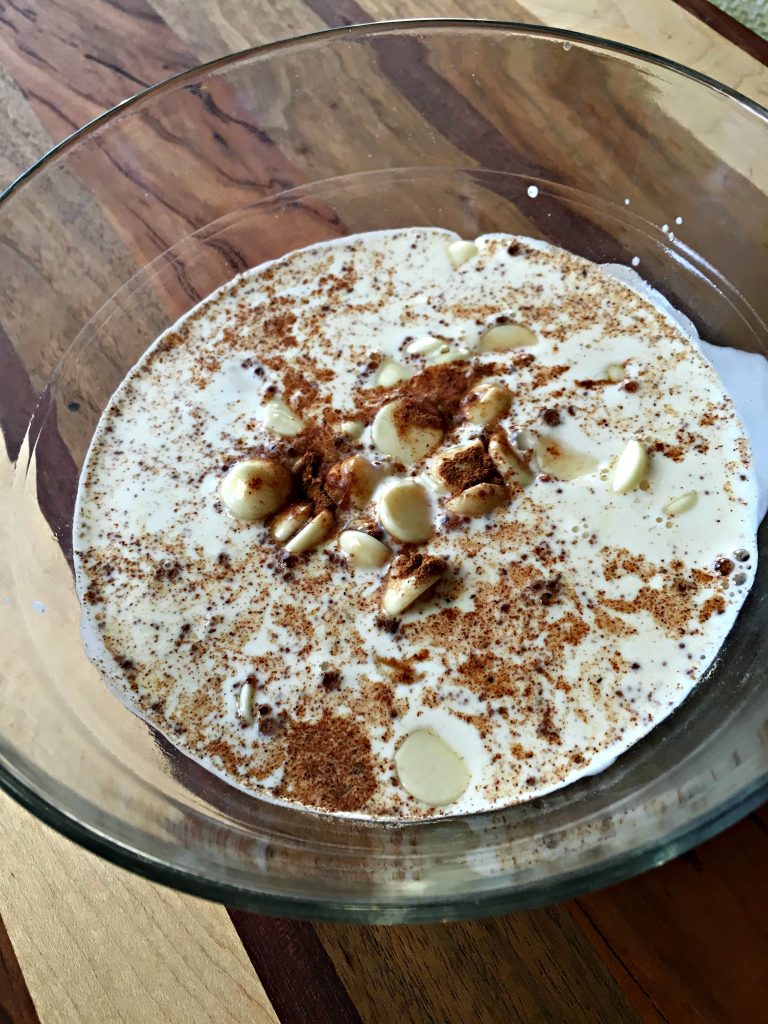 Take the pan out of the freezer, and pour the topping mixture over the cheesecake. Then put it into the refrigerator to chill for at least an hour before serving.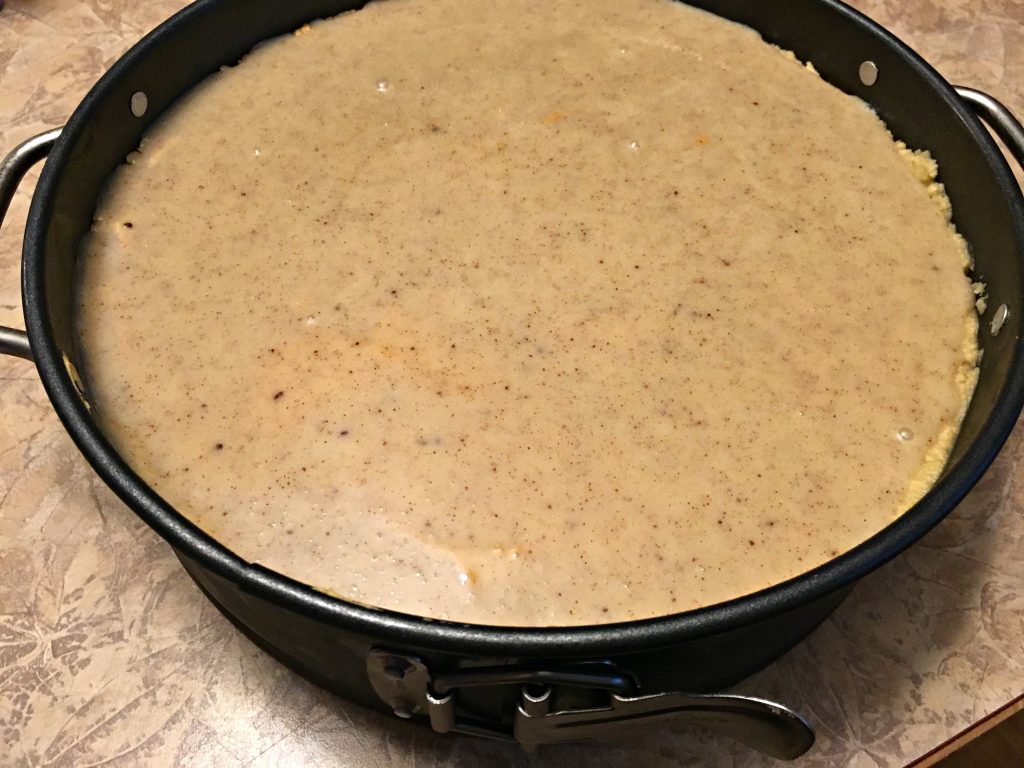 In the meantime, I like to go a little overboard and whip up another 1/2 cup of the heavy whipping cream. When it's time to serve, put a large dollop on each piece. Yum!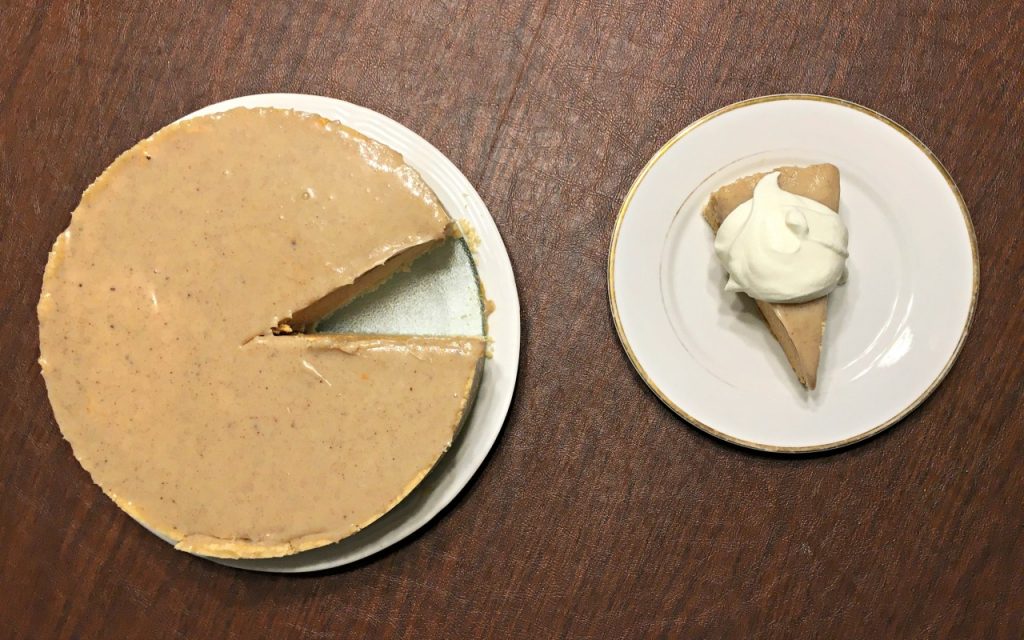 I hope you enjoy the recipe! Let me know how it works out for you.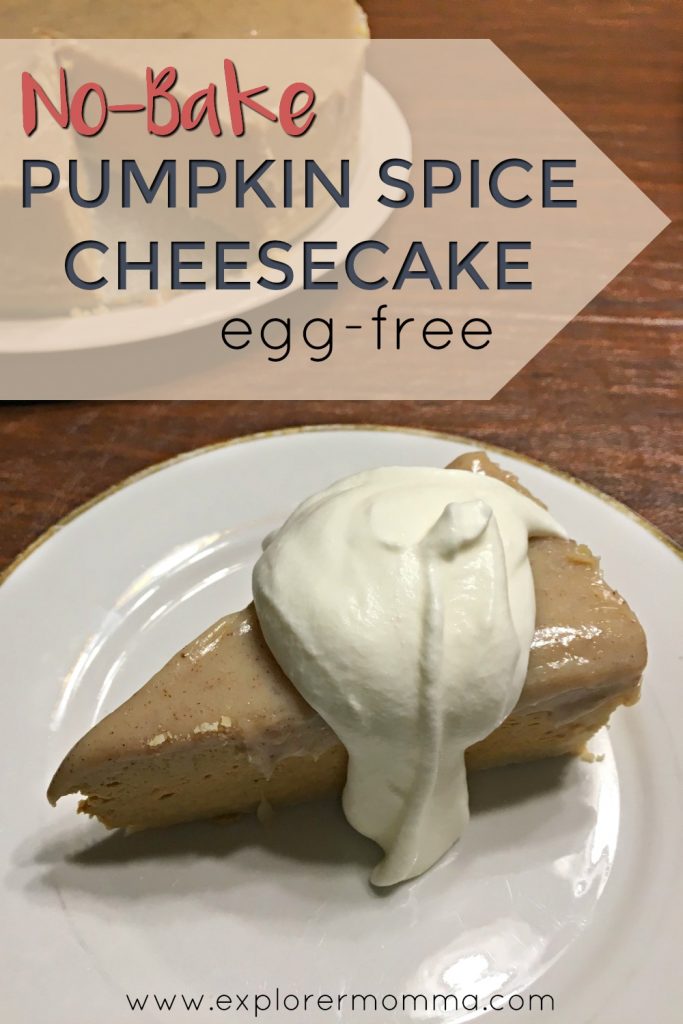 I'm so looking forward to Thanksgiving and Christmas this year! We have a bunch of family coming to town, and that's what I love. The fireplace going, friends and family talking and playing games, and cookies baking in the oven. Have a wonderful holiday season, eat some pumpkin spice cheesecake, and cheers to you and yours!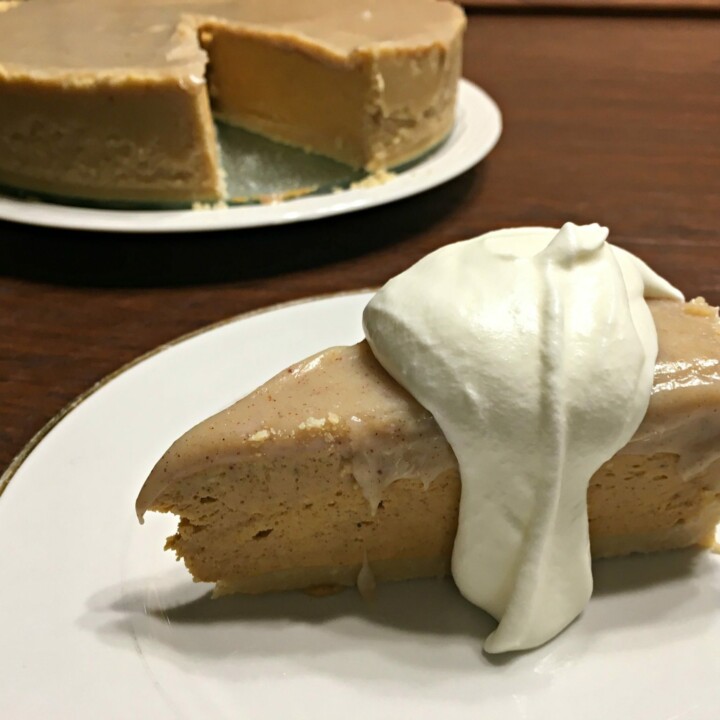 No-Bake Pumpkin Spice Cheesecake
Send a message to your taste buds it's fall and time for all things pumpkin spice!
Ingredients
1 19.1 oz pkg. Golden Oreos, or other vanilla sandwich cookie
1/2 pound softened butter, 2 sticks, divided
1 cup almond butter, smooth
8 oz. cream cheese
3/4 cup pumpkin purée
1 1/2 cups heavy whipping cream, divided
1 tablespoon pumpkin pie spice, + 1/2 teaspoon
2 teaspoons cinnamon
1 cup powdered sugar
1 cup white chocolate chips
Instructions
Process the entire package of Golden Oreos in a food processor or blender into fine crumbs. Alternatively, you can smash the cookies with a rolling pin in a plastic zip bag.
Add one stick (1/2 cup) melted butter and mix together.
Press the mixture into a 9-inch springform cheesecake pan, along the bottom and the sides.
Place the pan in the freezer for 10-15 minutes while you prepare the filling.
Place the remaining stick of butter, cream cheese, almond butter, pumpkin, powdered sugar, 1 tablespoon pumpkin pie spice, and cinnamon in a bowl and blend together until smooth.
Add 1/2 cup heavy whipping cream and continue to blend until creamy.
Spoon filling into crust and flatten. Return the pan to the freezer.
Place the white chocolate chips and 1/2 tsp of pumpkin pie spice in a heat-proof bowl.
Heat 1/2 cup heavy whipping cream in a saucepan, on medium-high, to a rolling simmer.
Pour the heavy whipping cream over the white chocolate chips and let it stand 5 minutes.
Stir together the white chocolate, heavy whipping cream, and pumpkin pie spice until smooth.
Pour the mixture on top of the filling. Smooth it out and return to fridge.
Chill the cheesecake at least 1 hour in the fridge until ready to serve.
Whip 1/2 cup heavy whipping cream and 2 tablespoons powdered sugar to create whipped cream (optional).
Spoon a dollop over each piece of cheesecake to serve. Enjoy!
Nutrition Information:
Yield:

16
Amount Per Serving:
Calories:

538
Unsaturated Fat:

0g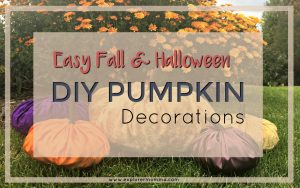 Supplies:
9″ Springform Pan, Stainless Steel Mixing Bowls, Hand Mixer, Food Processor, Spatulas