Easy 3-ingredient keto chocolate bears can be made in any mold or in bars! Delicious sugar-free chocolate to curb a chocolate craving on a keto low carb diet.
It is no secret I absolutely LOVE chocolate. There are times when I've gone very strict keto and cut it and coffee out of my diet, but for me, that's just not sustainable! Every person is different and on their own journey.
I find my journey is a lot more pleasant with some chocolate thrown in!
Again, the key is to be prepared with sugar-free low carb chocolate to enjoy when the craving hits. Or when your husband buys himself an entire box of specialty chocolate truffles and offers you some (my husband may have more of a sweet tooth than even me!).
This keto chocolate recipe is 3-ingredients and super simple. There's no need to buy expensive sugar-free chocolate, get depressed when you find sugar-free chocolate with ingredients you'd prefer to leave out, or panic when you can't get it. Just make your own!
This post contains affiliate links, which means I receive a small percentage if you make a purchase after clicking on my links.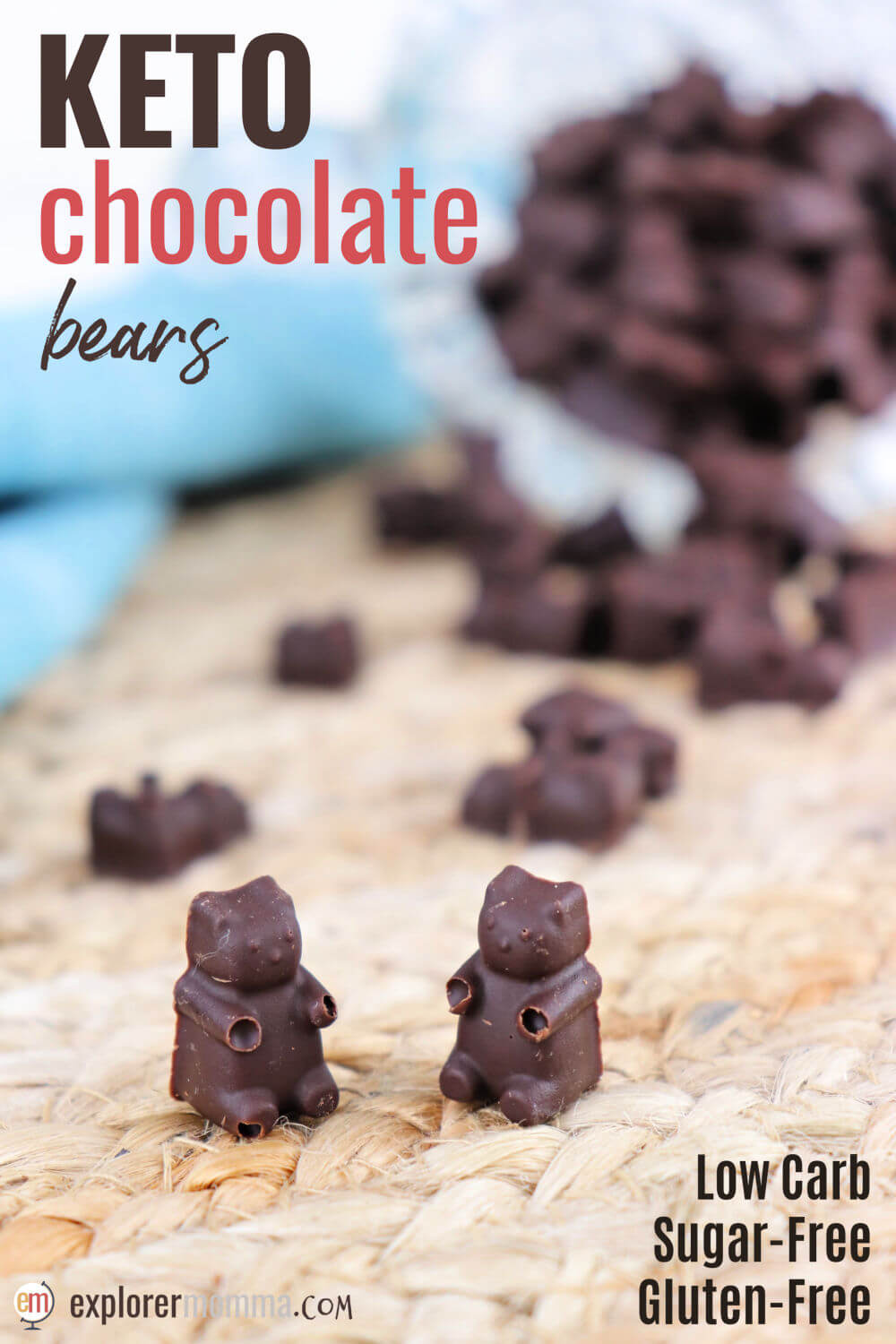 In a hurry?
Scroll down to the bottom for the printable recipe or PIN it here for later!
What you see before you, my friend, is the result of a lifetime of chocolate.
How to temper chocolate
If you've watched many cooking show in your life you may have heard the expression "temper chocolate". Usually, it's presented as a challenge and a test in skill in working with chocolate. It can be difficult.
Does that mean it's impossible for you to do at home? Not at all! Is it absolutely necessary to perfectly temper the chocolate in your own keto chocolate creation making? Nope, it will just be prettier. It will taste about the same.
Now, if you want to temper chocolate, it's best to get a double boiler. If you don't have one (and I don't), use a saucepan with a heat-proof bowl that just fits to sit on the top.
So first, gather your supplies. Second, fill the saucepan or bottom portion of the double boiler half-full with water.
Third, chop or break your chocolate into small enough pieces to make it easier to melt. Set a few pieces of the chocolate aside. then place the rest in the top of the double boiler or the heat-proof bowl and turn on the heat to medium-high.
Heat the water until it's almost boiling but not quite and continuously stir the chocolate as it melts. In this keto chocolate bears recipe, I melt the chocolate and the cocoa butter together in this process. If you have a candy thermometer, it should reach a temperature of 110 to 115 degrees Fahrenheit when you remove it from the heat.
Take the bowl off the saucepan and put it on a heat pad, then stir in the remaining chocolate to melt and at the same time cool down the rest of the chocolate.
A warning for when you melt chocolate:
Don't burn the chocolate! Yes, you can burn chocolate if the temperature goes much above 130 degrees. AND we don't want scorched chocolate, so watch it! If you ever melt chocolate in the microwave, only do it for 30 seconds at a time and stir to prevent scorching and seizing.
Lastly, when the chocolate has melted, it will be ready to mold, coat, cool on a cold stone, or whatever you need it for!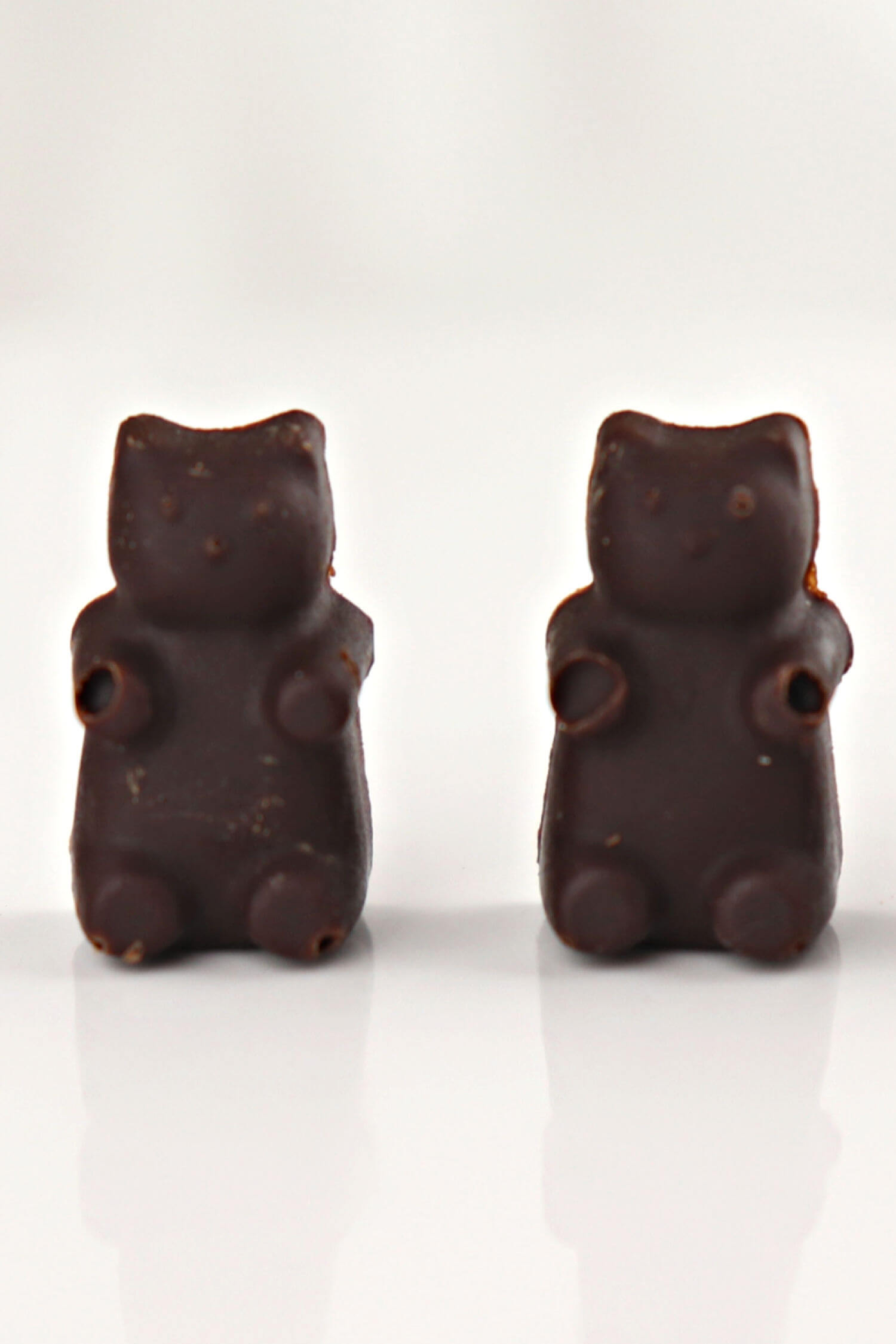 🍽 Equipment
To make keto chocolate bears you'll need:
*Droppers usually come with the chocolate molds to put the liquid into the molds. You can always use a spoon if you don't have one.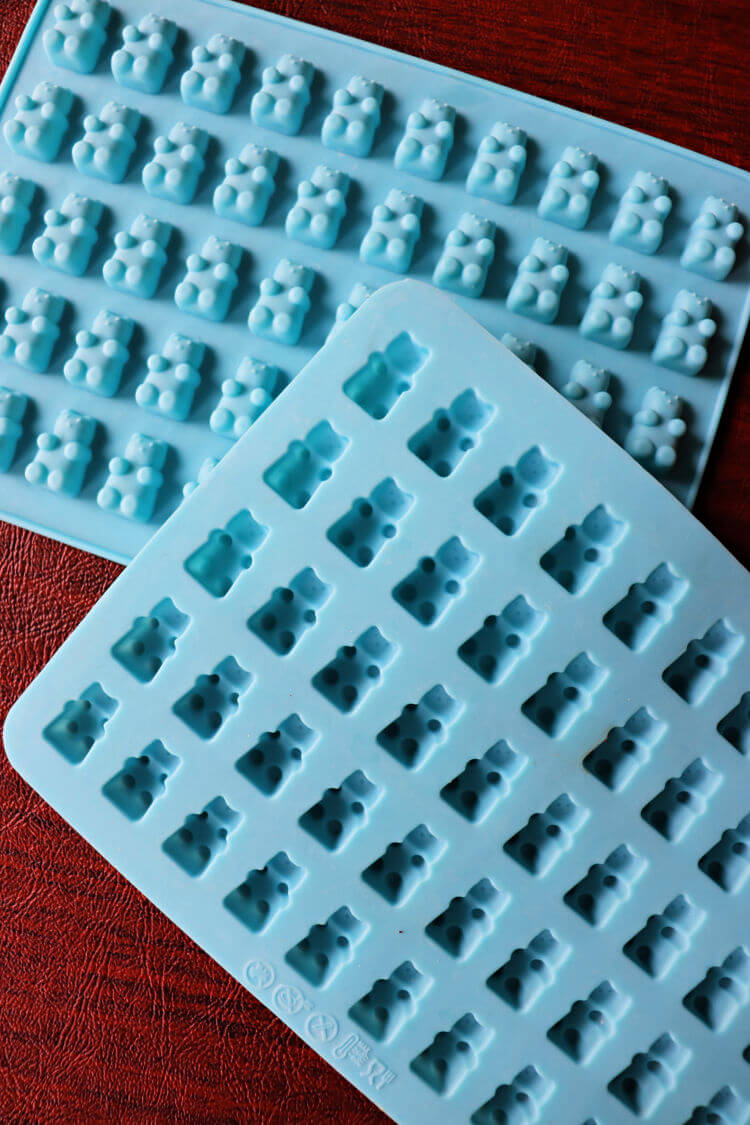 🔪 Instructions
How to make keto chocolate bears
To begin, gather the ingredients together and roughly chop the chocolate and cocoa butter. Second, you'll begin the proces of tempering. Place all but about 1/4 of the chocolate, cocoa butter, and sweetener in a double boiler or a heat-proof bowl over a saucepan of hot water.
Shortcut: If you don't care about tempering the chocolate or the shininess of the resulting chocolate, you can put all the chocolate in at the same time and not save the bit for the end.
Heat the water until almost boiling and stir the chocolate mixture constantly as the chocolate melts. Do this until everything is completely combined and the temperature's about 110 degrees Fahrenheit. Now, remove the bowl from the heat and place it on a heating pad.
Then, stir in the remaining chocolate. Next, find a good workspace and place the molds you've selected next to the bowl of chocolate. It will be necessary to work fast, if the chocolate hardens too much it will not work in the droppers or completely fill the mold.
How to fill the chocolate molds
For the gummy bear sized chocolate bears, I like to use the dropper that came with the molds. It can be a little bit of a messy process but with some practice it goes quicker and with less spillage. However, if you don't have the droppers or the mixture is too thick for the size of dropper, just use a spoon.
As I said, move quickly and fill those bears as fast as you can. I have 3 droppers so my daughter and I do the job as a team! She loves to make it into a race, and who doesn't like to work with chocolate?
Also, don't worry too much if it looks a bit messy. Just fill the molds and then set in the fridge to set for at least an hour. If you're in a hurry the chocolate can chill in the freezer for about half the time.
Tip: I place the molds on a small cookie sheet / baking pan in the fridge so I can move them around more easily without fear of bending the mold and spilling chocolate everywhere.
Once the chocolate is set and hardened, push them out of the molds and store in an airtight container. I like to put them in the freezer, so I can just grab out a couple at a time when I want them. Especially in summer, they will keep better in the refridgerator or freezer.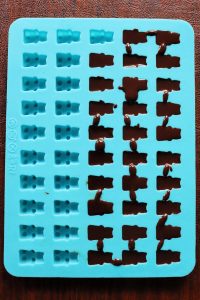 The greatest tragedies were written by the Greeks and Shakespeare…neither knew chocolate.

– Sandra Boynton
Why keto chocolate bears?
This recipe came about as a result of several factors. First, my daughter was wanting some sugar-free chocolate. The main brand I eat (Lily's) says right on the package it's made in a facilty with tree nuts, which is a no go for someone with a severe tree nut allergy. Why not make our own?
Secondly, I've had these gummy bear molds sitting around for awhile. How many of you out there jumped on the make your own gummy bears bandwagon? I'm raising my hand! I love to make my own sugar-free gummy bears, but it also made me wonder what else I could use the gummy bear molds for.
Wouldn't it be awesome to use them for keto chocolate bears? They're a great size for a substantial bite of chocolate but not too much. Portion them out or freeze them for that occasional chocolate craving.
And as I said before, life's just better with chocolate. Enjoy!
Pin the recipe here!: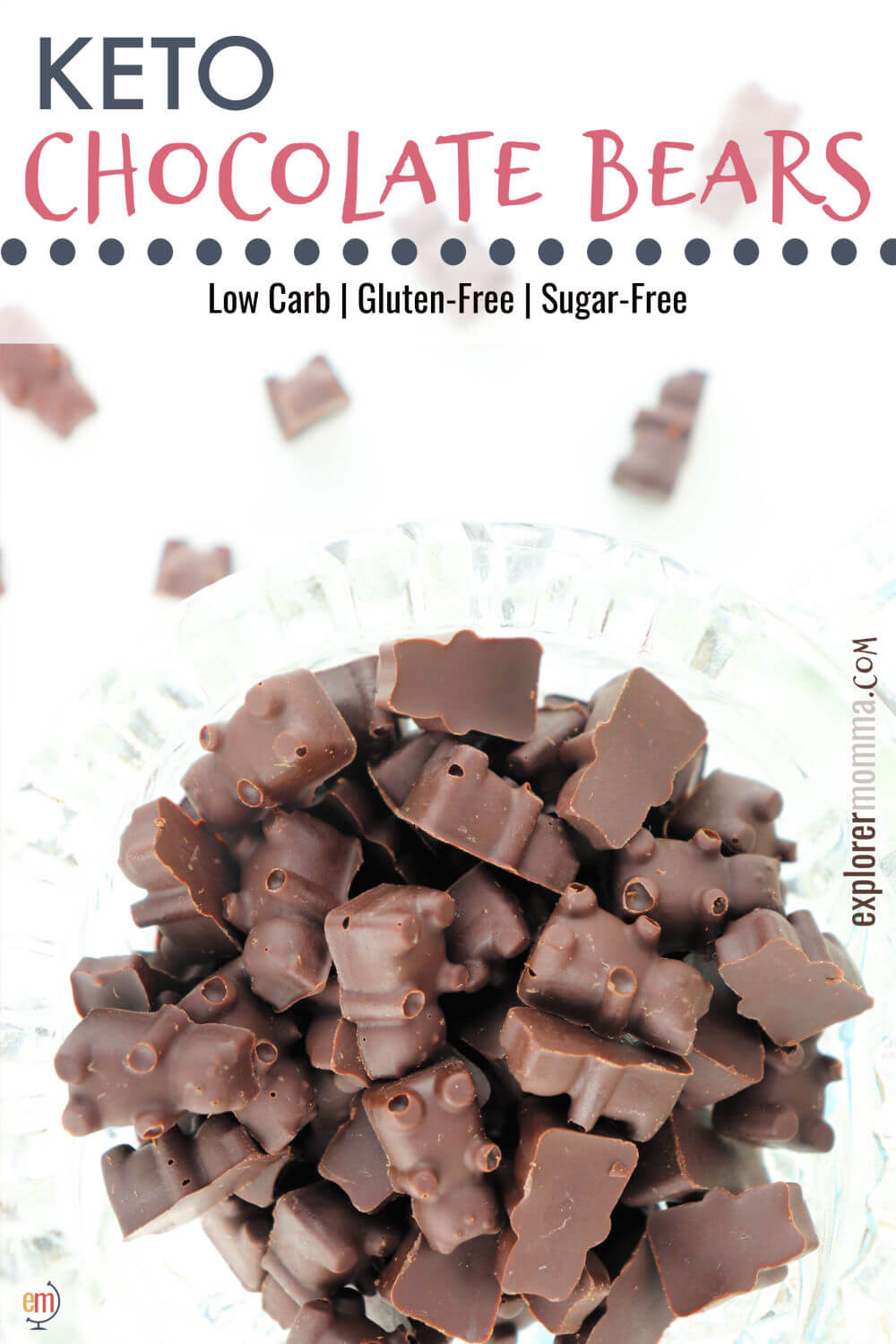 Tag me in your recipe pics on Instagram @explorermomma.
If you LOVE this recipe please consider giving it a five-star rating in the review area below!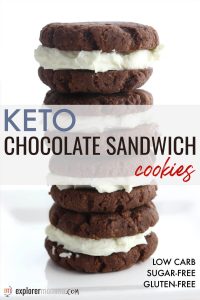 🍫 More keto chocolate recipes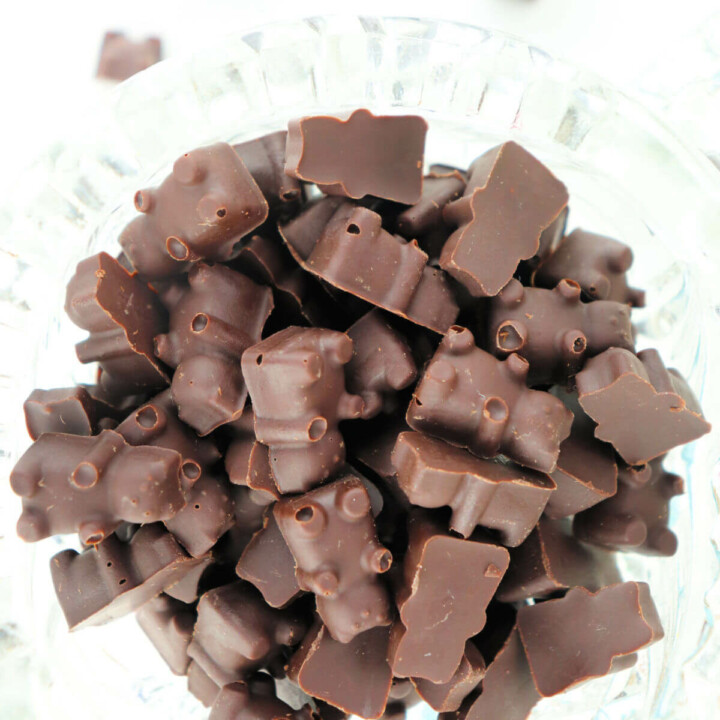 Keto Chocolate Bears
Easy and delicious sugar-free chocolate in the form of little bears or whatever you choose! Low carb chocolate to curb those cravings on a keto diet.
Ingredients
4 oz unsweetened chocolate
1 oz cocoa butter
1/4 cup powdered sweetener, Swerve Confectioners or equivalent
Instructions
Gather the ingredients and roughly chop the chocolate and cocoa butter.
Place the chocolate, cocoa butter, and sweetener in a double boiler or a heat-proof bowl over a saucepan of water. Stir as the chocolate melts until completely combined.
Alternatively, microwave the chocolate and cocoa butter for 30-second intervals until melted and mixed. Add the sweetener and whisk until smooth.
Pour the chocolate mixture into the molds using a spoon or dropper.
Place the molds in the fridge (or freezer) to set and harden at least 1 hour (30 minutes in the freezer) or overnight.
Remove chocolates from the molds and enjoy.
Notes
Nutrition Facts
Servings 8.0 Amount Per Serving: 1/8 of recipe, depends on size of mold Calories 121 Total Fat 11 g Saturated Fat 5 g Monounsaturated Fat 2 g Polyunsaturated Fat 0 g Trans Fat 0 g Cholesterol 0 mg Sodium 3 mg Potassium 118 mg Total Carbohydrate 4 g Dietary Fiber 2 g Sugars 0 g Protein 2 g Net Carbohydrate 2 g
Nutrition Information:
Yield:

8
Serving Size:

1 grams
Amount Per Serving:
Calories:

121
Unsaturated Fat:

0g
*Nutrition Facts per MyFitnessPal.com. For the most accurate facts, calculate your own with the exact ingredients you use in the recipe.
Nutrition Disclaimer
Please be aware I am not a medical specialist or nutritional professional. On this blog, I share recipes and what works for me. Please do not take anything on this blog as medical advice and always consult with your doctor before starting any diet or exercise program. I use MyFitnessPal.com to calculate nutrition facts as a courtesy to my readers, and I remove erythritol from the final carb count and net carb count because does not affect my own blood glucose levels.
This is as accurate as possible, but it's best to independently calculate nutritional information on your own with the specific ingredients you use. I expressly disclaim any and all liability of any kind with respect to any act or omission wholly or in part in reliance on anything contained in this website.