Must-Have Keto Kitchen Gadgets
Here we are January 16. How are your New Year's Resolutions or goals coming along? I'm learning the necessity for me to write out my goals, mini-goals, short-term, long-term goals, and steps to accomplish those goals. Sometimes I have a brilliant idea in my head, and I say to myself I'm totally going to do that! However, if it doesn't get written down with the anticipation of the satisfaction of crossing it off when accomplished, it rarely happens.
This post contains affiliate links.
Holiday health spiral
According to a recent article in Forbes magazine, only 8% of people actually accomplish their New Year's resolutions. Only 8%! Are they setting the wrong goals, unattainable goals, or what? In addition, many have already given up on their resolutions. Well, let me tell you, I'm determined not to be one of those giving up!
Before Christmas, I followed a ketogenic diet and was doing really well with it. There's nothing like measurable progress, i.e. your weight on the scale, to motivate you to continue. I was feeling great and even in a good workout groove.
Christmas hit, and suddenly I was in a downward spiral. Well, maybe not completely, but it feels like it! 😉 After indulging in all our favorite Christmas goodies my sweet tooth came back with a vengeance. Truthfully, mid-way through January, I admit I'm having a lot of trouble rocking my ketogenic diet and workouts.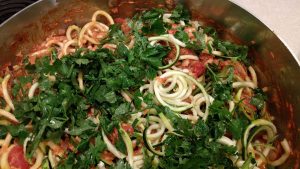 Keto goal for the year
So let's start simple, I thought. This is a huge part of my life, and one of my major goals is for my family to eat healthier, simpler meals. What do I mean by simpler? Well, quite frankly, simpler for me so I'm not preparing something different for each member of the family. Yes, another admission! I often make a different meal for EACH MEMBER OF THE FAMILY.
Why in the world would you do that? You're probably saying. First of all, my husband works nights, so his schedule is different than ours and generally eats his "dinner" late morning. Secondly, we have allergies and Crohn's disease in the family, vegan fasting days in the Orthodox Church, and my desire to eat keto. Whoa! It's a lot to organize when I write it all out.
This year I'm determined to prepare healthy, ketogenic meals with which I can win over the entire family. A lofty goal perhaps? I'm going to at least shoot for it, and share my successes along the way on the blog. Hopefully, I'll be fusing a ketogenic lifestyle with a travel-loving family, and I'm excited!
Therefore, as a simple starter today, I'm going to share with you some must have keto kitchen gadgets. These make my life easier, and more importantly, help me to stay the course and keep on track to make it back into ketosis. Here we go!
Pin it for later here!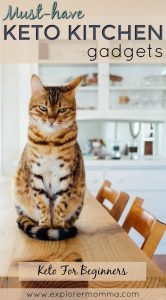 Indispensable must-have keto kitchen gadgets
I love my spiralizer! It's great for making zoodles (zucchini noodles) and other noodles out of different veggies. It makes it that much easier to eat gluten-free and add those vegetables to your meals. Click here to see an example on Amazon.

Honestly, I use my Vitamix blender almost every day. I make smoothies for myself or the kids, salad dressing, soups, and more. It's almost like the oven or dishwasher for me. If it broke today I would immediately order a new one (that is, if the 7-year warranty had expired!). See an example on Amazon here.
An immersion blender is great to have on hand to partially blend soups or a quick smoothie. I don't use this as often as the regular blender, but it's good to have. Super-convenient! Click here for an example.
There are so many good keto ice cream recipes, and I love to experiment with my own. Unfortunately, I don't have an ice cream maker of my own yet as I've been spoiled. I've been borrowing one from my father for lengthy periods of time, but it's really time to get my own. It's on the wish list! Click here to see an example.
Cast-iron cookware is great for going on top of the stove and into the oven. It's classic cookware you can even pick up sometimes cheaply at a yard or estate sale or even a thrift store, so be on the lookout!
Take a look at options here or here.
For fabulous cast-iron, but a bit out of my price range at the moment is pretty much anything from Le Creuset. I've been wanting this 9-quart Dutch oven it seems like forever. I stick it in my Amazon basket every time it's on sale and end up removing it. Made by an amazing French company, who can resist cast-iron when it comes enameled and in the color "Marseille"?!? It always has great reviews. See the Le Creuset Dutch oven here.

You can always use a slow cooker for those quick weeknight meals. Throw it together in the morning and voila! A perfect dinner. Click here to find one on Amazon.
Then, of course, there's the Instant Pot. I've yet to jump on the Instant Pot bandwagon; however, it's probably inevitable. So many people have told me how amazing it is, and that it makes daily cooking so much easier and quicker. We all like that now don't we? For now, it's on my wish list. See on here on Amazon.

Fairly self-explanatory. This is another tool to make your life easier. See options on Amazon here.

I like to put keto meals and snacks together beforehand in portions so they're ready to go when I need on in a hurry. I love these glass containers. They stack well so as not to use up valuable fridge space, and are awesome to have on hand. I've seen similar ones on sale even at the grocery store. Check out an example on Amazon here.

These are fabulous for sealing a bowl, half a can of tomato sauce, half an orange, or whatever you choose to preserve with them. They're great to have around and oh, so useful. See them here on Amazon.
These are great, and I use them daily. Every morning at breakfast the family vitamins go into one for each person. I bake muffins and cupcakes in them. Also, I use them as molds for my peanut butter cups. Yum! There are many kinds to choose from, but check one out here.
Must-have keto kitchen gadgets, and a lot more
I hope you've gotten some good ideas today about some must-have keto kitchen gadgets and maybe a bit of motivation. Likewise, I'm excited about my new focus for 2018 and would love for you to join me on the journey. Let's get those kitchens cleaned, organized, minimalized, and ready to cook! It's time for a change.
Check out my article and video about my experience with ButcherBox.