More creamy, cheesy goodness! Cauliflower mac and cheese bake. Be still my heart! This dish is so amazing and kid-friendly they won't even miss the carbs! Keto mac and cheese, yum.
Pin it for later here: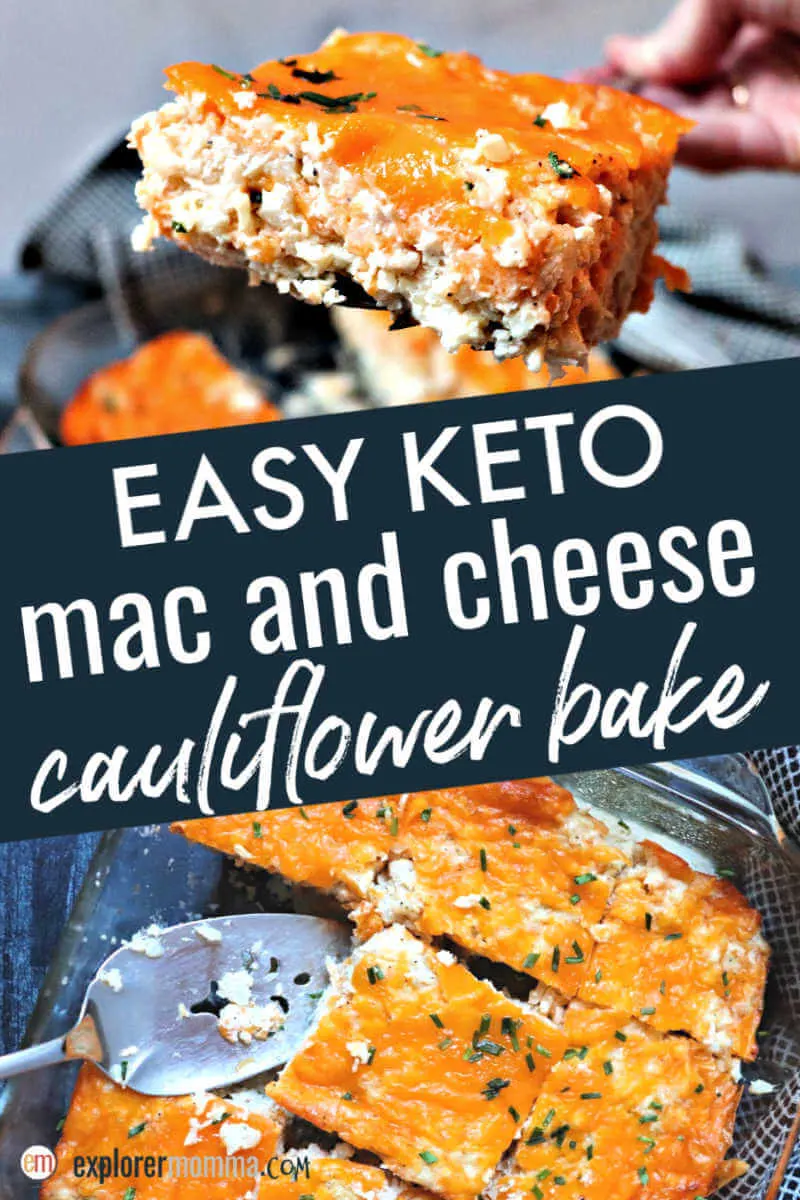 Lately, I've been working extra hard to try to make kid-friendly recipes to make my kids LOVE eating real food and low carb. I originally started the keto diet because of the success I heard from friends about it and how it tamed their sugar addictions and made them feel so much better in general.
I'm started, and I can't see ever going back to the way I ate before. We all want to do what's best for our kids and give them every opportunity. With food, that means I also have to make it taste REALLY good. ERGO, my low carb cauliflower mac and cheese bake.
As an Amazon Associate and member of other affiliate programs, I earn from qualifying purchases.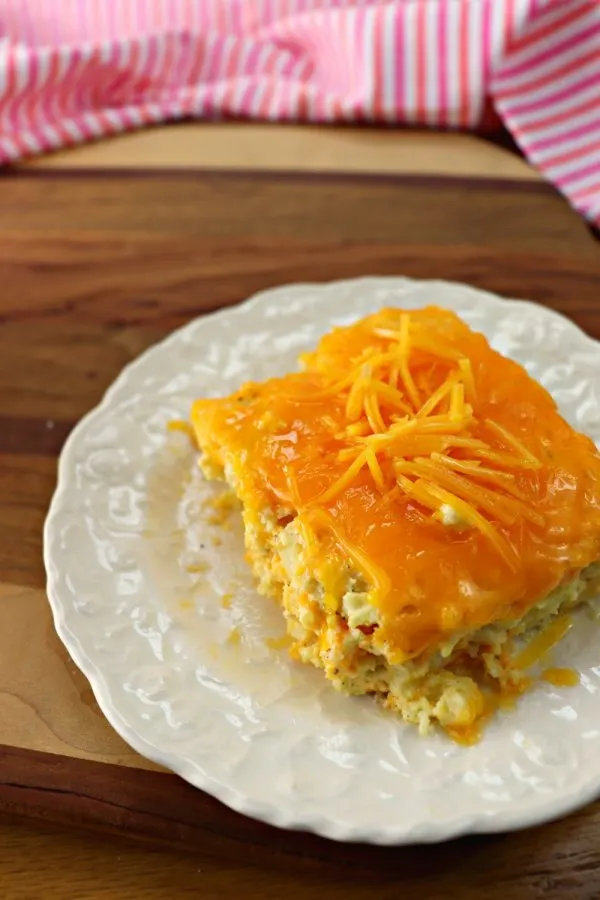 In a hurry?
Scroll down to the bottom for the printable recipe or PIN it here for later!
Mac and cheese tradition
When I was growing up, one of my absolute favorite dinners was my grandmother's mac and cheese recipe. In the first place, this recipe was actually a bake served like a casserole in squares, and so a bit different than the traditional homemade mac and cheese.
Indeed, it was a fabulous blend of macaroni and cheesy goodness I thought I could eat every meal of the day. Of course, I probably thought that because my mother only allowed it on rare and special occasions!
It was one of my most requested recipes at EVERY holiday. What you can't have you always want more of, am I right?
Unfortunately, traditional macaroni and cheese, that uber kid-friendly food, is not even close to low carb. What could I do about that?
First off, I immediately thought about subbing cauliflower in for the pasta, but some work had to be done to find the other correct balance of ingredients. To tell the truth, I've tried MANY versions of this, and I'm extremely pleased with the result of this low carb cauliflower mac and cheese bake.
Creamy, hot, spicy, cheesy green chili chicken yum! Try out this awesome low carb Green Chili Chicken Chowder recipe!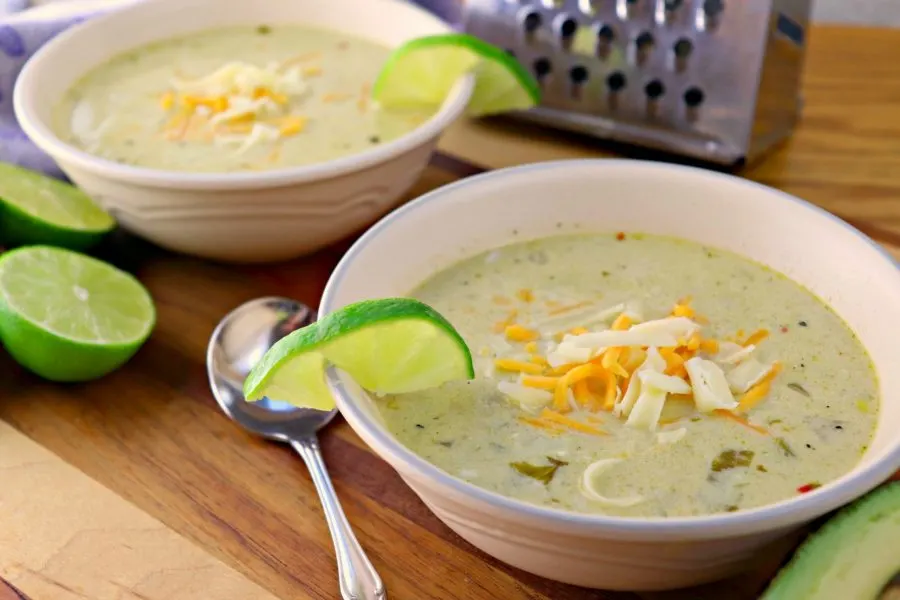 How to make cauliflower keto mac and cheese
When it comes to getting dinner on the table, I'm all about simple and easy. I've tried many recipes using cauliflower to replace high carb breads and pastas with different degrees of success with varying amounts of effort put forth.
Therefore, when it came to this amazing version of cauliflower mac and cheese bake, I wanted to make it as easy and straightforward as possible.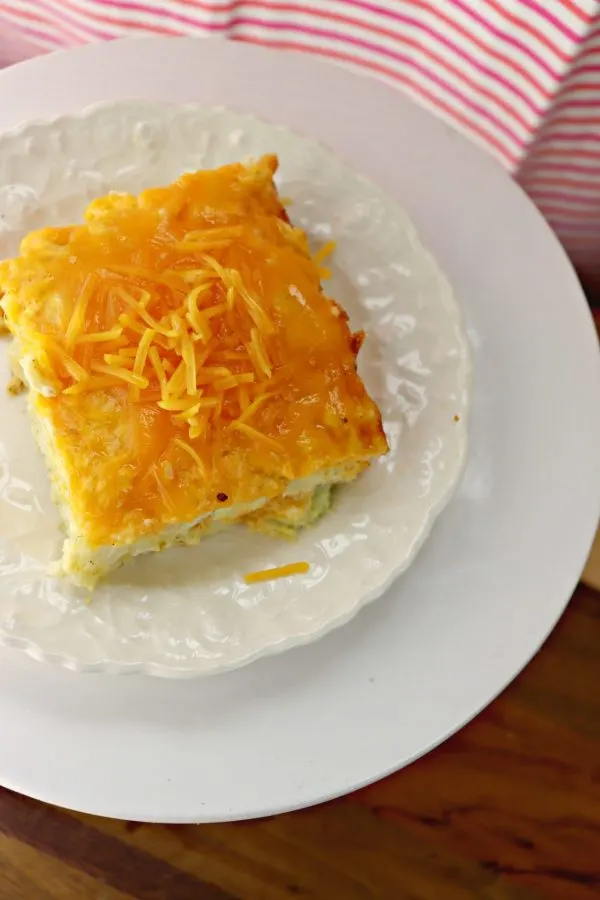 Prep the cauliflower
Start by buying 2 bags of frozen cauliflower at 12 ounces each. Dump them out into a microwave bowl and defrost for several minutes, usually 4-5 depending on your microwave. Yes, you can use fresh cauliflower if you wish, but you'll have to chop and steam it, and I tend to be a bit lazy on a weeknight!
Actually, the frozen works just as well as the fresh so the choice is up to you.When they're thawed out, chop them roughly. It may depend on your kids and their preferences how finely you chop them. Personally, I like to have a little bit bigger pieces for some different texture in the bake.
Next, place the cauliflower pieces in a tea towel. Some people think this is the incredibly difficult part, but it's a necessary step and really not that hard. Roll the cauliflower up in the tea towel.
Then take both ends and twist so the excess liquid drains out of the cauliflower. Keep twisting until very little liquid will come out, unroll the towel, and place the de-liquified cauliflower in a bowl. Set that aside for the moment.
How to make the cheese filling
In a large bowl, place the room temperature cream cheese, two eggs, finely chopped garlic, and combine it together with a hand mixer.
Tip: How to quickly warm eggs to room temperature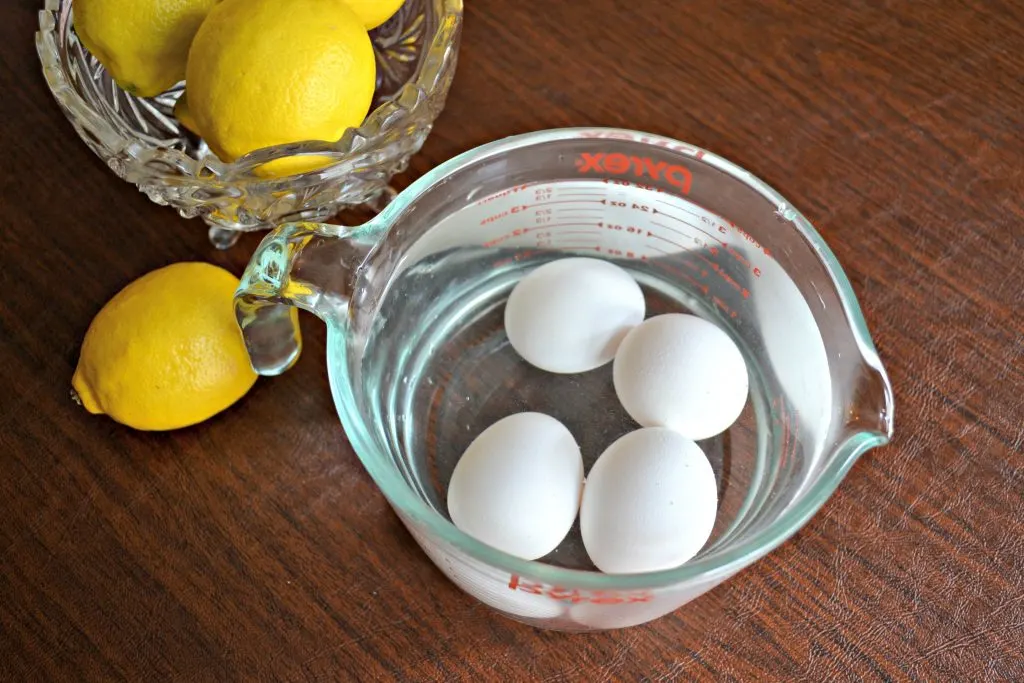 If you're like me and forget to plan ahead and set out everything early to get to room temperature, I have the perfect tip for you! Get out a bowl or other container big enough to hold the number of eggs you need and fill it with warm water.
Personally, I like to use a glass measuring cup for this job. Next, place the cold eggs in the warm water and leave them there ten minutes or so while you complete other tasks. Then when you need some room temperature eggs you can pull them out from the warm water, and you'll be all set.
Back to the cheese filling
Now, add one-fourth of a cup of unsweetened almond milk and mix that in well. Next, add half a teaspoon salt and half a teaspoon of pepper (more or less per your taste!). Now we're getting to my favorite part! I LOVE cheddar cheese, but you could also make this using any number of other cheeses to make it a bit more elegant.
Personally though, I think this is just about perfect. Go ahead and mix in one of the two cups of shredded cheddar cheese (I like sharp) and the cauliflower.
Hopefully, you removed most of the extra liquid out of the cauliflower because it's not nearly as good if you have pools of cauliflower liquid pooling down in your pan.
Then, if you haven't already, grease an eight-inch by eight-inch glass baking dish with coconut oil or olive oil, whatever you have on hand.
Next, take your mixture and spread it out in the baking dish evenly using a spatula.
Voila! Pretty simple, right? Now all you have left to do is sprinkle the last cup of shredded cheddar cheese on the top.
Tip: Kids enjoy sprinkling the cheese all around so let them participate if they want. Did you know if a child actively participates in making a food they're more likely to try it?
Cauliflower main or side dish?
Now, pop it into the oven set at 350 degrees Fahrenheit for about thirty minutes, or until the edges start to brown. I like to let it cool at least 10-15 minutes so when it's cut, the square keeps its shape a bit more.
Serve with a side of steamed broccoli or a salad for a full meal or use it as a side dish with any number of grilled meats. For a bit more cheesy goodness, sprinkle on more cheddar cheese before it's served.
I can tell you it's a very popular side dish in the line-up at family holiday events!
Keto cauliflower recipes
This dish came out of a traditional, well-loved recipe in my family. I doubt my grandmother ever thought in her wildest dreams we'd substitute cauliflower for the pasta! However, cauliflower works so well in many recipes.
For one, have you ever thought of trying a cauliflower bread recipe? I also love cauliflower pizza crust and cauliflower rice with bourbon chicken. There are so many possibilities!
Enjoy this cauliflower keto mac and cheese bake. Can you believe my children even love it? Yes, cauliflower! Just give it a try. You won't regret it.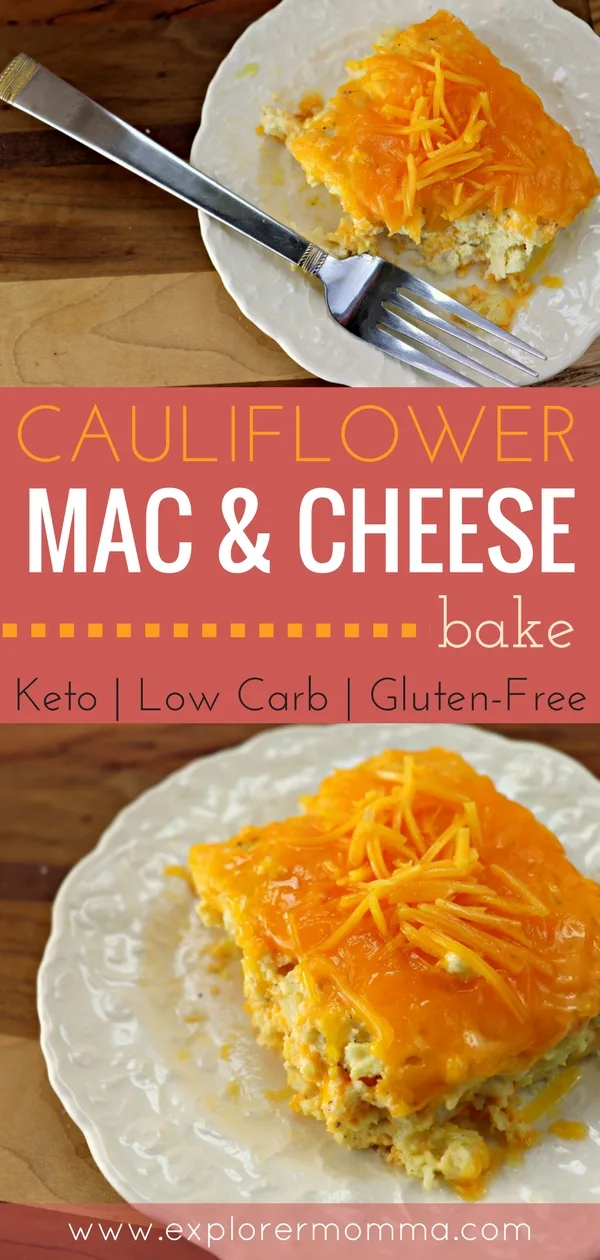 Cauliflower keto mac and cheese bake printable recipe:
Cauliflower Mac And Cheese Bake
The ultimate keto cauliflower mac and cheese bake. It's a low carb side that's cheesy, gooey, and good!
Ingredients
24 oz cauliflower, frozen
8 oz cream cheese, room temperature
2 eggs, room temperature
1/4 cup almond milk, unsweetened
3 cloves garlic, finely chopped
2 cups cheddar cheese, shredded
1/2 tsp salt
1/2 tsp pepper
Instructions
Grease an 8" by 8" glass baking dish with coconut or olive oil.
Thaw the cauliflower and roughly chop.
Place the chopped cauliflower in a tea towel. Roll it up in the tea towel and twist to remove all excess liquid. Set aside.
In a medium-sized bowl, place the room temperature cream cheese, two eggs, and chopped garlic. Blend together using a hand mixer.
Once combined add in the 1/4 cup of almond milk and mix it in also.
Add the salt and pepper (more or less per your preference).
Mix in 1 cup of the shredded cheddar cheese.
Dump the mixture in the baking dish and spread it out evenly.
Top with the remaining cup of shredded cheddar cheese.
Bake at 350 degrees F for 30 minutes or until the edges start to brown.
Optional: Serve with extra shredded cheese on the top of each serving.
Notes
Nutrition Facts:
Servings 9.0 Amount Per Serving 1 piece Calories 213 *Total Fat 17 g Saturated Fat 11 g Monounsaturated Fat 0 g Polyunsaturated Fat 0 g Trans Fat 0 g Cholesterol 99 mg Sodium 405 mg Potassium 126 mg Total Carbohydrate 3 g Dietary Fiber 1 g Sugars 2 g Protein 10 g Net Carbohydrate 2 g
Nutrition Information:
Yield:

6
Serving Size:

1 piece
Amount Per Serving:
Calories:

320
Unsaturated Fat:

0g
Pin it here: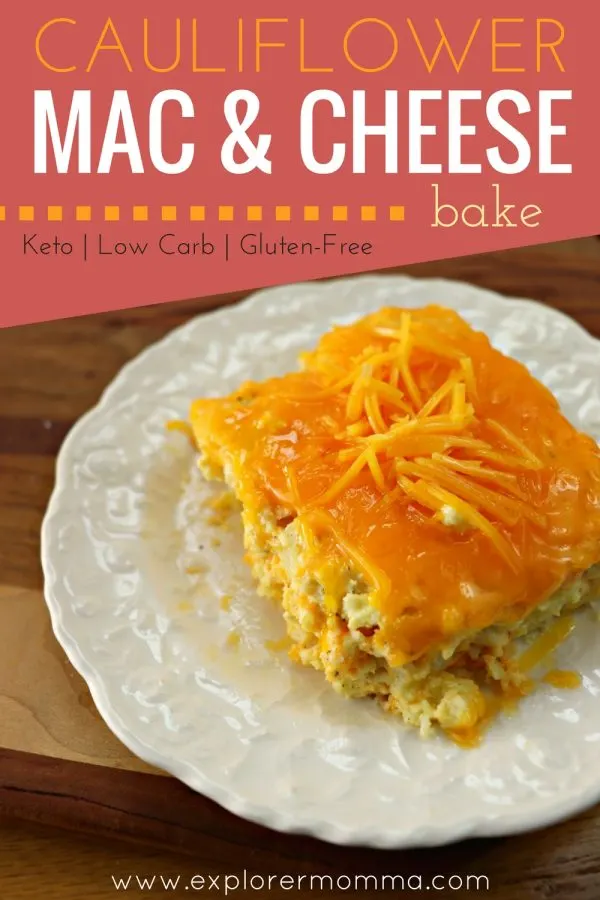 NUTRITION DISCLAIMER
Please be aware I am not a medical specialist or nutritional professional. On this blog, I share recipes and what works for me. Please do not take anything on this blog as medical advice and always consult with your doctor before starting any diet or exercise program.
I use MyFitnessPal.com to calculate nutrition facts as a courtesy to my readers, and I remove erythritol from the final carb count and net carb count because does not affect my own blood glucose levels.
This is as accurate as possible, but it's best to independently calculate nutritional information on your own with the specific ingredients you use. I expressly disclaim any and all liability of any kind with respect to any act or omission wholly or in part in reliance on anything contained in this website.