End the lunch party with a deliciously creamy keto lemon mousse. Tangy mascarpone mousse paired with a toasted almond gluten-free crust.
Can I tell you something? I love lemons.
Lemon curd, lemon cake, lemon oil, keto lemon mousse, you name it. That fresh tart flavor is perfect to pair with cream or sweet treat. And of course, there's always lemon garlic shrimp, but you get the idea.
This post may include Amazon links. As an Amazon Associate I earn from qualifying purchases.
What are Meyer lemons?
Now when you look at the pictures in this post, what do you see? They are not in fact oranges as they may appear. They're Meyer lemons, or rather a cross between a lemon and a mandarin orange.
I ended up trying these out, not on purpose but because I was in a hurry. Yes, the bag of Meyer lemons looked bright, fresh, and like good fruit so I grabbed them! Did I realize it was not a regular lemon?
Um. No.
However, good came out of it! While I myself prefer a regular lemon, my husband is loving these Meyer lemons. He eats them plain and thought they were perfect for the keto lemon mousse.
So the moral of the tale is, if you'd like to be adventurous and try new things, go for the Meyer lemons! If you'd prefer the traditional tart tang of a true lemon, make sure you get those. Lesson to self.
While I think you'll love my super helpful tips and fun stories, I also realize we are sometimes pressed for time and just need a good recipe!
Scroll down to the bottom of the page for the printable recipe to make it NOW or PIN it here for later!
In the wintertime, in the snow country, citrus fruit was so rare, and if you got one, it was better than ambrosia.

– James Earl Jones

"The Voice of Triumph". Academy of Achievement Interview, June 29, 1996.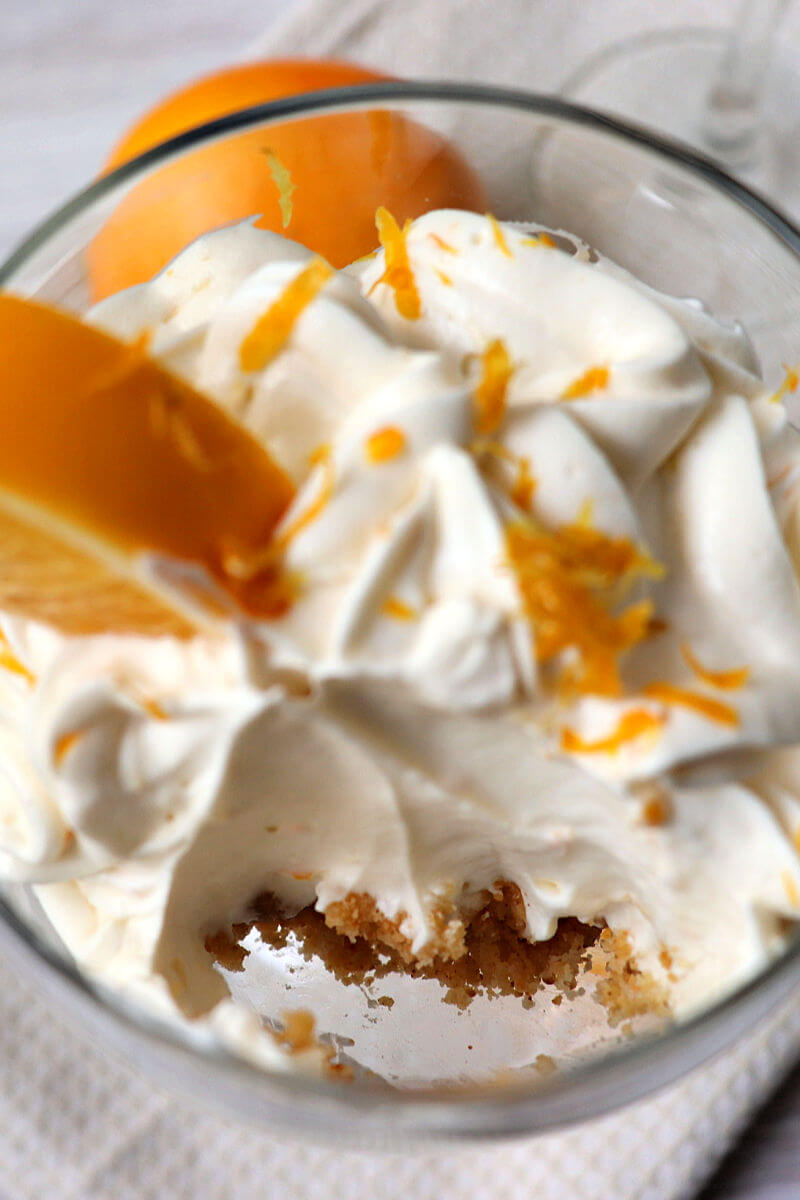 What is a mousse?
The term "mousse" comes of course from our friends the French. Way back when, chefs would try to impress their employers. Just like today.
The chefs of the royal courts would whip up cream or egg whites into what they called a "crème mousseuse". Literally, this translates as foamy cream. They made all sorts of sweet and savory variations on this idea.
Because who doesn't like whipped cream?
Therefore, a chocolate mousse, keto pumpkin mousse, or lemon mousse can mean any number of things. This is true as long as it has some sort of whipped foam, often meaning bubbles, in the dessert.
Sometimes egg yolks are added to chocolate or other ingredients to make it more rich and dense, but there are so many ways to make a mousse.
This easy whipped keto lemon mousse just happens to be one of my favorites!
🍽 Equipment
TO MAKE KETO LEMON MOUSSE YOU'LL NEED: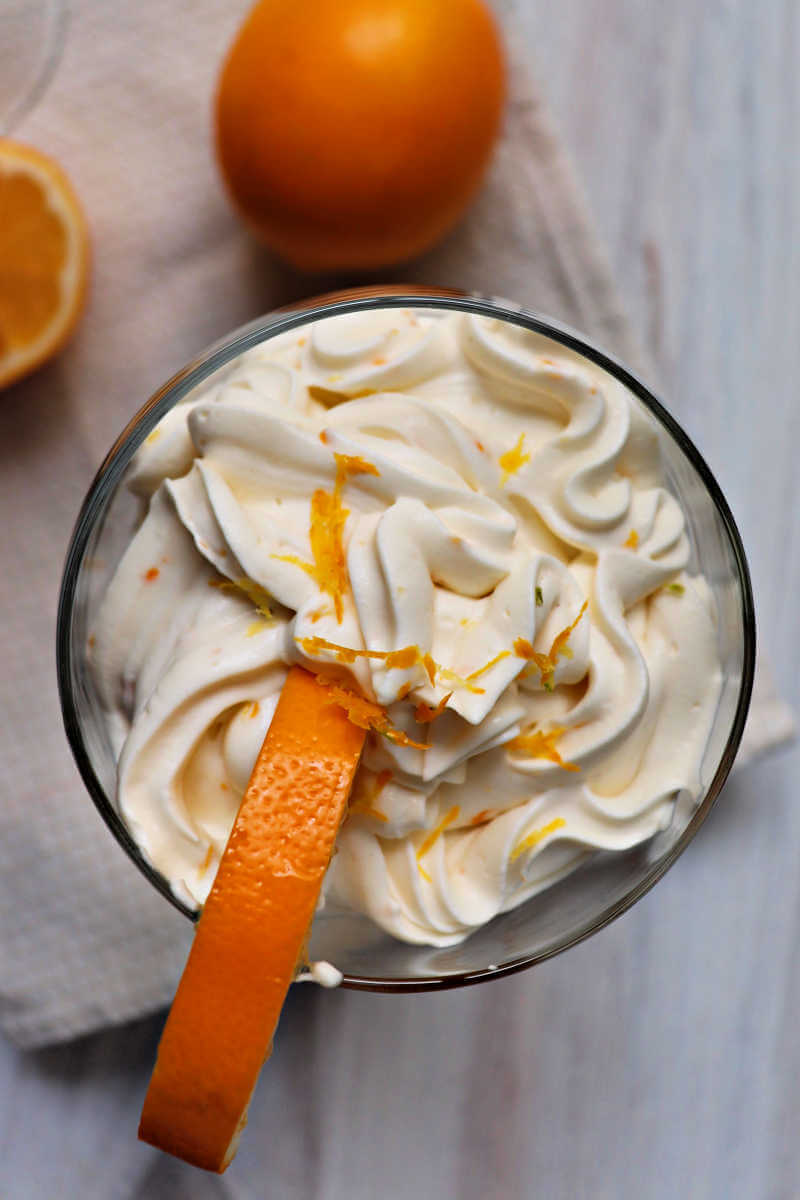 A grapefruit is just a lemon that saw an opportunity and took advantage of it.

– Oscar Wilde
🥘 Ingredients
For the crust or topping:
finely ground blanched almond flour
powdered sweetener (such as Swerve Confectioners)
butter
For the mousse:
heavy whipping cream
mascarpone cheese (or cream cheese will work too)
powdered sweetener
vanilla extract
lemon extract (or lemon essential oil)
lemon zest
🔪 Instructions
HOW TO MAKE
KETO LEMON MOUSSE
So how do you make a keto lemon mousse?
Well, to start, decide how you'd like to serve it. I strongly advise NOT skipping the crust. It adds a crunch and salty and nutty flavor that goes well with the lemon mousse.
For the toasted almond crumble, you can serve it under the mousse or sprinkled on top.
Toasted almond crumble
First, put the almond flour in a skillet on medium heat. Second, spread it out evenly over the pan. Stir it around continuously for 3-4 minutes to toast the almond flour.
You might be tempted to skip the toasting, but I really love the flavor it brings out. It'll only take a few extra minutes.
Next, stir 2 teaspoons of powdered sweetener into the toasted almond flour.
Then, once it's evenly dispersed, pour in the melted butter. I like to use a fork to smash the mixture into crumbs.
Now set aside the crumble to use as topping. Or, if you've decided to serve it under the mousse go ahead and divide it evenly into 6 ramekins or glasses.
(Disclosure: the glass in the pictures is 2-3 servings.)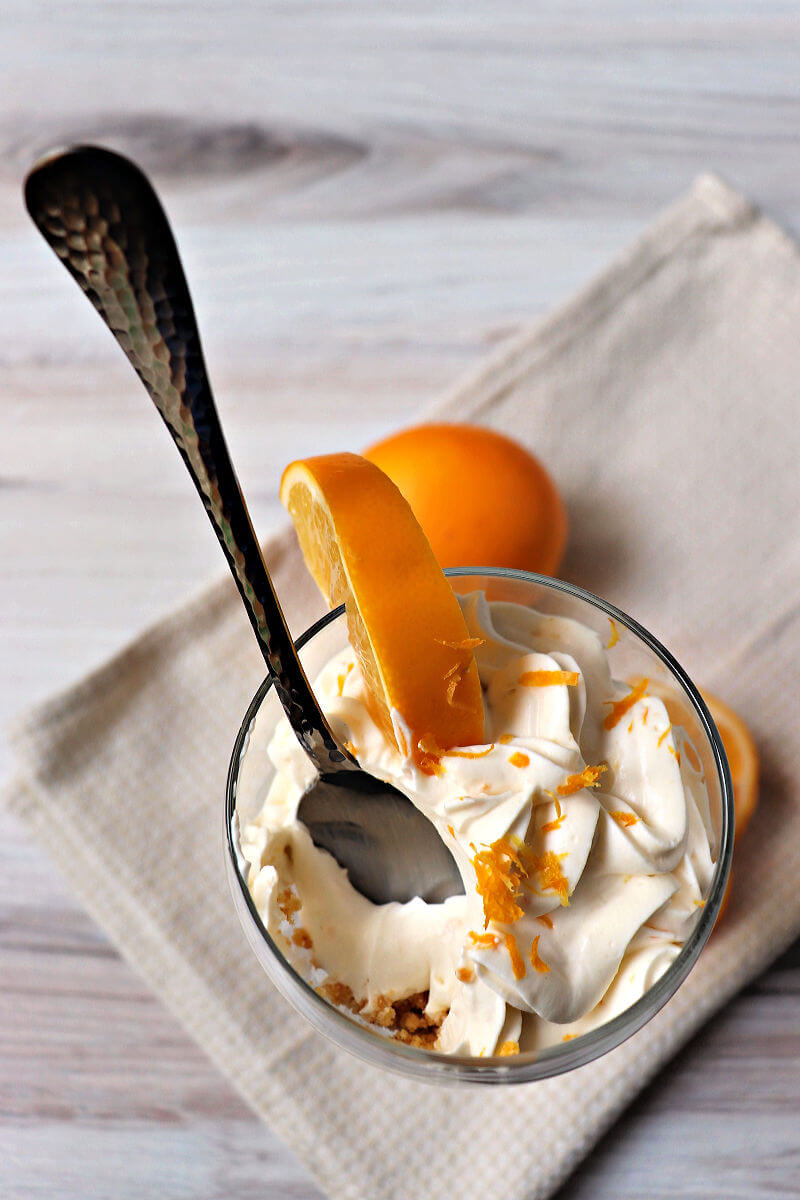 How to make the whipped lemon mousse
To make a mousse, something needs to be whipped. In this case we're whipping heavy cream.
First off, take out a bowl and mixer and whip the cream to stiff peaks.
To whip the cream, make sure the bowl is clean and cool. The cream should also be cold or else it will melt and not whip up. Whip the cream until it stands up in a peak without falling in on itself when you turn the beater upside down.
Also, if the cream is whipped too long it can turn to butter, so keep an eye on it!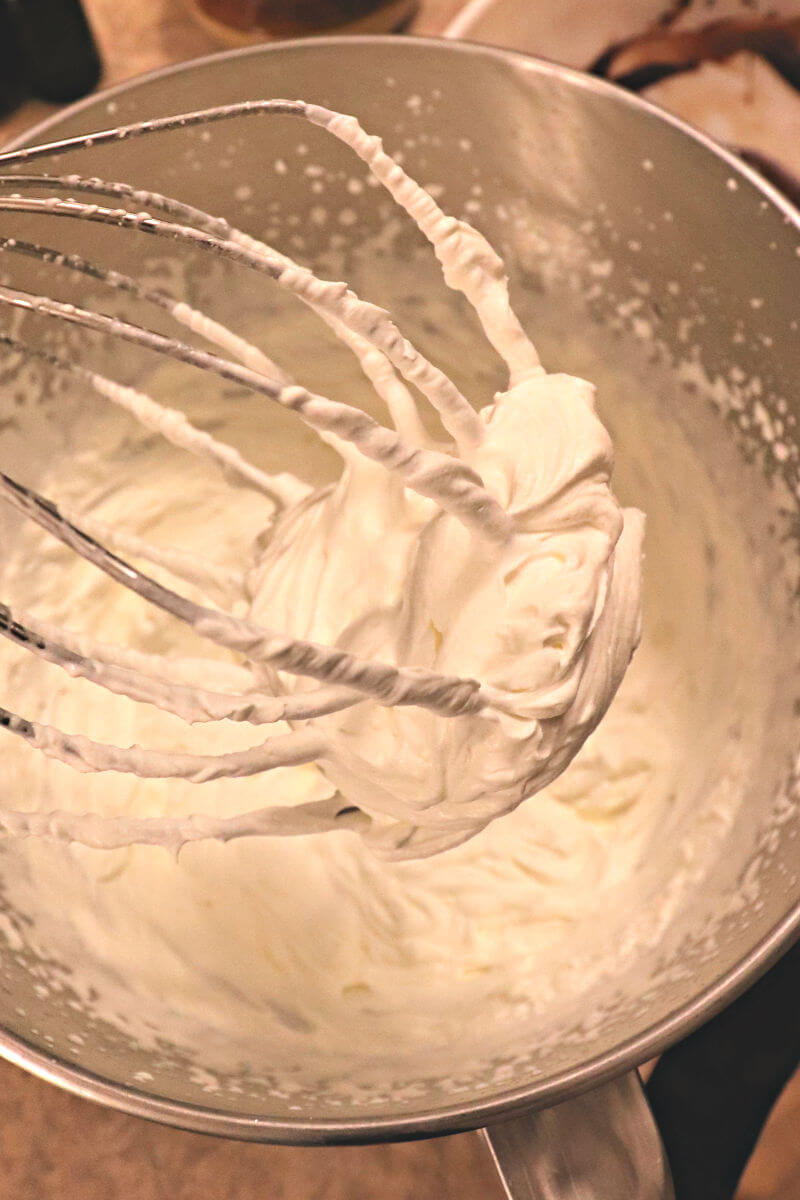 Next, set aside the whipped cream, and take out another medium bowl. Then using a mixer, beat the mascarpone and all the other ingredients together until smooth.
Now's the fun part! Spoon the whipped cream into the mascarpone cheese mixture and combine it well. Take the spatula around the sides and cut through the middle so as little air as possible is lost from the whipped cream.
Lastly, to serve. Usually I just spoon it in the serving dish, but you can also pipe it in for a better presentation. Top with some extra lemon zest if you like and refridgerate until ready to serve.
This recipe can be made the day before and served from the refrigerator. However, I like the texture best if it's served immediately.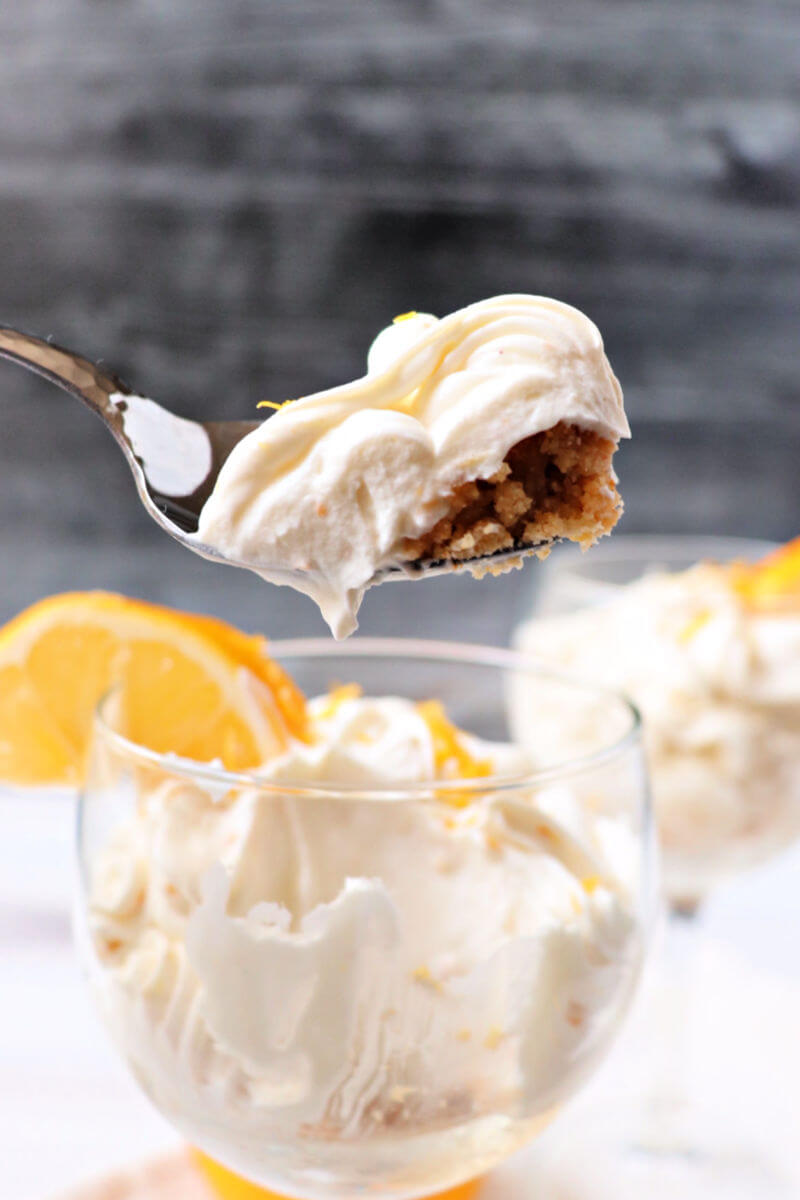 How to make keto lemon mousse fat bombs
Bonus! Did you know you can also make an easy fat bomb snack to get you through mid-afternoon?
I like to spoon or pipe circles of the lemon mousse mixure onto a silicone mat on a baking tray. Sprinkle the toasted almond crumble on those for taste and to make it look nice. My piping skills may need some practice!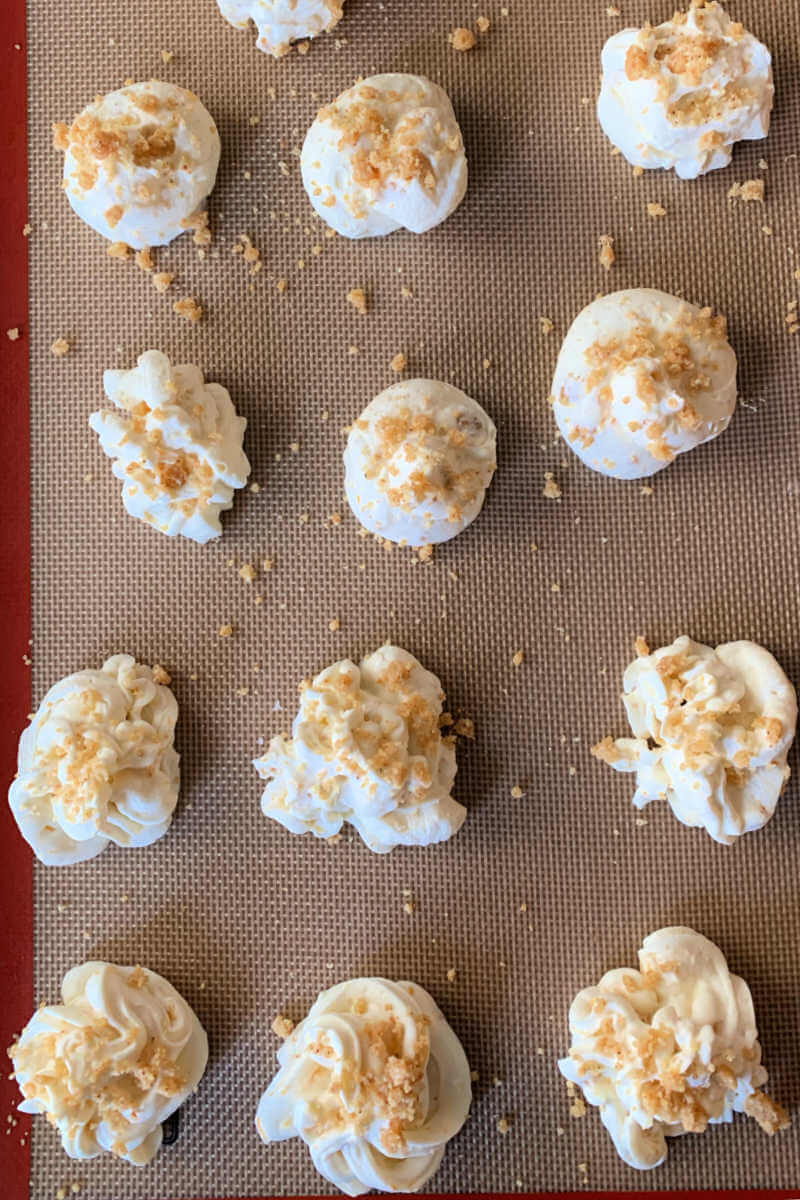 Then, just pop them into the freezer for a couple of hours. After that, remove them to a zipper bag or airtight container. They'll store in the freezer for about a month so you can grab one or two when you need.
Although really, I doubt they'll last the month.
Keto fat bombs
To be perfectly honest, I've never liked the term fat bomb. Perhaps it's the fear of having too many. Or maybe it's that ingrained from childhood avoidance of fat.
But, our bodies need fat to burn. If not, I'm constantly snacking on other unhealthy things that do me no good. And can I tell you, sometimes one of those little keto lemon mousse bombs is the perfect thing to get me through until dinner.
So why not try it out? A keto lemon mousse for your next lunch or dinner party? Or save it for yourself in fat bomb portions in the freezer. Either way, I hope you love it.
Pin the recipe here: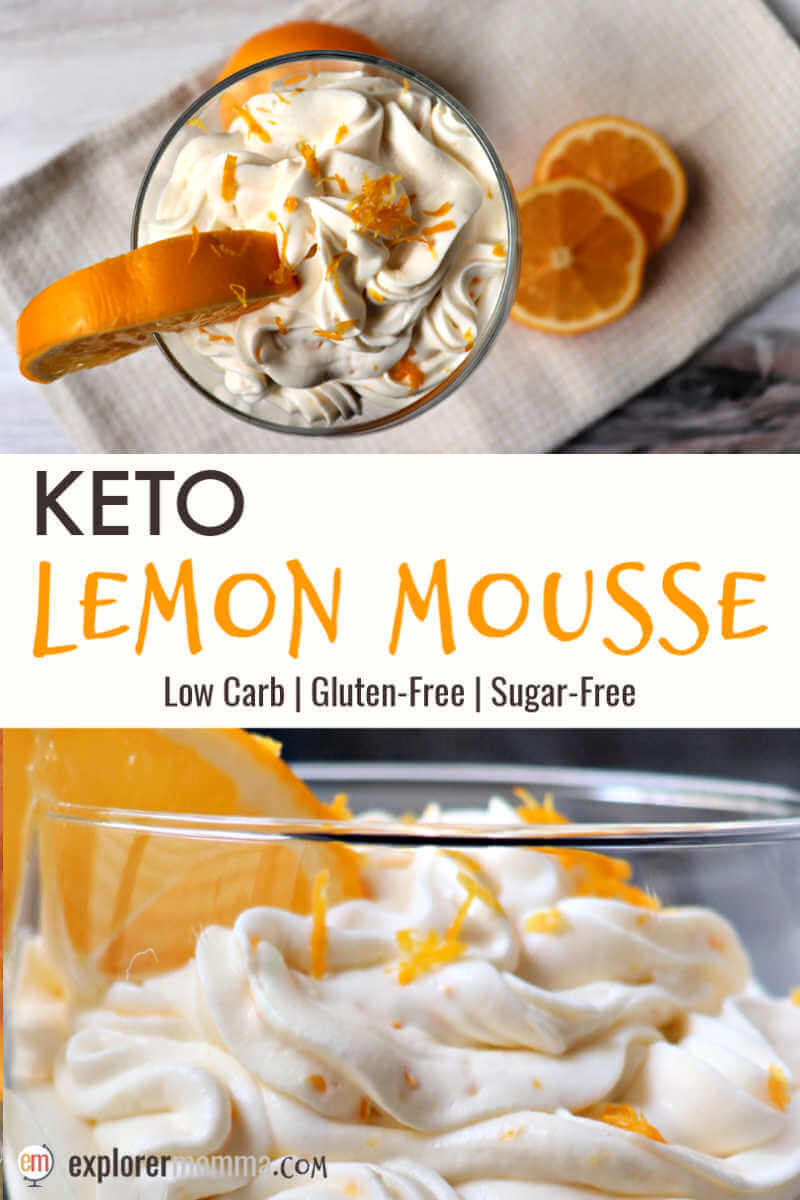 Tag me in your recipe pics on Instagram @explorermomma.
If you LOVE this recipe please consider giving it a five-star rating in the review area below!
🥣 More keto mousse recipes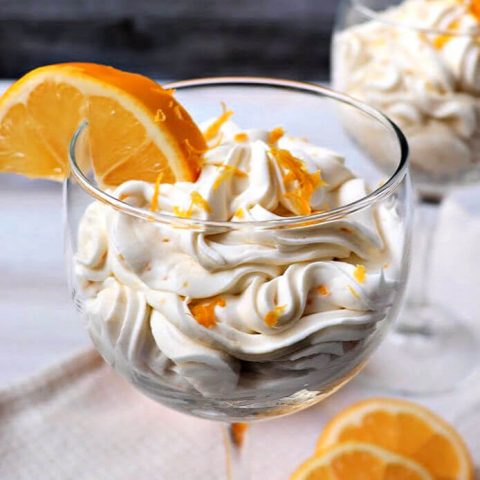 Keto Lemon Mousse
Creamy keto lemon mousse is a tangy and creamy decadent super-low carb dessert. Paired with the salty nuttiness of an almond flour crumble, it's a delicious fat bomb in a glass.
Ingredients
Crust or Topping
⅓ cup almond flour
2 tsp melted butter, (salted, if unsalted add ¼ tsp salt)
Lemon Mousse
¾ cup heavy whipping cream
8 oz mascarpone cheese
1 tsp vanilla extract
1 tsp lemon extract, (or 4 drops lemon essential oil)
zest of one lemon
Instructions
Crust or Topping
Put the almond flour in a skillet on medium heat. Stir continuously for 3-4 minutes to toast the almond flour.
Stir in 2 teaspoons of powdered sweetener, and once it's evenly dispersed, pour in the melted butter. Use a fork to smash the mixture into crumbs. Set aside to use as topping or divide into 6 ramekins or glasses.
Lemon Mousse
In a medium bowl, whip the cream to stiff peaks.
Take out another medium bowl and using a hand mixer, beat all other ingredients together until smooth.
Spoon the whipped cream into the mascarpone cheese mixture and mix in well.
Divide into six serving dishes and refrigerate until ready to serve. Sprinkle on topping or use as a base.
Notes
Nutrition Facts
Servings 6.0 Amount Per Serving Calories 280 Total Fat 33 g Saturated Fat 18 g Monounsaturated Fat 0 g Polyunsaturated Fat 0 g Trans Fat 0 g Cholesterol 97 mg Sodium 23 mg Potassium 0 mg Total Carbohydrate 0 g Dietary Fiber 0 g Sugars 0 g Protein 3 g
*Nutrition Facts per MyFitnessPal.com. For most accurate facts, calculate your own with the exact ingredients you use in the recipe.
Nutrition Information:
Yield:

6
Serving Size:

1/6 of recipe
Amount Per Serving:
Calories:

280
Unsaturated Fat:

0g
NUTRITION DISCLAIMER
Please be aware I am not a medical specialist or nutritional professional. On this blog, I share recipes and what works for me. Please do not take anything on this blog as medical advice and always consult with your doctor before starting any diet or exercise program.
I use
Myfitnesspal.com
to calculate nutrition facts as a courtesy to my readers, and I remove erythritol from the final carb count and net carb count because it does not affect my own blood glucose levels.
This is as accurate as possible, but it's best to independently calculate nutritional information on your own with the specific ingredients you use.