Creamy with a punch of lime! Can you believe this fabulous coconut lime dessert mousse is keto? Sugar-free, low carb, and gluten-free, you can even make it vegan if you wish by subbing a vegan gelatin-like agar powder!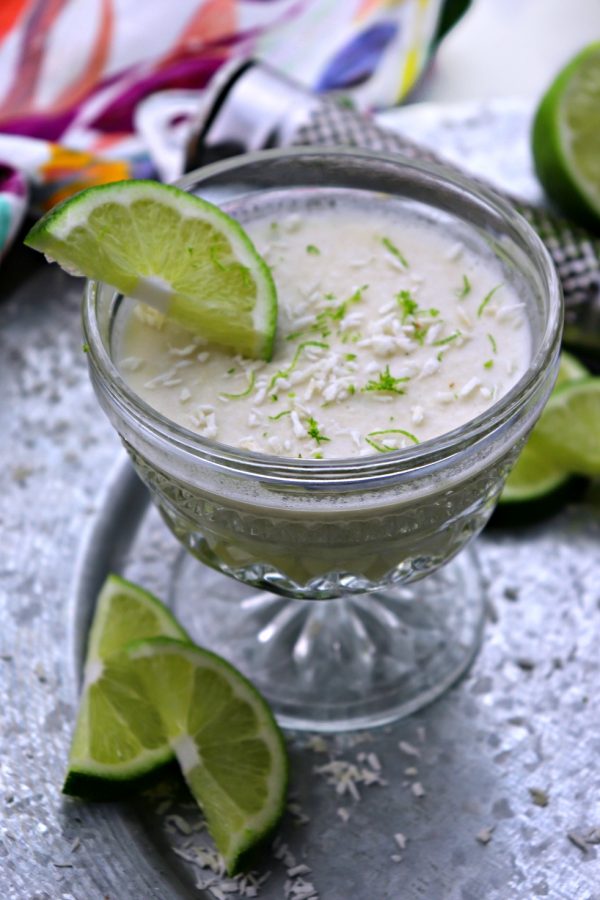 This post contains affiliate links which means I receive a small percentage if you make a purchase after clicking on my links.
Lately, I've been in a citrusy spring sort of mood. We've had fabulous 70s and sunshiny weather so the kitchen's been full of lemons, limes, and all citrus scents!
These always have the desired effect of getting me in the mood for spring and summer weather.
Citrus not only wakes you up but is generally cheerful and refreshing.
Did you know lime in particular also has cleansing benefits great for purifying? So that means it can purify your skin, the air, get creative!
Moreover, in my book, it also means it's a great choice for a dessert! A coconut lime dessert? Yes, please!
Low carb coconut lime dessert mousse
To be honest with you, I came up with this dessert more as a snack for myself. I'd envisioned it for the warm mid-afternoon time when you need a little treat to hold you happy until dinner.
I discovered that others in my family quickly snap them up as well (as long as I don't tell my son they're sugar-free!). So I thought about it, and in a pretty dish, I decided they'd make a very nice dinner or late lunch dessert.
Do you know what? I was right!!
In a hurry?
Need the recipe now? You can scroll through my fabulous tips and stories to reach the printable recipe card at the bottom! Or PIN it for later here!!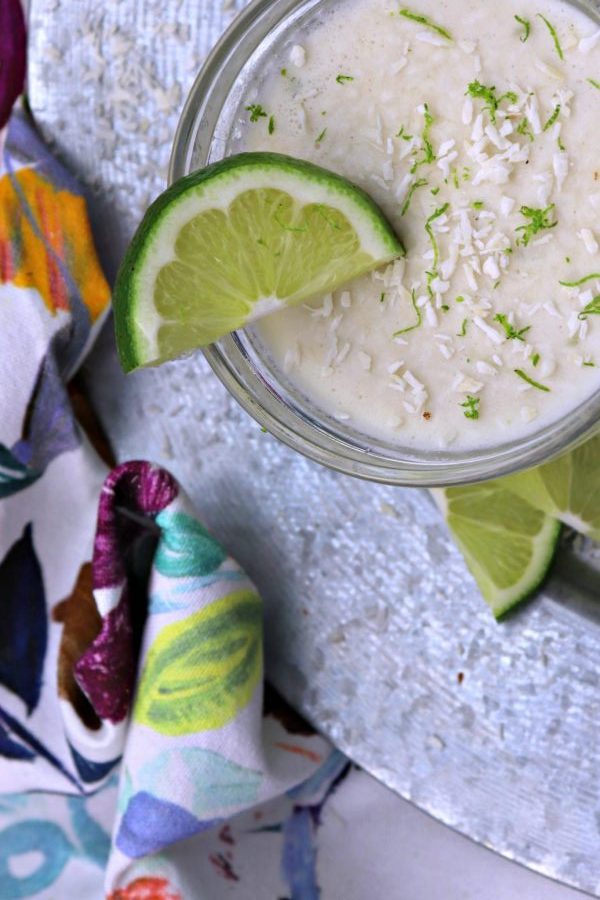 We use quite a bit of gelatin collagen protein around here for summer desserts. It's a good option when you want to get away from ice cream or something frozen.
Be choosy about your gelatin to get the most health benefits! Do some exploring, but try to use a grass-fed gelatin similar to this one: Great Lakes Gelatin, Certified Paleo Friendly, Beef Gelatin Collagen Protein. Collagen is amazingly good for you and helps out with skin and hair health. It can reduce joint pains and other inflammation, heal the inside walls of your gut, and so much more!
That covers a ton of my extended family's health issues so I know I need to take huge advantage of this beneficial ingredient. There are a lot of ways to eat it I'm just now starting to explore.
Note: If you eat vegan, you can make the recipe substituting a vegan gelatin. I would suggest agar powder, although I haven't tried it that way. Let me know how it comes out if you do!
🔪 Instructions
How to make a keto coconut lime dessert mousse
To make your coconut lime dessert, first, you'll want to gather all your ingredients and kitchen supplies. The recipe makes six servings so get out six ramekins or other pretty individual dessert dishes.
Here's another hint! If you're not serving them for after dinner and they're just for snacks, I've been known to put them in glass containers with snap-on lids for easy storage in the refrigerator! Then they wait for me to grab them for a quick mid-afternoon snack. I love it.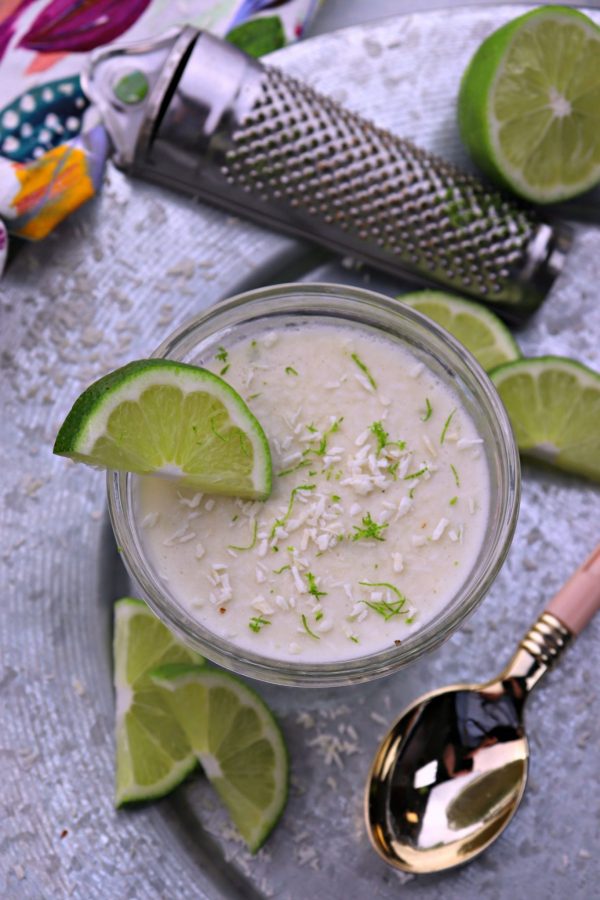 Second
Once you have all the ingredients out, take out a saucepan and a medium-sized bowl. Usually, the full-fat coconut milk comes in a 13-14 ounce can, and you will use the entire thing.
Also, it will separate in the can so pour about a fourth of a cup of the liquid portion in the bowl with a tablespoon of gelatin.
You may have to use a spoon to dig through the solidified coconut milk to get to the liquid, but don't worry! It's there!
Next
Mix together the gelatin and 1/4 cup coconut milk in the bowl for the gelatin to soften then turn your attention to the saucepan. In it, pour one cup of unsweetened almond milk and the rest of the can of full-fat coconut milk. Heat this mixture on a medium-high heat until the solid portion has melted and the milks mix together to nearly boiling, but not quite.
Then
After that, take the saucepan off the heat and add the teaspoon of vanilla. Pour the milk mixture into the gelatin and whisk it together.
Continue to whisk and add in the sweetener (I use Swerve confectioners but use the sweetener of your choice).
Now you're going to add your lime flavoring. I personally like to use 4-5 drops of lime essential oil, but I know many people do not keep those on hand!
It's just so easy, and I admit it's great if you're trying to get your coconut lime dessert in the fridge in a hurry.
However, if you're going to use a fresh lime, zest and juice it. Then, add both the zest and juice to your milk mixture.
Now, right here I think, milk? Lime?! Together? That will curdle! But don't worry, you're using coconut and almond milk in your coconut lime dessert so it's not going to be a problem.
How to get mousse bubbles
You can tell already this is not your normal coconut lime dessert mousse recipe.
So how do you get those delightful little pockets of air in your mousse?
Well, in this case, there's this magically wonderful appliance called a blender. I've talked about how much I love my high powered blender in other blog posts so I won't proliferate on the subject today.
Only this – I LOVE my Vitamix and use it practically every day! If you don't have a high powered blender you can use a regular one, but you may have to blend it a little longer to get those awesome bubbles!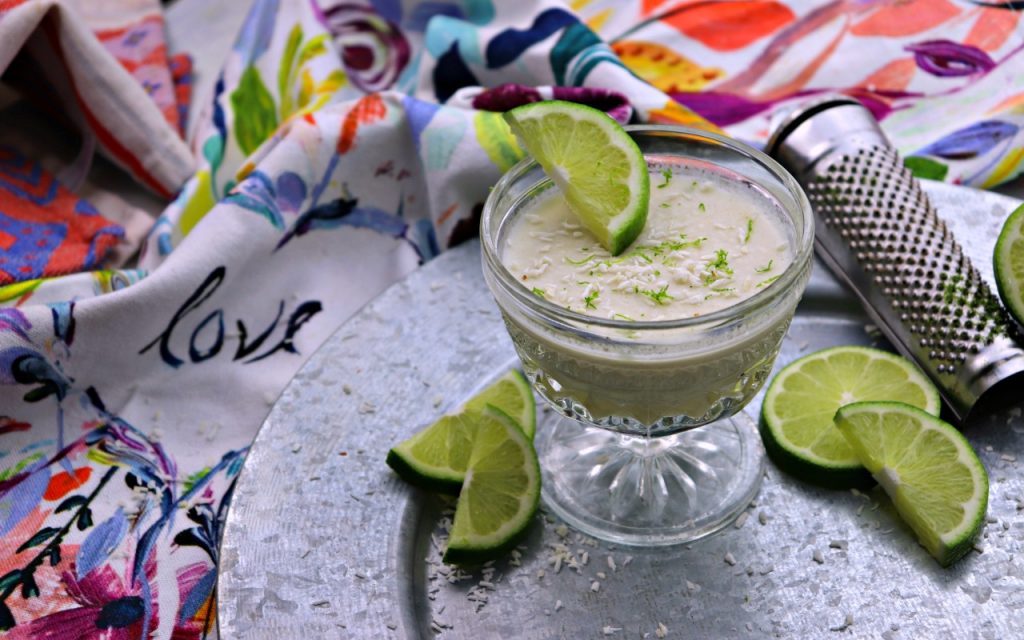 Blend the mousse on high speed for a good 40 seconds or until you can see bubbles forming and everything is well mixed. This will also break up any lumps of sweetener or larger pieces of zest that may otherwise be tempted to sink to the bottom. If it's not well combined and quickly put in the refrigerator, it can separate.
Once it's had a good blending, pour six equal portions into your serving dishes. Chill it in the refrigerator for at LEAST two hours to set. Before serving, sprinkle a good teaspoon of unsweetened shredded coconut on top along with more zest and a half a slice of lime for decoration.
I like it just like that, but you could also whip up 1/2 a cup of heavy cream with 1 tablespoon of sweetener for topping if you wish.
📋 More keto dessert recipes
Do you adore coconut and lime together? If so, you definitely need to try these amazing Keto coconut lime cupcakes.
🍮 Benefits of dessert
What are your favorite summer desserts? I love to get ideas and play with them to make them keto. This is selfishly for myself, but also for others eating a ketogenic diet to enjoy!
In addition, the bonus with using a sweetener like Swerve or monk fruit is you still get to enjoy those desserts while staying sugar-free! Pretty desserts have great benefits in improving my mood and making my stomach happy.
So imagine yourself now, sitting outside in a beach lounge chair. You have a fabulous floppy sun hat, the sea or a lake in the distance, and a good book, like my current read, The Guernsey Literary and Potato Peel Pie Society.
You're calm and happy and friends are coming over for dinner. You're not worried! You have the meat and grill ready, the table's set, and the rest is in the fridge ready to go, including your beautiful coconut lime dessert mousse!
Now, if you please, list your favorite desserts in the comments you'd like to see with a new keto makeover!
PIN this recipe here!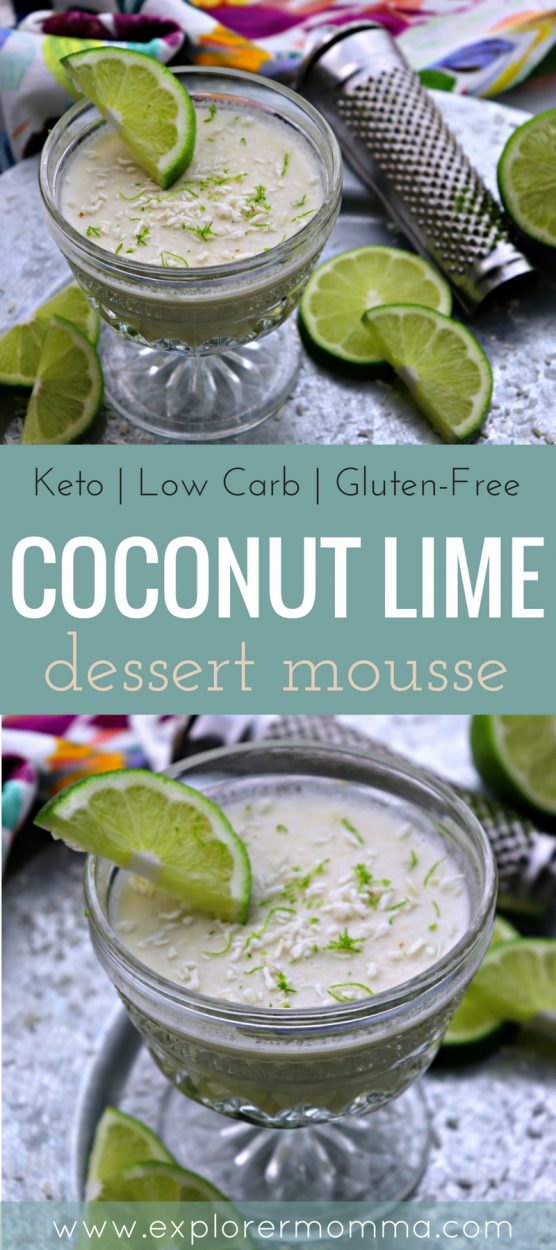 Printable Recipe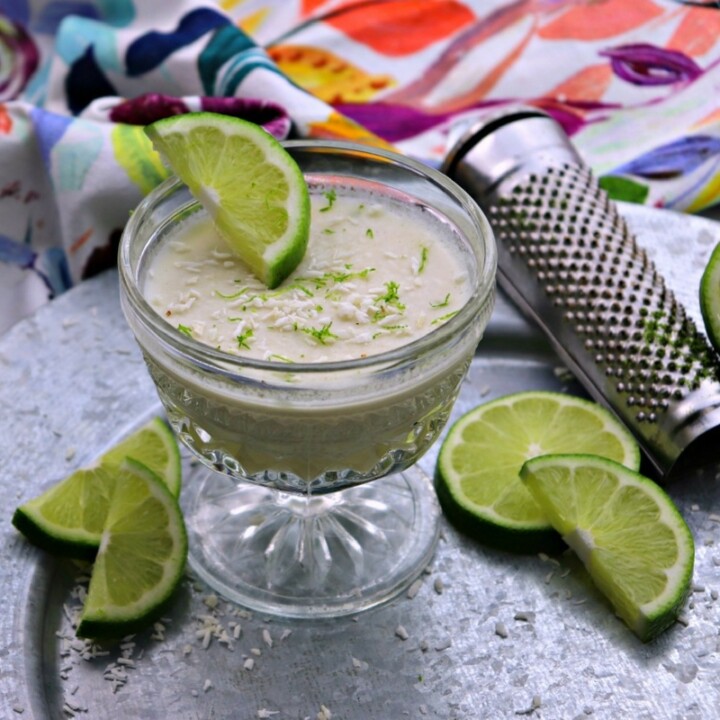 Keto Coconut Lime Dessert Mousse
A creamy low carb coconut lime dessert or snack with a refreshing punch of lime.
Ingredients
1 can canned coconut milk (full-fat), 13-14 oz.
1 cup unsweetened almond milk
1 tbsp unflavored gelatin, grass-fed
1/2 cup sweetener, confectioner's style (Swerve or monk fruit)
3 tbsp lime juice, (or use 4-5 drops of lime essential oil)
1 tbsp lime zest
1 tsp vanilla extract
2 tbsp shredded coconut, unsweetened
Instructions
Prepare 6 ramekins or dessert dishes.
Add about a fourth of a cup of the liquid portion of the coconut milk in a bowl with a tablespoon of gelatin.
Mix it together for the gelatin to soften.
In a saucepan, heat the rest of the coconut milk and 1 cup almond milk on a medium high heat until nearly boiling. The solidified coconut milk will melt down and mix with the almond milk.
Take it off the heat and add 1 teaspoon of vanilla.
Pour the mixture into the bowl with the gelatin.
Whisk together the gelatin and milk.
Then whisk in the 1/2 cup of sweetener.
Mix in the lime essential oil or zest and juice.
Pour the mixture in a high power blender and blend on high for 40-50 seconds.
Divide the mixture evenly between the 6 dessert dishes.
Refrigerate for at least 2 hours.
Just before serving, sprinkle about a teaspoon of unsweetened shredded coconut on each as well as a bit of extra lime zest for color (optional).
Notes
Fat and calories per My Fitness Pal.
Nutrition Information:
Yield:

6
Amount Per Serving:
Calories:

131
Unsaturated Fat:

0g
NUTRITION DISCLAIMER
Please be aware I am not a medical specialist or nutritional professional. On this blog, I share recipes and what works for me. Please do not take anything on this blog as medical advice and always consult with your doctor before starting any diet or exercise program.
I use MyFitnessPal.com to calculate nutrition facts as a courtesy to my readers, and I remove erythritol from the final carb count and net carb count because does not affect my own blood glucose levels.
This is as accurate as possible, but it's best to independently calculate nutritional information on your own with the specific ingredients you use. I expressly disclaim any and all liability of any kind with respect to any act or omission wholly or in part in reliance on anything contained in this website.