Easy creamy and delicious whipped keto pumpkin mousse blends decadent mascarpone cheese with pumpkin spice fall flavors. It's a pumpkin pie party in a bubbly low carb mousse!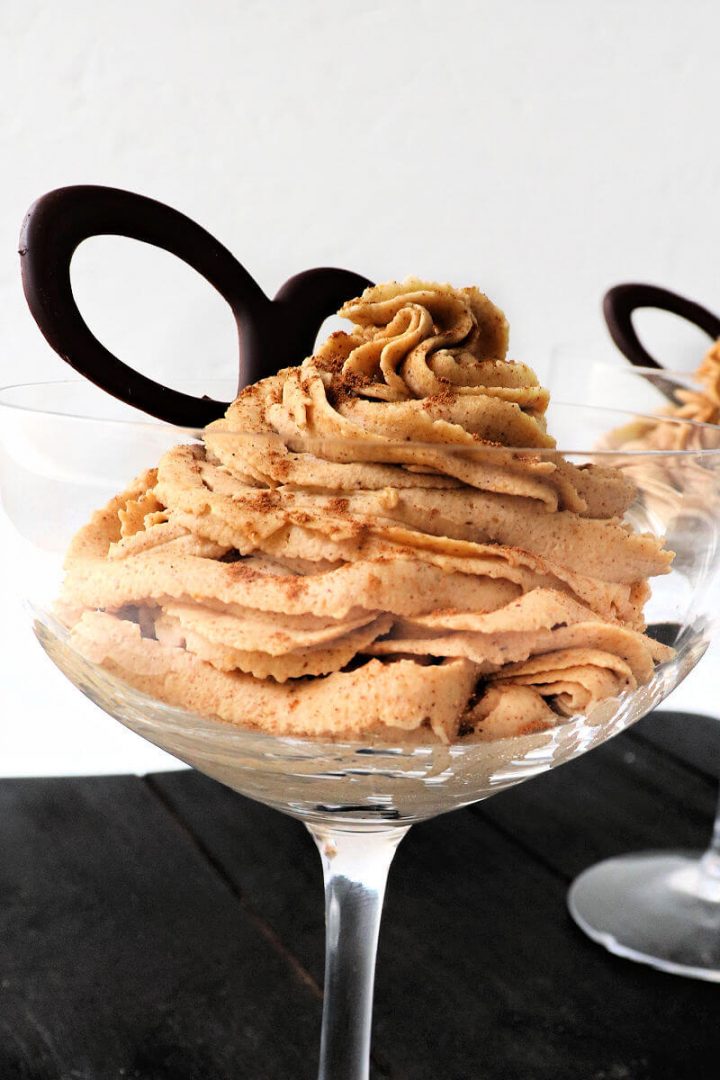 This post may include Amazon or other affiliate links. As an Amazon Associate, I earn from qualifying purchases.
Pumpkins, gourds, corn. Orange, yellow, brown. Cinnamon, cloves, nutmeg, allspice, vanilla.
The sights and smells of FALL. This is the time the nights get cold, the days are cooler, and I pull out tea and sweaters. I absolutely love this time of year, and without a doubt, it's my favorite season.
[feast_advanced_jump_to]
When you think of pumpkin recipes, what comes to mind? Maybe pumpkin pie? Or possibly pumpkin bread or muffins?
Well, let me tell you something. If you want a super-easy yet elegant fall dessert, this pumpkin mousse is the way to go. It's great to serve in fancy glasses for an impressive dessert or make in portions and keep for yourself!
It's your choice.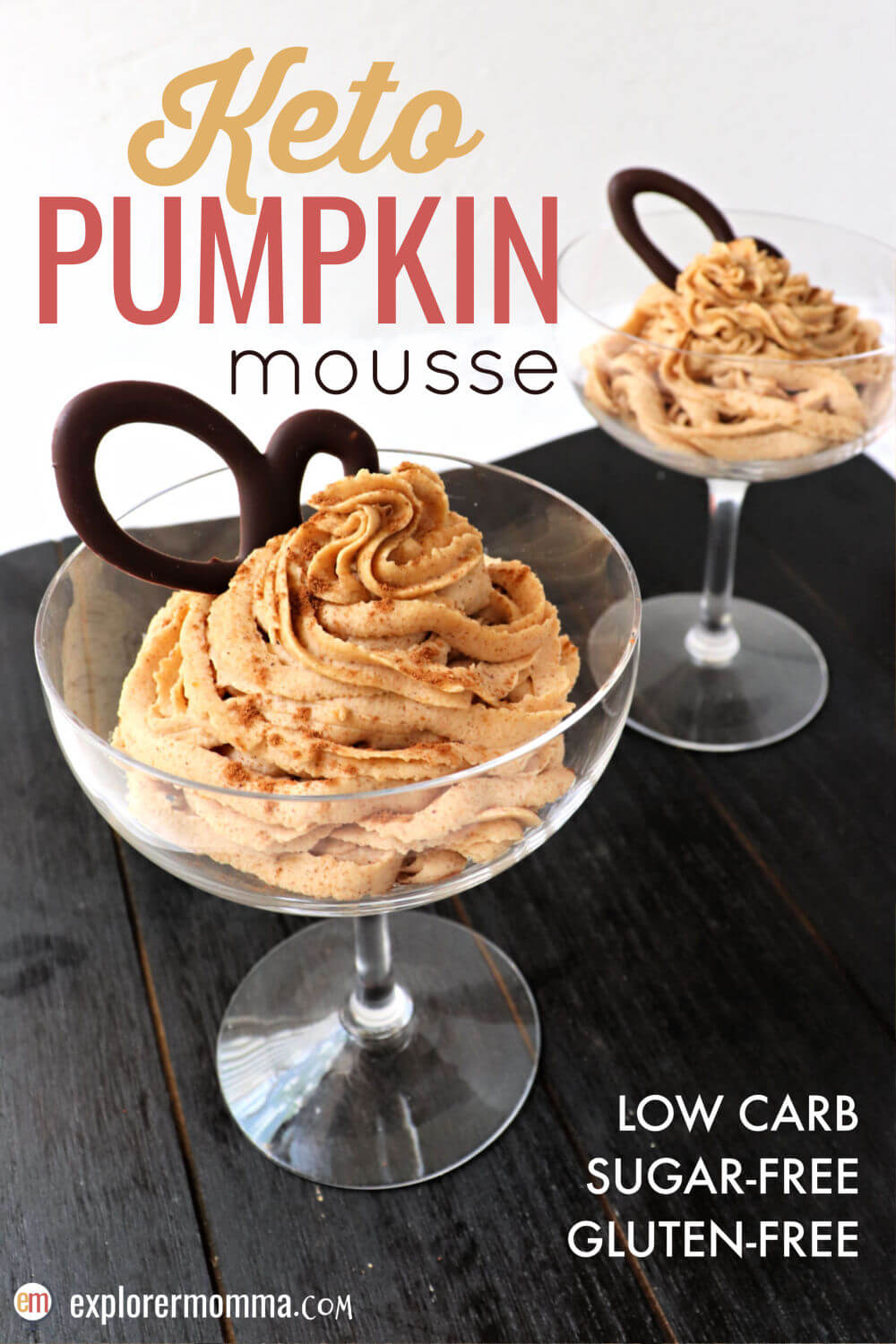 Scroll down to the bottom for the printable recipe or PIN it here for later!
Give 'em pumpkin to talk about.

– Joyce Lavene
🥘 Ingredients
heavy cream
powdered sweetener (Swerve Confectioners or other)
vanilla extract
pumpkin purée
pumpkin pie spice
mascarpone cheese
When you make something as simple as this low carb pumpkin mousse, something that can really set it apart are the ingredients used. In fact, it's true of most any recipe.
If you get a high-quality, fresh, organic ingredient, your ultimate product or baked good will be that much better.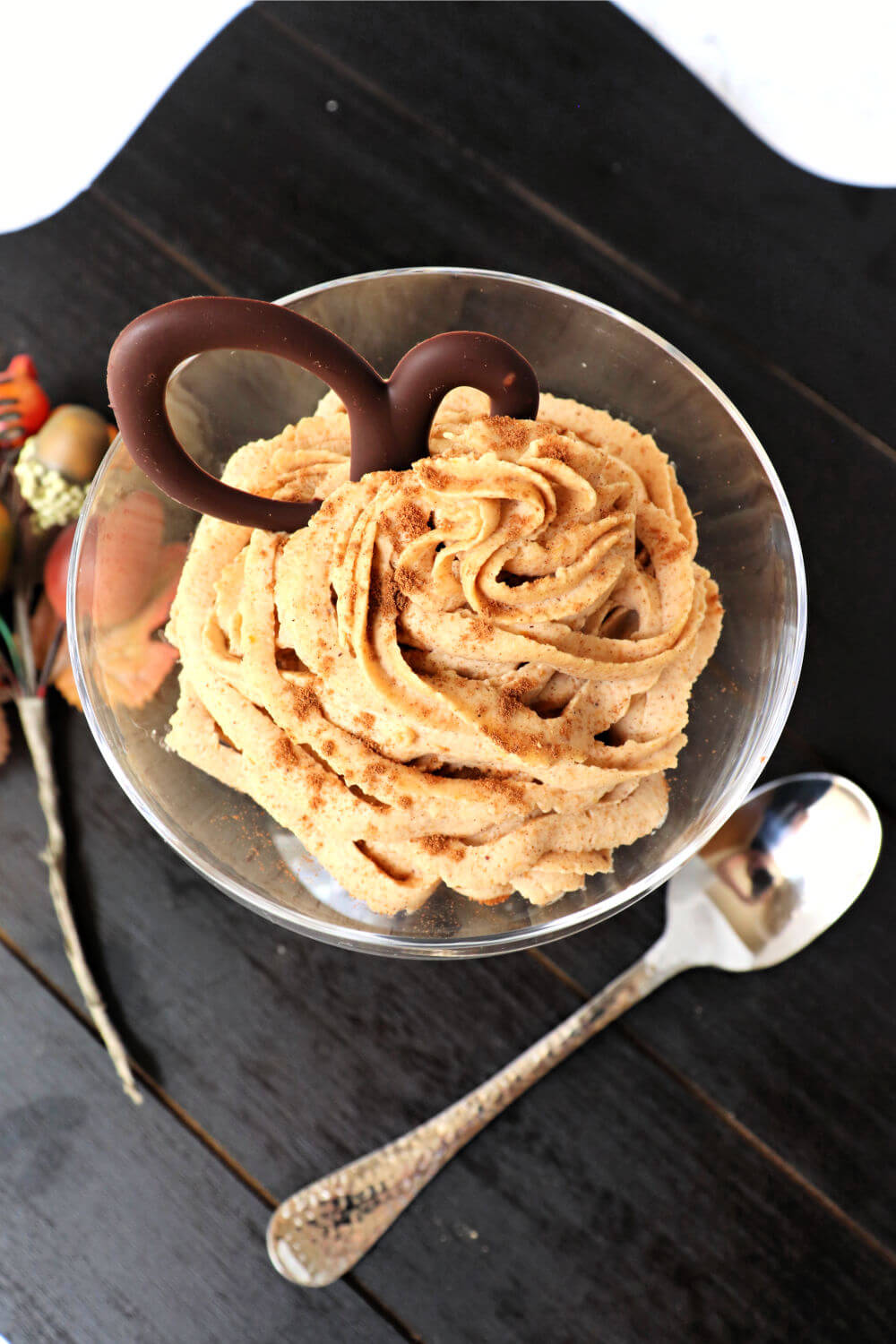 What is mascarpone cheese?
That is a good question! Have you ever had mascarpone cheese before? If you have I would guess it was in a tiramisu recipe or something Italian.
It's a little more expensive than cream cheese, however, mascarpone cheese is practically the perfect ingredient for a keto diet.
There are several reasons for this. First, a serving of good mascarpone cheese has 0 carbs. Yes, ZERO. In fact, 8 ounces of mascarpone cheese has zero carbs. Count 'em.
On the other hand, cream cheese has 8 carbs in 8 ounces of cream cheese. Now, I do use both, however, depending on the flavor your're looking for, mascarpone can be a fabulous low carb ingredient. In comparison, cream cheese is still not a lot of carbs, but zero is a lot better.
Second, I absolutely adore the flavor of a good mascarpone cheese. It's almost like it's a thick, decadent, heavy cream in a block or soft cheese form. Essentially, it's an Italian cream cheese, but unlike American cream cheese, it's made out of full fat cream. Mmmm.
Whereas mascarpone is made of full fat cream, American cream cheesemust contain at least 33% milkfat and not more than 55% moisture. It's lower in fat than it's Italian cousin, all of which gives it a more acidic flavor.
🍽 Equipment
To make keto pumpkin mousse you'll need: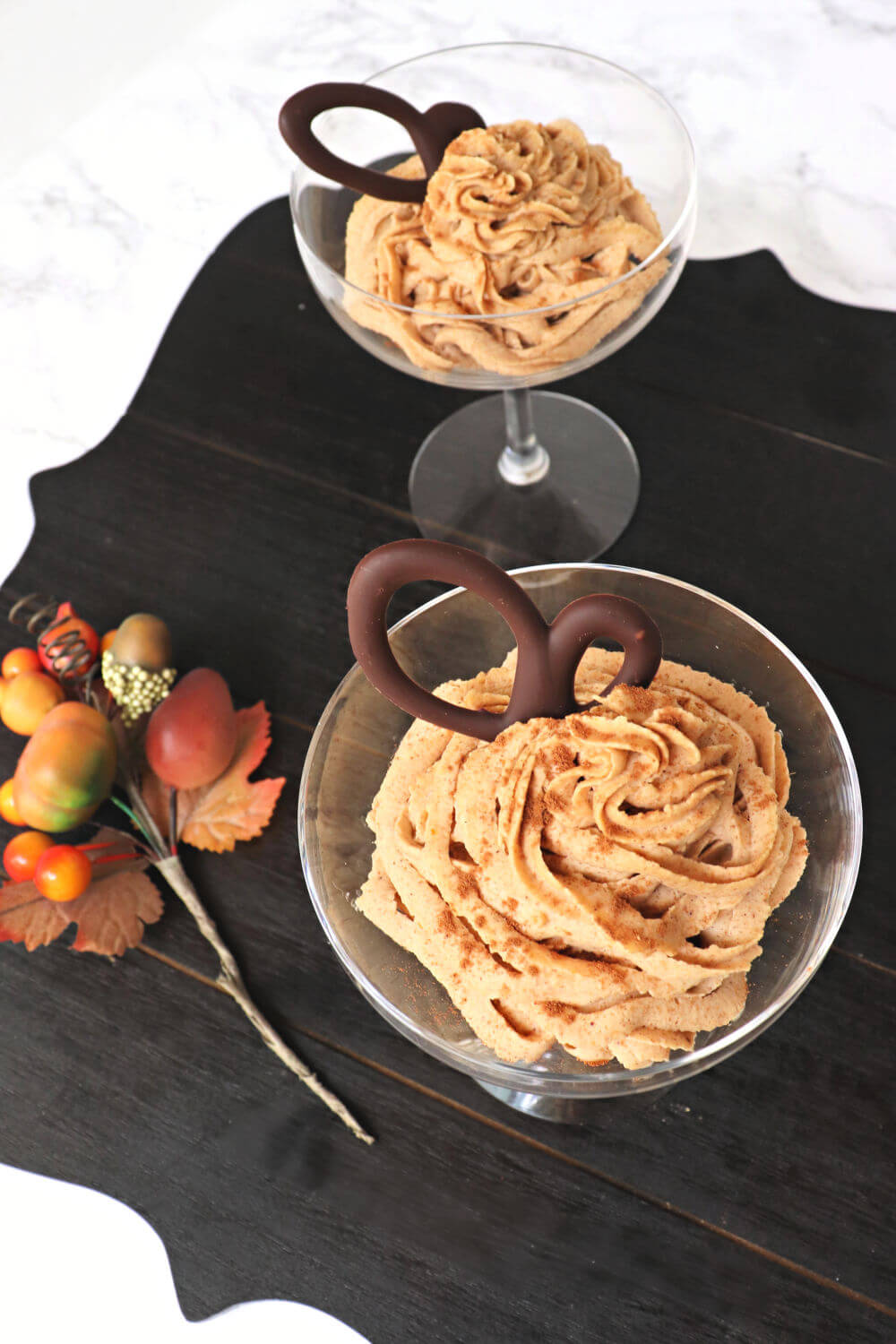 🔪 Instructions
How to make keto pumpkin mousse
This low carb dessert is so quick and easy to make you may not believe it at first. But truly, you can do it. It really is that simple to make.
First, place the cream in a medium-sized clean bowl and whip it up to stiff peaks.
Second, take another bowl and in it use a hand mixer to blend together all other ingredients until smooth.
Next, spoon the whipped cream into the mascarpone cheese mixture and whip it in well with the mixer. Now divide it into six serving dishes and refrigerate until ready to serve.
This can be done the day before, but it will be best if refrigerated in an air-tight container. If you prepare it the day you're eating it, it can be put in the dessert dishes and left open.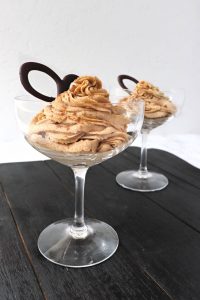 How to serve the pumpkin mousse
First, there are a few ways to serve the mousse. For the pictures I piped the mousse into the dessert dishes. While it looks nice, it can make the mousse lose some of its characteristic mousse bubbles.
My favorite way to serve a whipped mousse is neatly spooned into the serving dishes then garnished. That way those precious bubbles are not disturbed until your spoon hits them and they pop in your mouth.
I admit I really like pumpkin spice and chocolate flavors together. Therefore, I love to garnish this with a sugar-free chocolate decoration or simple sugar-free chocolate chips.
Other options could be to sprinkle pumpkin pie spice or cinnamon on the top of the mousse or even sugar-free chocolate shavings. Yes, I'm back to chocolate, but get creative and do what you like!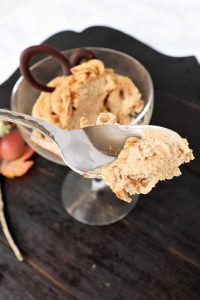 I would rather sit on a pumpkin and have it all to myself than be crowded on a velvet cushion.

Henry David Thoreau
🎃 Favorite low carb pumpkin spice recipes
Are you a pumpkin spice fan in fall? Fall, or autumn, is my absolute favorite season so I certainly am! I start putting pumpkins out in August and glare at Alexa while I put on my scarf when she tells me it's going to be 98 degrees out.
What are your favorite fall recipes? Granted, I love a good keto spice cake, but what about pumpkin specifically? There are pumpkin crumb cakes, pumpkin bars, cookies, custards, and keto pumpkin mousse. Not to mention the all-important pumpkin pie!
Enjoy the season and make good gluten-free, sugar-free versions for friends and family. I'll be getting more of my own favorite fall recipes out to you too. Until then, live long and pumpkin on!
Pin the recipe here!: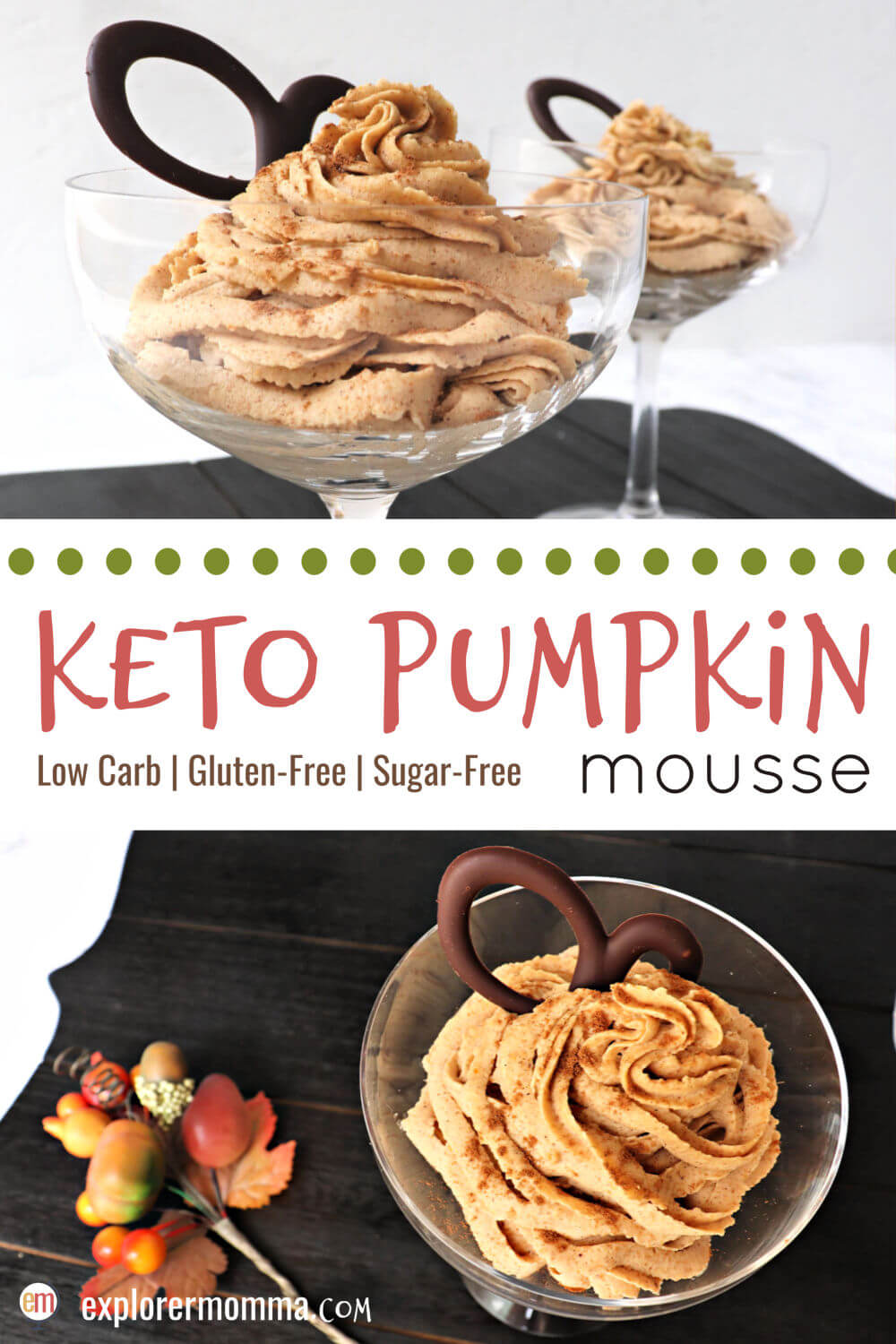 Tag me in your recipe pics on Instagram @explorermomma.
If you LOVE this recipe please consider giving it a five-star rating in the review area below!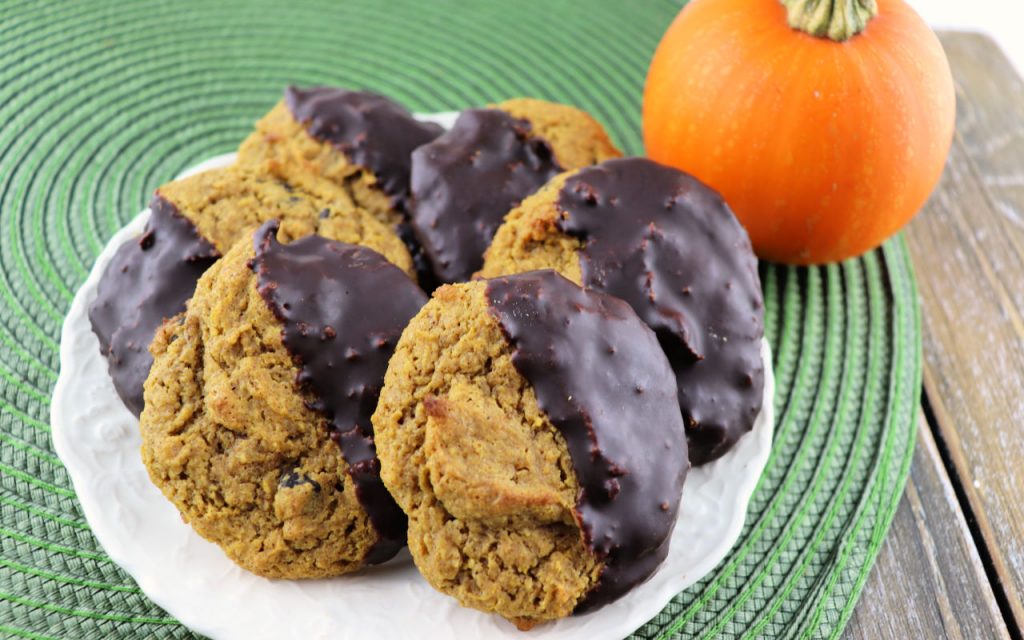 📋 More keto dessert recipes: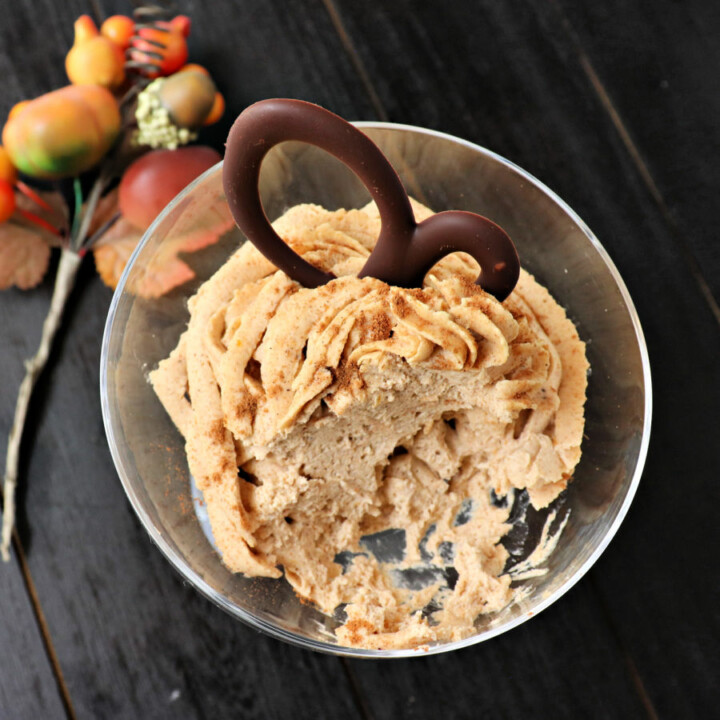 Keto Pumpkin Mousse
Easy whipped keto pumpkin mousse blends delicious creamy mascarpone cheese with pumpkin spice fall flavors.
Ingredients
¾ cup heavy cream
1 tsp vanilla extract
¼ cup pumpkin purée
1 tbsp pumpkin pie spice
8 oz mascarpone cheese
Instructions
Place the cream in a medium-sized bowl and whip to stiff peaks.
In another bowl mix together all other ingredients until smooth.
Spoon the whipped cream into the mascarpone cheese mixture and mix in well.
Divide into six serving dishes and refrigerate until ready to serve.
Garnish with sugar-free chocolate chips, shaved chocolate, or other decoration.
Notes
Nutrition Facts
Servings 6.0 Amount Per Serving Calories 269 Total Fat 28 g Saturated Fat 16 g Monounsaturated Fat 3 g Polyunsaturated Fat 0 g Trans Fat 0 g Cholesterol 93 mg Sodium 14 mg Potassium 28 mg Total Carbohydrate 2 g Dietary Fiber 0 g Sugars 0 g Protein 0 g
Nutrition Information:
Yield:

6
Amount Per Serving:
Calories:

269
Unsaturated Fat:

0g
*Nutrition Facts per MyFitnessPal.com. For most accurate facts, calculate your own with the exact ingredients you use in the recipe.
Nutrition Disclaimer
Please be aware I am not a medical specialist or nutritional professional. On this blog, I share recipes and what works for me. Please do not take anything on this blog as medical advice and always consult with your doctor before starting any diet or exercise program. I use MyFitnessPal.com to calculate nutrition facts as a courtesy to my readers, and I remove erythritol from the final carb count and net carb count because does not affect my own blood glucose levels.
This is as accurate as possible, but it's best to independently calculate nutritional information on your own with the specific ingredients you use. I expressly disclaim any and all liability of any kind with respect to any act or omission wholly or in part in reliance on anything contained in this website.