Delicious spiced keto pumpkin cookies will warm your heart and tummy with pumpkin spice and rich sugar-free chocolate. A fabulous low carb, gluten-free cookie perfect for fall or any Christmas treat table.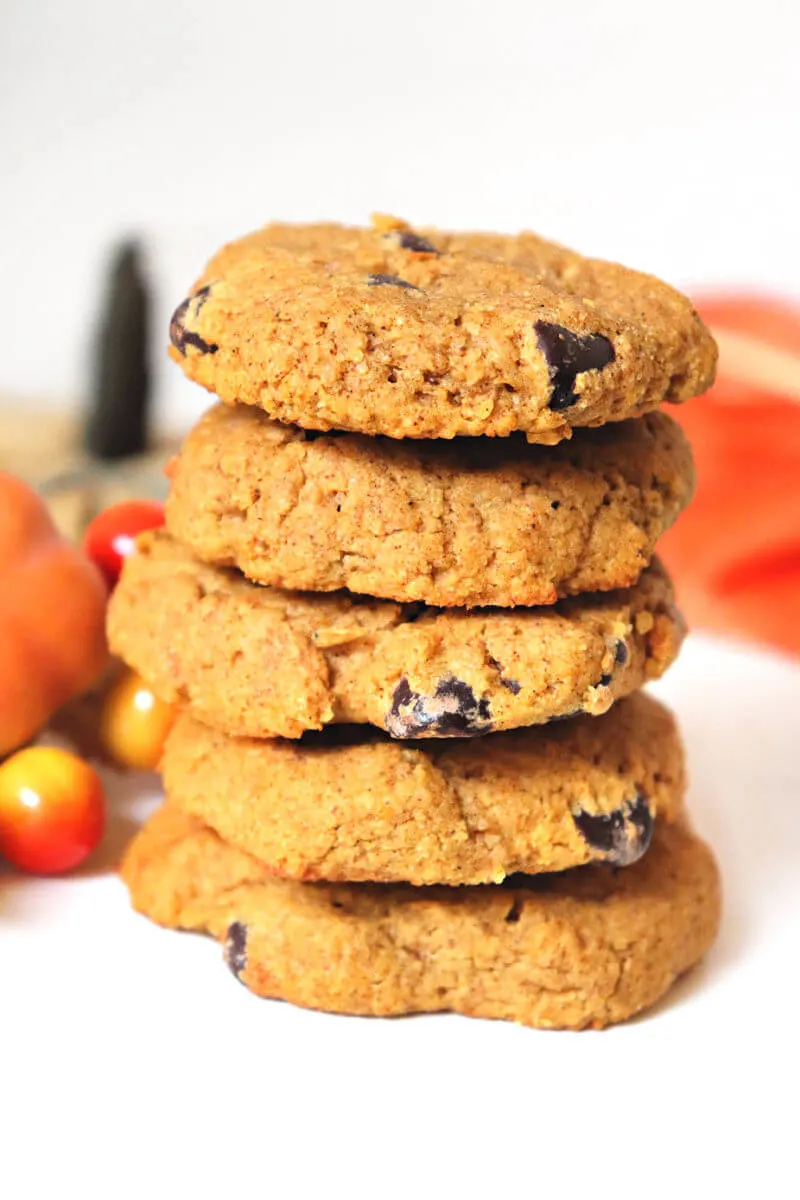 This recipe for keto pumpkin cookies is a perfect low carb and gluten-free cookie recipe for any holiday table. It's flavorful with sugar-free chocolate and pumpkin spice, and it can be whipped up in about 15 minutes!
The best part? These easy spiced keto pumpkin cookies are delicious enough that they'll even fool anyone who doesn't know how healthy they really are!
This post may include Amazon or other affiliate links. As an Amazon Associate, I earn from qualifying purchases.
Why keto pumpkin cookies?
Do you love the combination of pumpkin, spice, and chocolate? If you don't, well, I'm not sure we can be friends anymore.
Kidding. However, it's true soft keto pumpkin cookies with this amazing flavor combination are some of my favorites. If a flavor could be fall, this is it.
In a hurry to make keto cookies?
While I think you'll love my super helpful tips and fun stories, I also realize we are sometimes pressed for time and just need a good recipe! Scroll down to the bottom of the page for the recipe card and printable recipe. Or PIN it here for later!
Jump to:
Home-grown pumpkin | How to make pumpkin puree | How to store puree | Are pumpkin cookies keto? | Equipment | Ingredients | Instructions | Optional toppings | How to store pumpkin cookies | Make it paleo | Double batch | Conclusion | More keto cookies | Recipe card | Nutrition disclaimer
Original soft pumpkin cookies
Before I ate keto-style, a temptation I often gave into was the NOT low carb pumpkin chocolate chip muffin top cookie. You know those at the grocery store.
I'd buy them for office food days, for my husband (I'd say in my head), or for a treat for the kids. Obviously, the purchase was actually for me!
I love pumpkin and the warm spices of fall. We nearly always grow our own pie pumpkins in our little garden in the backyard, and every year I search to find new fun recipes to use them in.
Keto pumpkin pie, some good sugar-free cream cheese keto pumpkin muffins, keto pumpkin brownies, or keto pumpkin cookies. You can tell our family is into the low carb keto pumpkin sweets for the season! We love the challenge of making pumpkin recipes healthier and fit into a keto or low carb lifestyle.
My daughter is one of my main taste testers because she eats gluten-free, sugar-free for health reasons. She's at that stage where she needs to do everything herself so often I let her do her own cooking and experimentation with keto recipes.
As this keto pumpkin cookies recipe reminds her of the sugar-filled soft pumpkin cookies she had at camp, she's made them multiple times lately. Yesterday she somehow connived to eat them for breakfast and was very proud of her victory in that corner. Let's just say we were running really late for school…
All this to say, I really like these keto pumpkin cookies and enjoy them more than that old muffin top version. You have to love easy keto recipes!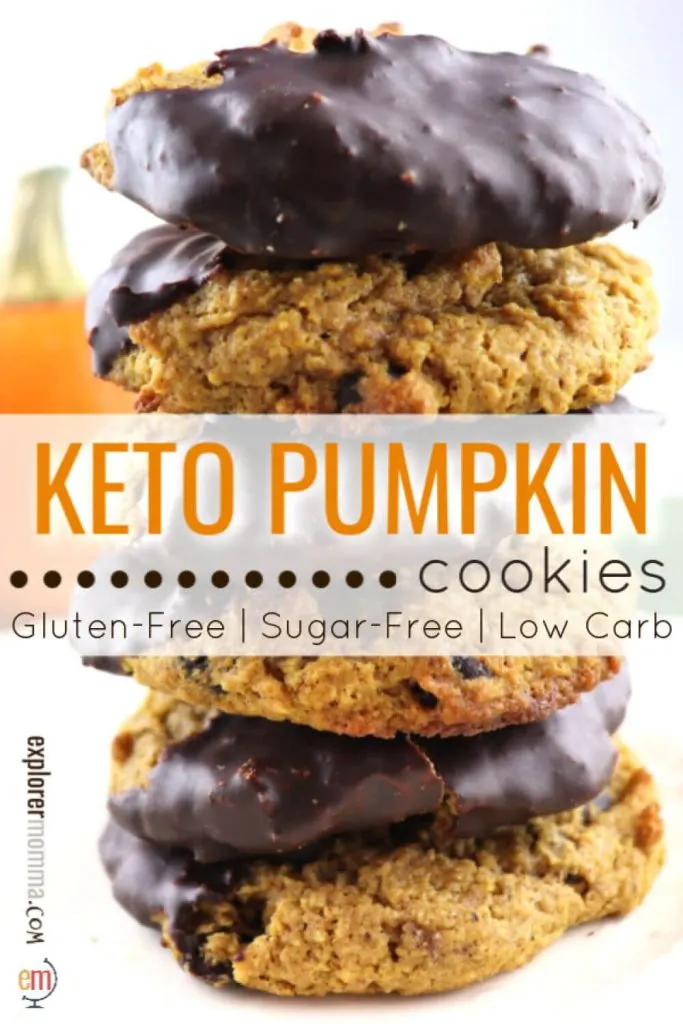 Home-grown pumpkin
As I said, I love a good home garden and grew up having one every year.
Every year, the garden produced pumpkins, cucumbers, tomatoes, and the random blueberry – my father was and still is the mastermind behind it all. In addition, he is one of the most organized people you will ever meet, and his gardens are always well-planned, automatic drip-line watered, and well-taken care of.
I learned to love my garden from him, but my organization and follow-through are definitely not quite on par with his!
Nevertheless, we have a respectable garden each year. I enjoy getting to pass that tradition and love for growing things to my own kids.
This year, we're growing organic winter luxury pie pumpkins, zucchini, tomatoes, cucumbers, and more than I should probably try to fit in our small garden! The kids are home for the summer, so I'm trying to teach them how much fun gardening can be.
I love having homegrown organic pumpkins to make pumpkin puree. If you don't have a garden or your local grocery store doesn't carry them, a good canned organic pumpkin puree will do in a pinch.
If you'd like to see what I like to grow in a keto-friendly garden see the article here.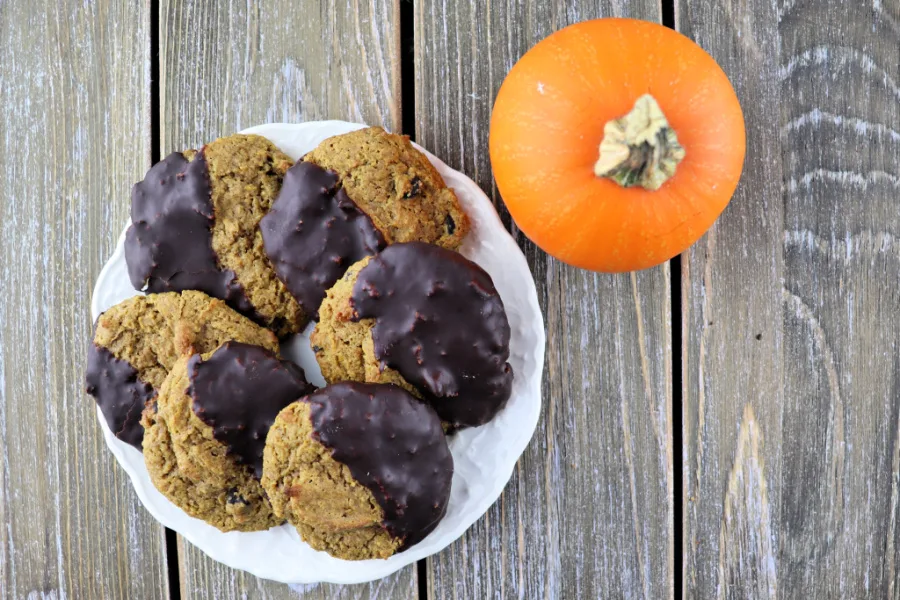 🎃 How to make pumpkin puree
So how do you make your own pumpkin puree for keto pumpkin cookies? Actually, it's super-easy but can be hugely impressive.
First, all you do is cut the pumpkin (we call them pie pumpkins) in half. Remove the gooey insides and scrape with a spoon. Save the seeds if you like and salt and toast those to snack on later!
Second, place each pumpkin half open-side down on a baking sheet. They're placed this way so the air and moisture are trapped inside the pumpkin to steam as it bakes.
Then place the baking sheet with pumpkin halves in a 350 degree (Fahrenheit) preheated oven for about an hour.
To test the pumpkin, pull it out of the oven and lightly tap on the outside skin. The inside pumpkin flesh should be soft and start to fall away from the skin. Next, turn the pumpkin halves over and spoon the soft pumpkin insides into a good blender or food processor.
Last, process for about 40 seconds until it becomes a smooth pumpkin puree.
If you use a blender you may have to push the pumpkin down into the blades several times to completely process. Just be sure to turn off the blender to do this unless it has a special tamper for that purpose!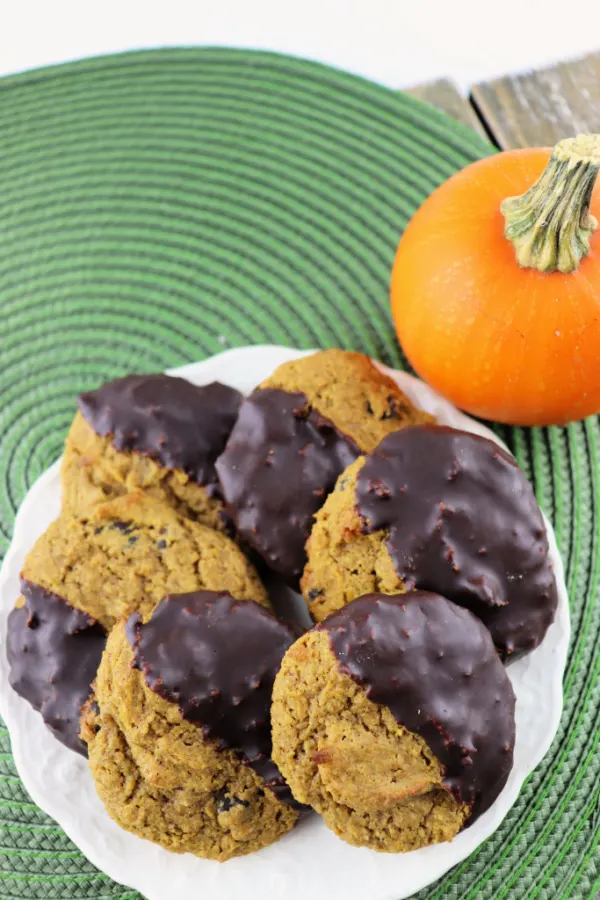 It's the Great Pumpkin! He's rising out of the pumpkin patch!

– Charlie Brown, Charles M. Schulz
How to store the pumpkin
Move the pumpkin to a large bowl and use it immediately or store it in an air-tight freezer bag. In the refrigerator, it will last about a week and in the freezer, I would say it's good for about three months.
I may have been known to use up all of last year's frozen pumpkin right before the new crop comes in. I know, I know, it's not the best plan for the ideal flavor to leave it in the freezer that long. However, it can be done.
Are pumpkin cookies keto?
These gluten-free pumpkin cookies are low carb and keto-friendly too. How many carbs are in a serving? If one recipe makes twenty-four keto pumpkin cookies, one pumpkin spice cookie is a serving.
One low carb keto pumpkin cookie contains 2 grams of protein, about 1 g net carbs, and 126 calories.
(Pssst! These cookies calories are completely worth it!)
These Nutrition Facts are according to MyFitnessPal.com. I highly recommend figuring your own macros in all your recipes using this or another app with the exact ingredients you use in your recipes and snacks.
That way it will give you the most accurate information and will help you keep within your personal macros on the keto diet plan.
🍽 Equipment
To make keto pumpkin cookies you'll need: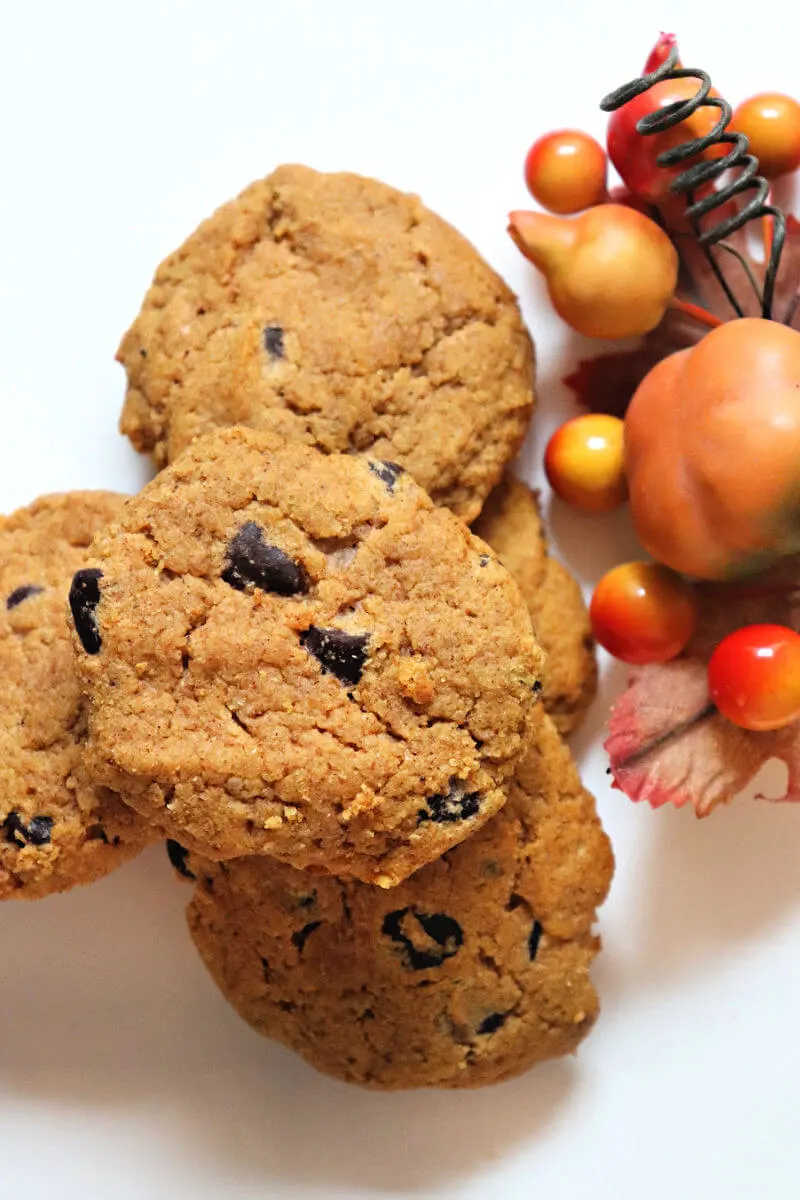 🥘 Ingredients in this keto pumpkin cookie recipe
melted butter (or coconut oil for dairy free)
powdered sweetener (such as Swerve Confectioners or your sweetener of choice)
pure pumpkin puree
large eggs
vanilla extract
salt
xanthan gum
finely ground blanched almond flour (not almond meal)
baking powder
cinnamon
pumpkin pie spice
When you select the ingredients for any keto recipes, choose the best quality ingredients. Remember, organic and all-natural is the keto way and keto snack foods don't have to cost a lot of money if you shop around. Your health is worth it.
🔪 Instructions
How to make keto pumpkin cookies
As always, begin by gathering all the ingredients and equipment needed for the low carb pumpkin cookies.
Next, preheat the oven to 325 degrees Fahrenheit and get out two baking sheets. Line each cookie sheet with parchment paper or silicone baking mats.
Now, use a hand or standing mixer with a large mixing bowl to blend together the wet ingredients including the butter, sweetener, pumpkin purée, and vanilla extract.
Then, add in the eggs one at a time, beating to combine thoroughly after each addition.
After that, it's time to add the dry ingredients! Measure in the fine almond flour, baking powder, salt, cinnamon, and pumpkin pie spice. Start on a slow speed and mix until the dough starts to come together and the ingredients combine. Next, sprinkle the xanthan gum evenly over the mixture and beat to combine.
Now, stir in the chocolate chips and use a medium cookie scoop or tablespoon to drop balls of dough 2 inches apart on the lined baking sheet. Each keto cookie dough ball should be about a rounded tablespoon.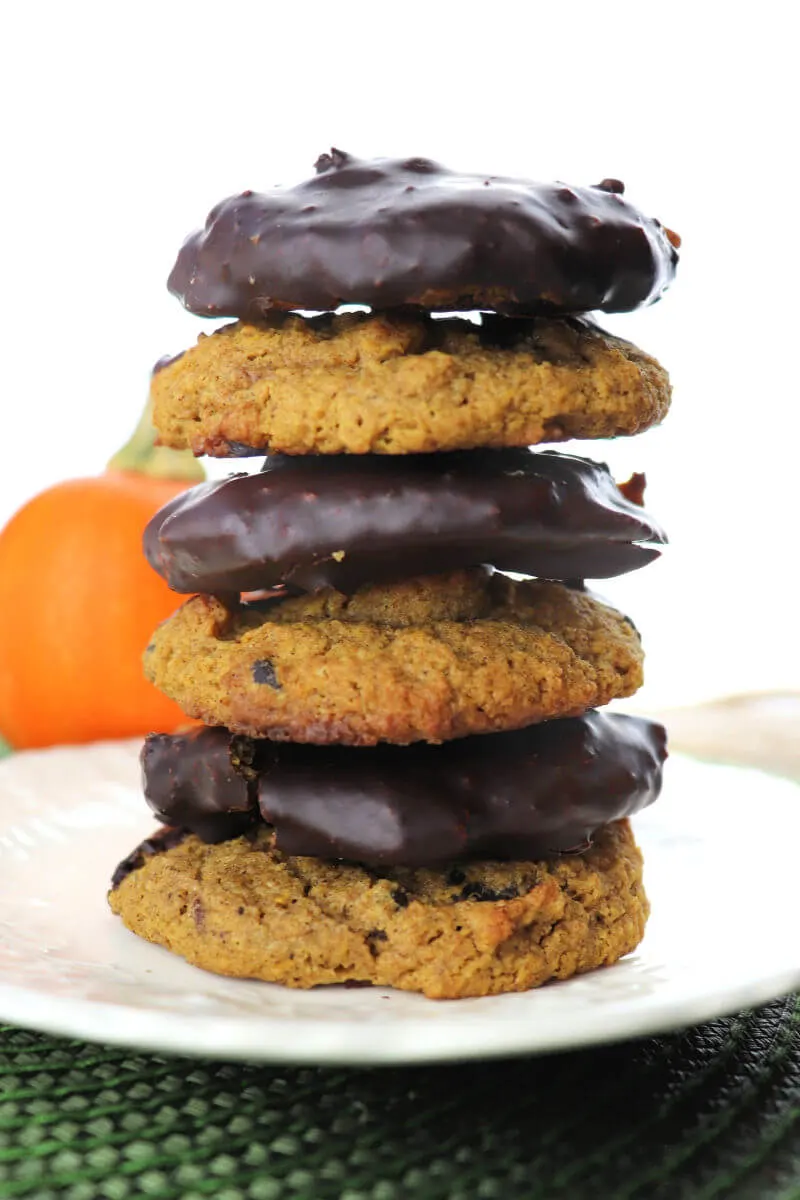 ⏲ Baking time for soft keto pumpkin cookies
Bake the low carb pumpkin cookies 12-14 minutes or until golden brown and done. Don't be in a rush to take them off the pan! Let the cookies cool on the pan for five minutes before removing them to a rack. Use a thin metal spatula or spreader to carefully lift each keto pumpkin cookie off without breaking it apart at all.
💭 Top tip for low carb pumpkin cookies
Let the cookies cool on the pan for at least 20 minutes. Use a thin metal spatula or spreader to carefully lift each keto pumpkin cookie off without breaking it apart at all.
Then remove them to the rack to cool completely. Otherwise, they are likely to fall apart as is the case with most baked goods made of almond flour. I suggest cooling well with any gluten-free cookie recipe.
Optional toppings for low carb pumpkin cookies
After the cookies have cooled, melt an additional half cup of sugar-free chocolate chips in the microwave for thirty seconds at a time, stirring after each session.
Once they're completely melted, dip the cooled cookies halfway in the melted chocolate and then return them to the cooling rack to set. Yum!
or
These soft pumpkin cookies taste amazing with just the right amount of sugar-free cream cheese frosting. Use this Easy Keto Cream Cheese Frosting recipe or your other favorite softened cream cheese icing or topping. There are so many ways to tweak these delicious recipes for a grain-free version of the original pumpkin cookies. Get creative!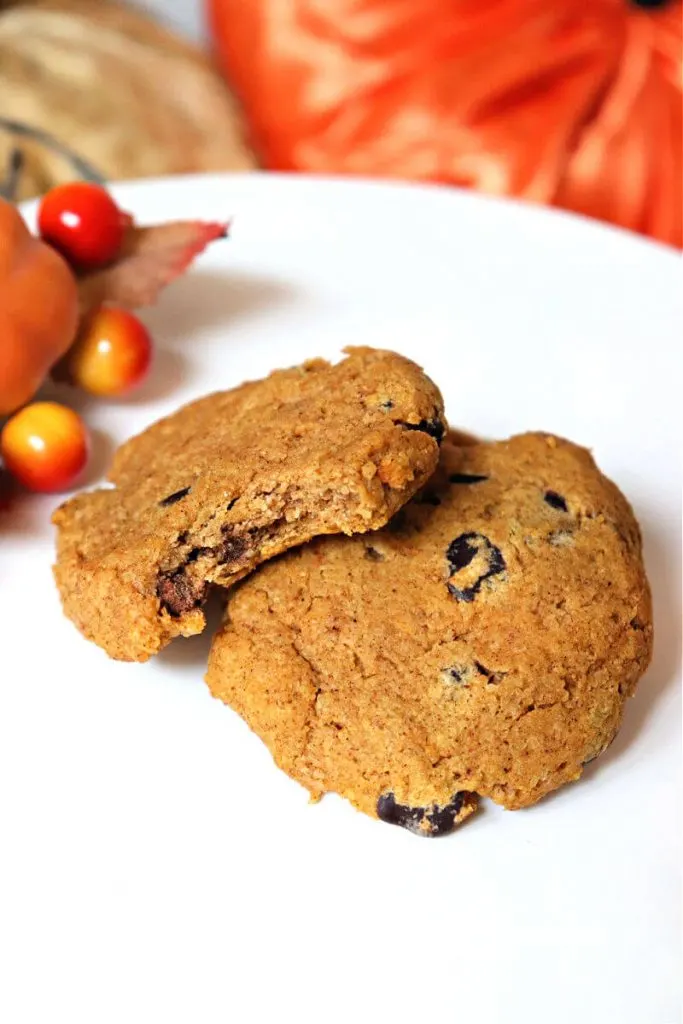 What do you get when you drop a pumpkin? Squash.

– Unknown
How to store low carb keto pumpkin cookies
If the pumpkin cookies are not all eaten immediately, they can be kept in the refrigerator in an airtight container for up to about a week. They can also be stored on the counter in an airtight container; however, they will last longer in the refrigerator.
In the freezer, these cookies will last for about three months if stored properly. To freeze the pumpkin gluten-free low carb cookies, make sure to wrap them individually in parchment paper or plastic sandwich bags and then place all of the wrapped keto treats into a freezer bag.
To thaw the cookies, leave one or more overnight in the refrigerator.
Can you make these pumpkin cookies paleo?
What is paleo? I've had more questions lately about how to make my recipes paleo. A paleo diet is one that excludes all dairy, legumes, grains, and sugar. The only sweeteners allowed are honey, maple syrup, or coconut sugar in most paleo versions of baking recipes.
To make paleo pumpkin cookies, coconut sugar would work for the sweetener. Also, be sure to use coconut oil instead of butter. So yes, these keto pumpkin cookies can be made completely paleo!
Can I make a double batch?
This recipe can be doubled. Simply double all of the ingredients for keto pumpkin cookies, as listed on the recipe card. Be sure all the ingredients mix thoroughly.
The more the merrier for a keto diet crowd or for your personal emergency keto cookies stash in the freezer.
Pumpkin spice and the seasons
I love these cookies because, one, they're packed with pumpkin spice and taste fabulous. Two, they transition well from fall to Christmas. Although, I could really just eat them at any time.
Do you continue to eat pumpkin at Christmas? We always have a pumpkin pie and sometimes a pumpkin cheesecake for Christmas day, amongst the other desserts and low carb recipes. And why not?
Indeed, pumpkins are really an all-year cycle in my life. In spring, I look at the seed catalogs and plan the garden. Then, I plant the garden. After that, we move into summer and tend and watch the pumpkins grow.
In fall, you harvest the pumpkins and carve the large ones. Then I love to plan all the fall pumpkin low carb desserts for the winter season and holidays. Personally, I could eat keto pumpkin recipes any time of year.
Low carb keto recipes
So, there you have it. Here's to the fabulous and versatile pumpkin!
I can't think of a better way to celebrate fall than with these healthy and delicious keto pumpkin cookies. Whip up this recipe for your next holiday gathering, or any time you feel like indulging in something sweet without the guilt! These easy spiced keto pumpkin cookies are made from wholesome ingredients that everyone will love – no one will ever know they're sugar-free.
This is a great trick if you want to indulge but don't want anyone knowing about it. Whether you make them as an after-school snack on busy days or whip some up ahead of time to put on the table at Thanksgiving dinner, there's never been a more perfect low carb dessert option!
Pin the recipe here!: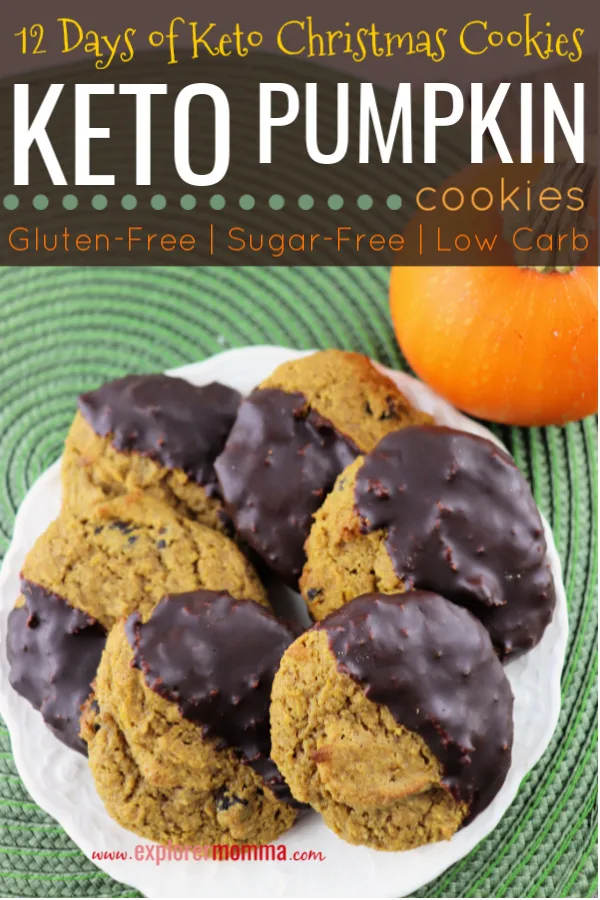 If you make this recipe be sure to tag me in your pics on Instagram @explorermomma give us a follow!
If you LOVE this delicious low carb recipe please consider giving it a five-star rating in the review area below. What are your favorite keto pumpkin recipes?
Need more Christmas cookies and dessert cuisine? Is that a thing – dessert cuisine? Why not!? These are some of my favorites!
🥣 More keto cookies
Pumpkin Cookies
Keto recipe card: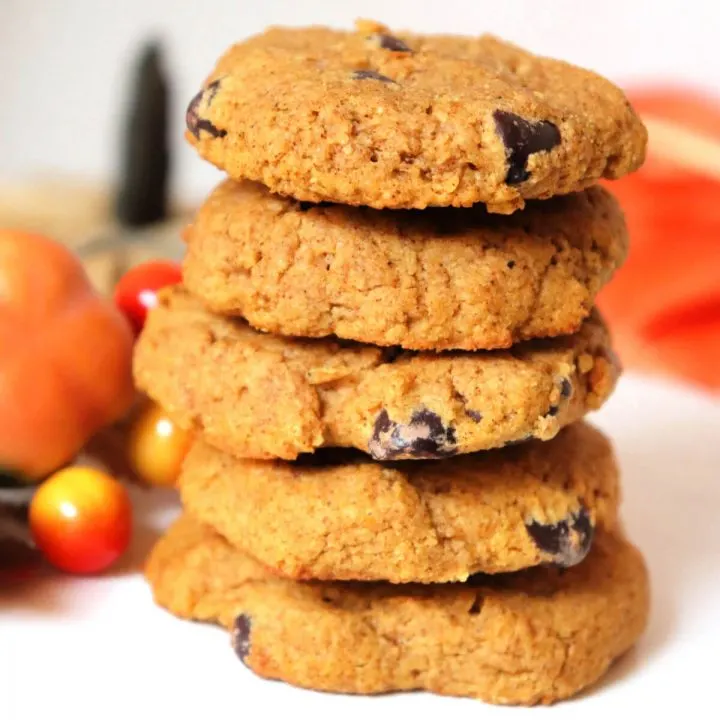 Best Easy Keto Pumpkin Cookies
Keto pumpkin cookies combine awesome cinnamon and pumpkin spice with chocolate all in a neat low carb bundle. These fall and Christmas treats are kid-approved and sure to please!
Ingredients
8 tbsp melted butter
3/4 cups pumpkin puree
2 eggs
2 tsp vanilla extract
1/2 tsp salt
1 tsp xanthan gum
2 1/2 cups finely ground almond flour, blanched
2 tsp baking powder
1 tbsp cinnamon
1 tbsp pumpkin pie spice
Instructions
Preheat the oven to 325 degrees Fahrenheit and prepare two baking pans with parchment paper or silicone baking mats.
Use a hand or standing mixer to blend together the butter, sweetener, pumpkin purée, and vanilla extract.
Add the eggs one at a time, beating to combine thoroughly after each.
On top of the blended wet ingredients pour in the almond flour, baking powder, salt, cinnamon, and pumpkin pie spice. Mix together slowly until the dough starts to come together.
Sprinkle the xanthan gum evenly over the mixture and beat to combine.
Stir in the chocolate chips
Drop balls of dough about a tablespoon each, 2 inches apart from each other on the baking sheets. Press down to shape.
Bake 12-14 minutes or until done.
Let the cookies cool on the pan for at least 20 minutes before removing to the cooling rack.
Optional: Melt an additional half cup of sugar-free chocolate chips in the microwave for thirty seconds at a time, stirring after each time. Once completely melted, dip the completely cooled cookies half-way in the melted chocolate and return to the cooling rack to set.
Nutrition Information:
Yield:

24
Amount Per Serving:
Calories:

126
Total Fat:

8g
Unsaturated Fat:

0g
Carbohydrates:

3g
Net Carbohydrates:

1g
Fiber:

2g
Protein:

2g
*Nutrition Facts per MyFitnessPal.com. For most accurate facts, calculate your own with the exact ingredients you use in the recipe.
Nutrition Disclaimer
Please be aware I am not a medical specialist or nutritional professional. On this blog, I share recipes and what works for me. Please do not take anything on this blog as medical advice and always consult with your doctor before starting any diet or exercise program.
I use MyFitnessPal.com to calculate nutrition facts as a courtesy to my readers, and I remove erythritol and sugar alcohols from the final carb count and net carb count because they do not affect my own blood glucose levels or spike my blood sugar.
This is as accurate as possible, but it's best to independently calculate nutritional information on your own with the specific ingredients you use. I expressly disclaim any and all liability of any kind with respect to any act or omission wholly or in part in reliance on anything contained in this website.