Peanutty salty and sweet, keto peanut brittle is the perfect low carb holiday candy. An easy and delicious sugar-free dessert for the next Christmas party.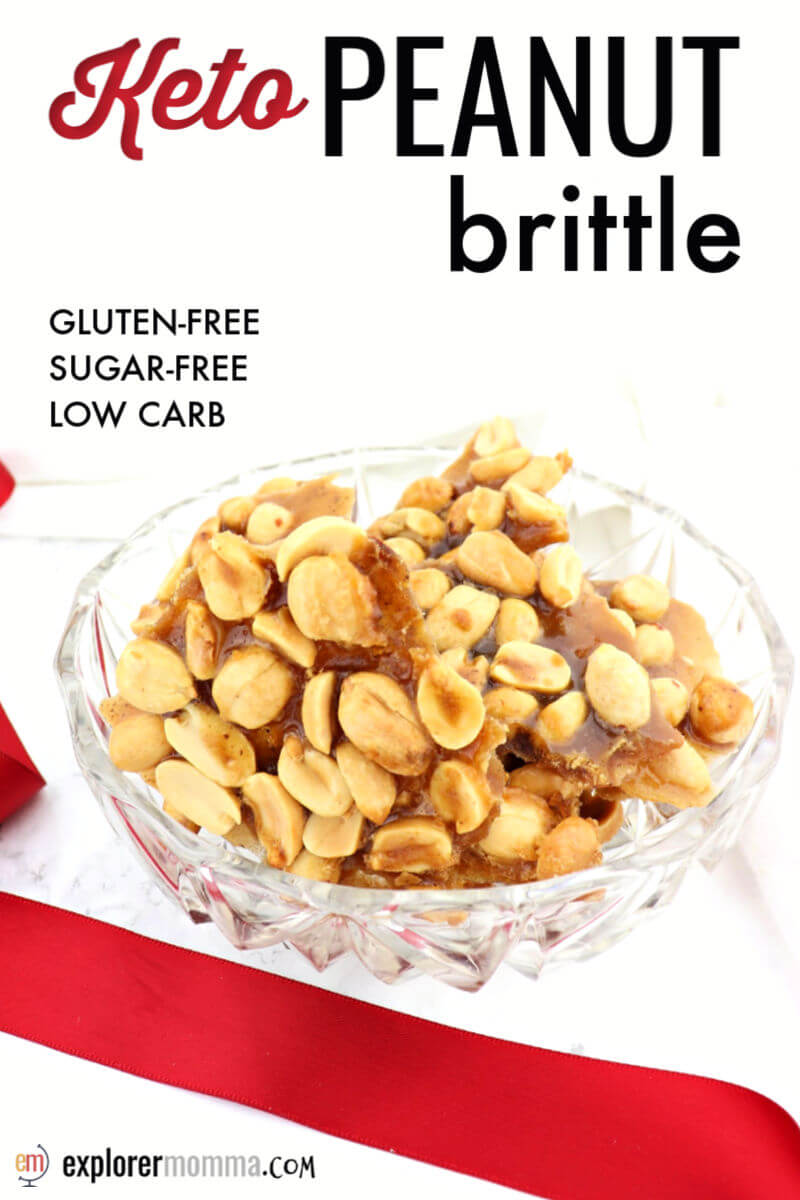 This post may include Amazon or other affiliate links. As an Amazon Associate, I earn from qualifying purchases.
Truthfully, when peanut brittle comes to mind I think of a couple things. First, the smell and salty sweetness makes me think of a circus or a carnival. Not the everyday summer rides that come to town, but a fantastic production of a circus with all the smells and amazement of childhood.
If you don't have a memory to go with those sights and smells, read The Night Circus by Erin Morgenstern.
Because it's a rather fabulous book.
Yes, it's exactly the mood in which I like to imagine a peanut brittle.
Second memory, peanut brittle reminds me of Christmas parties. We didn't often have it at our house. However, I had several friends growing up whose families religiously made the stuff, gave it as gifts, and made it a part of their holiday traditions.
Either way you picture it, I love peanut brittle. Moreover, as a treat I am all over a sugar-free keto peanut brittle. I just have to make sure it's for a group or in the freezer so I don't go and eat the whole batch!
In a hurry?
While I think you'll love my super helpful tips and fun stories, I also realize we are sometimes pressed for time and just need a good recipe!
Scroll down to the bottom of the page for the printable recipe to make it NOW or PIN it here for later! Add it to your holiday recipes!
🍽 Equipment
To make keto peanut brittle you'll need: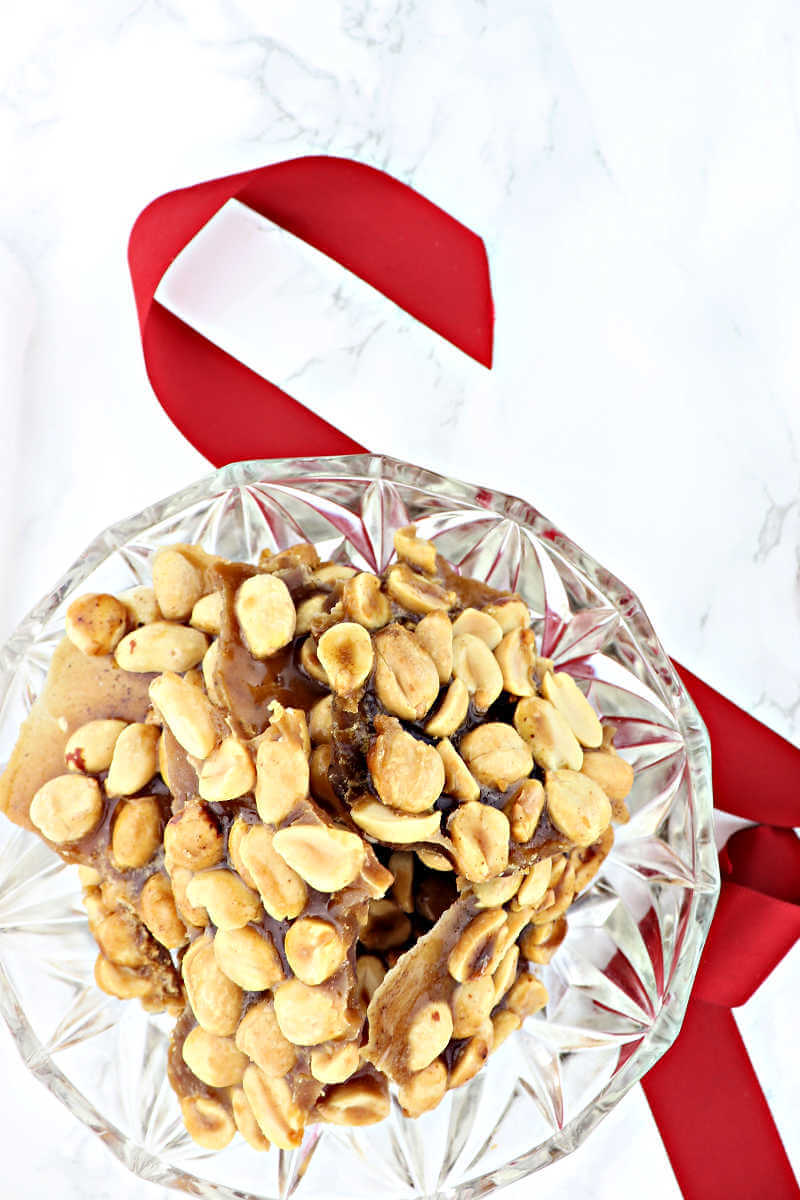 💭 Top tips
For the best keto peanut brittle
The biggest challenge I found with a sugar-free peanut brittle recipe was how to get the signature brittle without being grainy.
I tried several different sweeteners and found the best to be a powdered sweetener such as Swerve Confectioner's. If you don't have powdered on hand, I have a great tip for you!
Tip #1
To make powdered sweetener from a granular sweetener, grind it set on fine in a coffee grinder.
My daughter prefers the taste of Lakanto Monk Fruit sweetener, but I don't often have the powdered version on hand.
It's super-easy to pour in the coffee grinder, set, and boom! Ten seconds later you have powdered sweetener, appropriate for candy.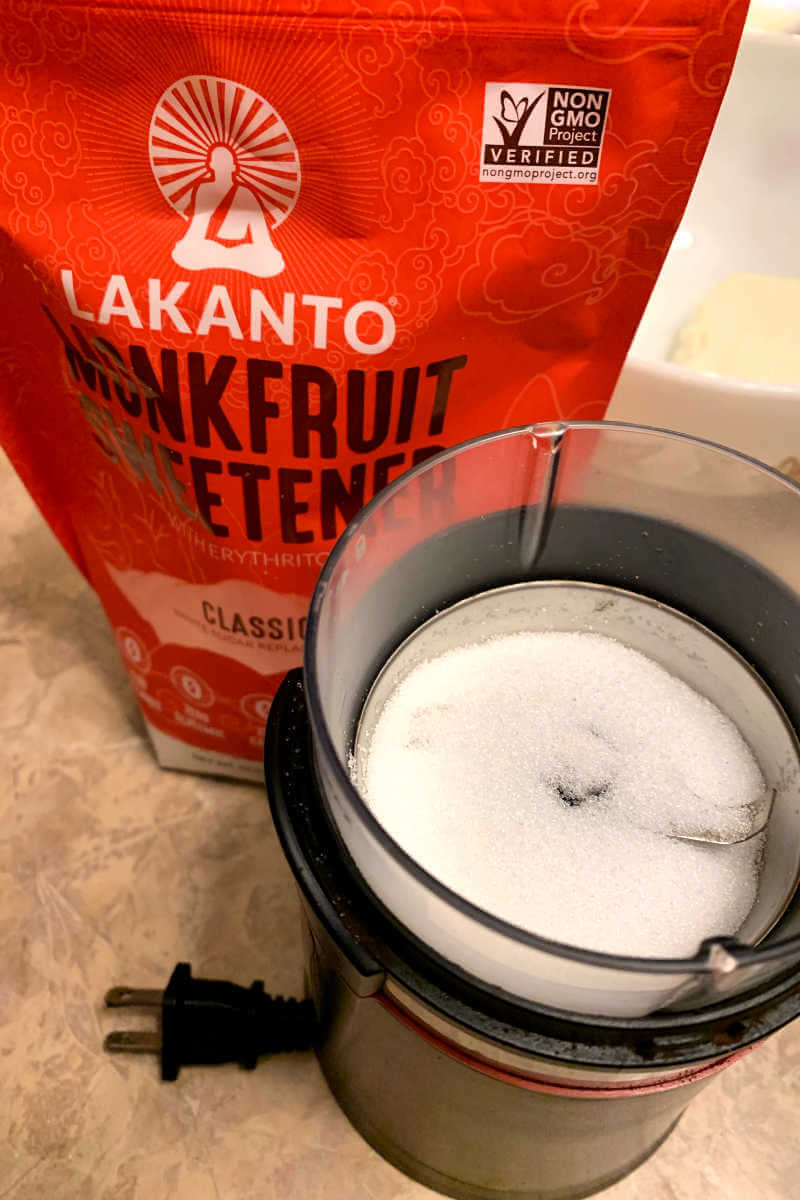 Tip #2
For a more candy-like texture to the brittle, add one tablespoon of yacon syrup to the butter and sweetener.
Yacon is a sweetener I use from time to time. It comes from high up in the Andes Mountains where exists a plant with tuberous roots called the yacón plant.
The sweet syrup is extracted from the roots in a process somewhat similar to that of maple syrup. In South America, it's believed to have many medicinal purposes such as improvements in diabetes, kidney and digestive disorders, and weight loss.
It will add slightly to the carb count, and I suggest using it sparingly, but it is a good option in this recipe.
Tip #3
Keto sweetener does not crystalize the same way sugar does, therefore I rarely use a candy thermometer with keto peanut brittle.
The best way to heat to the correct temperature is to watch it carefully. I suggest 4-5 minutes, but there are many factors.
What is your elevation? How warm is it in your house? What's the size and thickness of your saucepan?
These and others affect candy making and also baking. Therefore, as I mentioned, my general rule is to boil on medium high for 4-5 minutes. However, keep an eye on it!
Continue to stir the mixture as it boils. Once it hits the right point you have to move quickly. The candy will start to turn slightly darker, and you will notice a change in aroma.
If you smell any burnt smell at all, you may have gone too far. Do not worry! You may be able to save it if you remove it from the heat quickly and complete the recipe.
I'm a peanut farmer at heart, still grow peanuts on my farm in Georgia.

– Jimmy Carter

Is Keto Peanut Brittle difficult to make?
I don't know about you, but when I used to think about candy-making, I thought of it as something incredibly difficult. Actually, I thought it was something only made in factories or by experts with high-quality, expensive candy-making equipment.
Add a sugar-free version to that with different ingredients, and it should be even more challenging, right?
None of this is true! In fact, you don't need any special equipment, and keto peanut brittle is a quick and easy recipe once you have all the ingredients out.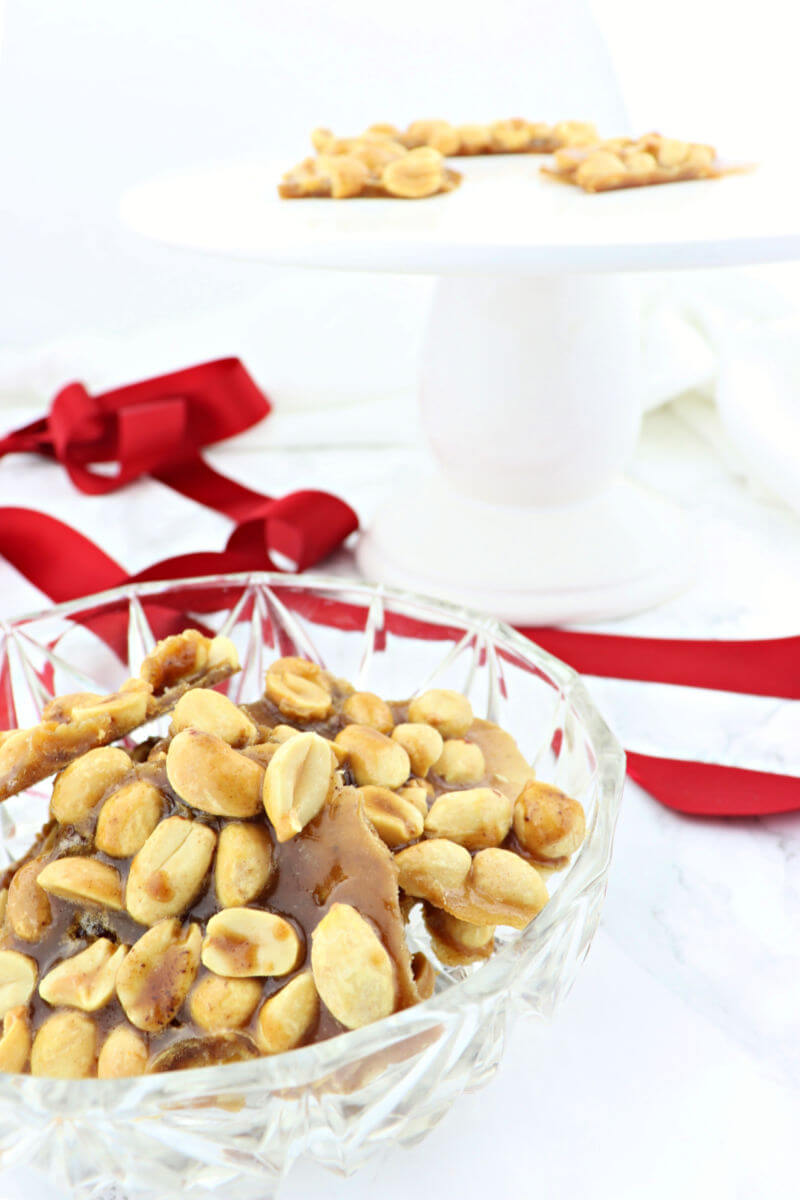 🔪 Instructions
How to make easy keto peanut brittle
I've emphasized this is a quick recipe. Yes, it is quick and easy, but this also means you have to be on your toes. At the ready. All systems go.
Don't worry, just be prepared and get out all the ingredients and measure them before-hand.
First, melt the butter in a thick-bottomed saucepan (with the yacon syrup if using) and stir in the powdered sweetener. Then bring the mixture to a boil on medium-high heat.
As I mentioned before, let it boil for 4-5 minutes or until the mixture turns a golden brown. Next, remove from the heat quickly as it can burn quickly at this point.
Now, quickly stir in the vanilla and peanuts and pour it all onto a greased baking pan. If you don't want to burn your hands, use two forks to spread the peanuts out evenly throughout the mixture.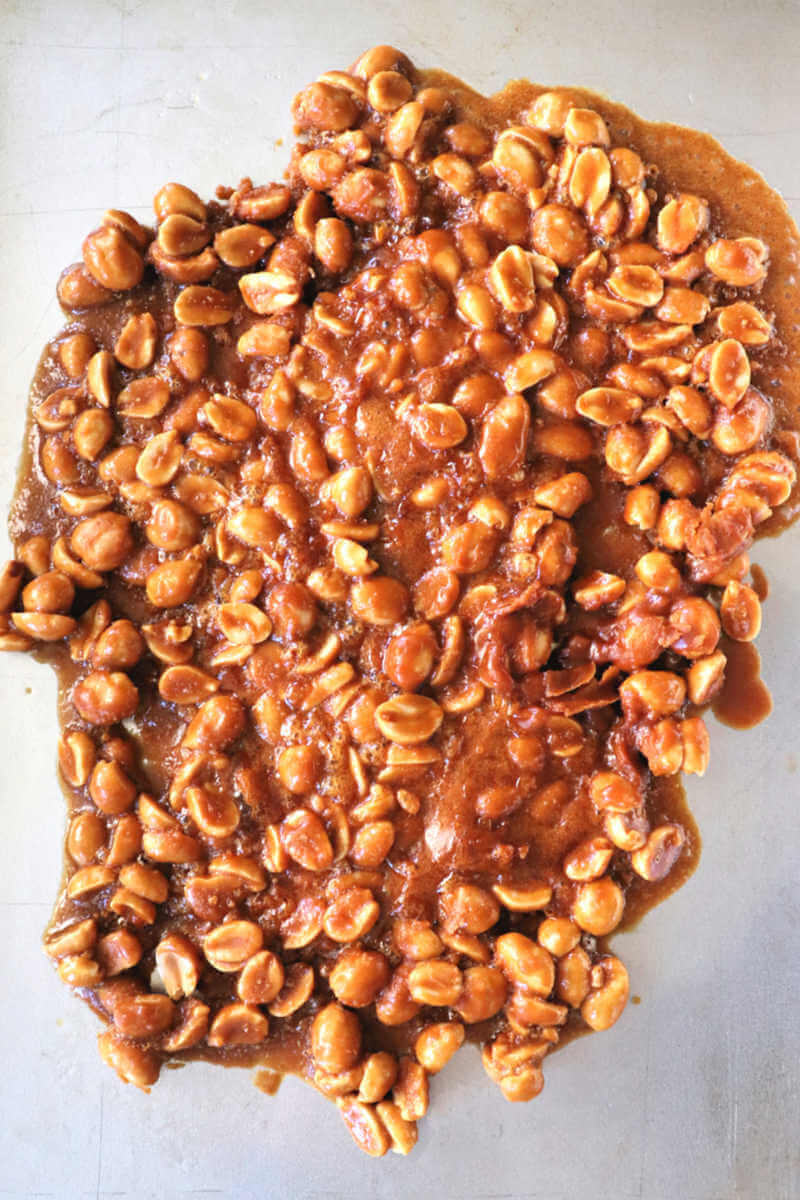 Guess what! You're practically done. Simply, let it sit for 30 minutes to an hour to harden. Lastly, break it up into pieces and enjoy.
🥣 How to store keto peanut brittle
Like many of my recipes, keto peanut brittle can be stored in an airtight container for up to one week in the refridgerator.
If you'd like to freeze it and get one piece out at a time, it will last up to about a month in the freezer.
Learn to do the common things uncommonly well.

– George Washington Carver
🍬 Keto dessert gifts
Keto peanut brittle makes a great gift for any friends on a keto or sugar-free diet. What better way to say you care than to provide a special snack they can actually eat around the holidays?
Sugar-free and gluten-free desserts can be hard to come by, but with some planning there are always better options available. Whether it's a keto chocolate mousse cake, keto butter spritz cookies, or keto peanut brittle, it's nice to have choices.
Enjoy the holidays my friends!
xoxo,
Lauren
Pin the recipe here: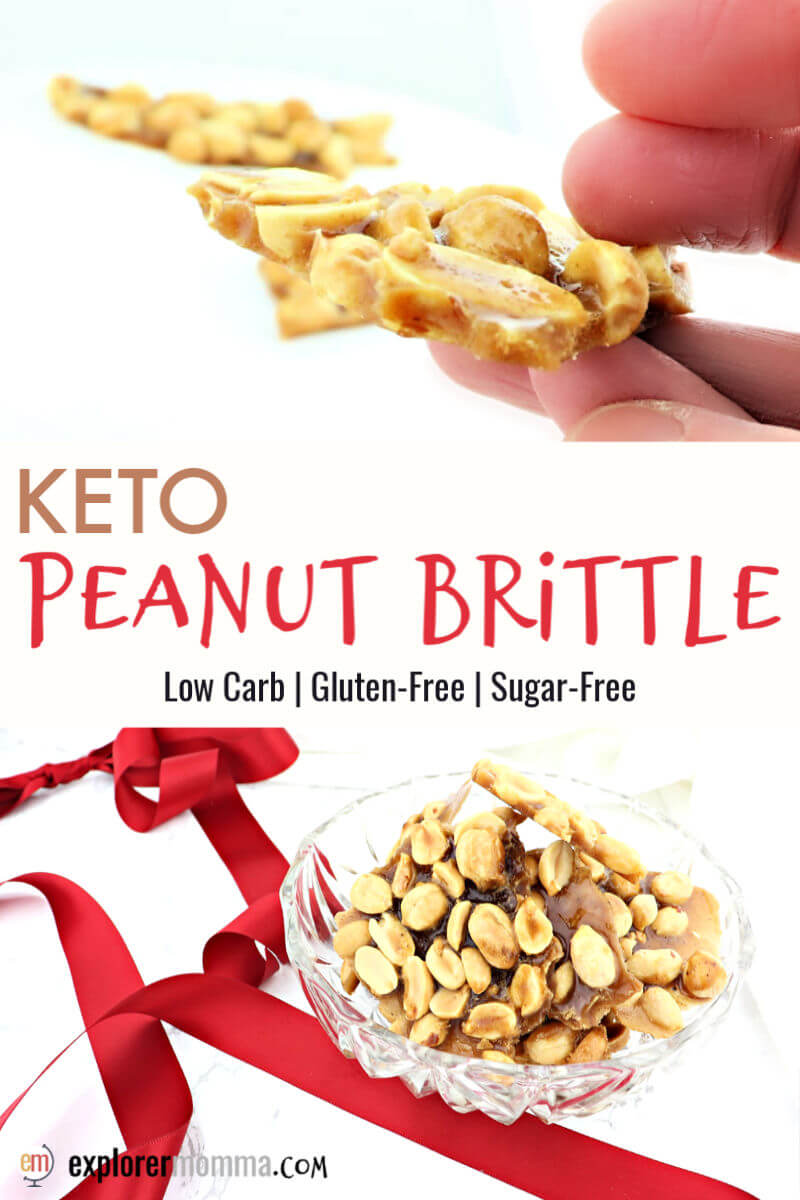 Tag me in your recipe pics on Instagram @explorermomma.
If you LOVE this recipe please consider giving it a five-star rating in the review area below!
🍮 More keto holiday dessert recipes
Printable Recipe:
Keto Peanut Brittle
Salty and sweet, keto peanut brittle is the perfect holiday low carb treat.
Ingredients
4 tbsp salted butter
½ cup powdered sweetener, (such as Swerve Confectioners)
1 tsp vanilla extract
1 cup roasted peanuts
1 tbsp yacon syrup (optional)
Instructions
Melt the butter in a thick-bottomed saucepan and stir in the powdered sweetener and yacon syrup (if using). Bring to a boil on medium-high heat.
Cook for 4-5 minutes or until the mixture turns a golden brown. Remove from the heat quickly as it can burn quickly at this point.
Stir in the vanilla and peanuts and pour onto a greased baking pan.
Let it sit for 45 minutes to an hour to harden. Break into pieces and enjoy!
Notes
Nutrition Facts
Servings 8.0 Amount Per Serving: 1/8 of recipe Calories 137 Total Fat 13 g Saturated Fat 5 g Monounsaturated Fat 5 g Polyunsaturated Fat 2 g Trans Fat 0 g Cholesterol 15 mg Sodium 46 mg Potassium 102 mg Total Carbohydrate 2 g Dietary Fiber 2 g Sugars 1 g Protein 4 g Net Carbohydrate 0 g
*Nutrition Facts per MyFitnessPal.com. For most accurate facts, calculate your own with the exact ingredients you use in the recipe.
**Nutrition Facts do not include yacon syrup.
Nutrition Information:
Yield:

8
Amount Per Serving:
Calories:

137
Unsaturated Fat:

0g
NUTRITION DISCLAIMER
Please be aware I am not a medical specialist or nutritional professional. On this blog, I share recipes and what works for me. Please do not take anything on this blog as medical advice and always consult with your doctor before starting any diet or exercise program.
I use
Myfitnesspal.com
to calculate nutrition facts as a courtesy to my readers, and I remove erythritol from the final carb count and net carb count because it does not affect my own blood glucose levels.
This is as accurate as possible, but it's best to independently calculate nutritional information on your own with the specific ingredients you use.
I expressly disclaim any and all liability of any kind with respect to any act or omission wholly or in part in reliance on anything contained in this website.