Here find a fabulous selection of delicious and sugar-free, gluten-free Keto Christmas cookies. They're low carb recipes perfect for holiday parties, family treats, or to eat sitting by the fire next to the Christmas tree!
It's that time of year once again. In fact, it's my favorite time of year. I love the snow and cold, the Christmas lights, holiday parties, concerts, and fun!
This post may include Amazon links. As an Amazon Associate I earn from qualifying purchases.
There's a scent of orange, clove, ginger, and fir trees in the air that just makes me smile.
In addition, there's the food! You can go anywhere without Christmas cookies or holiday goodies on offer.
Personally, it's hard for me to refuse so I've found it necessary to be prepared. Yes indeed! Prep your own treats to take for all at holiday gatherings. More and more I've found others who are completely relieved and thrilled to find a gluten-free or sugar-free option.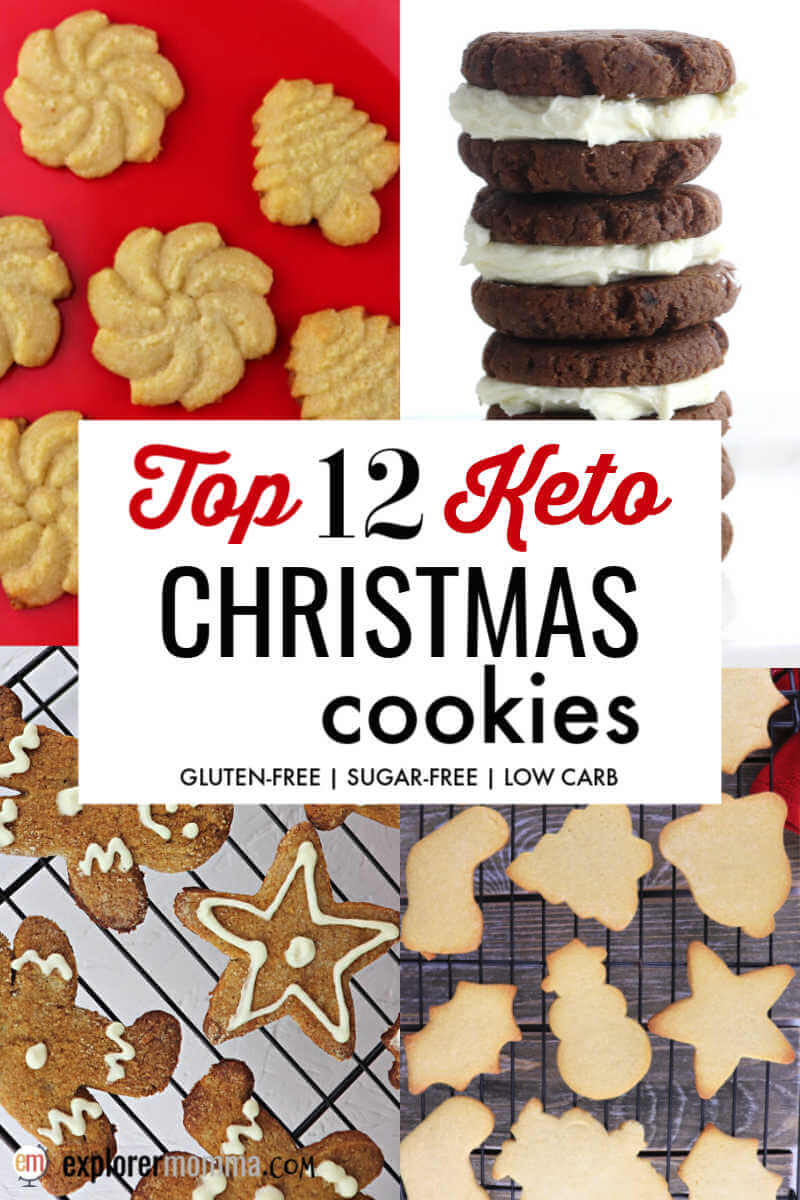 IN A HURRY?
PIN it here to save for later!
Keto Christmas Cookies: 12 Days
Are you ready for the 12 Days of Keto Christmas Cookies?
Now, I'm not saying you have to bake a different cookie for 12 days! Not at all. That would even be a little much for me.
However, why not pick out two or three recipes and give them a go this year? I'll tell you my favorites at the end.
1. Butter Spritz Cookies
Keto butter spritz cookies are the cookies you always remember with love from your childhood.
Did you too sneak one every time you ran by the plate at Grandma's house? That's my memory of them, and they're so simple and classic they're a hit with everyone.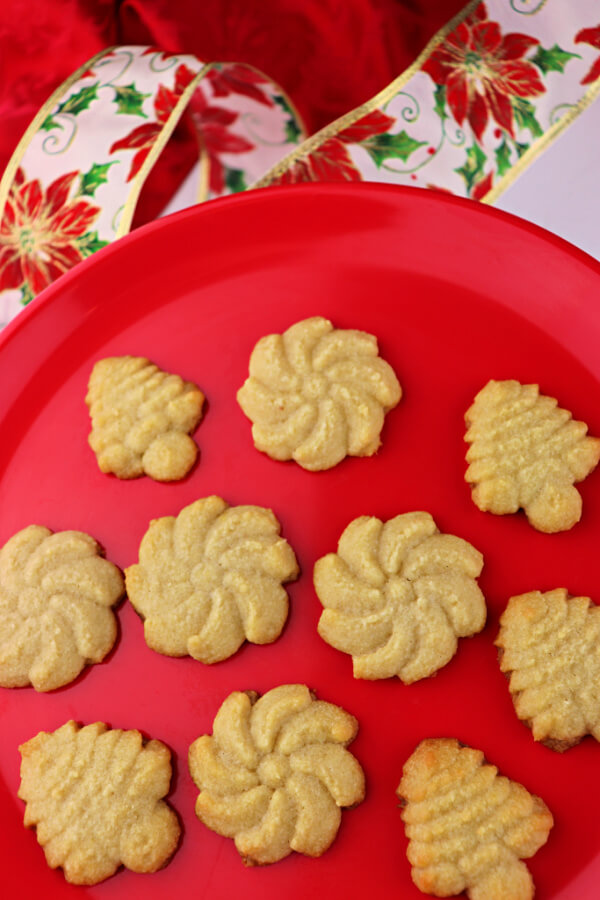 Full recipe and blogpost: Keto Butter Spritz Cookies
2. Coconut Macaroons
Traditional flavors of coconut, almond, and chocolate make these low carb treats a hit at our house. Keto Coconut Macaroons are delicious and at the same time sugar-free and gluten-free. Fabulous.
They will soon become one of your Christmas family traditions. Perfect for a family gathering or cookie exchange, these festive coconut balls are amazing for any season.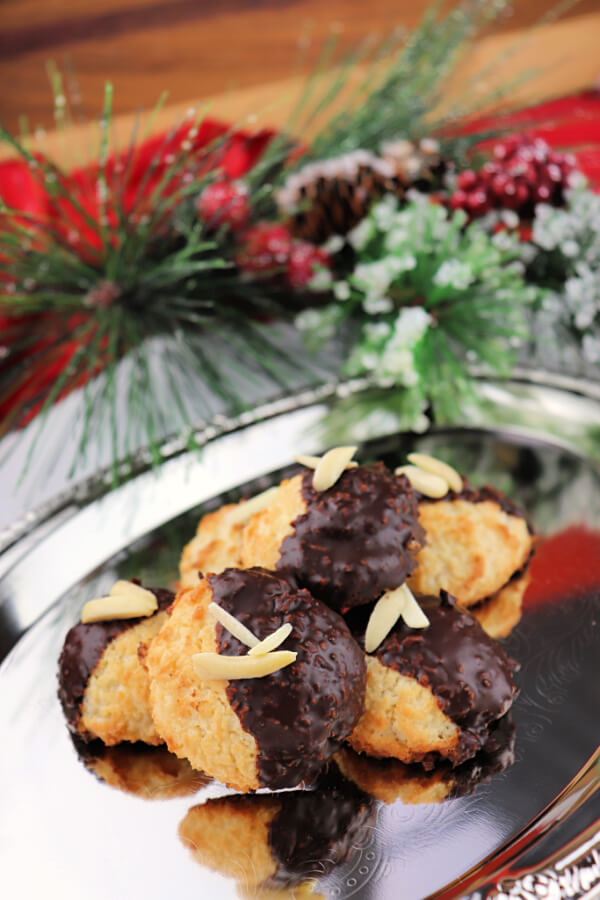 Full recipe and blogpost: Keto Coconut Macaroons
3. Gingerbread Cookies
Keto gingerbread cookies are a must around Christmas time! A good crunch, happy gingerbread man face, and a strong ginger flavor. Bonus! They're keto, gluten-free, sugar-free, and low carb.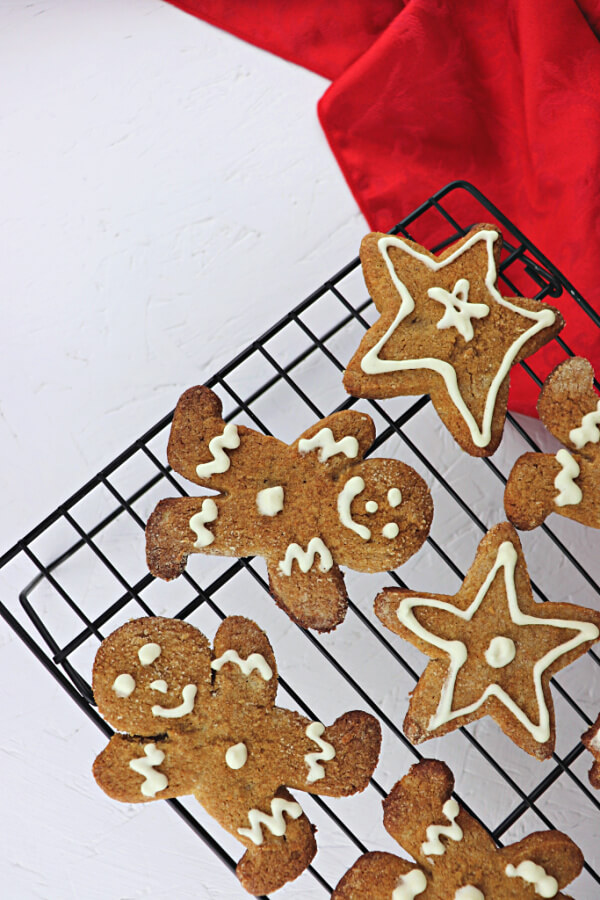 Full recipe and blogpost: Keto Gingerbread Cookies
4. Thumbprint Peanut Butter Cookies
Keto peanut butter cookies with a silky smooth chocolate thumbprint filling. This is my version of a peanut butter blossom cookie redone low carb and marvelous. Now really, chocolate and peanut butter, what could be better?!
This cookie branched us out a little, and you'll find instead of my go-to gluten-free almond flour I've opted for peanut butter and peanut powder in this recipe. Actually, I find it gives it a deeper peanutty flavor different than traditional peanut butter cookie recipes, and I love it!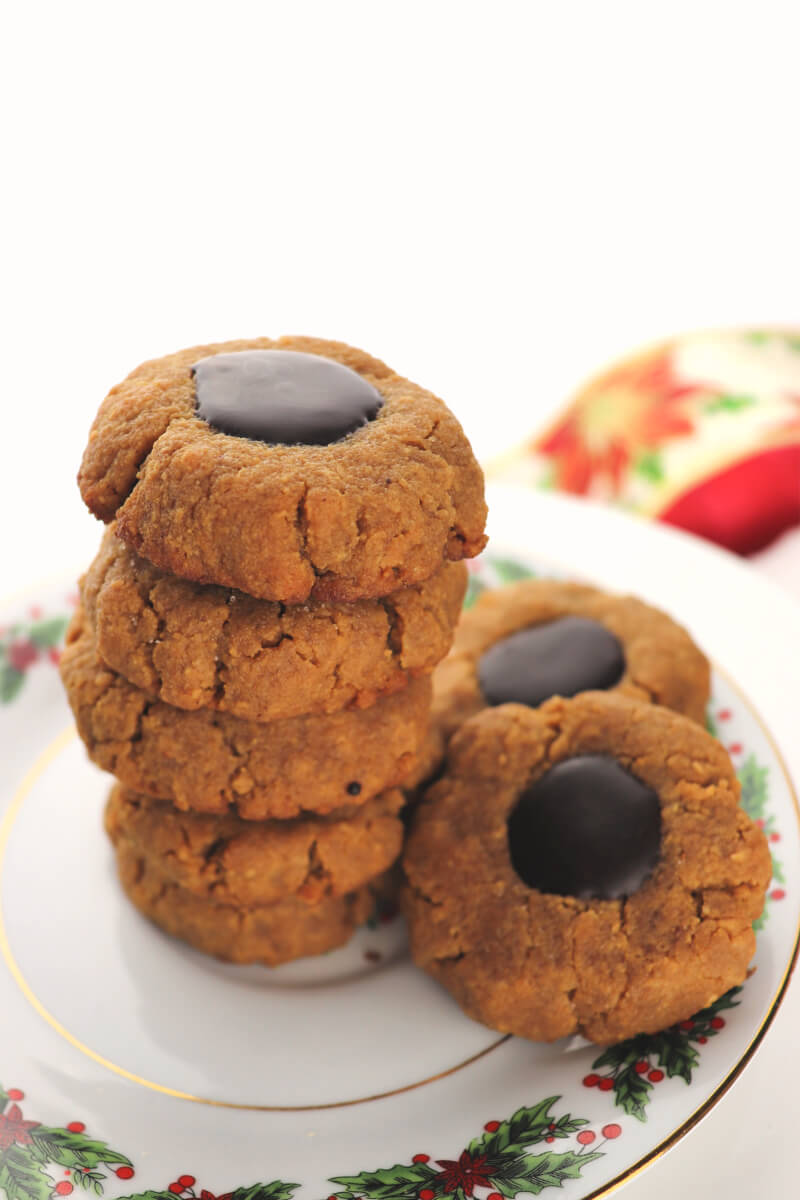 Full recipe and blogpost: Thumbprint Keto Peanut Butter Cookies
5. Low Carb Lemon Cookies
Creamy Italian mascarpone cheese lemon drizzle cookies are certainly my favorite low carb lemon cookies this year! The lemon citrus tang is the perfect compliment to other holiday cookies.
There's something about lemon and citrus flavors at Christmas that speak to tradition and a time when it was expensive and difficult to find citrus fruits in the winter, making them extra special. I love citrus and have a special place in my heart for lemon curd, and these cookies definitely satisfy that craving.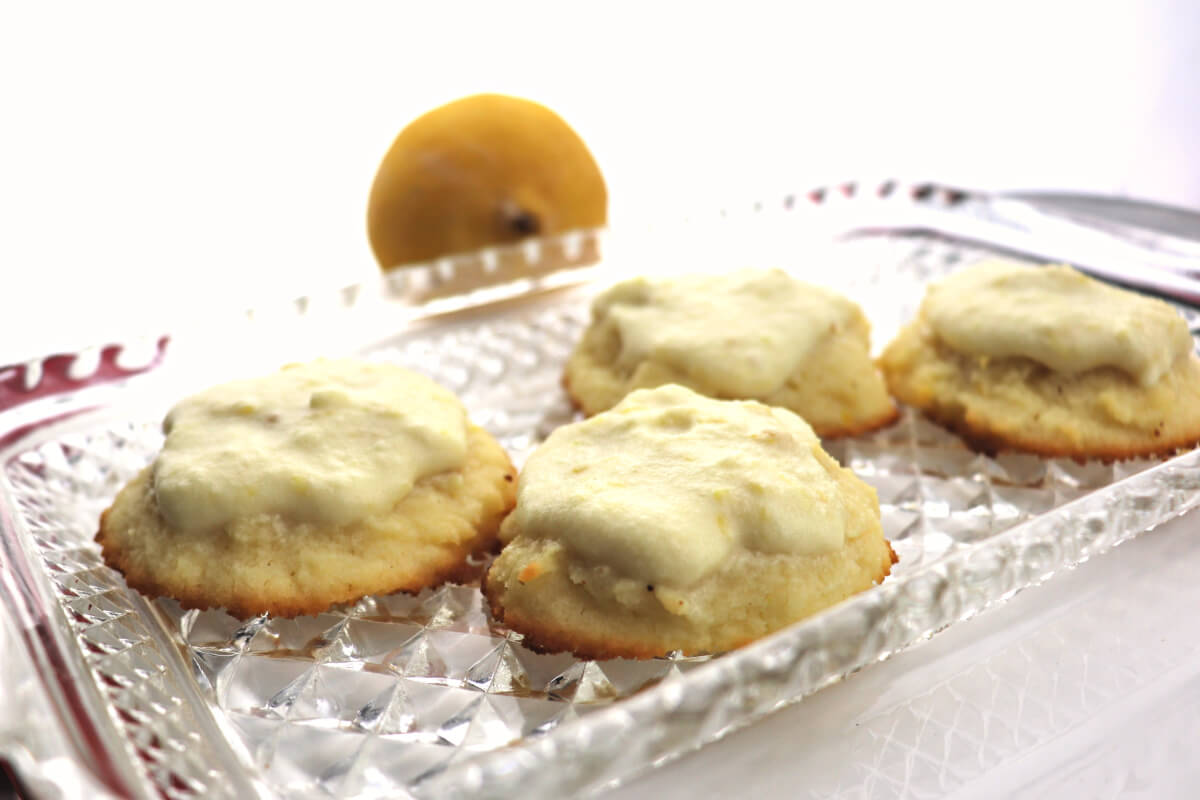 Full recipe and blogpost: Low Carb Lemon Cookies
6. Chocolate Truffles
Rich, chocolate coating melts in your mouth with the soft almond chocolate truffle middle. Go ahead, indulge in the magnificent low carb treat. Keto chocolate truffles are sure to please at holiday parties and family get togethers!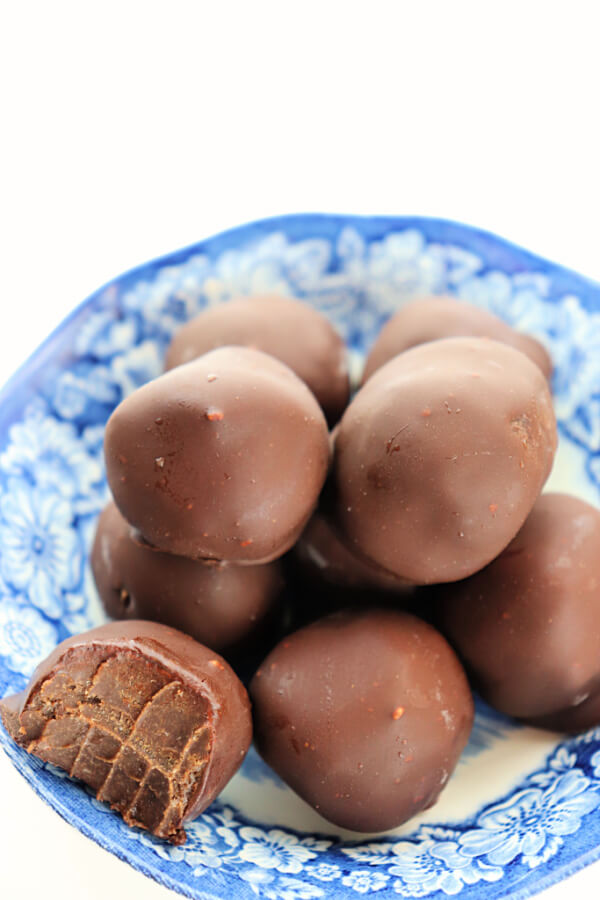 Full recipe and blogpost: Keto Chocolate Truffles
7. Cranberry Orange Shortbread Cookies
Brilliant Christmas flavors packed together in one melt in your mouth shortbread. Keto cranberry orange shortbread cookies are the perfect low carb addition to any Christmas dessert table.
The flavors in these keto cranberry orange shortbread cookies bring so many memories of Christmases past, Christmas in literature, the holidays in general.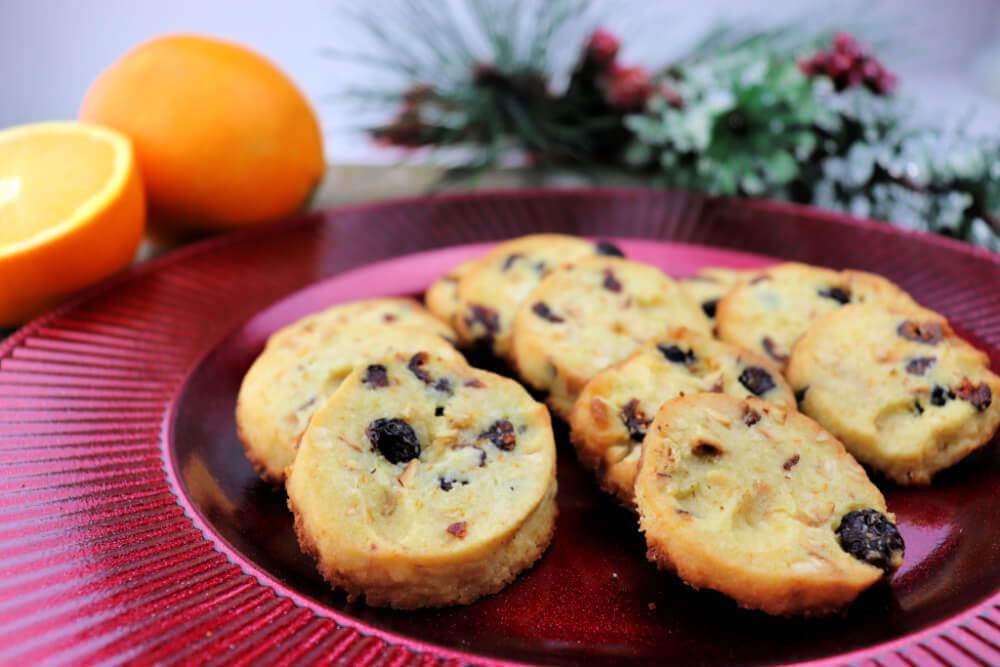 Full recipe and blogpost: Keto Cranberry Orange Shortbread Cookies
8. Pumpkin Cookies
Delicious keto pumpkin cookies will warm your heart and tummy with pumpkin spice and rich chocolate. A fabulous low carb, gluten-free cookie perfect for fall or any Christmas treat table.
Do you love the combination of pumpkin, spice, and chocolate? If you don't, well, I'm not sure we can be friends anymore.
Kidding. However, it's true pumpkin cookies are some of my favorites.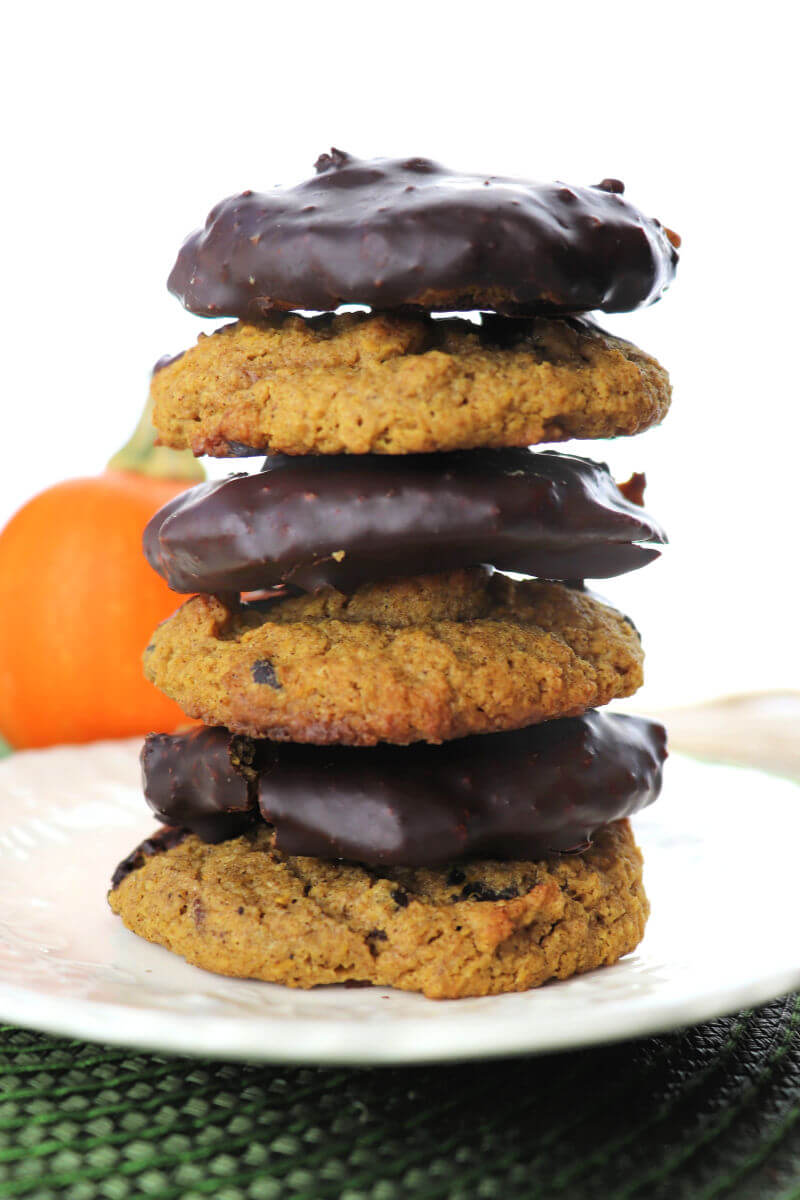 Full recipe and blogpost: Keto Pumpkin Cookies
9. Cut Out Sugar Cookies
Keto cut out sugar cookies are a must around any holiday! Buttery deliciousness and the perfect family activity. Kids love to roll these out and select the shapes. Frosted or not, these are the perfect Christmas cookies.
Keto cut out sugar cookies are a necessity in our household. In fact, I grew up on Grandma's cut out butter cookie recipe. They're my dad's favorite cookie at Christmas, and we've used the same cookie cutters since I was a small child. It's time for a keto option!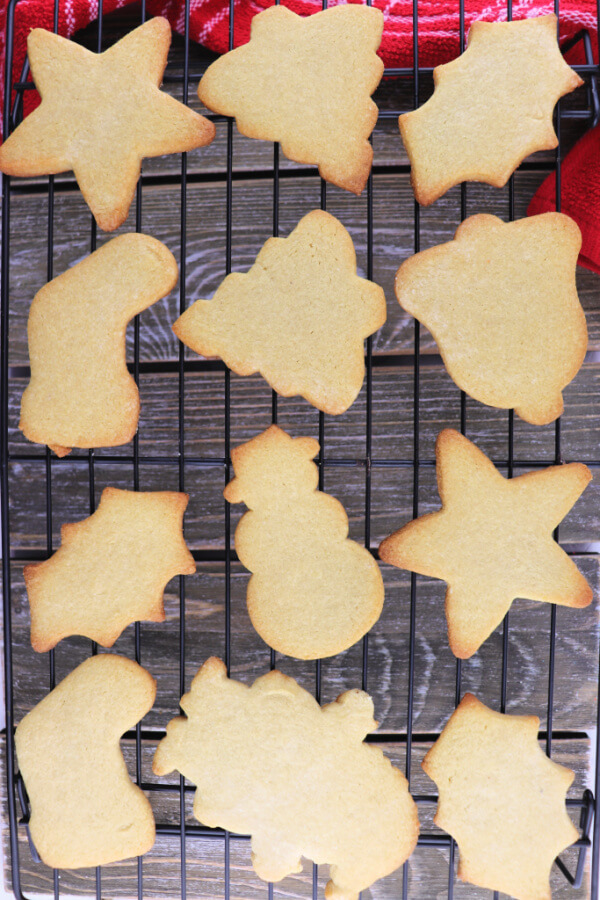 Full recipe and blogpost: Keto Cut Out Sugar Cookies
10. Low Carb Chocolate Pinwheel Cookies
With the perfect snap and texture, low carb chocolate pinwheel cookies are deliciously made of almond and coconut flours along with chocolate and other flavors. All the gluten-free goodness comes in a neat, perfectly swirled package perfect for Valentine's Day, Christmas, or afternoon tea!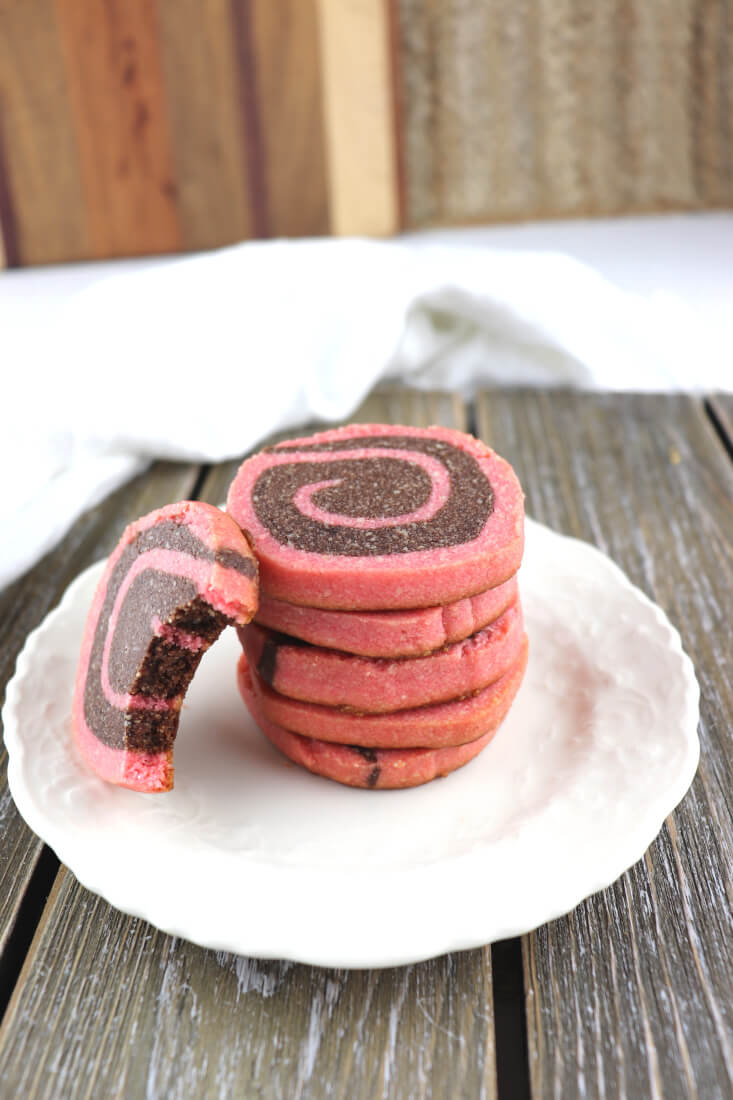 Full recipe and blogpost: Low Carb Chocolate Pinwheel Cookies
11. Butter and Jam Thumbprint Cookies
Buttery, delicious, and easy low carb cookies. What could be better or more kid-friendly? Butter and jam keto thumbprint cookies are melt in your mouth with a zing of strawberry in the middle.
These cookies flash memories of the bakery famous for them in my college town, a Mad-Hatter tea party, and a Christmas cookie exchange.
I do love the versatility of these cookies. The delicious almond flour buttery cookie can be filled with many things. I like to use a red jam such as strawberry or raspberry, but you could even use a sugar-free ganache or peanut butter.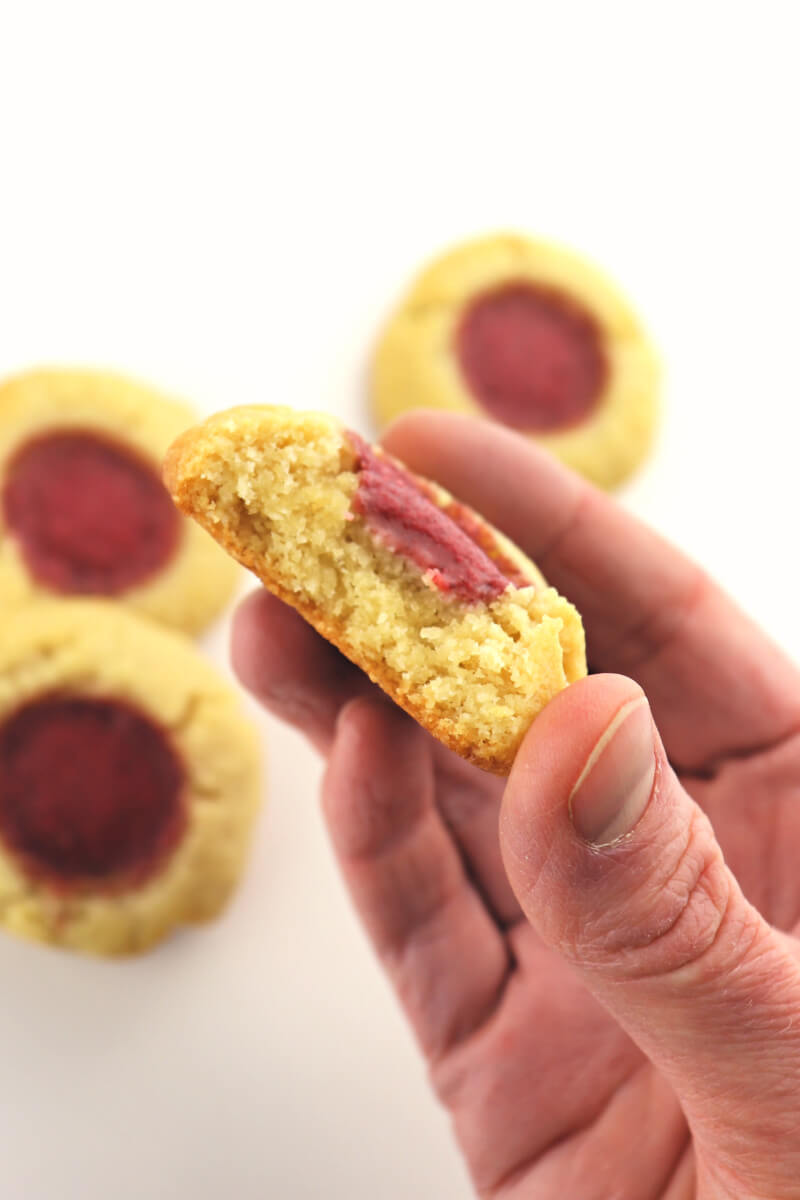 Full recipe and blogpost: Butter and Jam Keto Thumbprint Cookies
12. Keto Chocolate Sandwich Cookies
Soft and delicious keto chocolate sandwich cookies are the perfect holiday treat to satisfy dessert cravings! Low carb and gluten-free, a chocolate cookie sandwich filled with a creamy sugar-free cream cheese filling.
Also, to bump it up a notch around Christmastime, I like to add a 1/2 teaspoon of peppermint extract to the filling. Who doesn't like chocolate and peppermint at Christmas?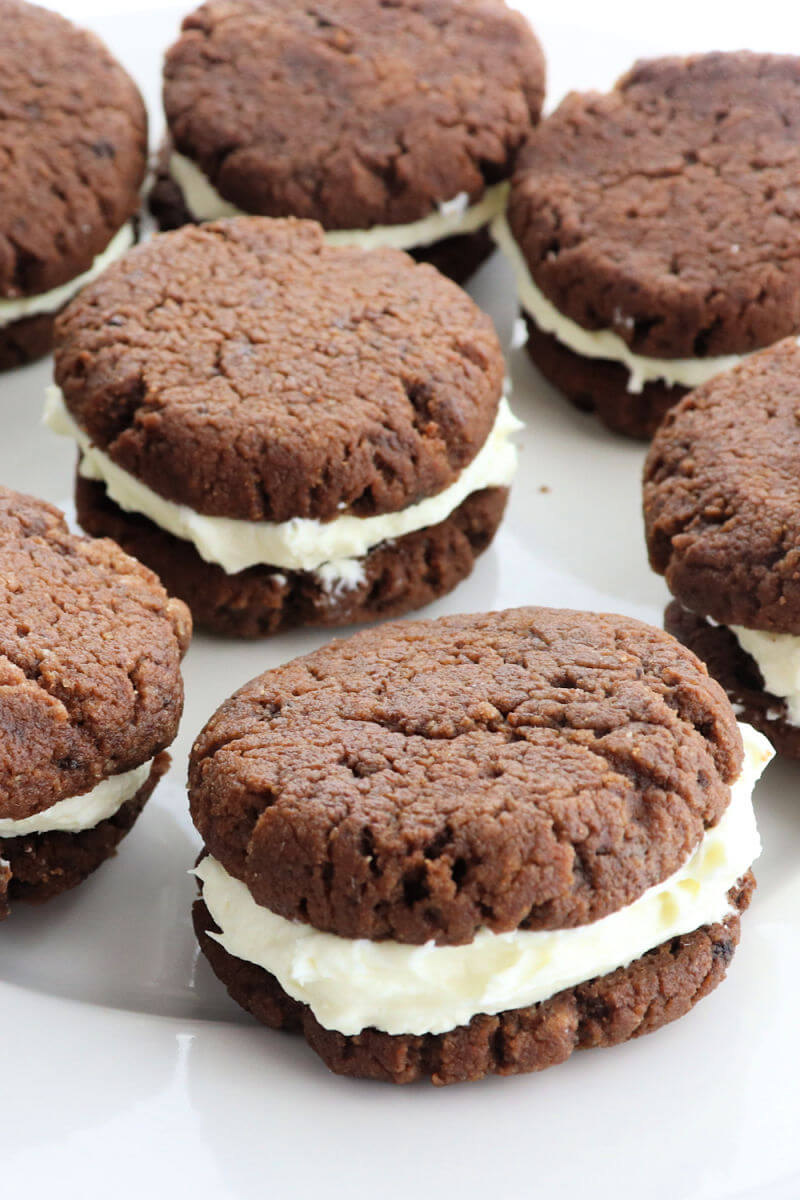 Full recipe and blogpost: Keto Chocolate Sandwich Cookies
Favorite Keto Holiday Treats
There you have it! The Twelve Days of Keto Christmas Cookies.
So, which ones did you decide to make? My favorites are the Cranberry Orange Shortbread Cookies and the Keto Chocolate Truffles. Of course, my daughter's favorites are the Butter Spritz Cookies.
Do try some out and let me know your favorites in the comments! Or tell me what other traditional cookie recipes you'd like to see go keto, and I'll give it a go.
Merry Christmas and Happy Holidays!
xoxo,
Lauren
Pin the recipe here: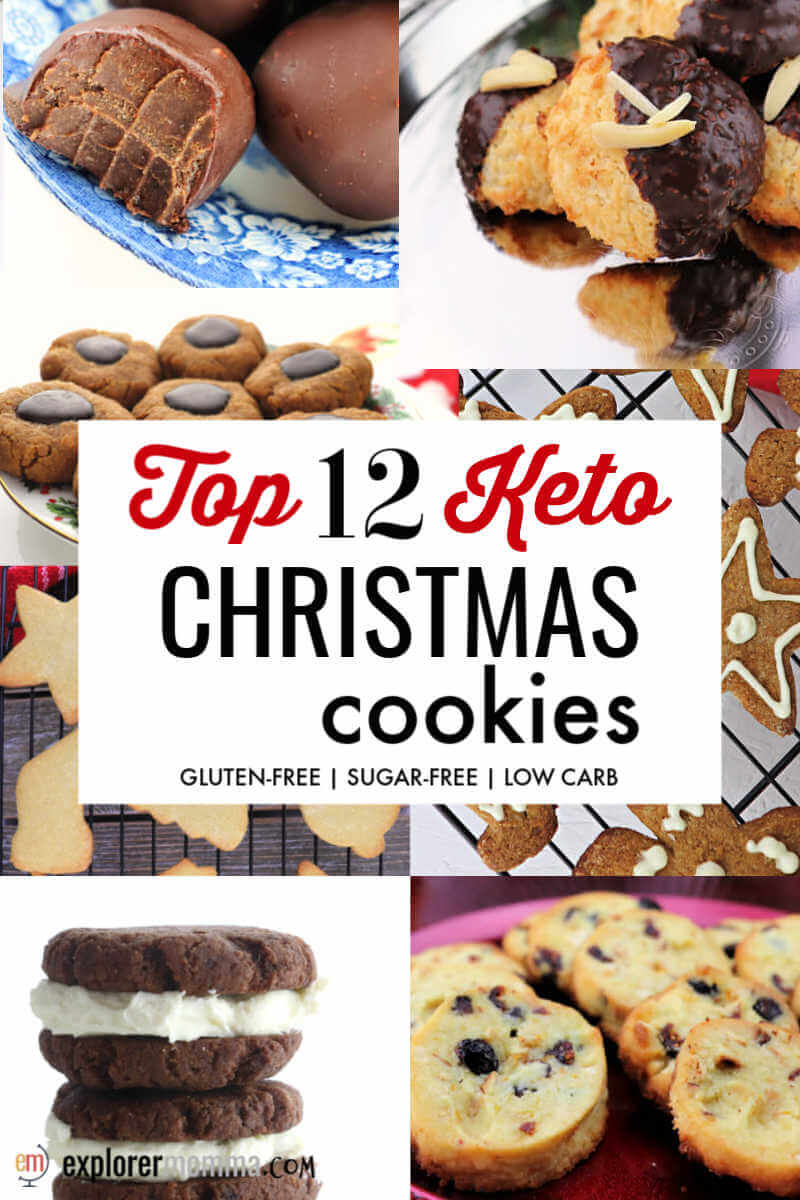 Tag me in your recipe pics on Instagram @explorermomma.
If you LOVE this recipe please consider giving it a five-star rating in the review area below!
Want more keto Christmas recipes?
NUTRITION DISCLAIMER
Please be aware I am not a medical specialist or nutritional professional. On this blog, I share recipes and what works for me. Please do not take anything on this blog as medical advice and always consult with your doctor before starting any diet or exercise program.
I use
Myfitnesspal.com
to calculate nutrition facts as a courtesy to my readers, and I remove erythritol from the final carb count and net carb count because it does not affect my own blood glucose levels.
This is as accurate as possible, but it's best to independently calculate nutritional information on your own with the specific ingredients you use.
I expressly disclaim any and all liability of any kind with respect to any act or omission wholly or in part in reliance on anything contained in this website.