Delicious and classic keto strawberry shortcake delivers on flavor and summer fun! Gluten-free and sugar-free, this is a fabulous low carb dessert keeper. Shortcake, cream, and strawberries. Bliss.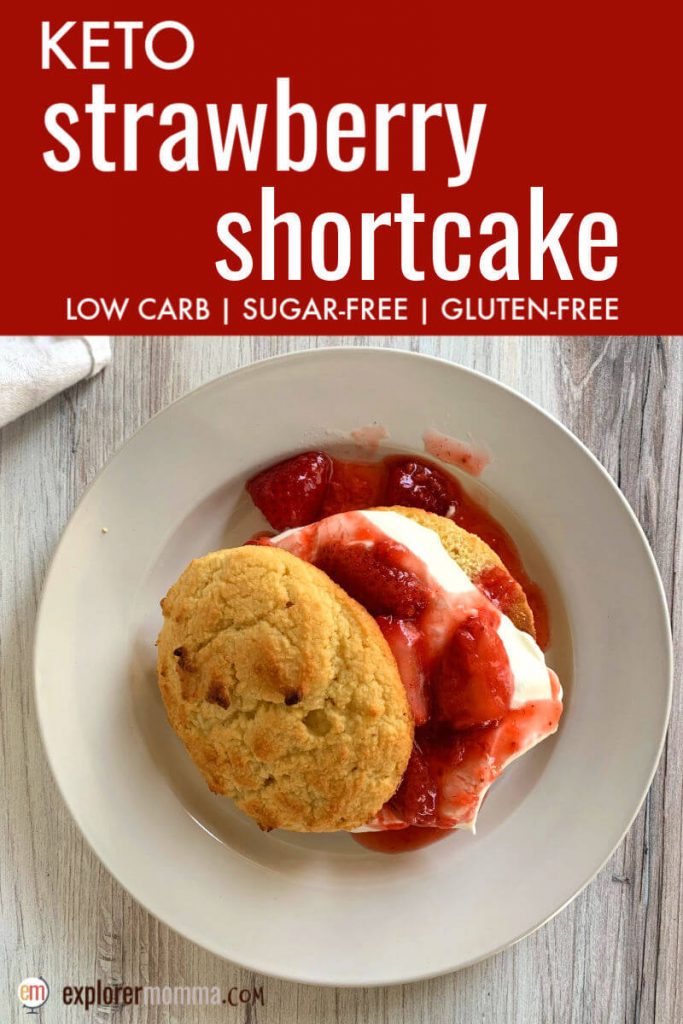 As an Amazon Associate and member of other affiliate programs, I earn from qualifying purchases.
IN A HURRY?
While I think you'll love my super helpful tips and fun stories, I also realize we are sometimes pressed for time and just need a good recipe!
Scroll down to the bottom of the page for the printable recipe to make it NOW or PIN it here for later!
What is keto strawberry shortcake?
What do I love about strawberry shortcake? It is real food. Real classic flavors to put you in mind of an English garden or tea. Strawberries, real whipped cream, and a sweet biscuit. That's it!
Sounds pretty fabulous, right? This is one summer dessert I am all over, and despite having three parts to assemble, it's really pretty easy to put together. And trust me, the family will LOVE it.
History of a classic strawberry shortcake
If you know me, you know I like to find out where things come from. The history of a thing, its influences, and so on. That definitely extends to food recipes, and the shortcake has been famous for hundreds of years.
Did you know William Shakespeare mentions shortcake in his play, The Merry Wives of Windsor? Well, he's not actually speaking of the cake itself but a character named Alice Shortcake. Why Ms. Shortcake? Well, there's a lot of debate on that!
The first reference to shortcake that I can find is from the Elizabethan cookbook, The Good Huswifes Handmaid for Cookerie in her Kitchen (London, 1588). This treasure contains the first record of the term "short cake" as well as the earliest known recipe for it, a sort of unleavened cookie.
The strawberries and cream were later added to the recipe in the United States as well as the addition of baking soda. The biscuits became more light and fluffy. In fact, the dessert was quite popular during the American Civil War era.
1862 Strawberry Shortcake
The June 1862 issue of the Genesee Farmer (Rochester) describes "Strawberry Shortcake":
The cake should be made like soda biscuit, rather richer, but very light, and baked in a round tin about the size of a dinner plate. Immediately upon taking it out of the oven split it in three parts, and spread them with butter very thinly. Have your strawberries prepared by covering them with sugar. Spread a thick layer of these upon one of the sliced of the cake, and pour over them the richest cream that you can process; then add another layer of the shortcake and another of strawberries, as before. Cover the whole with the remaining slice of cake, add some cream and powdered sugar, and you have a dish which would tickle the palate of an epicure.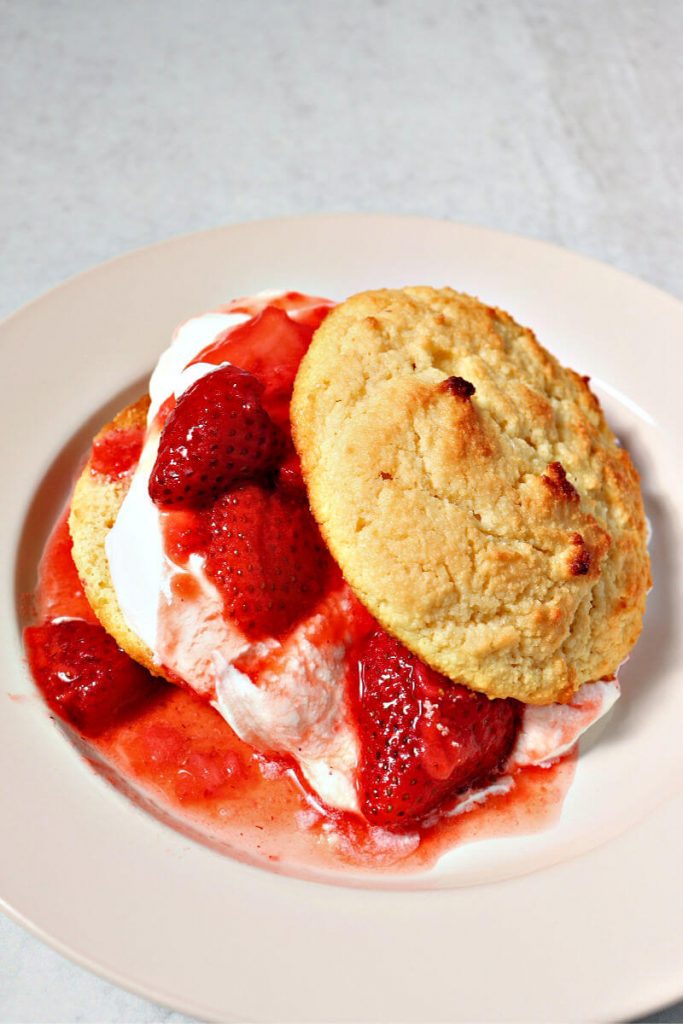 Fast forward to today, and when done right my modern keto strawberry shortcake is not that different than that nineteenth-century treat.
Why?
It's a classic, and it's popular for a reason. The cream, acidic yet sweet fruit, with the perfect biscuit base. Joy.
My perfect last meal would be: shrimp cocktail, lasagna, steak, creamed spinach, salad with bleu cheese dressing, onion rings, garlic bread, and a dessert of strawberry shortcake.

– Joan Rivers
TO MAKE KETO STRAWBERRY SHORTCAKE YOU'LL NEED:
a spatula
a baking pan with a silicone liner or parchment paper
a saucepan
hand-held or stand mixer
How to make keto strawberry shortcake
To start, we're going to make the keto shortcakes. Get out all the ingredients and kitchen utensils and place them around you so they're close at hand.
First of all, preheat the oven to 350 degrees Fahrenheit. Then, whisk together the eggs, sour cream, sweetener, salt, and vanilla in a medium bowl. Easy peasy so far.
Now, use a spatula to mix in the almond flour and baking powder. As far as the almond flour goes, try to get a finely ground, blanched almond flour. If an almond meal or different types of flour are used, it can change the texture and amounts needed.
Next, use my trick for even strawberry shortcakes and pull out your ice cream scoop. What?! Yes, I love an ice cream scoop to get even amounts of batter for these shortcakes. If you'd like smaller shortcakes you can even use a two-tablespoon scoop.
So with an ice cream scoop (or spoon), place 6 mounds of dough on the lined baking sheet. It's important not to flatten the mounds but bake them as-is to somewhat retain their shape.
After that, bake them off for 15-18 minutes or until the tops and edges begin to brown.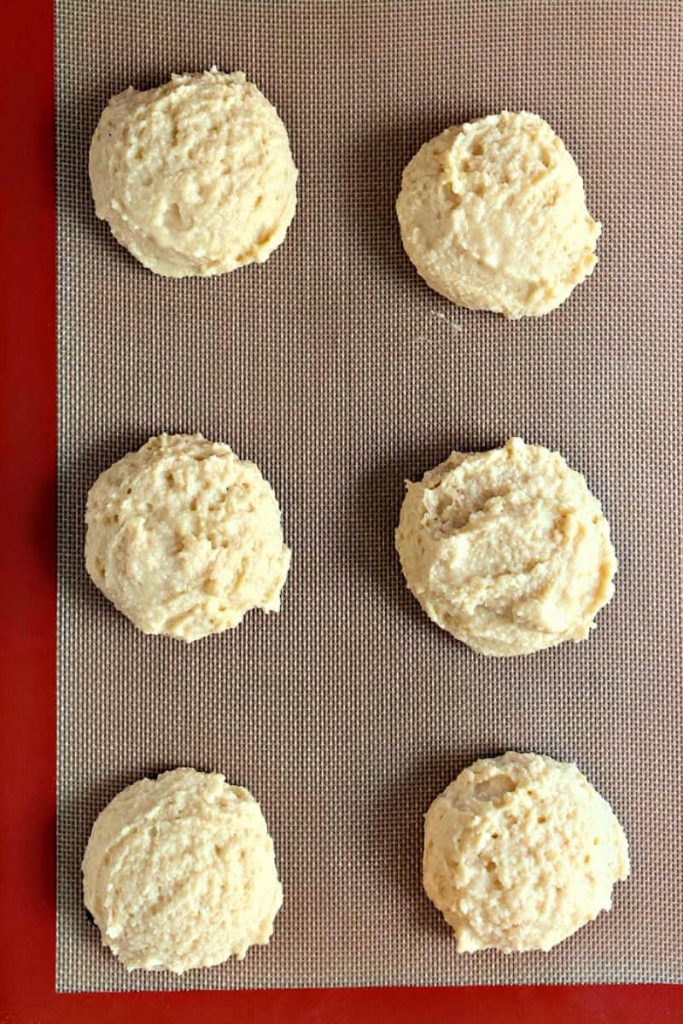 Let them cool on the pan. Baked goods with almond flour and other gluten-free ingredients often need to cool longer to hold their shape. Otherwise, they are more likely to crumble or fall apart, and we don't want that!
How to prepare the strawberries
So that's our base done. Next up, the strawberries! Traditional strawberry shortcake doesn't allow the strawberries to stand alone, but sweetens them up.
I find I still like to sweeten the strawberries in the keto version to enhance the strawberry flavor. Of course, we don't use sugar, but your preferred sweetener.
I use a powdered sweetener, usually Swerve Confectioners, or powder my own monk fruit. Coffee grinders are super-versatile gadgets, and every kitchen should have whether you drink coffee or not. Yes, I use the coffee grinder to powder granular sweeteners. Great hack.
Now back to the strawberries
While we allow the shortcakes to cool, it's the perfect time to prep the strawberry filling. First, place 8 ounces of sliced strawberries in a small saucepan.
If the strawberries are fresh, add two tablespoons of water. However, if they're frozen (which is perfectly fine) we don't need extra water but will have to let them thaw out a bit to slice them.
Next, warm the pan with the berries on medium heat until they begin to soften. At this point add the sweetener, and stir well.
Then, remove the pan from the heat if actual pieces of strawberries in the sauce are preferred. If you like more of a jam style without strawberry chunks, continue to cook and smash the berries down to a sauce.
Set that aside to cool.
Keto Strawberry Shortcake Assembly
Once everything's cooled, it's time to move on to the assembly.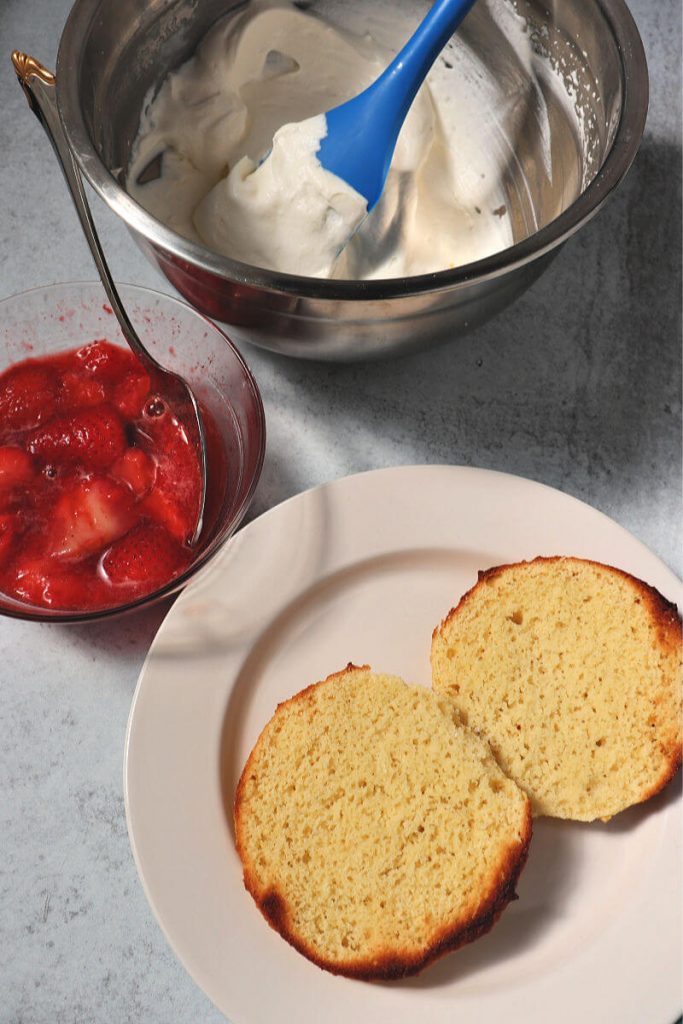 Get a good fresh or organic heavy cream and whip it up to stiff peaks. I prefer to leave the cream plain without any extra sweetener, but if you wish you may add one to two tablespoons of powdered sweetener.
Be sure to watch the cream as you whip it up. If it goes too long it will get grainy and turn to butter so get your peaks and stop.
First, carefully cut a shortcake in half like a sandwich or bun. Place the bottom section on a serving plate, and then spoon a good amount of whipped cream on top of it.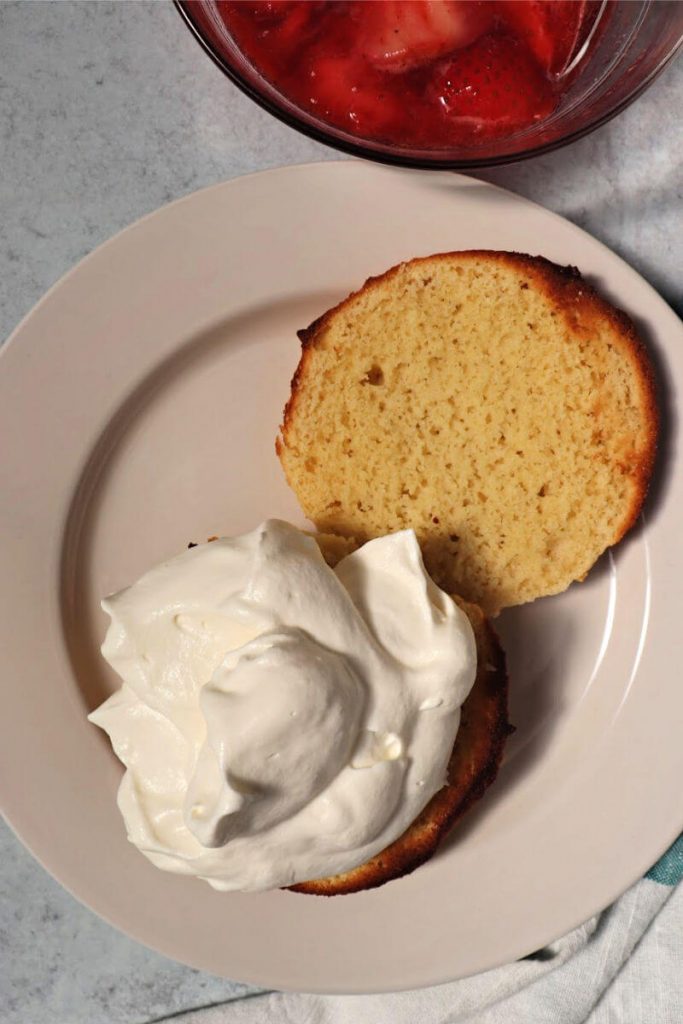 After that, spoon the beautiful strawberries on top of the whipped cream. Now, top it off with the shortcake top, powdered sweetener, and/or extra fresh strawberries.
It's really up to you, and you can add more cream and strawberries to your heart's content. Yum!
Lastly, serve it to friends and family for the perfect low carb summer dessert.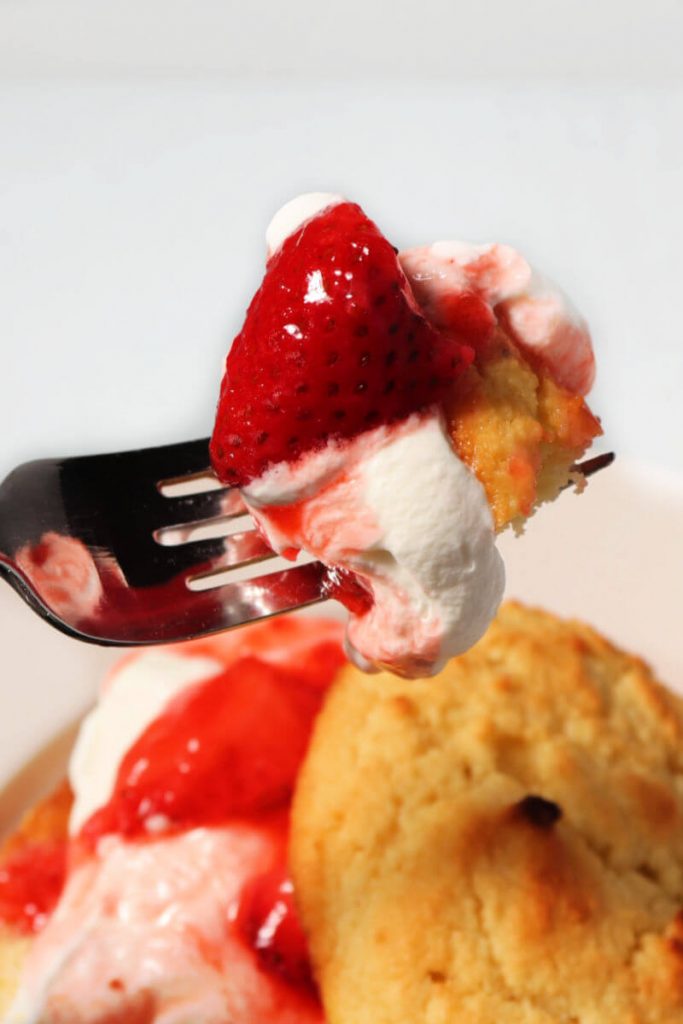 How to store keto strawberry shortcake
If the dessert will not all be eaten in one sitting, it can be stored for later. However, I advise refrigerating the components separately and then assemble the dessert when ready to eat.
For example, store the strawberries in their own airtight container in the fridge and the shortcakes in another. Whipped cream will keep for a day or two in a container, but I find it best to whip it as you need it.
Although, if I'm in a hurry, I have no trouble pouring heavy cream over my strawberries without even whipping it! But maybe that's just me…
Do you remember the Shire, Mr. Frodo? It'll be spring soon. And the orchards will be in blossom. And the birds will be nesting in the hazel thicket. And they'll be sowing the summer barley in the lower fields… and eating the first of the strawberries with cream. Do you remember the taste of strawberries?

– Sam Gamgee, The Return of the King, J.R.R. Tolkien
Do you remember the taste of strawberries?
What are your favorite memories of strawberries and cream?
I love that quote from Sam Gamgee and can just picture summertime in the Shire.
As a child, we often grew our own strawberries in the back garden, and they were always the best. When the birds didn't get them, that is! I loved to spot the early white flowers and check on them daily as they became bright red strawberries.
I love these real, fresh, basic ingredients. Sigh.
It's time to celebrate summer with a delicious keto strawberry shortcake. Enjoy!
Pin the recipe here: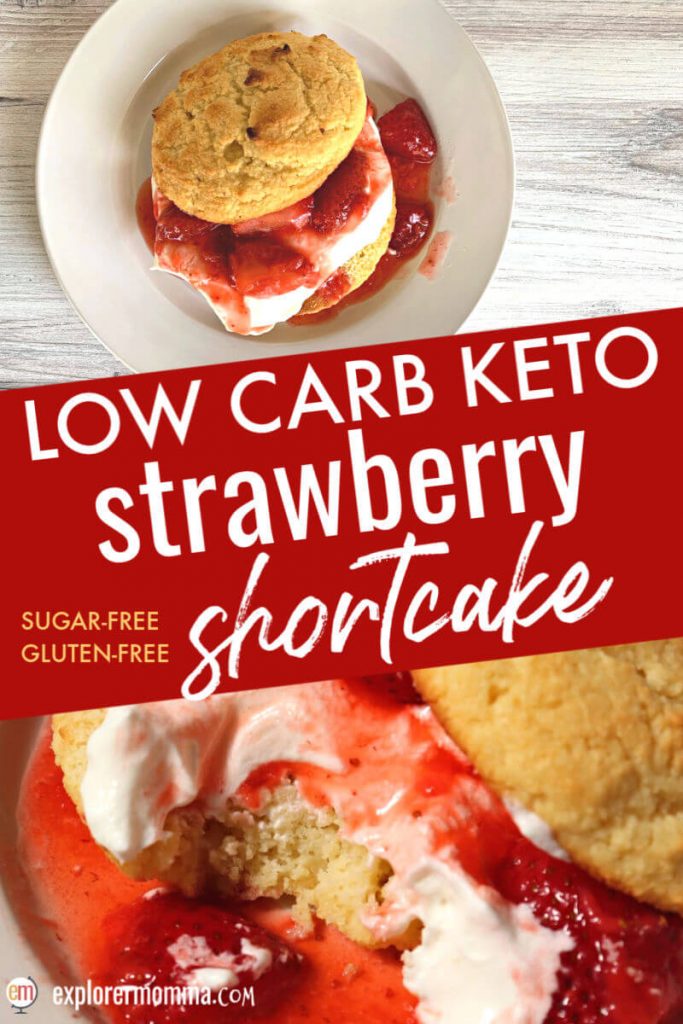 Tag me in your recipe pics on Instagram @explorermomma.
If you LOVE this recipe please consider giving it a five-star rating in the review area below!
More keto dessert recipes:
Printable Recipe
Keto Strawberry Shortcake
Additional Time:
5 minutes
Keto strawberry shortcake is a delicious low carb summer dessert. The classic flavors of fresh strawberry and cream with a sugar-free gluten-free short delicious pastry.
Ingredients
2 large eggs
1/2 cup sour cream
1/4 tsp sea salt
2 cups almond flour
2 tsp baking powder
2 tsp vanilla extract
Strawberry Filling
8 oz fresh or frozen strawberries
1/4 cup powdered sweetener
Whipped Cream
Instructions
Keto Shortcakes
Whisk together the eggs, sour cream, sweetener, salt, and vanilla in a medium bowl.
Use a spatula to mix in the almond flour and baking powder.
Take out an ice cream scoop or spoon and use to put 6 mounds of dough on the lined baking sheet. Do not flatten the mounds but bake as-is.
Bake for 15-18 minutes at 350 degrees F or until the tops and edges begin to brown. Let cool on pan.
Strawberries
While the shortcakes cool, prepare the strawberries.
Place 8 oz of sliced strawberries in a small saucepan. If fresh add two tablespoons of water, if frozen it's not necessary.
Warm on medium heat until the berries begin to soften and add the sweetener. Stir well and remove from the heat for pieces of strawberries in the sauce. Continue to cook and smash the berries down if a jam style is preferred.
Strawberry Shortcakes Assembly
Whip the cream and set aside.
Slice the shortcakes in half like a bun.
Spoon a good amount of whipped cream then strawberries on the bottom section of the shortcake. Top with the shortcake top, powdered sweetener, and/or extra fresh strawberries.
Serve.
Notes
Nutrition Information
Servings 6.0 Amount Per Serving 1 shortcake Calories 292 Total Fat 27 g Saturated Fat 10 g Monounsaturated Fat 6 g Polyunsaturated Fat 3 g Trans Fat 0 g Cholesterol 105 mg Sodium 298 mg Potassium 172 mg Total Carbohydrate 8 g Dietary Fiber 3 g Sugars 3 g Protein 7 g Net Carbohydrate 5 g

*Nutrition Facts per MyFitnessPal.com. For most accurate facts, calculate your own with the exact ingredients you use in the recipe.
**Sour cream comes in different ways. It can be thick creamy or thinner and slightly runny. This will change the texture of the shortcakes. If the batter is too thin add a little extra coconut or almond flour to thicken it up.
Nutrition Information:
Yield:

6
Serving Size:

1 shortcake
Amount Per Serving:
Calories:

292
Nutrition Disclaimer
Please be aware I am not a medical specialist or nutritional professional. On this blog, I share recipes and what works for me. Please do not take anything on this blog as medical advice and always consult with your doctor before starting any diet or exercise program.
I use MyFitnessPal.com to calculate nutrition facts as a courtesy to my readers, and I remove erythritol from the final carb count and net carb count because does not affect my own blood glucose levels.
This is as accurate as possible, but it's best to independently calculate nutritional information on your own with the specific ingredients you use. I expressly disclaim any and all liability of any kind with respect to any act or omission wholly or in part in reliance on anything contained in this website.