Chewy, gluten-free, sugar-free goodness! This is the perfect low carb snack with a healthy secret ingredient to give you all the taste of the original. Make the best chewy keto chocolate chip cookies today.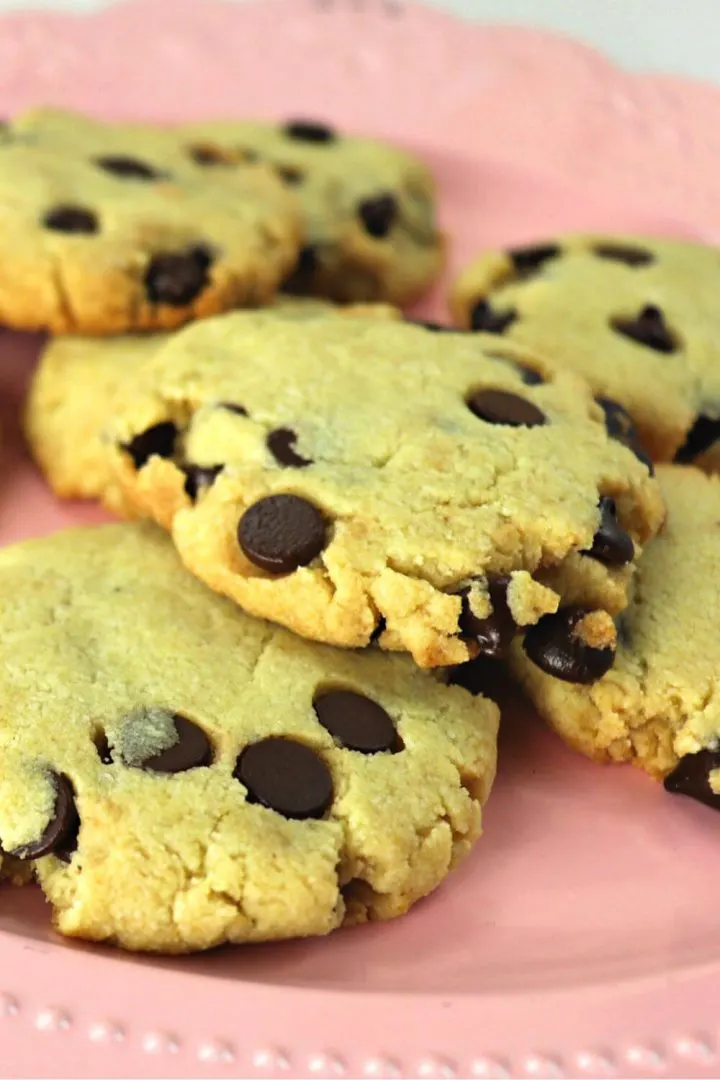 As an Amazon Associate and member of other affiliate programs, I earn from qualifying purchases.
If there's one taste that's a memory from childhood I still miss on the keto diet, it's the chocolate chip cookie. Now, if I go to think about it, my stomach now cringes at the thought of all that flour and sugar!
Therefore, my challenge to myself was to recreate that wonderful memory and flavor in a low carb and keto-friendly package.
[feast_advanced_jump_to]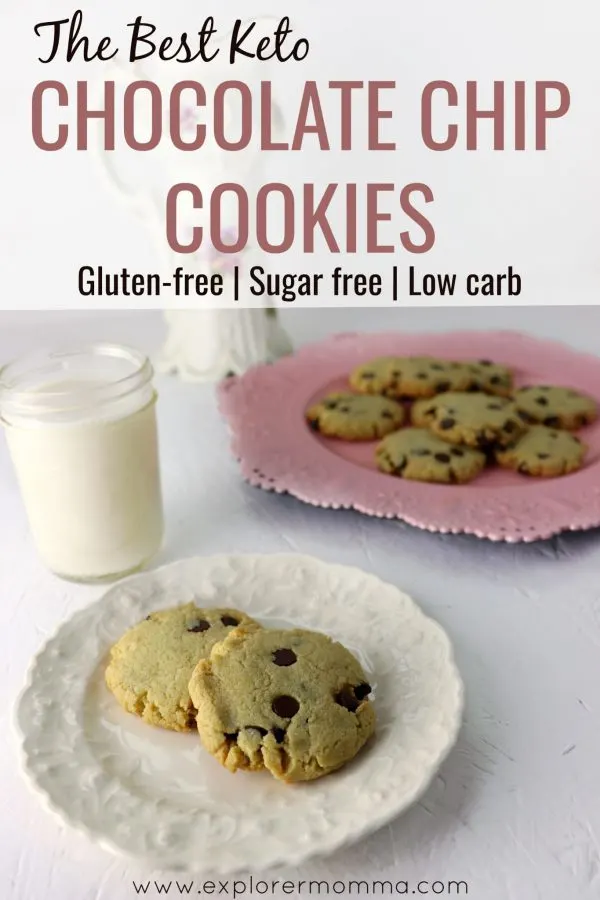 Scroll down to the bottom for the printable recipe or PIN it here for later!
🍽 Equipment
To make keto chocolate chip cookies you'll need

:
🥘 Ingredients
butter
sweetener (such as Swerve or Lakanto Monk Fruit)
yacón syrup, (optional)
vanilla extract
sea salt
baking soda
finely ground, blanched almond flour
*Yacón syrup is optional in this recipe, but I highly recommend it.
What in the world is yacón syrup, and why in the world is it in the best chewy keto chocolate chip cookies? Well, high up in the Andes Mountains there exists a plant with tuberous roots called the yacón plant.
The sweet syrup is extracted from the roots in a process somewhat similar to that of maple syrup. In South America, it's believed to have many medicinal purposes such as improvements in diabetes, kidney and digestive disorders, and weight loss.
Chemically, it's one of the best dietary sources of fructooligosaccharides (FOS), which are a type of fructan. Fructans are a category of soluble dietary fiber and make up 40% – 50% of the yacón syrup.
It also includes some other digestible sugars, among them fructose, glucose, and sucrose. For this reason, I use it sparingly for keto recipes.
Yacón syrup is the perfect secret ingredient for these cookies for a couple of reasons. For one, it makes the cookies chewier. Two, it gives them that brown sugar or almost molasses flavor I love in my chocolate chip cookies! It's a win on both counts!
🔪 Instructions
How to make keto chocolate chip cookies
First, start out by gathering all your ingredients. Then, in a large mixing bowl whisk together the melted butter, sweetener, vanilla, baking soda, salt, and yacón syrup (if using).
For sweetener, I use Swerve Sweetener, Confectioners and find it to have the best taste, but you can use another equivalent if you prefer.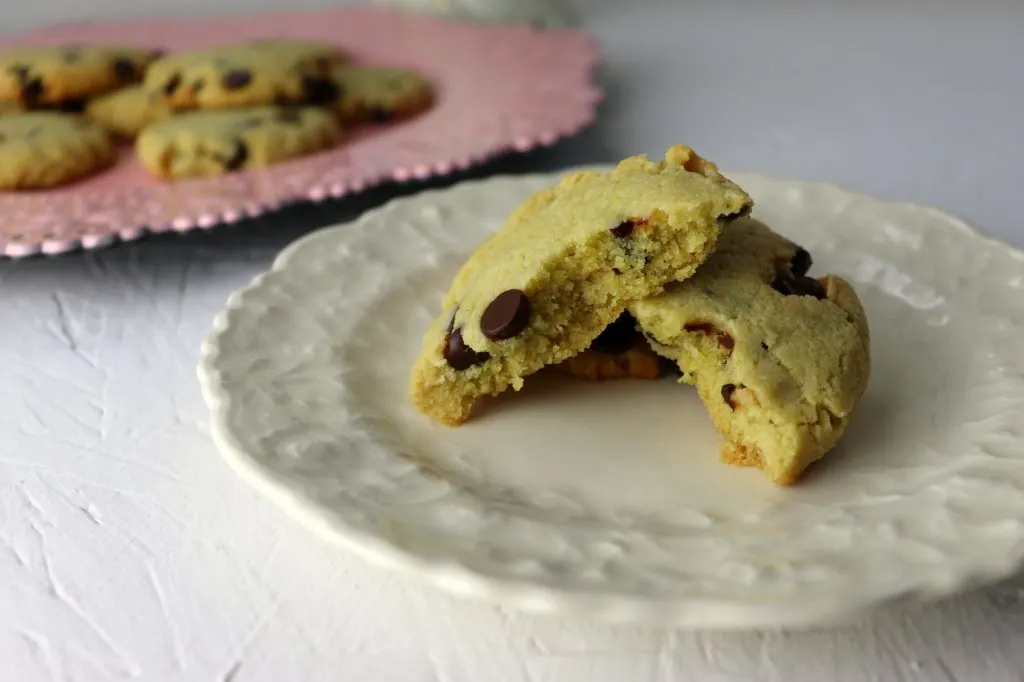 Also, you'll notice my little secret ingredient here! Have you ever tried yacón syrup? I love it because it makes the cookies nice and chewy. In addition, it gives them more of that brown sugar flavor you remember in your best chocolate chip cookies from childhood.
However, although it's keto-friendly I wouldn't use it in large amounts because it could kick you out ketosis. If you have one or two cookies a day a tablespoon in the batch is just about perfect.
Finish the dough
Now, once you have those first ingredients completely blended together, mix in the two cups of almond flour. I just use a spatula, but you could use a hand mixer if you wish. Keep combining and mixing until everything comes together to form a dough. If it's too dry add a little unsweetened almond milk.
I say this because almond flours vary in texture and can absorb liquids differently. I use Barney's Blanched Almond Flour almost exclusively at our house because it's made in a facility without any exposure to peanuts or any other tree nuts. We have a severe nut allergy in the family, and I am so thankful to have an almond flour I don't worry about her eating!
Note: Recently I discovered the Costco brand almond flour (Kirkland) is also made in a facility without any exposure to nuts or tree nuts. Score! (Always check the labels because processes and ingredients can change.
Next, once you have the dough, mix in the chocolate chips until they're evenly dispersed throughout. People have asked me about sugar-free chocolate chips and which are the best, etc.
You can get different types of sugar-free chocolate chips, but my personal opinion and favorite are Lily's Dark Chocolate Chips. Or you can always make your own!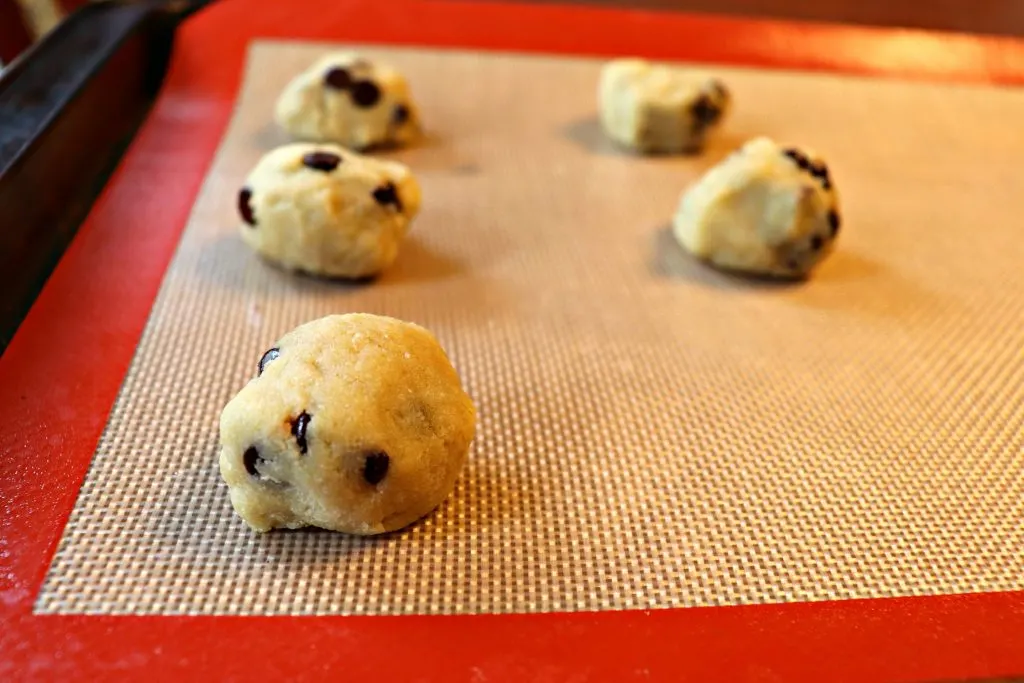 Once the dough's ready, cover the baking sheets with parchment paper or a silicone baking sheet. Then roll balls of two tablespoons of dough and place them about two inches apart on the pan.
Dip a glass in water and use it to press down each cookie to about half an inch.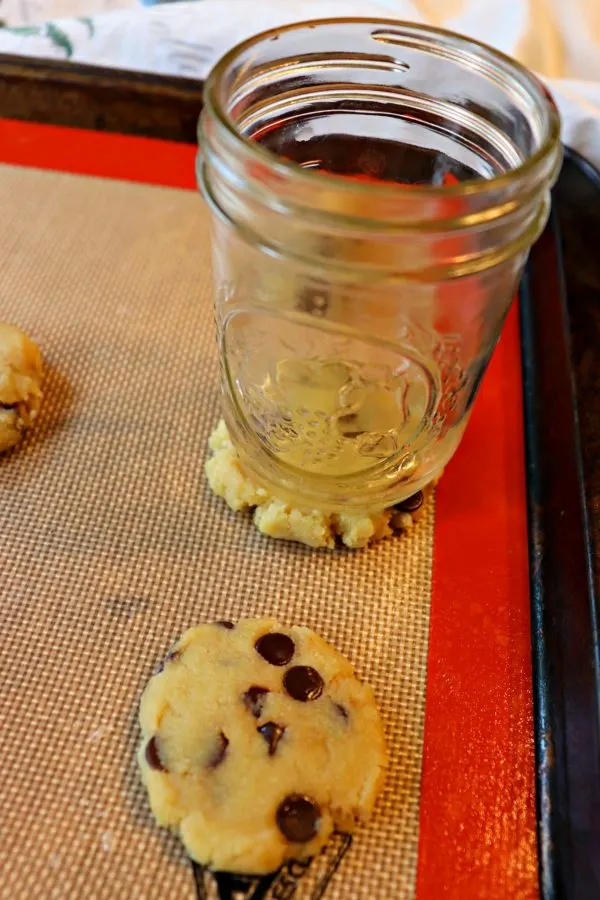 ⏲️ Baking time
You're just about there! Last, bake at 275 degrees Fahrenheit for 15 to 20 minutes or until the edges start to brown. If they brown too much your cookie will not be as chewy so I pull them out as soon as I see the start of that bit of brown on the edge.
Let them cool a couple of minutes on the pan, and then remove them to a cooling rack. They're truly the best chewy keto chocolate chip cookies.
My son has a habit of frequently coming through the kitchen when there are yummy snacks cooling and grabbing a cookie every time he walks through. I have to put these up high to cool!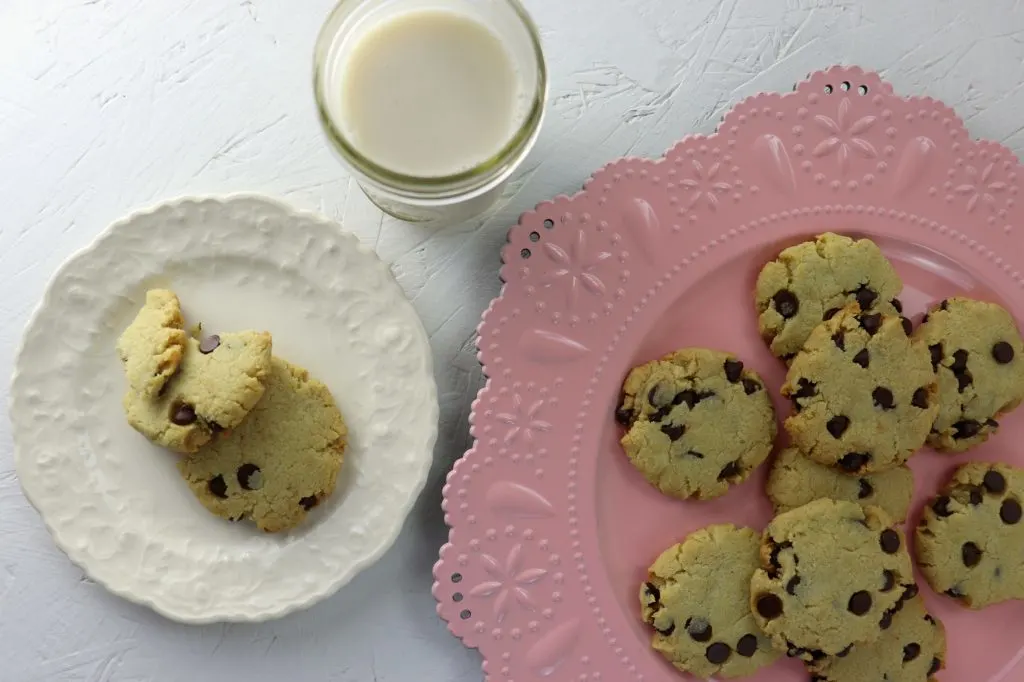 🥣 How to store
The best way to store keto baked goods is in an air-tight container. They will last longer if kept in the refrigerator. Then, they are easy to warm up in the microwave or toaster oven.
Also, lately I've been using my air fryer so much, sometimes I just throw a couple in there for a minute at 390 degrees to warm.
💭 Top tips
First tip, let them cool almost completely before you eat them! If they're just out of the oven and someone tries to grab one (like my son) they tend to fall apart. They need to cool to keep their shape as they don't have eggs and are gluten-free.
Second tip, these cookies keep well in the freezer for up to about a month. Usually, I keep them in there so I don't eat the entire batch at once!
Then, I just set one or two out about half an hour before I want a snack. Or, you can warm them for about twenty seconds in the microwave for a perfectly warm chocolate chip cookie.
🍪 Favorite keto cookies
Chocolate chip cookies are really the classic American cookie that's always been, and probably always will be, my cookie of choice. There are so many different kinds of cookies you can make. What are your favorites?
I am super-proud of this recipe and personally make it all the time. If you make this recipe – the best chewy keto chocolate chip cookies, I'd love to see them!
Tag me in your recipe pics on Instagram @explorermomma.
If you LOVE the recipe please consider giving it a five-star rating in the review area below! Thanks all!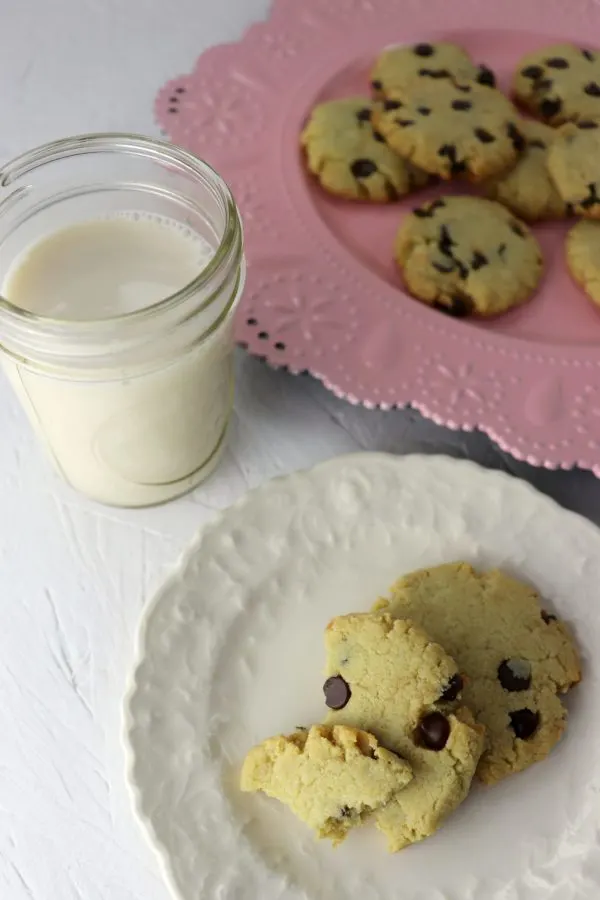 📋 More keto cookie recipes
Or PIN it for later here: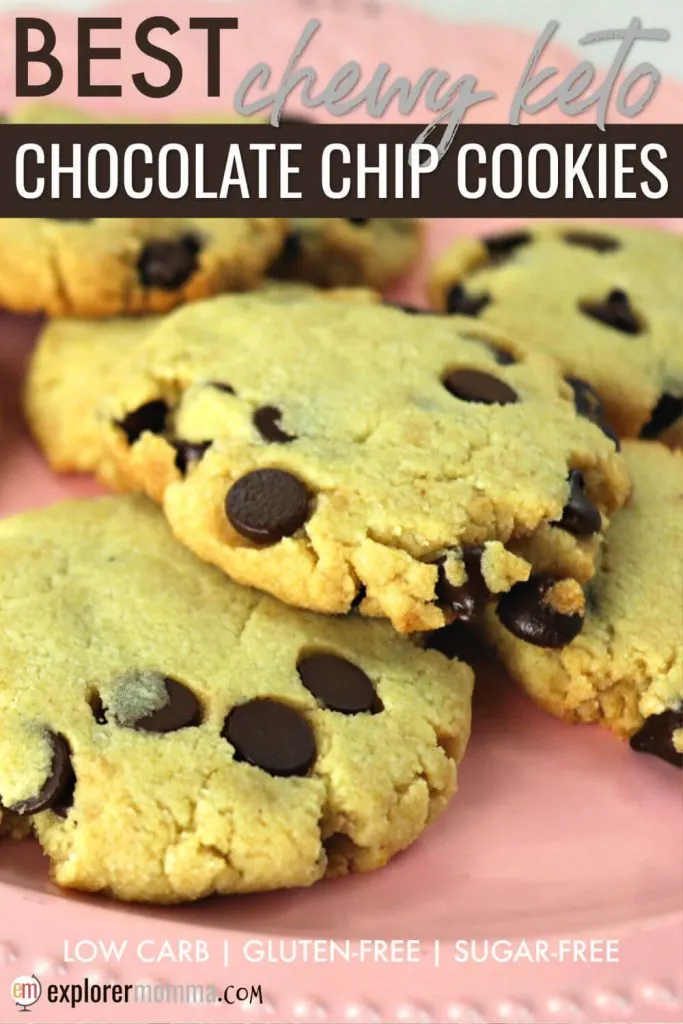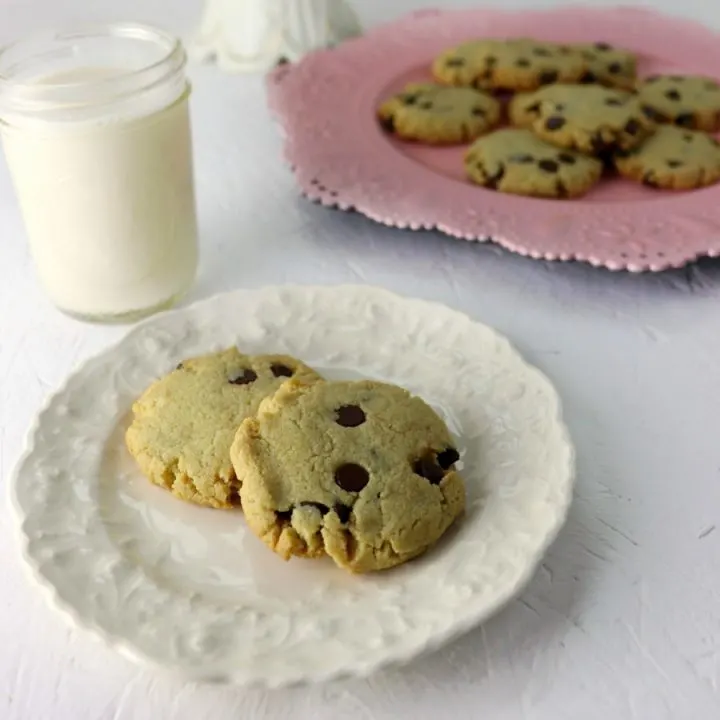 Best Keto Chocolate Chip Cookies
Soft and chewy, the way you remember the perfect chocolate chip cookie as a kid. Keto cookies made with almond flour, these are gluten-free, sugar-free, fabulous!
Ingredients
5 tbsp melted butter
1/3 cup sweetener, Swerve
1 tbsp yacon syrup, (optional)
1 tsp vanilla
1/8 tsp salt
1/4 tsp baking soda
2 cups almond flour, finely ground
Instructions
Whisk together the butter, sweetener (Swerve), vanilla, baking soda, salt, and yacon syrup (if using).
Mix in the 2 cups of almond flour until everything comes together in a dough. If it's too dry add a little unsweetened almond milk. Almond flours vary.
Add in the chocolate chips and mix until they're evenly dispersed.
Cover baking sheets with parchment paper or silicone baking mat.
Then roll balls of two tablespoons of dough and place them two inches apart on the pan.
Dip a glass in water and use it to press down each cookie to about half an inch.
Bake at 275 degrees Fahrenheit for 15-20 minutes or until edges start to brown.
Notes
Nutrition Facts:
Servings 18.0 Amount Per Serving Calories 74 Total Fat 7 g Saturated Fat 3 g Monounsaturated Fat 1 g Polyunsaturated Fat 0 g Trans Fat 0 g Cholesterol 8 mg Sodium 34 mg Potassium 1 mg Total Carbohydrate 3 g Dietary Fiber 2 g Sugars 0 g Protein 1 g Net Carbohydrate 1 g
*Nutrition facts per MyFitnessPal.com.
Nutrition Information:
Yield:

18
Serving Size:

1 cookie
Amount Per Serving:
Calories:

74
Unsaturated Fat:

0g
Nutrition Disclaimer
Please be aware I am not a medical specialist or nutritional professional. On this blog, I share recipes and what works for me. Please do not take anything on this blog as medical advice and always consult with your doctor before starting any diet or exercise program.
I use MyFitnessPal.com to calculate nutrition facts as a courtesy to my readers, and I remove erythritol from the final carb count and net carb count because does not affect my own blood glucose levels.
This is as accurate as possible, but it's best to independently calculate nutritional information on your own with the specific ingredients you use. I expressly disclaim any and all liability of any kind with respect to any act or omission wholly or in part in reliance on anything contained in this website.