This page contains affiliate links. Food allergy freedom holiday recipes
Why should everyone else have all the fun at holiday gatherings?
Everyone around you gets to eat without questioning the hostess about every ingredient and if you get to eat anything, well, it's probably the least exciting dish out of the bunch.
I totally know how that feels.
My mother can't eat gluten, and my daughter is deathly allergic to tree nuts. I've grown to dread seeing that letdown face of my daughter's when she asks, "Does it have nuts?" and the answer is, "Oh, I'm sorry honey, it was made in a facility with nuts." Or "Yes, I'm afraid it has walnuts dear."
She's great about asking and checking labels, but it's hard when so many people don't realize how serious a food allergy actually is. The open bowl of cashews at a party can lead to anaphylactic shock and things we don't want to think about.
Then I myself also forget about my mother's inability to eat gluten. I'll make a salad for a party, throw in some pasta, and then kick myself because, yes, that's gluten too!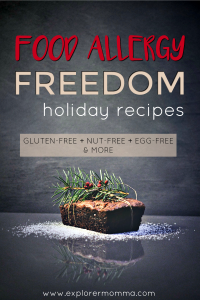 But still, it's the holidays!
I want the whole family to enjoy them, be able to eat #alltheyummythings (and I especially don't want my daughter to have to miss out on special foods).
If you're struggling with food allergies or dietary restrictions, the folks at Ultimate Bundles have put together a bundle just for you (and for the holidays!).
It's called the Food Allergy Freedom Bundle. And it's full of luscious recipes, special enough for your celebrations and parties, but lovingly created for those with food allergies or specific dietary needs.
This collection contains 9 cookbooks that will make sure everybody can satisfy their sweet (or savory) tooth this season (but without hives, digestive issues, or trips to the emergency room).
Whether you're in the mood for Bread Pudding Cakes with "Bourbon" Vanilla Sauce, Savory Sweet Potato Bake, Chocolate Cupcakes with Pumpkin Spice Frosting, Spiced Pear Anise Cranberry Quick Bread, Pomegranate Mimosas, or any of the other 280 recipes in this bundle, you'll be sure to create a holiday spread that will make special memories.
Here's where it gets really crazy…
Altogether, these eCookbooks are worth $110. But I have a question for you: would you like to buy them at a discount?
If your answer is yes, then I have one more question…
How much of a discount do you want?
That's the beauty of this Food Allergy Freedom Bundle. Not only do you have the freedom to eat food that's allergy-friendly, you also have the freedom to pay what you want!
This is how it works:
Visit their website, take a quick look at all the goodness that comes in this package, decide how much you want to spend, and then click the turquoise "Pay what I want!" button to go through their simple and secure 3-step checkout process.
You'll receive an email with a login to their online access portal, where you'll begin downloading your eBooks.
Use their Getting Started Guide to pick the topic you want to tackle first and start making delicious, allergy-free meals!
The most important detail, though, is that this bundle is available for just 48 hours!
After Tuesday night, November 14th, the sale ends and you'd have to buy all of these products individually.
It's even backed by a 30-day full money-back happiness guarantee, so you can make sure it's right for you.
The holiday season is full of food, friends, and family. No one needs to feel excluded with these recipes that are safe (and delicious) for everyone!
Get what you need to have delicious food this holiday season (without the allergens that make you sick).
Learn more or get your bundle HERE.
(Psst… the bundle goes away at 11:59 pm Eastern on Tuesday, November 14th, so don't wait!)
What's in the Food Allergy Freedom Bundle? I'm glad you asked because I'm super-excited about it!
Allergy-free Meal Plan by Adrienne Urban ($14.00)
Baker's Dozen Holidays Quick Breads Coconut Flour Baked Goods Volume 3 by Starlene Stewart ($7.99)
Beyond the Cereal Box by Daniel & Haley Stewart ($6.99)
Candy Making Without Corn Syrup by Cara Comini ($12.99)
Nourishing Holiday by Jaclyn Harwell ($24.97)
Paleo Vegan Sweets & Treats: 30+ Healthy Paleo Desserts Free of Grains, Dairy & Eggs by Hannah Healy ($9.99)
Thanksgiving in the Slow Cooker: 32 Gluten-Free Recipes and Complete Planning Guide for a Stress-Free Holiday! by Stephanie O'Dea ($7.99)
The Allergy-Free Holiday Table: Top 8 Allergen-Free Cakes, Cookies, Pies, Candies, and More! by Amanda Torres ($19.95)
Vegan Holiday Treats by Kelly Roenicke ($6.99)
PLUS get the Allergy-Free Cooking Masterclass by Wardeh 'Wardee' Harmon ($40.00) when you spend $20 or more

Check out these nut-free snacks for a long-haul flight here!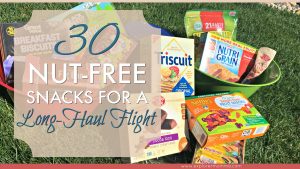 Disclaimer:
This blog does not constitute medical advice. I am not a healthcare professional. Please consult your doctor before making any dietary changes.
Be sure to read the labels on any ingredients suggested. Sometimes manufacturers change ingredients, so please double check that the product is safe for your diet. If you are not sure that a recipe is safe for you or your family, I urge you to consult with your healthcare provider.