What are Pinwheel phones? They are a new way to look at cell phones for kids. It's a phone with its own system with apps endorsed by therapists, access and controls approved by parents, and kids really do love them. The point is to think of kids in every aspect of the design process. We're trying them out and reporting what we find!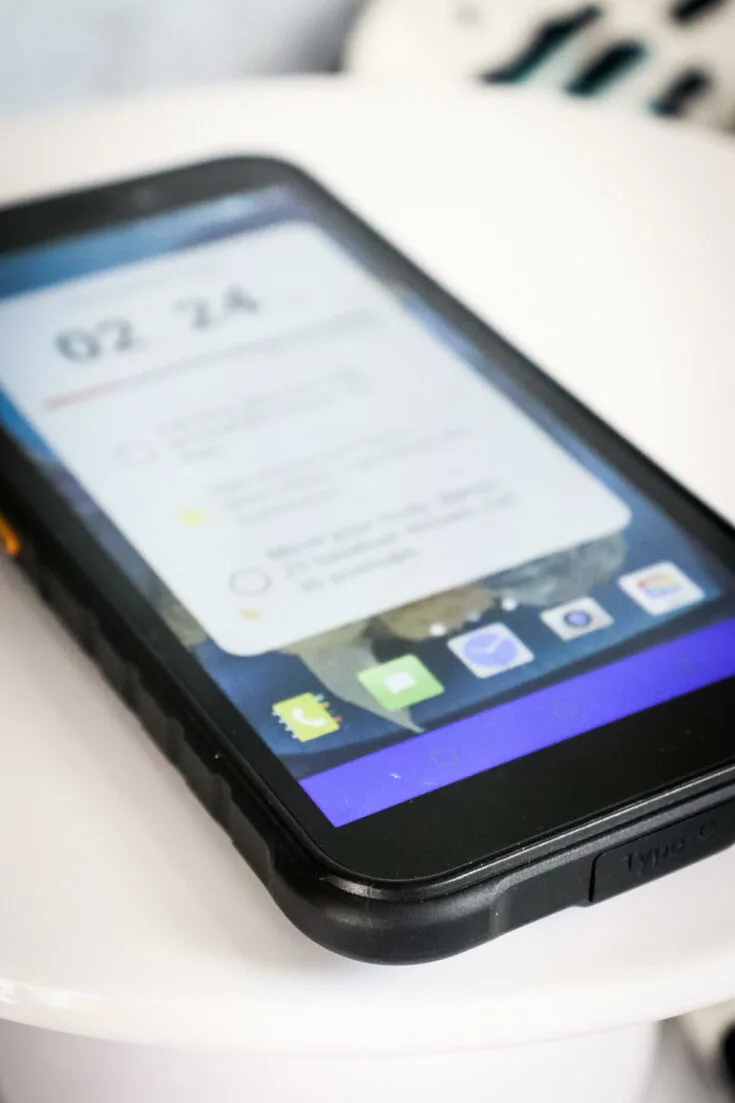 Jump to:
Statistics | Why? | My experience | Research | Pinwheel Phones | Pinwheel Slim (#1) | Pinwheel Rugged (#2) | Software | Caregiver Portal | FAQs | Costs associated | What apps are available? | Does it work with Bark? | My opinion | Cons | Discount for you | When's a good time? | Pinwheel
What can I say? Your child has started looking at smartphones with longing.
You might wonder what to do now that they've shown an interest in obtaining one for themselves, but there are so many different factors to consider before making the decision.
Why is choosing a kid's phone so stressful?
As a parent, of course, I worry about technology and what my kids will have access to. Kids want their own phones like adults, but what are the risks involved?
Let me tell you, I was shocked by some of these statistics. In 2020, Bark studies over 2.1 billion messages through text, email, apps, and social media.
What do school kids see on the internet today? This is what they found.
76.7% of tweens experienced bullying
88.5% of tweens expressed or experienced violent thoughts or subject matter
70.9% of tweens faced content containing nudity or of a sexual nature
45.5% of tweens had conversations about depression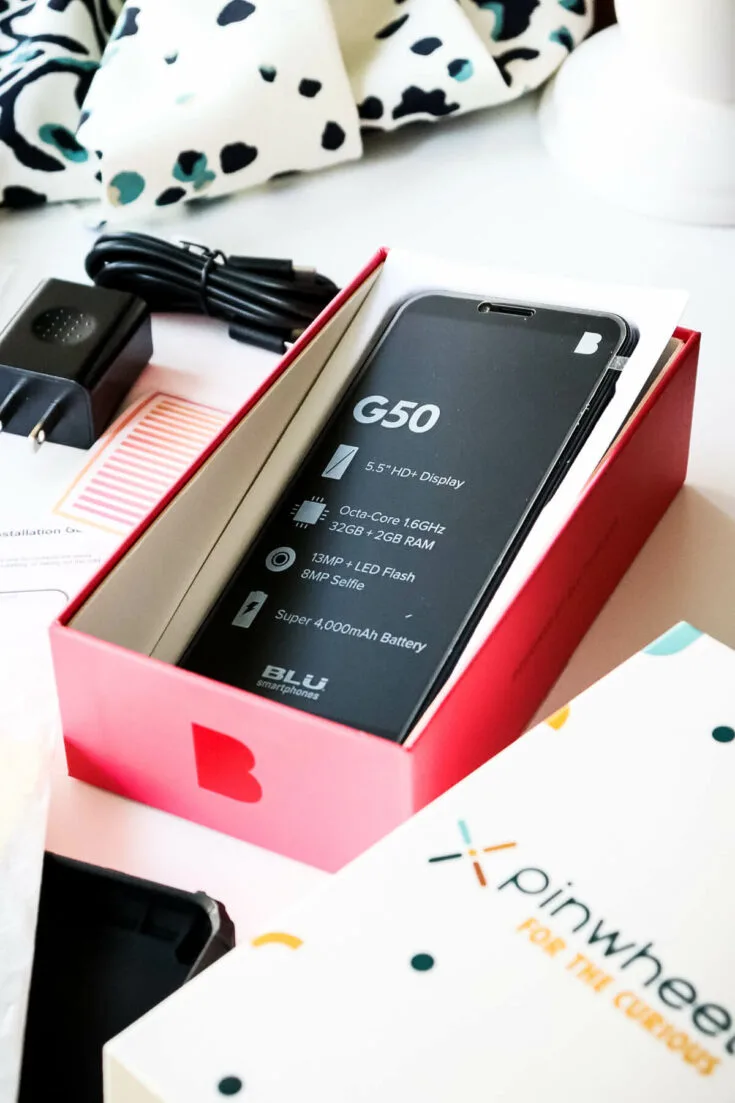 Why a phone for kids?
Whether it's because all of their friends have one, they need a better way to communicate with you, or something else altogether, I and many parents are being pushed to decide what to do next with the kid phone problem.
So, what's the plan? Should you put it off longer or go with flip phones?
Unfortunately, a kid's own smartphone also has a huge variety of its own technical challenges. You worry about how to manage screen time, manage a contact list, or how to prevent predators from contacting them. Do you want it to even connect to the internet?
Also, how can you review what they can view and what ad-driven apps they're adding without physically taking their phone away from them every day?
In addition, how can you stay current with technology?
My personal experience with kids' phones
My initial strategy was definitely to just put it off as long as possible. What's a good age to get a mobile phone? I got mine in college!
My daughter started out by casually mentioning her specific friends with smartphones. She then went on to talk about how the phone would be put away at school (showing responsibility). Next, she put forth her reasoning for situations when she specifically needed a phone. Then she laid on the guilt.
Conversation
Daughter: My meeting after school was only fifteen minutes instead of an hour. I had to ask my friend's mom to text you. It was very inconvenient, and she couldn't believe I didn't have a phone to connect with you. She thinks it's very unsafe not to have a personal phone.
Me: Really? Well, that's interesting. Did you know your teacher has a cell phone? There's also a landline phone in her classroom. AND the front desk has multiple phones and would be more than happy to let you use one.
Why I decided a house phone or flip phone would not cut it
I stayed strong for quite a while with this reasoning. However, once she started going to multiple sports practices, book club, art club, what have you, I secretly started to think I'd like a homing device put on her.
Ahem (clear throat), I mean I wanted a way for her to contact me, and let me know where she was, and that she was safe and on time. It was a sign it was time to give her more freedom and take responsibility for her schedule without me walking her everywhere.
And in order to do that, I wanted a phone to be a useful tool for real life. I didn't want it to become the squirrel of distraction that would lead her down a thousand rabbit holes. In addition, I didn't want her constantly hit with ads, social media challenges on TikTok or Facebook, or predators working through these channels.
Research into a kid's first phone
Therefore, like any responsible parent, I began my research into a kid's first phone. I spoke to other parents in the community, Googled first phones, looked at important features, and thought about what would protect my kids.
I looked at several options. Some were too techy for me. Some did not have the features I wanted. I wanted a balance of a fun useful phone with a focus on safety and functionality for connecting parents or caregivers.
That's when I discovered Pinwheel. I reached out and was thrilled when they came forward excited to collaborate. While they did send us the phones for free to review, all opinions are my own.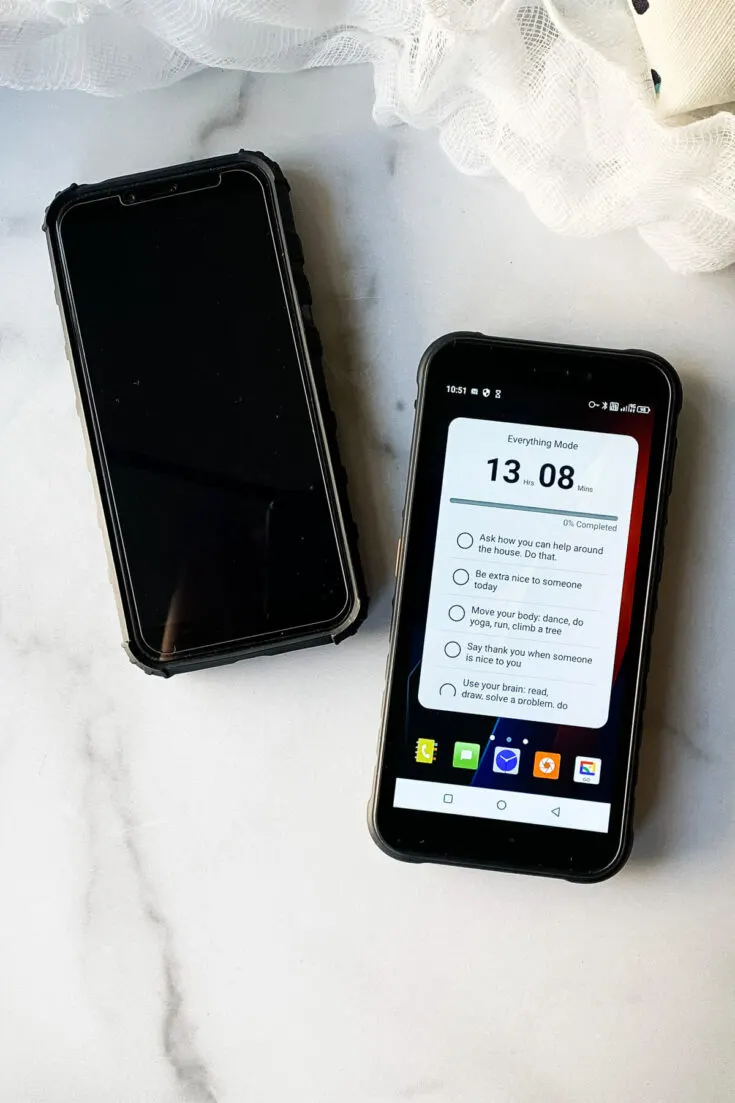 What did I find?
As I investigated and explored the best ways to introduce my children to smartphone technology safely and successfully, they stood out. As I generally do when researching, I devoured their website. The services they provide for kids and parents made me think this could be a company I would trust.
What is the Pinwheel Phone?
Pinwheel is a smartphone designed by a group of parents. They wanted to figure out how to help kids best use technology in a healthy way. It's a lot more than just another phone, it's an interactive tool created with the child in mind. It gives everything from games to apps and teaches how to use the phone for good purpose. See more detail at Pinwheel.
This phone is a great tool for families to use in order to introduce technology to kids and teens. There are so many apps and tech-healthy options, kids will not feel the loss of social media. Especially not if they're not introduced to it until a more appropriate time when they're older.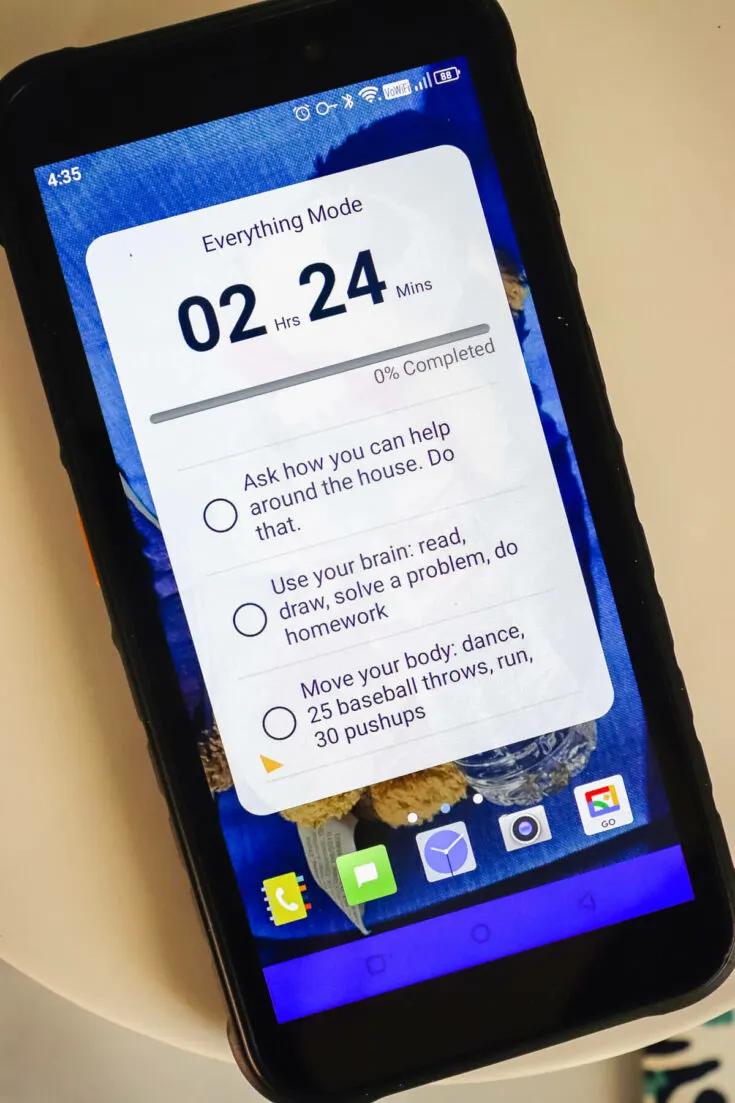 A safe phone for families
The Pinwheel phone is a great way to keep kids safe and connected.
Pinwheel phones allow you to set up a Caregiver Portal where you can see everything that's going on with their phone, from who they're talking to, what apps they have, modes for when those apps are available, and even their location.
But guess what! It's all on my own phone or computer browser, not the kids'. Love this.
The program is easy for kids to use because of its simple interface. They can text, make calls, and use apps, but in a good way. Parents can add an app or change something on a kid's phone without even touching it.
Does it stop spam calls and ads?
It makes it possible for you to be in control without being overbearing or restrictive. With Pinwheel, there's no need to worry about social media, an ad driven app, or spam calls or texts. It stops them with a wall. Yet, they can still have access to approved apps like Khan Academy, chess, Prodigy, and even sports training apps.
What devices can be used with Pinwheel?
In order to access the website and use the Pinwheel Operating System, you will need a Pinwheel phone. There are currently three options for phones, the Slim that works specifically with Verizon, Slim – Blu, and Rugged.
Pinwheel Slim – Blu Phone
This is the Blu G50. It has a 5.5-inch display, a 13MP Camera, kid-friendly fingerprint unlock, and 32GB memory.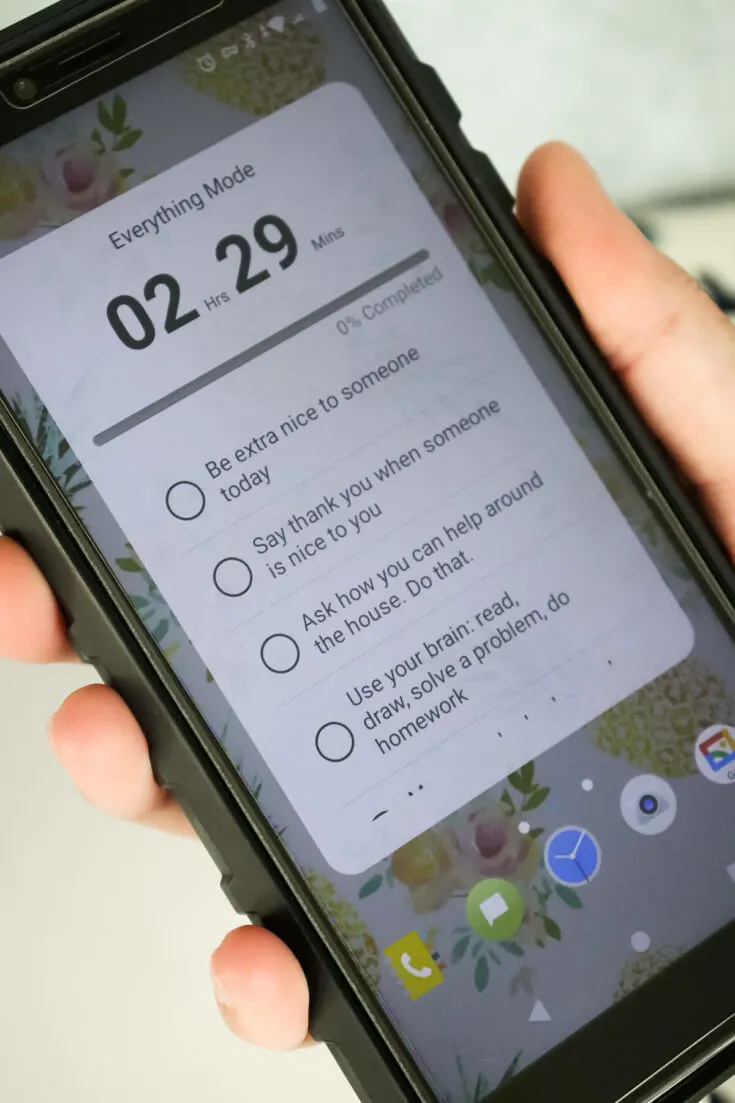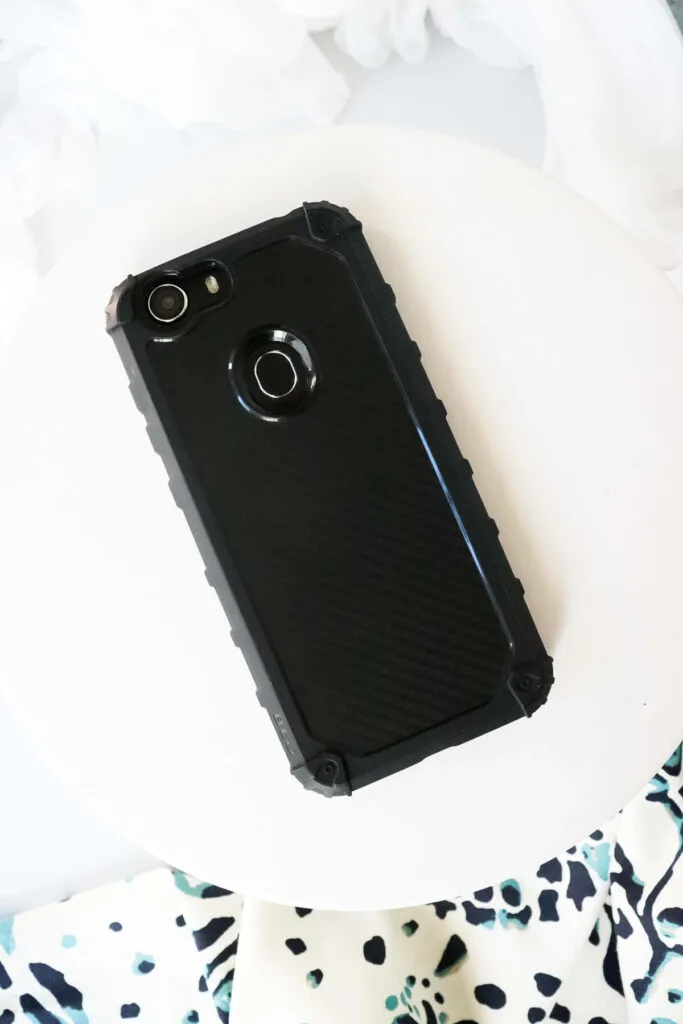 My daughter currently uses the Slim – Blu Phone.
With the Slim phone, it's necessary to purchase the screen protector and case separately. Right now, the only case option is black, but the Slim for Verizon has several more colorful case options.
I know Pinwheel is working to add more fun cases for kids to express their creativity, and I hope to see that in the future!
Pinwheel Rugged Phone
This is the UleFone Armor X8. It claims to be dirt and water-resistant, has a 5.7″ display, awesome 13MP camera, and 64GB memory.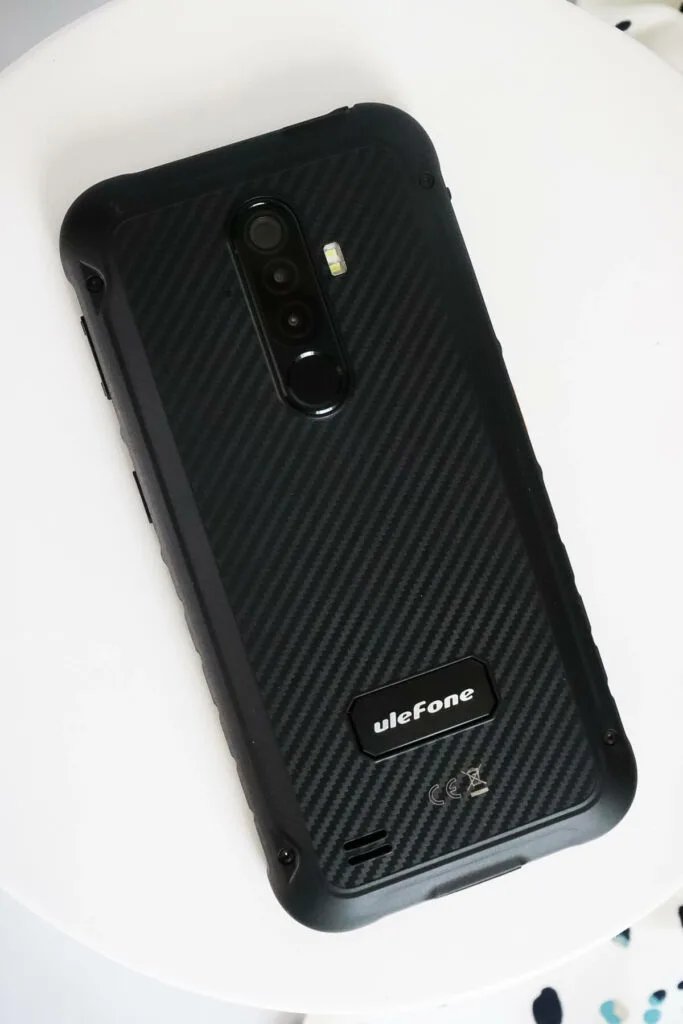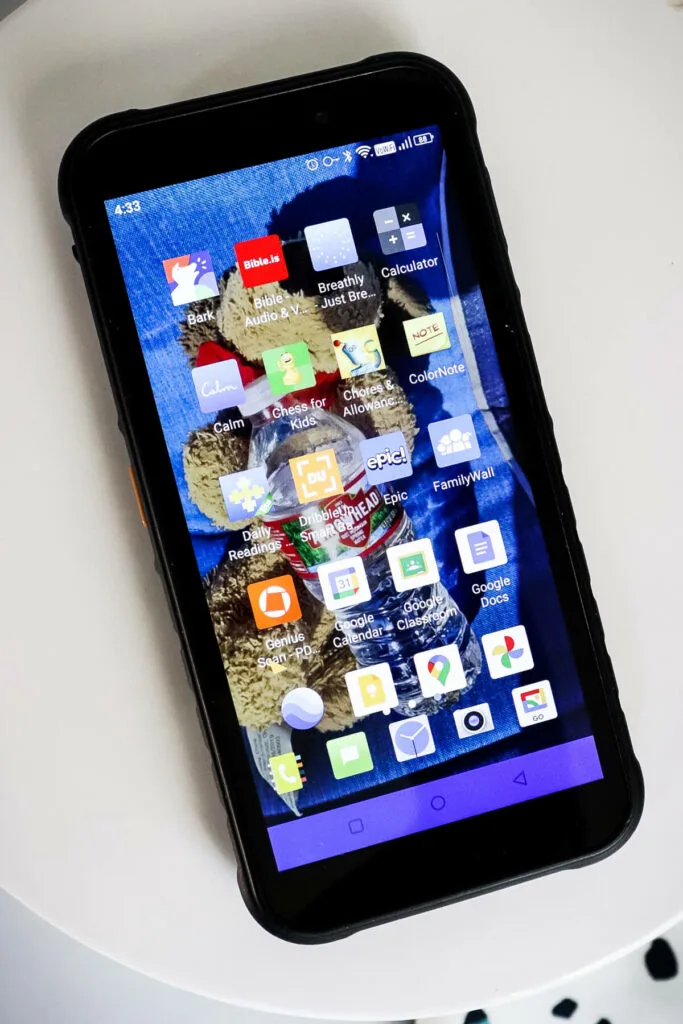 As my son is generally harder on his gear and more likely to drop it or drop a baseball bat on it, we decided to choose the Rugged for him.
I like the fact this phone comes with the case and screen protector already on it. There's no worry about putting it on correctly or having to purchase them in addition to the phone. It's pretty much ready to go!
Pinwheel software
The goal of the Pinwheel design is to grow along with the child. They state Pinwheel's Operating System upgrades over different stages and age development.
The reason you need to buy directly from Pinwheel is that they install their own operating system on the phone. It is not an app that can be bypassed, it's an actual OS that allows the Caregiver Portal to make changes to the phone.
This means the adult can make changes or adjustments without ever touching the kid's device! There is no struggle, nor does the parent have to demand the phone for review at the end of the day.
The Caregiver Portal
Okay, here's the part I love and that really sold me.
What is it?
Basically, this is the website the parent or adult logs into in order to control the phone. It's up to the caregiver to create a phone experience fit for the child.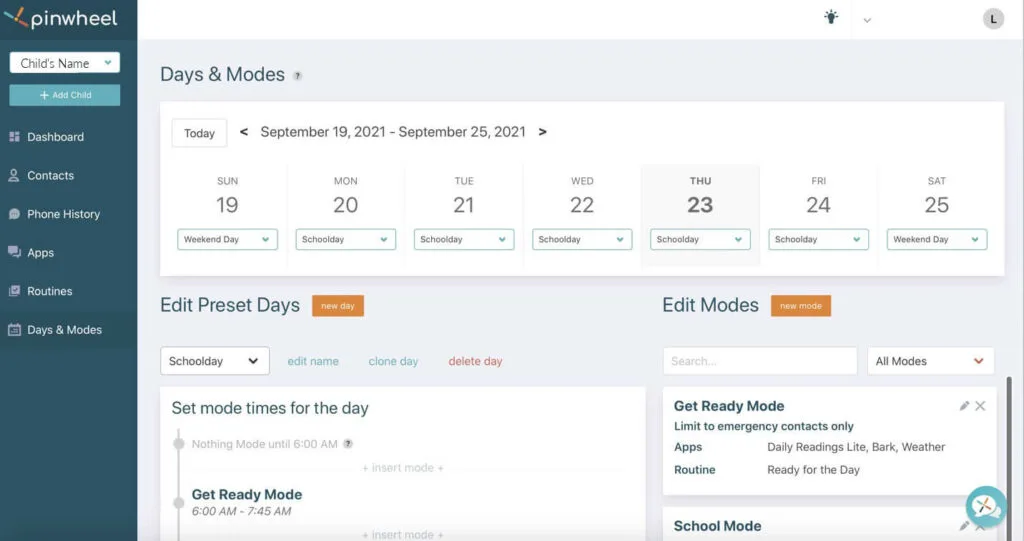 What does the caregiver see/do?
Contacts on the safelist
You don't have to worry about spam calls or texts from unknown contacts (those not approved). Every contact on the child or teen's Pinwheel phone has to be approved by the caregiver.
Carefully chosen apps – approved by a therapist council
Pinwheel's appstore is only available parents and caregivers.
It has been carefully created and approved by a board of child and family therapists so the child can safely use apps without supervision.
Modes
The Pinwheel phone can be set in different modes during parts of the day. This gives the child or teen access to specific features at different times chosen by you.
Add routines and checklists to the modes. This is especially helpful for younger kids or to give simple reminders without the communication coming directly from the mouth of the caregiver.
Track location
Track teens or kids on GPS. From the dashboard easily locate the connected phone.
Feel free to review the GPS location for their own safety and the parents' peace of mind.
Text history
Review texting and conversations if the caregiver chooses.
Any text from the approved contacts and what the child writes back is saved in history.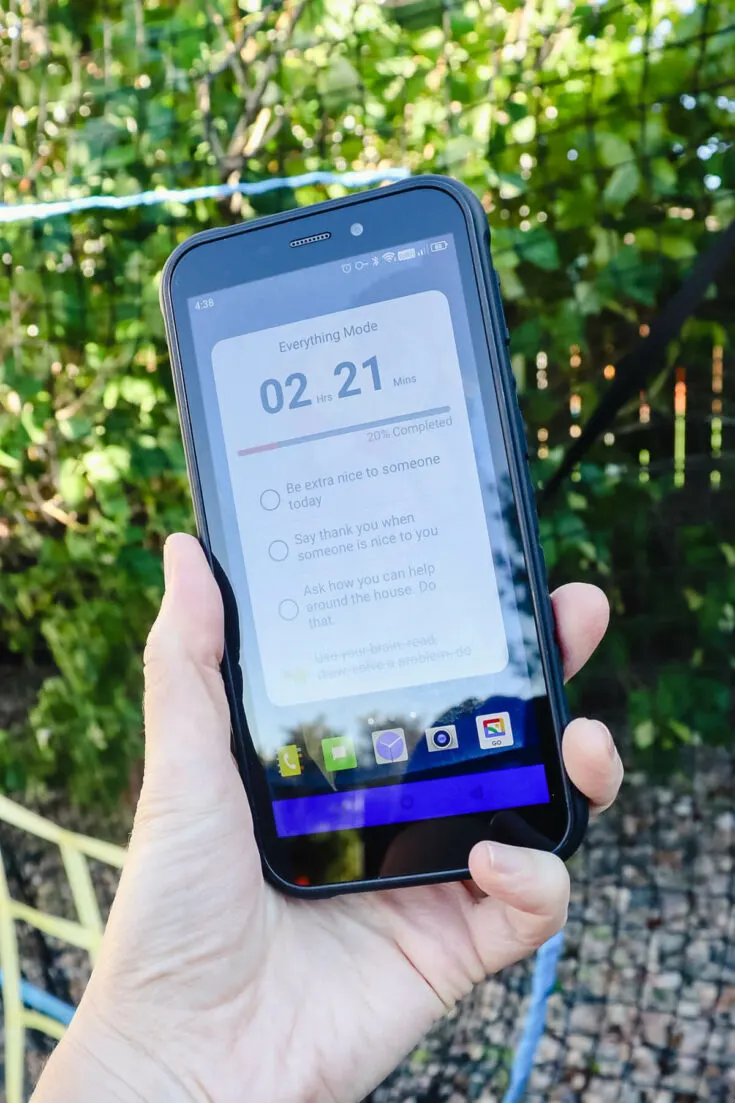 FAQs
Exactly what costs are associated with Pinwheel?
The device
As customers, the answer is that there are costs for any smartphone. First of all, you must buy a Pinwheel phone through the company. For any of these costs, check with the company for the current prices. However, you must buy a phone in any situation.
They've provided me with the opportunity to share 10% off a phone (it should work with your entire cart!) with you if you choose to give it a go. Just use my Pinwheel phones link for the discount.
Phone service provider
Secondly, you will need to add the phone to a service provider company network, even though it does work with wifi. Check the current list on the website for carriers that work with Pinwheel. T-Mobile, Verizon, Mint Mobile, TracFone, and many others are compatible.
Software monthly fee
Third, there is a monthly fee for the software, which includes the Caregiver Portal and access for the child to the software on the device. This means it includes the technology of PinwheelOS, Pinwheel Contacts, and Pinwheel Messenger as well as the current and future updates to the software and support.
However, BONUS – when you add a kid to an existing plan, there's a family plan discount. Check the website for current prices.
What apps are available?
The parent can add curated apps such as Spotify Kids, Calm, Duolingo, Prodigy, Khan Academy, and many other non-addicting, non-ad-based educational games.
Parents can also request an app that has not yet been approved. The company will then put the app through a review process and send the requester the result of their findings. Any approved apps will then become available to all customers.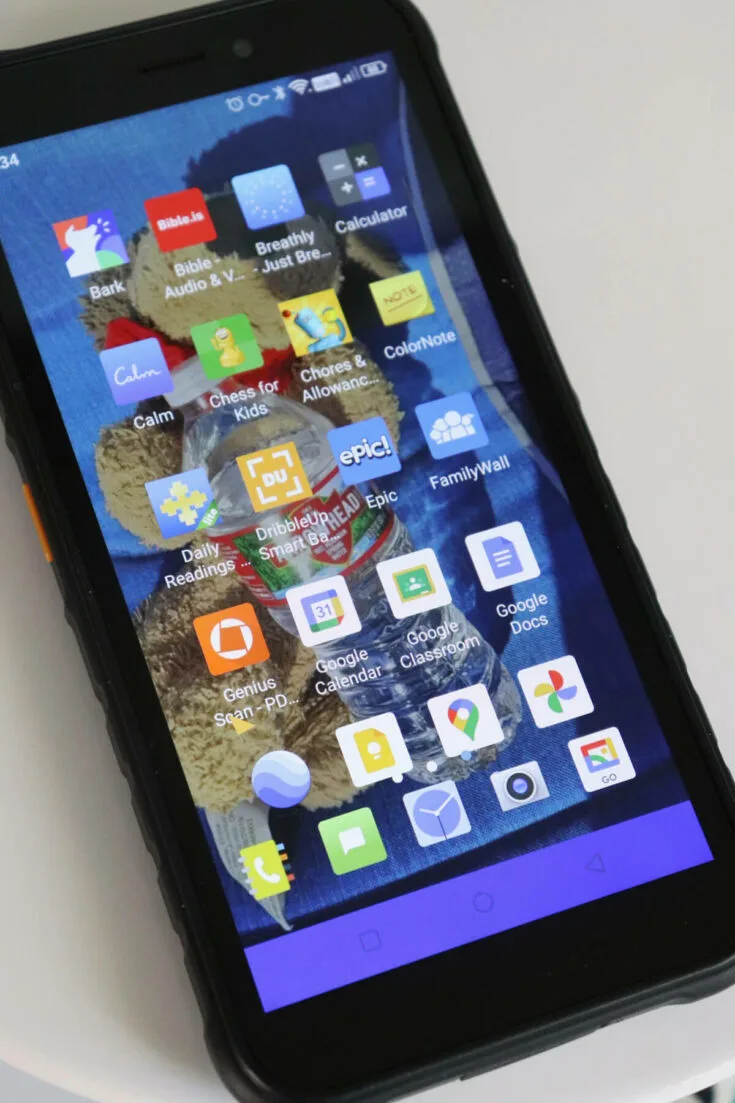 Does it work with Bark?
Yes! Bark works with Pinwheel.
I originally looked into Bark to help review my kids' other devices, like their computers for school and email. It monitors for bullying, mental health, depression, violence, drugs/alcohol, self-harm/suicide, and sexual content.
I like that I don't have to look at everything they view and do online during the day, but I am alerted if there is a concern. The alerts are not always a problem, but I'd rather be over alerted than not at all!
What is my personal opinion?
After using the system for about a month now, I feel very comfortable with it. I personally like the control I have without a power struggle with the person, my child, who means so much to me. After looking at many other options for a kids' phone, I really like the operating system and functionality. I get the protection I'm looking for and the ability to teach my kids good technology habits.
An adult phone is not ideal for kids, tweens, or even most teens. This is a great way to learn to use a first phone as a tool rather than an often dangerous distraction. For peace of mind, I feel it is worth the money for the monthly subscription.
So far, I've had nothing but a good experience with support. Also, there are helpful videos and set-up guides on their website for getting started, although we had no trouble and found everything to be fairly self-explanatory and work well.
It does take some time for the parent to set everything up on the website in the Caregiver Portal. However, I find the initial time investment is worth it to get each app and mode exactly how you want it. Also, once you get familiar with it, it's easy to tweak later.
Any cons?
The only negatives I've discovered are things that are more to do with other factors and not Pinwheel.
For example, when the phone doesn't have cell coverage or is off, the location services don't work. Therefore, if phone coverage is spotty, it will be an issue with the entire phone.
My son wants me to point out that if he crosses off all the items on his to-do list too fast, he doesn't always get a confetti celebration. Slow down if you want to see the confetti party!
My kids have not gotten around anything they're not supposed to and access what they're meant to. I like that it works for us as advertised. There's even a feature request option in the Caregiver Portal if you have an idea or something new you'd like to see in the software.
It's a great starter phone. As the kids get older and as a junior or senior in high school they may wish to graduate to a "regular" phone. But we'll see. For now, these kids' phones are a fabulous tool for our family.
A kid's perspective
My daughter is currently writing her own opinion on the phone from a user's point of view. She'll be sharing about her experience with it, how it works for her, and what she loves. Look for that soon!
Phone discount
Should you wish to try one out, get 10% off a Pinwheel phone and your entire cart if you click below on my affiliate link!
The discount will appear in your cart, and you should receive 10% off on your total purchase. If for whatever reason you don't see it there, you can also use the promo code EXPLORERMOMMA10.
Is it the time right for a phone?
Maybe it's time to give your child a phone of their very own. What age is the right time for a phone? It can vary definitely by situation and family.
A reimagined experience allowing children to safely take advantage of education, skills mastery, music, and more through the use of a useful tool like Pinwheel makes sense!
The therapist-approved smartphone operating system will allow parents control while keeping kids safe from bad social media or sites on web browsing that can be downright dangerous for young minds.
More kids activities:
I feel much better when the kids have a phone when we travel, and it gives them something else to do! Here are some other options as well.
Pin this article for later: