Are you a list-maker and planner or a throw everything together at the last minute spontaneously and hope it works out type of person? Personally, I love my lists and planning, but hey sometimes with kids, life, work, etc. it just doesn't get done. I have my go-tos for kids airplane activities, but sometimes you need to mix it up and do something new not involving a screen.
This free printable is meant to do exactly that, offer something new and fun to do on the airplane that's super easy for mom. All you have to do is print it out and throw it in a surprise folder for the trip.
This page contains affiliate links.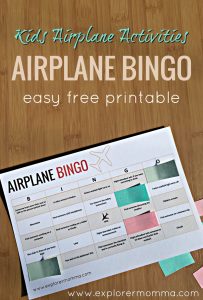 What do you need?
Thanks to all of you out there who've reached out to me lately and responded to our newsletter and emails! If you haven't yet, be sure to sign up to get updates, tips, and news from www.explorermomma.com. I've heard from several of you that you're loving the travel journal printable and are looking for other activities to keep the kids engaged and busy on trips, but don't involve a tablet or other screen.
I totally get it. Currently, at our house, we're having some major struggles with tablets, tv, and screen time. Everyone has their different ideas on the subject, but I'm struggling with the 5-year-old at setting limits and transitioning to our next activity. Let's just say there's been a lot of screaming and fits involved for a usually laid-back kid. Sound familiar? Work in progress.
How to prepare for a plane ride with kids
First of all, there is planning for the quick hour and a half airplane trip, and then there is planning for the long-haul, multiple flight trip. Although generally, we pack similar stuff to prepare, it's just the amount of items that change for me. I consider all flights and airports as a potential for melt-down, although my kids are getting older and past some of those stages. Still, the question is, how to avoid the child, then you, losing it?
There are so many things that help if you allow yourself time to plan correctly. We start off with a well-stocked carry-on bag for each kid, and they're responsible for it the entire way. If you're interested, take a look at my posts on The Complete Kids' Carry-On Packing List, 30 Nut-Free Snacks for a Long-Haul Flight, or 8 Ways to Survive a Long Layover With Kids.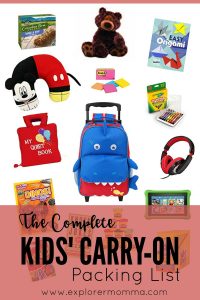 Travel entertainment
As a kid, I always loved the car trip scavenger hunt type games that made me look for things as we drove. For a while I even made books of Iowa Signs, Kansas Signs, Texas Signs, etc. and drew all the signs I saw because there was not a lot else to look at on some of those drives. No offense of course to example states!
Also, I especially loved when we played a game as a family. I Spy, the ABC game (you know: A – My name is Andrew, I'm going to Alabama, and I'm taking Apples), and so on.
Naturally, when thinking about non-screen activities my thoughts went to okay, what can a family do together on an airplane? Well, we can't make a lot of noise, but it should be entertaining and possibly even include prizes for the winners. Small erasers or toys work well for this, or a Dum-dum style sucker to help kids' ears pop and adjust to the altitude.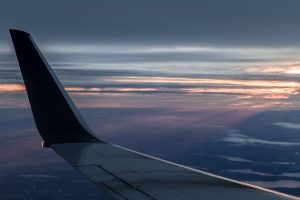 Airplane BINGO how-to
That train of thought gave me the idea for Airplane BINGO. What kid doesn't like BINGO?! In this version, it's a bit of a scavenger hunt as well. Hand out the free printable cards, and you're ready to begin.
Tear up pieces of paper for markers. Actually, I always travel with Post-its and ripping the little ones in half with the sticky on them works amazingly well for airplanes because they don't fall off and into the abyss of the airplane floor.
In Kids Airplane Activities: Airplane BINGO, I've included 4 different BINGO cards. Although they do list many of the same items, they are not in the same locations on the cards.
Once you hear or see one of the items on the card, for example, you hear the woman in the next row discussing the weather, you place your sticky note or marker on that square. The center space with the airplane is the "FREE" space so it can help out when trying for a BINGO. We always play allowing a BINGO when you get five spaces in a row or all four corners.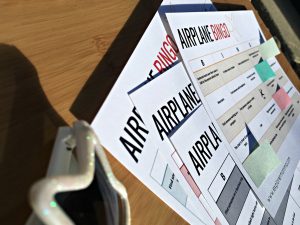 You won!
When you win you say, "BINGO!" and go through your five squares and explain where you saw each. If indeed a winner, that person will receive a fabulous prize such as a pencil, exciting highlighter, or new dinosaur figure (depends on your kids). At that point, you can then start a new game.
This printable is made for kids who can already read, but an adult could easily pair up with a younger child. Or similarly, you could have everyone color their BINGO cards and draw pictures of what they're searching for in the rectangles. Really, you can make it work for just about anyone.
Sign up for Explorer Momma's newsletter and d
ownload Kids Airplane Activities: Airplane BINGO as a bonus!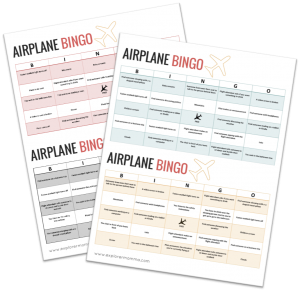 What are your kids airplane activities?
So what do you do to keep kids happy and occupied on an airplane? Especially on those long and multiple-flight trips, once the novelty has worn off it can be difficult to keep up the positivity. As I said, we have our tried and true kids' airplane activities, but what do you do to mix things up?
Also, if you download the Kids Airplane Activities: BINGO Cards let me know in the comments how it worked for you. This is an activity that could last a long time or a relatively short time depending on the family. Do you have any other ideas to make it better?
Thanks so much and have an amazing trip!