This amazing free printable kids travel journal is perfect for family vacations and kids' travels. It's the ideal tool to inspire observation and learning about culture and geography.
How would you like to have a super easy activity for the kids on your next vacation? What about one that involves reflecting on their day and writing and drawing about their impressions and experiences?
Look no further!
I love this free Kids' Travel Journal printable, and so does my daughter. With this notebook, she is able to keep track of what she did each day, how she felt, and her favorite aspects of it.
In addition, there's a reflection page that lets kids write or draw the weirdest thing from the vacation, the funniest thing, or what they'd like to do next time, etc.
Why do you need a Kids' Travel Journal?
First of all, I would suggest all travelers keep a journal. Why do you ask? There are so many times you are in the moment and the sights, impressions, feelings, and experiences are all crystal clear, and you may think you'll always remember them exactly that way.
Unfortunately, that is not always the case, and as time passes some of those start to muddle. Moreover, if you take the time to write out what you are seeing and experiencing you can go back to that at a later time. Then your mind will more easily recall all those senses from your journey and make it a reality.
I love to go back and re-read my travel journals and look at the photos together from that time.
A kids' travel journal is important for all of those same reasons, but more as well. When a child writes out in sentence form about their day and what happened it causes their mind to process it in a new way. They will see it from a different perspective and remember it through that writing and also drawing.
Furthermore, journaling one's adventures and feelings is a skill to be learned and practiced. I find it calms you down at the end of the day, and we all know traveling can be exhausting!
Make it part of the routine each evening before bed, and the relaxing familiarity of it will help to comfort kids. Inevitably this makes the entire trip more enjoyable for everyone!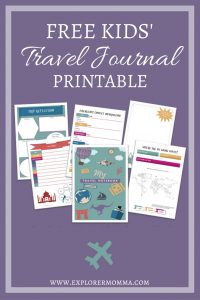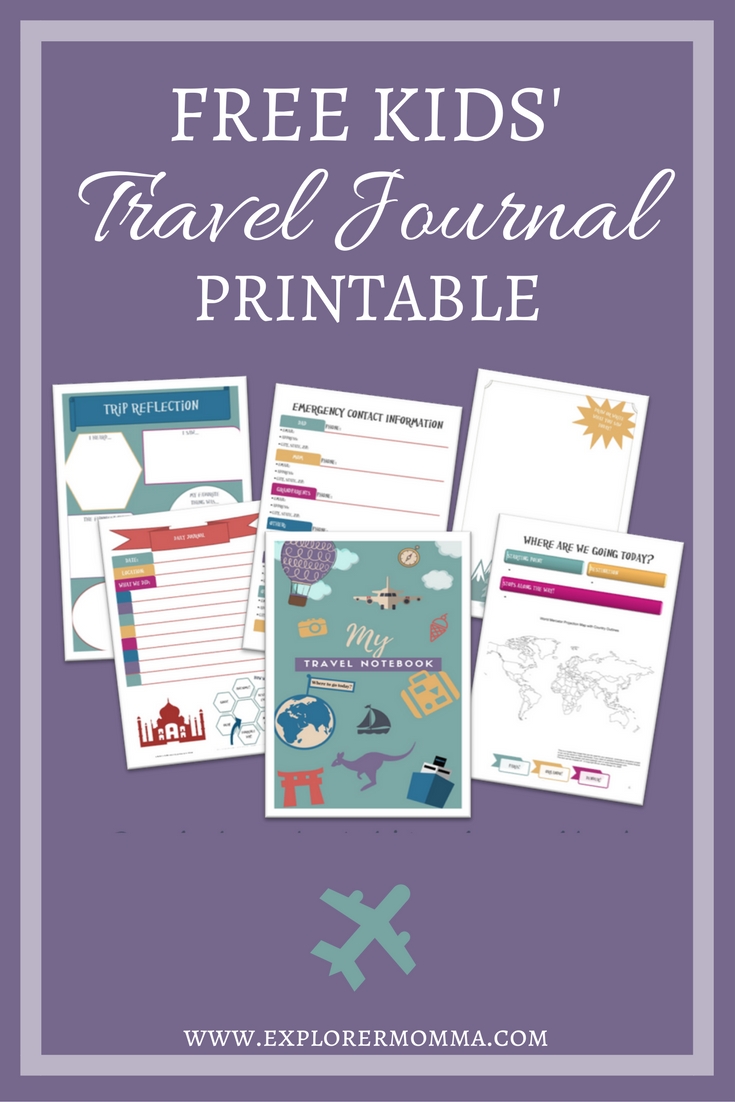 Are you looking for more ways to get kids involved in learning? Check out 10 Tips to Get Kids Excited About Learning from ExplorerMomma.
Sign up for the Explorer Momma newsletter and tips!
As a bonus download your free kids' travel journal!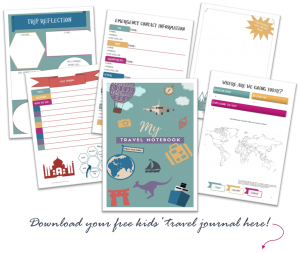 You should receive an email with a welcome and instructions for your bonus download.
I hope you enjoy the travel journal, and your kids will get a lot of use out of it!
Happy travels!
More travel journal ideas:
My kids have gone through this travel journal several times, and we love it! However, sometimes it's good to mix things up a bit!
Want to check out our latest kids travel journal?
Kids Travel Journal (new!)
It's filled with new activities and prompts to get kids thinking and observing more on their travels!