Do you struggle at the last minute before a vacation and long for a quick and easy kids' carry-on packing list? What you have with you on the airplane can be a lifesaver, just as a possible missing item can unleash a frustrated ear-splitting series of wails from a small traveler!
You need a complete carry-on packing list!
Of course, it's possible ignore all the stares from the passengers around you. However, several years ago all I could see was judgment and glares, although some sympathize. Now, I don't really care what others think, and the focus is on how to calm and reassure my child.
This post contains affiliate links, which means I receive a small percentage if you make a purchase after clicking on my links.
Kids on an airplane
This summer we returned home from an international trip and were just at the end of a twelve and a half hour flight. If you want to picture it, I sat in between my two kids in a row of three seats by the window. In addition, my husband sat directly across the aisle.
This was the second flight in a series of three to get us home and so far the kids had been awesome. Cue trouble.
The dreaded seat-belt sign
First, the seatbelt sign turned on, and my worn out 4-year-old stared at it a second and then went into panic mode. "Potty! Potty! Mommy, I need the potty!" Now, at this point, it didn't really matter what I said to him or how I reassured him.
Quick as a flash he had his seatbelt off and was clawing me to get into the aisle. We'd already learned the toilets were locked when the seatbelt sign was lit up, and after what felt like an eternity of screaming a flight attendant came by.
She looked pointedly at my struggling son and said, "Ma'am, I must ask you to put the seatbelt on. We've begun our descent."
The Request
Now, I'm a rule follower and want to support flight attendants and put safety first. However, I don't think our elevation had changed at all, there was no turbulence, and we were not anywhere close to landing. Everything I tried to make the child comfortable and sit back down in his seat failed.
He continued to scratch and scream, and he's a strong kid! Another attendant walked by looking irritated, and I said, "Could you please unlock the door to let him go to the bathroom? He'll calm down and be fine if he can just use the restroom."
"Ma'am. The seatbelt light is on," he began, and then just adopted an expression of incredible inconvenience. "Come with me."
My son did his business and was back in his seat with his belt on, now a perfect angel. The anxiety over, he waited for us to land. I know my son, and it didn't matter he was in a pull-up for the flight for just such a situation. Basically, he was tired, panicked, in one-track mode, and couldn't think of anything but getting to the bathroom. I breathed a sigh of relief and turned to check on my daughter, whose eyes widened looking into mine, and at that instant, she threw up all over me.
We won't ever be prepared for absolutely everything.
Why do I share this story? We can't be prepared for everything, but we can help our kids limit the risk of panic and frustration and use a well-thought out kids' carry on packing list.
Be assured your kids will be ready and entertained on their next flight when you use this kids' carry-on packing list.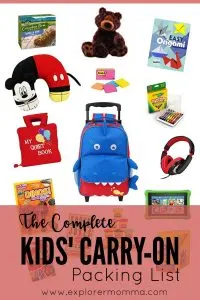 The Complete Kids' Carry-On Packing List
Click on the picture of the item to see an example of it on Amazon.
1. The Bag

When selecting a bag for your child choose something they can carry themselves or pull on their own. Don't get one that's too big you'll end up carrying it the entire trip.
2. Stuffed animal or blanket

Bring that one favorite stuffed animal or blanket. Your little one may need the extra comfort and a friend to talk to!
3. Tablet or iPad (with a good case)

Yes, yes, I know. This is the one time I let the kids play on the iPad or Kindle and do not try to limit their screen time. My goal is to get through the trip, and screens are a HUGE help.
Before you go, make sure your devices are charged and cords are packed where you can get at them. Also, download a bunch of new movies, shows, or games last through your no internet flight. I highly recommend Shaun the Sheep.
3. Headphones
You will want to test out the headphones for your kids before you go to be sure of sizes. In addition, in order to prevent fighting, it's important to have a set of headphones for each kid (and a tablet for each if possible).
4. Coloring/activity books

My kids don't use these too much on the plane, but they were a big hit for killing time during our layovers between flights. It all depends on the kids' moods at the time.
5. Crayons (triangle) or Twistables, colored pencils

I love these triangular crayons because they don't roll around on your airplane tray table. They still can fall to the floor obviously but are much less likely to, and I'll take that!
6. Pencil pouch with pencils and pens

I admit I chose these pencil pouches for me, but you can get just about any color and style in the school supply area of your local store. They're awesome for keeping those individual pencils and pens, erasers, or whatever the child deems necessary.
7. Travel journal or My Quiet Book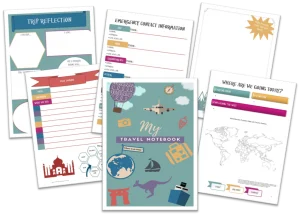 Click here to take you to the post to download!
An older child can fill out the basic information and begin their travel journal for a trip, and for a younger child, something like this My Quiet Book is fabulous. You can tie shoes, button buttons stick things on, and it's all attached to the book so you drop and lose nothing.
8. Mad L

ibs and joke books

First of all, it's always good to laugh. Secondly, if your kids are laughing as you roll your eyes in your mind, it's a lot better than a tantrum in the middle of the airport or plane. Have fun with it!
9. Book(s) to read

I always have a book to read with me on an airplane, and it's always good to encourage reading time for kids. Get them engrossed in Harry Potter, and you won't have to worry about them until the flight's over and the book needs to be put away. So load up that Kindle or bring the physical book, but read!
10. Post-it notes

Now, Post-it notes may sound like an odd necessity to you, but they're great especially for younger kids. My four-year-old thinks it's a huge treat to draw creatures on all his sticky notes and then put them up all over the chair, window, airplane tray, and any other spot he can find. It takes a lot of time…FABULOUS!
11. Origami book and paper

Do you love origami? Origami is hugely popular in our family, and the kids love to do it at any time so why not on an airplane? It's entertaining, takes up time, and you have a paper crane or boat at the end of it.
You can also tell them about the Japanese legend that says the one who folds 1000 Origami paper cranes will be granted a wish. And…go!
12. Games – UNO, a deck of cards, Skip-Bo, etc.
Card games are great for waiting to get on the airplane and a fun way to get the whole family interacting in a positive way. Who doesn't like UNO?
13. Travel pillow
You always debate whether or not to splurge on using your packing space for a travel pillow. I think it depends on the person and how long your flight actually is, but my daughter loved hers on our last several flights. We were all able to rest a lot better with them, and I believe it's worth the space. Make sure to get the right size of pillow for each person. I know from experience my adult-sized pillow will not work for my four-year-old.
14. Snacks (Mom will have back-ups in her carry-on)

Snacks are a must to get through a flight. We always bring nut-free snacks when on an airplane, and there are some great options out there without having to pay a fortune at the airport snack bar.
15. Wipes
This one is fairly self-explanatory, but they've saved me so many times. I always have a pack of Wet Ones in my purse!
16. Play-doh
An odd choice maybe? I thought so at first, but Play-Doh worked out really well on the airplane. It was fun sculpting and making snakes, and the kids were really good about keeping it on the tray table.
17. Make sure Mom has changes of clothes for everyone AND motion sickness medicine.
[et_bloom_inline optin_id="optin_9″]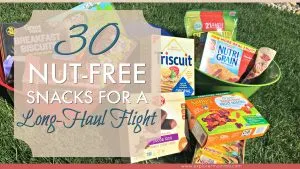 Do you have a carry-on packing list?
There you have it. The complete kids' carry-on packing list. When I got off the airplane in Los Angeles to go through customs with vomit all over me, I was grateful to have a well-packed kids' carry-on bag. We were able to get through the airport, change, calm everyone down, and make it to our next flight without further problems. Sometimes it's the little things that make a difference. Have a great flight!
Are you traveling with young toddlers or babies who can't handle their own carry-on? Check out these great ideas for the Best Backpack Diaper Bag For Travel and Everyday.