Are you looking for an effective pet, kid, and family-friendly cleaner to use in your home? If so, Force of Nature cleaner is a fabulous solution. This cleaning product uses a combination of salt, water, vinegar, and electricity to create a powerful cleaning agent to tackle tough messes without the need for harsh chemicals. In this Force of Nature cleaner review, we'll take a look at how it works and why it's such an excellent choice for those who want to keep their homes clean while avoiding the harmful ingredients in conventional cleaning products.
This post includes Amazon and/or other affiliate links. As an Amazon Associate, I earn from qualifying purchases.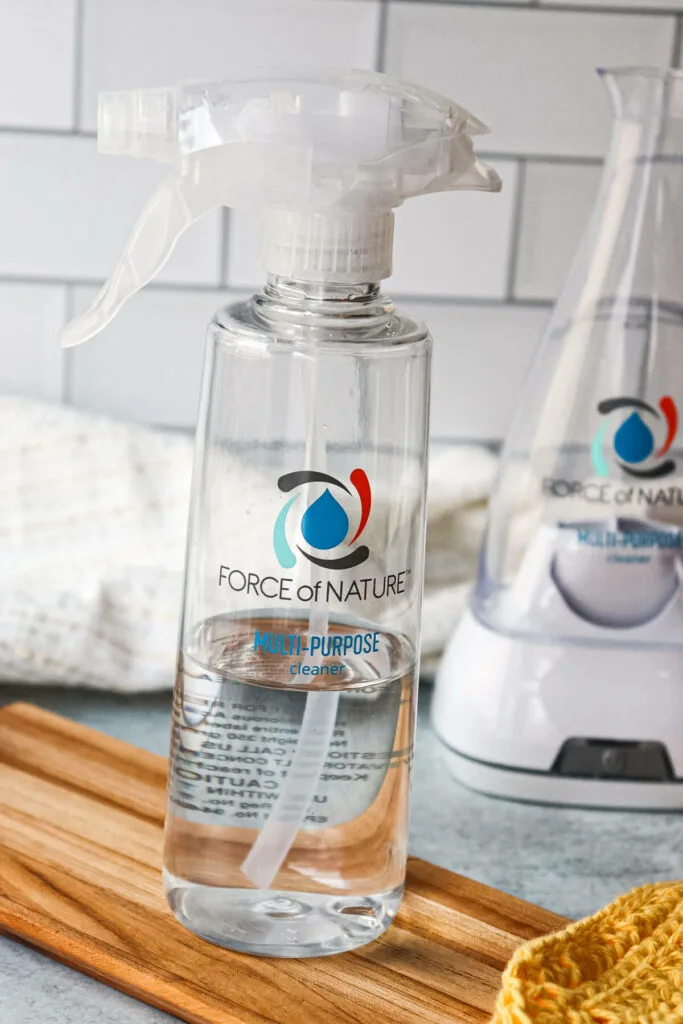 Jump to
How to | Where to use | How does it smell | Electrolyzed water | Why 2 weeks | Why not make my own? | My favorite cleaner kit | Starter kit | 100% Happiness guarantee | Food storage wraps | Cleaning cloths | My opinion | Discount for you | FAQs | Force of Nature Site
So why have I been fan-girling about a multi purpose cleaner? 😜 Well, one, it's because I've been obsessed with germs lately and the colds coming home from school. On a completely selfish note, I hate getting sick!!
Two, it's also because I'm always on the lookout for toxin free, clean, and healthy options for my family. Even if we didn't have a chronic illness in the household to deal with, I want what's best for my kids and family, and I'm sure you do for you and yours!
🥶 Cold and flu season
Attention! Cold and flu season is upon us, but don't worry – I discovered the perfect solution to keep my family healthy. Force of Nature multi purpose cleaner is an all-in-one Federal EPA registered disinfectant that kills 99.9% of germs, mold, mildew, and bacteria. Plus, it's Green Seal certified to meet the highest standards in protecting human health and preserving the climate. All of which are super important to me.
I love using Force of Nature Cleaner on everything all over my house – it's one less thing to worry about during cold and flu season. And I'm good at worrying.
Yes, I know I'm going to sound like a commercial in this blog post, but I am absolutely loving everything about this toxin free cleaner and have been using it literally everywhere. Its ability to disinfect surfaces is something I'm always grateful for, but its lack of harsh chemicals makes it an even greater choice.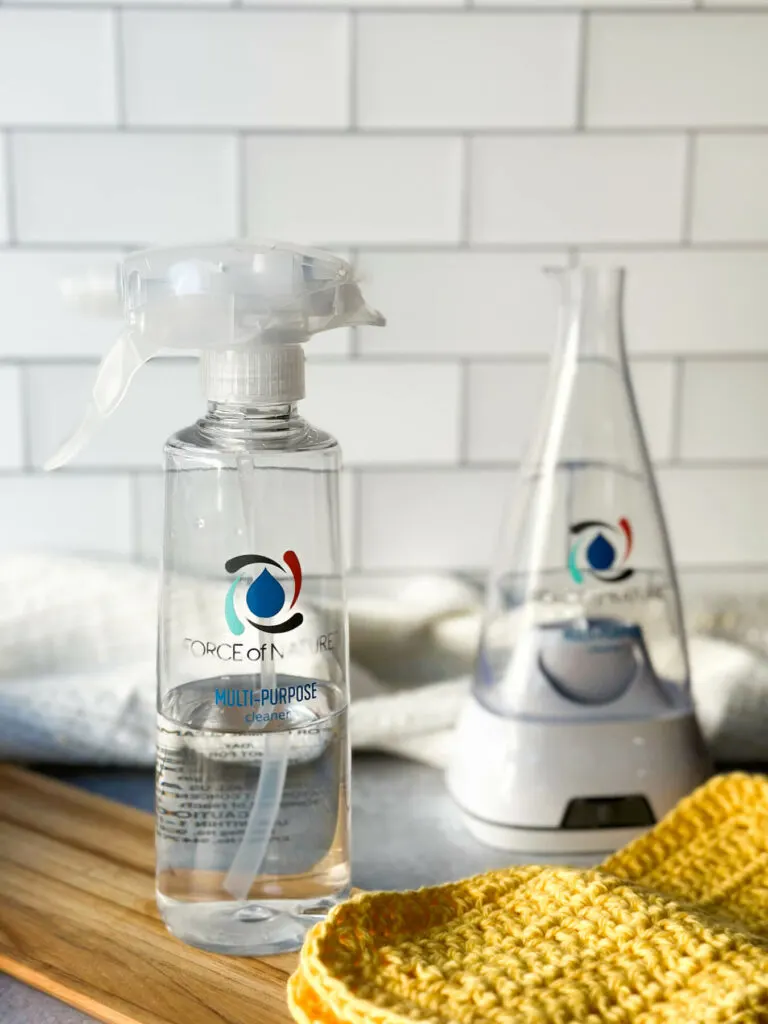 💦 How to convert tap water into toxin free cleaner
The Force of Nature appliance is super easy to use – just fill it up with tap water, add one of the activator capsules of salt, water & vinegar, and turn on the machine to let the electricity do its job. It takes about 9 minutes for the process to occur, and very soon you can pour the cleaning solution into the spray bottle.
The formula leaves no harmful fumes or residues behind for me to rinse away; plus it replaces bleach, sanitizers, all-purpose cleaners, glass cleaners, bathroom cleaners, deodorizers, and disinfectants – so I don't have to stock up on every kind of cleaning product.
Force of Nature solution helps me keep my family free from germs while also helping take care of our planet. It works thoroughly to keep surfaces throughout my home clean and sparkling without any harsh chemicals or toxic fumes.
👓 Check it out or read more
So what are you waiting for? Grab your starter kit or bundle now before cold and flu season really kicks in! With its powerful EPA registered formula that kills 99.9% of germs, mold & mildew plus its Green Seal certified status you can be sure that your family will stay clean while taking care of the environment at the same time.
Force of Nature Cleaner kills 99.9% of germs like Staph, MRSA, Norovirus, Influenza A, Salmonella, Listeria and Pseudomonas Aeruginosa when used as directed. It's also on List N – the EPA's list of approved disinfectants for Covid-19 – and with no harmful chemicals can be used in hospitals, medical clinics, dental offices, veterinary clinics, daycare centers, and schools.
With this organic multi purpose cleaner, you can rest assured that your family or business is protected from germs without having to use harsh chemicals.
🙋‍♀️ Where can I use Force of Nature cleaner?
What makes this cleaner even better is its versatility. It can be used on kitchen counters, bathroom surfaces like sinks and toilets as well as on carpets and upholstery in the living room or bedroom. It can be used on laminate, tile, stone, and hardwood floors.
Kitchen counters
Bathroom surfaces like sinks and toilets – This is a lifesaver in my kids' bathroom!
Mirrors (just use a good clean cloth to get it completely dry)
Carpets
Upholstery in the living room or bedroom
Laminate, tile, sealed stone, hardwood flooring
Clean makeup brushes
Baby gear: toys, diaper bag, and more
Pet gear, pet toys, pet accidents
Sports equipment
Camping gear
And get creative, much more!
🙋 Why is it great for kids?
I'm going to tell you my secret. I sometimes don't follow through when having my kids do their own chores. Gasp! Right?!
Indeed, I'm afraid I worry (did I mention I'm a worrier?) the smell of the cleaner will bother my daughter, or perhaps my son will accidentally, or maybe not so accidentally, spray cleaner on his sister's toothbrush! There are many possibilities!
The thing is, I'm not afraid to give the kids a bottle of this stuff and say, "Have at it! You've got doorknobs before we can go to baseball practice! I want to see your bathroom sink and counter clean and sparkling before even calling a friend to come over!".
It's a good feeling!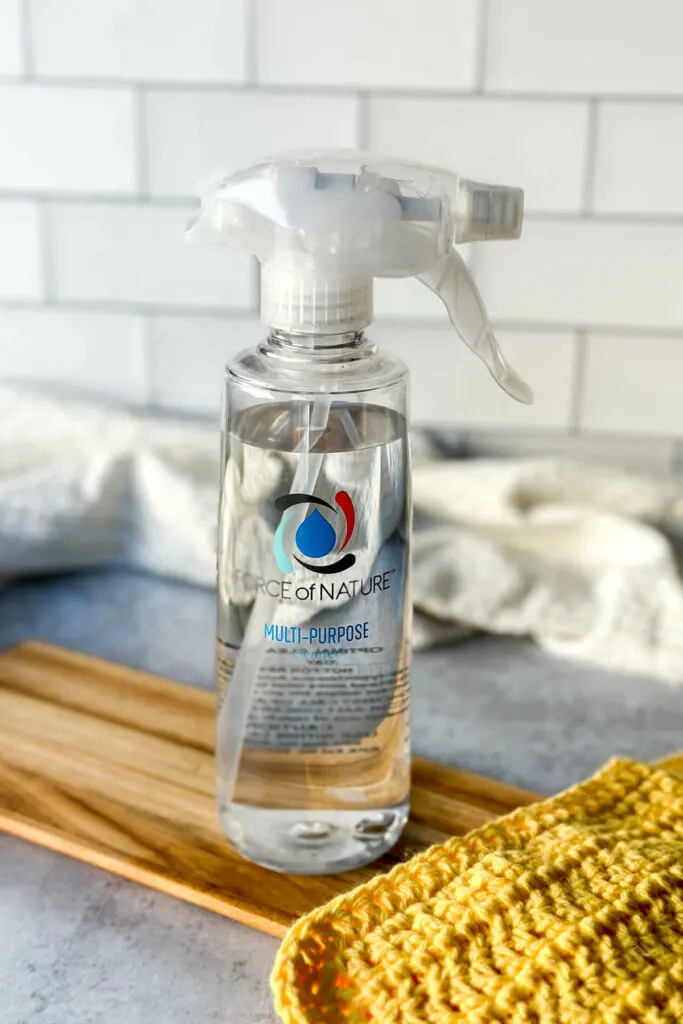 🙋‍♂️ How does Force of Nature smell?
Force of Nature Cleaner not only helps keep your home or business clean but also provides a pleasant smell without leaving behind any residue or fumes.
It's a different cleaner that has zero added fragrances but has a fresh clean almost swimming pool smell.
💭 What is electrolyzed water?
Electrolyzed water is an amazing invention that combines salt, water, and vinegar to create a powerful cleaning solution.
It's a pet, kid, and family-friendly alternative to harsh chemical conventional cleaners that can be used for green cleaning, wound healing, and even veterinary care.
The electrical current changes the chemical composition of the solution into two new ingredients – hypochlorous acid and sodium hydroxide.
Hypochlorous acid
Hypochlorous acid is the same germ-killing substance your immune system produces, making electrolyzed water gentle enough for use in wound and eye care products.
Sodium hydroxide
Sodium hydroxide is a detergent found in many kinds of toothpaste, skin care products, and cleaners—but electrolyzed water only has .0000003%, making it just as effective as leading brands without exposing you to harsh chemicals.
It's incredibly versatile too—you can use it on hard surfaces like countertops, floors, walls, and windows; you can use it on fabrics like curtains or upholstery as long as they're okay to get wet; you can even add it to your laundry cycle instead of laundry detergent.
Electrolyzed water is both powerful and family-friendly—and I've come to determine, it's a must-have for any home wanting to eliminate harmful chemicals.
🧽 Why do I have to use a bottle up in 2 weeks?
But why do you have to use up the bottle within 2 weeks?
Well, the hypochlorous acid starts to dissipate after two weeks.
Sort of like how bubbles in a soda slowly go away over time, this active ingredient becomes increasingly less effective as time passes.
So in order to make sure you're getting the full germ-killing and disinfecting power each time you use it, you need to make sure to use up the 12 oz bottle within two weeks!
🤨 Why can't I make my own cleaner instead of using capsules?
Making your own solution or toxin free cleaners may seem like an exciting prospect, but it's important to remember that when it comes to cleaning agents, precision is key.
The pH level of any cleaning solution is critical for effectively killing bacteria and germs. If the pH level isn't just right, the cleaning solution won't be effective and could even become a health hazard. That's why pre-measured capsules are so important.
The EPA requires specific measurements of hypochlorous acid (HOCl) in order to ensure its effectiveness as an anti-microbial cleanser. Using pre-measured capsules ensures that each dose is exact, that way you know exactly what you're using and don't have to worry about getting it wrong. Doing it this way also helps make sure the shelf life of your cleaner is longer so that you can use it most effectively and prevent waste.
At the end of the day, there are a lot of benefits from using pre-measured activator capsules if you want your cleaner to be truly toxin free and effective against germs and bacteria. Not only does this method provide peace of mind knowing that you're taking all necessary precautions for cleanliness, but it also allows for more precise dosing so that your cleaner is consistently powerful and accurate every time.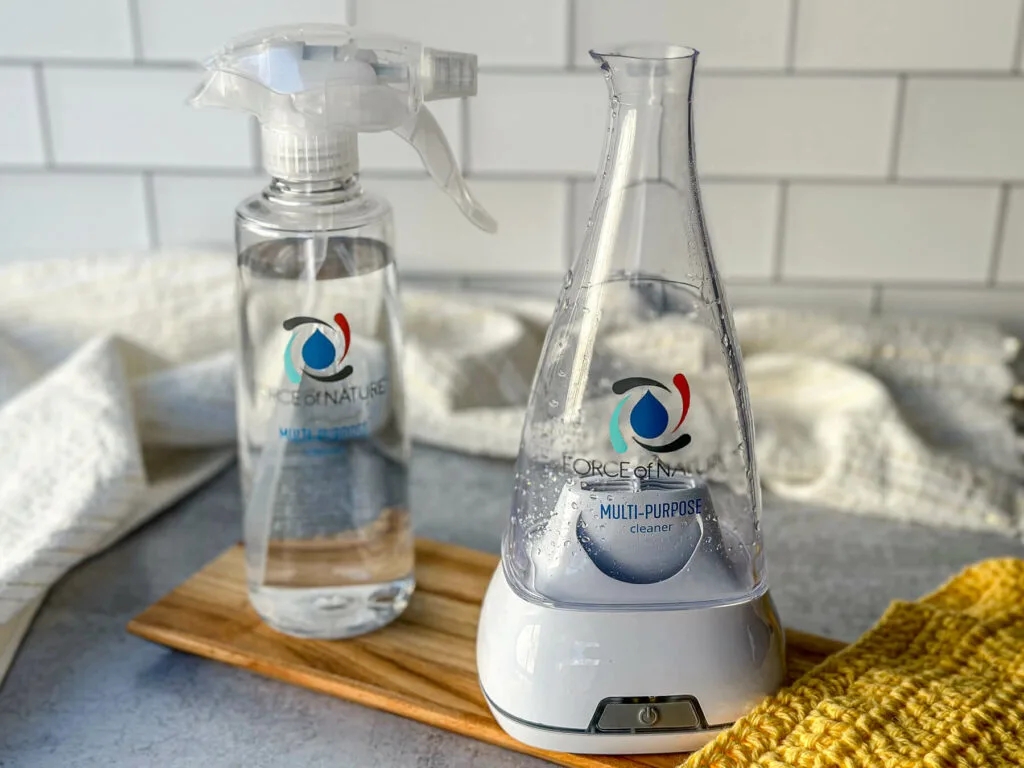 👩‍🍳 My favorite Force of Nature cleaner kit
As a mom who loves all things keto, toxin free, and chemical free, the Super Saver Bundle Force of Nature cleaner kit is my absolute favorite.
Not only does it come with everything I need to make 50 bottles of multi-purpose cleaner to kill 99.9% of germs and mold, but it also comes with 9 super absorbent reusable cleaning cloths that can be washed and reused up to 40+ times each!
This means that I'm no longer wasting paper towels or even having to buy them – which saves me time, money, and a lot of extra waste. I love that this kit is completely eco-friendly too – the cloths are fully compostable and machine washable.
Plus, since you're getting so much in one package – 50 bottles of cleaner plus the 9 cloths – it's actually far more cost effective than buying everything separately at the store.
You get:
50 recyclable Activator Capsules, each makes one 12 oz bottle of all-in-one cleaner, deodorizer & disinfectant
9 Cleaning Cloths (12 x 16 inches)
Electrolyzer Appliance
Power cord
12 oz planet-friendly reusable Spray Bottle (Reusable plastic BPA and BPS free – you can also order a separate glass bottle or get it in a different bundle)
Quick Start Guide & User Manual
As an added bonus, the cleaner smells amazing too with a clean light swimming pool scent. I feel comfortable using it everywhere, and it doesn't break the bank.
🛁 Or try the Force of Nature starter kit
If you just want to see how it all works, try the starter kit.
It comes with everything you need to get started. You get:
5 recyclable Activator Capsules, each makes one 12 oz bottle of all-in-one cleaner, deodorizer & disinfectant
Electrolyzer Appliance
Power cord
12 oz reusable Spray Bottle
Quick Start Guide & User Manual
This is a great option for those who just want to test it out before committing to a bigger purchase or if you don't want to buy in bulk yet.
😃 The 100% happiness guarantee
I also love that there's so little risk involved in trying out these cleaners! Force of Nature offers a 100% Happiness Guarantee, so if you're not happy with the performance or results of your cleaner, they'll give you a full refund (minus the return shipping cost) in the first 30 days – no questions asked.
It's definitely reassuring to know that I'm getting a quality product and will be able to get my money back if I'm not satisfied.
Overall, I'm definitely happy with Force of Nature, and I'm so glad I found it! However, if you have any issues, contact Force of Nature directly at 888-985-8099 from 9 am-5 pm EST daily or at support@forceofnatureclean.com.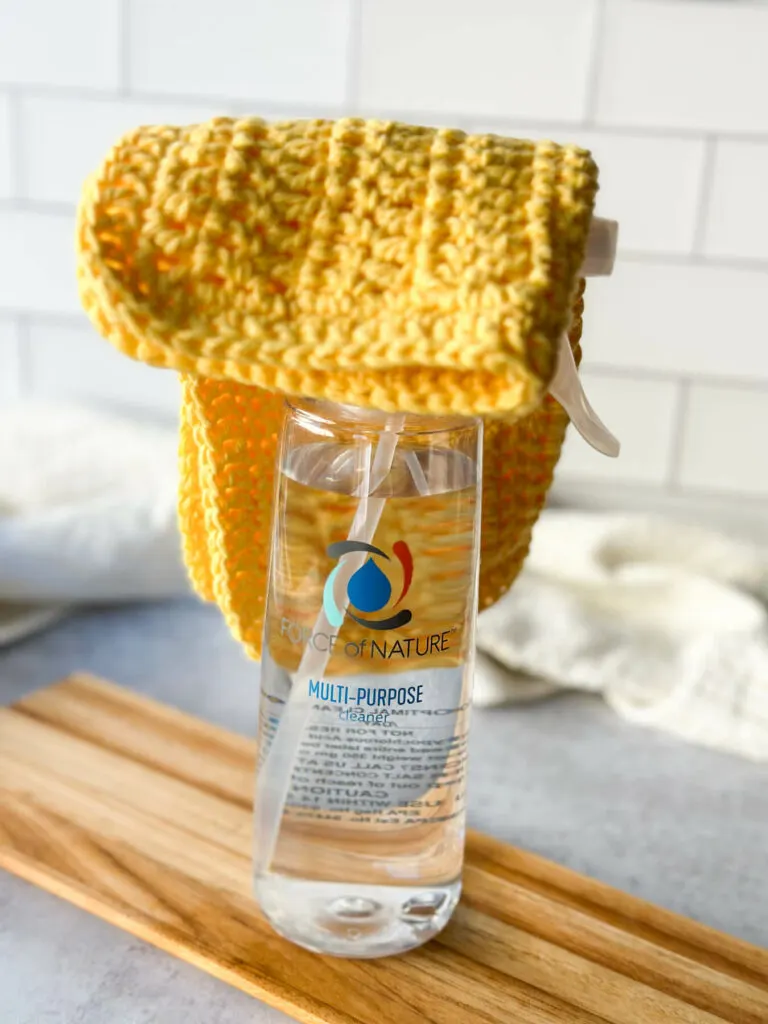 Other Force of Nature products
Force of Nature also has a few other products that are great for keeping your home clean and toxic-free.
🥘 What are reusable food storage wraps?
Reusable food storage wraps are the perfect sustainable alternative to plastic wrap!
These eco-friendly wraps are handcrafted with organic cotton, locally sourced beeswax, organic coconut oil, and tree resin – making them a great choice for eco-conscious and health-minded families.
Each pack includes a large wrap (13 x 13 inches) which is great for sandwiches and wraps, a medium wrap (10 x 13 inches) for smaller sandwiches and baked goods, and a small wrap (7 x 8.5 inches) for little bites.
How to use Force of Nature reusable food storage wraps
The best part about reusable food storage wraps is that they're so easy to use! All you need is the warmth of your hands to activate the watertight seal; then you can store bowls, sandwiches, and much more in the fridge or on the go. Plus, these wraps are available in two super cute designs – so there's something for everyone.
Not only do these reusable food storage wraps help reduce waste by reducing our reliance on single-use plastics – they'll also help make mealtime prep easier. And because they're made without any harsh chemicals or toxins, you can rest assured knowing that your whole family can enjoy fresh meals without harmful additives or preservatives.
My next question was: But how do you clean the food storage wraps?
In fact, cleaning your Reusable Food Storage Wraps is super easy! I was worried about this, to begin with.
To keep them in tip-top shape, start off by giving them a good rinse with cool water after each use. That way you'll get rid of any lingering food particles.
It's important to remember to keep them away from all forms of heat, like the dishwasher, the microwave, hot water, and direct sunlight.
You can even take it one step further by spraying them with Force of Nature.
And when you're done cleaning up? Just lay your wraps out on a towel or cloth to air dry – no need for paper towels or anything else! If you follow these simple steps every time you use your wraps, they'll last you for a long time (officially 365 uses) and help keep any nasty bacteria at bay. When they've reached the end of their lives, just add them to your compost. I love this!
Are the reusable cleaning cloths worth it?
Force of Nature offers reusable cleaning cloths, and absolutely they are worth trying. Not only are they planet-friendly, budget-friendly, and super absorbent, but they're toxic-free and certified biodegradable so they're perfect for eco-conscious, health-focused families like mine.
And with a 9 pack that can replace up to 40+ rolls of paper towels, you'll save money and help shrink your environmental footprint. I love that each cloth is 12 X 16 inches, making them perfect for tackling messes of any size. Plus, because they're machine washable and can be used with Force of Nature cleaner to disinfect them in between uses, it cuts down on the amount of single-use paper products we need to buy. This helps keep plastic out of landfills too.
In short, these reusable cleaning cloths are super effective and definitely worth it.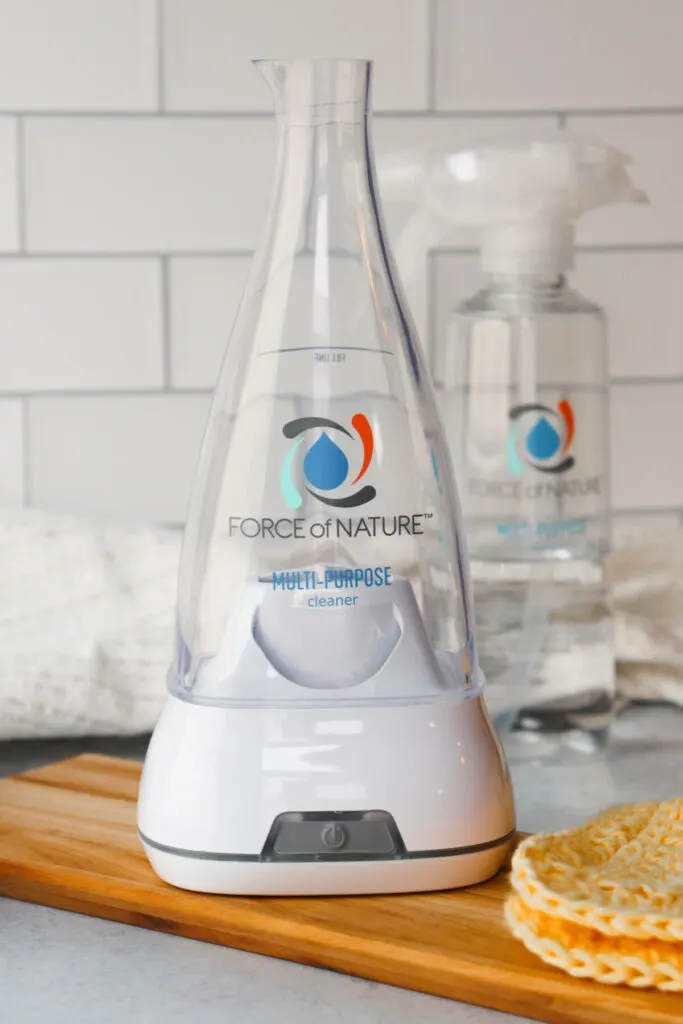 🤔 My opinion
Overall, Force of Nature cleaner is a great choice for eco-conscious and health-minded families. It's toxin free, certified biodegradable, and helps reduce plastic waste. Not only does it help you save money in the long run but also shrinks your environmental footprint!
With these amazing benefits, there's no doubt that Force of Nature will make an excellent addition to any home looking to go green.
Again, I know I sound like a commercial, but I'm super obsessed with these products! Perfect for my family and green makes this momma happy! I highly recommend them.
Just remember, when using Force of Nature cleaner and reusable food storage wraps, always follow the instructions for use and take extra care to clean them properly.
The bottom line:
Force of Nature is an awesome earth-friendly product that can help you reduce waste, save money on paper products, and keep your family away from harmful toxins.
We all want to do our part for the planet and our families, but it can be hard to find products that are both eco-friendly and effective.
Most cleaning products contain harsh chemicals that can be dangerous for your family's health, while also contributing to plastic waste in landfills. It's a lose-lose situation!
Force of Nature is the answer I've found. This amazing earth-friendly product helps reduce waste, saves money on paper products, and keeps your family free from harmful toxins.
With Force of Nature cleaner you get maximum benefits without any weird surprises – so go green today!
👏 Use my Force of Nature discount code
If you want to get your family started on the journey to better health and get rid of cleaning chemicals, start with a bundle today!
With my coupon code EXPLORERMOMMA you can get 40% off plus free shipping on any bundles you purchase. That's right! 40% savings and free shipping are just a few clicks away.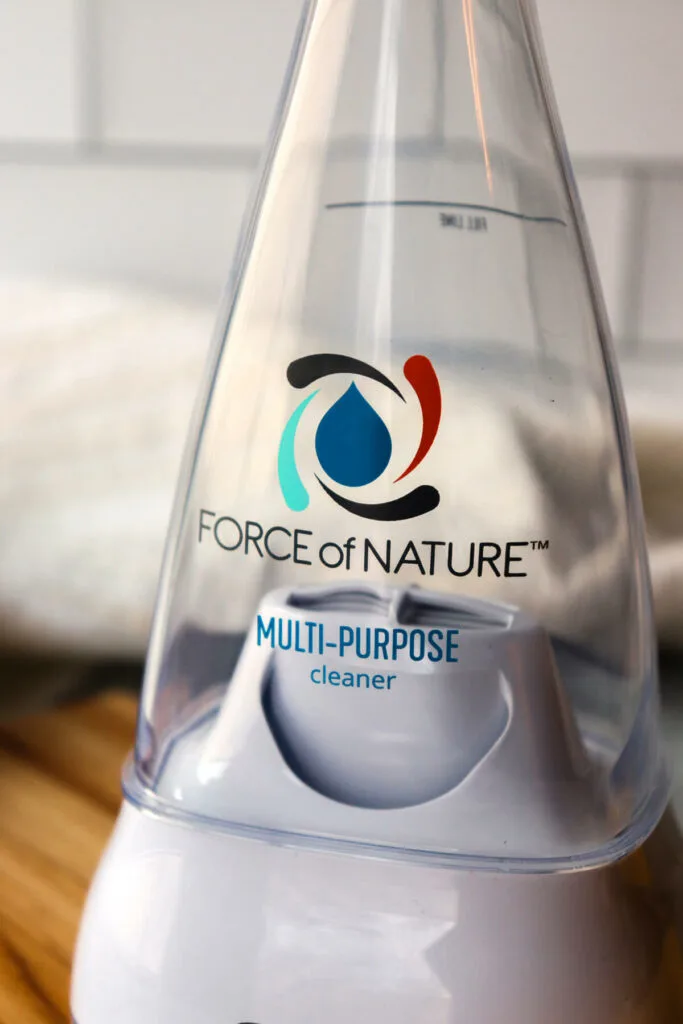 🙋‍♀️ FAQs Force of Nature cleaner
Q: Does Force of Nature cleaner work?
A: Yes, Force of Nature Cleaner works very effectively. It is toxin free and works as well or better than any other multi-purpose cleaner I've tried.
Q: What can I clean with Force of Nature cleaner?
A: You can use Force of Nature cleaner to clean virtually any surface, including floors, counters, walls, and even fabrics. It's also great for cleaning food storage wraps! 😉
Q: Is Force of Nature Cleaner eco-friendly?
A: Yes, Force of Nature Cleaner is very eco-friendly.
Q: Is Force of Nature bleach?
A: No, Force of Nature Cleaner is not bleach. It is a toxin free multi-purpose cleaner that contains no harsh chemicals.
Q: Can I use any spray bottle with Force of Nature?
A: Yes, you can use any spray bottle with Force of Nature.
Q: Is Force of Nature Cleaner good for my family?
A: Yes, Force of Nature Cleaner is certified biodegradable and pet, kid, and family-friendly.
Q: Can you use Force of Nature as a floor cleaner?
A: Yes, you can use Force of Nature as a floor cleaner. It is specially formulated to clean and disinfect hard surfaces like floors and countertops. You can use it on laminate, tile, stone, and hardwood.
Q: Is Force of Nature legit?
A: Yes, Force of Nature is a very legitimate company. They have been in business since 2015 and their products are certified biodegradable. They also offer a money-back guarantee if you're not 100% satisfied with the results.
So if you're looking to go green and protect your family from dangerous toxins, don't hesitate – try it today! Thanks for reading my Force of Nature Cleaner review – I hope it helps you make an informed decision when it comes to your family's health and the planet. Happy cleaning! 💚🌱
📌 Pin it for later!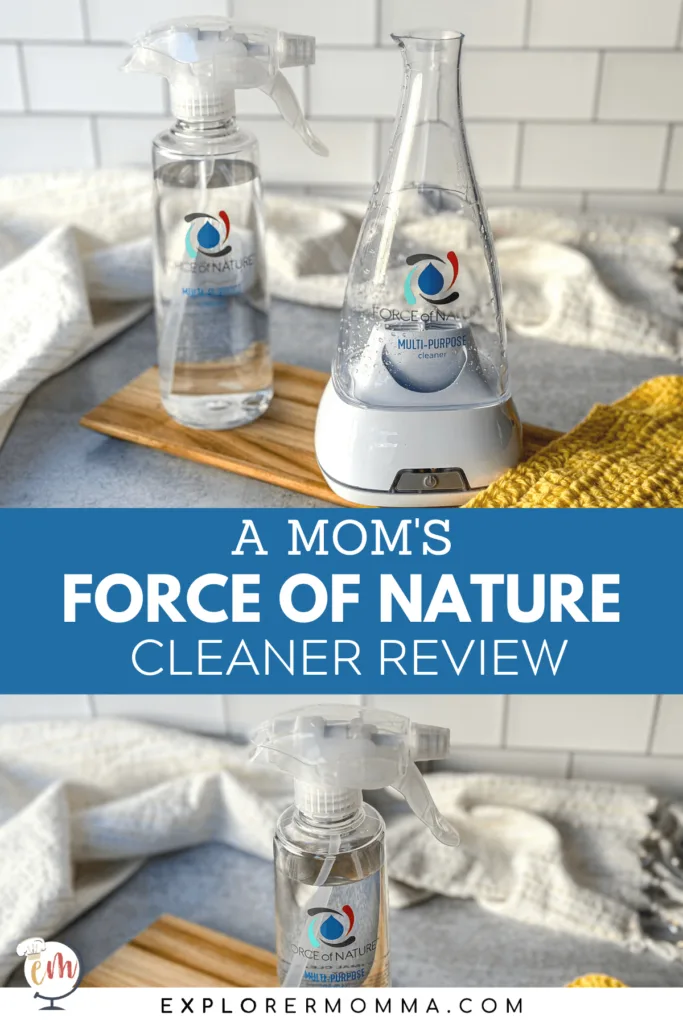 Want more momma tips?
Pinwheel Phones: A Mom's Pinwheel Phones Review
What is a Keto Diet? Tips and Printable Foods List
My Cozy Christmas Books: A List
Free Printable French Valentine Cards
Hospital Care Packages for Kids