What do we need with a free printable after school checklist? Well, I get tired of remembering and listing off everything for my kids to do after school. Two, it puts them in charge of their after school experience. Three, it's free!
This post came about completely due to the need for it in my house. The first full week of school is past us, and the kids are loving it. But let me tell you, they are tuckered out when they get home!
Maybe you have perfect children (like myself and my brother when we were little – kidding!) who never fight and never have to be told to do something twice? HA! If you are one of those parents then count yourself lucky.
Last week I almost lost my voice asking if they'd done homework, practiced piano, please stop fighting, and why oh why are there three pairs of shoes in the living room and two exploded backpacks?
Now, we're starting to get homework and more activities going like volleyball, swimming, and piano lessons. So it's time to take action! We're not going to have time for me to remind the kids to do things over and over.
Truly, that's not something I want them relying on me for anyway. Therefore, I came up with this printable after school checklist so they can take some responsibility and not look at me as the taskmaster.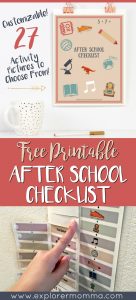 Why is an after school checklist helpful?
I love the after school checklist because it makes it perfectly clear to me and to the child what's expected. There's no questioning or testing. It's written in black and white (or color!) and posted on the wall for all to see. Also, I the parent am not looked at as the enemy, that evil slave driver telling you to put away a backpack or do your homework. Instead, my kids can go look at the wall, cross off their completed tasks, and feel that sense of satisfaction when it's done.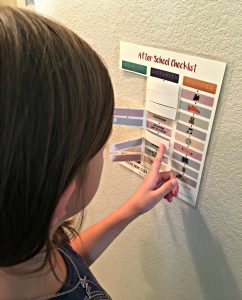 How can I use the after school checklist?
In the download, I've included a couple of different versions of the list. The first one is a general after school checklist that's ready to go and complete, ready to print off and use. The second one is blank and customizable because I included a page of 27 task pictures you can cut out and use to mean whatever you like for your child.
I would suggest having the child help with the picture cutting and writing out the task in the activity column. Bonus! This creates more buy-in for their new list.
There are a couple of ways you can use the downloadable checklist. You can print it out and customize if necessary. If you print it out in black and white I think it's fun to have the kids color it and discuss it, again for more buy-in.
To make it last longer I printed it on a thicker card stock paper and laminated it, but you can always just print out a new one every now and then.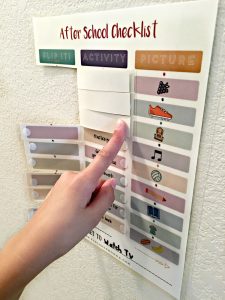 Checklist columns
The first column says "Flip-it" because you cut between the rectangles and fold them over so they "flip" to complete the activity. I actually used small velcro circles on the laminated version to keep them covered and to let what still needs to be done more easily seen.
If that's too much just make an X or check mark in the "Flip-it" column. In addition, you can laminate it (or cover it with plastic packing tape) and use a dry erase marker on it every day.
The second column is the "Activity" you want to be accomplished, written out. This rectangle will be covered up by the flip column when it's complete (unless you choose the check mark method). Besides homework and putting away shoes, etc., I've also included things like having a snack, get moving! (exercise or sport), and packing a lunch for school the next day.
The third column is a picture that represents the task to be done. Pictures just make the list more colorful and fun, and if your child is not reading yet they will associate the picture with the activity and then not have to be read the list or shown where to flip over the tab. At the bottom of the page, there's also a space to write what they'd like to do when their list is complete. It's a win-win!
Sign up for Explorer Momma's newsletter and as a bonus download your free printable checklist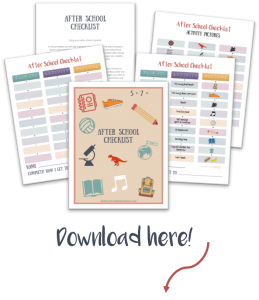 Supplies:
Tell me how it works for you
I would love to hear how the after school checklist works for you and your family! Send me a note or comment below, but either way, I'd love to hear from you. We all know every child is different, but to understand expectations and have some predictability are great tools for kids. I hope this list helps you out. It's already helping me regain my voice. Now to navigate the after school activities before we actually get home…