Garlic parmesan keto biscuits are packed with flavor and made with almond flour and parmesan for the ultimate low carb bread. Delicious with a soup or salad or for a keto diet-friendly roll option at the holiday meal.
My daughter has long been a fan of rolls at our Thanksgiving and Christmas dinners. In fact, it was one of her favorite foods she looked forward to. Speak of Christmas dinner, and I'd hear:
Yes!! Rolls and butter! Can I get them ready?
As she's had to go gluten-free now I get the inevitable sad face and longing look at the rolls at extended family holiday dinners. So we thought about it.
With what could replace the traditional roll at the Thanksgiving, Easter, or Christmas dinner? What at least could be a good alternative?
We thought about our Keto Cheddar Foccacia as an option. However, while delicious, the cheddar cheese and rosemary were not exactly what we were looking for.
Ergo, after some trial and error, what we came up with is a little denser than a roll. In fact, the texture is more biscuit-like so we call them garlic parmesan keto biscuits!
Feel free to use them in meals in place of rolls or the side of bread.
This post may include Amazon links or other affiliate links. As an Amazon Associate I earn from qualifying purchases.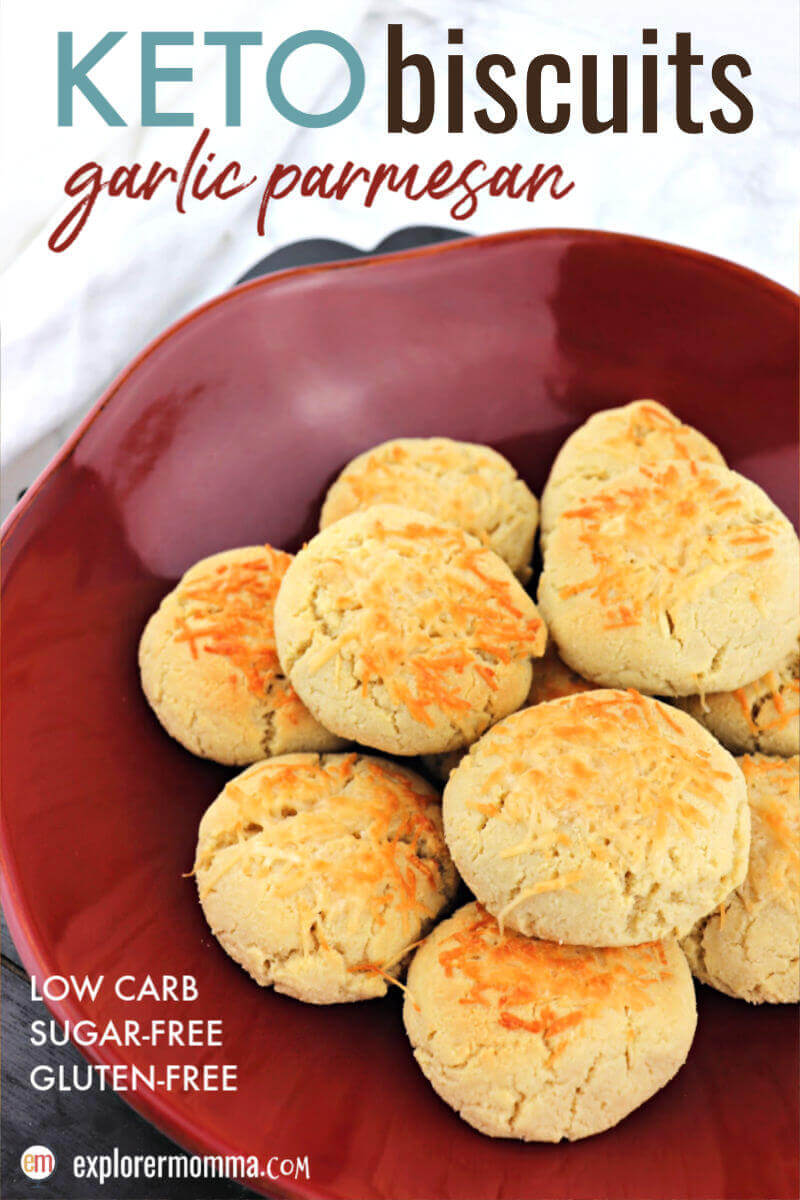 In a hurry?
While I think you'll love my super helpful tips and fun stories, I also realize we are sometimes pressed for time and just need a good recipe!
Scroll down to the bottom of the page for the printable recipe or PIN it here for later!
Slap some bacon on a biscuit and let's go! We're burnin' daylight!

– John Wayne
Kitchen tasks for keto biscuits
These keto biscuits or low carb rolls if you prefer, are pretty easy to make. Probably, the most difficult part is peeling the garlic. And that doesn't have to be hard at all!
Have you noticed there are certain tasks around the kitchen that are really pretty easy but you avoid them? Or maybe you avoid recipes that include those tasks.
For example, one of those could be separating egg yolks from whites, or I've even had friends tell me they refuse to chop an onion. It's sometimes almost a mental anxiety thing you sidestep at all costs.
Well, today I'm going to tell you an easy peasy way to peel garlic. So, is peeling fresh garlic is one of those avoid like the plague tasks for you? Don't worry! Got you covered!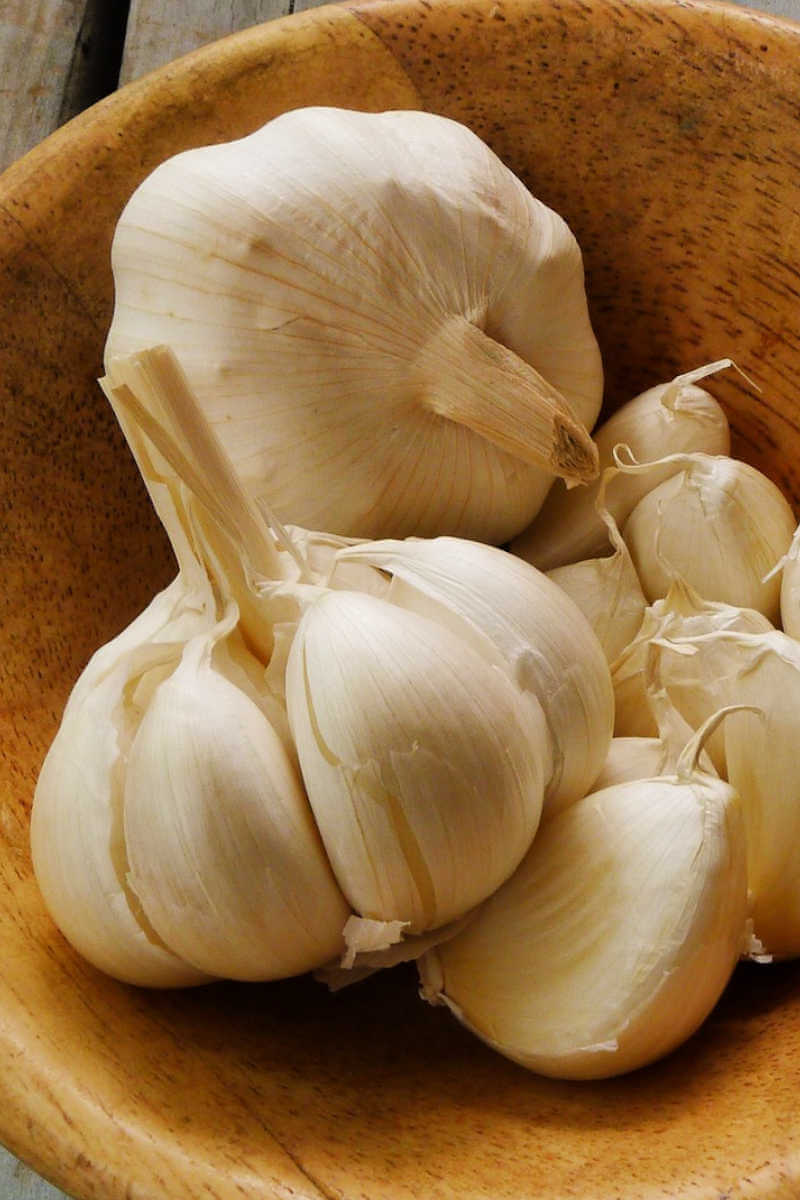 🧄 How to peel garlic
Have you ever had one of those recipes, for garlic shrimp maybe or something similar, where you feel like you have to peel an entire head of garlic?
I've found a full-proof way to peel garlic. And guess what. It doesn't require any special tools or hours to break off the tiny piece of peel.
First, take out wide butcher-style knife and a cutting board. This is the knife I use most often, usually multiple times a day.
Second, separate the number of garlic cloves you want from the head.
Third, do NOT attempt to peel or cut off the ends. Simply place the flat part of the knife on top of the garlic clove.
Fourth, whack the flat part of the knife with the palm of your hand so as to slightly smash the clove. Don't push it so hard that it completely demolishes the clove but just breaks the outside peeling.
Fifth, pick up the clove and remove the peeling. It should practically fall off in your hand as you pull it in one to two pieces. And voílà!
Peeled garlic cloves.
🍽 Equipment
To make keto biscuits you'll need: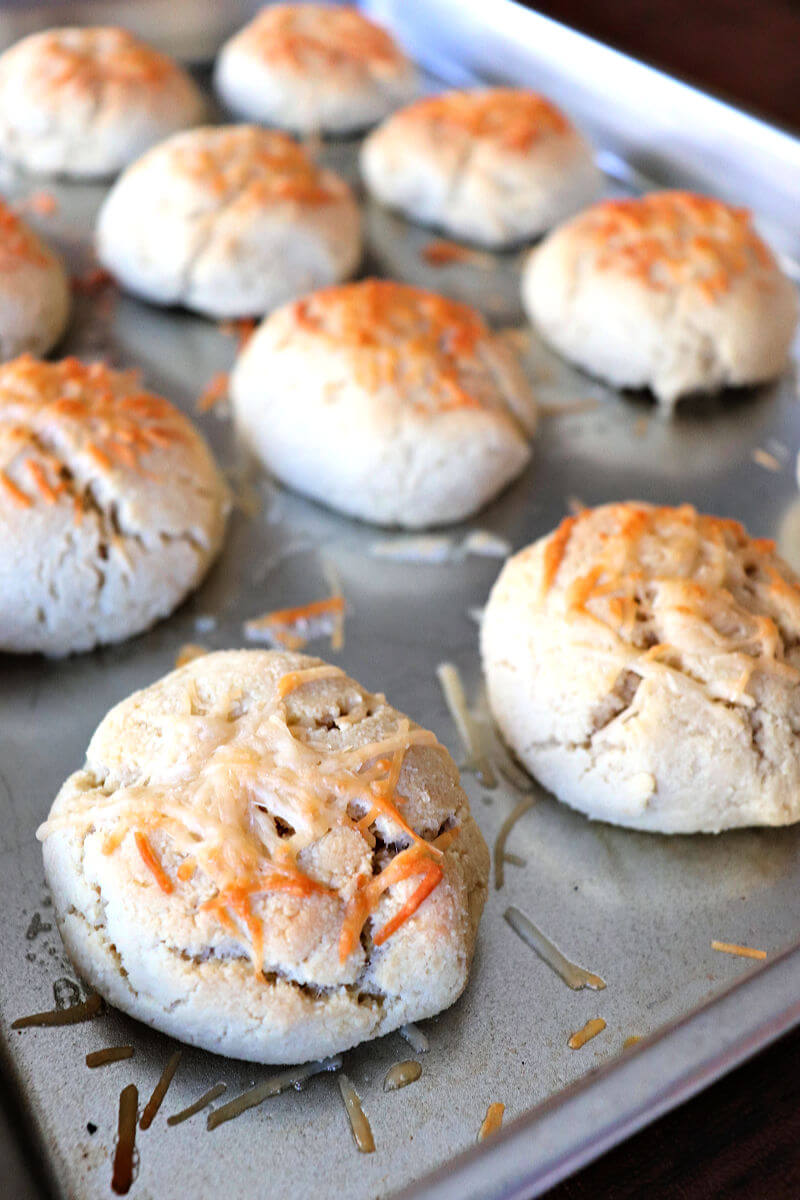 HOW TO MAKE KETO
BISCUITS
First of all, as always get out all the ingredients and kitchen utensils so everything is easily accessible.
Second, preheat the oven to 325 degrees Fahrenheit and get out a baking dish or cookie sheet. Butter the dish or spray it with coconut oil. Or if you have them you can use silicone baking mats so the biscuits don't stick.
Next, take a large bowl and sift together the almond flour and parmesan cheese. Set them aside and grab a blender or mixer.
If you read many of my recipes you'll see I use my blender a lot when baking in place of a traditional mixer. Why? It simplifies the job so that everything is easily combined and smooth.
For this recipe I prefer the blender as I just chop the garlic in half once. Then the blender takes care of pulverizing it for me and mixing it well with the eggs and other ingredients.
In the blender, place the rest of the ingredients. All, that is, but the almond flour and parmesan waiting in the bowl! Now blend on high for 30-40 seconds or until smooth.
Then pour the wet ingredients into the bowl with the almond flour and use a spoon or spatula to combine completely into a wet dough.
Next, form the dough into 2-inch balls. Beware, it will be slightly sticky. Go ahead and position them on the baking sheet about one to two inches apart.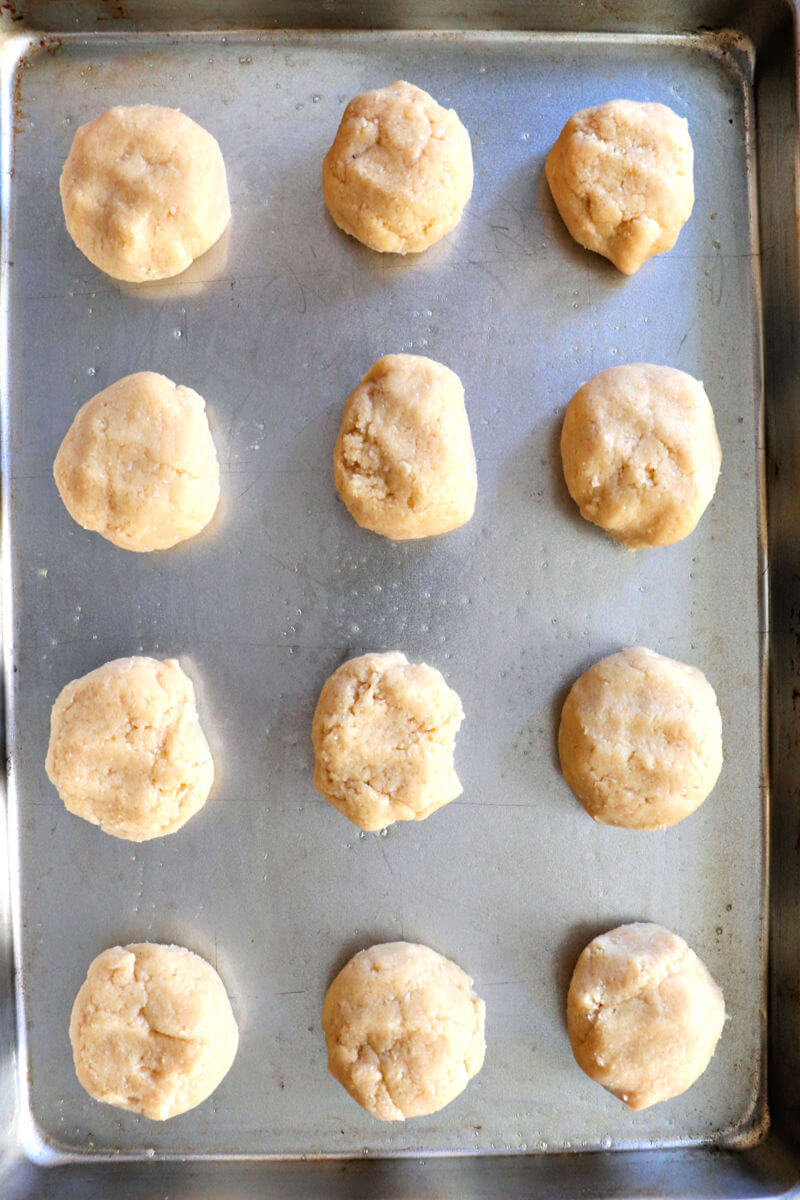 Bake the biscuits/rolls for 20-25 minutes or until firm when you pat the center of the roll lightly.
Cool for ten minutes then place in a basket to serve!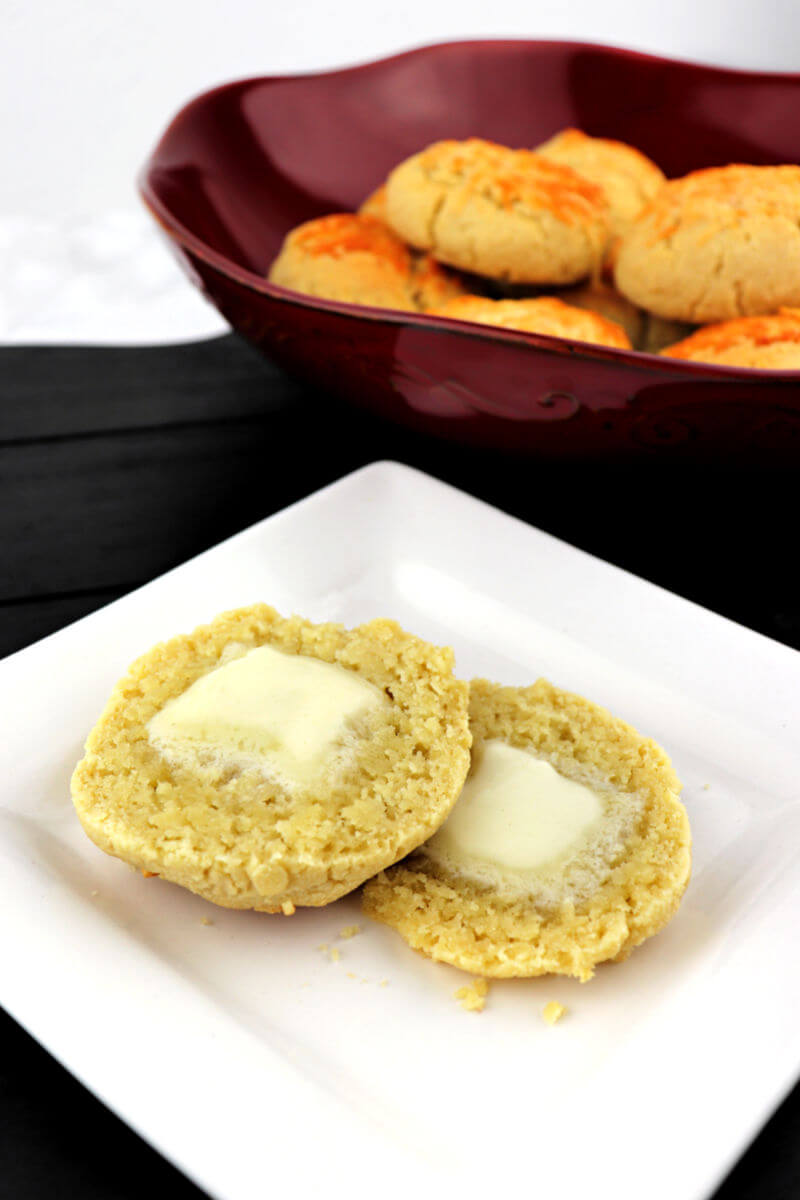 Optional Topping
Or, to give them just a little more oomph aesthetically, and for your tastebuds, do not cool or remove them from the baking sheet. Turn the oven on to high broil and sprinkle grated parmesan cheese over each biscuit.
Now place them under the broiler for 3-4 minutes or until the cheese begins to bubble and brown. Then remove them from the oven and let cool for the ten minutes.
Serve and enjoy!
Do you enjoy keto breads?
What do you think? Do you like to have a "bread" option while on a keto diet?
Personally I like them, but they are not necessary. However, for my bread-loving daughter, they are essential.
It all depends on your goals and what works for you. This garlic parmesan keto biscuit recipe is especially handy to our family on holidays like Easter and Christmas where bread traditionally plays a large part.
I hope you like them too!
Pin the recipe here: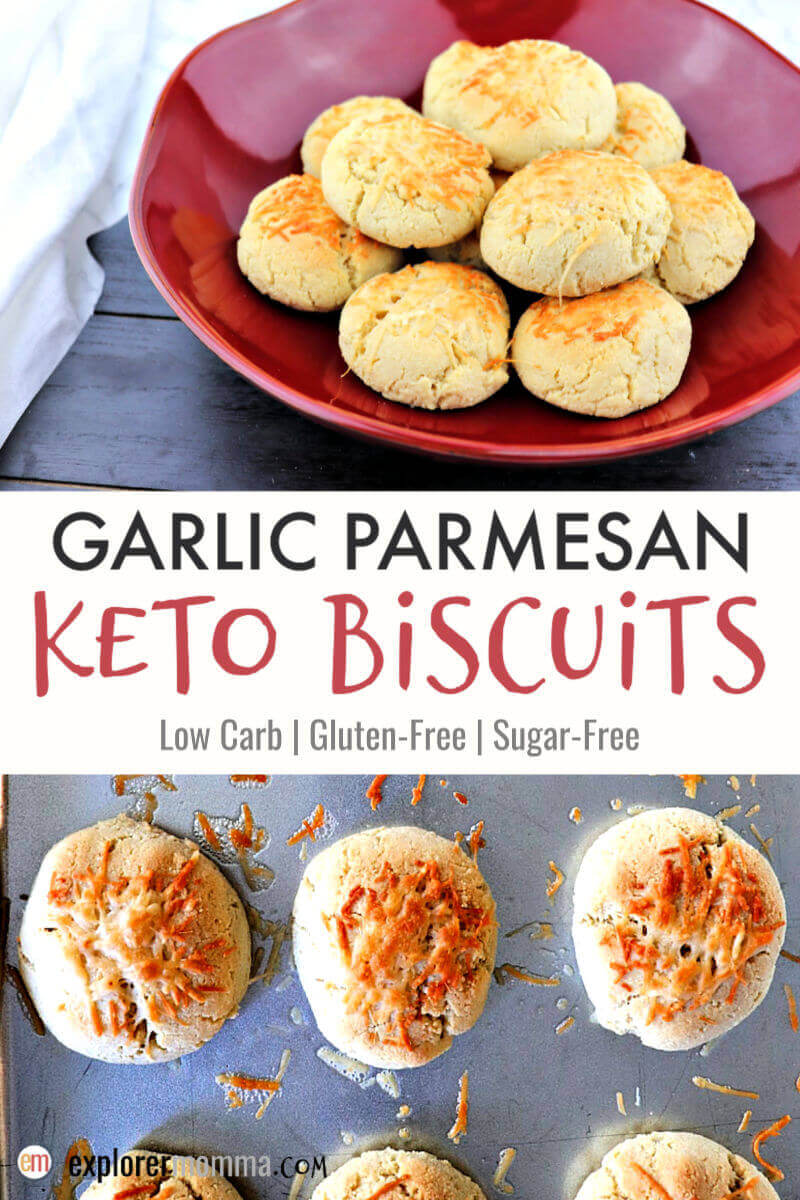 Follow me on Instagram @explorermomma and tag me in your food pictures! I can't wait to see what you make!
If you LOVE this recipe please consider giving it a five-star rating in the review area below!
❄️ Keto holiday recipes?
Garlic Parmesan Keto Biscuits
Savory and garlic buttery delicious gluten-free almond flour biscuits. Perfect in place of rolls for a special keto-friendly meal.
Ingredients
3 cups finely ground blanched almond flour
¾ cups grated parmesan cheese
3 tbsp butter
½ tsp baking soda
½ tsp salt
2 large eggs
⅓ cups unsweetened almond milk
3 garlic cloves, roughly chopped
⅓ cups shredded parmesan cheese, (Optional: for topping)
Instructions
Butter or spray a baking sheet with coconut oil and preheat the oven to 325 degrees Fahrenheit.
Sift together the almond flour and parmesan cheese in a large bowl.
In a blender or food processor, blend together all the other ingredients on high for 30-40 seconds or until smooth.
Pour the wet ingredients into the dry and use a spoon or spatula to combine completely into a wet dough.
Form the dough into 2-inch balls and position on the baking sheet about 2-inches apart.
Bake for 20-25 minutes or until firm when you pat the center of the roll.
Optional: Turn the broiler on high. Sprinkle shredded parmesan on top of the biscuits/rolls. Place under the broiler for 3-4 minutes or until the cheese begins to bubble and brown.
Notes
Nutrition Facts
Servings 12.0 Amount Per Serving Calories 157 Total Fat 13 g Saturated Fat 4 g Monounsaturated Fat 6 g Polyunsaturated Fat 2 g Trans Fat 0 g Cholesterol 45 mg Sodium 267 mg Potassium 130 mg Total Carbohydrate 4 g Dietary Fiber 2 g Sugars 1 g Protein 6 g Net Carbohydrate 2 g
Nutrition Information:
Yield:

12
Amount Per Serving:
Calories:

157
Unsaturated Fat:

0g
*Nutrition Facts per MyFitnessPal.com. For the most accurate facts, calculate your own with the exact ingredients you use in the recipe.
NUTRITION DISCLAIMER
Please be aware I am not a medical specialist or nutritional professional. On this blog, I share recipes and what works for me. Please do not take anything on this blog as medical advice and always consult with your doctor before starting any diet or exercise program.
I use
MyFitnessPal.com
to calculate nutrition facts as a courtesy to my readers, and I remove erythritol from the final carb count and net carb count because it does not affect my own blood glucose levels.
This is as accurate as possible, but it's best to independently calculate nutritional information on your own with the specific ingredients you use.
I expressly disclaim any and all liability of any kind with respect to any act or omission wholly or in part in reliance on anything contained in this website.