Summer is the perfect time for picnics and parties, and this keto dill dip recipe is perfect as an appetizer for either or to set out with veggies for low carb snacks. It's easy to make and creamy, with a delicious dill flavor that everyone will love.
Serve this simple dip with some fresh veggies, keto crackers, or just eat it straight out of the bowl. No matter how you enjoy it, you're sure to love this keto dill dip recipe.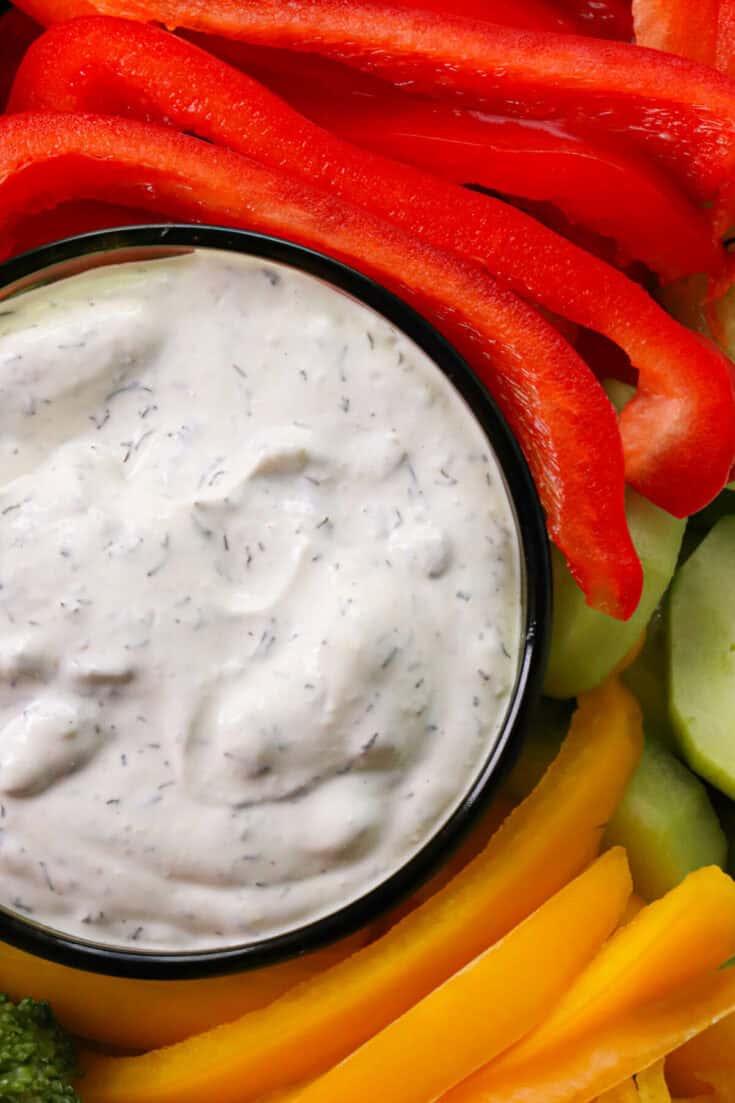 This post may include Amazon or other affiliate links. As an Amazon Associate, I earn from qualifying purchases.
Is dill dip keto?
The regular dill dip mixes or premade store bought dips are often filled with extra ingredients like preservatives and sugar. This keto dill dip recipe uses only a few simple keto-friendly ingredients, and isn't homemade always better?
📏 Dill veggie dip macros and nutritional information
Let's take a look at the macros and carb counts. In this recipe for low carb dill dip, one serving size is 2 tablespoons. A serving has 74 calories, 7 grams of fat (2 saturated fat), and 1 gram net carbs per serving.
These macros for keto dill dip are figured with MyFitnessPal, with the ingredients I use in the recipe. I always recommend figuring your own with the exact brands you use. It's especially important to determine your own because actual ingredients can vary drastically depending on brand, and that carb budget is super important!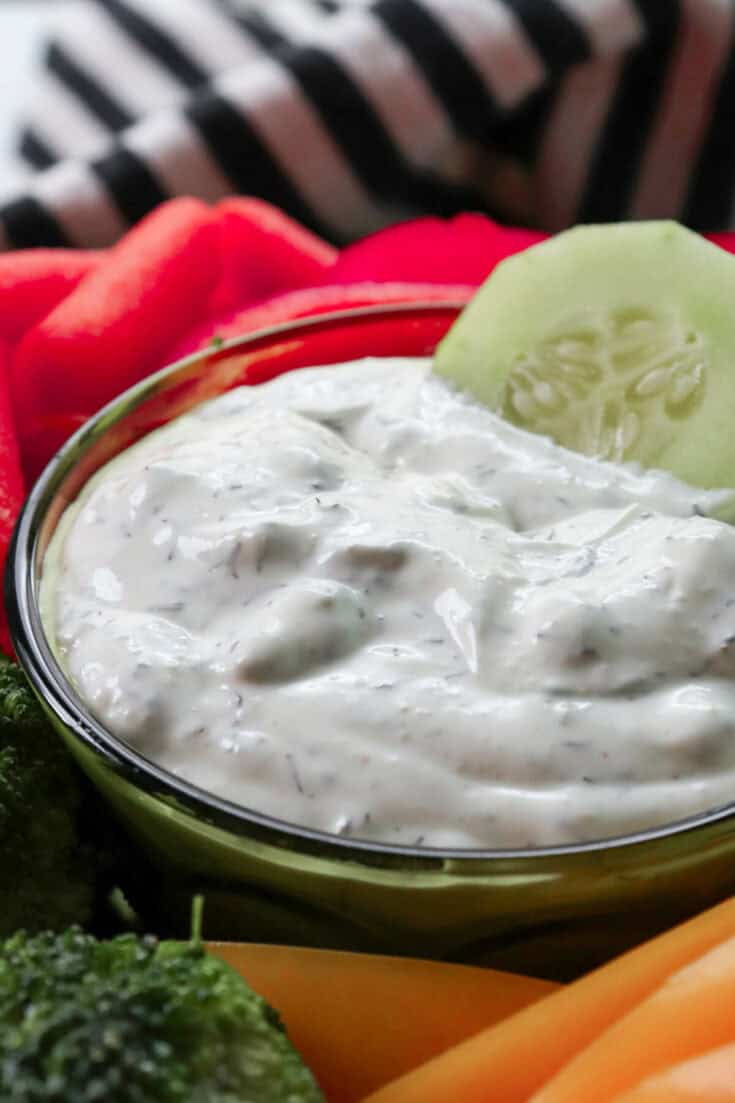 🍽 Equipment needed to make low carb dill dip
For this recipe, the kitchen gadgets you'll need are fairly basic.
Abandon any ideas of a food processor or an immersion blender! We want easy peasy.
🥘 Ingredients in low carb dill dip
As with any recipe, my best advice is to start with good quality ingredients, organic if possible. Not only is it better for your health, but the flavor will be noticeably better.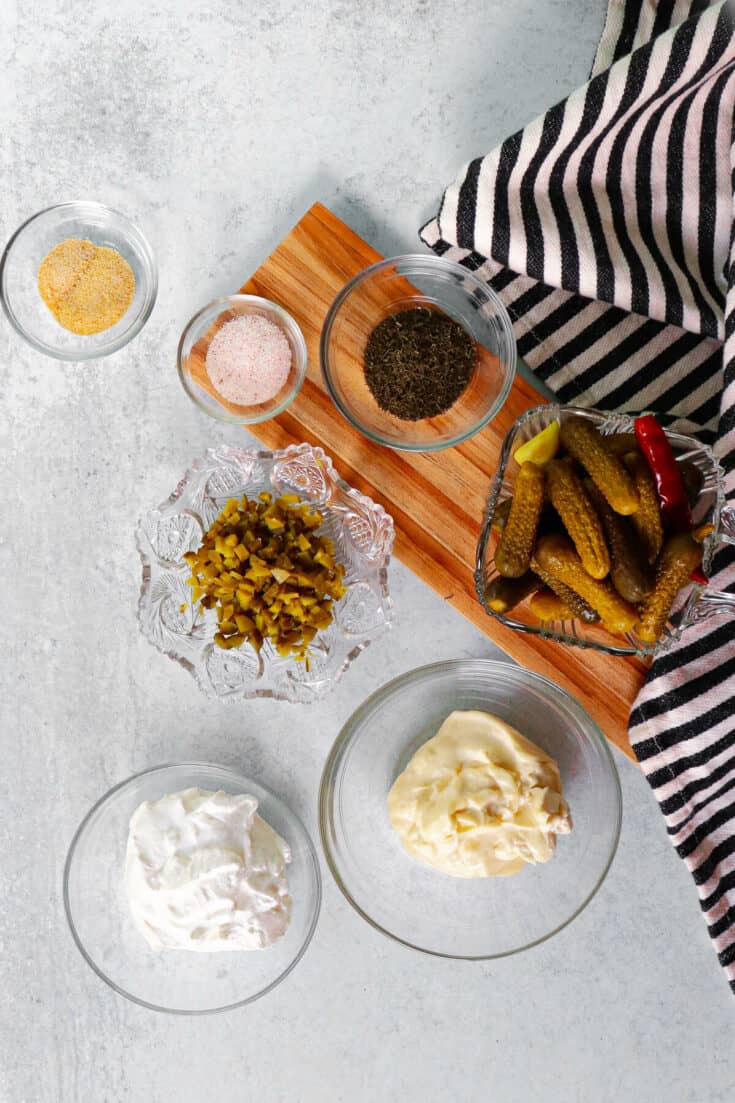 mayo – I prefer avocado mayonnaise or homemade. Just be sure to check your ingredients to make sure there's no added sugar!
sour cream – Full fat sour cream is best.
dried dill – You could also use fresh dill if you have it.
garlic granules (or garlic powder)
onion granules (or onion powder)
white vinegar – Or, for that dill pickle flavor, sub dill pickle juice! Lemon juice also works.
salt and pepper, to taste
Optional: Chopped dill pickle!
That's it! Just a few simple ingredients, plus some salt and pepper to taste for the perfect dip. You probably already have most of these ingredients in your pantry or fridge, which is another reason why this recipe is so fabulous!
🥒 Fresh dill vs. dried dill
Which is better, fresh dill or dried? I think it depends on what you're going for.
If you want a more potent dill flavor, go with the dried. If you want a more subtle flavor, go with the fresh dill. I usually go with whatever I have on hand, and both work great in this recipe.
Substitutions for sour cream in low carb dill veggie dip
There are so many ways to make a dip, and I'm often asked what subs are best for a keto diet.
In this recipe, you could sub Greek yogurt.
Or sometimes room temperature cream cheese can be subbed for all or part of it as well if that's all you have. In this case, you'll need to add 1-2 tablespoons of heavy cream or Greek yogurt to thin it out a little. I prefer to avoid cream cheese in this recipe, but go for it if you want!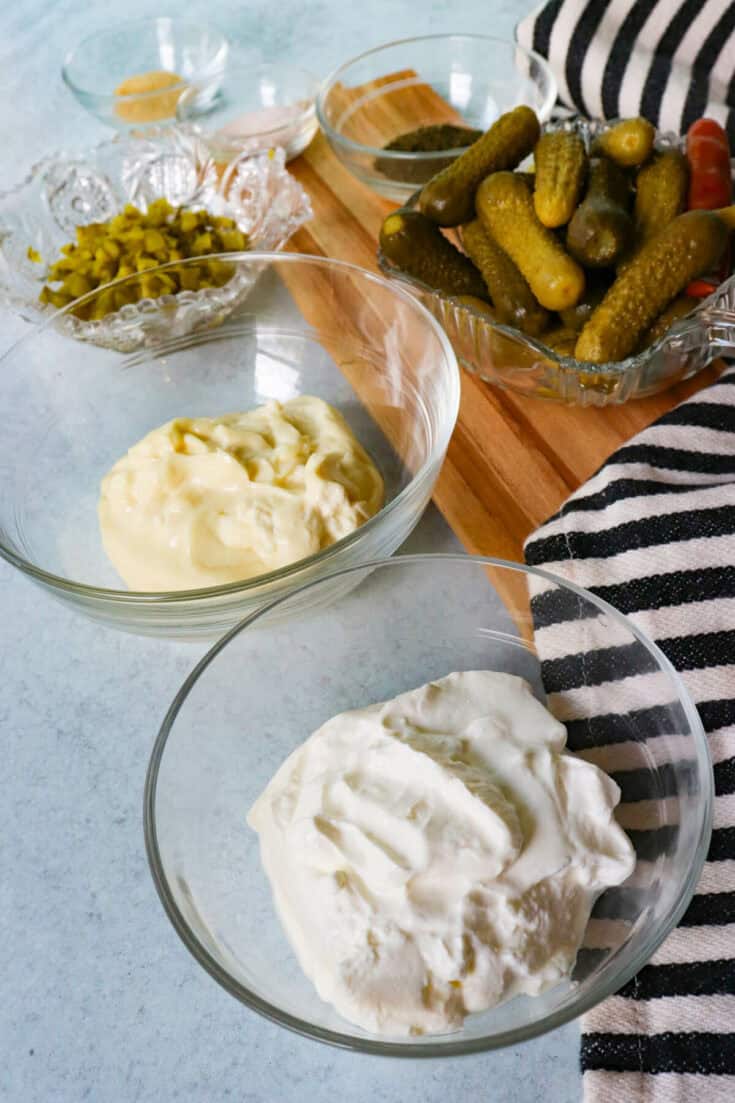 Instructions for keto dill dip
This gluten free dill veggie dip is easy and so fast to pull together with very little prep time!
One way to do it, and how my husband would, is to just take a mixing bowl with all the low carb ingredients together and give it a good stir until everything is combined.
However, personally, I like to start off with a whisk or rubber spatula to combine the sour cream and mayonnaise.
Next, add in the salt, onion powder, garlic powder, vinegar, dried dill (or fresh dill!), and chopped dill pickle (if using).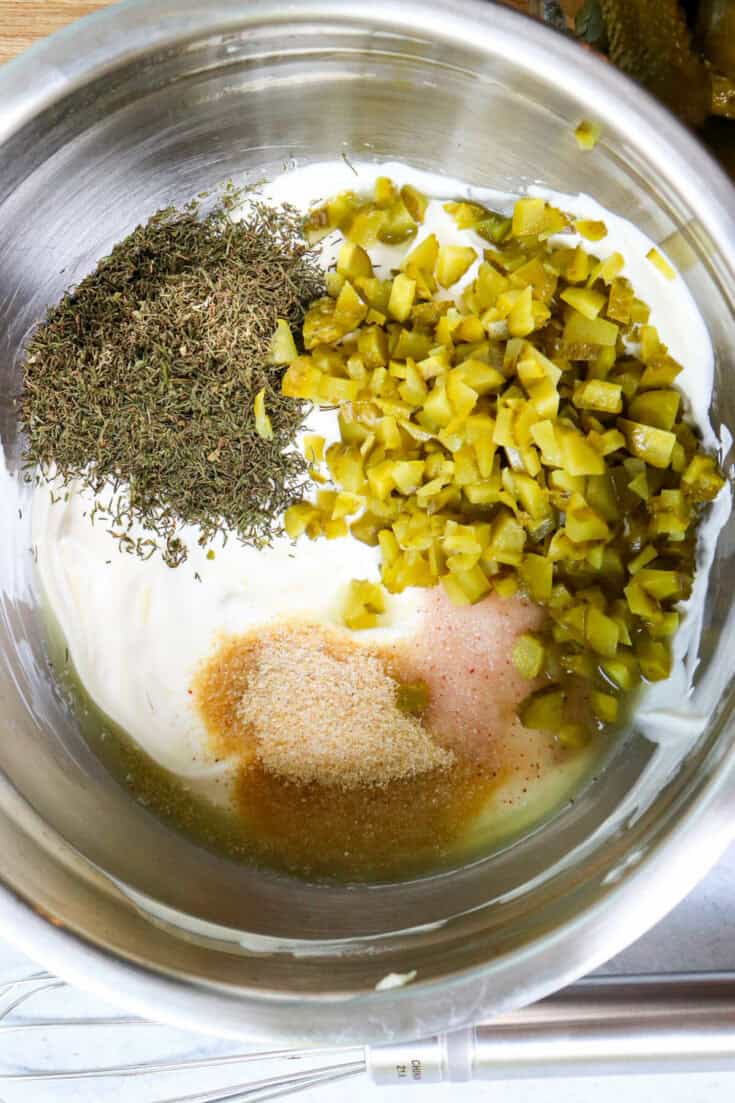 After that, whisk or stir everything together until everything is evenly distributed throughout. Now, give it a good taste and add any salt and pepper as needed.
Transfer it to an airtight container and refrigerate for at least two hours or overnight before serving. It is possible to enjoy it right away, but the flavors will meld better after some time.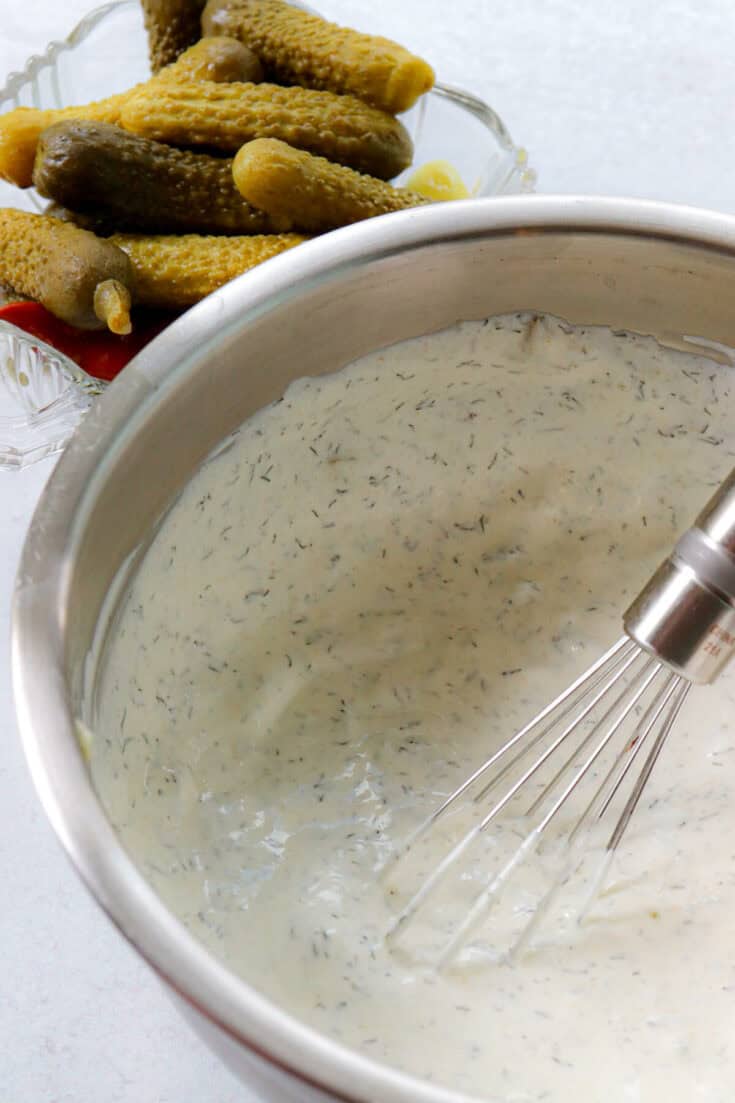 And that's it! So simple and easy, and you have a delicious low carb or keto dip to enjoy. Also, you can sprinkle some chopped fresh dill on top for color if you have it.
Then serve with a platter of your favorite vegetables or keto sour cream and onion chips and enjoy!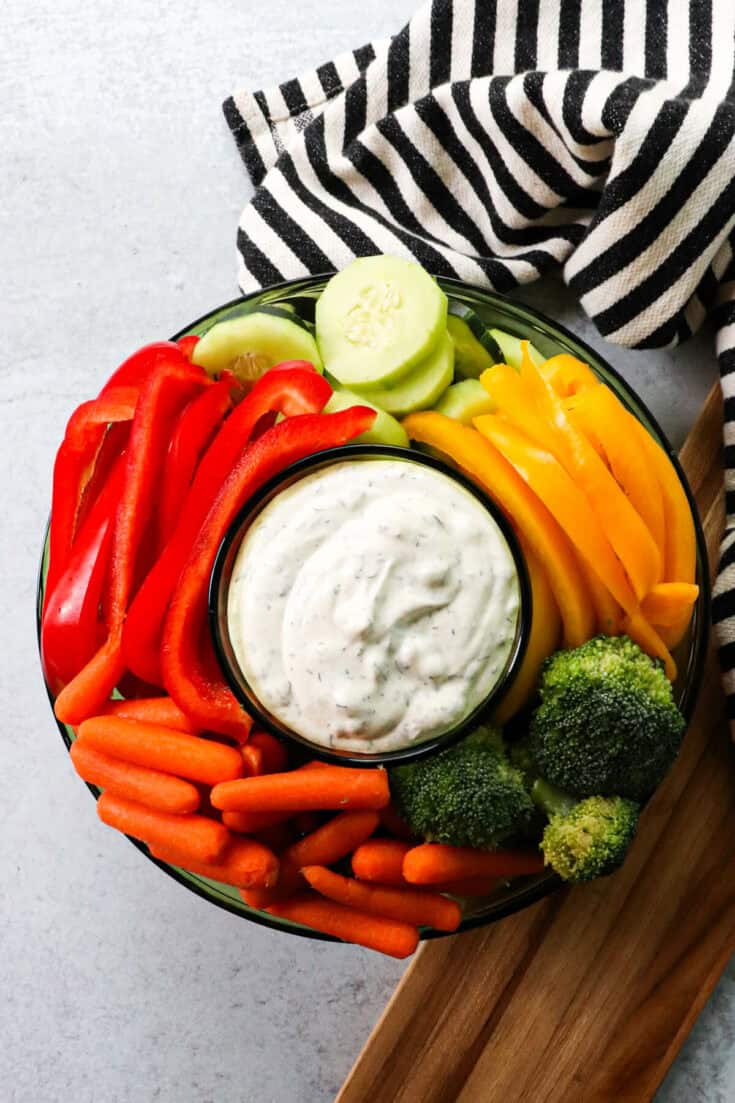 🥦 What to serve with creamy low carb dip
Personally, I like to fill a platter of low carb vegetables, keto chips or crackers, and sometimes even meat and cheeses to place alongside a keto dip.
The best veggies for a ketogenic diet to serve with this dill dip or any other are:
cucumber slices
celery sticks
pepper slices
radishes
zucchini rounds
cauliflower florets
broccoli florets
a few cherry tomatoes
carrot sticks (not as low carb, but still good!)
For the crackers, I love simple gluten free almond flour crackers or my favorite low carb sour cream and onion keto chips. And for the meat and cheese, some sliced salami or pepperoni, along with a nice sharp cheddar, is perfect!
This dill dip is also delicious as a low carb spread on keto wraps in place of mayonnaise or as a salad dressing. It would be especially good on smoked salmon or salmon cakes!
No matter how you enjoy it, I hope you love this recipe as much as we do!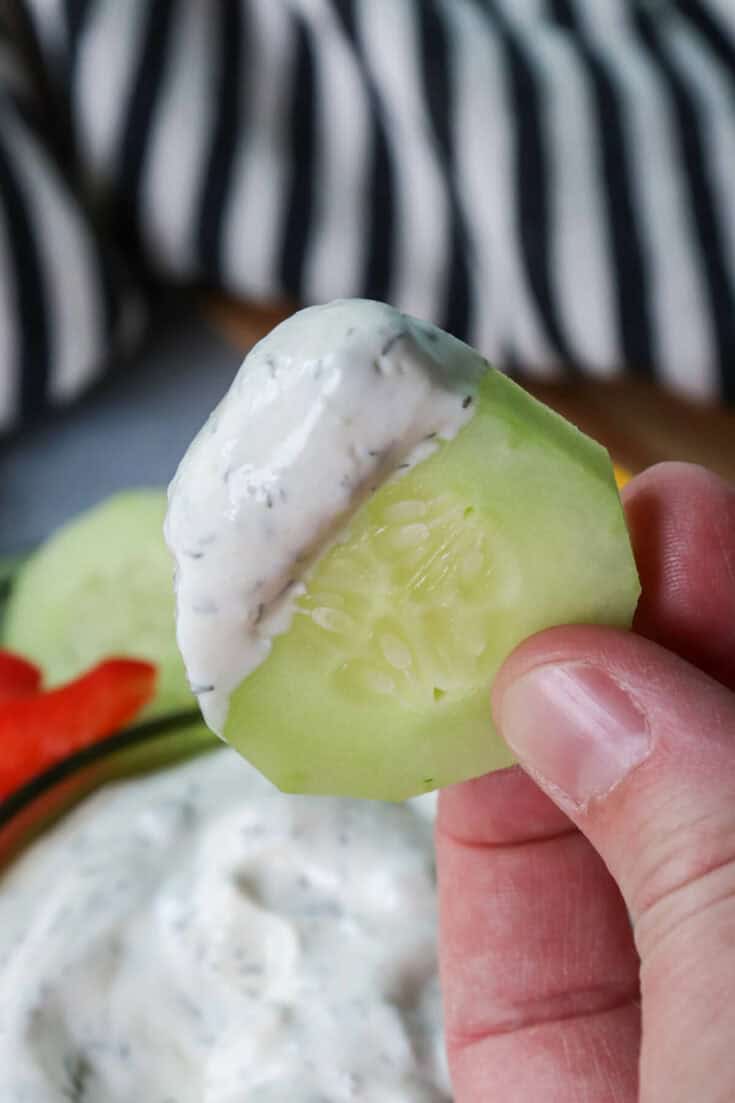 🥣 How to store easy homemade dill dip
You can store leftover keto dill dip in an airtight container in the fridge for 3-5 days. I do not recommend freezing this dip, as the mayonnaise and sour cream can separate and have an odd texture result.
👩‍🍳 Keto low carb recipes
Keto dill dip is the perfect low carb snack or appetizer for a picnic or party. It's easy to make, packed with flavor, and one of my favorite classic dip recipes.
If you're looking for other dips or salad dressings, be sure to try Keto Lemon Poppy Seed Dressing or Keto Blue Cheese Dressing!
The dill gives the dip a delicious herby flavor, while the sour cream and mayo add richness and creaminess. This dip is sure to be a hit at your next gathering!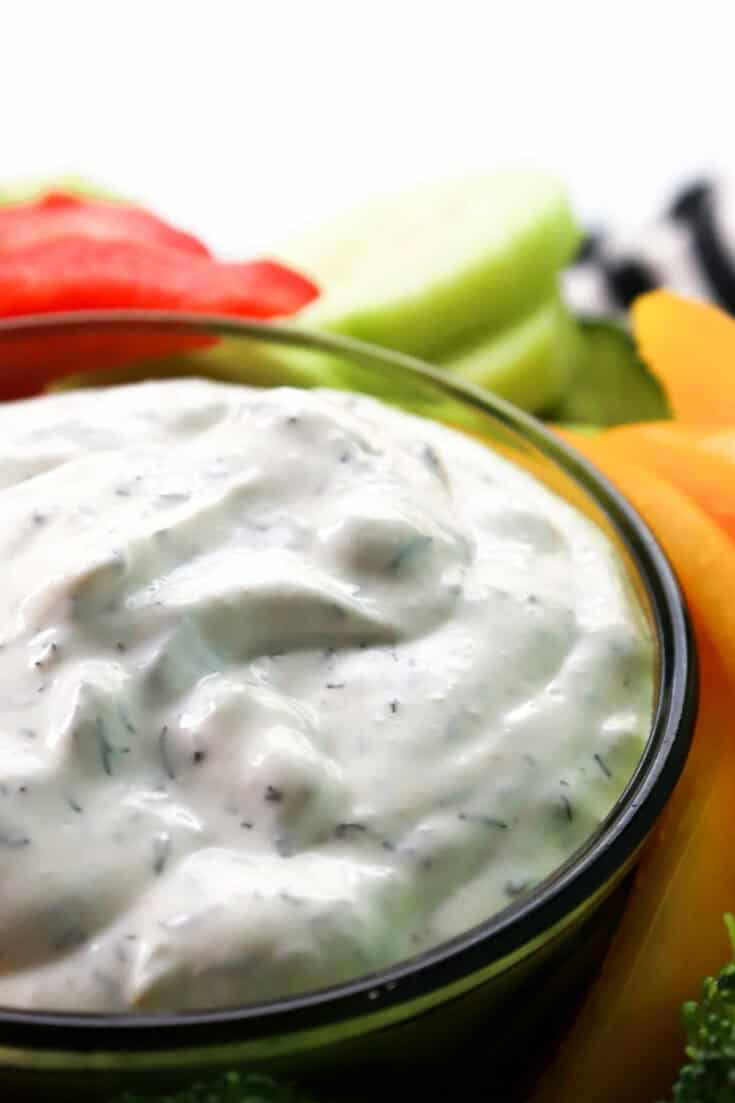 📋 Related keto recipe ideas
Keto Asparagus Fries with Spicy Garlic Dip
Sour Cream and Onion Keto Chips
Pin the keto recipe here: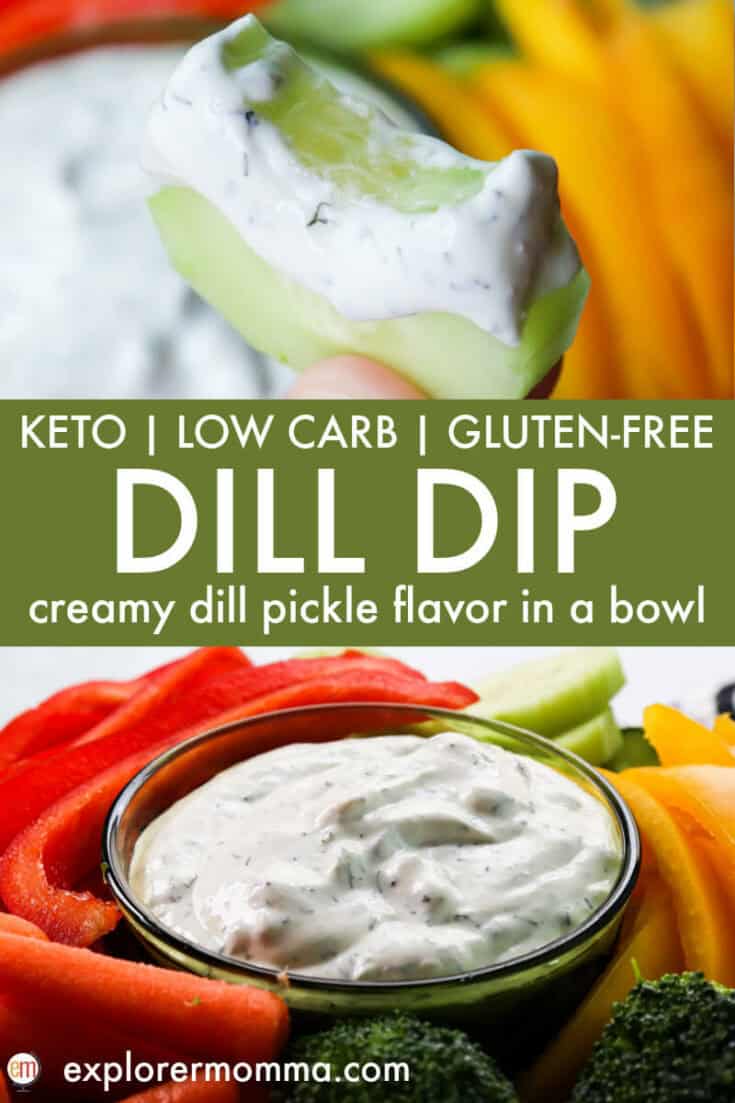 Printable recipe card and nutrition information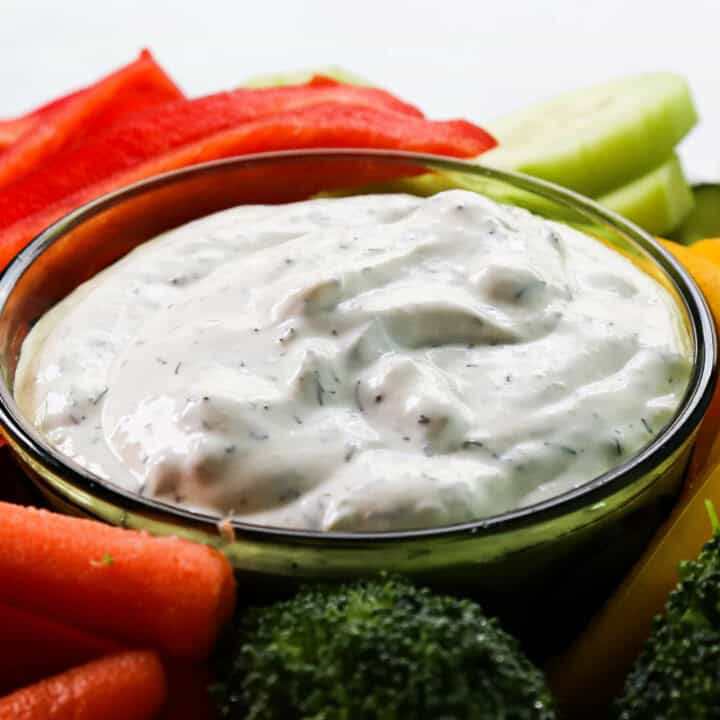 Easy Creamy Keto Dill Dip
Total Time:
2 hours
5 minutes
This keto dill dip is the perfect low carb party appetizer. It's creamy, delicious, and easy to make. Serve it with a platter of keto-friendly veggies for a healthy and tasty snack.
Ingredients
1/2 cup mayonnaise
1/2 cup sour cream
1/2 tsp salt
1 tbsp white vinegar (or dill pickle juice)
Optional: 2 tablespoons chopped dill pickle
Instructions
Whisk together the mayonnaise and sour cream in a medium bowl.
Measure in the salt, garlic granules, onion granules, vinegar, dill weed, and dill pickle (if using).
Whisk everything together until everything is evenly distributed throughout.
Use a spatula to place in an airtight container and refrigerate for at least two hours or overnight before serving.
Set out with a platter of veggies or gluten free crackers to serve.
Recommended Products
As an Amazon Associate and member of other affiliate programs, I earn from qualifying purchases.
Nutrition Information:
Yield:

10
Serving Size:

2 tablespoons
Amount Per Serving:
Calories:

74
Total Fat:

7g
Carbohydrates:

2g
Net Carbohydrates:

1g
Fiber:

1g
Protein:

0g
Tag me in your recipe pics on Instagram @explorermomma.
If you LOVE keto-friendly recipes please consider giving it a five-star rating in the review area below!
Want more recipe ideas? Or what great recipes would you like to see done over keto style? Check out our latest recipes in the sidebar or home.
Nutrition Disclaimer
Please be aware I am not a medical specialist or nutritional professional. On this blog, I share recipes and what works for me. Please do not take anything on this blog as medical advice and always consult with your doctor before starting any diet or exercise program.
I use MyFitnessPal.com to calculate nutrition facts as a courtesy to my readers, and I remove erythritol from the final carb count and net carb count because does not affect my own blood sugar/glucose levels.
This is as accurate as possible, but it's best to independently calculate nutritional data on your own with the specific ingredients you use. I expressly disclaim any and all liability of any kind with respect to any act or omission wholly or in part in reliance on anything contained on this website.