When the temperatures start to rise, there's nothing better than a cold glass of ketogenic lemonade to cool you down. This easy and refreshing homemade keto strawberry lemonade recipe is the perfect refreshing low carb drink for a picnic or summer party. Keto pink lemonade anyone?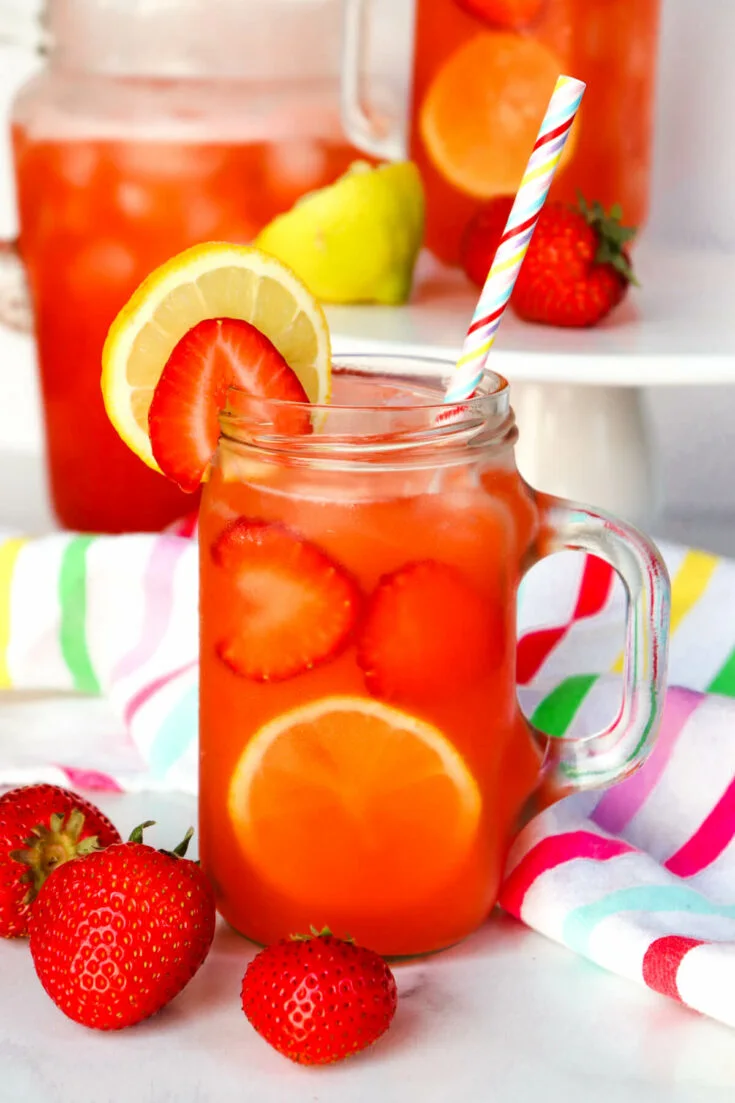 This post may include Amazon or other affiliate links. As an Amazon Associate, I earn from qualifying purchases.
Refreshing keto strawberry lemonade recipe
There's nothing like a cold glass of keto strawberry lemonade to embody the flavors of summer. This refreshing low carb drink is fabulous to impress for a picnic or summer get-together, and it's easy to make at home with just a few simple ingredients.
The tartness of lemonade is balanced by the sweetness of strawberries, making this drink irresistible on a hot day. And bonus! There's no added sugar because we use a keto friendly sugar free sweetener!
So if you're looking for a refreshing drink that will keep you refreshed all summer long, be sure to give keto strawberry lemonade a try!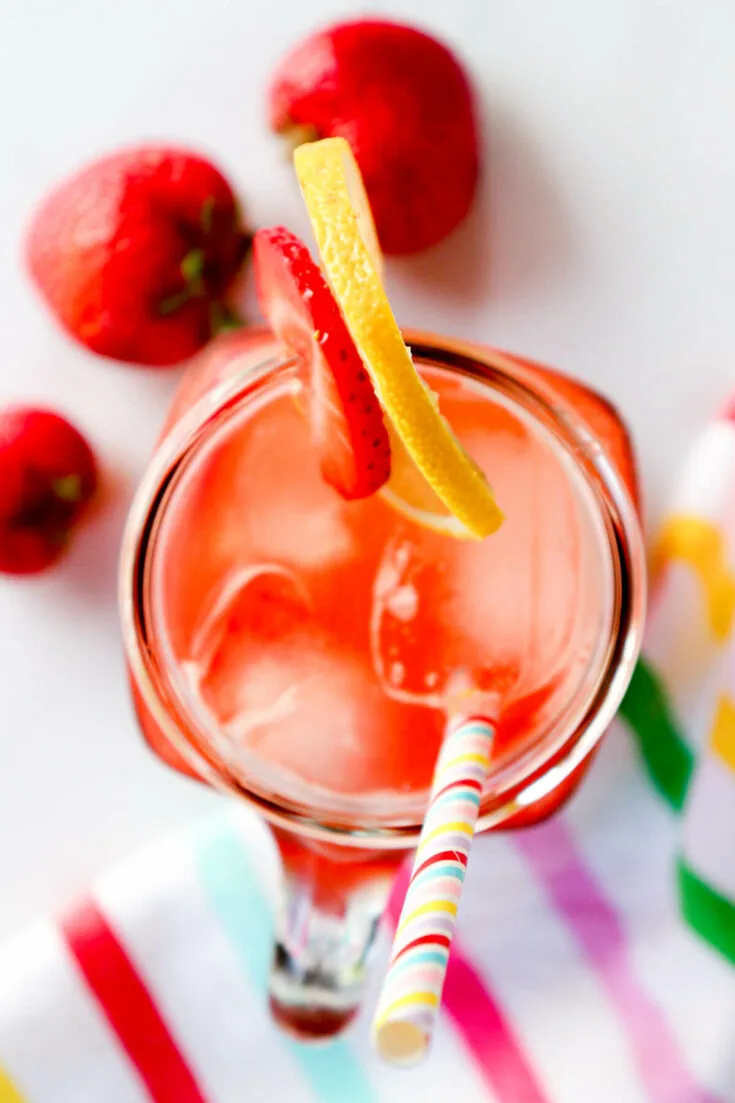 Is strawberry lemonade keto?
Can strawberry lemonade be enjoyed on a keto diet?
The difference between traditional strawberry lemonade and low carb keto strawberry lemonade is that keto strawberry lemonade has no added sugar and is made with keto-friendly FRESH ORGANIC ingredients.
This keto strawberry lemonade recipe is full of vitamin c and also dairy free, gluten free, and paleo. So yes, homemade lemonade can be keto.
And it's so easy to make!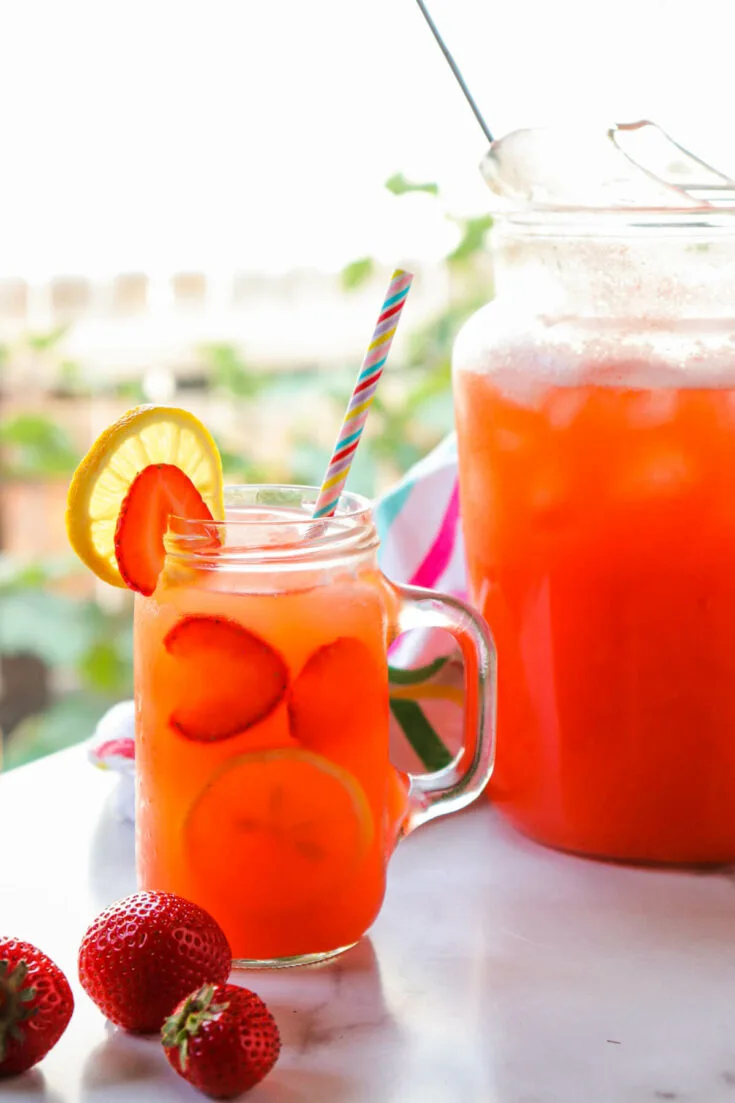 🍓 Why are organic strawberries important?
It is super important to choose organic strawberries in keto recipes because they are less likely to be contaminated with pesticides than regular bought strawberries.
Non-organic strawberries have been found to contain an average of 7.8 different pesticides per sample, compared to 2.2 pesticides per sample for all other produce (per the EWG).
Additionally, strawberry growers use unhealthy methods to sterilize their fields before planting, killing every pest, weed, and any other living thing in the soil.
This can lead to residues of these chemicals on the fruit. Choosing organic strawberries helps to avoid these potential hazards. Also, fresh organic strawberries are sweet and delicious and so much better tasting.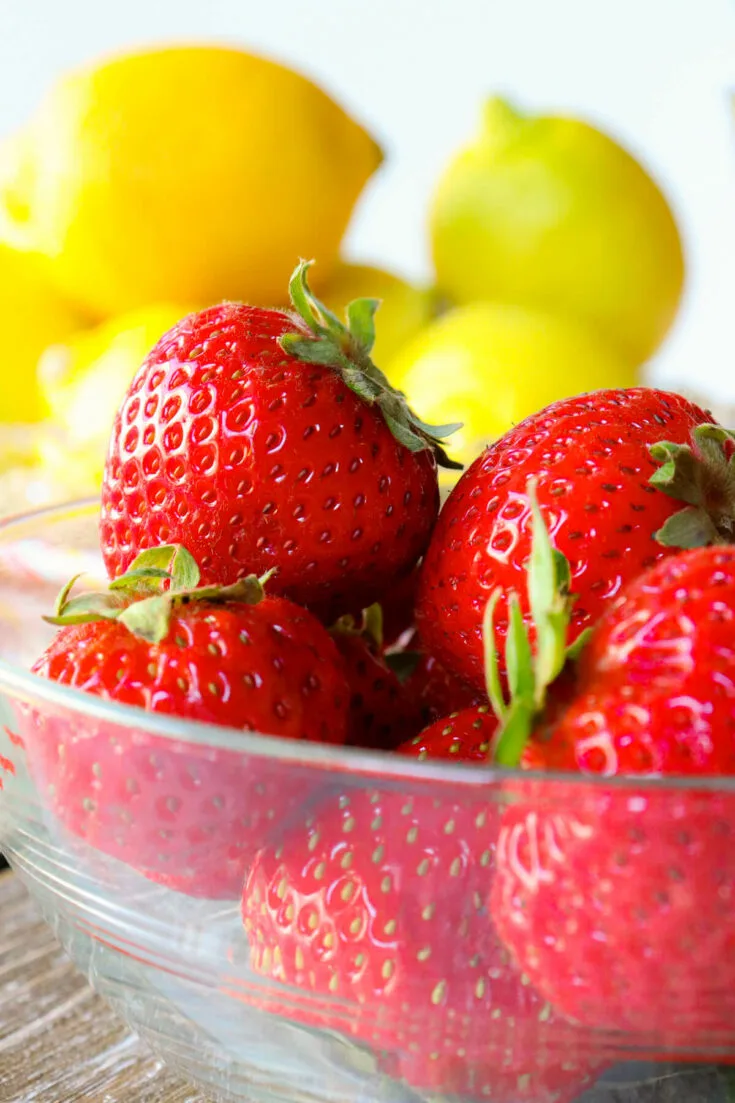 How many carbs are in ketogenic lemonade?
Let's take a look at the macros. In this recipe for sugar free strawberry lemonade, one serving is about 3/4 of a cup poured over ice. One serving only has 20 calories, 0 grams of protein, 0 grams of fat, and 3 grams of net carbs per serving.
These macros for keto pink lemonade are figured with MyFitnessPal, with the exact ingredients I use in the recipe. I always recommend figuring your own with the exact items/brands you use. It's especially important to determine your own if you're keeping close track on a low carb diet and want to be accurate.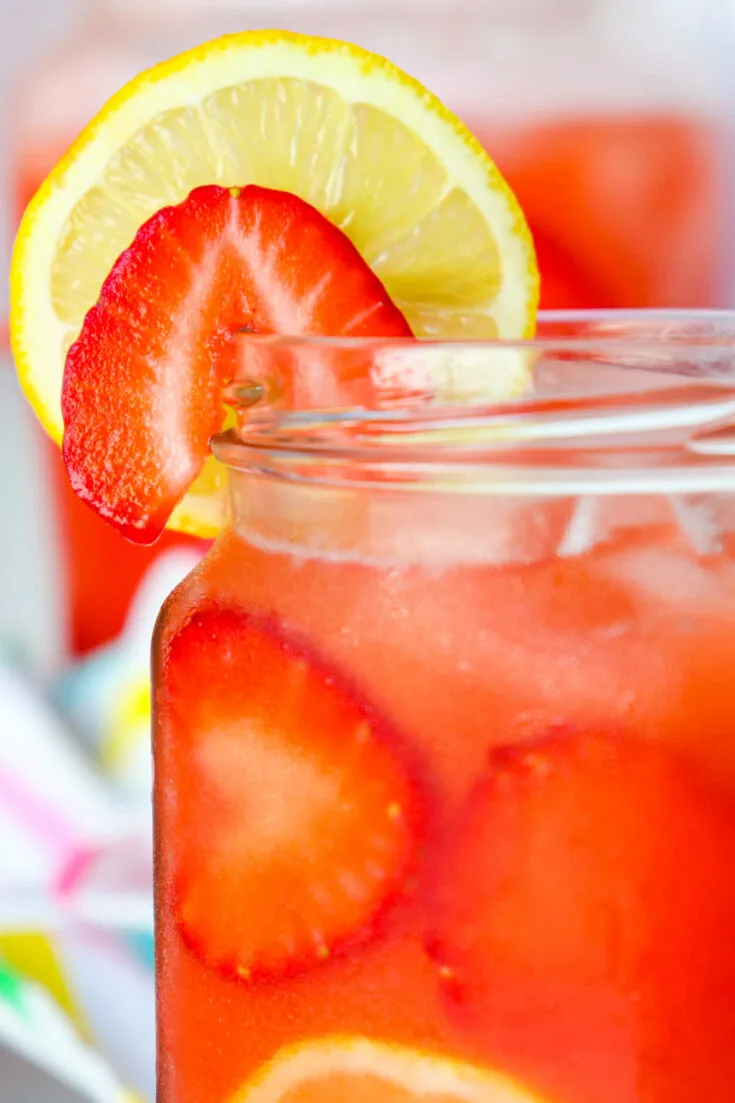 🍽 Equipment needed to make keto strawberry lemonade
There are a few things you'll need to make sugar free strawberry lemonade, but not too many.
blender or food processor
spoon, spatula, or something to stir
knife and cutting board
lemon juicer or strong hands and a fork!
In case you'd like me to spell it out, the lemonade pitcher is necessary to mix the drink and hold the sugar free lemonade. Also, I like to use a blender or food processor to blend up the fresh strawberries into a smooth strawberry puree or strawberry juice.
And then of course you'll need a spoon, spatula, or stirring device is needed to mix everything together.
The knife and cutting board are used to chop up the lemons and strawberries. Finally, the lemon juicer or your hands and fork will be used to extract the lemon juice from the lemons.
🥘 Ingredients in low carb lemonade
In making keto lemonade you'll need:
1 pint fresh strawberries (organic)
1 cup lemon juice, lemons – for freshly squeezed lemon juice!
4 cups water
1/8 tsp salt
1/2-3/4 cup keto-friendly powdered sweetener such as Swerve Confectioners (erythritol), or a monk fruit sweetener
ice cubes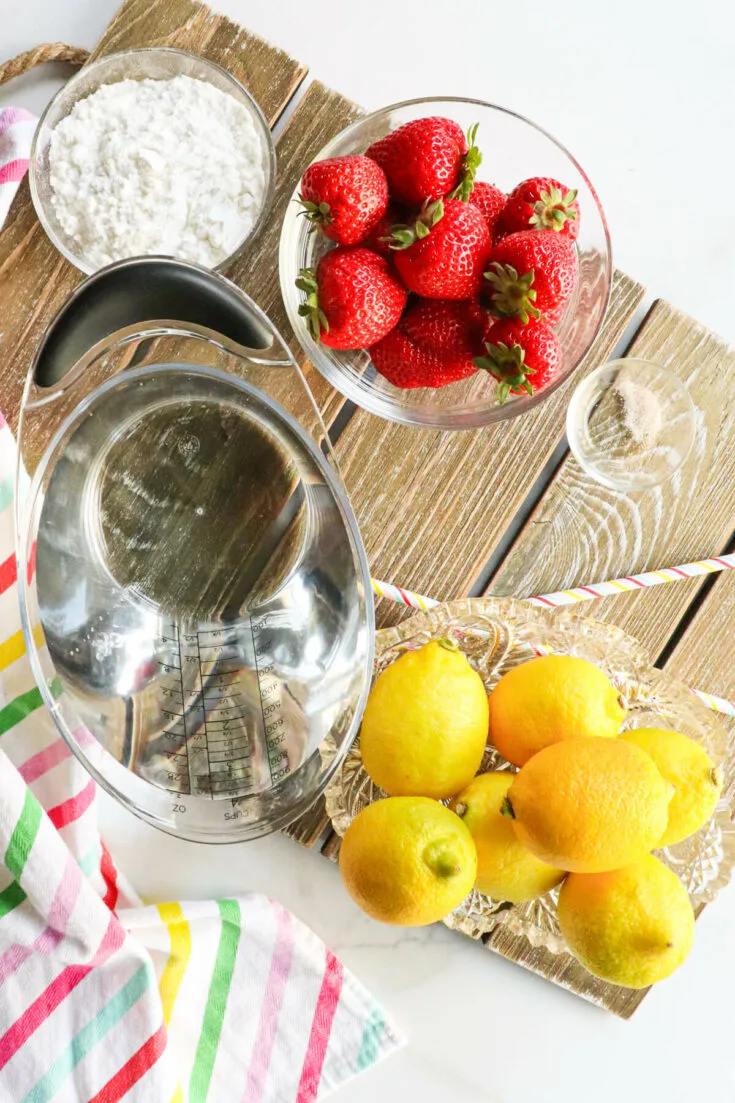 As I mentioned and may be a bit obsessed about, it's important to use fresh, organic ingredients in this keto pink lemonade recipe.
Not only is it better for you, but good quality ingredients also make a huge difference in the flavor of your keto lemonade.
Keto-friendly sweeteners
Just as a side-note of keto sweeteners, there are quite a few you could use, although I like the quick and easy Swerve Confectioners (powdered erythritol).
Sugar free sweeteners I like to use in keto recipes and baking include:
Monk fruit sweetener – This keto sweetener has a sugar-like taste with no aftertaste.
Allulose – This keto sweetener is similar to Monk fruit and erythritol in that it doesn't have an aftertaste.
Stevia glycerite – This one is very concentrated, so a little goes a long way.
Erythritol (granular or powdered sweetener) – This is my go-to because it's easy to find and not too expensive.
🔪 Instructions: how to make keto strawberry lemonade
Now let's get to the fun part – actually making keto strawberry lemonade!
There's very little prep time.
The first step is to hull the fresh strawberries. Hulling just means removing the green leafy part from the top of the strawberry.
Next, you'll add the hulled strawberries to a high speed blender or food processor along with one cup of water.
Blend or process the strawberries until they become a completely smooth puree or strawberry juice. This usually takes about 30-40 seconds.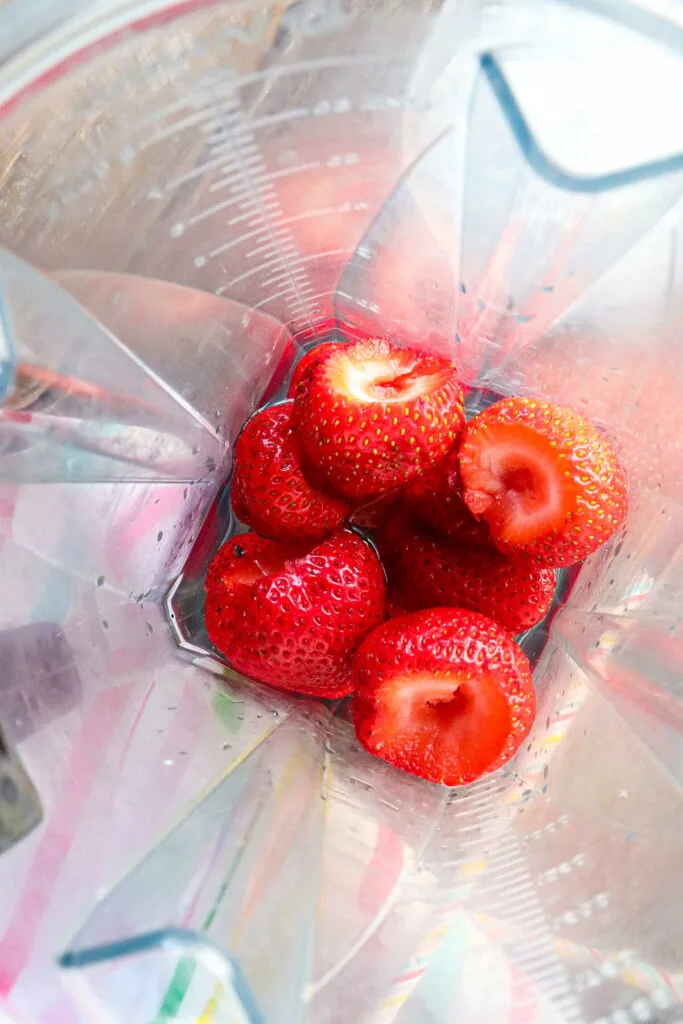 🍋 Fresh squeezed lemon juice
Now it's time to juice the lemons!
If you don't have a juicer, no problem! Start with one lemon, cut it in half and squeeze out the lemon juice with your hands and a fork.
Personally, I like to use a lemon press or citrus squeezer style juicer as it's fast and easy for juicing and cleanup. Whatever way you choose, continue with the lemons until you have one cup of lemon juice.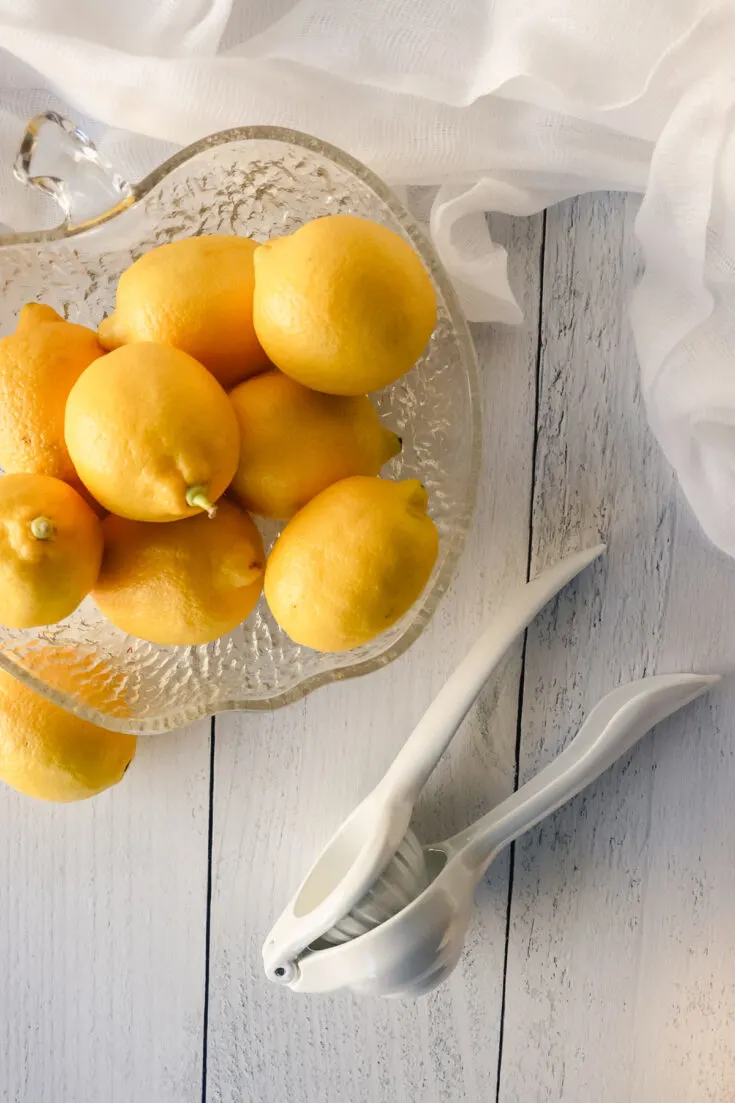 Keto strawberry lemonade continued
Next, measure in the fresh lemon juice, salt, and sweetener of choice into the blender. Then blend again for 20-30 more seconds.
After that, pour the mixture into a pitcher and add the remaining 3 cups of water.
Now stir it all together and with ice to serve immediately. Or chill without ice until ready to serve.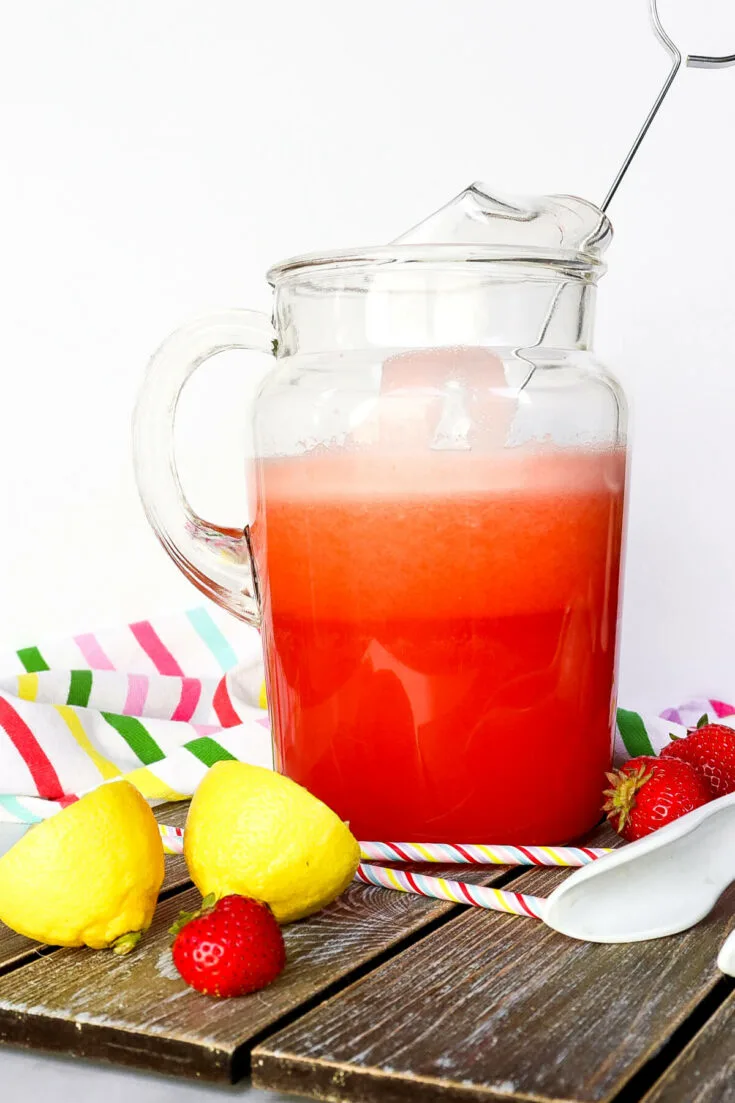 Before serving, stir it all together again, then pour over ice, sliced lemon, and strawberries if desired.
I also like to place a lemon wedge and strawberry slice on the top of the glass for color. YUM!
🍉 Sugar free lemonade recipe variations
There are several ways you could alter this low carb recipe to your taste.
If you just want keto lemonade, simply leave out the strawberries! This will lower the carb count as well.
Also, you could try using lime juice instead of lemon for a keto limeade recipe.
And/or try raspberries, blackberries, watermelon, or blueberries instead of strawberries. What do your people prefer? Even add alcohol if you wish!
There are so many possibilities to add to our drinks cuisine.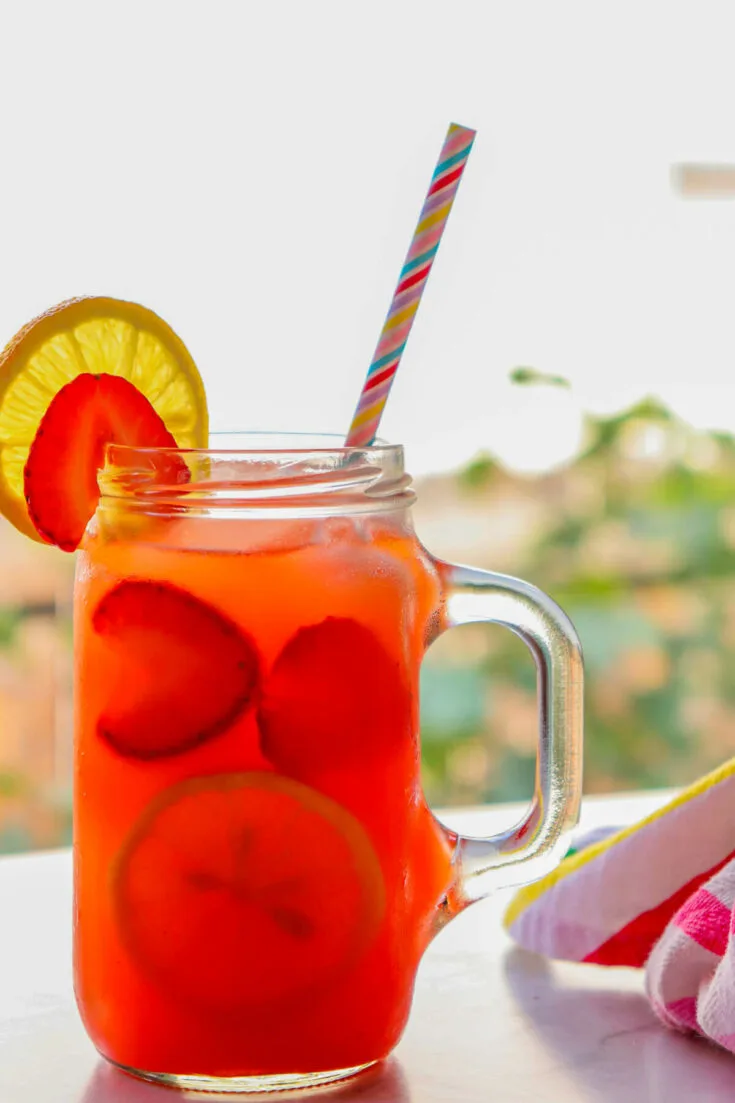 🥣 How to store keto lemonade
This keto lemonade recipe should be stored in the fridge in an airtight container. It will last for 4-5 days, although it's best consumed within the first 3 days.
🍓 Why do I love keto strawberry lemonade?
I love delicious keto pink lemonade for so many reasons! Here are just a few. It's:
refreshing and perfect for a hot summer day
low carb and keto-friendly
made with fresh, healthy ingredients
quick and easy to make
What's not to love about keto friendly strawberry lemonade on a hot day? This refreshing drink is perfect for picnics, parties, and any other summer get-togethers. And the best part is this sweet recipe is easy to make at home with just a few ingredients.
So if you're looking for a delicious and refreshing drink with no added sugars to keep you cool all summer long, be sure to give keto strawberry lemonade a try! Be careful – it does disappear quickly!
So what are you waiting for? Let's make some right now!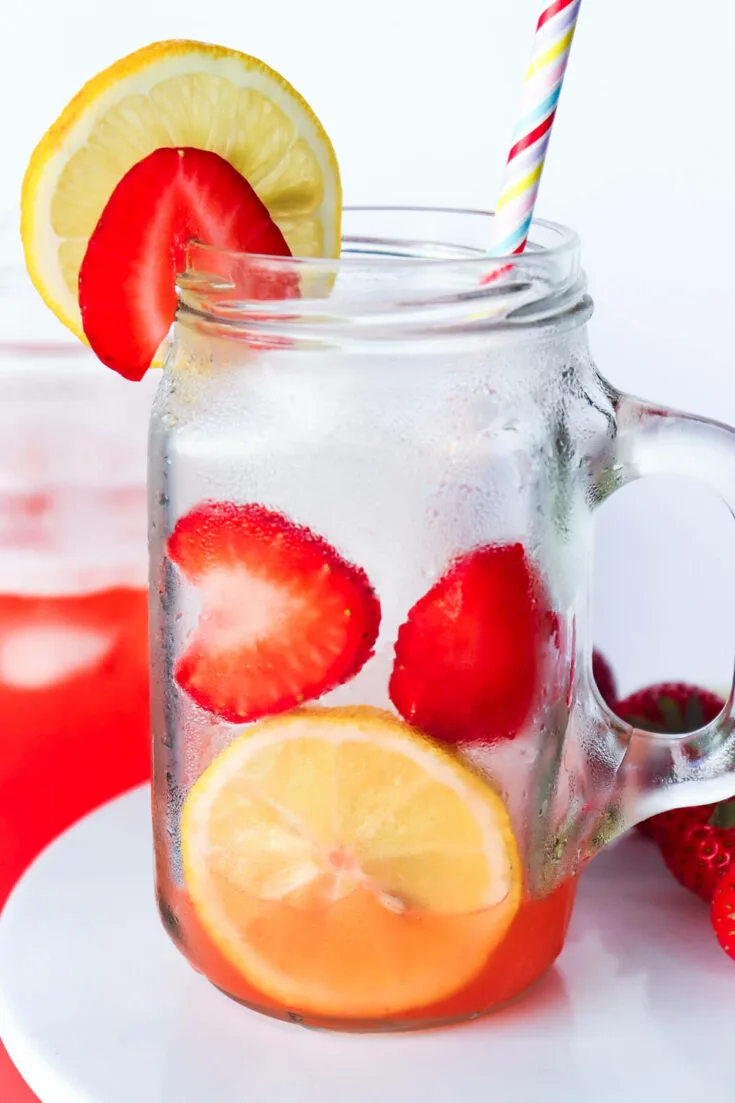 👩‍🍳 Similar popular recipes for a keto diet
Pin the keto recipe here: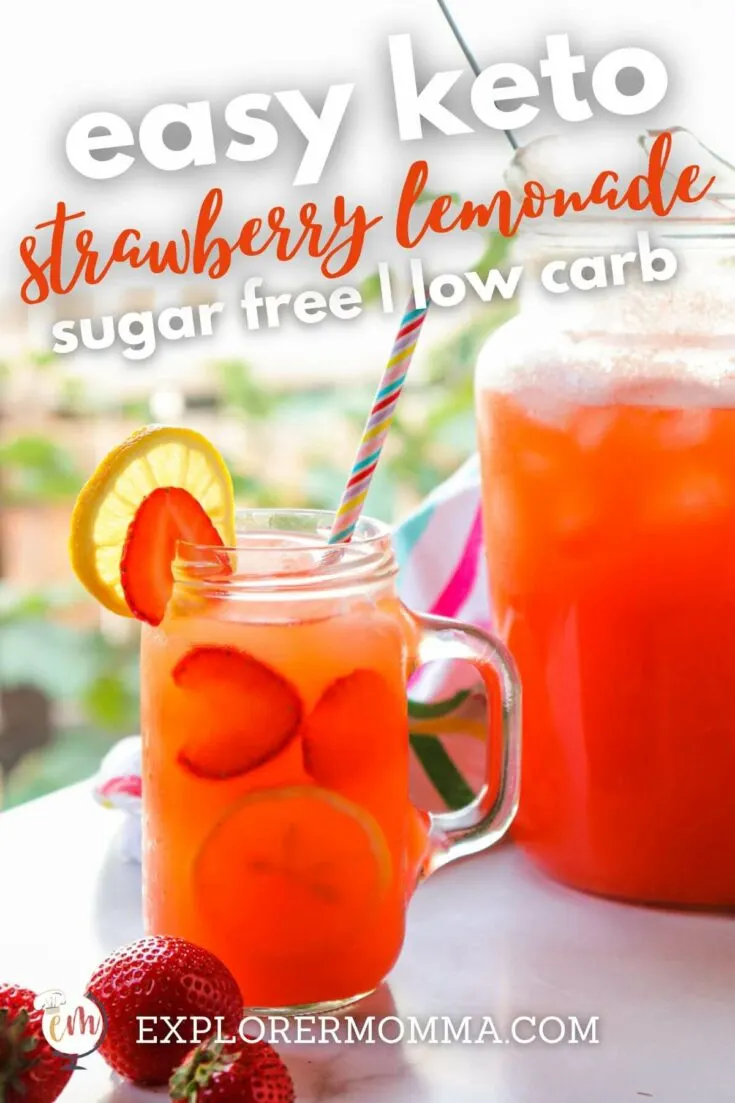 Printable recipe card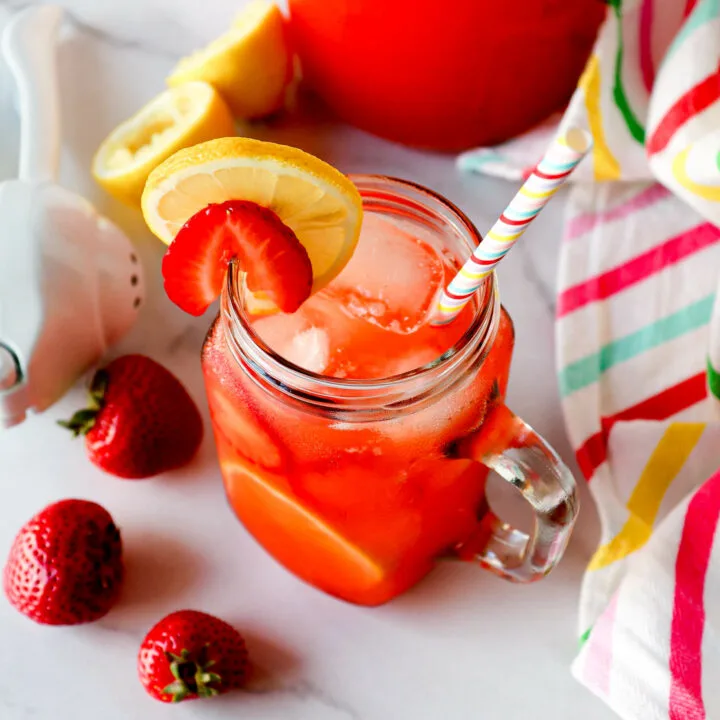 Keto Strawberry Lemonade: Ketogenic Recipe
Easy and fresh homemade keto strawberry lemonade is the perfect refreshing sugar free drink for summer! It's the perfect recipe for a picnic or summer party.
Ingredients
2 cups fresh organic strawberries (1 pint)
1 cup fresh lemon juice
4 cups water
1/8 tsp salt
Ice cubes
Sliced lemons and strawberries to serve (optional)
Instructions
Rinse the strawberries and remove the leafy stems from the strawberries. Place them in a blender.
Add one cup of the water and blend, starting on low and then bring it quickly to high speed for 30-40 seconds. Blend until it's a completely smooth puree with no lumps.
Measure in the fresh lemon juice, salt, and sweetener of choice and blend for 20-30 more seconds.
Pour the mixture into a pitcher and add the remaining 3 cups of water.
Stir and chill until ready to serve. Serve over ice and garnish with sliced lemon and strawberries if desired.
Notes
If you wish to cut the carbs even more, only use 1 cup of fresh strawberries instead of 2. The strawberry flavor will not be as strong, but still there to balance the lemon.
Recommended Products
As an Amazon Associate and member of other affiliate programs, I earn from qualifying purchases.
Nutrition Information:
Yield:

10
Serving Size:

1/10 of recipe
Amount Per Serving:
Calories:

20
Total Fat:

0g
Carbohydrates:

3g
Fiber:

0g
Protein:

0g
*Nutrition Facts per MyFitnessPal dot com. For the most accurate facts, calculate your own with the exact ingredients you use in the recipe.
Tag me in your recipe pics on Instagram @explorermomma.
If you LOVE sugar free keto drink recipes, please consider giving it a five-star rating in the review area below!
Nutrition Disclaimer
Please be aware I am not a medical specialist or nutritional professional. On this blog, I share recipes and what works for me. Please do not take anything on this blog as medical advice and always consult with your doctor before starting any diet or exercise program.
I use MyFitnessPal.com to calculate nutrition facts as a courtesy to my readers, and I remove erythritol from the final carb count and net carbs count because does not affect my own blood glucose levels.
This is as accurate as possible, but it's best to independently calculate nutrition information on your own with the specific ingredients you use. I expressly disclaim any and all liability of any kind with respect to any act or omission wholly or in part in reliance on anything contained in this website.