This page contains affiliate links. For full disclosure click here. Mom gift ideas
Are you in last minute panic mode, early and informed mode, or really just have no idea what to get the mom in your life? It could be a mom friend, your own mom, the mom you drew for the secret Santa exchange at work. This is the ultimate list of mom gift ideas for the busy mom in your life. Look through the list, click on the picture, and buy it on Amazon or Amazon Prime and BOOM! you're done!
I admit I'm a little addicted to Amazon Prime. As a matter of fact, I dread going into stores and wasting time. Even on the rare occasion I get to go by myself without the children, I find myself annoyed by having to search shelves and not finding what I need. Then you head to multiple stores only to waste the precious time sans enfants.
Yes, in effect, I'm completely spoiled. I order things online, and they are at my doorstep in two days without the hassle of people, time-wasting, and stores. Did you know you can even order groceries online? It's rather fabulous, and without fail, my King Soopers Clicklist is submitted Sunday night. Then Monday morning the helpful store employee loads everything into the back of my car I ordered the night before. But I digress…back to Mom gift ideas!
What in the world can you get for the busy mom in your life?
Searching for mom gift ideas is not always the easiest. You want to pick out something thoughtful, useful, or from the heart. Unfortunately, we then often put it off until the last minute and go into panic mode. Or, I've even gone the opposite way and ordered everything super-early, but got everyone nearly the same thing for Christmas.
If you go through the list you'll find sections titled Health and Wellness, Kitchen, Office, Bath, and Entertainment. There are so many other possibilities, but it's a good start to get those creative juices flowing. Moreover, this list is a big part of what I like, what I'd like (hint, hint), and what I've gotten great use out of. I've labeled this a mom gift guide for busy moms, but that can include working moms, stay at home moms, and work at home moms. I've been in all three roles, and let me tell you I always think one of the others is much easier than the role I'm in currently. Let's just say they all have their unique challenges.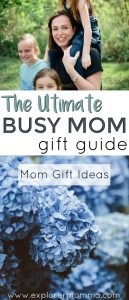 Busy Mom Gift Ideas: The Ultimate Guide
(Not ready to buy that gift yet? Click here to Pin our handy guide for later reference!)
Health and Wellness
Glass water bottle, Zen head massager, Zen energy pro massage balls,
Essential oil diffuser, essential oils, a yoga mat
or
a gym membership or training sessions (only if you know the mom well and know it's something they'd like and not be offended by)
Health for Momma can often be incredibly neglected as others are put first. When Mom is sick does she ever really to rest and spend a couple of days in bed? Of course not. She still has to get the kids fed, to school or daily activities, review and sign the planner, finish the Halloween pumpkins, do the laundry, etc. Therefore, pamper Mom a bit with one of these health-related gifts.
By the way, can I tell you how amazing the Zen head massager is? Out of all the Mom gift ideas, it's completely unique, and a fun inexpensive gift. It's also one of the most relaxing, fabulous things I've been given in a long time. You really have to use it to believe me, but it massages your head with its tiny metal arms. It's delightful.
Kitchen
Stainless steel drinking straws, silicone spatula set, Spiralizer 5-blade vegetable slicer,
Vitamix high-speed blender, Belgian waffle maker, hand immersion blender
Silicone stretch lids, silicone baking cups, ice cream maker
Have you heard of zoodles? Zoodles are spiraled noodles made from a zucchini, and they seem to be in every recipe I've been wanting to try lately. Healthy, gluten-free, low-carb, they can be seasoned and sound about perfect. If my family is reading this, buy me a spiralizer for Christmas (shameless request).
If you want to go all out a high-speed blender is an awesome idea. I use mine for smoothies, soups, dressings, vegetable chopping, the list goes on. In fact, I don't know what I'd do without it.
On the smaller side, I'm in love with my metal straws for daily smoothies, and for the child who thinks they HAVE to have a straw in every cup they drink liquid in throughout the day. Eliminate waste and reuse these babies daily. Also, I use these silicone stretch lids all the time over half-empty cans of tomato sauce, bowls, and even over a piece of fruit if I cut it in half. Do you need half an orange? Cut it in half and stick one of these around the open portion, and throw it in the fridge. Love it.
Office
Exercise stability ball (use as a desk chair), Pilot precise colored pens, daily planner

Fun eyeglasses holder, Bluetooth speaker, Amazon Echo Dot (Alexa)

Wood carving elephant pencil holder, elephant paper clips, seize the day octopus mug
If Mom works at home or not, she always needs a desk space area for the million tasks that need doing. Have you ever thought about an exercise ball for an office chair? Check this out! Truly, I love the eyeglasses holder and have given different versions of it to several members of my family. Also, a Bluetooth speaker and an Alexa Echo Dot bring your own music and fun to a space. Make Mom's office an awesome, comfortable space with some of these awesome mom gift ideas!
Bath
Dead Sea bath salts, Santa Monica Soap Co. – lavender, luxury bathroom towel set
The Body Shop British Rose body butter, OPI nail polish, manicure set
Ah, the bath. This is a go-to for many seekers of Mom gift ideas. If you do choose the bath route, be intentional and select Mom's favorites or something you'd specifically think she'd like. Personally, I absolutely love classic lavender and rose so those are often my favorite choices for soaps and lotions. Also, who doesn't love a fun new OPI nail polish color every now and then?
Entertainment
A Curious Beginning, Mistborn, Quick & Easy Ketogenic Cooking, Amazon gift card
For me, you can never go wrong with books. However, you know the mom in your life so select a book you know she would like. Or, if you have no idea you can always go for an Amazon gift card. A Curious Beginning is a witty and fun Victorian mystery, an easy read for the mom who needs a break. Then, we have Mistborn by Brandon Sanderson, a much more involved fantasy read which I love. Possibly, if you don't want to go with a novel, you could try a cookbook. I'm new to ketogenic cooking so Maria Emmerich's books are fabulous, but again, tailor your cookbook pick to Mom.
There are all sorts of other Mom gift ideas you can throw in here, but I especially like the idea of a theatre production or concert tickets. If you partner tickets to a show with an arranged babysitter you will score big points and treat Mom to a well-deserved night out. Also, for music at home, you could get a subscription to Pandora or Amazon Music Unlimited. Be creative!
Buy that gift for Mom now!
My dear reader, I hope I've made you think and gotten some good Mom gift ideas! Bonus points to you if you completed your shopping with a few quick clicks. Score! Now think of all the time you have because you didn't go shopping to 5 stores looking for the elusive ideal Mom gift.
However, most important of all is that you made the mom in your life feel special and excited about their new gift whether it be for Christmas, birthday, or just because she deserves it. Sometimes those surprise gifts are the best kind. Good luck in your search, and happy shopping!