This page contains affiliate links.
Do you have some great passport tips? This past week I received two delightfully thick envelopes in the mail containing none other than fresh passports for my son and daughter. I don't know about you, but when I hold that little blue passport book in my hand a thrill runs through my bones. Pictures of locations all over the world flash through my mind: Paris, Machu Picchu, an African safari, the Pyramids, the Sydney Opera House. There is such power and freedom that comes with a passport! (Since I'm from the U.S. this focuses on tips and links for a U.S. passport.)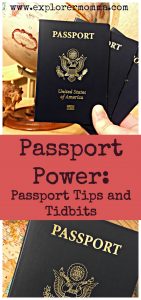 The Possibility and Power of a Passport
I may be dating myself, but do you remember the Sandra Bullock movie While You Were Sleeping? I admit I love this movie. It is a witty, fun, romantic comedy I tend to watch every Christmas season. There is a scene where Lucy (Sandra Bullock) is walking with Jack (Bill Pullman), and she pulls her passport out of her bag. She longs to travel, and when he asks where she would go she immediately and decidedly says, "Florence." She doesn't have the funds or the ability to go at the present, but she is a dreamer and that passport means enough to her to have it with her all the time.
That is the power of the passport! It represents what could be. It might mean miles to fly, trains across Europe, or winding bus rides to exotic locales. Who doesn't dream of walking through fields of lavender in Provence, riding a camel through the Valley of the Kings, or taking in the beauty and symmetry of the Taj Majal?
Putting the Power to Use
Next, you book your flight, get on the ferry, or drive across a border. When you hand your passport to the official for the first time in a new country there is a pride there, a sense of adventure, as well as anticipation in seeing these new places and cultures.
I remember taking a ferry from England to Ireland, being quite seasick in the process. However, that in no way dimmed my enthusiasm! Ireland is one of those magical places of green rolling hills, some of the friendliest people on the planet, and if you look and listen hard enough I think you will hear fairies zipping around to the tunes of Irish penny whistles.
Back to passports. When I got off the ferry, the official looked at my passport and ticket, asked a couple questions, and indicated I should go on through. I stared at him a moment, and froze in panic for just a second. Then I blurted out, "Couldn't you please stamp my passport? I need an Irish stamp in it!"
His serious demeanor disappeared, and he laughed and obliged saying it must be my first time in country.
Passport Tips and Reminders
We will be traveling internationally as a family this year. I started pulling out the passports about six months in advance to review dates and ascertain what all needed to be updated. Here are some things to remember:
Plan ahead!

If you do not wish to expedite your passport processing (and pay a bunch more) or have to visit a passport agency, get those forms in early! At least 3 months before you travel is my advice, but check the State Department website for their application information and current processing dates: https://travel.state.gov/content/passports/en/passports/information/where-to-apply.html

Fill in your application on-line

You can fill in your application on-line and print it out, or print it blank at home and fill it in. Unfortunately, you can't submit it on-line, but it's very helpful to have everything completed before you go. Then you can take all the paperwork to your local post office or city hall to apply.

Make an appointment

Many locations now require an appointment to complete the process so call beforehand or check their website.

Look out for expiration dates

Passports are good for ten years for adults, BUT only five years for children under age 16. If your kids have had passports in the past, be sure they're not expiring. I had to renew my daughter's passport this year.

Renew if expiring in less than 6 months

If your passport is near the expiration date make sure it is good for at least SIX months after your planned travel. Some countries will not grant you entry if your passport is expiring in less than six months.

Both parents must be present to apply for kids' passports

Are you getting passports for your kids? Keep in mind BOTH PARENTS must appear with the child to apply. If one parent cannot make it, there is another form that must be filled out and notarized. Generally, it's easier for everyone to go together and get it done.

A note on pictures

When you have your passport photo taken wear a shirt without ornamentation or words across the front. Anything distracting may not be acceptable. Glasses are not allowed, and you will be encouraged not to smile. Also, a chair cannot appear in the passport photo behind the subject.

Make sure everyone traveling with you meets travel requirements

Does everyone traveling with you have a U.S. passport or another country passport? Make sure your entire party meets the requirements for each country you travel through. Don't forget to include countries where you have only a layover to change planes.

Many years ago, before my husband was a U.S. citizen, he was traveling on his Georgia passport. We had a transfer in Frankfort for a flight to Munich and then another flight to Tbilisi, Georgia. In order to get the flight to Munich we had to change terminals to the national flights terminal. My husband was not allowed to leave the international flight terminal because he did not have a German visa in his Georgian passport. We ended up having to buy a ticket out of the international terminal to Zurich, take another flight back to Munich, and continue with our scheduled last flight to Tbilisi. It was my fault for not figuring this out before the trip, and we certainly paid for it! (The Zurich airport was beautiful though!)
How do you celebrate when that little blue book comes in the mail?
When your passport arrives in the mail first do a little happy dance. Allow some time to indulge in a little imagination spree about where you will go. Then, put it in a fire safe lock box, or some other location, where it can be kept safe and retrieved easily when it's time for your trip. I suggest getting a passport holder to keep your tickets and passport while navigating airports, especially if traveling with children. It is difficult to dig out your documents while holding a child and pulling your carry-on so try a holder similar to this one.
Love your passport and the opportunities it opens up to you. You can see the world! Can you imagine?
Take advantage of your travel freedom, but realize it is a privilege not afforded to everyone. Learn about new places, definitely eat and drink well and locally, meet and respect the locals, learn from them, and breathe in the history of those who've gone before you.
I hope some of these passport tips and tidbits are beneficial to you! The State Department website is also user-friendly and has all the major details. Now get traveling!