If you are looking for a delicious, healthy snack to give your kids this summer, I highly recommend these flavorful sugar free popsicles, keto strawberry lemonade! Not only are they cool and refreshing treats perfect for hot days, but they're made with all-natural ingredients like fresh organic strawberries, fresh lemon juice, and the sweetener of your choice.
This post may include Amazon or other affiliate links. As an Amazon Associate, I earn from qualifying purchases.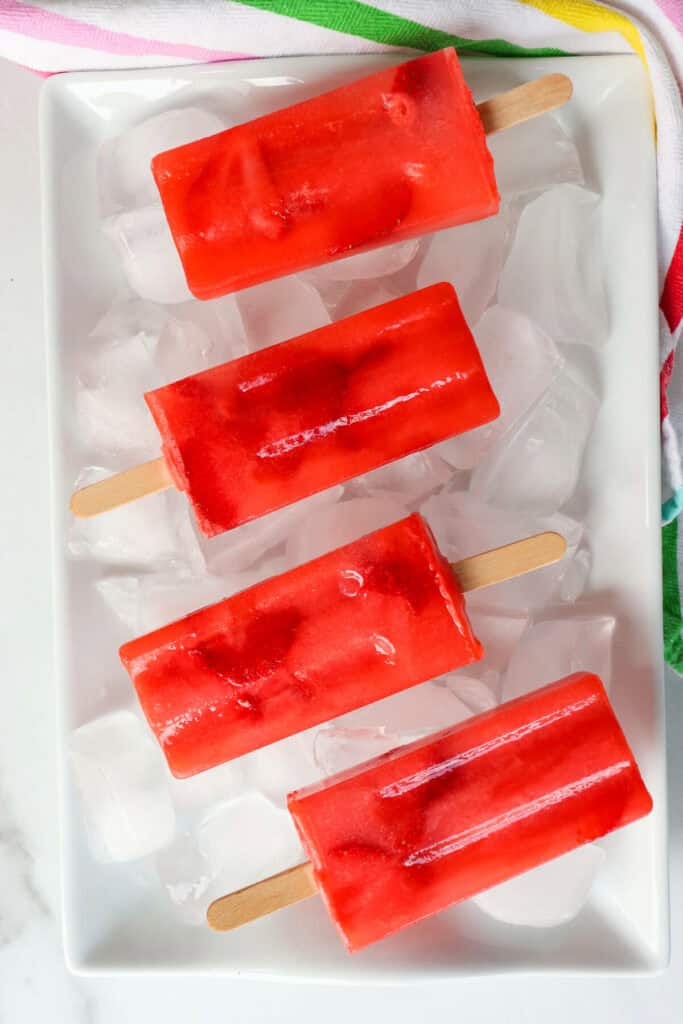 Also, they're super easy to make – just mix the ingredients together, pour them into popsicle molds, and freeze. Oh, but don't forget to put some sliced strawberries in the popsicle molds as well for an extra burst of flavor. Serve up these strawberry lemonade keto popsicles on pool days or after outdoor activities – it's the perfect way to refresh and cool down and won't mess up your keto diet!
My no sugar popsicles search
I had been searching the grocery stores, for weeks, desperately searching for healthy low carb popsicles – something that I could give to my kids on hot summer days without having to worry about all of the added sugar. Unfortunately, it seemed like finding a healthy snack was impossible; the shelves were stocked with sugary treats that were anything but healthy.
My mother used to make her own popsicles when I was young, why shouldn't I try to make my own keto popsicle recipe?
🤔 Why is there a shortage of sugar free popsicles?
Oh, my dears, that's a tough one! Unfortunately, the shortage of keto popsicles in grocery stores is most likely due to a combination of factors. For starters, there may be limited production and distribution of those particular treats due to their specialized ingredients.
Additionally, it could be because the demand for them outpaces the supply available from manufacturers.
Finally, it is quite possible that the cost associated with making them is higher than other varieties of popsicles, so grocers are more likely to stock a lower-cost option instead.
AND – I always want to read the list of ingredients super carefully on packaged items to make sure there isn't added sugar or anything else that I don't want.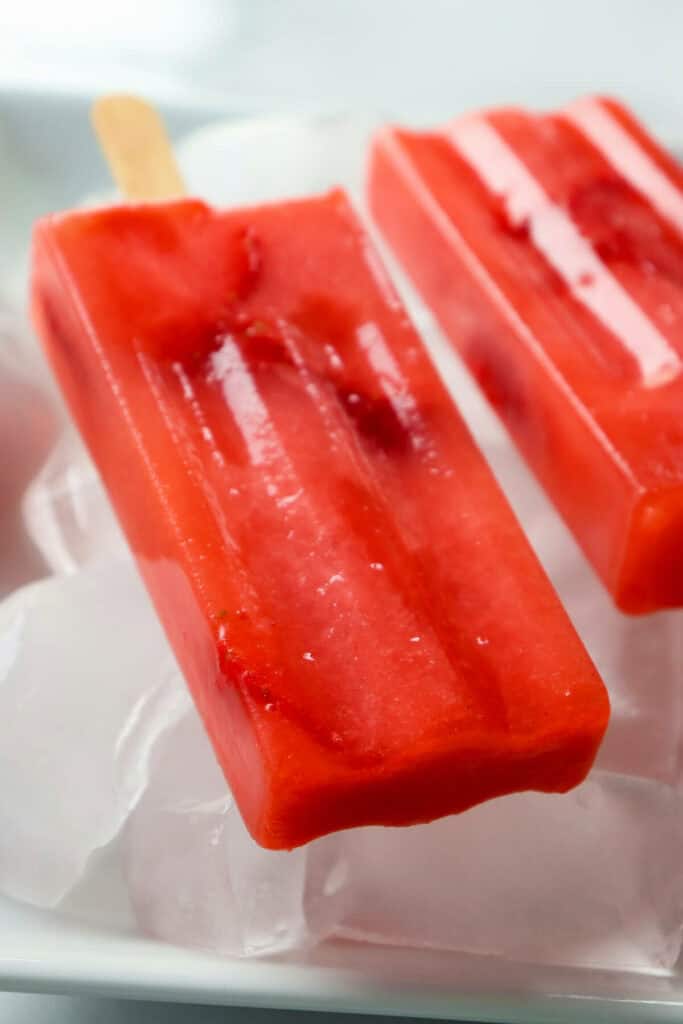 🙋‍♀️ Are sugar free popsicles keto?
Not all sugar free popsicles are keto, and not all popsicles that say they're sugar free would I necessarily agree are sugar free. For example, sucralose and aspartame are both sugar substitutes, so these would not be considered keto. However, if the popsicles are made with all-natural sweeteners like stevia, monk fruit, or erythritol (a natural sugar alcohol found in some fruits), then they could be considered keto-friendly. Additionally, it is important to read the labels to make sure that there aren't any other random ingredients used for thickeners or fillers you don't want.
Enjoying a healthier lifestyle doesn't mean you can't enjoy delicious treats – I just prefer to make my own. Homemade sugar free popsicles mean you know exactly what you're putting into them. Therefore, you know precisely what you're eating.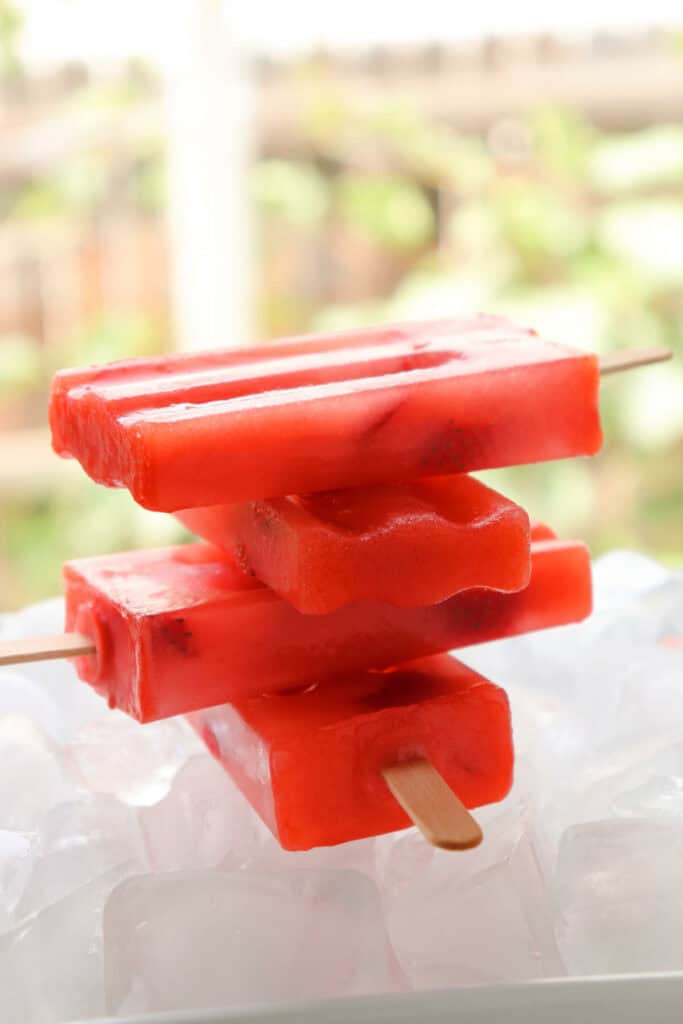 📏 Nutrition information and macros
For a moment, let's take a look at the macros. In this recipe for keto popsicles, one serving is one popsicle, 1/6 of the recipe. A serving has 15 calories, 0 grams of protein, 0 grams of fat, and 3 grams carbs per serving.
These macros for keto popsicles are figured with MyFitnessPal, with the ingredients I use in the recipe. I always recommend figuring out your own with the exact items/brands you use. It's especially important to determine your own if you're keeping close track and want to be accurate.
🍽 Equipment needed to make sugar free popsicles: keto strawberry lemonade
The first and most obvious kitchen item you'll need to make these sugar free ice pops, is the popsicle mold. Can I just point out that kids are so much more likely to eat them if they look professional, or as if they just came out of the package? Or is it just my kids? 😉
spoon, spatula, or something to stir
knife and cutting board
lemon juicer or strong hands and a fork!
popsicle sticks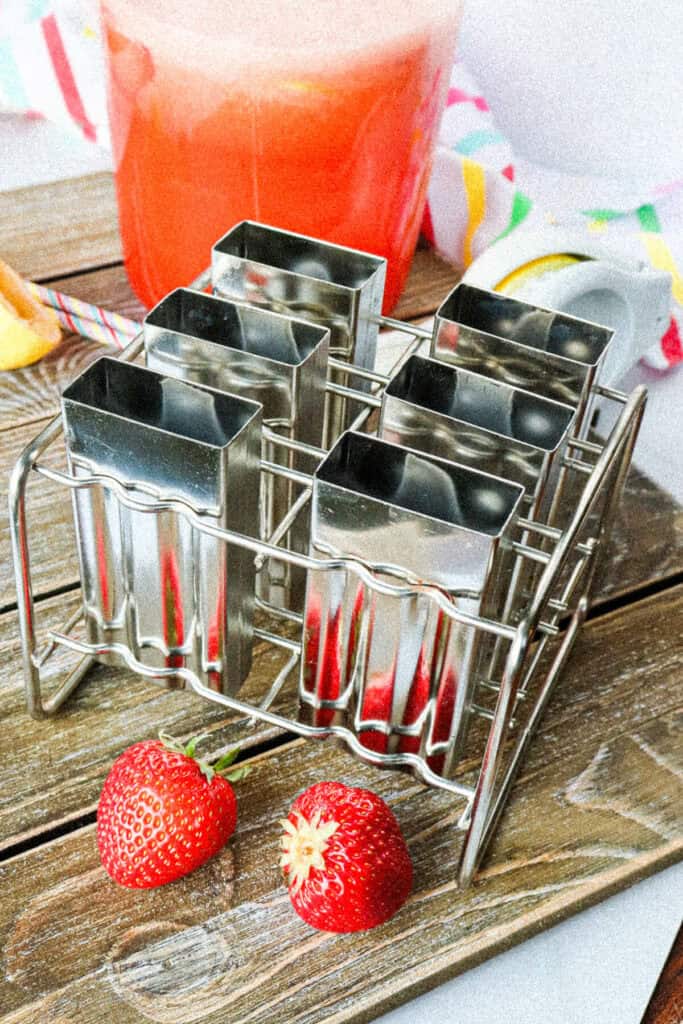 🙋‍♂️ What are the best popsicle molds and popsicle sticks?
When it comes to popsicle molds, there are many options available. My favorites are these stainless steel popsicle molds you can easily remove from the tray. They are easy to use and clean, but any type of popsicle mold should work. They also come with bamboo popsicle sticks, but it's the normal size so you can get more bamboo or wooden sticks.
There are some good silicone popsicle molds out there, but I tend to avoid plastic as I've had too many of those break when pulled out of the freezer.
Another option is to simply use ice cube trays. Put some plastic wrap tightly over the top and poke a toothpick in each one. And voila! Popsicles!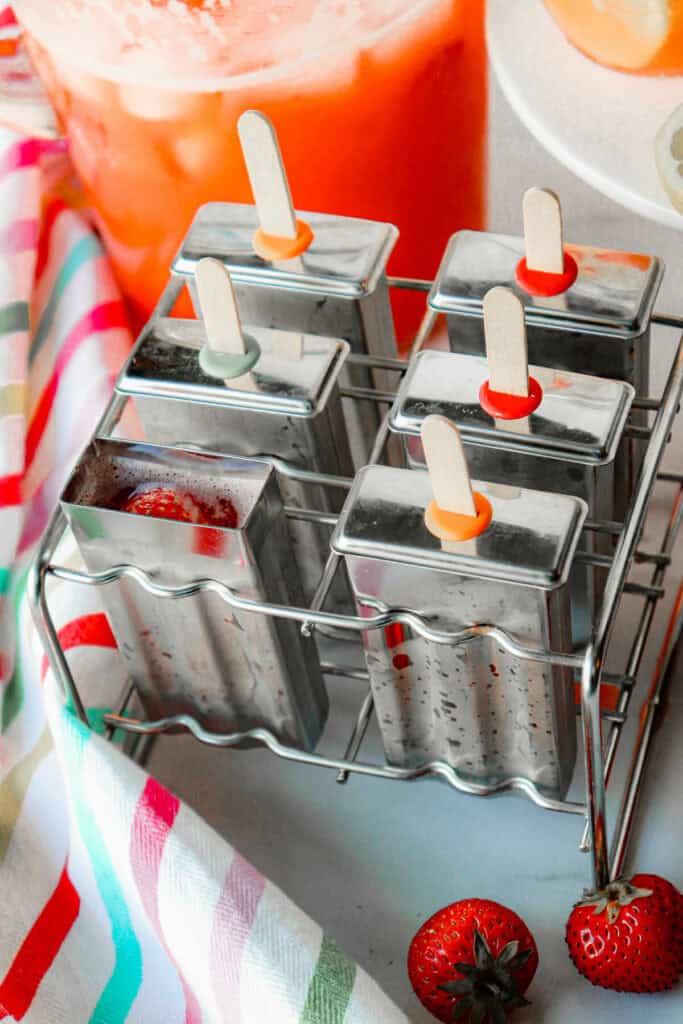 🥘 Ingredients in low carb strawberry lemonade sugar free popsicles
🍓 Fresh Organic Strawberries
Look for bright red, firm, and juicy strawberries for the best flavor and texture. Choose organic to avoid pesticides and other chemicals that can potentially be harmful.
🍋 Fresh Lemon Juice
To get a strong lemon flavor, squeeze the juice from lemons with thick, bright yellow skins. Avoid purchasing pre-packaged juices as they may contain added sugars and preservatives. I like to use a citrus press or hand juicer.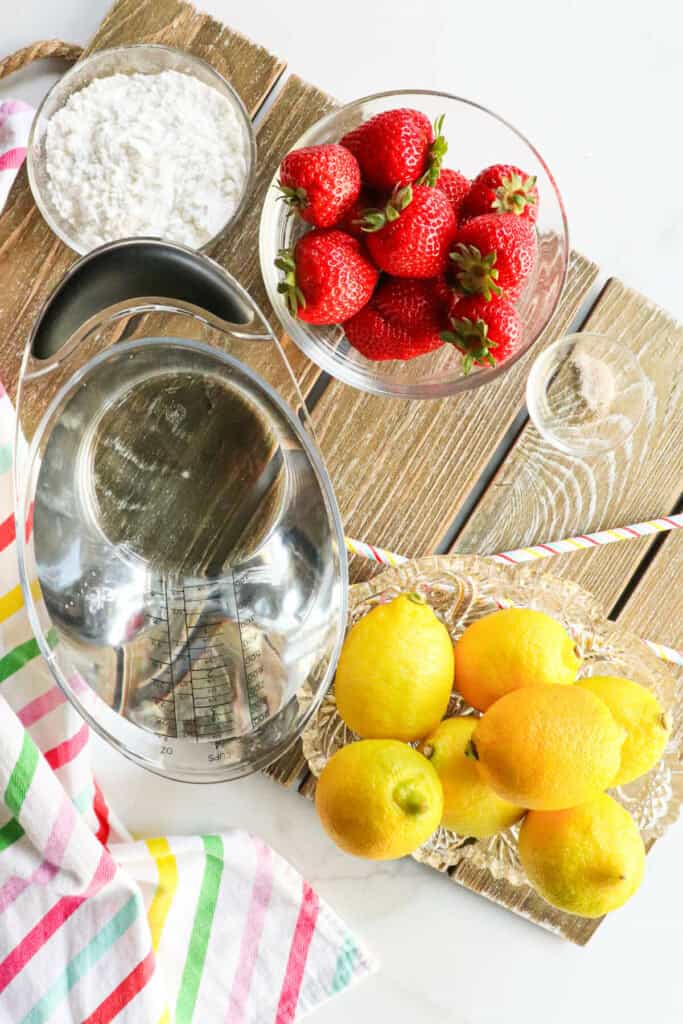 💦 Water
Use filtered water or spring water if possible to help filter out impurities that may alter the taste of the popsicle mixture.
Powdered Sweetener
Choose a powdered sweetener such as allulose, monk fruit, Swerve Confectioner's, or another that won't change the texture of the popsicles when frozen. You can adjust the amount depending on how sweet you like it – 1/2 cup will yield a less sweet popsicle while 3/4 cup will be sweeter.
😬 Note: Sugar Free Jello
I've noticed quite a few recipes use Sugar Free Jello in their popsicles and other sugar free recipes. Personally, I do not use it because it uses sucralose and aspartame for sweeteners which still will raise your blood sugar, and are artificial sweeteners I choose to avoid.
🧂 Salt
A small pinch of salt is important to balance out the flavors in this recipe – use only a tiny bit though! Use a good quality sea salt or I also like to use Redmond Real Salt.
🍓 Extra Sliced Organic Strawberries (optional)
For an extra burst of strawberry flavor add some extra sliced organic strawberries when pouring into molds – this is totally optional but makes them look extra special!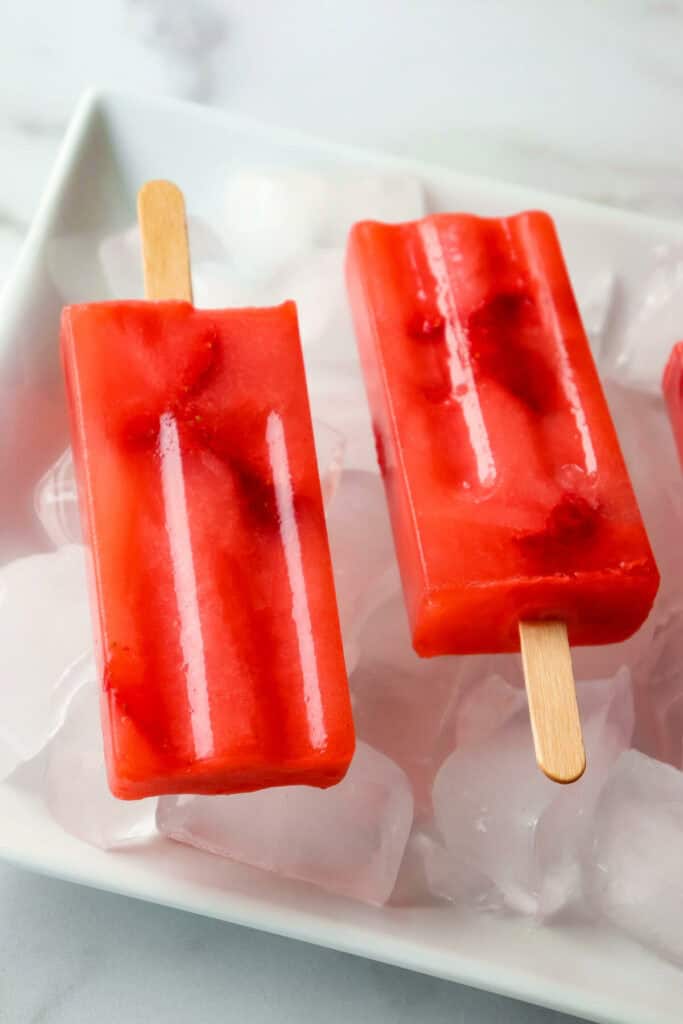 🔪 Instructions
To begin, start by rinsing one pound of fresh strawberries and removing the leafy stems.
Place them in a blender with half a cup of water and blend until it's a smooth puree without any lumps.
Then pour in the freshly squeezed lemon juice for a burst of brightness and sweetness, a half teaspoon of salt for balance, and your favorite keto-friendly sweetener for sweetness. Taste and adjust the amount of sweetener to your preference.
Now blend for 20-30 seconds until everything's incorporated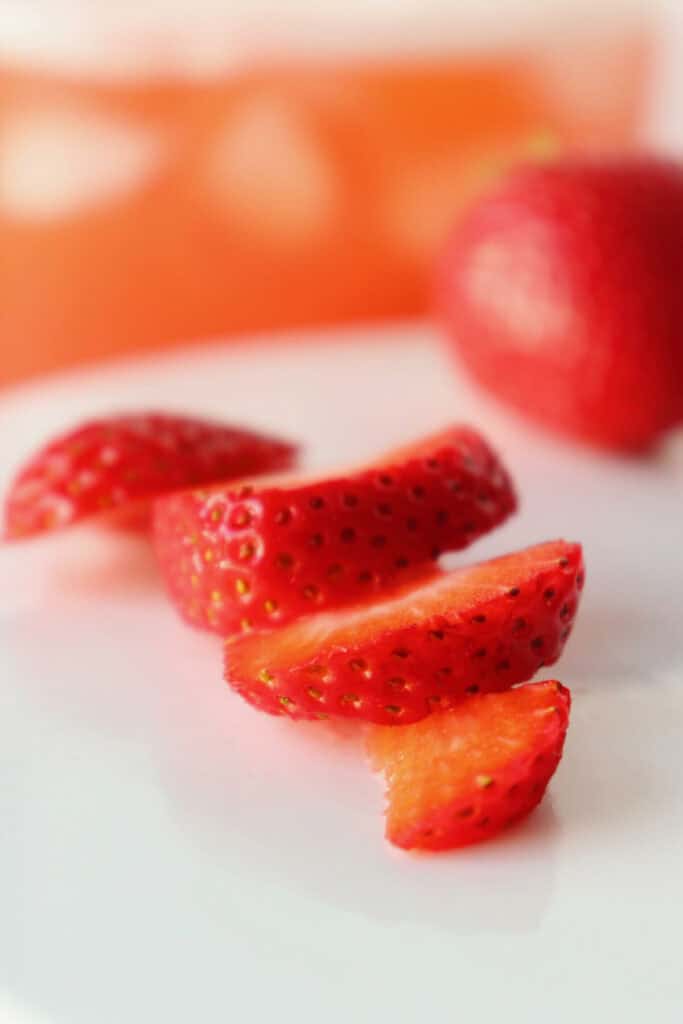 Finally, place 3-4 strawberry slices in each popsicle mold, and pour the strawberry lemonade mixture to fill each. Top each one with the lid and a popsicle stick.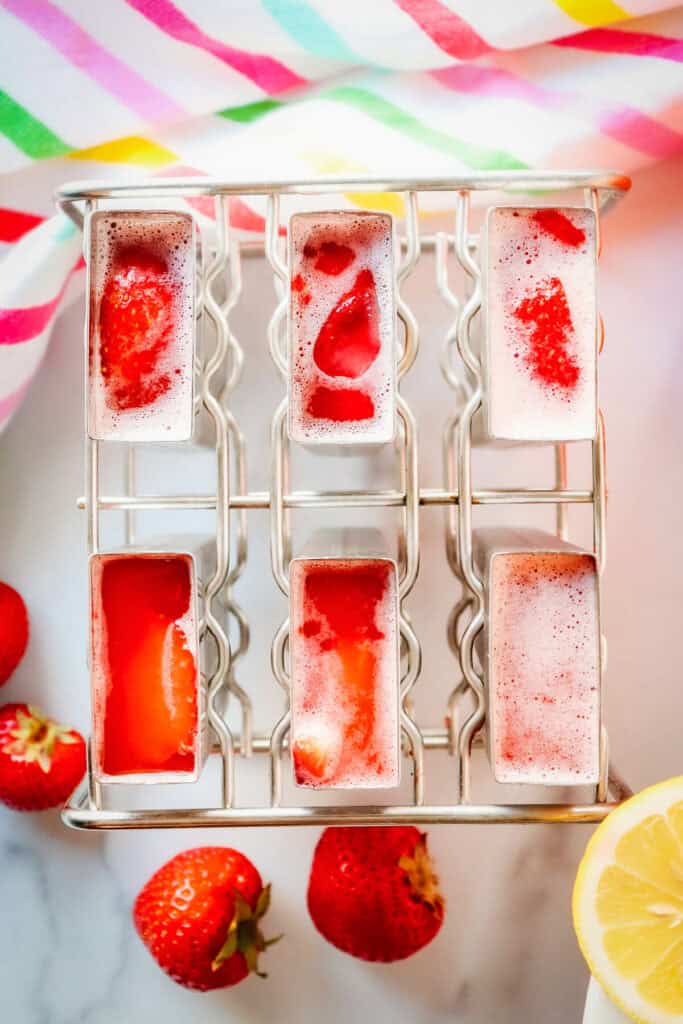 Freeze for at least 4-8 hours or overnight. Enjoy your tasty homemade Keto Strawberry Lemonade Sugar Free Popsicles on those hot summer days!
Yum!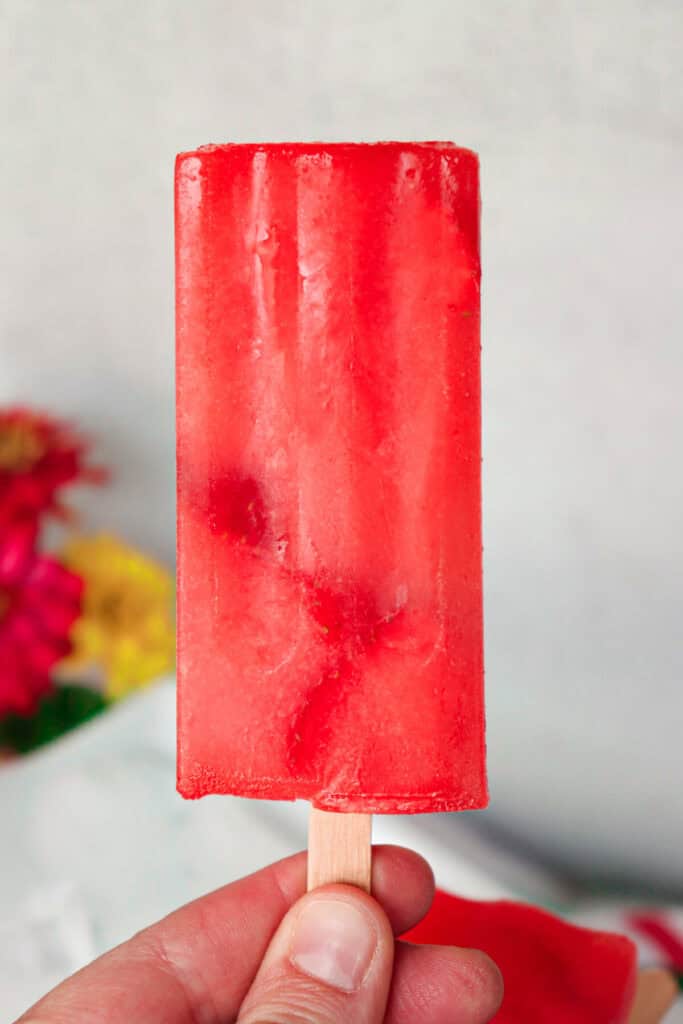 👩‍🍳 Keto-friendly sweeteners
Erythritol
There has been a lot of discussion lately about the popular keto approved sweetener erythritol. It's a sugar alcohol that can be used as a substitute for sugar, and it's known to have fewer calories and does not affect blood sugar like traditional sugars.
I myself use it often in recipes, so the recent article published saying it might be linked to heart attack and stroke took me by surprise. There are all sorts of arguments for and against it that have come out since, and as I'm not a doctor myself, I can't weigh in with much credence. Evidently, this study was conducted on 8 individuals.
Overall, erythritol is considered safe to consume in moderate amounts by most health organizations. The FDA has determined that erythritol is generally recognized as safe (GRAS) for use as a food additive. However, like with any food product, moderation is key.
Of course, if you have any worries or doubts, just choose a different sweetener!
Monk fruit sweetener
Certain monk fruit sweeteners are also keto approved and a great alternative to erythritol. Monk fruit extract is made from a small, round melon grown in Southeast Asia that has been used for medicinal purposes since the 13th century. This unique sweetener is 150-200 times sweeter than regular table sugar but with zero calories and no glycemic impact. It's available in both granulated and liquid forms, so you can easily substitute it with whatever you need for your recipes. Just read the package to see how much you need to use – or rather how its measurements compare.
Allulose
Allulose is a low-calorie sweetener that looks and behaves like sugar but has almost zero calories per gram. It also does not affect blood sugar levels or insulin levels, making it a great choice for those on keto. This sweetener is found naturally in small amounts in fruits like figs, raisins, and jackfruit.
Stevia
Stevia is probably one of the most popular keto approved sweeteners out there. It's a natural, zero-calorie sweetener derived from the stevia plant and has no effect on blood sugar levels. It does have a slightly bitter aftertaste so it's best to use in combination with other sweeteners for best results. I like to use liquid stevia glycerite, but beware! It is a very concentrated sweetness and you don't need much.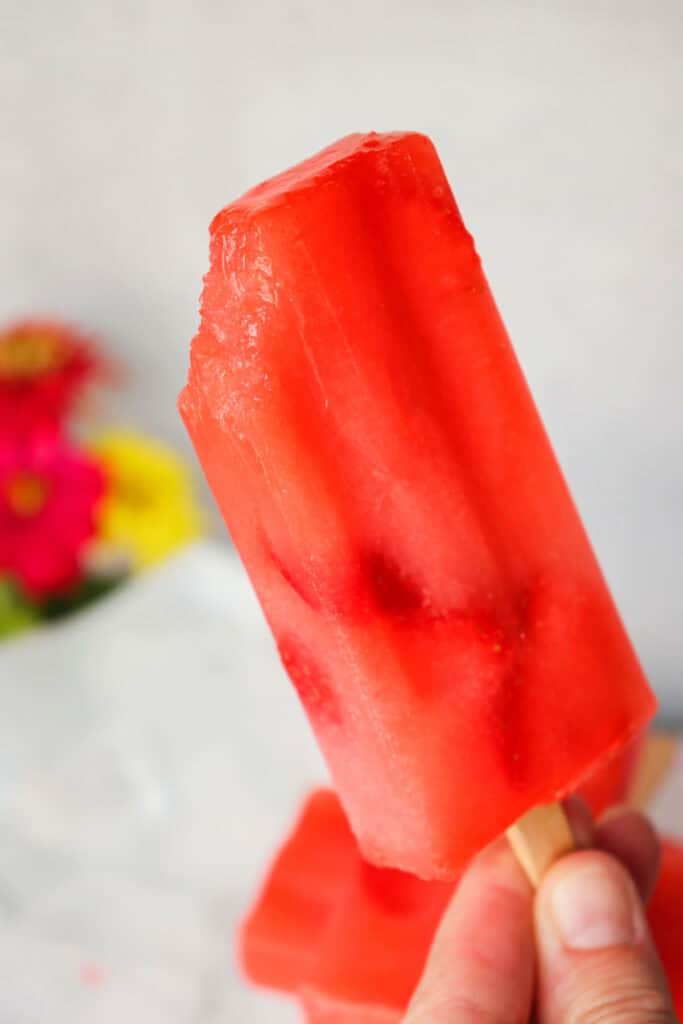 💭 Top tip: Flavor variations for homemade popsicles
If you're looking to get a bit more creative with the flavors in your keto popsicle recipes, try adding other refreshing ingredients such as mint or basil.
Or if you want richer, creamy popsicles, add some full-fat canned coconut milk, cream cheese, heavy whipping cream, or unsweetened Greek yogurt to your strawberry lemonade mixture before freezing. Have fun and experiment!
Keto Strawberry Lemonade with Coconut
For a creamy and delicious flavor, try adding in some coconut milk or shredded coconut to give your popsicles a unique depth of flavor!
Sugar Free Strawberry Lemonade with Blueberries
Add in some fresh blueberries to give your popsicles a slightly tart taste while still maintaining the sweetness of the strawberries.
Strawberry Lemonade with Chia Seeds
Chia seeds are packed with omega-3 fatty acids and add an interesting texture to your popsicles. Not only that, but chia also adds even more nutritional value!
Cherry Limeade
A little bit of lime juice goes a long way when it comes to enhancing the flavors of this keto popsicle recipe – it'll make each bite feel incredibly refreshing! Just switch lime juice for lemons and cherries for the strawberries.
Strawberry Lemonade with Basil Leaves
Give your popsicles an unexpected twist by blending in a few fresh basil leaves for an aromatic herbal note you won't find anywhere else!
Strawberry Lemonade with Mint Leaves
Mint has a bright, cooling flavor that pairs perfectly with the sweetness of strawberries. Not to mention, it gives off such a pleasant aroma!
Keto Raspberry Lemonade
Try one part raspberries for every two parts strawberries for an extra berry boost that's totally sugar-free.
Vanilla Strawberry Lemonade
Add just a hint of vanilla extract for added sweetness without all the carbs found in regular sugar and artificial sweeteners.
Bonus: You could also make these in an ice cube tray and drop a pretty flavored ice cube in your water all summer!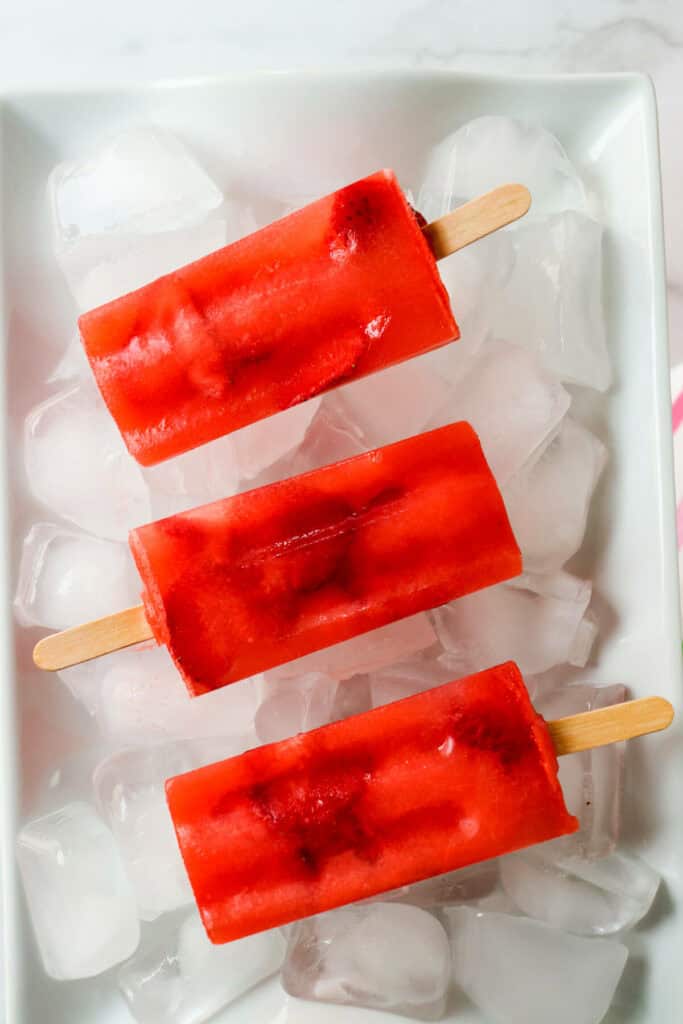 🥣 How to store strawberry lemonade keto popsicles
These keto popsicles stay best when stored in an airtight container in the freezer. They should keep for up to 2 months if kept covered. Enjoy them as a summertime snack to cool off or even as a quick and easy dessert after dinner!
As you can see, there are plenty of ways to make keto popsicles without sacrificing flavor
🙋 Where do the carbs come from in sugar free popsicles?
The majority of carbs in popsicles come from the sweetener used. Choose a natural, low-calorie sweetener like stevia or monk fruit to keep your carb count low and your flavor bold! Additionally, fresh fruits can add some extra carbs depending on how much you use. The best keto friendly fruits tend to be lower carb berries.
Keep an eye on your ingredient list and measurements to make sure your popsicles come out with the perfect amount of sweetness and flavor.
🍓 Do you have a favorite keto popsicle recipe?
Personally, I love the strawberry lemon flavor in these easy keto popsicles, but it's fun to make a different flavor each week all summer! Who else loves to eat popsicles for snacks?
Keep them sugar free and watch that the ingredients fit well with a low carb diet.
However, don't be afraid to get creative and explore new flavors for a unique twist on this classic summertime snack. Hurray for low carb popsicles!
📋 More related keto recipes
📌 Pin the keto popsicles recipe here: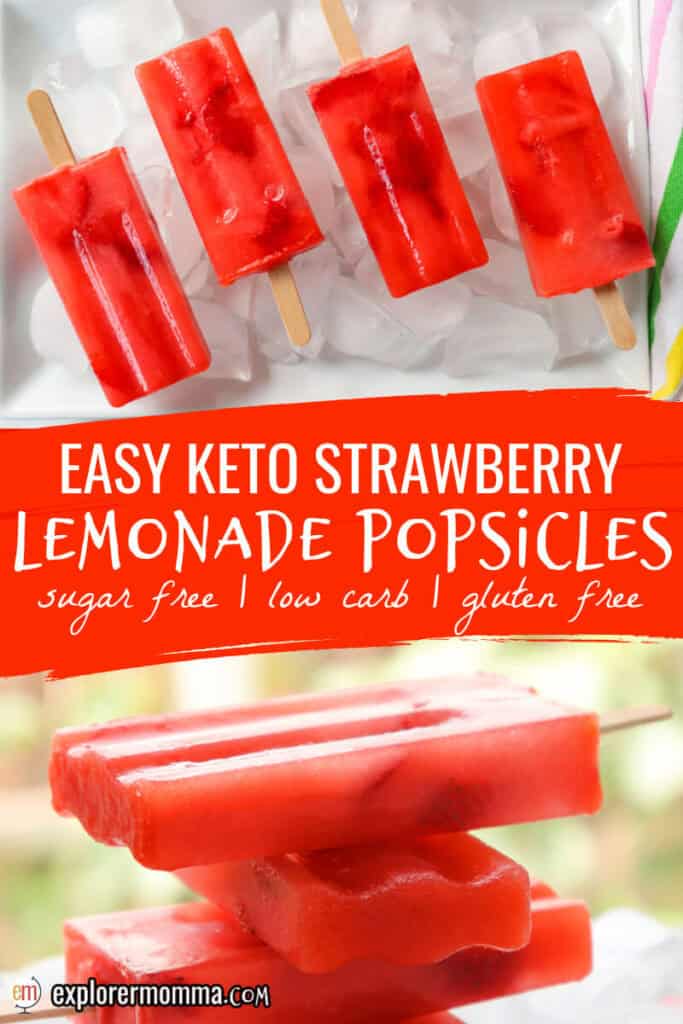 📖 Printable recipe card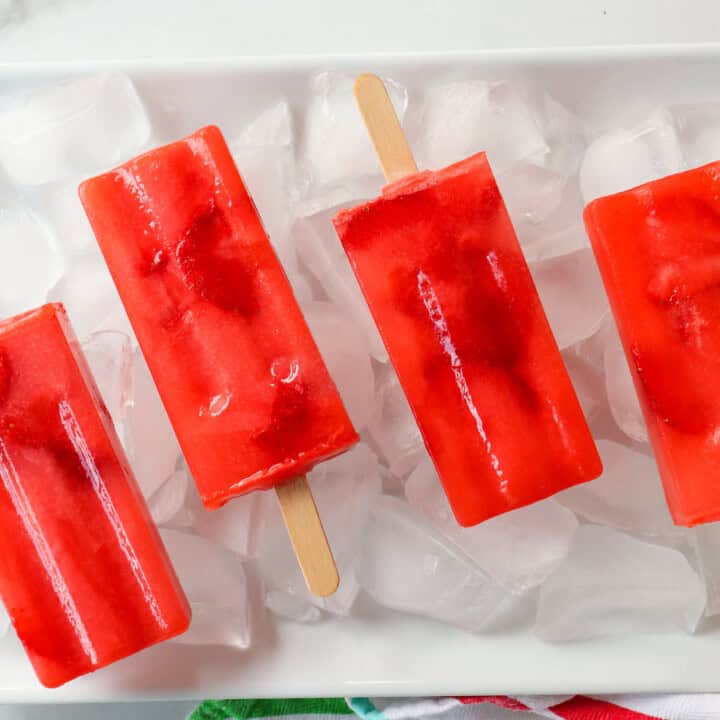 Sugar Free Popsicles: Keto Strawberry Lemonade
Total Time:
3 hours
10 minutes
Nothing says summer like a refreshingly icy treat! This Keto Strawberry Lemonade Sugar Free Popsicle recipe will make your mouth water – and it's healthy too! These tasty, low-carb popsicles are made with fresh strawberries and tart lemons, plus they're completely refined sugar free.
Ingredients
1 cup whole strawberries (about half a pint)
1 1/2 cups water
1/3 cup powdered sweetener (or 1/2 tsp stevia glycerite) Adjust amount for your desired sweetness.
Sliced strawberries (optional)
Instructions
Rinse the fresh strawberries and remove the leafy stems.
Set aside 3-4 strawberries to slice and put in the molds.
Place the remaining strawberries in a blender, then add ½ cup of water and blend starting on low speed and increasing to high speed for 30-40 seconds until you get a completely smooth puree with no lumps.
Pour in the freshly squeezed lemon juice, add a pinch of salt, and your choice of sweetener (such as allulose, monk fruit sweetener, or stevia). Blend for another 20-30 seconds until everything is well mixed together.
Put 3-4 slices of strawberry into each popsicle mold, then fill them up with the mixture from the blender. Top with the lids and a popsicle stick for each.
Place the molds in the freezer for at least 3 hours or overnight until they are frozen solid.
When ready to serve, run warm water over the outside of the molds to help slide out your popsicles with ease! Enjoy!
Notes
Any extra strawberry lemonade mixture can be served over ice for refreshing sugar free strawberry lemonade. Add more water as desired.
Recommended Products
As an Amazon Associate and member of other affiliate programs, I earn from qualifying purchases.
Nutrition Information:
Yield:

6
Serving Size:

1/6 of recipe, 1 popsicle
Amount Per Serving:
Calories:

15
Total Fat:

0g
Carbohydrates:

3g
Protein:

0g
*Nutrition Facts per MyFitnessPal.com. For the most accurate facts, calculate your own with the exact ingredients you use in the recipe.
Tag me in your recipe pics on Instagram @explorermomma.
If you LOVE dessert cuisine and this recipe please consider giving it a five-star rating in the review area below!
Nutrition Disclaimer
Please be aware I am not a medical specialist or nutritional professional. On this blog, I share recipes and what works for me. Please do not take anything on this blog as medical advice and always consult with your doctor before starting any diet or exercise program.
I use MyFitnessPal.com to calculate nutrition facts as a courtesy to my readers, and I remove erythritol from the final carb count and net carb count because does not affect my own blood glucose levels.
This is as accurate as possible, but it's best to independently calculate nutritional data on your own with the specific ingredients you use. I expressly disclaim any and all liability of any kind with respect to any act or omission wholly or in part in reliance on anything contained in this website.