This post contains affiliate links. Homeowner's Travel Prep Checklist
So you did it! You booked that big vacation for the entire family to go to Provence, to London, or to Florida for three weeks this summer. Of course, you have your itinerary, ideas about where to eat, what to do, where to stay, and all that jazz. You may even already have your suitcases and carry-ons planned. However, have you thought about your house, your home and all that will go on there while you are away?
Use this ultimate homeowner's travel prep checklist to safeguard your home while you are away.
We all love to prepare for a vacation but can often forget about what will go on at home while we're gone. Make a thorough plan for while you are gone so you can enjoy your vacation with the peace of mind everything's been taken care of for you back home.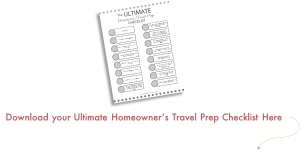 [et_bloom_inline optin_id="optin_7″]
Don't be surprised or caught in the last minute panic. Of course, I will be in a panic about something, but let's limit it as much as possible, right? Just enter your email below, and the document will be sent to you to download. Then come along with us as we continue to prep for summer travel!
Get your free kids' travel journal from Explorer Momma.
Here is my ultimate homeowner's travel prep checklist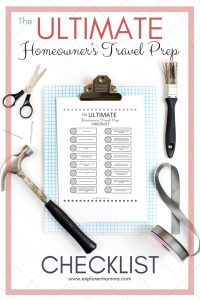 When you leave town do you take care of your home necessities?
Stop your mail.

Put a hold on any newspapers.

Find a pet sitter or reserve a pet care location.

Find someone to water plants inside and outside the house.

Give your contact info to a trusted neighbor who can keep an eye on things as they come and go or have a friend or relative check on the house every few days.

Find a house-sitter if necessary.

Make sure the sprinkler system is set.

Change your thermostat settings so your heater/air conditioner isn't constantly running while no one's home.

Turn off and/or unplug computers, coffee pots, blenders, or other electronics.

Contact your home security company if you have one to let them know when you'll be gone.

Schedule or reschedule any lawn care and the bug or pest control as needed.

In winter plan for someone to complete necessary snow-removal.

Cancel dairy or food home deliveries while you're gone.

Pay all bills due while you're gone or set them to pay at the appropriate time.

Set timers on outdoor and indoor lights used consistently in the evenings.

Straighten the house and make beds, wash dishes, and unload the dishwasher before you leave so you come home to a calming and welcoming space.
Call credit card companies to let them know where and when you'll be traveling.
Leave copies of passports and other important documents where someone can locate them for you in an emergency.
Click on the pictures to compare outlet timers and wifi smart plug outlets on Amazon:
There is so much to think about when you're traveling, especially with kids. As a homeowner, we have to think of all the things we're leaving behind and still have to take care of while we're away. Make that house a home for your family and make a plan! Use my homeowner's travel prep checklist, and limit your risk of utter and complete Home Alone panic while you're on that airplane to Paris.
Enjoy your travels this summer to the fullest!
Also, I'd love to hear where all you're traveling! Put a comment in below and let's get excited about those plans to explore!