If you are looking for an easy and delicious keto side dish that's sure to be a hit with the whole family, this amazing keto coleslaw recipe is it! This classic dish is simple to make and requires just a handful of ingredients found in most kitchens. The creamy, tangy dressing pairs perfectly with the crunchy slaw mix and adds tons of flavor.
This post may include Amazon or other affiliate links. As an Amazon Associate, I earn from qualifying purchases.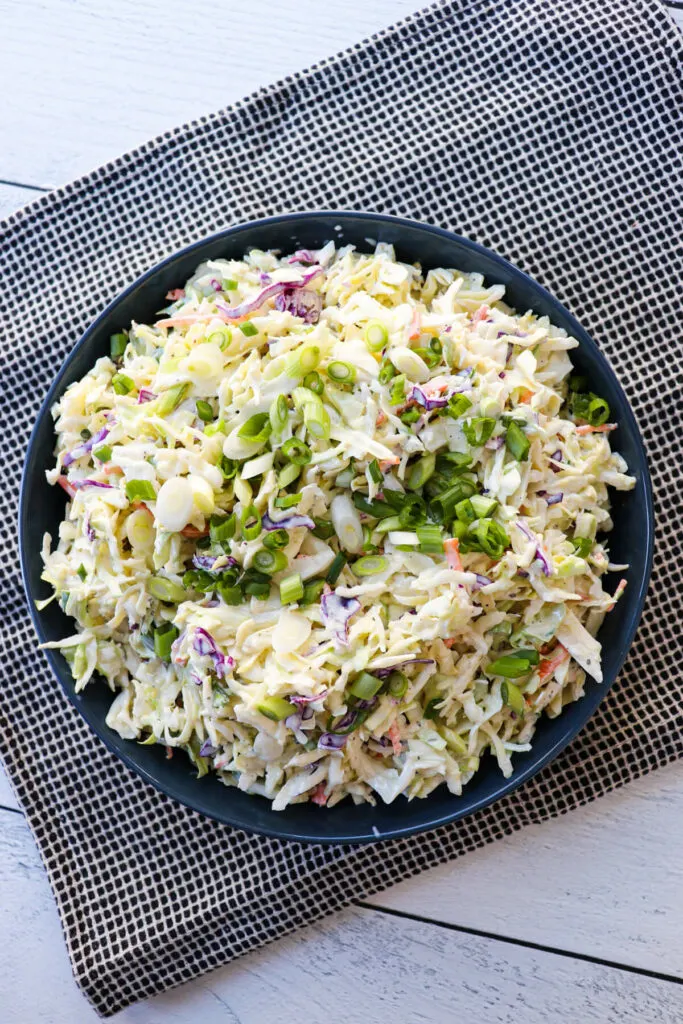 Serve it alongside your favorite main dishes or use it as a topping for burgers and hotdogs and your next barbeque! Whether you're cooking up burgers or grilling chicken breasts, this tasty coleslaw will give your meal an extra boost of flavor that everyone will enjoy!
When I was a kid, I didn't like store bought coleslaw at all. I think it was the cabbage texture and boring lack of flavor in the dressing. But now as an adult, I love it as a tangy side dish, as long as I get to make my own and control the ingredients. There are also so many ways you can mix it up with different flavors. But today, we'll start with the traditional.
🤔 Can you eat coleslaw on keto?
Yes, you can definitely enjoy coleslaw on the keto diet! The key is to choose a recipe that uses low-carb ingredients. This easy low carb keto coleslaw recipe uses a mix of crunchy veggies, such as cabbage and green onions, all tossed in a creamy no-sugar-added dressing.
The dressing is made with mayonnaise, sour cream, apple cider vinegar, lemon juice, and a few spices which give it an amazing flavor without any added sugar. This version of coleslaw is also packed with nutrients like fiber, vitamins and minerals.
It's the perfect side dish for any meal or snack and can easily be incorporated into the keto lifestyle. So go ahead and enjoy this delicious and nutritious low-carb coleslaw!
Is KFC coleslaw keto friendly?
I see this question a lot actually because coleslaw in general sounds like it should work with a ketogenic diet.
Unfortunately, KFC coleslaw does contain sugar, so it is not keto-friendly and not something you'd want to eat on a regular basis. That's one of the many reasons I prefer to make homemade recipes because I know exactly what goes into them.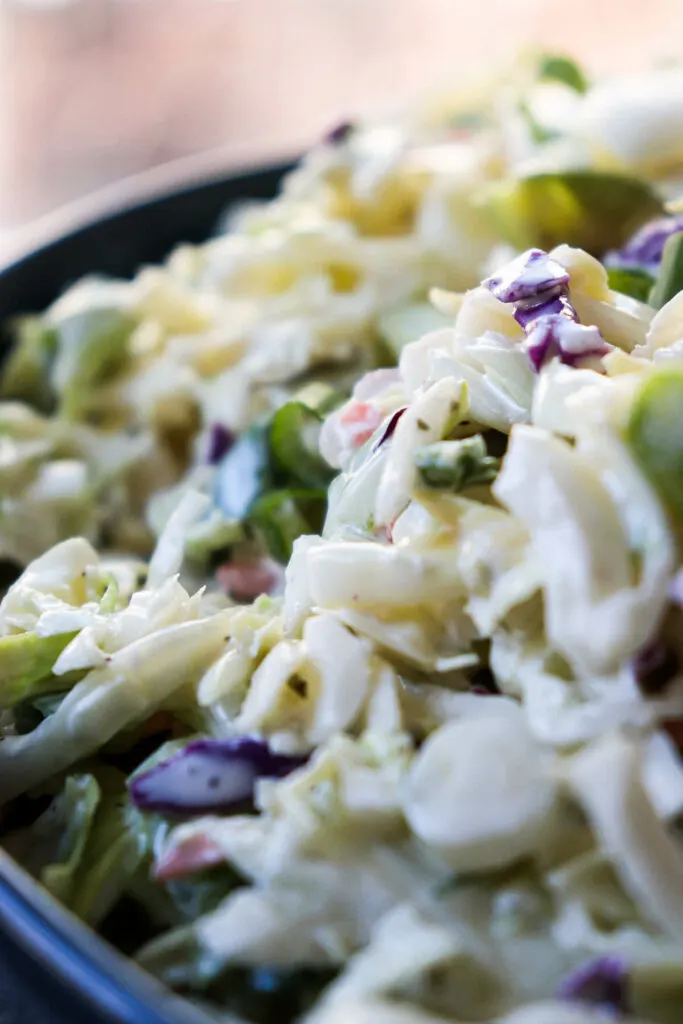 🙋‍♀️ Is this recipe for coleslaw keto?
Yes, this recipe is definitely keto-friendly! As mentioned above, it uses low-carb ingredients, such as cabbage and green onions, all tossed in a creamy no-sugar-added keto coleslaw dressing.
📏 Nutrition information: macros in low carb keto coleslaw
Let's take a look at the macros. In this keto coleslaw recipe, one serving is one sixth of the total recipe. It has 165 calories, 1 gram of protein, 16 grams of fat, and 1 gram net carbs per serving.
These macros for low carb coleslaw are figured with MyFitnessPal, with the ingredients I use in the recipe. I always recommend figuring out your own with the exact ingredients and brands you use. It's especially important to determine your own if you're keeping close track and want to be accurate.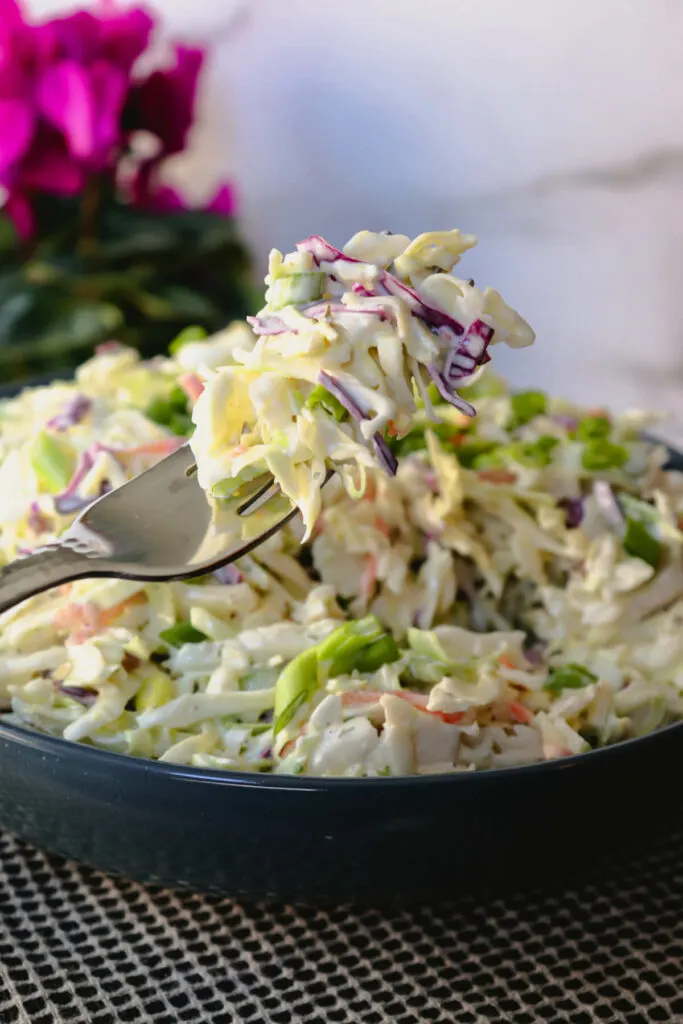 🍽 Equipment needed to make keto coleslaw
To make this easy keto coleslaw recipe, you'll need a few things.
knife
small bowl or mason jar
whisk
salad tongs or serving spoon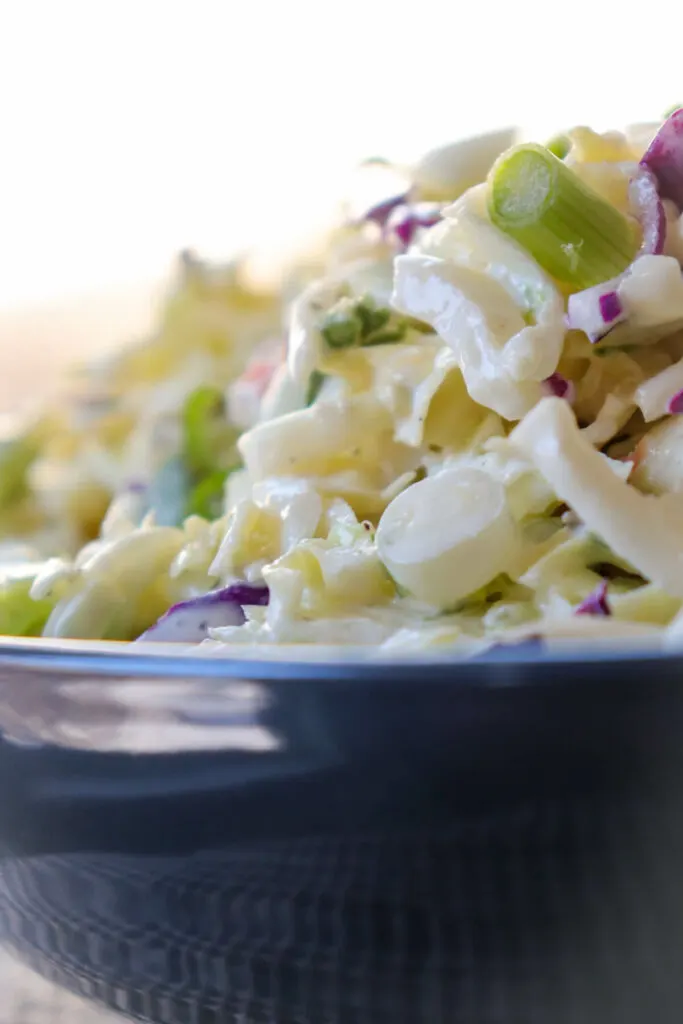 🥘 Ingredients in low carb coleslaw
When making a low carb keto coleslaw, it's important to select the best ingredients to ensure it is low in carbohydrates. Here are some tips and ideas for choosing the right ingredients:
Bagged Coleslaw Mix
Look for a bag of pre-shredded cabbage mix that contains fewer carrots than usual, as these can add extra carbs to your coleslaw. I like the ones that include regular shredded cabbage, purple cabbage (or red cabbage), and a few shredded carrots for the best coleslaw.
Green Onion
Green onions are an excellent choice for adding flavor to your coleslaw without adding too many carbs. Look for firm green onions that have no signs of wilting or discoloration. Slice them thinly into rings and use only what you need for the recipe.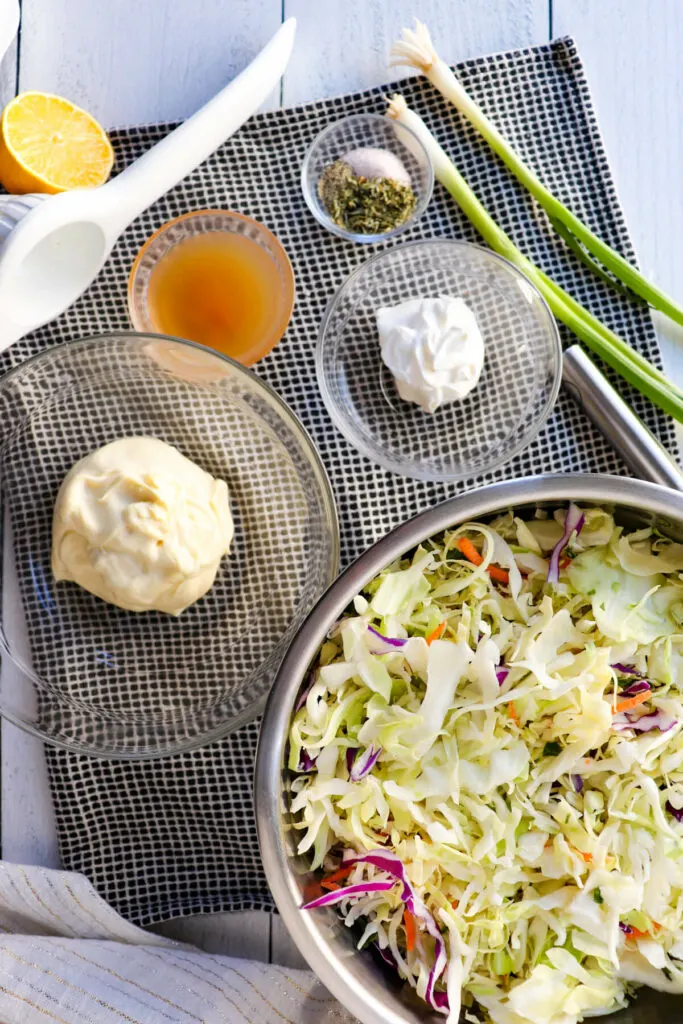 🥗 Sugar free dressing ingredients
For the best creamy dressing you'll need these ingredients:
Mayonnaise
Try to make your own mayonnaise from scratch using keto-friendly oils like avocado oil, coconut oil, or olive oil instead of store bought versions. This will reduce the amount of added sugars in your mayonnaise and help keep it low carb. If you must buy store bought mayo, look for labels that say "sugar free" or "keto-friendly" so you know it is safe to use in this recipe. I like the Chosen Food Avocado Oil Mayo.
Sour Cream
Choose full fat sour cream over reduced fat options as it should have no added sugars and higher fat content which helps make your coleslaw creamy and delicious.
Apple Cider Vinegar
Using raw apple cider vinegar will help give your creamy low carb dressing a subtle tangy flavor while keeping it low in sugar and carbohydrates. You can also substitute white vinegar if needed but be sure to adjust the amount used in the dressing accordingly since white vinegar is much more acidic than apple cider vinegar. Don't leave out the vinegar if you want that traditional tangy coleslaw taste.
Lemon Juice
Fresh lemon juice adds zesty brightness to your dressing so be sure not to skip this ingredient! If you don't have any lemons on hand, you can substitute bottled lemon juice but fresh is so much better.
Parsley & Seasonings
Dried parsley is an essential herb used in most slaw dressings but feel free to experiment with different herbs like dill, basil, celery seed, or even celery salt if desired! Other seasonings such as garlic powder, salt & pepper are important too – they help bring out all the flavors of each ingredient and add a ton of flavor to the keto coleslaw dressing.
Dijon Mustard
Adding just a touch of Dijon mustard to the dressing helps round out all the flavors and makes it extra delicious. I love Dijon mustard myself, but it's not everyone's cup of tea.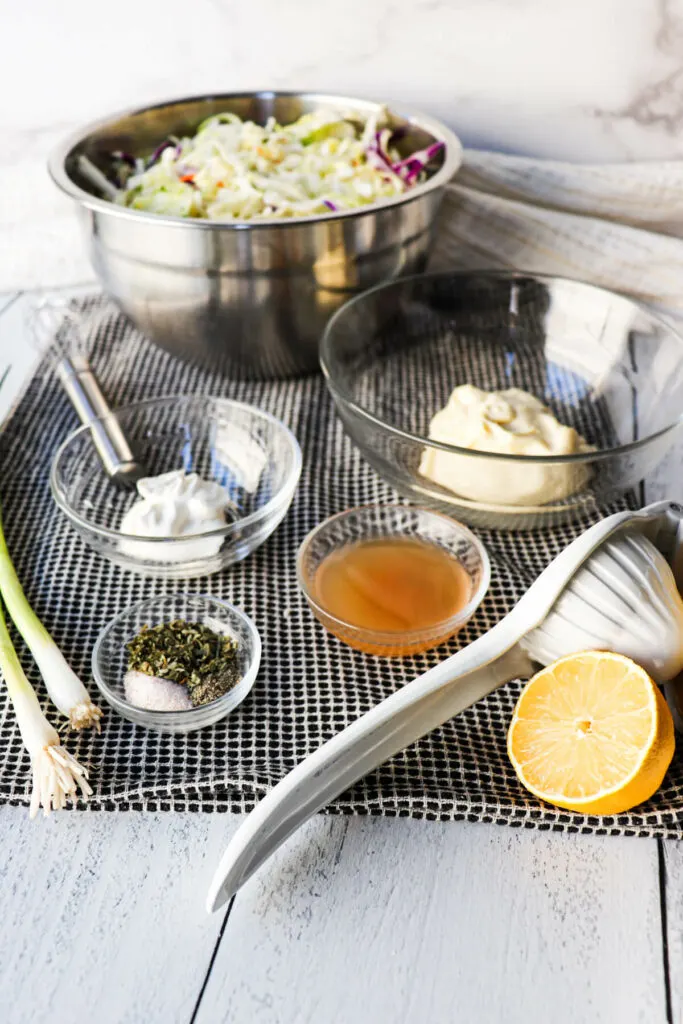 Note on sweeteners:
Personally, I don't like to add a keto friendly sweetener to this great recipe. However, if you like making a sweeter coleslaw, add a tablespoon of powdered sweetener, such as Swerve Confectioner's, to the dressing.
🔪 Instructions for this homemade coleslaw recipe
Today I'm going to show you how to make an absolutely delicious, fresh, and tangy keto coleslaw that's perfect for summer barbecues or as a side dish any day of the week. To get started, all you need is a few simple ingredients so review the list and be sure they're ready to grab when needed.
In a medium-sized bowl mix together the coleslaw mix with the sliced green onions until everything is evenly combined.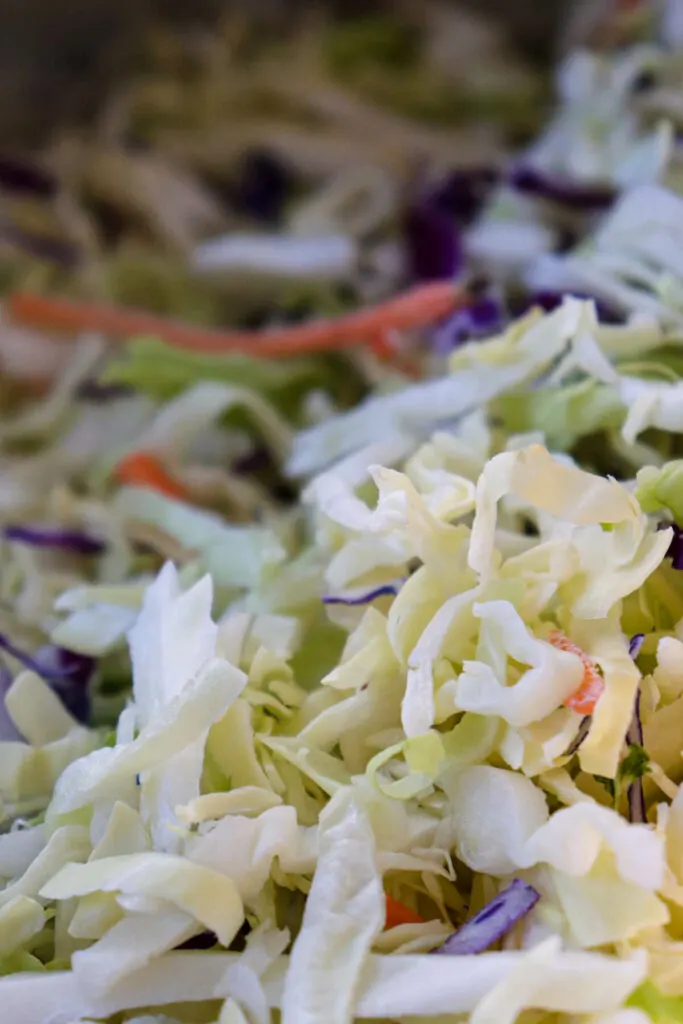 🥬 How to make the keto coleslaw dressing
Then, in a separate bowl whisk together the mayonnaise, sour cream, apple cider vinegar, lemon juice, parsley, garlic powder, salt, and pepper until creamy and smooth. If desired add a little Dijon mustard for extra flavor.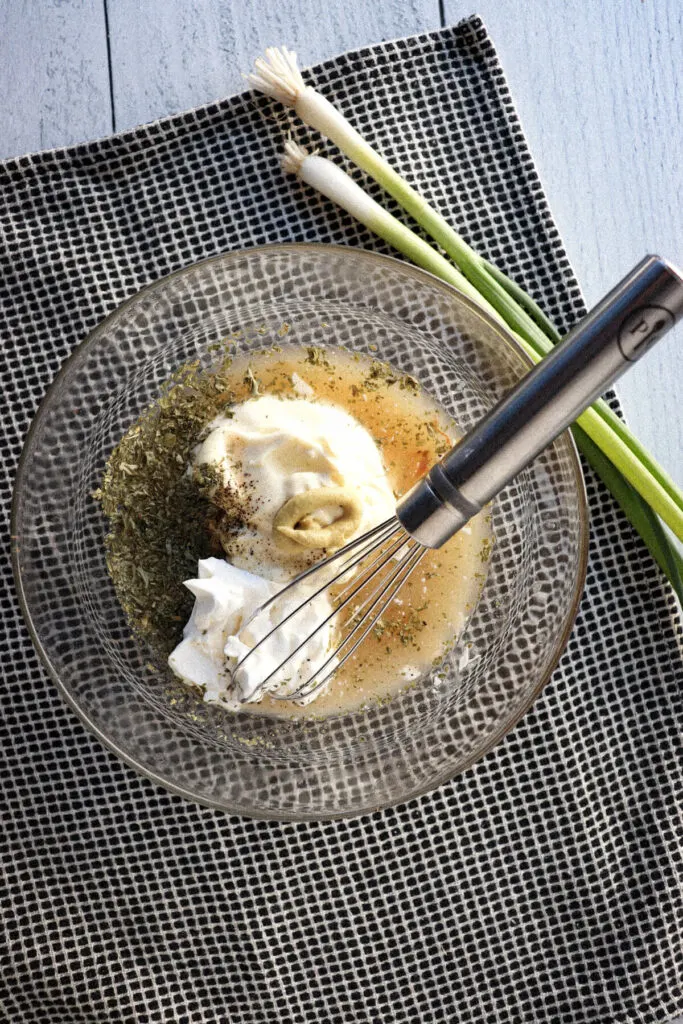 Now, pour this creamy keto coleslaw dressing over the coleslaw mix and stir until it's fully coated in the dressing. Then cover the bowl with plastic wrap or aluminum foil and leave it to chill in the fridge for at least an hour (or overnight if you have time). This will help all of those bold flavors develop so your coleslaw is even tastier when it's time to serve.
When ready to enjoy this keto coleslaw, just add some fresh herbs such as cilantro, parsley, or more green onions for garnish if desired, then dig in!
I guarantee everyone will be asking for seconds – so make sure there's plenty to go around!
💭 Other top tips
In order to really bring out all of the flavors and textures, I suggest making this recipe at least one day in advance and allowing it to sit overnight in the refrigerator. This will give all of the vinegar, spices, and seasonings time to meld together for an explosion of flavor!
To add a bit more crunch and color, diced bell peppers or jalapeños are a great optional addition. Not only do they look great but they also provide an extra layer of flavor too.
Another way to take your coleslaw to the next level is by playing around with different vinegars – apple cider vinegar, white vinegar, or unseasoned rice vinegar are all great options!
You can also incorporate additional spices such as paprika or chili powder for even more complexity. So go ahead and get creative – have fun with it!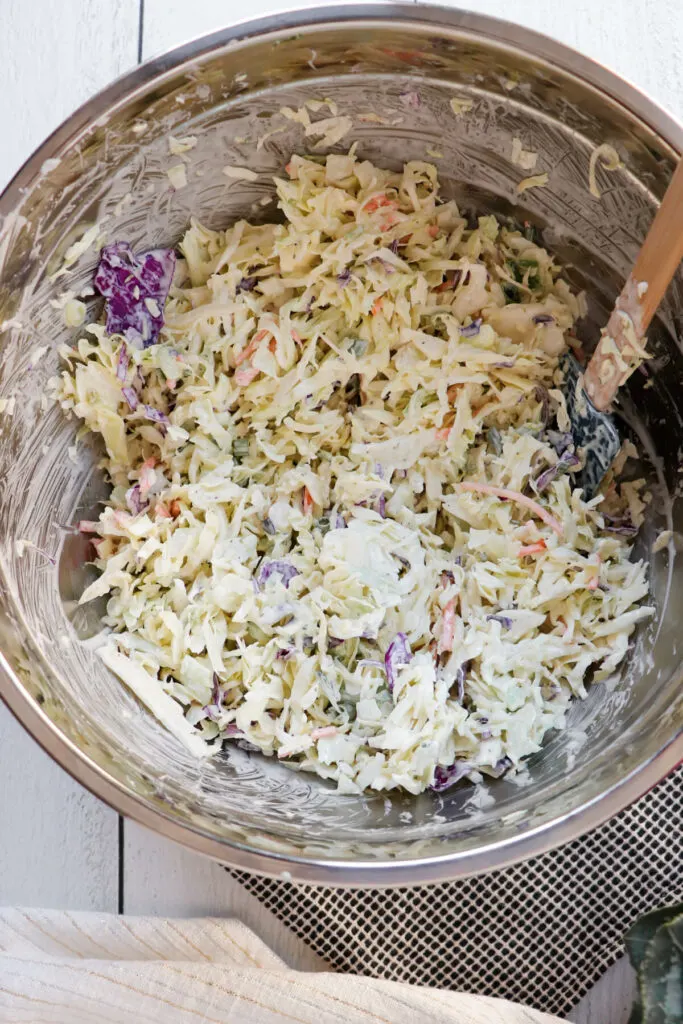 🥣 How to store the best keto coleslaw
If you have any leftover coleslaw, store it in an airtight container or jar and it will keep for up to 4 days in the fridge. I don't advise freezing it, but it should disappear quickly enough so you won't need to!
👩‍🍳 Top 10 variations on this low carb coleslaw recipe
Add a few tablespoons of freshly chopped dill for a bright and herby flavor, as well as an interesting texture.
Sprinkle in some smoked paprika to give the slaw a smoky kick.
For added crunch, stir in some sliced almonds or walnuts.
For a Mexican-style coleslaw, add in diced jalapenos, cilantro, and lime juice.
To make it more creamy and smooth, stir in some crumbled feta cheese or cream cheese.
For a zesty meat flavor, stir in some cooked bacon bits or diced ham.
Give the coleslaw an Asian flair by adding toasted sesame oil, rice wine vinegar, and finely chopped ginger or garlic.
Add cubed avocado to the mixture for a rich creamy consistency and extra healthy fats!
Make it cheesy by stirring in shredded sharp cheddar cheese before serving!
Finally, if you're feeling adventurous, why not try adding some chopped bell peppers (such as red or yellow) or jalapeños into the mix right before serving for some bold color contrast and added heat!
Or, as a bonus use this keto coleslaw recipe or any of the variations for a broccoli slaw. Just use chopped broccoli, a few grated carrots, and cabbage in place of the coleslaw mix – it's delicious!
No matter how you choose to customize this basic keto coleslaw recipe, I hope you enjoy it.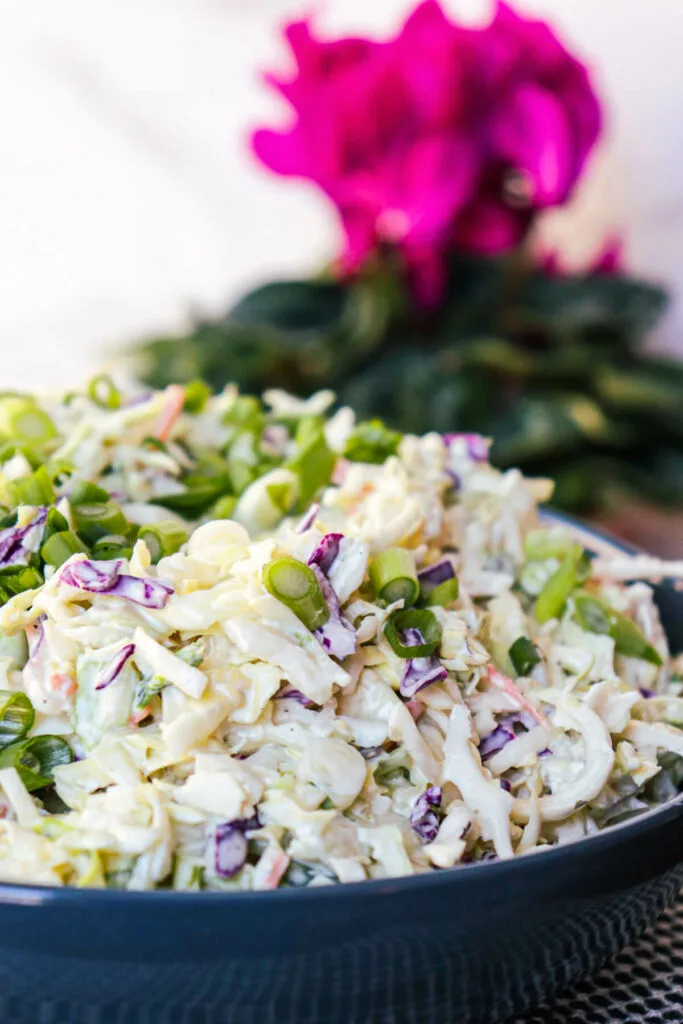 🍗 Main dish keto recipes to serve with this low carb coleslaw recipe
I love to pair this keto dinner side with air fryer pulled pork, on fish tacos, for St. Patrick's Day with a slow cooker corned beef brisket, but there are so many options! Here are some other suggestions.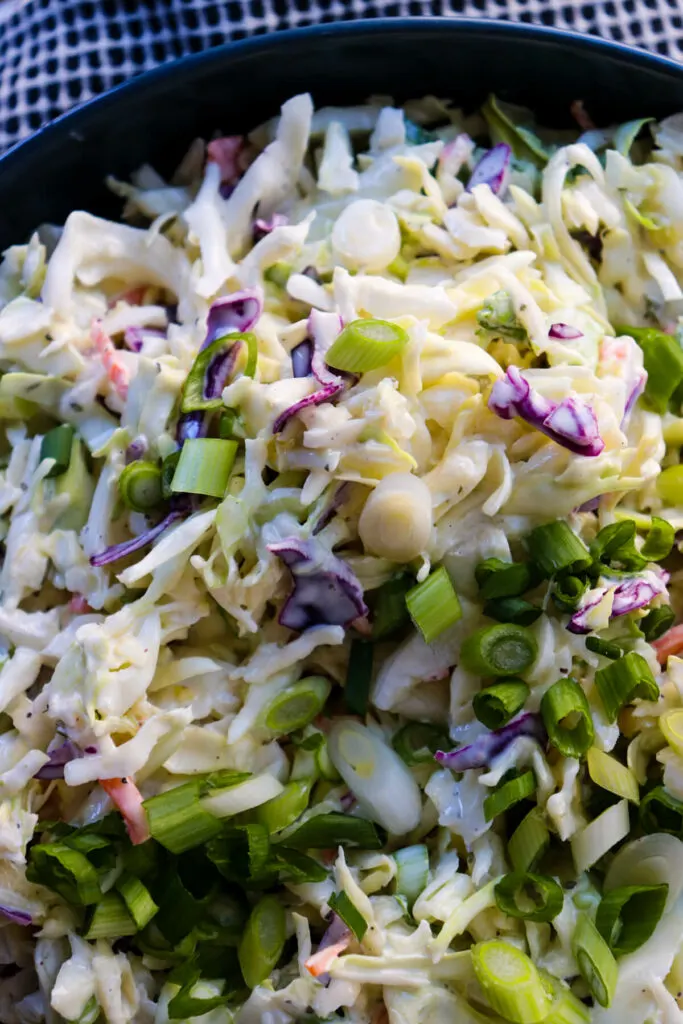 🙋‍♂️ Frequently asked questions about traditional coleslaw
Why is coleslaw not keto friendly?
Coleslaw is generally not considered keto friendly because it usually contains a high amount of sugar and processed ingredients. These can quickly add up to too many carbs for someone on the ketogenic diet. That's why it's good to make your own.
Does coleslaw have a lot of carbs?
The amount of carbs in coleslaw can vary depending on the ingredients used. Generally, store-bought versions are higher in carbs because they contain added sugars and preservatives. When you make your own homemade keto coleslaw, you can control the carb count by using low carb ingredients like those mentioned above.
Can I eat coleslaw on keto?
Yes, you can eat coleslaw on keto as long as it is made with low carb ingredients. This version uses just 2 net carbs per serving and is a great way to enjoy this classic side dish without compromising your ketogenic diet.
Can you use white vinegar instead of apple cider vinegar in coleslaw?
Yes, you can use white vinegar instead of apple cider vinegar in coleslaw. Both vinegars will work to provide a tangy flavor and help to bring out the other flavors in the dish. However, apple cider vinegar is slightly more acidic which may give it an edge when it comes to flavor.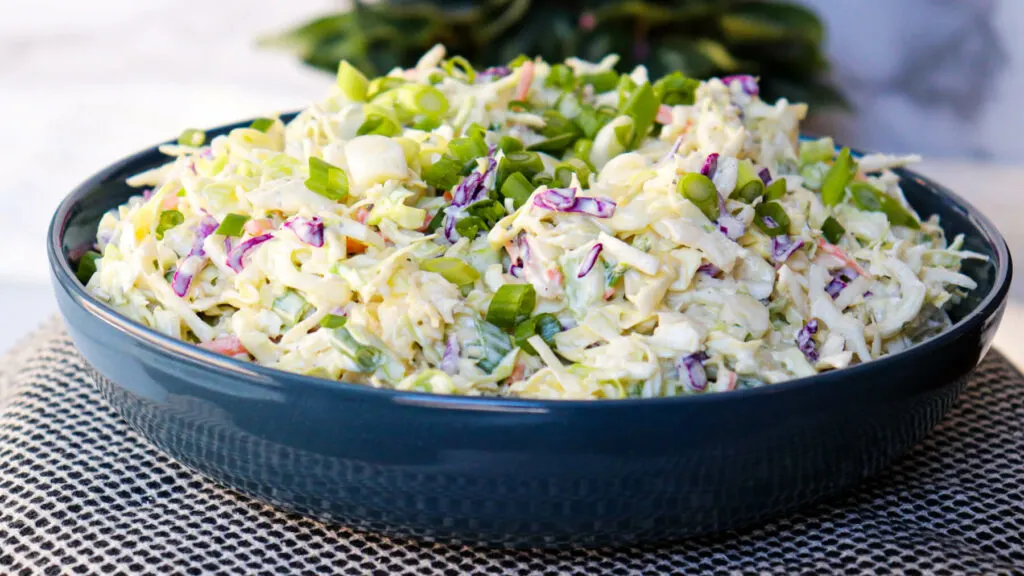 How many net carbs does coleslaw have?
The net carb count of a coleslaw will vary depending on the ingredients used. This version has just two net carbs per serving, making it a great option for those following a keto diet. Can you eat coleslaw on a keto diet?
Is coleslaw from KFC keto friendly?
No, the coleslaw from KFC is not considered keto friendly because it contains added sugars and preservatives.
Can you have cabbage on keto?
Yes, you can have cabbage on keto. Cabbage is low in carbs and a great source of fiber and vitamins. It's also very versatile and can be used in many different types of dishes, including coleslaw!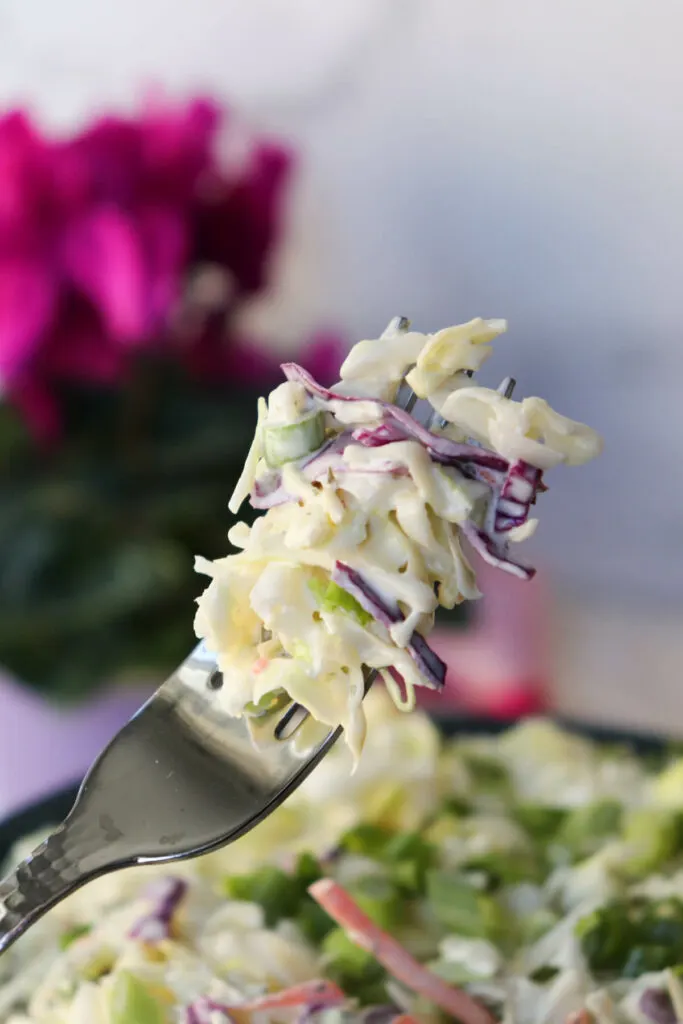 🧺 Quick and easy keto picnic side dish
If you're looking for a tasty and keto-friendly side dish, I really think this is the best keto coleslaw recipe, and it's the perfect solution. With just two net carbs per serving, it's an easy way to enjoy this classic dish without compromising your dietary goals.
Plus, with all of the variations mentioned above, there are plenty of ways to customize it so that everyone in your family can enjoy! I dare you to give this delicious slaw a try today – you won't be disappointed!
📌 Pin the keto recipe here: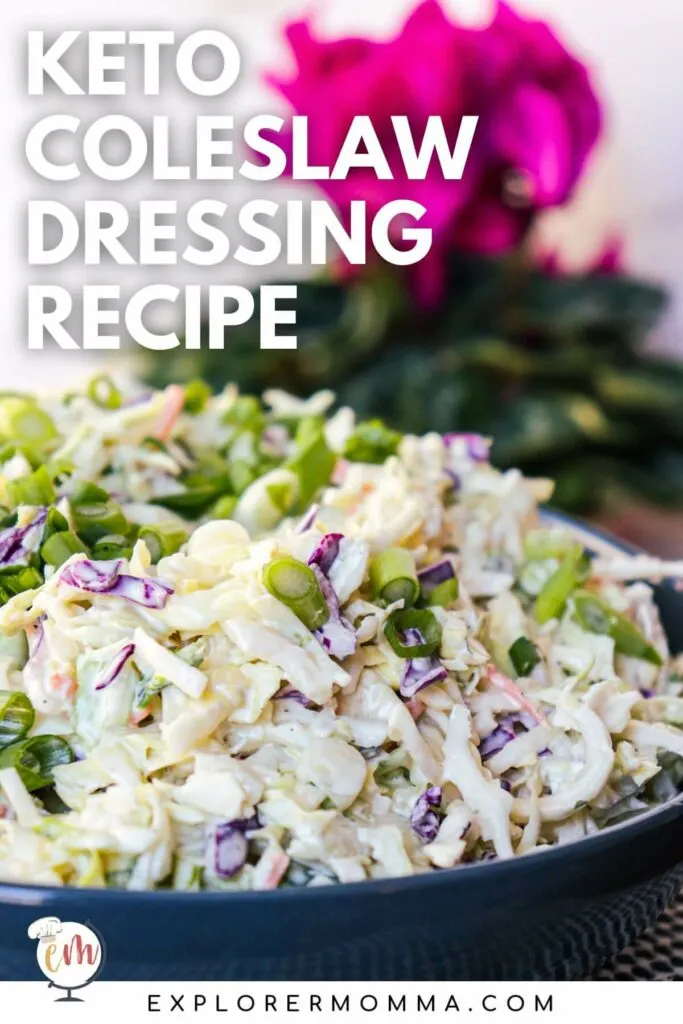 Printable recipe card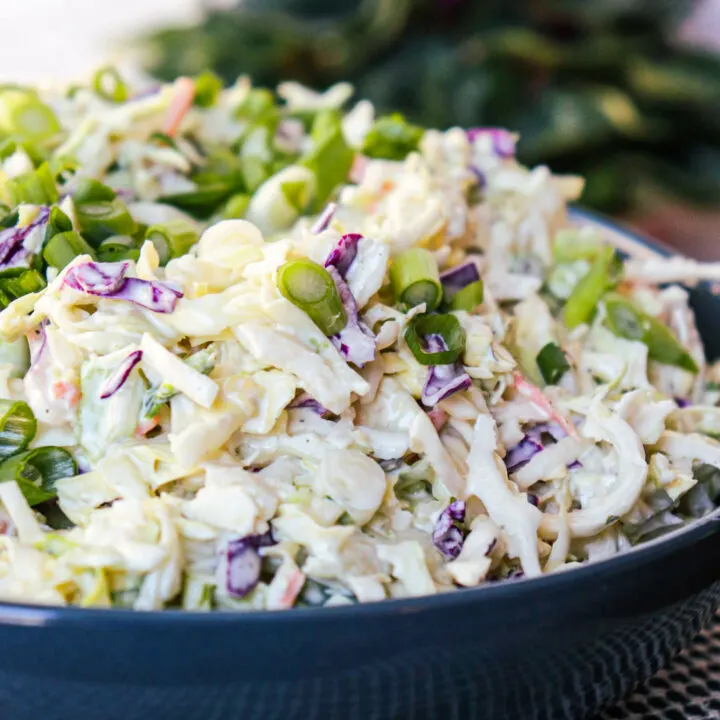 Easy Keto Coleslaw
A delicious and easy keto coleslaw recipe with a low carb dressing is the perfect side for your BBQ or picnic. Always a family favorite and a super simple delicious classic.
Ingredients
16 oz bag coleslaw mix (14-16 oz will work, try to get one with fewer carrots)
3 green onions, sliced
2 tablespoons sour cream
2 tablespoons fresh lemon juice
1/2 tsp dried parsley
1/2 tsp salt
1/4 tsp ground black pepper
1 tsp Dijon mustard (optional but recommended!)
Instructions
In a medium-sized bowl, mix together the coleslaw mix and sliced green onions until well combined.
In a separate bowl, whisk together the mayo, sour cream, apple cider vinegar, lemon juice, parsley, garlic powder, salt, and pepper until smooth and creamy.
Add the Dijon mustard (optional) to the dressing and mix until fully incorporated.
Pour the dressing over the coleslaw mix and stir until everything is evenly coated in the dressing.
Cover the bowl with plastic wrap or aluminum foil and refrigerate for at least an hour before serving (or overnight) - this will allow all of the flavors to develop and marry together resulting in a tastier coleslaw!
When ready to serve, garnish with fresh herbs such as parsley or cilantro if desired, and enjoy!
Notes
For optimal flavor development, it is best to make this recipe at least one day in advance so that all of the flavors have time to steep together.
Additionally, adding some diced bell peppers or jalapeños can add more color and crunch if desired.
Also, feel free to play around with different kinds of vinegar as well as other seasonings such as paprika or chili powder for added flavor dimension.
Recommended Products
As an Amazon Associate and member of other affiliate programs, I earn from qualifying purchases.
Nutrition Information:
Yield:

6
Serving Size:

1/6 of recipe
Amount Per Serving:
Calories:

165
Total Fat:

16g
Carbohydrates:

3g
Net Carbohydrates:

2g
Fiber:

1g
Protein:

1g
*Nutrition Facts per MyFitnessPal.com. For the most accurate facts, calculate your own with the exact ingredients you use in the recipe.
Tag me in your recipe pics on Instagram @explorermomma.
If you LOVE keto side dish cuisine and this recipe in particular please consider giving it a five-star rating in the review area below!
Nutrition Disclaimer
Please be aware I am not a medical specialist or nutritional professional. On this blog, I share recipes and what works for me. Please do not take anything on this blog as medical advice and always consult with your doctor before starting any diet or exercise program.
I use MyFitnessPal dot com to calculate nutrition facts as a courtesy to my readers, and I remove erythritol from the final carb count and net carb count because does not affect my own blood glucose levels.
This is as accurate as possible, but it's best to independently calculate nutritional data on your own with the specific ingredients you use. I expressly disclaim any and all liability of any kind with respect to any act or omission wholly or in part in reliance on anything contained in this website.