Can you believe I discovered a keto bakery and market just half an hour from my house? After searching for so long for low carb and keto-friendly ingredients and having to order things in, I was a little shocked to find an entire store dedicated to keto practically in my own backyard.
Do you know what else? They also take online orders. Yay.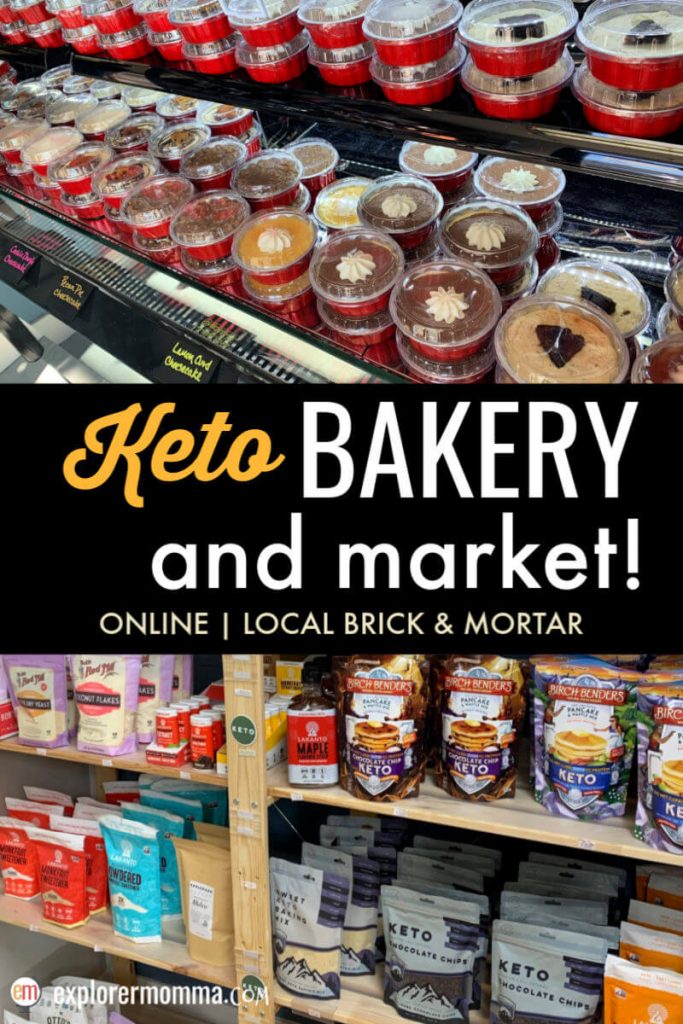 It's been a while now since I made this fabulous discovery. I was all ready to tell you about it when bam! I was thrown into homeschool mom mode, and we're all quarantined at home.
We're still in that mode for the unforeseeable future. Therefore, I thought it was about time to share. Because, if you're anything like me, you are super-ready for a mail-order keto bake box.
As an Amazon Associate and member of other affiliate programs, I earn from qualifying purchases.
Jump to:
Sweet Sampler Pack | Fat Fit Go Nut Butters | How to Order | Get My 20% Off Discount | What's a Keto Market | Interview With Explorado Market | My Favorite Keto Treat | Love it! | Explorado Market
Keto Bakery Sweet Sampler Pack
I was first introduced to Explorado Market with the Keto Sweet Sampler Pack. What does it include? Well, let me tell you!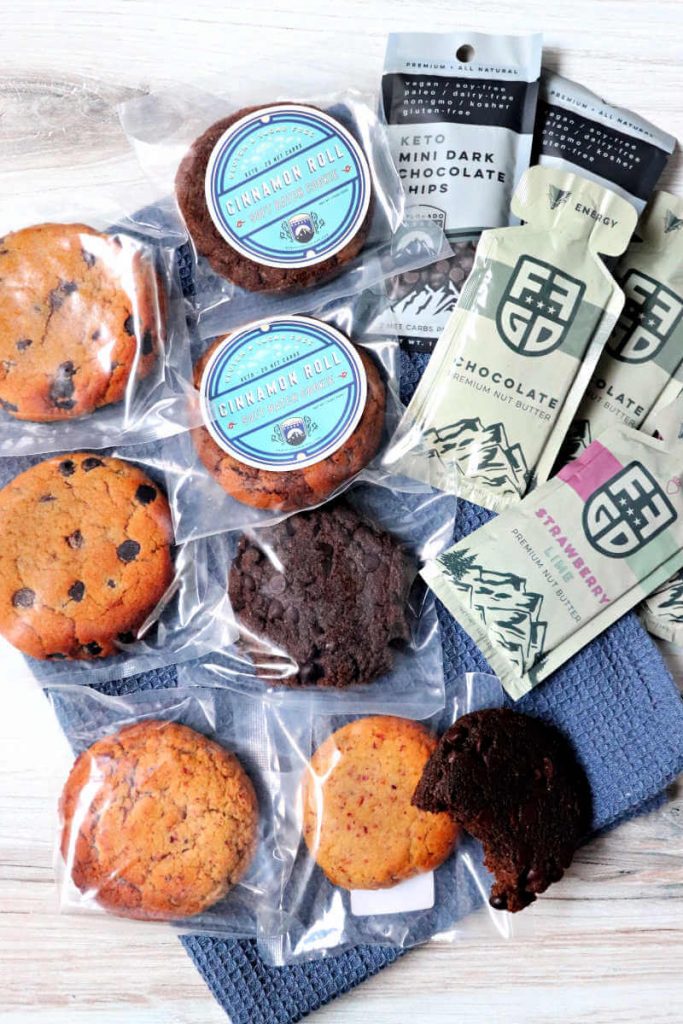 As a full disclosure, Explorado Market sent me the sweet sampler pack to try out at no cost. However, as always, all opinions are my own.
The keto bakery sweet sampler pack includes a variety of soft batch style cookies. Also, you get some of their keto chocolate chips sweetened with allulose and two nut butters, strawberry lime and chocolate.
Chocolate Chips Soft Batch Cookies (2)
Double Chocolate Soft Batch Cookies (2)
Cinnamon Roll Soft Batch Cookies (2)
Cranberry Orange Soft Batch Cookies (2)
Strawberry Lime Fat Fit Go Sachets (2)
Premium Chocolate Fat Fit Go Sachets (2)
Keto Chocolate Chip Sachets (2)
I'm a traditional cookie girl I suppose because my favorite cookie out of the selection was the chocolate chip. The soft batch cookies are sweetened with allulose, and if you haven't tried it before, it packs a sweet punch!
Many people like it because it doesn't have the cooling effect of erythritol or some other low glycemic sweeteners. Also, it can be substituted 1:1 for sugar in terms of sweetness. It's a good option for a keto sweetener and becoming more and more popular.
Fat Fit Go Nut Butters
As I mentioned, another thing included in the Keto Sweet Sampler Pack is two flavors of Fat Fit Go nut butters. There's a chocolate one that mimics Nutella but I think tastes even better. Also, for our fruit lovers, there's a strawberry lime version.
Just recently I ran into a former colleague of mine, and after some discussion, I found out he also ate keto. By coincidence, I'd just been to Explorado Market and told him about it. He knew all about the market and went on about how much he loved the Fat Fit Go sachets.
This from a very active individual who doesn't bake, but loves the convenience of the sachets, especially on the go.
Current listed ingredients in the Premium Chocolate Keto Nut Butter: Roasted Blanched Almonds, Roasted Macadamia Nuts, Cocoa Butter, Medium Chain Triglycerides (MCT), Erythritol, Cocoa Powder, Redmond Real Salt, Ceylon Cinnamon, Stevia
What's A Keto Bakery and Market
A keto market is exactly what it sounds like. It's a store, filled with keto-friendly foods, both prepackaged and from the bakery.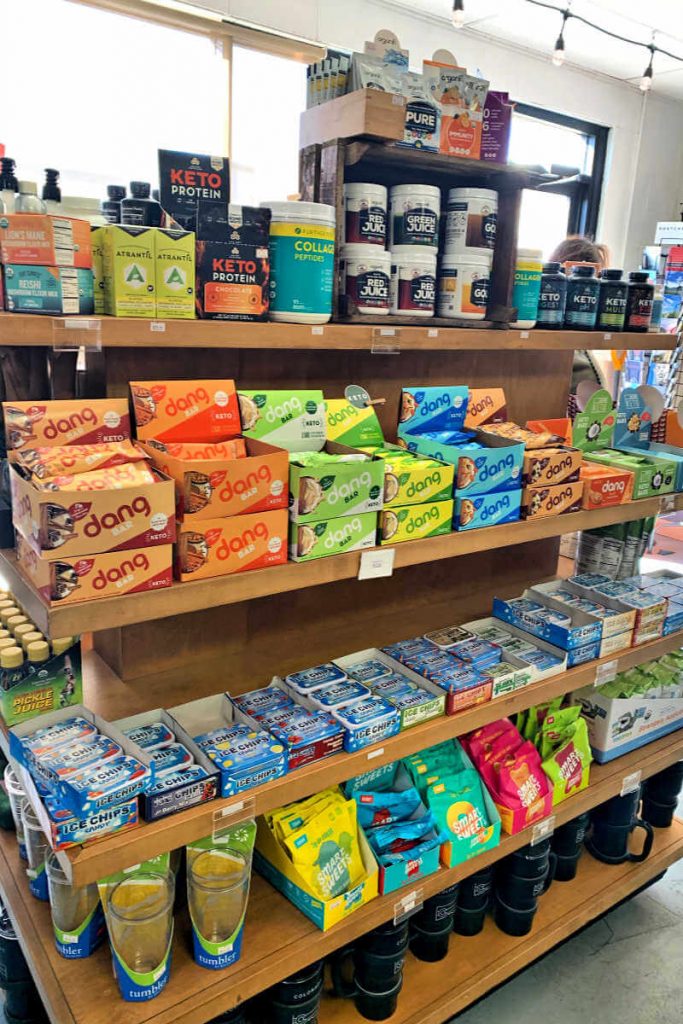 I remember when I first came back to the states after living in the Republic of Georgia. It was fabulous to be home, but I also missed things back in Georgia and had a bit of what is termed reverse culture shock.
Then one day I found a Russian market in Denver that had many of my old favorite go-to items. You see one thing, then another, then Borjomi water, and it's treasure hunt exciting!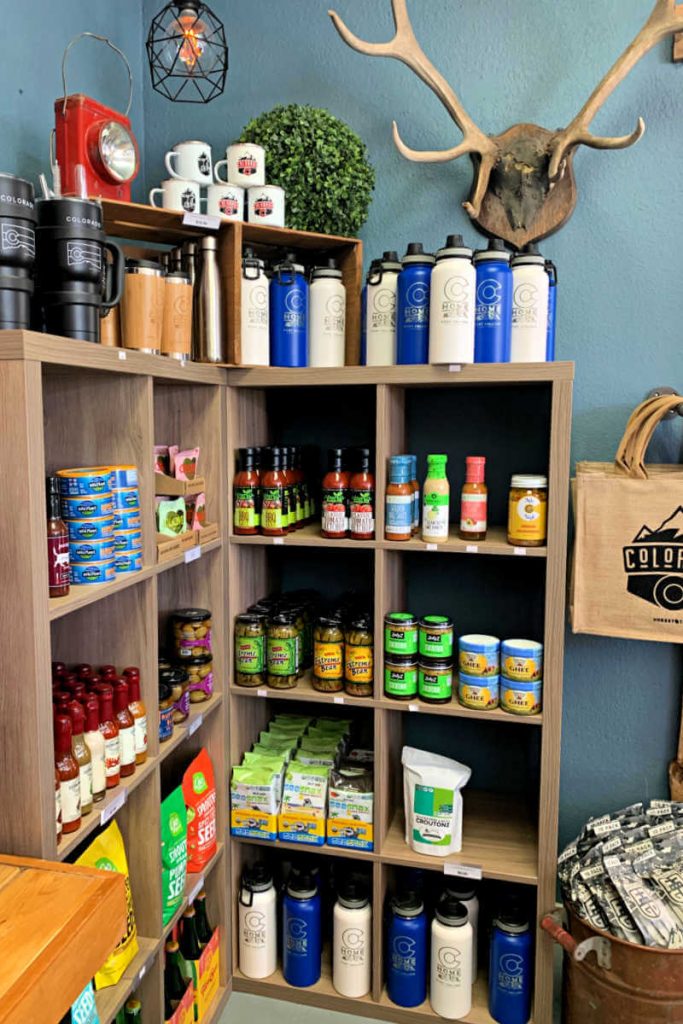 It's a similar experience with the keto market. All my favorite things I've ordered online in the past right in front of me. And not only that, but there are new ones to try! Gold mine!! (I tend to be a little dramatic. Or so my son tells me.)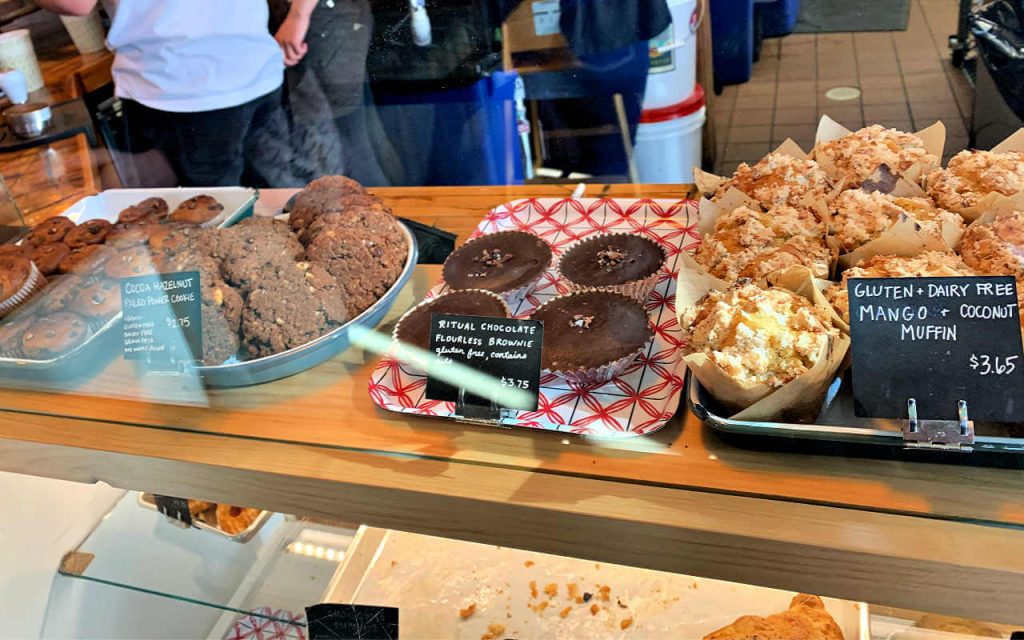 How To Order Keto Baked Goods
If you'd like to place an order you can do so for a mail or pickup order. I'm all about supporting small (and local!) businesses, and how often do you get the chance to order from a keto bakery?
Just click on the button to take you over to the Explorado Market website and look around. Browse. Window shop. You get the idea!
Get My 20% Off Explorado Market Discount!
If you decide you want to try some goodies from Explorado Market might you be interested in say, a discount? You would?
The kind folks at Explorado Market are letting me pass on a discount to my readers.
Pssstt! Use the code "EXPLORERMOMMA" to get an extra 20% off.
Score!!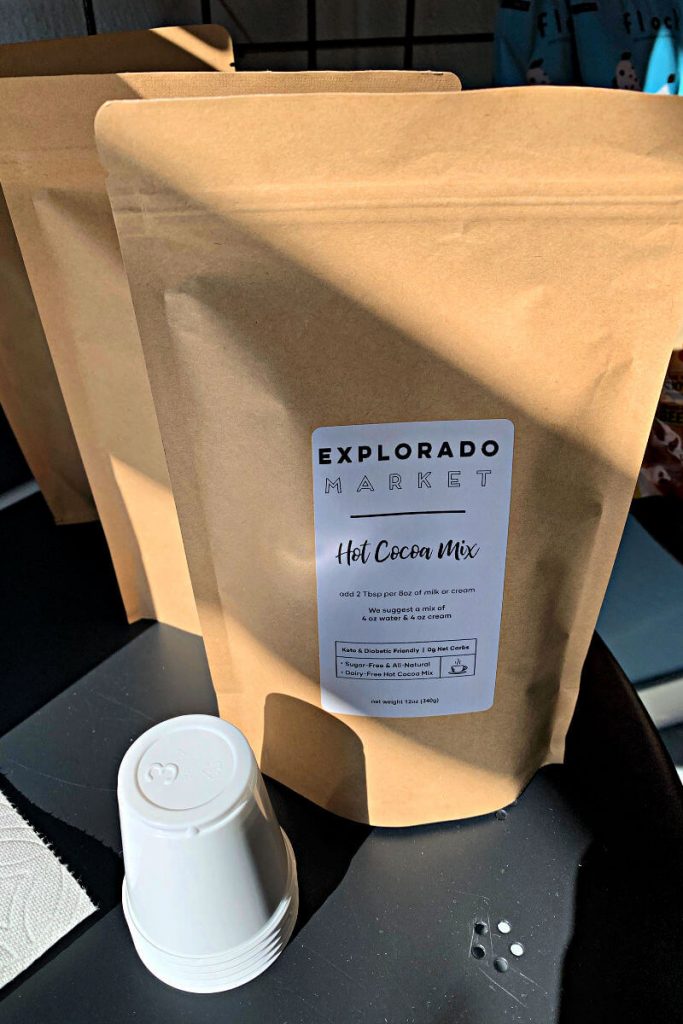 Interview with Explorado Market
I had the opportunity to ask a few questions about the keto bakery and market. Things swirled in my head, like how in the world did you come up with the idea for a keto bakery in my neck of the woods? I was super excited to hear back with some answers.
What is your definition of keto?
Body using ketones rather than glucose primarily for energy. A strategic tool that works for some people.
What motivated you to adopt a keto way of eating and start a keto bakery?
Energy. After becoming primarily keto mental clarity, mood, and retention were improved. We were Paleo prior to adding a generally ketogenic way of eating so it wasn't much of a departure for us. We built out a commercial kitchen to make our nut butters and decided it made a lot of sense to start baking keto treats.
Where is Explorado Market physically located?
Fort Collins, Colorado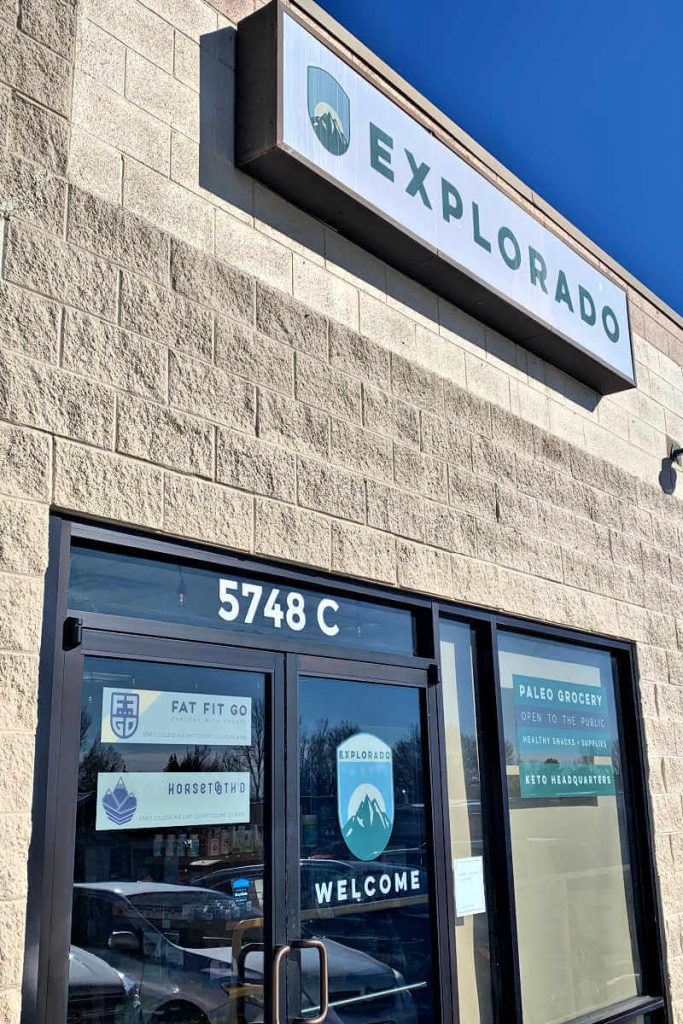 What's your favorite keto treat in the bakery or market?
The Keto Champion Bars
Tell me about the online keto bakery
You can purchase some of our store inventory online including cookies, champion bars, and more!
What sweetener is used in the keto baked goods?
Depending on the item, we use: allulose, erythritol, stevia, monk fruit.
Who does the baking?
Kendra Benson is the main recipe developer.
What product are you most proud of?
Currently, we're most proud of our Artisan Bread, it took a long time to perfect.
Is there anything else you'd like to share?
We make treats to help people avoid going back to sugar. We're not a meal supplement, we make treats to help you stay true to your goals whether you're on a diet or living with diabetes. Our treats (as anything sweet) should be eaten in moderation.
My Favorite Keto Bakery Treat
So now that I've received the mail order pack and visited the store several times, I've gotten to try out a lot of the treats.
At first, I just assumed my favorite would be one of the soft batch cookies or the lemon curd cheesecake. Let me tell you, these are both YUM, but my favorite turned out to be something completely different.
The Blueberry Crunch Champion Keto Bar. 3g net carbs.
Oh yes, the blueberry crunch champion keto bar. To begin with, this thing is huge so it makes a good two servings at least. It's the perfect fat bomb afternoon treat or I love it for breakfast!
According to the Explorado Market website, its ingredients are: Almond Butter, Pecans, Almond Flour, Coconut Oil, Allulose, Freeze-Dried Blueberries, Coconut, Vanilla, Redmond Salt.
Love it! Keto Bakery
Yes, I do love it! It is so awesome to me to be able to walk into a store and buy a treat that's sugar-free and gluten-free. I'm well-known for having a sweet tooth and love bakeries. In fact, they're still sometimes hard for me to resist.
It's always a challenge for me not to cheat and buy that éclair or giant soft-batch cookie. That's why I always make my own keto recipes and baked goods for emergencies at home.
However, it's also nice just to be able to walk in and buy a fresh-baked everything bagel without having to mess up the kitchen or worry about cheating.
The mail-order is a nice option because even if the keto bakery is not in your backyard you can enjoy the fruits of it. And who doesn't love a box of cookies or my favorite keto blueberry champion bar coming in the mail?
So what would you order?
Pin it here: