[dropcap]T[/dropcap]oday I'm going to tell you how to make these super simple, super healthy, no-bake, coconut, apricot, gluten-free granola bars. Is that enough of a description? The secret to these granola bars is that they don't actually have any oatmeal. That's right, the base is dried flake coconut, and let me tell you they are amazing! Furthermore, they have another secret ingredient that may sound odd to you, but I beg you to give it a try. You won't be sorry.
As an Amazon Associate and member of other affiliate programs, I earn from qualifying purchases.
Peanut butter, coconut, and apricots
First of all, just imagine a peanut butter and apricot jam sandwich. This is one of my son's favorite treats so we decided we would try to put that taste into a healthy granola bar. Now, I love to make my own granola bars and have many go-to recipes, but this time we wanted to try something new and without actually including oats. Voilà! Our peanut butter apricot coconut granola bars were born.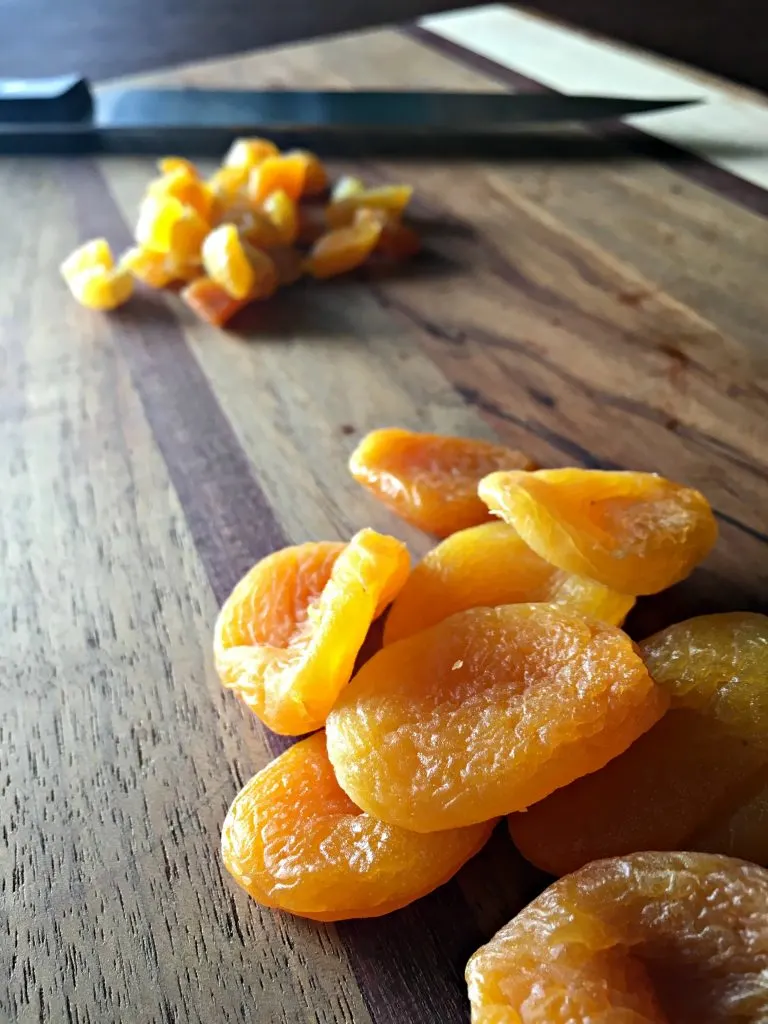 Lenten gluten-free granola bars
Also lately I've been struggling to find some recipes for my husband's sweet tooth during Lent. Now, I won't go into the minute details, but in Orthodoxy, for Lent one is to give up all animal products.
There are a few other rules here and there, but it's pretty much vegan. Because of this, I've been making all sorts of vegan cakes, bars, and cookies. Inevitably some turn out well and others don't (like the vegan chocolate cake I tried last night – still working on that one).
This recipe fits the exact mold we were looking for: healthy, gluten free, oat free, and lent-friendly. I give you full warning however, they have been known to cause squabbles around our house.
My husband and son constantly try to figure out how to prevent the other from eating them all. I've actually found the container in some pretty interesting spots, and the four-year-old protests, "But Daddy won't find them and eat them if they're under my bed!"
Needless to say, we've had to establish some ground rules for hiding the granola bars.
Make these delicious no-bake gluten-free granola bars today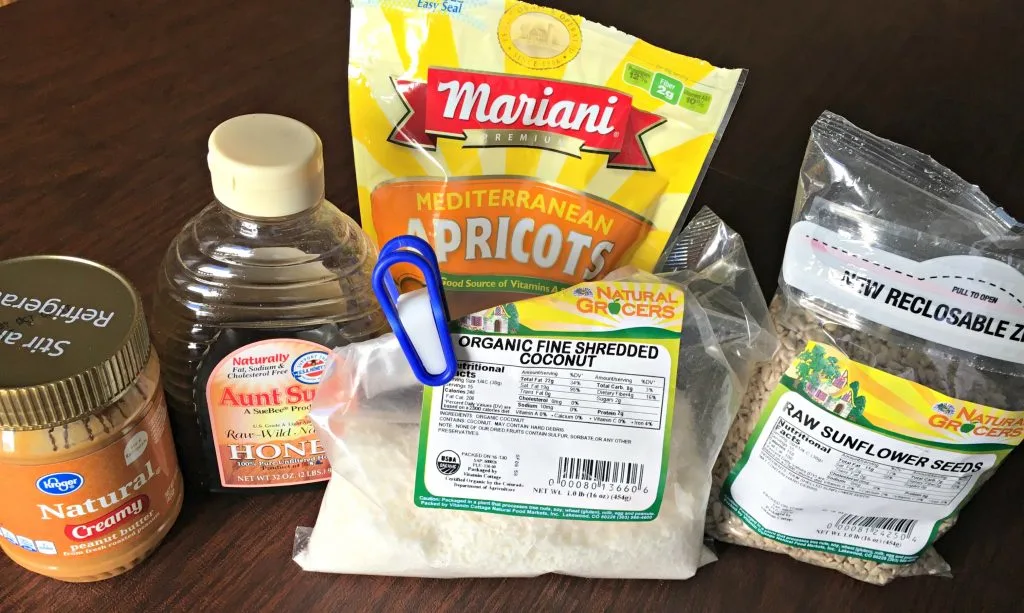 Recipe: Coconut Apricot Gluten-Free Granola Bars
🥘 Ingredients
First
First, in a large bowl combine the coconut, sunflower seeds, and chopped apricots. Mix those together so they're evenly dispersed.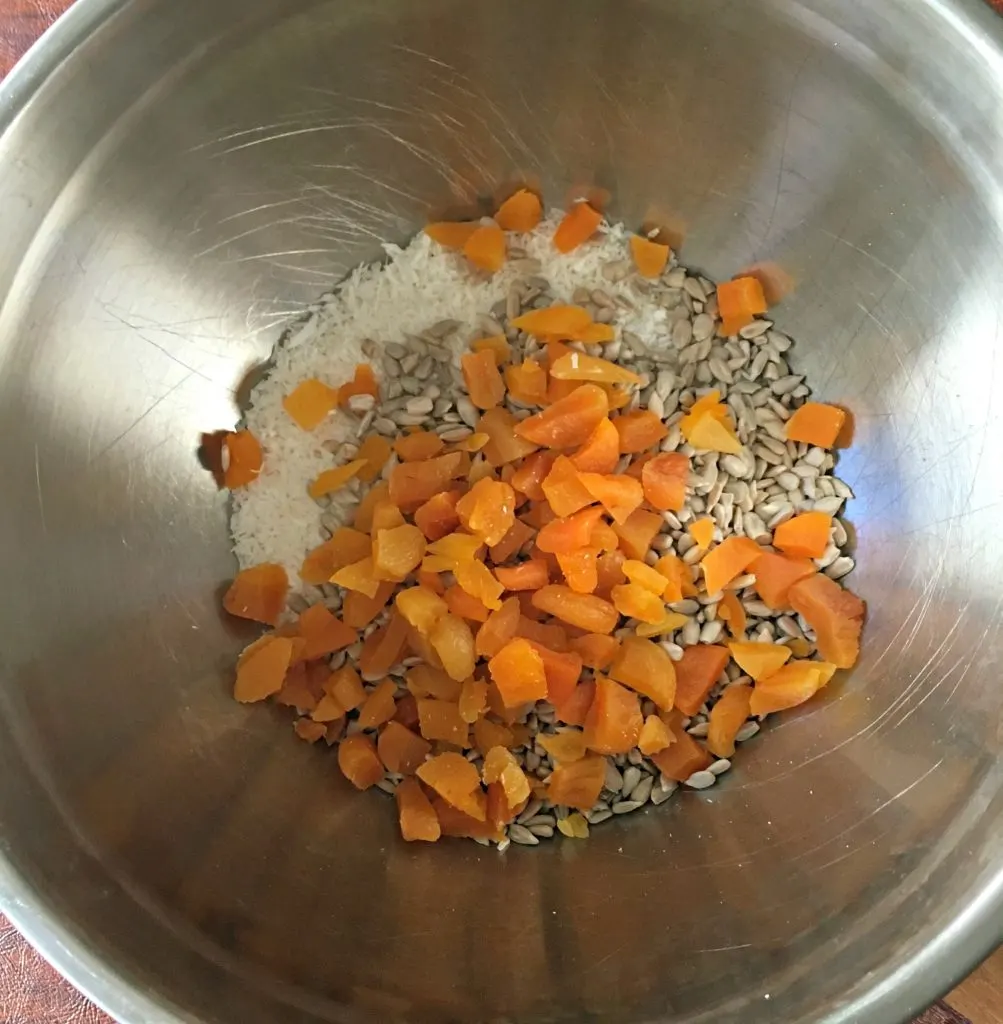 Next
Second, prepare your pan and line with parchment paper. I use a 7 inch by 11-inch baking dish, but you can use a 9×9 inch, 8×8 inch or whatever you have, and the bars' thickness will vary.
Third, over medium heat bring your honey to a boil. Once there are bubbles all over, set the timer for 3 minutes.
Then, after the honey boils for three minutes take it off the heat and quickly mix in the peanut butter then 1 teaspoon of vanilla.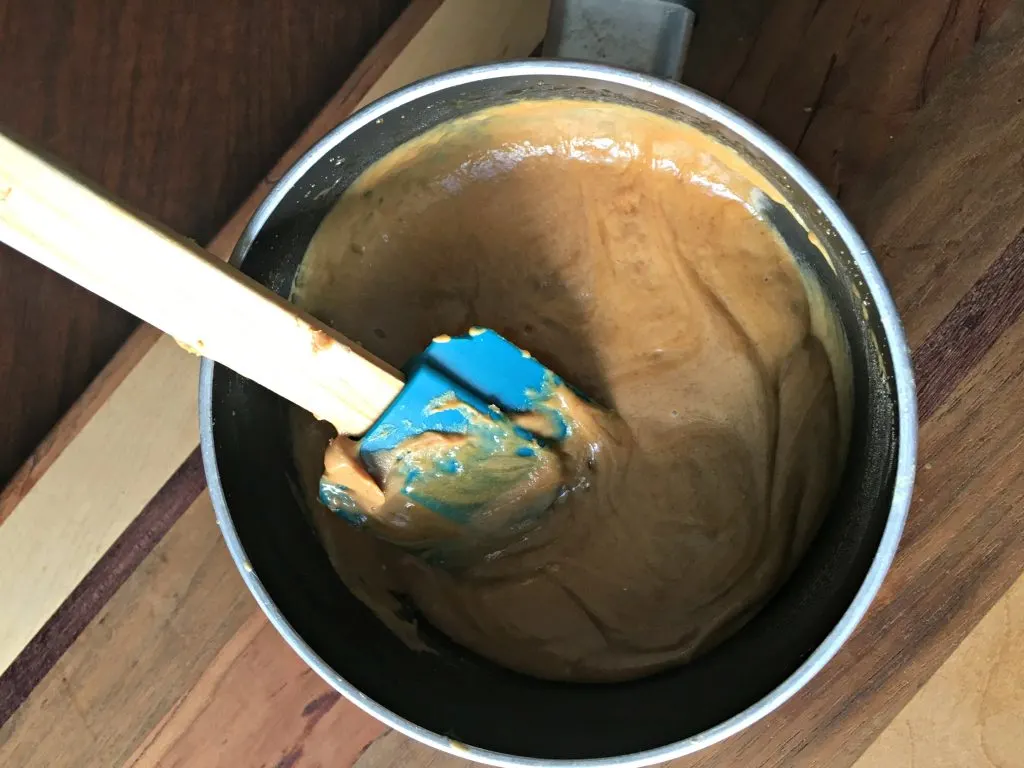 Next, quickly pour your peanut butter and honey mixture over your coconut, sunflower seeds, and dried apricots.
Mix it all together with a spatula to coat, and then turn it out into the prepared baking dish.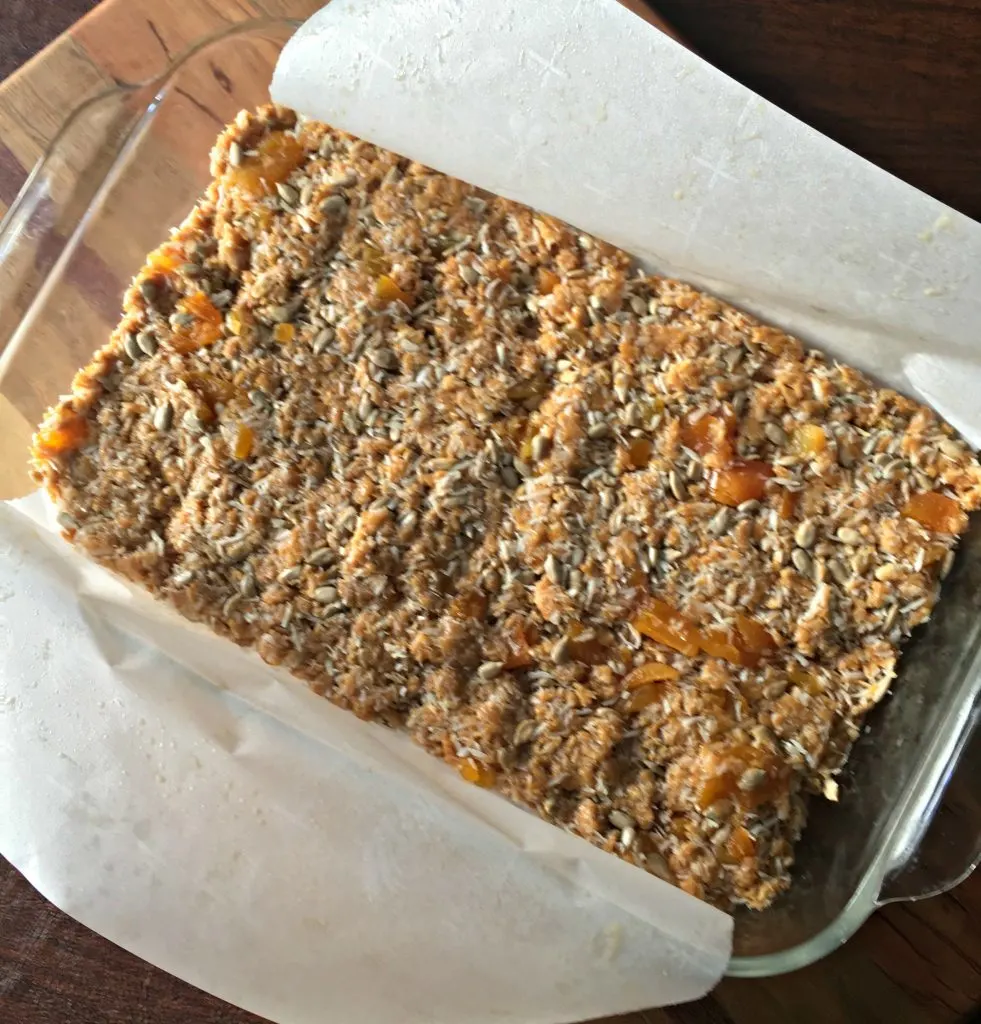 Then
Next, pack it down into the corners of the pan so you have an even thickness. I generally use the extra parchment paper sticking out of the pan to fold over on top of the bars and press it down firmly.
Then put it in the fridge to harden for at least 2 hours (or if you're in a big hurry about half an hour in the freezer).
Last but not least, take them out of the pan using your extra parchment paper and cut into bars. I store them in the fridge or the freezer in an airtight container. This is the best way to store them because if they get too warm they can be flimsy and start to fall apart.
It is so difficult to get kids to eat healthy these days. Here are some tips you can implement today to help your kids make healthy choices.
Check out these ideas from Explorer Momma today!
The perfect gluten-free snack
These coconut apricot gluten-free granola bars make a great mid-morning or afternoon snack. Also, if you keep them in the freezer you can set one out about 10-15 minutes before you're planning to eat it. In addition, they're the perfect way to stop that afternoon hunger craving and prevent me from making some fairly unhealthy choices.
So listen, if you are looking for a healthy, lent-friendly, sweet alternative to a candy bar look no further. Give these bars a try, and I seriously doubt they will last long in your fridge! I hope you enjoy them.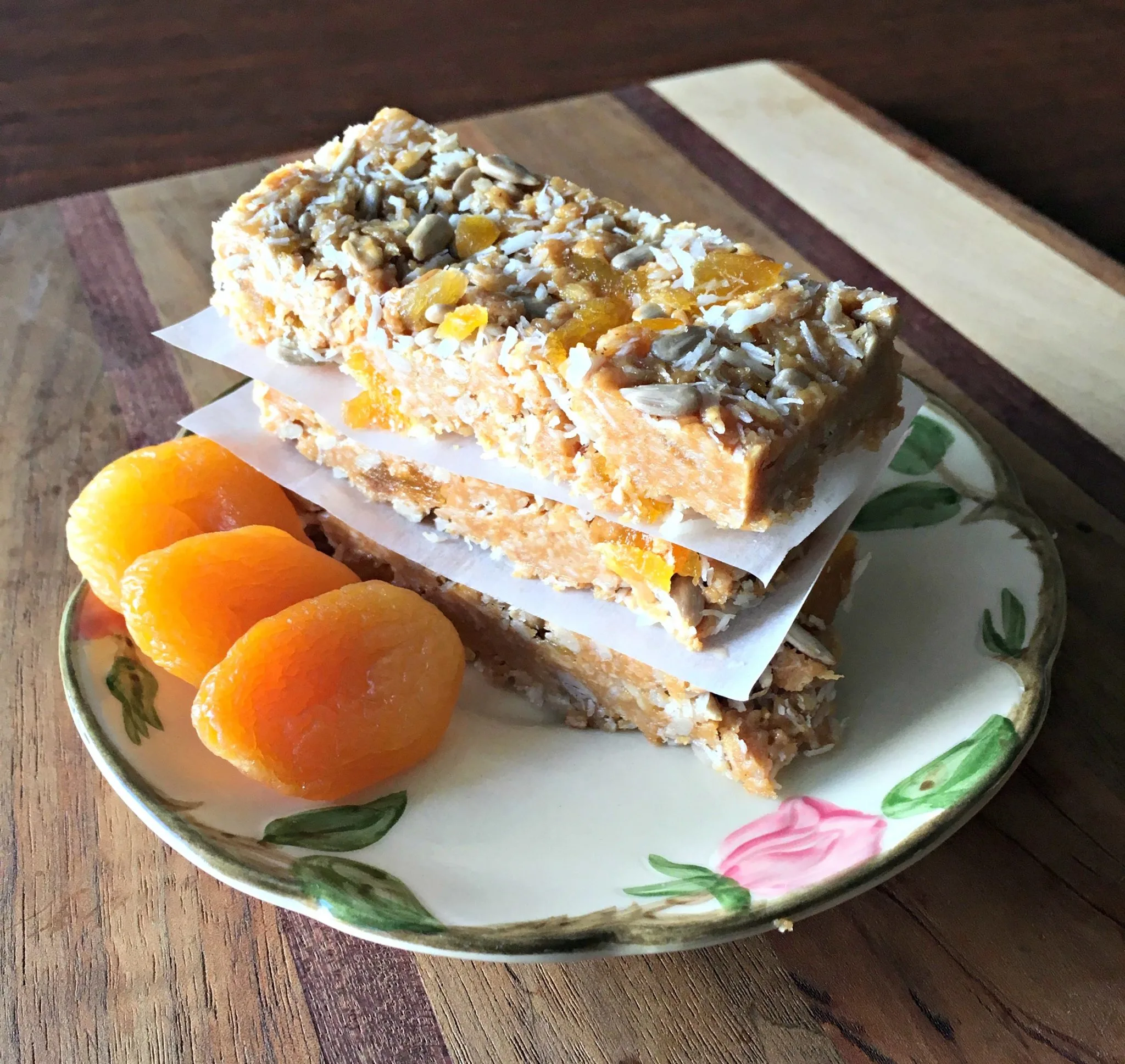 Coconut Apricot Gluten-Free Granola Bars
Kid-friendly, easy, and healthy coconut apricot goodness! Coconut apricot gluten-free granola bars are dairy-free and delicious.
Ingredients
1 3/4 cups shredded coconut, unsweetened
1/2 cup sunflower seeds, raw or toasted
1/2 cup dried apricots, chopped
1/2 cup honey
1/2 cup peanut butter
1 tsp vanilla
1/4 tsp sea salt
Instructions
Line a 13x9 pan or glass dish with parchment paper, and set it aside.
Combine the coconut, sunflower seeds, apricots, and salt in a large bowl and mix to combine.
Heat the honey in a saucepan over medium-high heat until it boils all the way around the pan.
Boil the honey for 3-4 minutes.
Take the honey off the heat and stir in the vanilla.
Pour the honey over the coconut mixture, and stir it quickly to coat.
Spoon the mixture into the dish/pan, and press it down firmly. Use the parchment paper to help press it down evenly.
Place the pan in the freezer for 30 minutes.
Take it out of the freezer and cut into 16 bars.
Wrap each with parchment paper and place in a sealed container in the refrigerator until ready to eat.
Nutrition Information:
Yield:

16
Serving Size:

16 Servings
Amount Per Serving:
Calories:

173
Total Fat:

12g
Saturated Fat:

6g
Trans Fat:

0g
Unsaturated Fat:

5g
Cholesterol:

0mg
Sodium:

319mg
Carbohydrates:

16g
Fiber:

3g
Sugar:

12g
Protein:

3g
Nutrition Facts per Nutritionix. For most accurate facts, calculate your own with the exact ingredients you use in the recipe.
Leave your suggestions in the comments section!