Discover this fabulous Barcelona Itinerary 4 Days from Park Güell to Las Ramblas! Barcelona is a beautiful city with so much to offer. If you're looking for an amazing itinerary that covers all the highlights, you'll want to check out my 4 day Barcelona itinerary. From Park Güell to Las Ramblas, this itinerary has it all. Plus, I've included some great tips and tricks along the way to help make your trip even more enjoyable. So what are you waiting for? Let's explore Barcelona!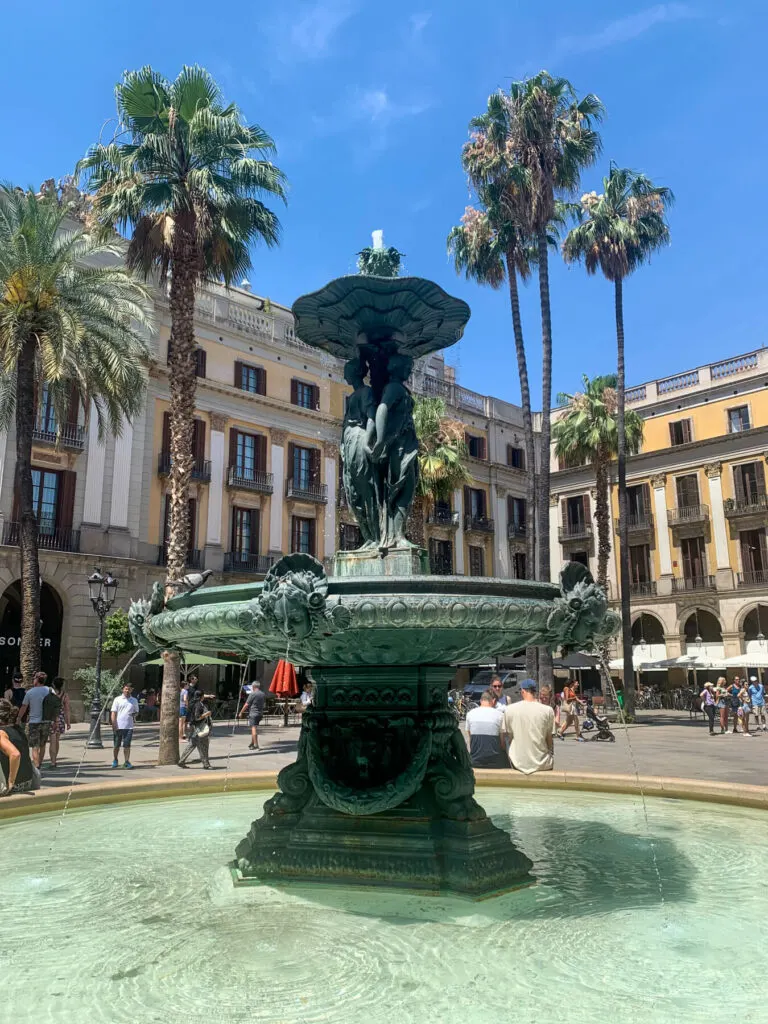 This post may include Amazon or other affiliate links. As an Amazon Associate, I earn from qualifying purchases.
This summer I had the awesome opportunity to travel to Europe with a group of high school students. It was an absolutely amazing Barcelona trip, and the kids behaved so well and were so excited about it, I had very little to worry about as a chaperone. In fact, when we had a few hours of free time, it was the students texting the teachers asking why they were five minutes late for our meetup!
After touring the city, researching all the sites, and getting recommendations from locals, I developed this itinerary for 4 days in Barcelona. Let me just say, I love Barcelona.
Jump to
Overview | Day 1 | Park Guell | Sagrada Familia | Dinner | Day 2 | La Boqueria Market | Las Ramblas | Gothic Quarter | City Bike Tours | Parc de la Ciutadella | El Born & El Nacional | Day 3 | Camp Nou Stadium | La Perdrera | Picasso Museum | Flamenco Show | Day 4 | Cable Car up Monjuïc Hill | Montjuïc Castle | Tibidabo Amusement Park | Barceloneta Beach | Tips for Travel with Kids | 10 More Possible Activities | Conclusion | More Articles About Spain
Barcelona Itinerary Overview
So what can you do with 4 days in Barcelona? Quite a lot, actually.
Barcelona is an amazing city to explore. From its stunning architecture to its delicious cuisine and beautiful beaches, this vibrant city is the perfect place for a fun-filled four days.
Day one can start with a tour of La Sagrada Familia and end with dinner at a traditional tapas restaurant. Day two can be spent walking along Las Ramblas, stopping for coffee, and shopping for souvenirs in the market. On day three, you'll want to enjoy the soccer stadium for FC Barcelona and check out the art scene. Finally, on day four, take in views of Barcelona from the top of Montjuic Hill or from Tibidabo Mountain before relaxing at the beach.
With so many things packed into just 4 days in Barcelona, you're bound to have amazing memories of your time exploring.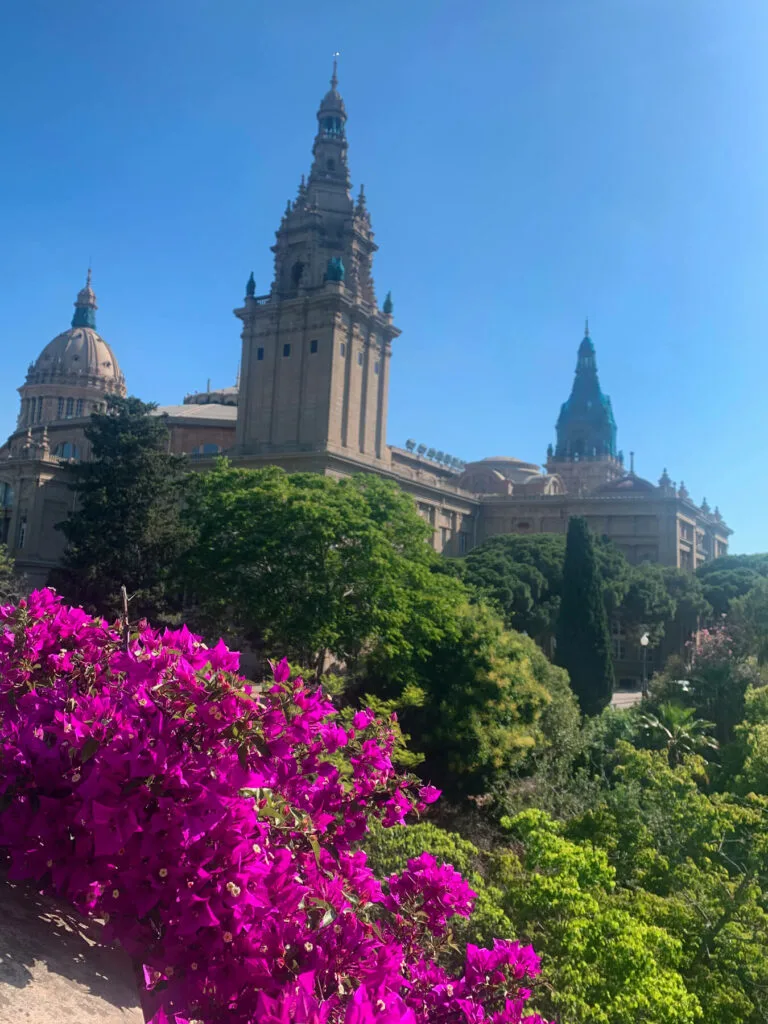 Day 1 of the 4 days in Barcelona itinerary
– Park Güell and la Sagrada Familia
On the first day of your Barcelona itinerary, you'll want to explore both Park Güell and the Sagrada Familia. Both iconic sights are must-sees while in this bustling city.
What should I see visiting Park Güell?
Park Guell is a park designed by famous Spanish architect Antoni Gaudi located on Carmel Hill in northern Barcelona. It was originally meant to be a modern urban neighborhood and is now listed as a UNESCO World Heritage Site. Be sure to review the Park Güell website beforehand to book tickets and check times as you will need to buy a ticket to get in.
Also, while I love exploring Barcelona on my own, there's a lot to be said for having your own local guide. If that interests you, definitely get the guided ticket or seek out someone to show you the city's historic sites!
While visiting Barcelona and stopping at Park Güell, there are 6 things you must be sure to do.
Enjoy the Gaudí House Museum.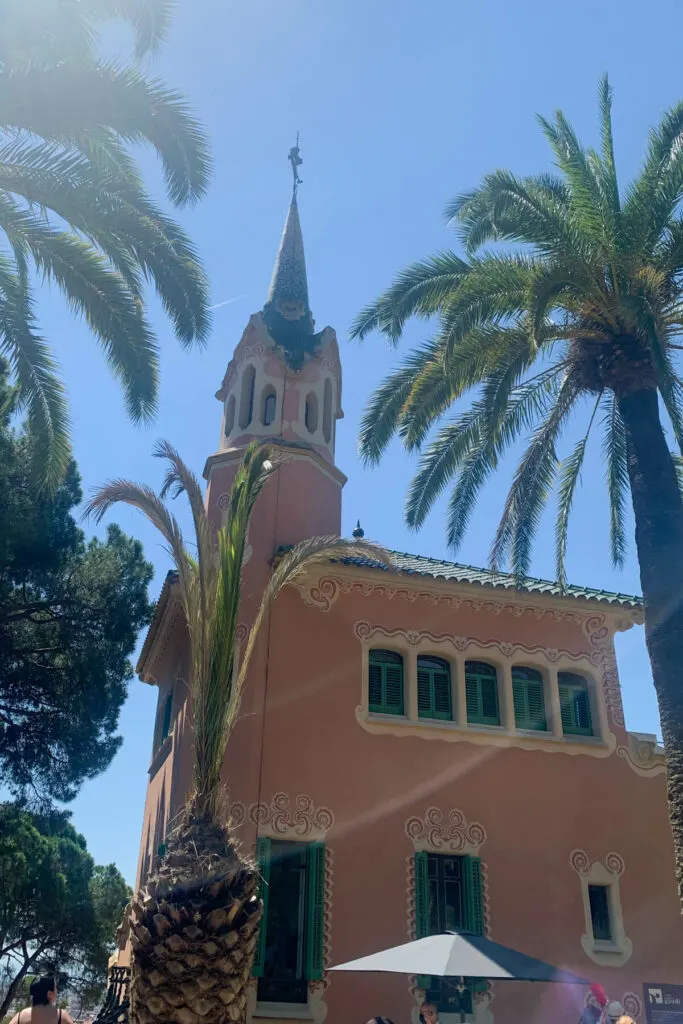 2. Explore the Austria Gardens and the pathways like the Porch of the Laundry.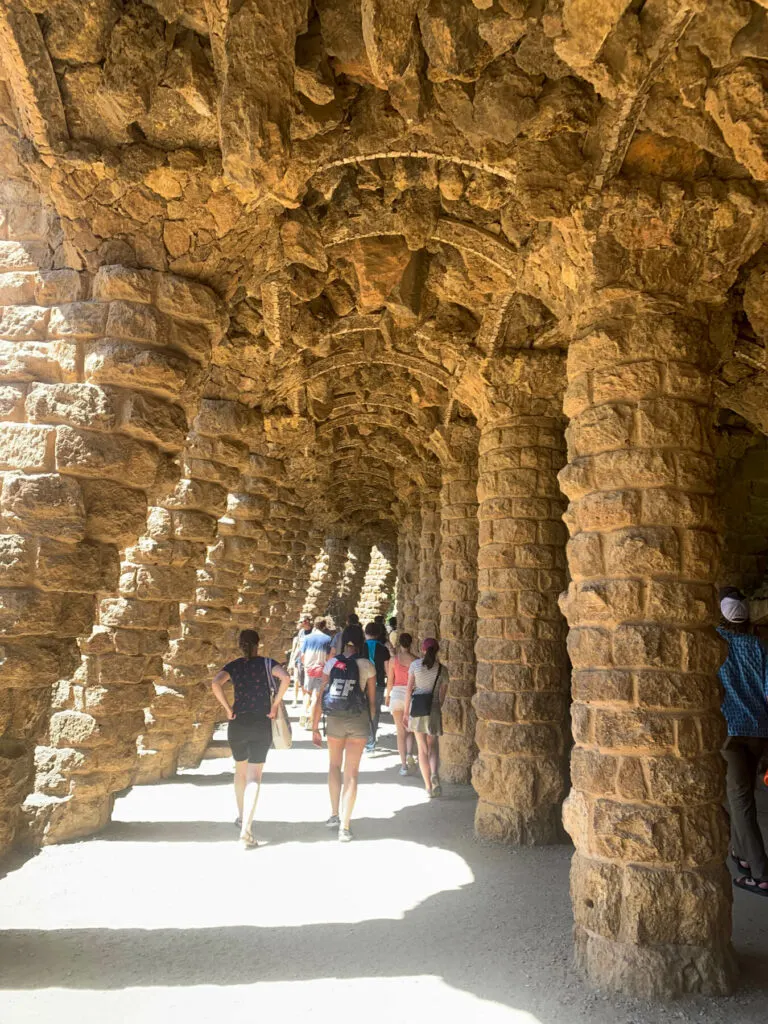 3. Wander around and snap pictures of the iconic Serpentine Bench.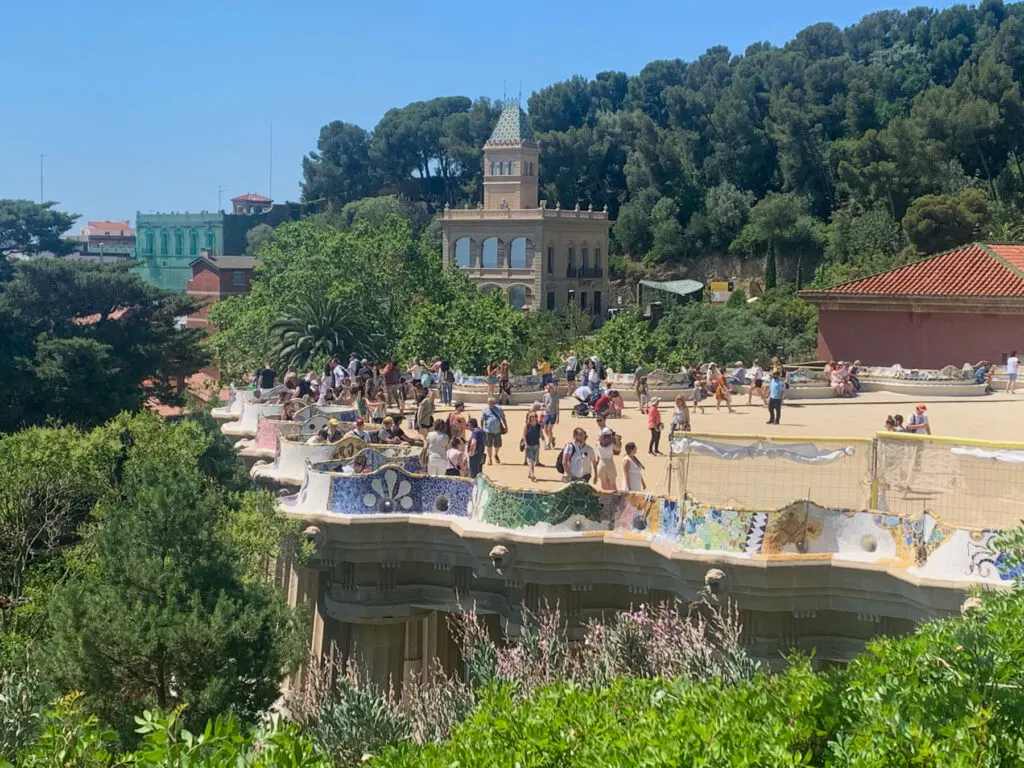 4. Take a stroll through the amazing Hypostyle Hall, built with Gaudi's signature modernist style. Don't forget to look up at the ceiling!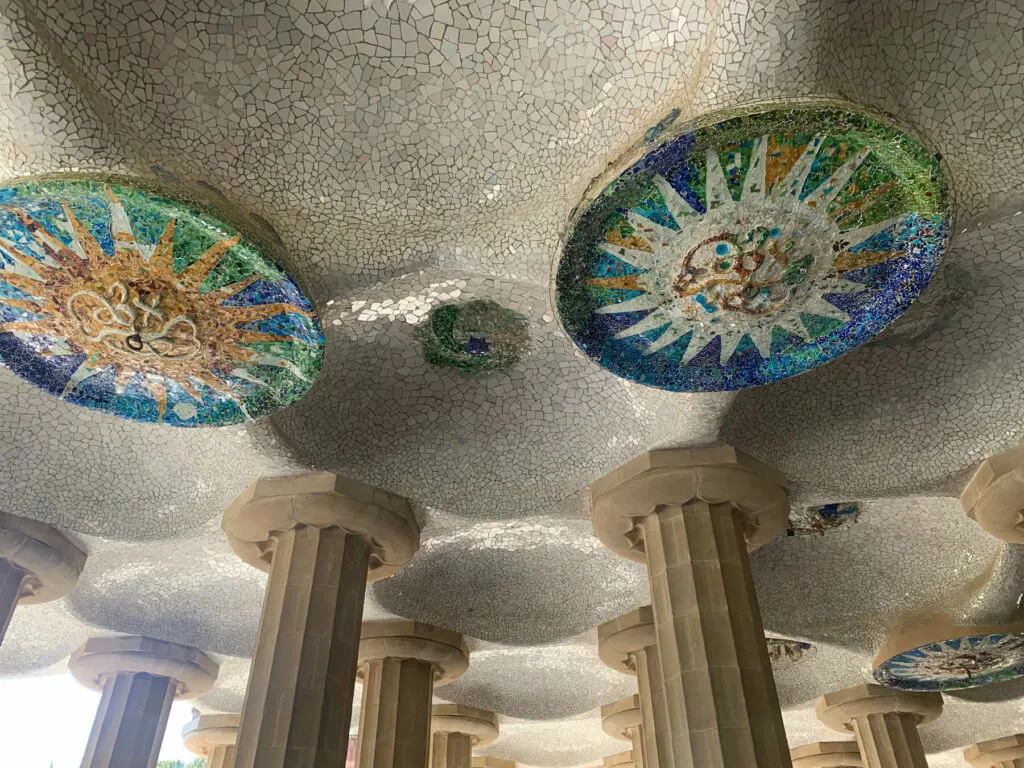 5. Visit the famous mosaic lizard (lizard, dragon, salamander – there is much debate!), explore the Dragon's Staircase, and admire the colorful ceramic mosaics and Gaudi's unique sculptural works.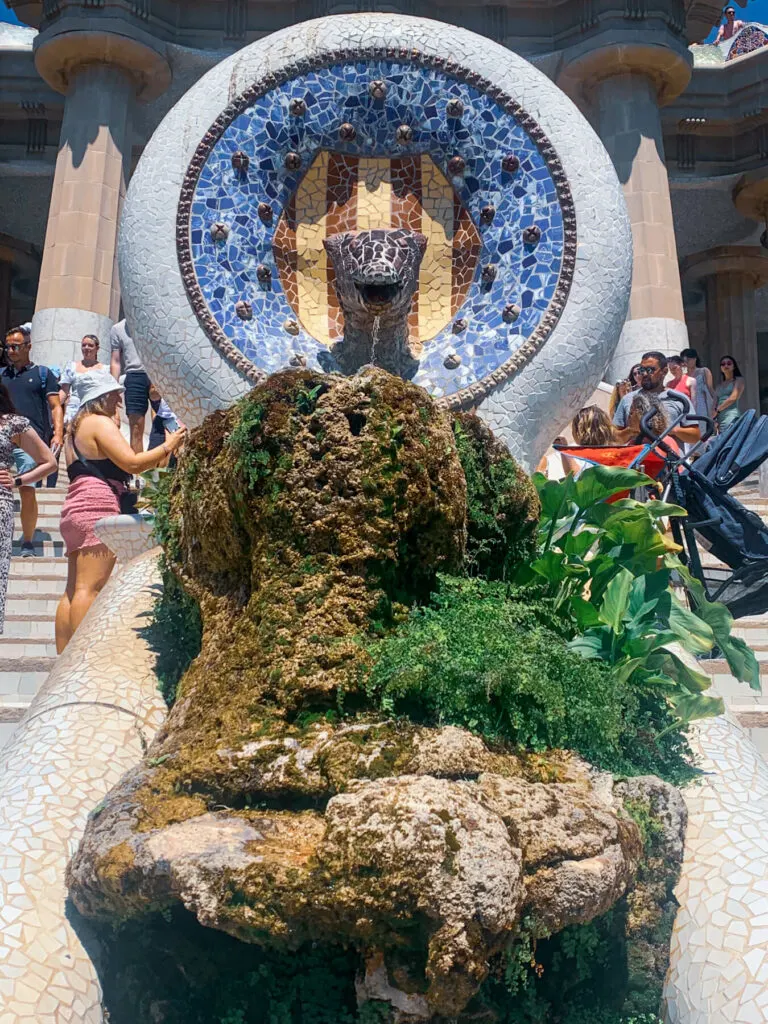 6. Gaze out over Barcelona from Park Güell's scenic terraces. The park offers gorgeous views of the cityscape and Gaudi's truly fascinating design you won't soon forget.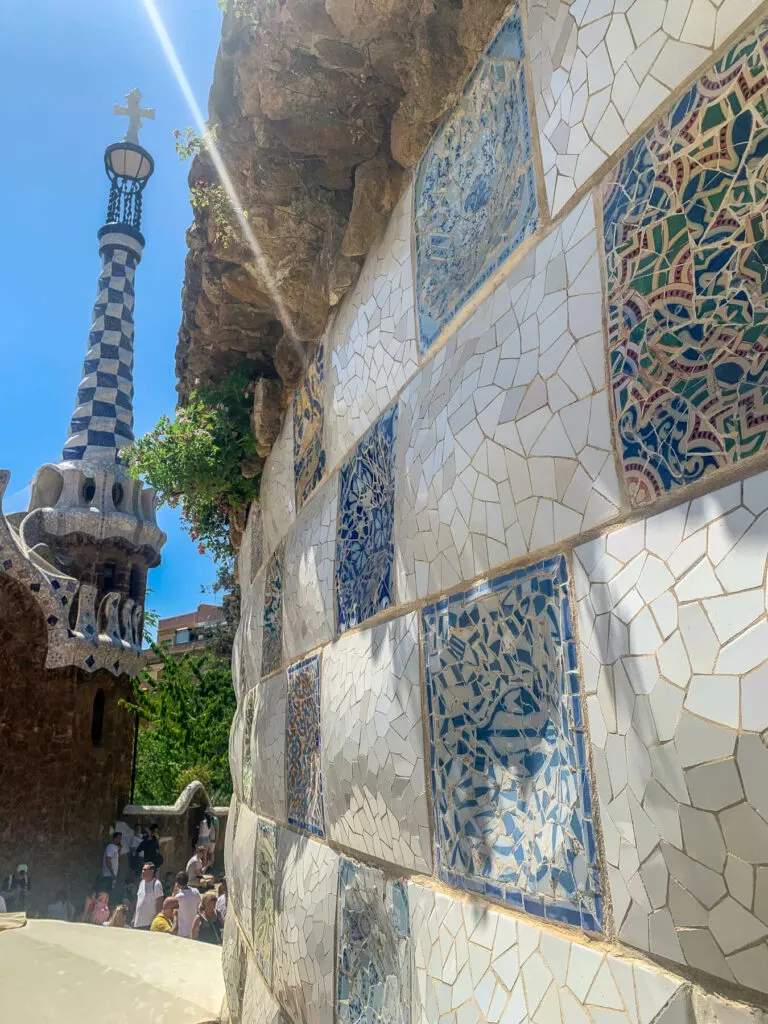 What is la Sagrada Familia?
Next up is la Sagrada Familia Basilica, one of Barcelona's most famous landmarks near the Barcelona city center. This architectural marvel has been under construction since 1882, and its ongoing development has awe-inspiring elements such as intricate carvings of nature and religious scenes. Also, be sure to admire the light and color of the stained glass windows inside, they do really set the mood.
Gaudi's original plan was to include 18 spires, and currently, 8 have been completed so far.
The second tallest tower, the tower of the Virgin Mary, was fairly recently completed and can be identified by the beautiful white star at the top.
Spend some time here learning about its fascinating history before heading out to Casa Batlló – another unique creation by Gaudi located close by. Marvel at its colorful facade made up of wavy lines and curved windows. Then take a walk along Passeig de Gracia – one of Barcelona's trendiest streets lined with luxury boutiques and high-end designer stores.
What to do for dinner in Barcelona?
At night, check out one of Barcelona's many tapas bars for dinner or choose one of their delicious seafood dishes for something truly special. Tapas are small plates of food that can be shared among a group, making them the perfect way to try a variety of dishes.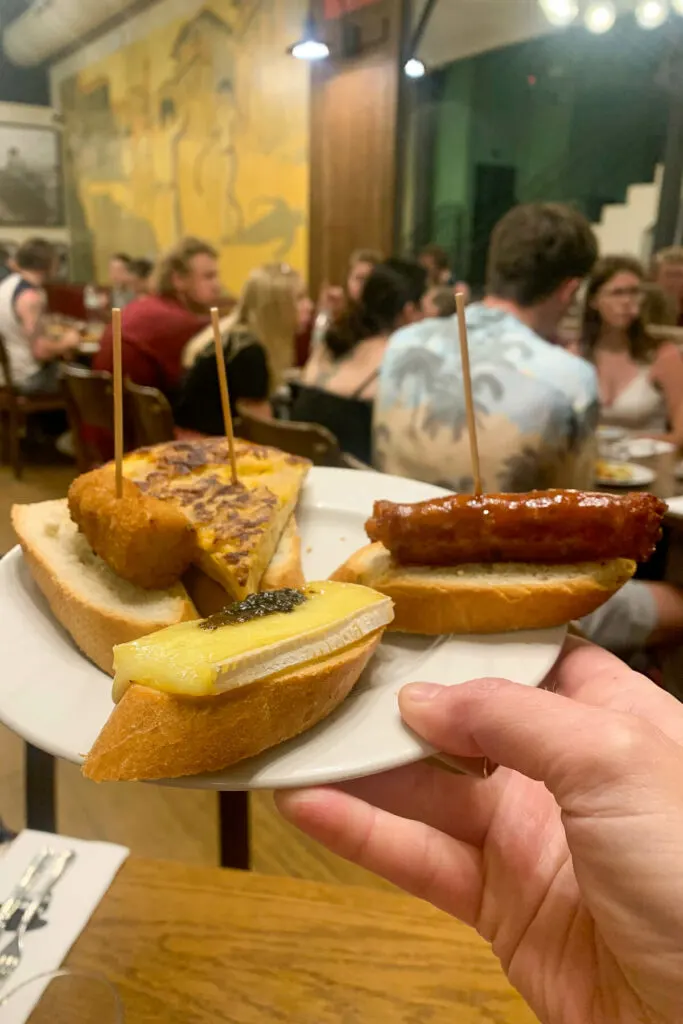 Don't forget to try the sangria either – it's absolutely delicious, I most recently enjoyed my Sangria at a cafe on the beach. Sigh.
If you're not ready to head back to the hotel after dinner, head towards La Ribera District for some late dancing or live music performances depending on what kind of atmosphere you're looking for.
Day 2 of the 4 days in Barcelona itinerary
– La Boqueria Market and Gothic Quarter
Day 2 in Barcelona is sure to be full of surprises! After a coffee and a delicious breakfast, head over to La Boqueria Market and marvel at the fresh produce, cheeses, and cured meats.
What is La Boqueria Market?
Prepare to be taken back in time when you enter this architectural market when you visit Barcelona.
I would plan on about an hour and make sure to take advantage of all the exciting shopping opportunities with snacks and souvenirs aplenty. As with any market situation or where you're around a crowd, watch your valuables, and make sure wallets and money are hidden/zipped up well.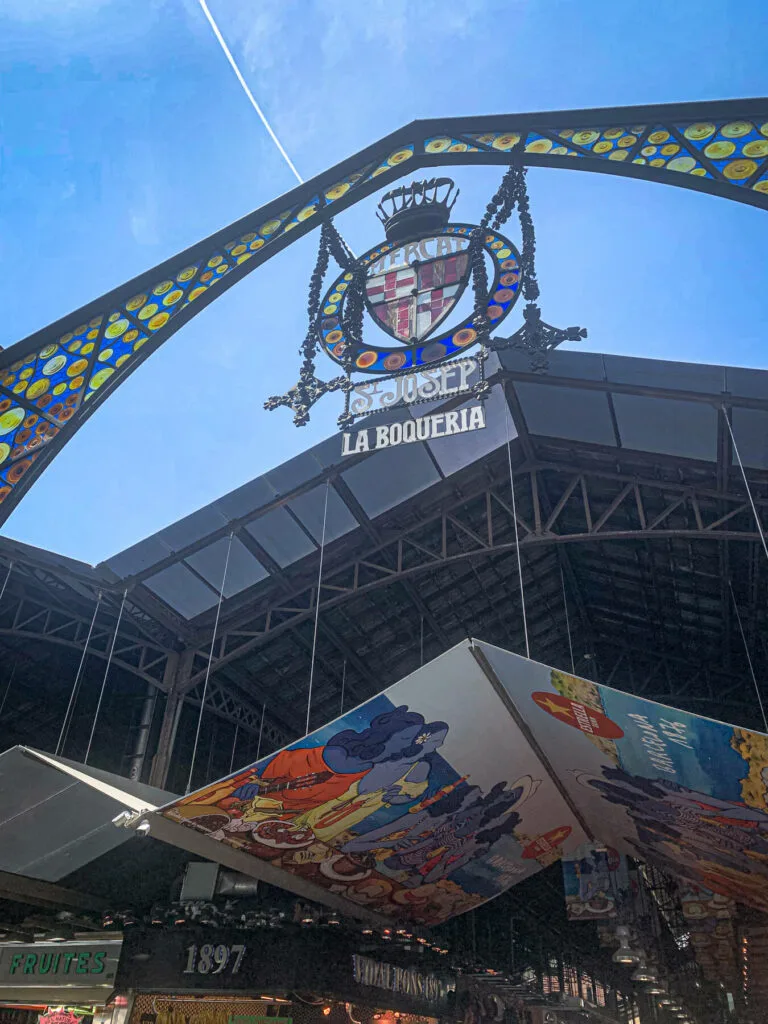 I challenge you to a scavenger hunt in this awesome and bustling place – ham, cheese, nuts, dragonfruit, octopus, fish, saffron, and chocolate! GO!
Las Ramblas
Then explore Las Ramblas, Barcelona's most famous boulevard, before stopping for a coffee or a drink at the café that most appeals to you! This charming area is full of cafés, street performers, and restaurants. I like to people watch, where you can immerse yourself in some of area's many cultures.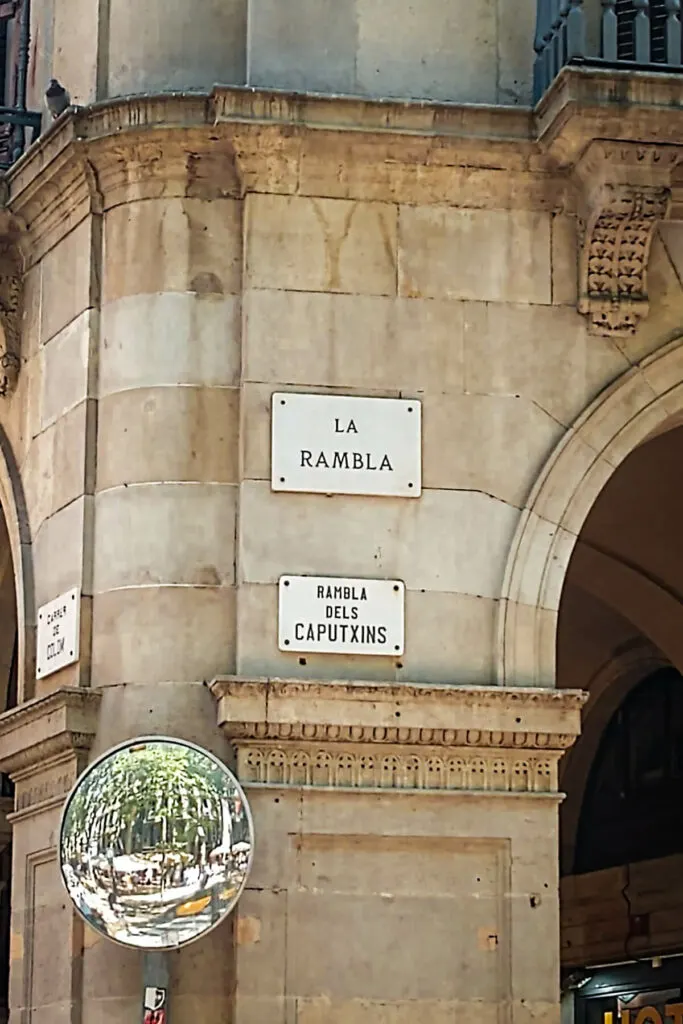 After that, be sure to explore the Plaça Reial, at the southern end of La Rambla, an iconic square surrounded by grand palaces with lush gardens.
Feel free to explore the little side streets and stumble upon some hidden gems.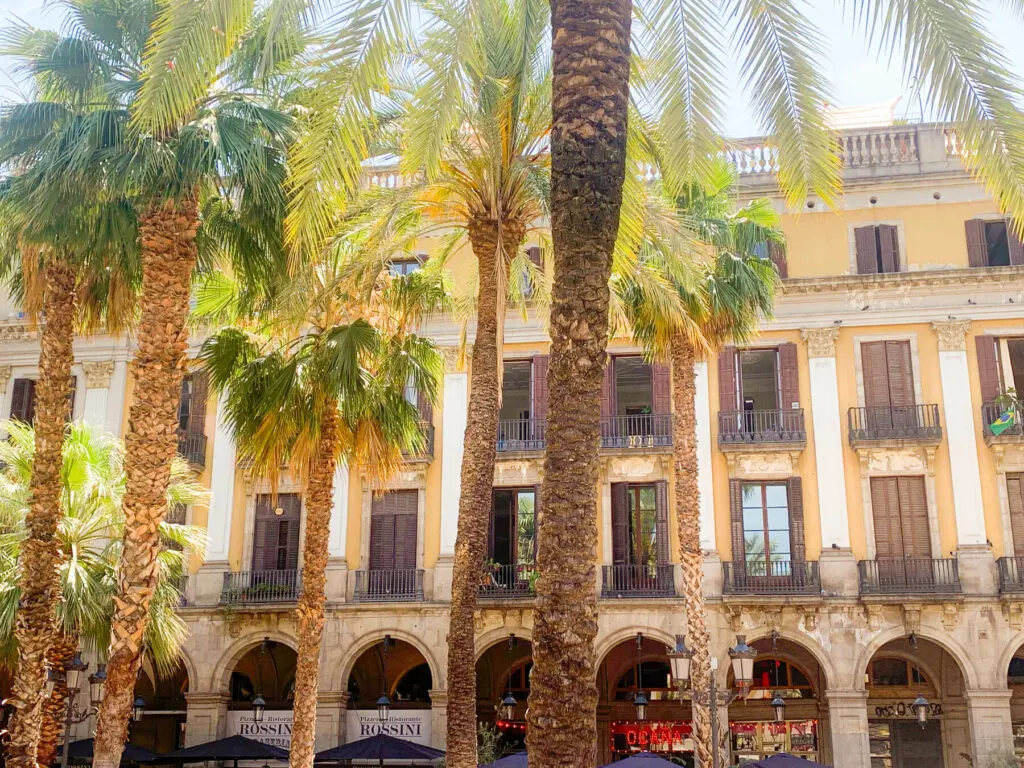 Gothic Quarter
Finally, visit the Gothic Quarter and explore its historical winding cobblestoned streets, plazas, churches, and palaces. This area has been inhabited since Roman times and is full of architectural wonders for you to discover! Definitely check out the old city walls still standing from Roman times and wander the narrow streets to find cafés to leather shops.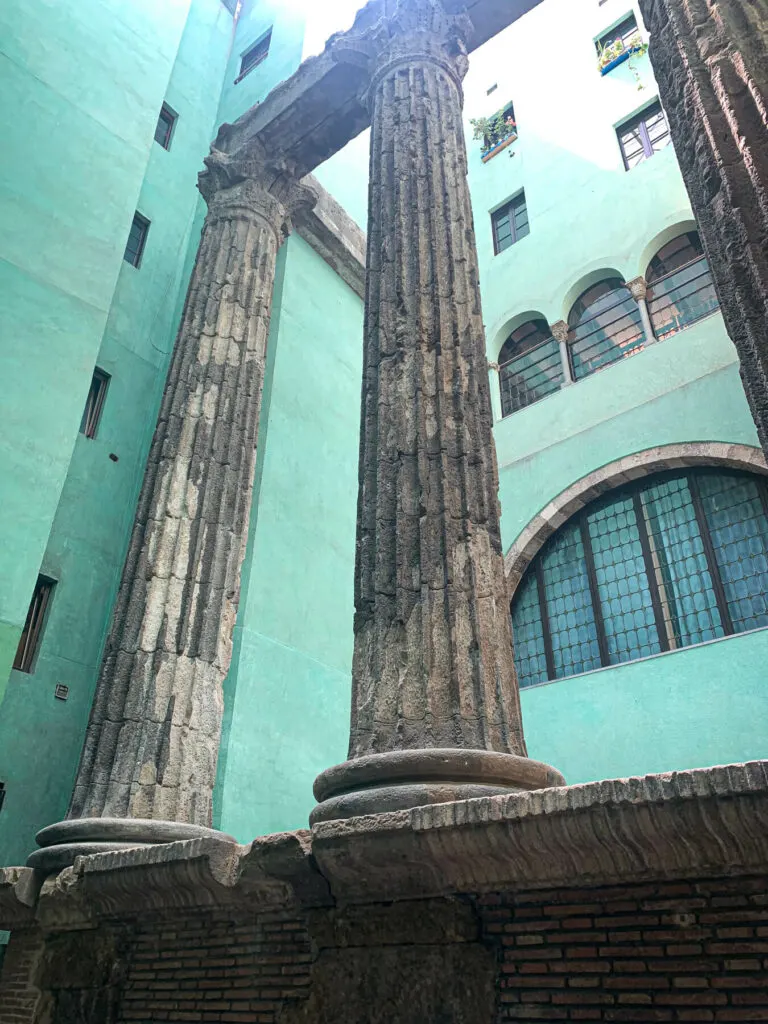 This old town area was one of my favorite places to explore in the entire city. You can take a guided walking tour or just explore on your own. It's packed with history, and it's hard to beat the Roman ruins for history buffs. Then look for the actual stairs where King Ferdinand and Queen Isabella received Columbus on his return from his first voyage to the Americas.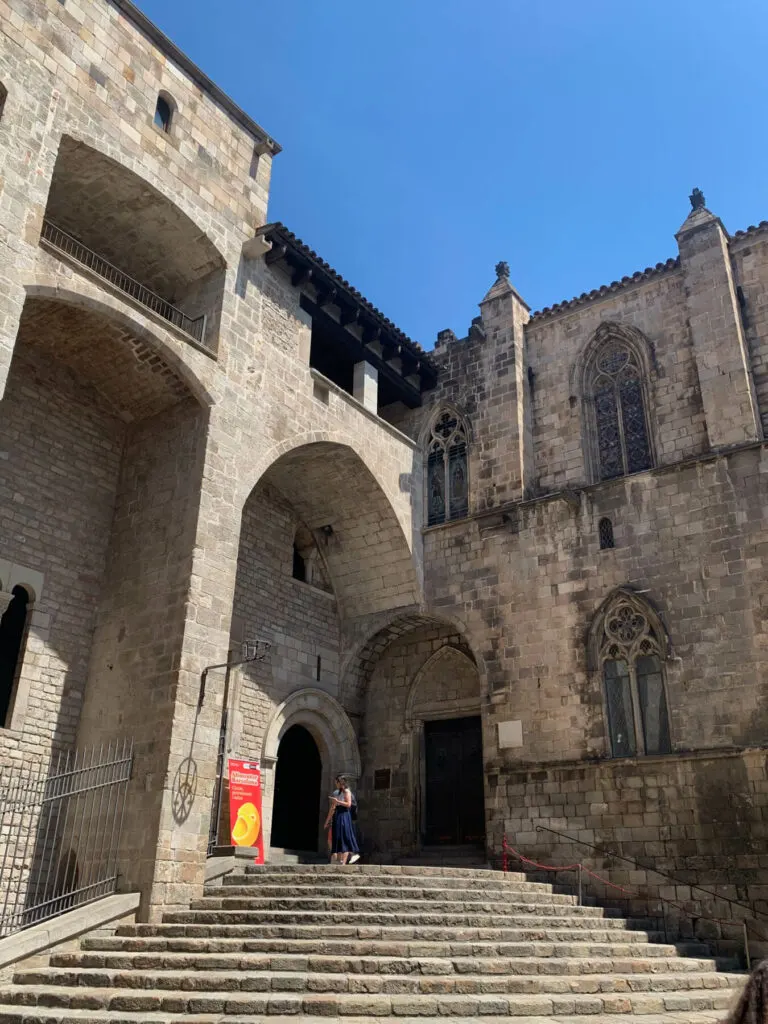 You'll find other impressive sights such as the Barcelona Cathedral. It is truly an incredible cathedral, and if you can go inside I do recommend it! Also, look for the Basilica Santa Maria del Mar and the Palau de la Generalitat de Catalunya.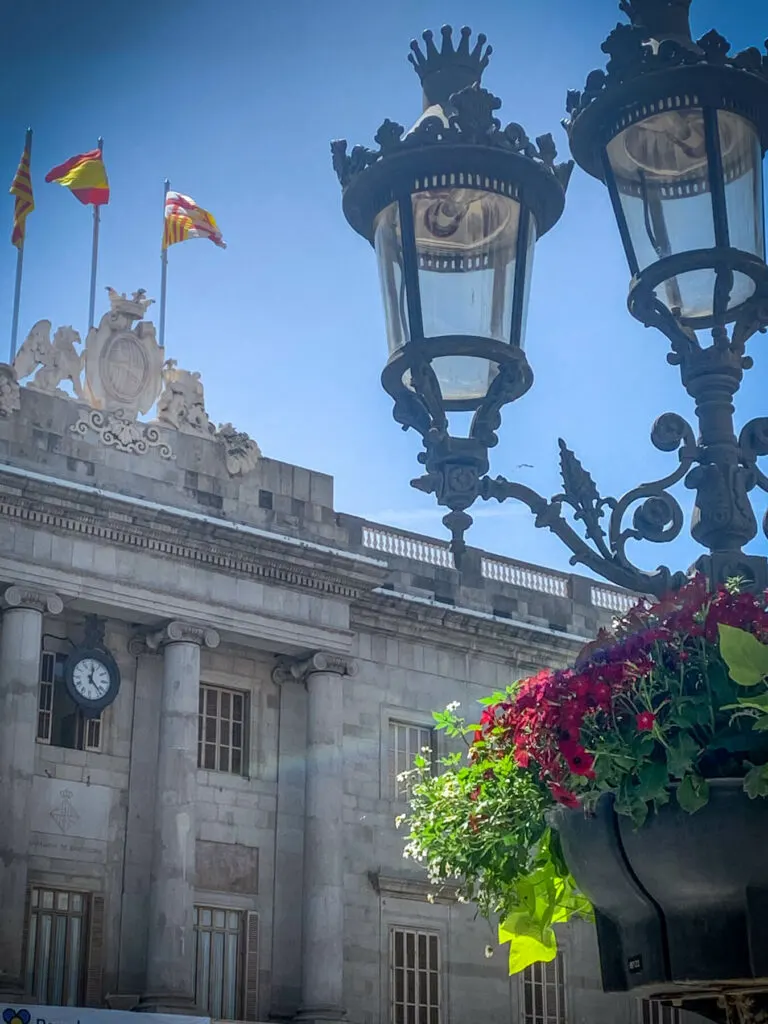 City Bike Tours
While you're in the Gothic Quarter, visit Green Bikes City Bike Tours for a unique experience. Their 2 hour bike tour will take you around the city from an entirely new perspective. This was probably my favorite thing we did while in Barcelona. Why? Because you get to see so much from a fun and different viewpoint and a little more off the beaten path!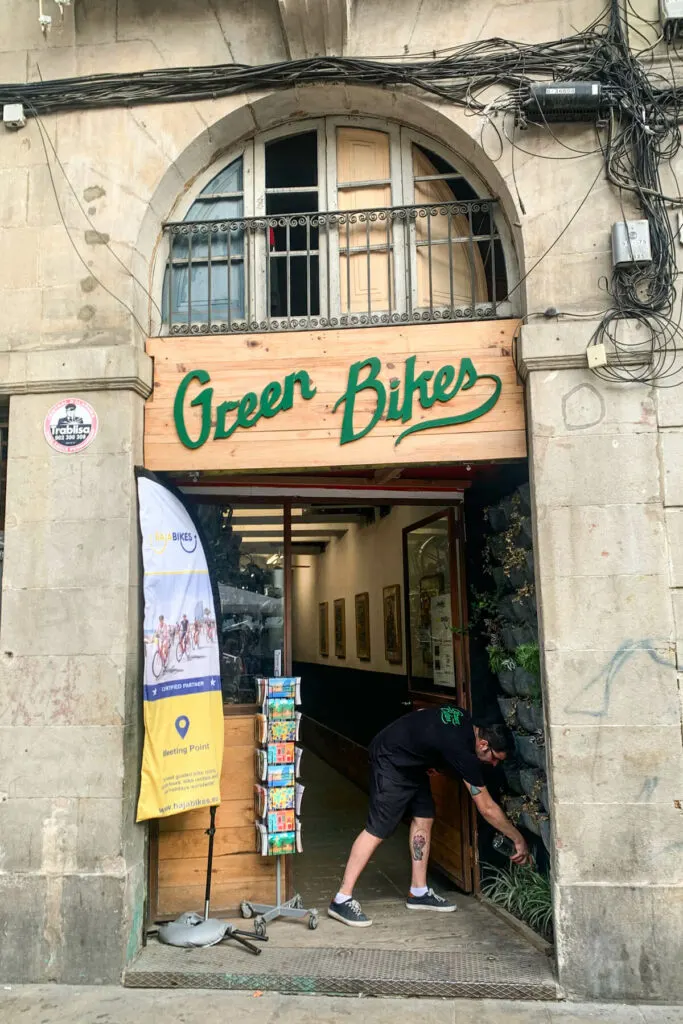 Parc de la Ciutadella and the Arc de Triomf
Start in the Gothic Quarter and bike through Parc de la Ciutadella. It formerly contained a fortress built in the 19th century now a park featuring the lake sculpture 'Monument a Colom' designed by Josep Fontseré. – it is also home to the Barcelona Zoo!
The park also is home to Barcelona's own Arc de Triomf, built as an entrance for the 1888 Barcelona World Fair. It's a beautiful red brick monument, created by Josep Vilaseca i Casanovas.
You'll then bike down to the beach, wind flying through your hair, and pause for some time to explore.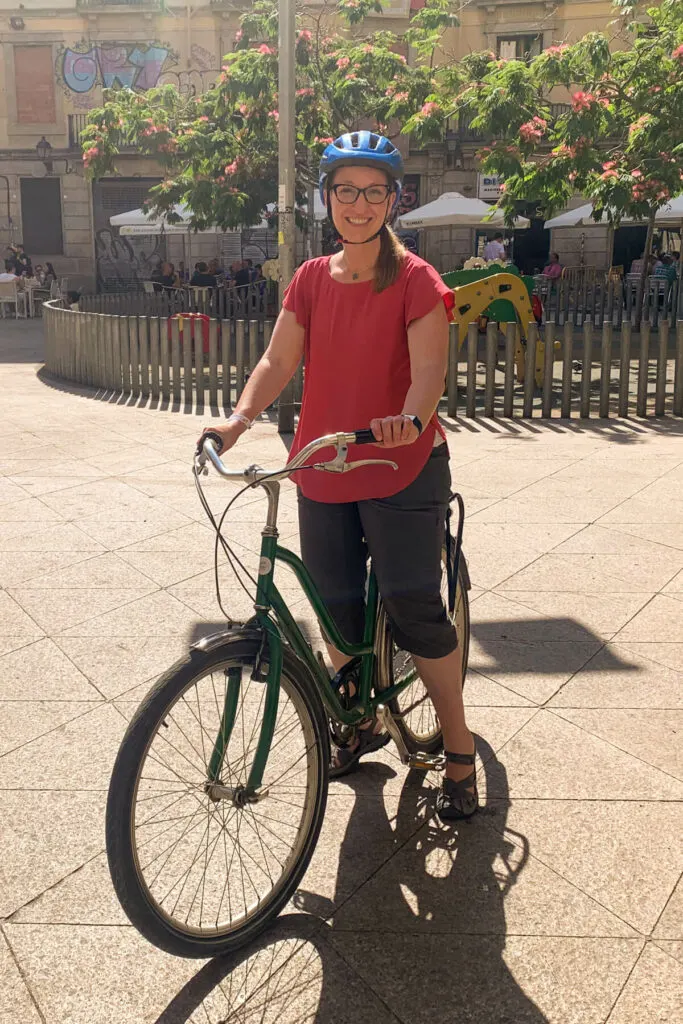 Take in some of Barcelona's most iconic sights while learning about its history and culture. It's sure to be a highlight of your trip, and I highly recommend it!
Evening in Barcelona – El Born and El Nacional
Taste some authentic Catalan cuisine in the el Born district, and sample some tapas at El Xampanyet (or any other bar from 'El Born' area). Then wander around admiring art galleries filled with amazing works by local artists living in this vibrant neighborhood. Now would also be a good time for a food tour and hop from tapa bar to tapa bar exploring!
Or jump over to El Nacional – a grand gourmet food hall serving delicacies from all corners of Spain. I recommend finding a good place for a churro with super thick hot chocolate!
If you're not wanting an early evening, next head down La Rambla de Mar for live music performances. Walk alongside locals enjoying the summer nightlife scene by one of Europe's most visited avenues. Again, be sure to keep your valuables secure.
Day 3 of the 4 days in Barcelona itinerary –
Camp Nou Stadium, Picasso Museum, and Flamenco show
Camp Nou stadium
Start out your morning with a visit to Camp Nou stadium for a behind-the-scenes tour exploring FC Barcelona's legendary football (soccer) history; make sure not to miss out on visiting their massive trophy room filled with trophies from their many championships over the years. You'll feel like a true Barca fan when you visit Camp Nou, home to FC Barcelona since 1957. Touring around this iconic stadium will certainly fulfill any football (soccer) fan's dreams.
You can even take part in an interactive tour, with access to exclusive areas such as the players' changing rooms. You can even get your photo taken next to a replica Champions League trophy!
La Pedrera (Casa Milà)
Afterward, head over to La Pedrera (Casa Mila) – another one of Gaudi's masterpieces – for yet another incredible example of his creative genius. It features chimneys shaped like war machines among other whimsical details not found anywhere else. Take a tour or at least walk or drive by.
Picasso Museum
Grab some lunch nearby before heading to stroll through the Picasso Museum for another glimpse into the city's artistic side. Not only is it a great place to learn more about Picasso's formative years, but it also holds many famous pieces. It holds an extensive collection of his works for visitors to enjoy.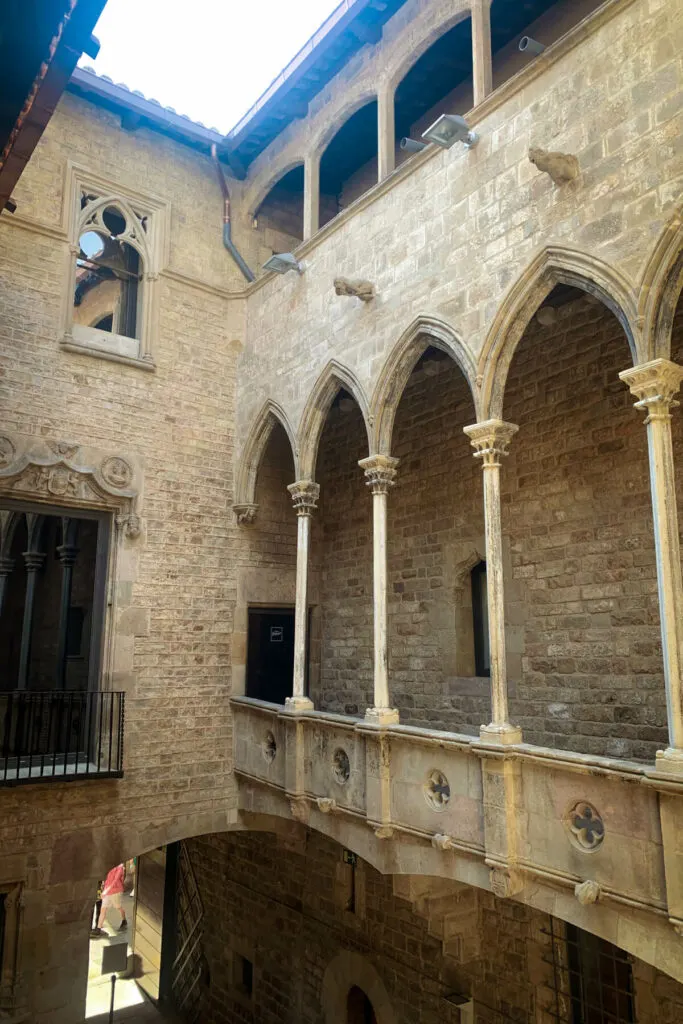 Flamenco show evening
For a truly unforgettable evening, after a dinner of traditional Catalan food, head to Palau Dalmases for the flamenco performance. This is one of Barcelona's most incredible attractions. You're sure to be mesmerized by the lights, costumes, music, and passionate dance moves.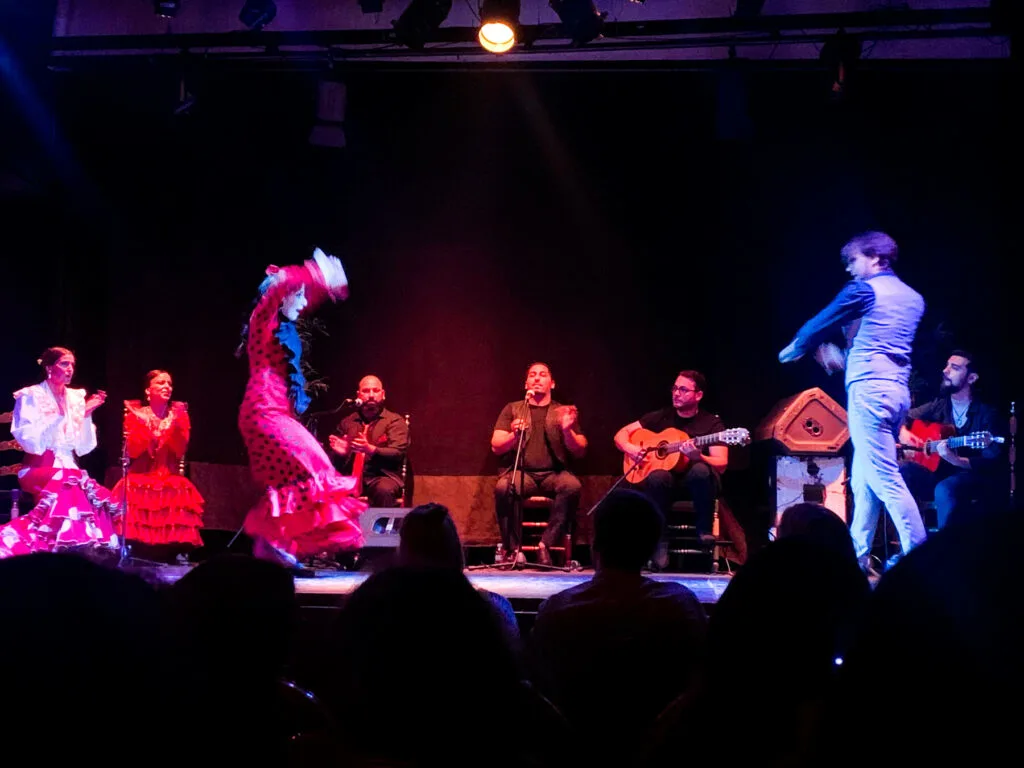 The students I recently traveled with, loved it, even the most skeptical ones!
Day 4 of the 4 days in Barcelona itinerary
– Montjuïc Hill, Tibidabo Amusement Park, Barceloneta Beach
Cable Car Ride up Monjuïc Hill
Start your day off at the historic Montjuïc Castle, with stunning views overlooking the city. You'll want to take a cable car ride up to it for some incredible views of the city. If you've been getting comfortable with metro stations, you'll be set. Just take the metro to the Para-lel stop then get on the funicular up to Parc Montjuïc. There you can take a short walk to the cable cars.
For all the details, the Teleferic de Monjuïc website is quite helpful.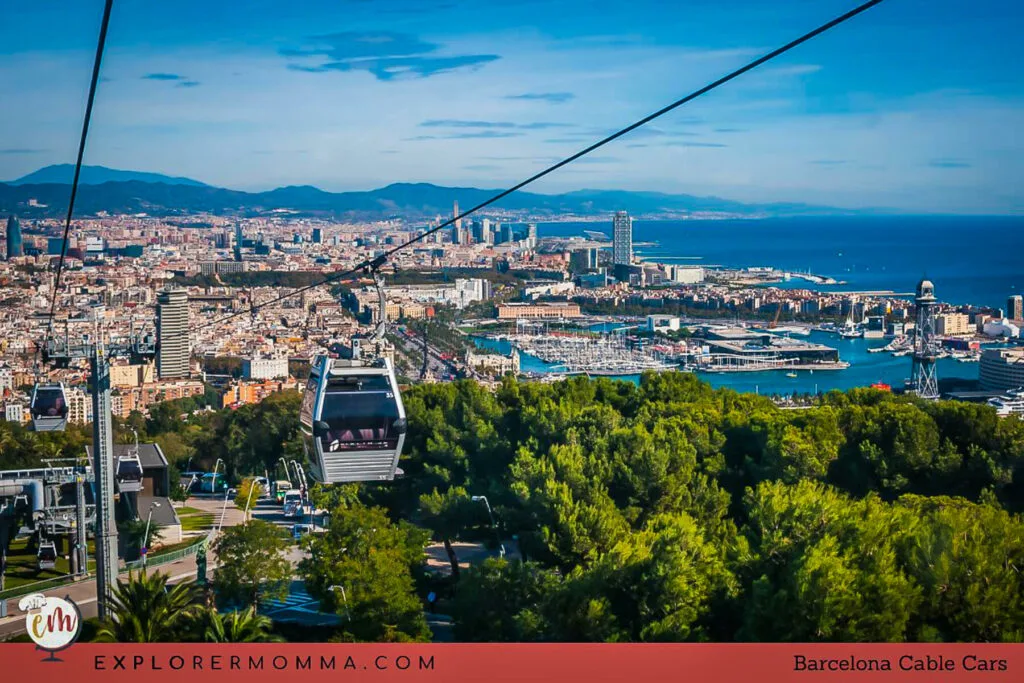 Montjuïc Castle
This impressive structure was built in 1640, although it has a fairly terrible history during the Spanish Civil War. The view from the top of the hill is very impressive and will get you great shots of much of Barcelona.
Visit the castle to learn about its fascinating history, and explore its many monuments, gardens, and galleries.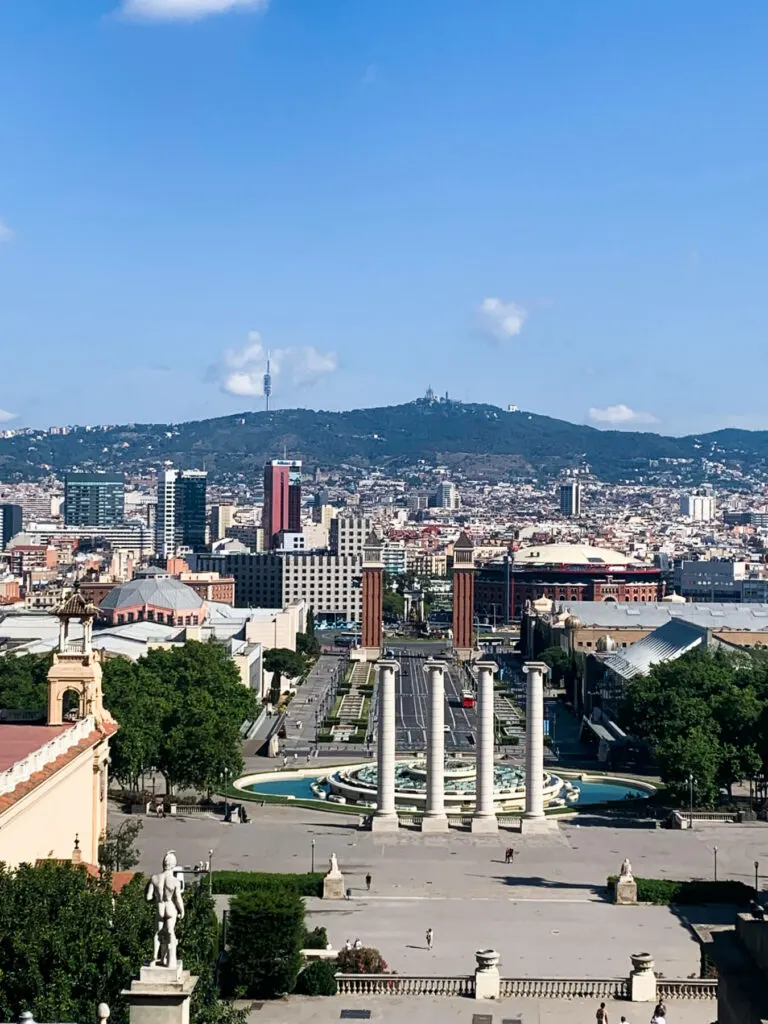 Tibidabo Amusement Park
Next, use the metro or drive over to the Tibidabo Amusement Park for a day of family-friendly fun. With more than 30 rides and attractions, including roller coasters and Ferris wheels, there's something here to suit everyone's tastes. The park also boasts beautiful views of the city, so make sure you take some time out to appreciate the scenery.
Take a dip at Barceloneta Beach
If you want some downtime during your Barcelona itinerary, then head over to Barceloneta Beach where locals flock during summer nights for beach volleyball tournaments or beach barbecues.
This beach stretches along 1 km long making it perfect for swimming, sunbathing, or simply taking peaceful walks along its shoreline. Enjoy as it watches over the Mediterranean Sea while celebrating life in style.
You can spend the evening at one of Barcelona's many beach lounges or by rock pools. Bring a book or just relax with some sangria while the children frolic (yes, I said frolic) in the sand.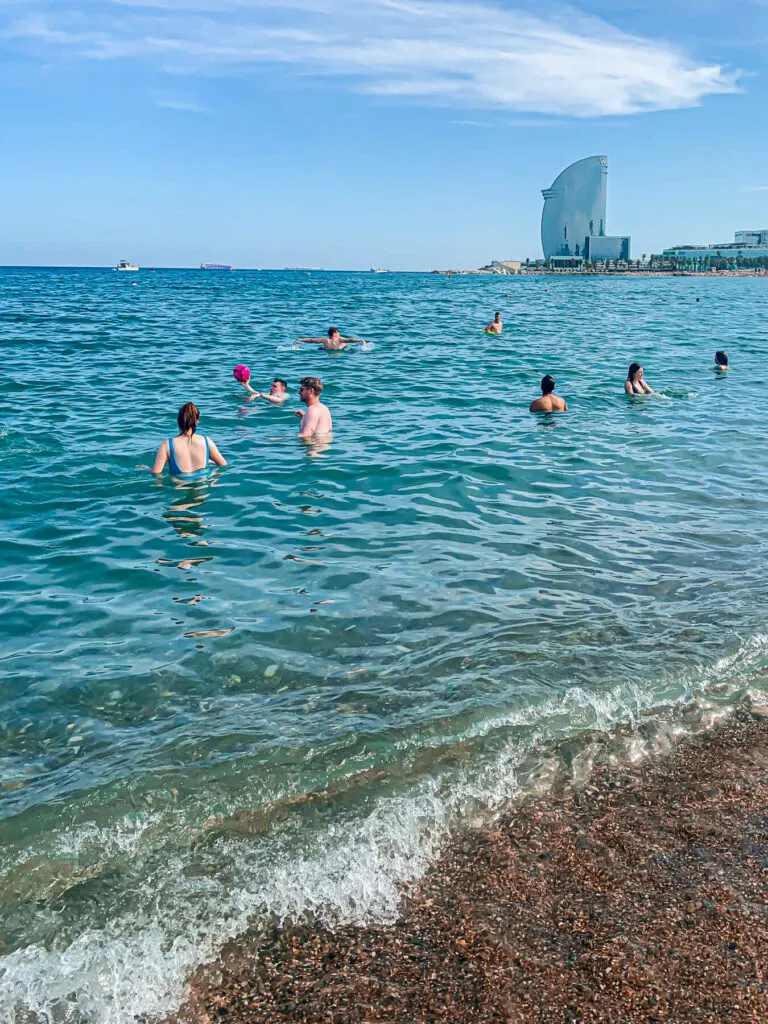 Paella by the beach
On your last night in Barcelona, end the day with a bang by indulging in Barcelona's most famous dish – Paella! Head to a restaurant or café along Barceloneta Beach where you can enjoy some freshly caught seafood served with one of the finest paellas around.
You may have noticed I've mentioned the beach a lot! That may be because as a Colorado girl surrounded by land, I definitely want to take advantage and enjoy them while I can. Can I tell you a secret? I'm longing to visit some closer to home beaches after hearing about all the amazing things to do in Puerto Rico. I'm hoping there will be more on that coming soon! But that's another blog post! 😂
By now, your fantastic 4 days in Barcelona have come to an end. I hope you've enjoyed your trip and are returning home with amazing memories, inspired by the beauty of this incredible city!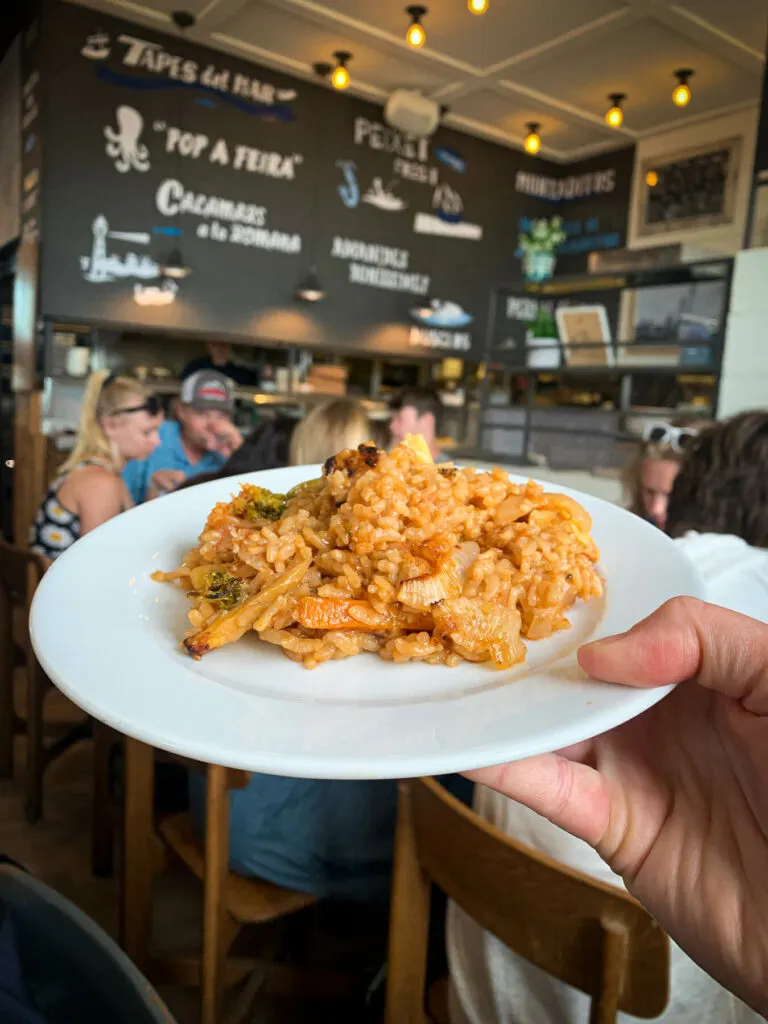 I'm sure you'll be back soon for another visit. With so much to do, your Barcelona itinerary may expand into several visits too good to resist!
Until then, ¡adiós y vale!
Tips for Traveling to Barcelona with Kids
Barcelona is an incredible destination for a family vacation! With lots of culture, beautiful architecture, and sure to be unforgettable memories, your kids will thank you later.
Before you go, here are some tips to make the most out of your 4-day Barcelona adventure.
First off, plan ahead – research what attractions to visit and where to find good food. Ask at the hotel about a guided walking tour around the city. That way everyone can stay together and learn about the local sites.
Be mindful that siestas are a thing in Barcelona. Many museums and attractions close during lunchtime or are closed on Mondays, so plan accordingly.
Finally don't forget to take lots of photo ops – you won't regret having these moments documented when time passes. Enjoy your trip!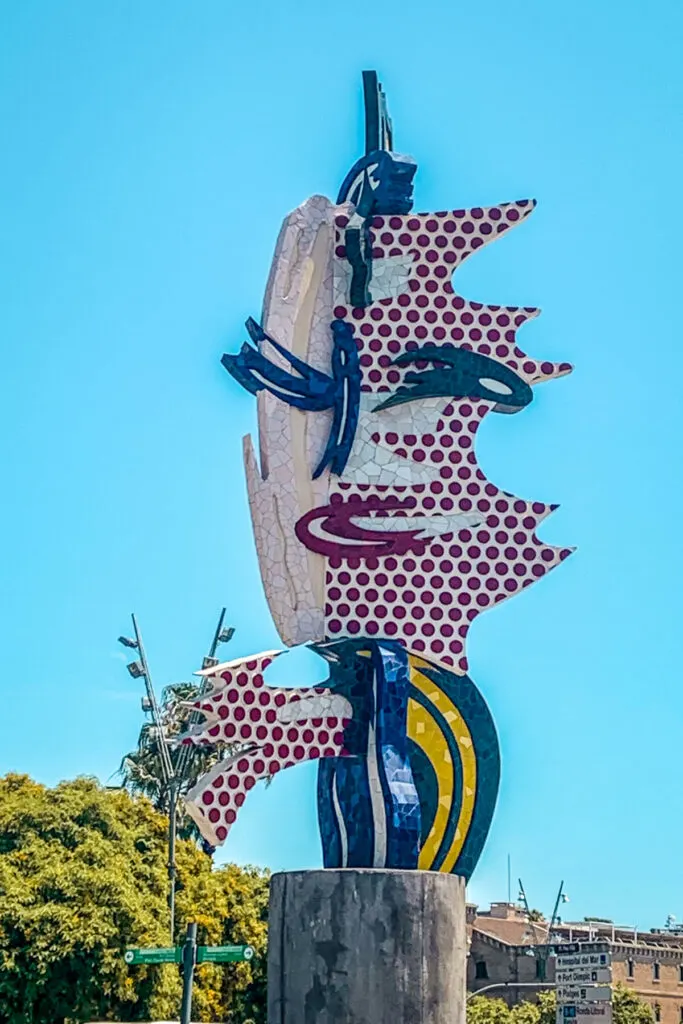 10 more activities for your 4 day Barcelona itinerary
There are quite a few places I haven't mentioned worth visiting in Barcelona. Also, it's also a great jumping off point for day trips!
1. Taste Cava at Penedès Wineries
Visit some wineries located approximately an hour away from downtown Barcelona situated within the Penedès wine region that produces local Catalan wines such as cava (sparkling wines made using the traditional method). Have a sip or two (or three!) of white and red wines accompanied by exquisite views & charming vineyards that make up this stunning wine region near Barcelona!
2. Admire Miró's Masterpieces at Fundació Miró
Be inspired by Joan Miró's artwork when visiting Fundació Miró – an impressive building dedicated entirely towards Miró's works featuring several outdoor sculpture gardens plus hundreds and hundreds of pieces made by him ranging from paintings, ceramics, prints and textiles. All these masterpieces surrounded by lush green spaces make Fundació Miró definitely worth a visit.
3. Palau de la Música Catalana
Take a guided tour of Palau de la Música Catalana for an unforgettable experience that combines history and culture with exquisite architecture designed by Lluís Domènech I Montaner in 1908 – situated right in downtown Barcelona near Plaça de Catalunya.
4. El Ravel
Get lost exploring the El Raval area full of funky bars like Sala Tokyo or galleries like Macba (Museu d'Art Contemporani de Barcelona), as well as street art & graffiti works all around this unique neighborhood.
5. Magic Fountain (Font Màgica)
Have fun at Magic Fountain (Font Màgica) located near Plaça Espanya – it was built originally for the International Exhibition of 1929 but still remains today one of the top attractions thanks to its spectacular water show combining music, light & movement – both young & old can appreciate this awe-inspiring performance! Be sure to check out their schedule before visiting. I know it has been closed some due to the drought.
6. Fundació Joan Miró Centre
Visit Fundació Joan Miró Centre founded by artist Joan Miró himself in 1976 displaying artworks by himself and other modernists such as Picasso, Braque, etc. It's situated near Parc de Montjuïc offering many activities all year round such as films screenings, workshops, and more!
7. Local Festivals
Take part in some local festivities; yearly events such as 'Festa Major' celebrate the new season while 'Festival Grec' celebrates arts across different disciplines ie: theatre, dance, and music.
Another popular feast takes place during winter known as 'Caga Tio' where people gather together to sing Christmas songs while hitting logs covered with red cloth! A truly unique experience indeed 🙂
8. Museu d'Art Contemporani de Barcelona (MACBA) Museum
Discover one of the art gems scattered around town including the MACBA Museum dedicated mainly to contemporary art pieces. It houses an extensive collection that includes works by Andy Warhol and Joseph Beuys. Bonus – there are also some cool hangouts nearby such as the Flax and Kale bar leading way towards trendier spots such as Dime Bar and more.
9. Mountains of Collserola Natural Park
Take a day trip to the Mountains of Collserola Natural Park located just outside city limits offering great hiking trails amongst pine forests and streams
10. Torre Agbar Skyscraper
Climb the Torre Agbar skyscraper designed by French architect Jean Nouvel. It offers amazing views over the city from an observation deck on the 34th floor.
Where is Barcelona's city center?
The city center of Barcelona is located around Plaça de Catalunya and La Rambla in the old city (Ciutat Vella), some of its most iconic landmarks such as Sagrada Familia and Casa Batlló can be found there as well.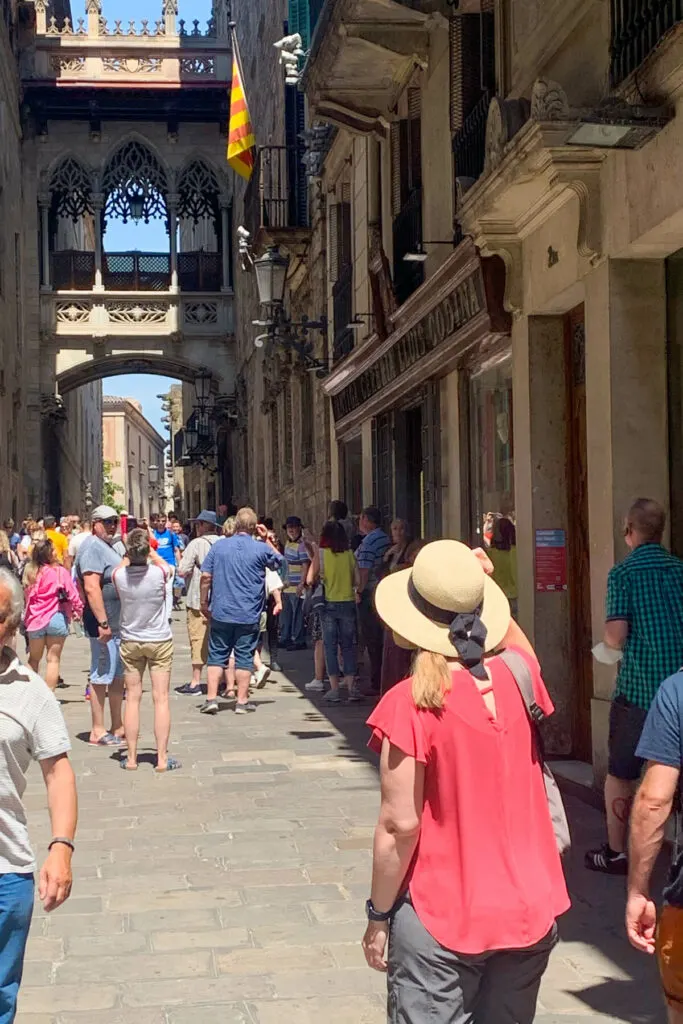 Barcelona itinerary, 4 days in paradise!
My 4 day Barcelona itinerary provides a great mix of fun and meaningful activities for individuals or families, so you'll leave feeling like you've really seen the city.
From the cool vibes in Park Güell and the Sagrada Familia to the medieval sights of La Boqueria Market and Gothic Quarter, nothing beats seeing Barcelona's unique attractions first-hand!
Plus Montjuïc Castle and Tibidabo Amusement Park provide plenty of entertainment if your little ones need something a bit more lively.
And then Las Ramblas and Barceloneta Beach allow everyone to sit back, relax, and take it all in.
So what are you waiting for? Now is the perfect time to start planning a trip that will create long-lasting memories for your entire family!
Let's go to Europe!
Next up I'll be sharing more with you about my travels in France, one of my absolute favorite places to be in the world! In the meantime check out this awesome Paris itinerary for traveling with kids. Can I go back right now?? 😂
Learn more with other articles about Spain
The Best Books for a Trip to Spain
Easy Keto Paella with Cauliflower Rice
📌 Pin this article for later!