What exactly is a Keto Krate? In my review I'll discuss what it is and go through this month's Keto Krate. Let's have some fun! This monthly goodie box will be opened up and presented with all the info I can give you.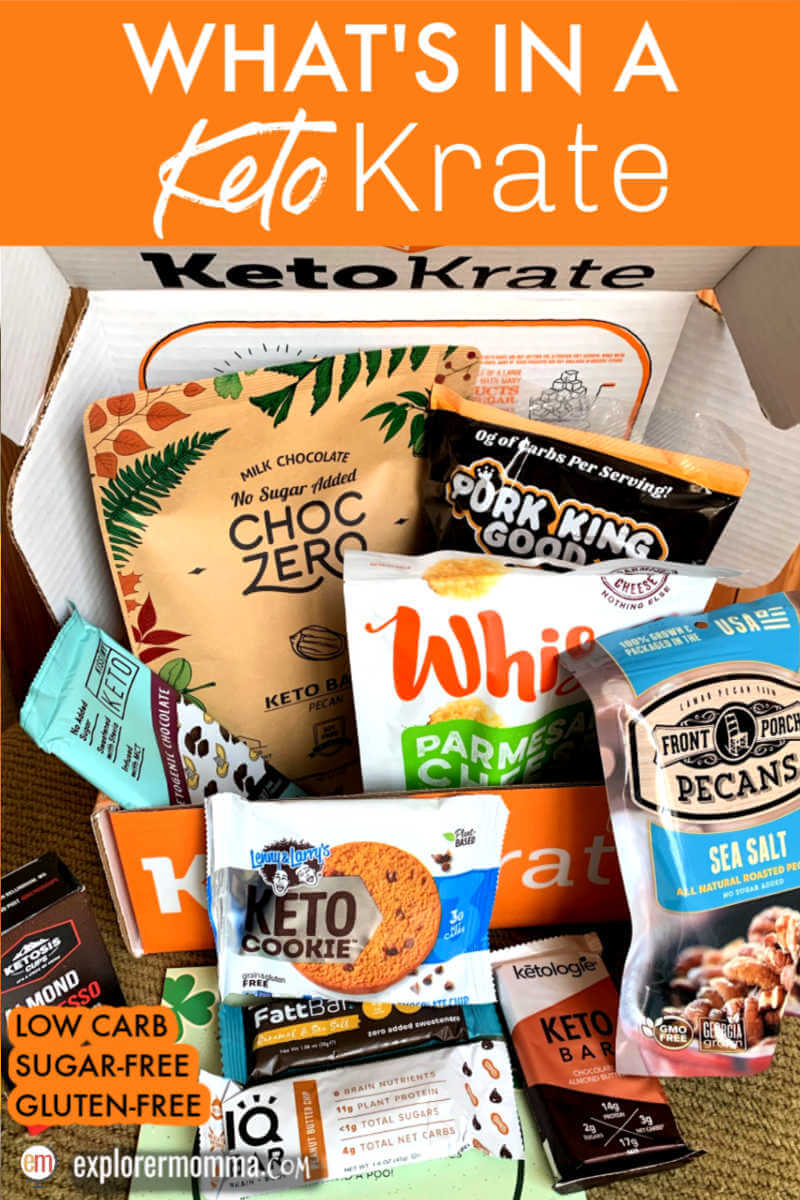 Disclosure: Some of the links below are affiliate links, meaning, at no additional cost to you, I will earn a commission if you click through and make a purchase. I only recommend something if I've liked and used it myself and feel it would be of benefit to my readers.
What is a Keto Krate?
Let's get started with the big question. What precisely is a Keto Krate? Or KetoKrate, depending on how you space it!
Well, let me enlighten you! A Keto Krate is a monthly subscription box specifically for those on a keto diet or choose a keto way of eating.
The monthly orange box contains a variety of keto treats from various companies. Every month you get a new assortment of low carb, gluten-free, malitol-free snacks to try out.
With more and more products claiming to be KETO, sometimes it's hard to sort through them all. Now, it's true we all have a different definition of true keto, and I know there are certain ingredients I avoid which others don't.
However, each person needs to judge what works best for themselves and set their own goals.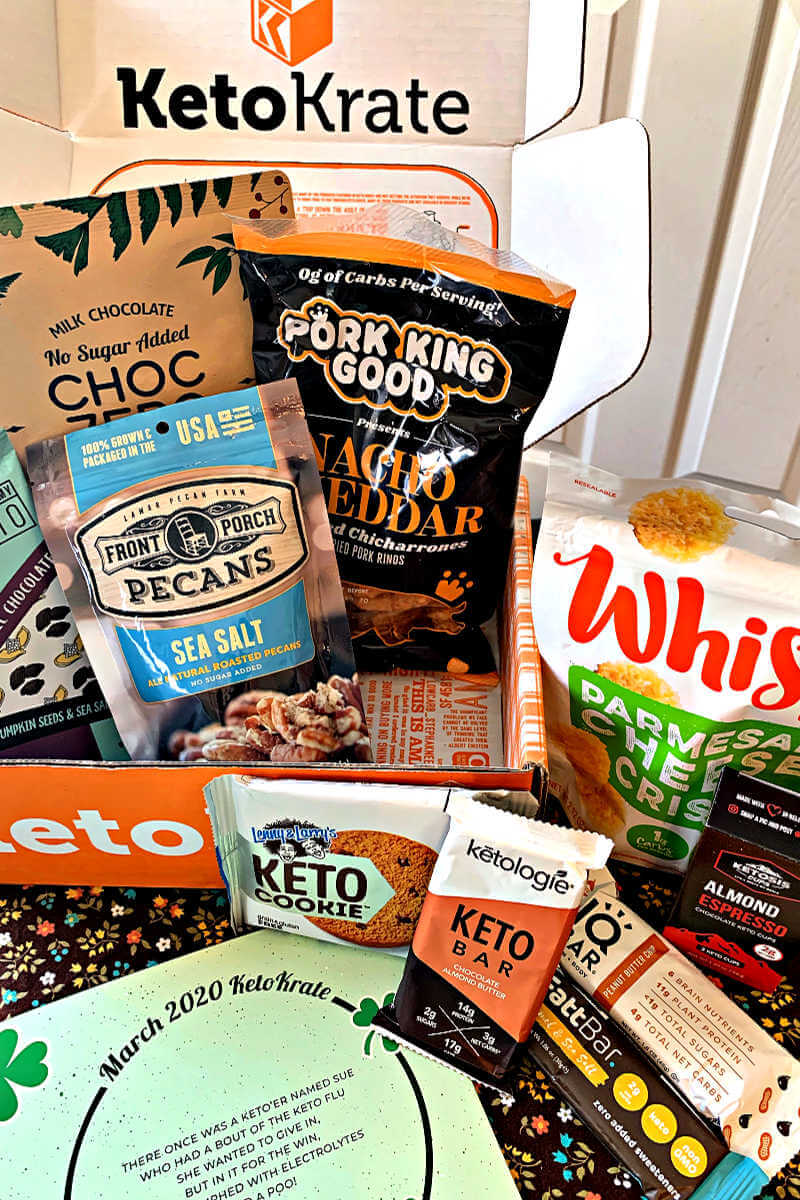 With the Keto Krate, the box comes with a prescreened group of keto treats.
Will you like everything? Probably not, I don't always, but I love it when I discover a gem. That's the point, you try one of a variety of things to find what will work for you.
And bonus – it's fun!
There's a good chance you'll find your next favorite quick snack.
March 2020 Keto Krate Review
What was in my March 2020 Keto Krate? Let's take a look!
Now let's recap in case you didn't watch the full four minutes of my exciting unboxing video or didn't catch everything. Here's what was included:
Chocolate Chip Cookie from Lenny and Larry's
Pumpkin Seeds and Sea Salt Dark Chocolate Bar from Kiss My Keto
Chocolate Almond Butter Keto Bar from Ketologie
Almond Espresso Chocolate Keto Cups from Ketosis Cups
Peanut Butter Chip Bar from IQ Bar
Sea Salt Pecans from Front Porch Pecans
Parmesan Cheese Crisps from Whisps
Milk Chocolate Keto Bark Pecan from Choc Zero
Caramel and Sea Salt Bar from FattBar
Nacho Cheddar Flavored Chichanerrones (Fried Pork Rinds) from Pork King Good
Keto Krate leaflet with fun recipes, Keto Krate information and discount information, poems, and fun ideas and tips for the month.
My personal favorites from this box
To be honest, I liked most of the things from this month's box and have quite a bit of it left. The bag of chocolate bark from Choc Zero is a 6-oz bag with 6 individually wrapped servings. Truly perfect for that chocolate craving!
Now to announce my favorites…drum roll please…the winners are:
Almond Espresso Chocolate Keto Cups from Ketosis Cups
Coffee, chocolate, almond butter, 2g net carbs, need I say more? YUM!
Parmesan Cheese Crisps from Whisps!
This is the ultimate portable snack. They're tasty cheese crisps without unnecessary ingredients, and my daughter loves them and will actually take them to school without complaining. Score!
Sea Salt Pecans from Front Porch Pecans!
I have always adored pecans, and these are blissfully roasted with sea salt. Simple, quality ingredients are delicious!
A note on nuts
Although I personally adore them, whenever I eat any nut, pecans, peanuts, or whatever, I take great care. I enjoy them, but I don't eat them or leave them open around large groups of people I don't know. As an allergy mom, I appreciate when others do the same and wash well. You never know who might have a severe nut allergy.
How often do you get a Keto Krate?
Keto Krate is a monthly subscription box. However, you can also manage your subscription to skip one or more shipments.
You can log into your own personal customer portal to change the frequency, check the bill date, and more.
Where do the snacks come from?
The keto treats in a Keto Krate can come from all over. They search for snacks all around the world for you to try. That's one reason the boxes can provide such a good variety.
How can I order a Keto Krate?
It's super-easy! Head on over to the Keto Krate website here or click the button below.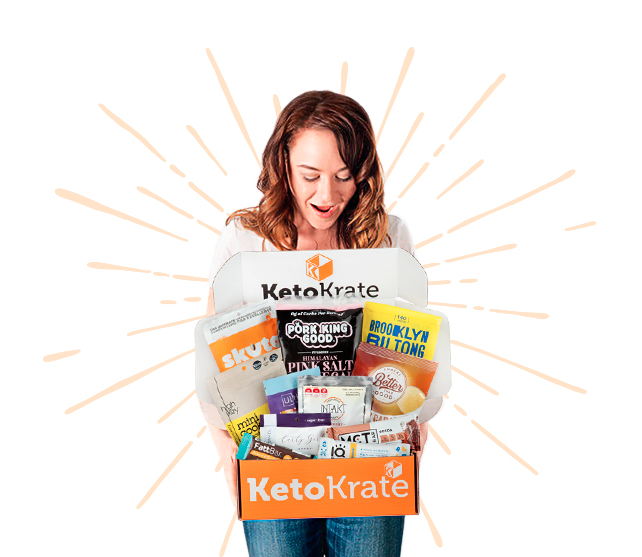 How I use the goodies from my Keto Krate
Like I mentioned before, I use the snacks from my Keto Krate when on the go or need a snack to throw in my purse for an emergency.
If I have something on hand, I'm much less likely to fall for that breakfast burrito or pastry calling to me from the window! Admittedly, my will-power is not fabulous without preparation.
Can I tell you how much I love opening that box for the first time and diving in? It's like a treasure hunt! If you've have subscription boxes in the past you'll know what I mean.
I so often have trouble finding any portable snack to take with me places. Truthfully, these suggestions have all but solved that problem. I love it!
Should I get one?
Should you get one? That's a good question! Personally, I love my Keto Krate and the anticipation of its arrival every month.
Believe me, it's announced to the entire household!
For me, it's a good value rather than buying entire boxes of bars and snacks and not knowing whether or not I'll like them. It's good to keep things on hand I can grab when I'm in a hurry or need a snack on the go.
For you, I don't what your day is like. It's that personal choice of what works for the individual again. If you're excited and like the looks of this recent box, why not try it out?
To see more of my favorites take a look around my keto shop! It will be updated periodically so check back when you can.
Or use these keto snack recipes to make your own: