Super-easy keto chocolate chip muffins are great go-to comfort foods. What could be better to raise your spirits than a pat of butter on a gluten-free chocolate chip muffin with your morning cup of joe?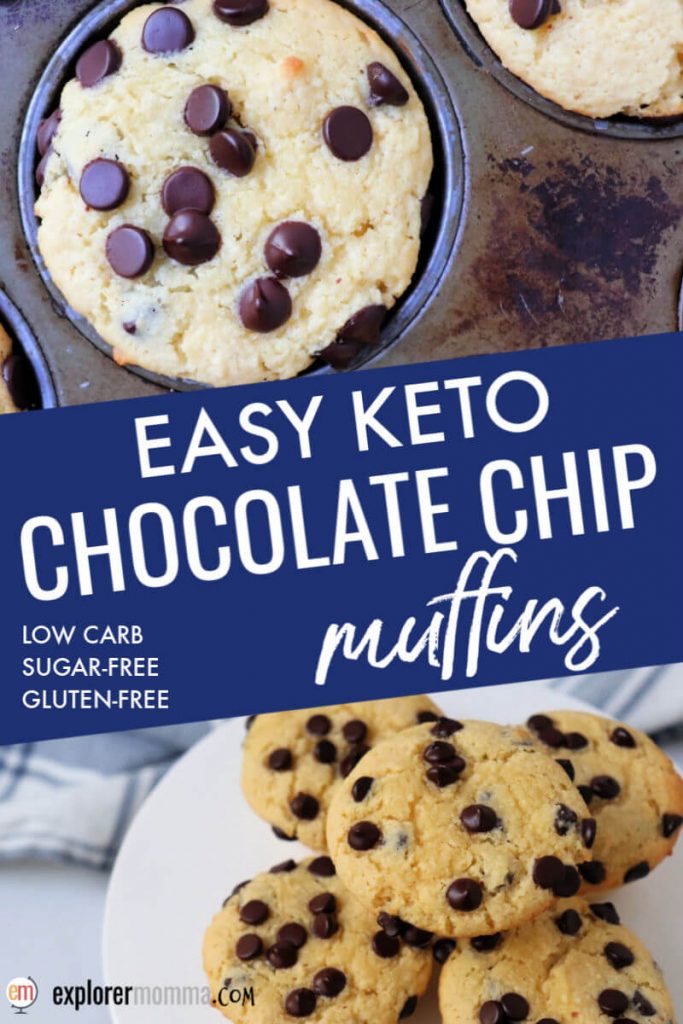 As an Amazon Associate and member of other affiliate programs, I earn from qualifying purchases.
IN A HURRY?
While I think you'll love my super helpful tips and fun stories, I also realize we are sometimes pressed for time and just need a good recipe!
Scroll down to the bottom of the page for the printable recipe to make it NOW or PIN it here for later!
Best Keto Chocolate Chip Muffins
Why do I love keto muffins? There are so many reasons they make a good breakfast or snack. I have many favorites, but as the all-American go-to snack is the classic chocolate chip cookie, I thought, why not a chocolate chip muffin?
Now who can resist a chocolate chip muffin?!
Not me, to be honest. Lately I've struggled with making better choices, especially when I have to make cookies and treats for other family members who don't eat keto. Yes, when I'm frosting an Easter egg cookie, it's incredibly difficult not to try that sugar and gluten-filled creation.
It helps ever so much if I have a backup. To be honest, I need something to fill me up and be super-tempting at the same time.
That's where keto chocolate chip muffins come in. I can eat one for breakfast or an afternoon snack. In fact, I've even been know to eat one with my salad for lunch!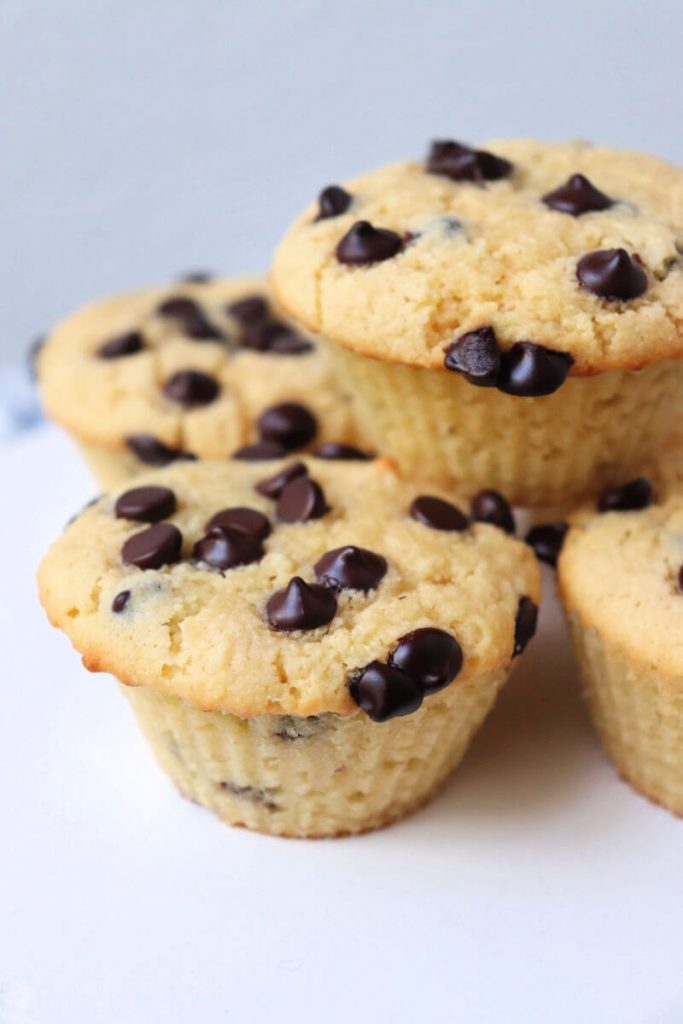 Why are muffins great for keto?
First of all, muffins are easy to make. You can throw a batch together and have them baked in half an hour without too much difficulty. Quick is key.
Secondly, muffins freeze well. Indeed, that quick and easy batch of 11 (because of course I ate at least one fresh) can go in the freezer. Then, you can pull one out a day or whenever you need a muffin. It can be on the go, an emergency snack, or with your relaxed morning coffee.
Thirdly, they're delicious! Who doesn't love a good baked good?
Now, after being on a keto way of eating for several years, if I eat a muffin full of sugar and white flour, what happens?
I'll tell you what! I have the immediate satisfaction of the taste and flavor. However, soon after I don't feel very well. I puff up and even the next day regret my choices.
Therefore, when I bite into a keto muffin, whether it be chocolate chip, snickerdoodle, or coffee cake, I know I'm going to love it. It feels like a treat, and still makes me feel good and stick to the keto diet.
Nine out of ten people like chocolate. The tenth person always lies.

– John Q. Tullius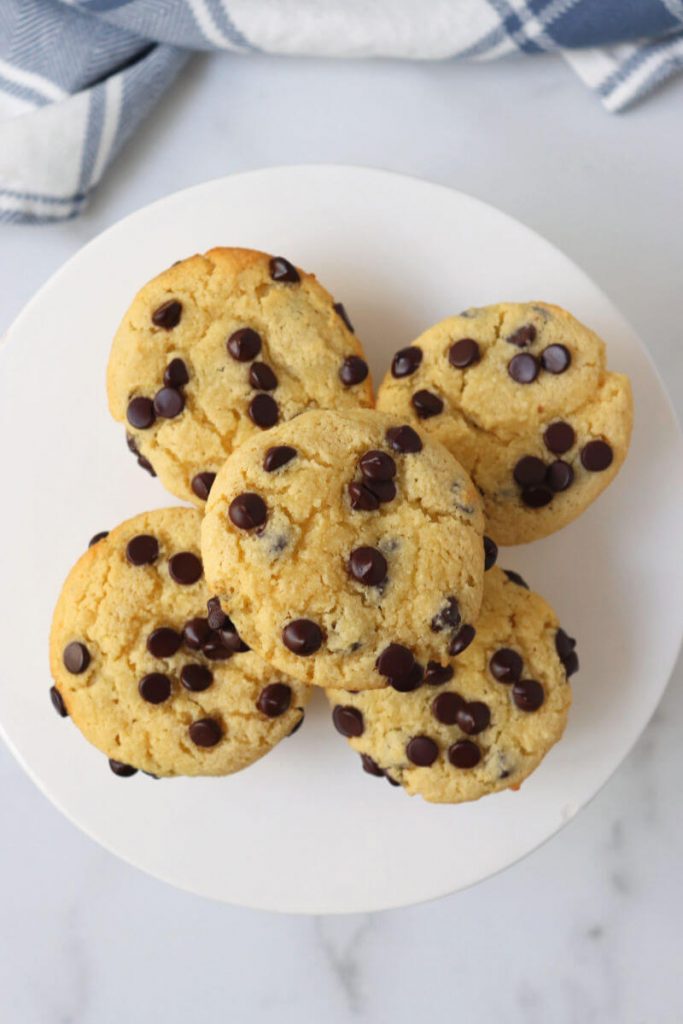 Where can I get keto chocolate chips?
There are more and more options for keto-friendly chocolate chips every day.
I have about three go-to brands I like, for various reasons. Then there's always the option of making your own chocolate chips with unsweetened chocolate. Let's look at my top three you can buy.
ChocZero Baking Chips are some of my favorites. You can buy them in dark chocolate, milk chocolate, or even white chocolate. I also like the ingredients in these the best of any I've found.
Where do you get them?
Unfortunately, I have not found them in a brick-and-mortar store in my area. However, you can order them from Amazon or directly from their website ChocZero.
I love the flavor of these chocolate chips! They don't contain sugar alcohols or soy, and they are sweetened with monk fruit extract. On the flip side, they're not always the best price point to buy them often.
Tip: If you buy directly from their own website it is generally cheaper than big box online stores.
Lily's Dark Chocolate Baking Chips are another great option. One good thing about them is that they are more readily available than ChocZero. In fact, lately I've bought them at my local grocery store (King Soopers/Kroger), and I can always find them at Sprout's or Natural Grocers.
I like the flavor of Lily's and occasionally buy their chocolate bars as well. Unfortunately, they use soy lecithin in their chocolate, which can put many people off.
Also, they are produced on equipment that also produces product containing milk, peanuts, and tree nuts. This can make them out of bounds for people with certain allergies.
Other than those two things, I like Lily's chocolate and use it for myself.
Bake Believe Baking Chips are a fairly new discovery for me. One day I just happened upon them on the Wal-Mart (yes Wal-Mart) website. They come in dark, milk, or white chocolate chips.
Our family likes the dark and milk chocolate options, but unfortunately I was not a huge fan of the white chocolate.
What do I like about these? I like that I can get them at my local Wal-mart at a good price point. They don't contain soy and are sweetened with Stevia.
Also, and this is huge for me in a family with nut allergies, they do not contain nuts nor are they made in a facility with nuts. That is, as of the last package I reviewed. As with any allergy I always advise to continuously check your food products because companies do change how things are made.
The only downside I can find with them is that they contain inulin, which is from chicory root fiber. I tend to have a very sensitive stomach, and if I eat anything with a lot of chicory root fiber it can cause some stomach discomfort. Some people have no issues from it and champion it as a health food.
TO MAKE KETO CHOCOLATE CHIP MUFFINS YOU'LL NEED: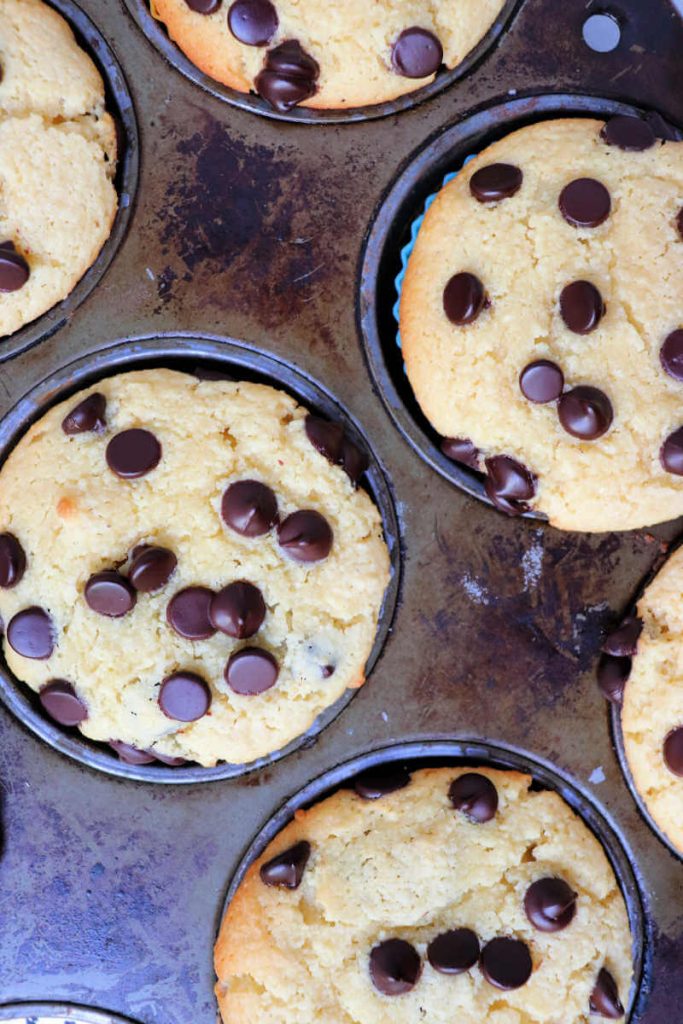 How to make keto chocolate chip muffins
To begin, as usual, get out all the ingredients and kitchen utensils so they're close at hand.
First, preheat the oven to 325 degrees Fahrenheit and line a muffin tin with 12 silicone baking cups or other liners.
Second, put the cream cheese, eggs, and vanilla into a blender and blend it all on high speed for 30-40 seconds, or until well combined.
OR if you prefer to use a mixer, just be sure all your ingredients are room temperature or slightly warmer. If they are cold, it makes it harder to blend together without any lumps from the cream cheese.
Set that aside for the moment.
Combine the dry ingredients
Then, in a large bowl, measure in the almond and coconut flours, baking powder, salt, and sweetener. Now whisk it together evenly.
After that, pour the wet mixture into the dry ingredients and mix it all up with a spatula or mixer.
Next, add in the almond milk slowly and combine it with the muffin batter until it's similar to a thick cake batter. The amount of almond milk will depend on the type of almond flour used, how finely it's ground, etc.
Now, mix in half a cup of sugar-free chocolate chips so they are well-dispersed in the batter. Then it's time to fill the twelve muffin cups. Put enough batter in them to be about 3/4 of the way full, or until it's all evenly distributed.
If you like, sprinkle extra chocolate chips on top of the muffins. It makes them look nicer and more tempting. Also, it gives you an extra bit of chocolate on top. Yum!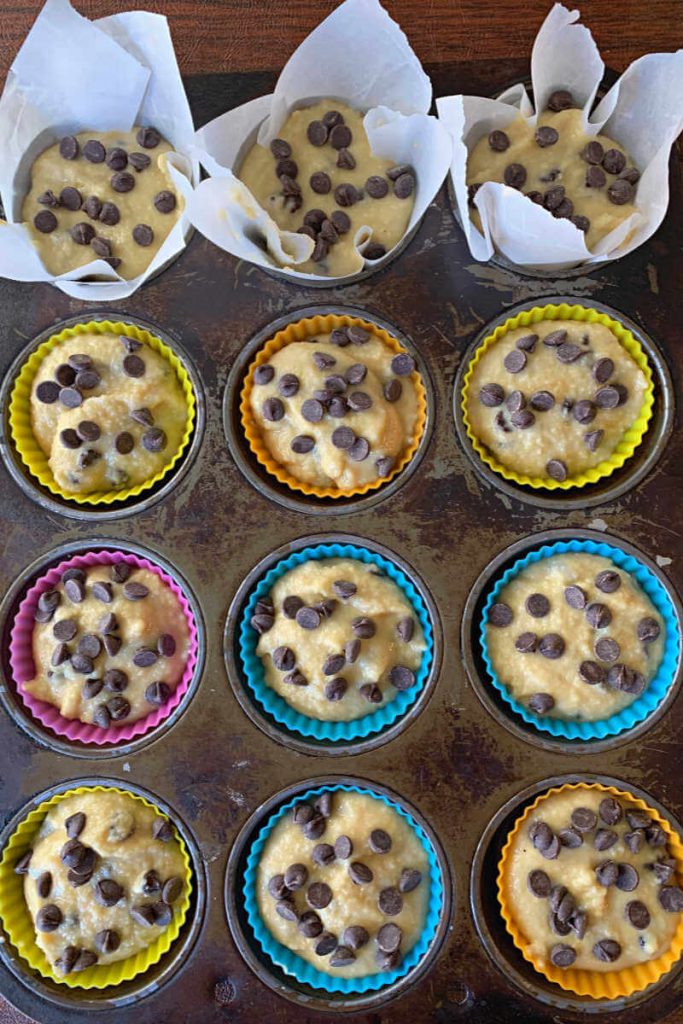 Nearly done! Put the pan in the oven and bake at 325 degrees Fahrenheit for 25 minutes or until a toothpick comes out clean. Then take them out and let them cool at least 15 to 20 minutes before attempting to remove from the pan.
Cut one in half and enjoy with a pat of melting butter in the middle!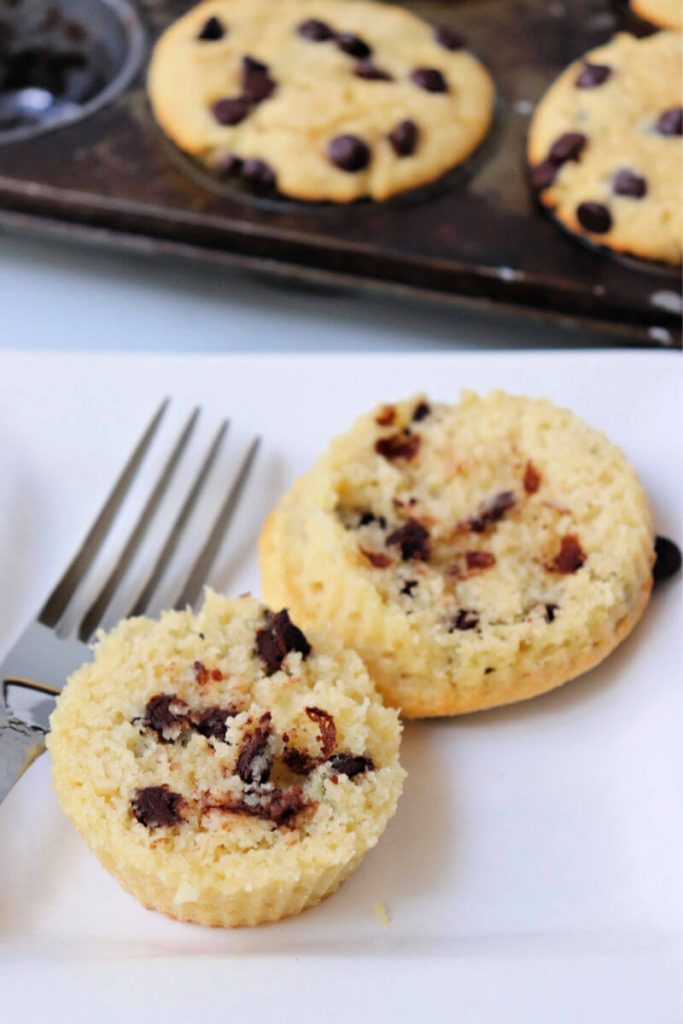 How to store keto chocolate chip muffins
If not all the muffins are eaten right away, I prefer to keep them in the refrigerator or freezer.
They will keep in an airtight container or zipper bag for up to a week in the fridge. Or, they'll be good for about a month in the freezer, which I do most often because I can then get one out when I need one.
You can let the muffin sit out awhile to thaw or if you're in a hurry use the microwave. I usually warm it 30 seconds on high upside down, then flip it and warm for another 30 seconds.
Chocolate is the first luxury. It has so many things wrapped in it: deliciousness in the moment, childhood memories, and that grin-inducing feeling of getting a reward for being good.

– Mariska Hargitay
What is keto breakfast?
When do you break your fast?
What I call breakfast is not always the same as the rest of the world. Lol. I call the first thing I eat each day my breakfast. And, most days I don't break my fast until noon or after.
When I'm doing well and what I define as "strict keto" for myself, I'm not hungry until then so I don't eat. When I'm on the go, a smoothie or a muffin is the perfect way to break my fast.
What are your favorite breakfasts? I hope you try out this fabulous keto chocolate chip muffin recipe! It's a family favorite around our house.
Pin the recipe here: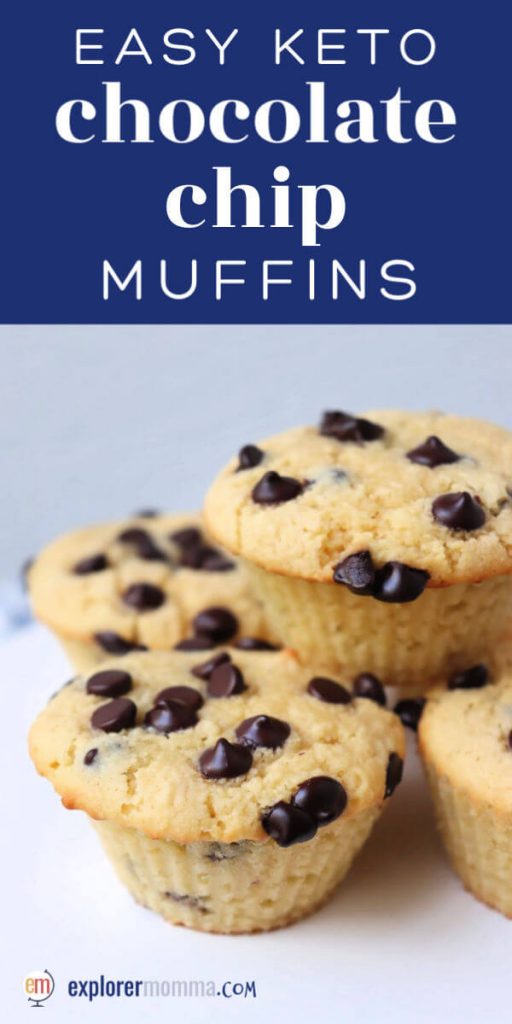 Tag me in your recipe pics on Instagram @explorermomma.
If you LOVE this recipe please consider giving it a five-star rating in the review area below!
More keto muffin recipes:
Printable Recipe
Keto Chocolate Chip Muffins
These are the best gluten-free keto chocolate chip muffins made with almond and coconut flours. Delicious inside and out with sugar-free chocolate chips.
Ingredients
4 oz cream cheese
4 eggs
1/2 tsp vanilla
2 cups finely ground almond flour
1/4 cup coconut flour
2 tsp baking powder
1/4 tsp sea salt
1/4 cup unsweetened almond milk
Instructions
Take out a muffin tin and line it with 12 silicone baking cups or other liners. Preheat the oven 325 degrees Fahrenheit.
Place the cream cheese, eggs, and vanilla in a blender and blend on high speed for 30-40 seconds or until well combined. OR mix together in a standing mixer.
In a large bowl, place the almond and coconut flours, baking powder, salt, and sweetener and whisk together evenly.
Pour the wet mixture into the dry ingredients and mix together with a spatula or mixer.
Add in the almond milk slowly and combine with the muffin batter until it's similar to a thick cake batter. The amount of almond milk will depend on the type of almond flour used.
Mix in half a cup of sugar-free chocolate chips so they are well-dispersed.
Fill the twelve muffin cups about 3/4 of the way full until the batter is evenly distributed.
Sprinkle extra chocolate chips on top of the muffins. (optional)
Bake at 325 degrees Fahrenheit for 25 minutes or until a toothpick comes out clean.
Notes
Nutrition Facts
Servings 12.0 Amount Per Serving 1 muffin Calories 145 Total Fat 12 g Saturated Fat 3 g Monounsaturated Fat 0 g Polyunsaturated Fat 0 g Trans Fat 0 g Cholesterol 72 mg Sodium 175 mg Potassium 27 mg Total Carbohydrate 5 g Dietary Fiber 3 g Sugars 2 g Protein 6 g Net Carbohydrate 2 g
*Nutrition Facts per MyFitnessPal.com. For most accurate facts, calculate your own with the exact ingredients you use in the recipe.
Nutrition Information:
Serving Size:

1 muffin
Amount Per Serving:
Calories:

145
*Nutrition facts are calculated without the chocolate chips as different brands vary so much. Add in the facts for the chocolate you use.
Nutrition Disclaimer
Please be aware I am not a medical specialist or nutritional professional. On this blog, I share recipes and what works for me. Please do not take anything on this blog as medical advice and always consult with your doctor before starting any diet or exercise program.
I use MyFitnessPal.com to calculate nutrition facts as a courtesy to my readers, and I remove erythritol from the final carb count and net carb count because does not affect my own blood glucose levels.
This is as accurate as possible, but it's best to independently calculate nutritional information on your own with the specific ingredients you use. I expressly disclaim any and all liability of any kind with respect to any act or omission wholly or in part in reliance on anything contained in this website.