This week I reflected back on 2017 and took the time to indulge in thinking about my favorite things from the year. It's been a great year, and I've been super-involved in my kids' lives, but sometimes it's good to think about yourself too. While it may appear I should be a little old lady in a cottage in England, these are some of my favorites and what I consider my best of 2017.
This page contains affiliate links.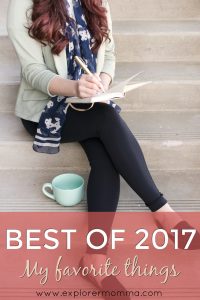 Best of 2017: Food
My Favorite Recipe
Low Carb Chocolate Peanut Butter Cups
This is my most-used recipe this year, and it has gotten me through a lot! In case you didn't know, I started following a keto diet/lifestyle this fall, and it has been amazing! However, I have a gigantic sweet tooth, which was a huge part of my problem and one of the main reasons for going keto. As a matter of fact, I've dropped the sugar but kept some of the sweet with this awesome recipe. Because who doesn't like peanut butter cups?! I can't recommend the blog All Day I Dream About Food enough. Truly, I've made a ton of the recipes on the blog and loved every single one of them. For example, the Low Carb Gluten-Free Brownie Cheesecake was an especially huge hit with the family.
My Favorite Food Box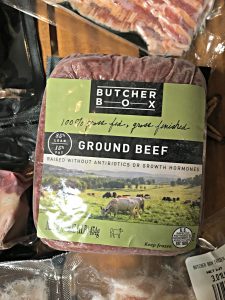 ButcherBox is an awesome mail order food box. It comes once a month (or less depending on what you select) frozen in dry ice, with great quality meats. Already, I've ordered the grass-fed beef, free-range organic chicken, heritage breed pork and loved the selections sent. My husband especially thought the rib-eye steak was amazing. You can read my blog post about it, and see my unboxing video, here.
Also, if you'd like to try ordering your own box you can use my affiliate link here to get $20 off and free bacon in your first box.
Best of 2017:
Travel
My Favorite Trips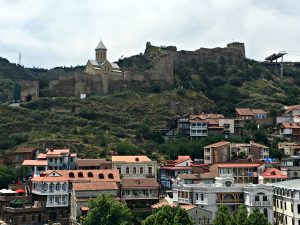 Tbilisi, Georgia
This summer we took the kids to the former Soviet Republic of Georgia south of Russia on the Black Sea. My husband's family lives there so it was an amazing opportunity to visit family, expose the kids to a different language and culture, and visit new places. We visited the Black Sea city of Batumi, family cities and villages in between, but for the kids, the capital of Tbilisi was a truly amazing experience. Read about Batumi here, doors and windows of Tbilisi here, and traditional Georgian bread making here.

Ruidoso, New Mexico
One of our favorite family destinations in summer is Ruidoso, New Mexico. Because we live in Northern Colorado we love our Colorado mountains, but traveling south to New Mexico is an entirely different mountain experience. It's awesome to see the terrain change, the earth colors change from tans, to reds and browns, and explore a new area of the country. Ruidoso is up in the mountains and a fun place to get a cabin and hang out with family.
Look for the Top 10 things to do with kids in Ruidoso coming soon!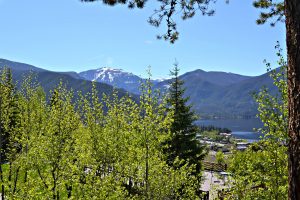 Grand Lake, Colorado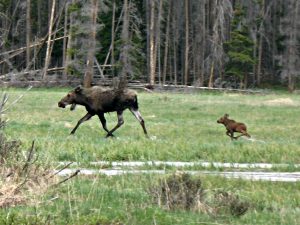 One of my favorite places on this earth is Grand Lake, Colorado. It's the perfect place for families to enjoy the ideal Colorado mountain, hiking, fishing, etc. experience right on the lake. We usually stay at one of the cabins at Lemmon Lodge right on one of the beaches of Grand Lake. There's a play area, the perfect fishing spot where the river enters the lake, and even a campfire spot for making s'mores.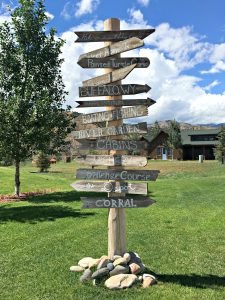 Roundup River Ranch
This year we had the most amazing experience to be a part of Roundup River Ranch near Gypsum, Colorado. Roundup River Ranch is a camp is for kids with chronic illnesses who otherwise would never be able to experience a true traditional summer camp. Doctors and nurses provide support along with many other amazing volunteers to make these kids feel like a "regular" kid, forget about their troubles for a week, and enjoy camp with their friends. I won't go into detail, but my daughter was able to attend and had the most awesome time. These people and this place bring joy to others, and if you are looking for a cause to support this might possibly be the one. Check out the Roundup River Ranch website.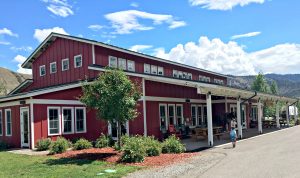 Best of 2017:
Learning
My Favorite Books
The book is set during World War II and told by the viewpoints of various members of a Polish Jewish family. It's based on a true story making all the more amazing and a true picture into some of the horrors of our history yet the powerful love and strength of family. Read my review about it here or check it on Amazon here.
Arcanum Unbounded comes as a book of short fiction in his Cosmere world by acclaimed author Brandon Sanderson. For me, the best part was the novella "The Eleventh Metal", a part of the Mistborn Saga. If you've read the Mistborn Saga and then read "The Eleventh Metal", a whole new dimension is opened up. Amazingly, an entirely new story revolving around Kelsior is presented. Moreover, this story took place at the same time as the trilogy, yet you were unaware of it when first reading. It is mind-boggling and completely awesome the way Mr. Sanderson wove something he knew was there all the time but didn't choose to tell his readers (except for clues here and there) until this novella. Loved it. See it on Amazon here.

A Gentleman In Moscow
I loved the history and characters involved in this book and how everything plays together until an ending I was not at all expecting. Great writing. See my review here or find it on Amazon here.
The Bess Crawford series by Charles Todd has been my go-to series this year for familiar characters and an engrossing mystery. Set in World War I, Bess Crawford is a British army nurse in France tending to the wounded and dying. In A Duty to the Dead, she's injured when her ship is sunk crossing the Channel, and she must return to England to convalesce. Ultimately, I've enjoyed all the books I've read in this series. They're sometimes a bit unbelievable, sometimes predictable, but always a great cozy mystery and a page-turner. Moreover, the characters you grow to love and see as a family in their world. Read more about it on Amazon here.
My Favorite Podcasts
Writing Excuses
Writing Excuses is like a class in writing genre fiction, hosted by Brandon Sanderson, Mary Robinette Kowal, Howard Tayler, and Dan Wells. It's a great motivational podcast for any aspiring or even published writers. Topics include world building, character development, character voice in the first person, switching genres, and so much more. Every season, different hosts pop in with their own expertise as well. http://www.writingexcuses.com/
"Kate Ahl is the owner and founder of Simple Pin Media, a Pinterest management company that specializes in managing Pinterest pages for businesses and bloggers. She is passionate about teaching simple, actionable Pinterest marketing strategies to help business owners and bloggers boost their business using Pinterest without wasting their time. In her podcast, The Simple Pin Podcast, she interviews people who are using Pinterest in creative ways to drive traffic to their website and increase revenue. She's on a mission to rid the world of Pinterest myths, crazy hacks to 'game' the system and rabbit trails that waste valuable business-building time. She wants to give her audience solid Pinterest Marketing advice using data-driven results. Keep it simple, be authentic, and pin with purpose." Check it out on iTunes here.
In college, I majored in History, French, and International Studies. I admit to being a complete history geek, and I LOVE this podcast. Hardcore History is just that, and I've listened to several of the series. Right now I've gone back to an older one and am listening to "Blueprint for Armageddon", a series of episodes on World War I. Each podcast, or episode, is about four hours long brought to you by Dan Carlin, who sounds like a super-excited history professor, although he claims not to be a formal historian. His voice is great for the topics, he pulls references and drama from everywhere and just creates a fascinating study of history. History buffs, don't miss this one! Click here for Hardcore History.
Best of 2017:
Fun
My Favorite TV Shows
First of all, to be honest, I don't watch a lot of TV except for a daily dose of Wild Kratts (highly recommended) with the 5-year-old. What I do watch is on Amazon Prime or Netflix, and these are some of the favorites discovered this past year.
"Dr. Lucien Blake left Ballarat (Australia) as a young man. But now he finds himself returning, to take over not only his dead father's medical practice but also his on-call role as the town's police surgeon."
This is a fun mystery series with great characters, acting, and Australian point of view. The series becomes addictive after the first few, and I'm eagerly waiting for seasons 4 and 5 to come to Netflix.
Click here to see it on Amazon.
"Eight puzzling murder cases keep good-natured Detective Inspector Jimmy Perez busy – and keep you guessing – in the breathtakingly beautiful Shetland Islands. As Perez and the viewer quickly come to realize, not all is what it seems in this close-knit island community. Based on the best-selling Shetland novels by author Ann Cleeves (Vera)."
Click here to see it on Amazon.
"Ireland natives face emotional and physical turmoil as they decide to take up arms against the British."
This was an intriguing version of the 1916 Easter Uprising with strong female points of view and great acting.
Click here to see it on Amazon.
"From the creator of Downton Abbey. Dr. Thorne lives a quiet life with niece Mary in Greshambury, home of the wealthy Gresham family. Unbeknownst to others, the Greshams have lost their fortune and matriarch Lady Arabella has a scheme to regain it via an arranged marriage with her son and an American heiress. However, her son plans to elope with Mary, which complicates Lady Arabella's plans."
This was a fun series for those who love British period drama. While it was not Downton Abbey, it was well-acted with beautiful scenes of the big British houses and countryside. I enjoyed it very much.
Click here to see it on Amazon.
This is one of those shows that's just relaxing to me. Even though I've pretty much gone gluten-free, I've always been a huge baker and love to see these traditional European recipes. The British just do everything better, don't they? 😉
Click here to see it on Amazon.
Read about all my Irish favorites. What do you love about Ireland?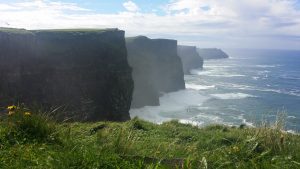 Your Best of 2017
Do you love British drama? Where did you travel in 2017? Or maybe what was your favorite recipe? Take a second and let me know if you've liked my favorites or give me some ideas for 2018. What were your favorites? Write them out in the comments below!
Here's to a great year!