When it comes to chaffle recipes, these chocolate peanut butter chaffles are my Saturday morning treats! A low carb, gluten-free waffle topped with whipped cream, sugar-free chocolate chips, and peanuts. Divine.
What are your favorite flavor combinations?
If you've seen very many of my recipes, you'll probably already know one of mine. Yes, the marriage of chocolate and peanut butter in low carb peanut butter brownies, keto peanut butter pie, and more makes my taste buds quite happy.
Therefore, it's not surprising to find out the flavors I almost immediately tried to incorporate into chaffles. Of course you've guessed it by the title of this blog post. Chocolate peanut butter chaffles!
This post may include Amazon links. As an Amazon Associate I earn from qualifying purchases.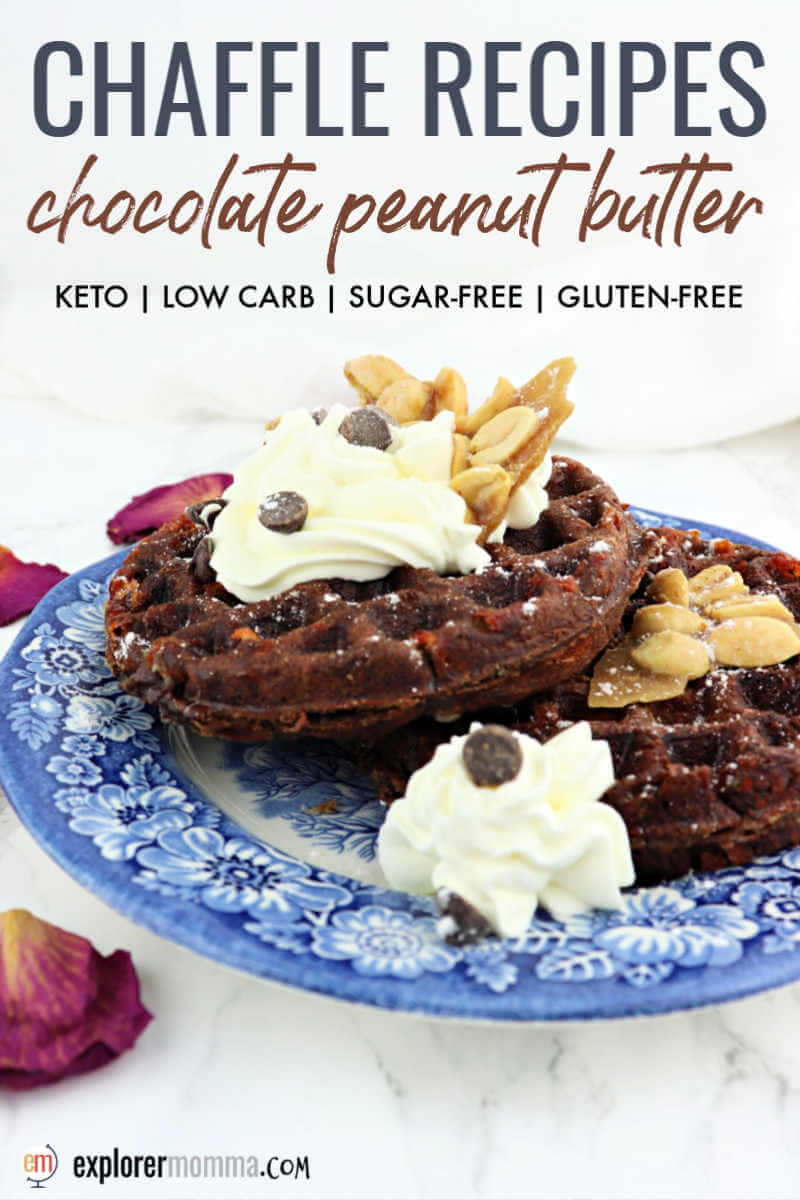 In a hurry?
While I think you'll love my super helpful tips and fun stories, I also realize we are sometimes pressed for time and just need a good recipe!
Scroll down to the bottom of the page for the printable recipe to make it NOW or PIN it here for later! Add it to your meal plan!
The 12-step chocolate program: NEVER BE MORE THAN 12 STEPS AWAY FROM CHOCOLATE!

– Terry Moore
What is a chaffle?
If you look at my other chaffle recipes, you'll know this already. However, just let me tell you, I LOVE chaffles in all sorts of flavors. I'm constantly trying new combinations.
What, you may ask, is the fascination with chaffles?
For me, it's pretty basic.
One, they are super-easy to make with few ingredients. Two, they're perfect to make for meal-prepping and to freeze. Three, they taste amazing and are completely satisfying. Four, the crunch…I could go on!
So back to it. What is a chaffle? It's easy to answer. A chaffle is a gluten-free cheese waffle.
Cheese + waffle = chaffle!
Chaffles are usually made with egg and cheese with assorted other ingredients. Initially I had my doubts, but with one try I was easily won over!
Truly, there are endless possibilities.
The Basic Chaffle Recipe
This is still my go-to basic recipe before adding flavors, and it's super-simple:
1 egg
1/2 cup shredded cheddar cheese
What?! Yes, two ingredients. Mind blown.
Personally, I like the simple recipe. However, once you start it's easy to think what it would taste like with a different cheese. Maybe you could add a fruit, spices, or chocolate?!
As far as chaffle recipes go, I've shared the keto blueberry chaffle (yum!) and the garlic parmesan chaffle I often use as sandwich bread. Today, as you know, we're introducing…the chocolate peanut butter chaffle!
🍽 Equipment
To make chaffle recipes you'll need: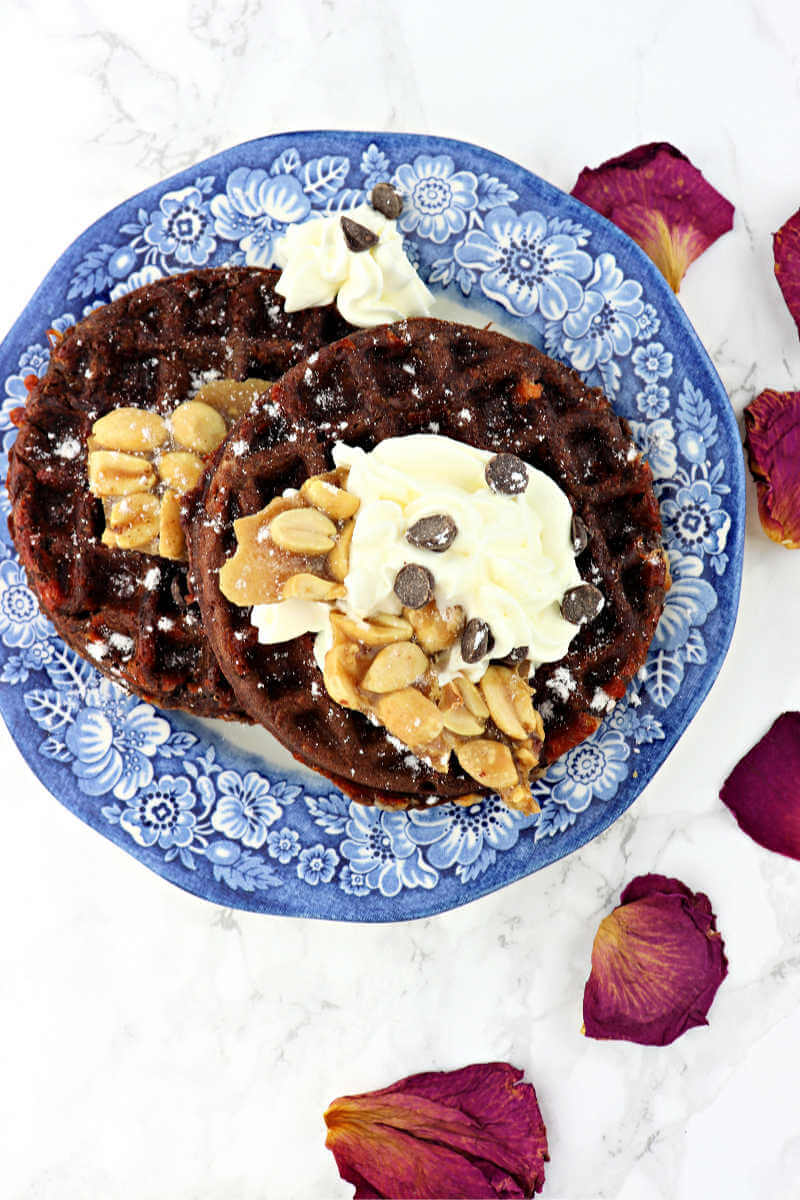 The Mini Waffle Maker, or Chaffle Maker
For my chaffle recipes I like to use a mini waffle maker like this one here:
You can get it in several different colors if you like, or even a heart shape!
However, you can also use a larger traditional waffle maker. In that case you would just have to watch your portion sizes, but it works.
Chocolate peanut butter chaffle pancakes
No waffle maker? No problem!
If it so happens you don't have a waffle maker at all, you can make any of my chaffle recipes as pancakes.
Use half the recipe per pancake and spread the mixture out thinly on a medium-high preheated pan sprayed with coconut oil.
Cook it for 2 minutes. Next, flip the pancake and cook about 2 more minutes on the other side. Nice and easy!
If it's not chocolate, it's not breakfast.

– Laini Taylor, Daughter of Smoke and Bone
🔪 Instructions
How to make chaffle recipes: Chocolate Peanut Butter
Chaffles are a fabulous easy breakfast or meal. I love them for a keto diet because they're not complicated, nor do they take a lot of time to make. So let's get started!
First, get out the waffle maker, coconut oil spray, and all the other ingredients.
Why grate your own cheese?
I start chocolate peanut butter chaffles by shredding a half cup from a block of mozzarella cheese. The smaller the shreds, the better they will integrate into the batter.
"What? I thought you said this was quick and easy!"
Yes, I can hear your thoughts now. However, it takes a minute at most to finely grate a half a cup of cheese.
Actually, did you know when you buy already shredded cheese there are added ingredients simply to prevent the shreds from sticking together, caking, and molding?
Look at the ingredients on the back of a bag of shredded cheese, and you'll find things like potato starch, corn starch, dextrose, calcium sulfate, and natamycin.
Do you want to eat these ingredients and add carbs to your recipe?
I certainly don't and don't want my children to so the fresher the better!
Take an extra minute to grate your cheese, and you'll feel better about it.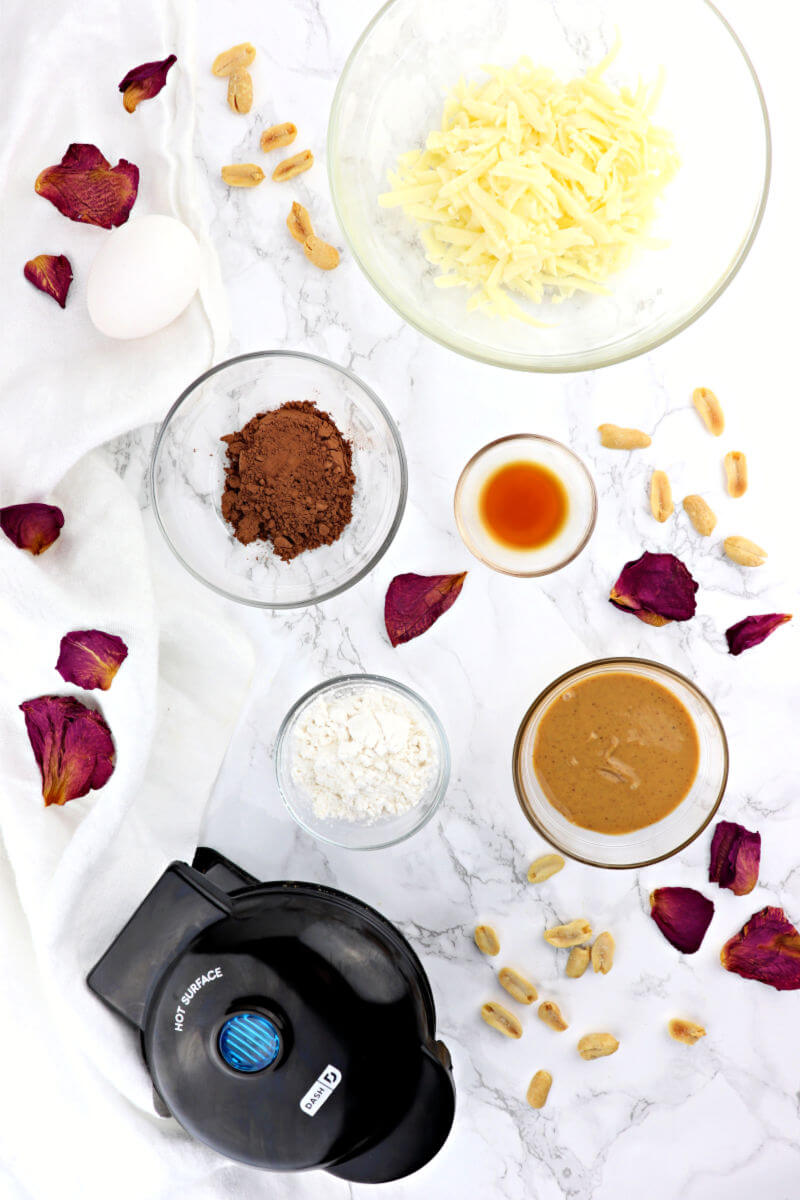 How to make the batter for chaffle recipes: sweet chocolate peanut butter
First, take out a medium-sized mixing bowl. Use a half cup measuring cup and put in the mozzarella cheese.
Then add the egg, vanilla, peanut butter, cocoa powder, and sweetener.
Now, take a spatula and stir to combine all the ingredients evenly and remove the mixture from the sides of the bowl.
Next, it's time to add in the crushed peanuts (if you're using them), and mix well.
Set the mixture aside and heat the mini waffle maker. Lightly spray the waffle maker with coconut oil. This will prevent the chaffle from sticking, but if you put to much you'll have it forever draining out the sides of the waffle maker.
Don't worry, you'll soon find a balance. I only spray it for the first chaffle I'm making.
Then pour half of the waffle batter into the waffle maker and close the lid to cook. Cook it for 4 minutes, and don't be tempted to check it beforehand! Let it cook in the waffle maker for 4 minutes.
When it's ready, carefully remove the waffle maker to a plate. I use a fork to pull it out.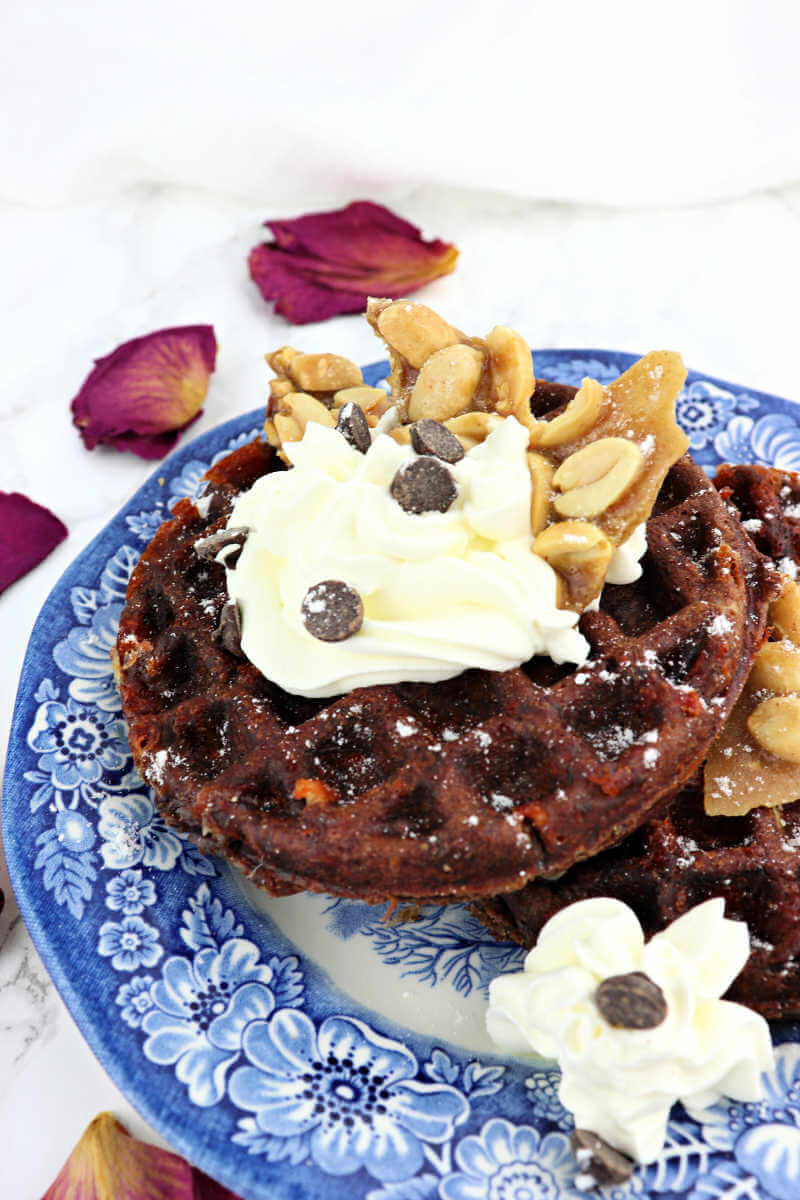 Mozzarella cheese is more difficult to work with than cheddar because cheddar crisps up more, while mozzarella is soft. Therefore, carefully set the chaffle on a plate for a minute or two to cool before adding toppings or fillings.
With chaffle recipes, there are so many options when it comes to topping them.
For a sweet chaffle like the chocolate peanut butter, top with fresh whipped cream. Then I like to sprinkle on some sugar-free chocolate chips and peanuts.
In the pictures you'll notice I even used some keto peanut brittle, which is pretty spectacular in itself.
Or, you can use two chaffles as sweet keto sandwich bread and fill it with a keto cream cheese frosting like that in my keto chocolate sandwich cookies!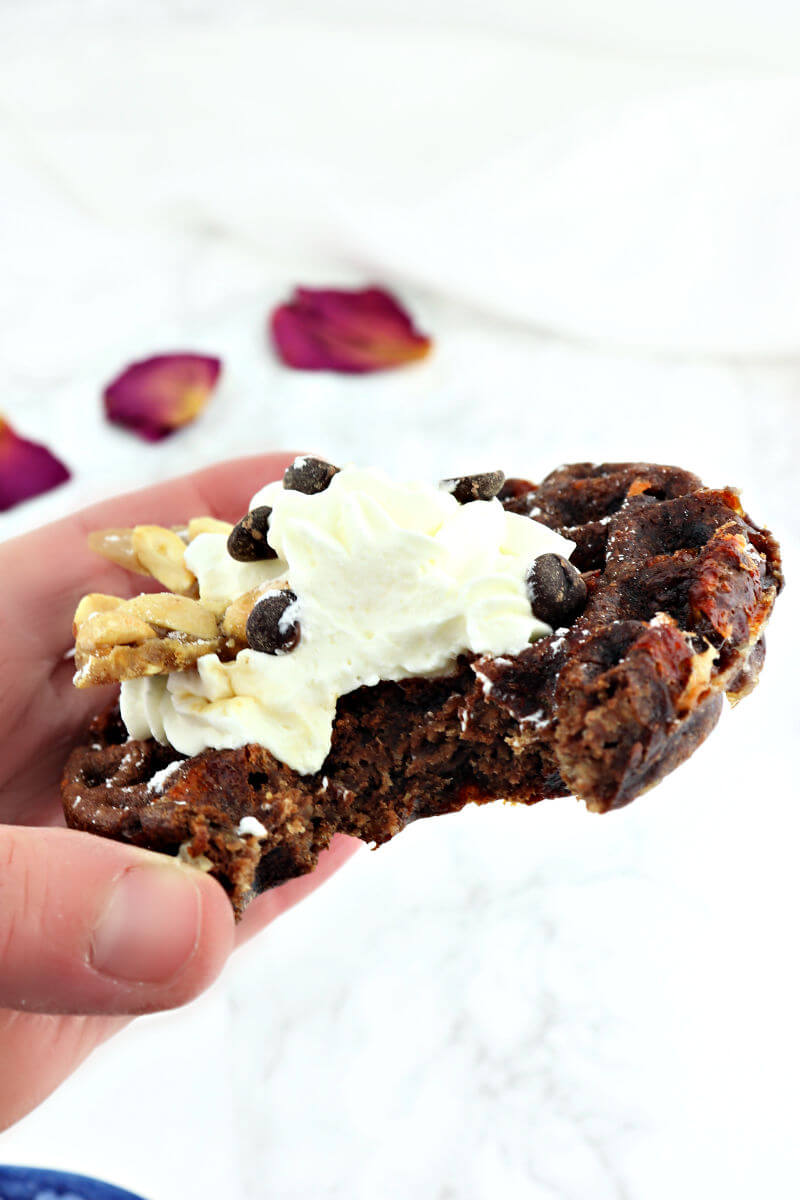 🥣 Chaffle recipes: storage
Chaffles will keep in the fridge for up to about a week. If you'd like to make a bunch and freeze them for even easier meals, they'll keep in an airtight container about a month.
Did you eat freezer waffles as a kid? I certainly did! Make a big batch and keep these in the freezer to pull out and drop in the toaster for your morning waffle.
It can't get much quicker than that!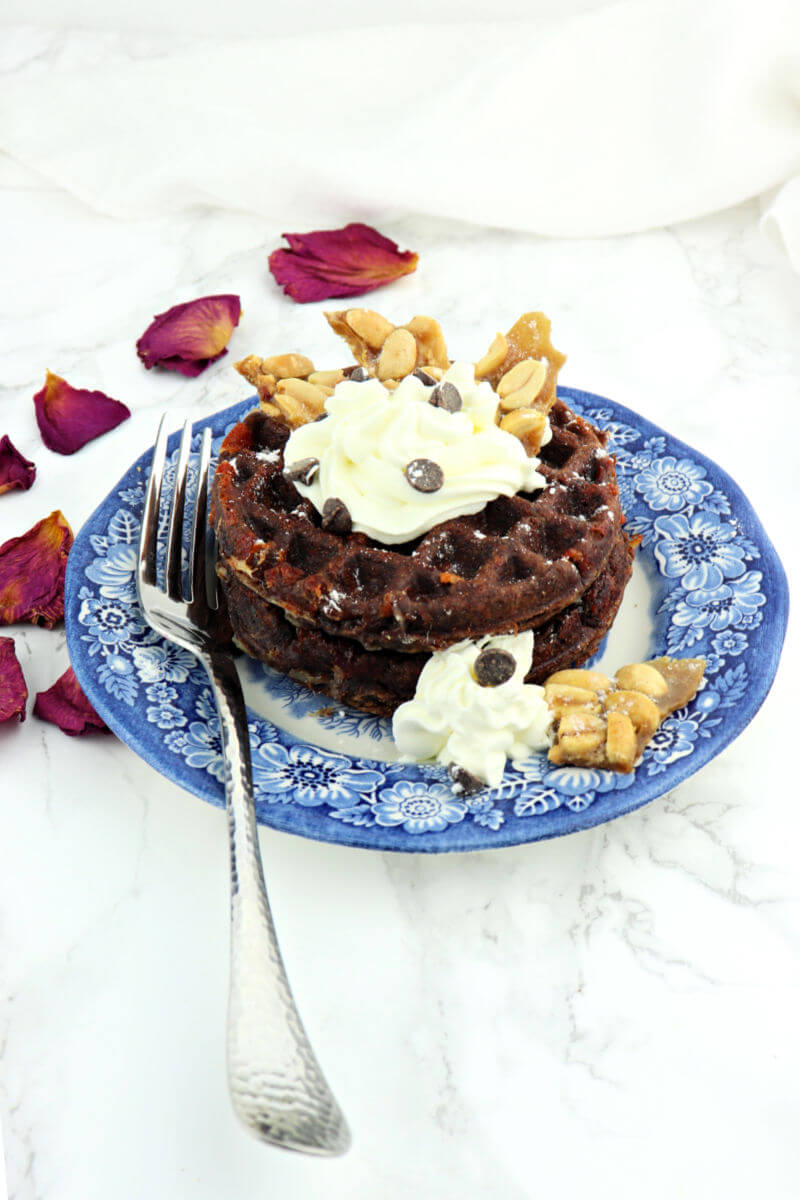 Easy keto breakfast recipes
I am all about anything easy when it comes to a keto diet. There are days I can spend a ton of time baking and creating. However, more often than that there are the times when I just need a recipe for a quick meal before running off to the child's basketball game.
Why not make it delicious and beautiful at the same time? Just because it's quick and easy doesn't mean it can't be pleasing also. Make it quick, but take the time to enjoy your food.
I certainly enjoy chocolate peanut butter chaffles. And I hope you do too.
Happy chaffle making!
Pin the recipe here: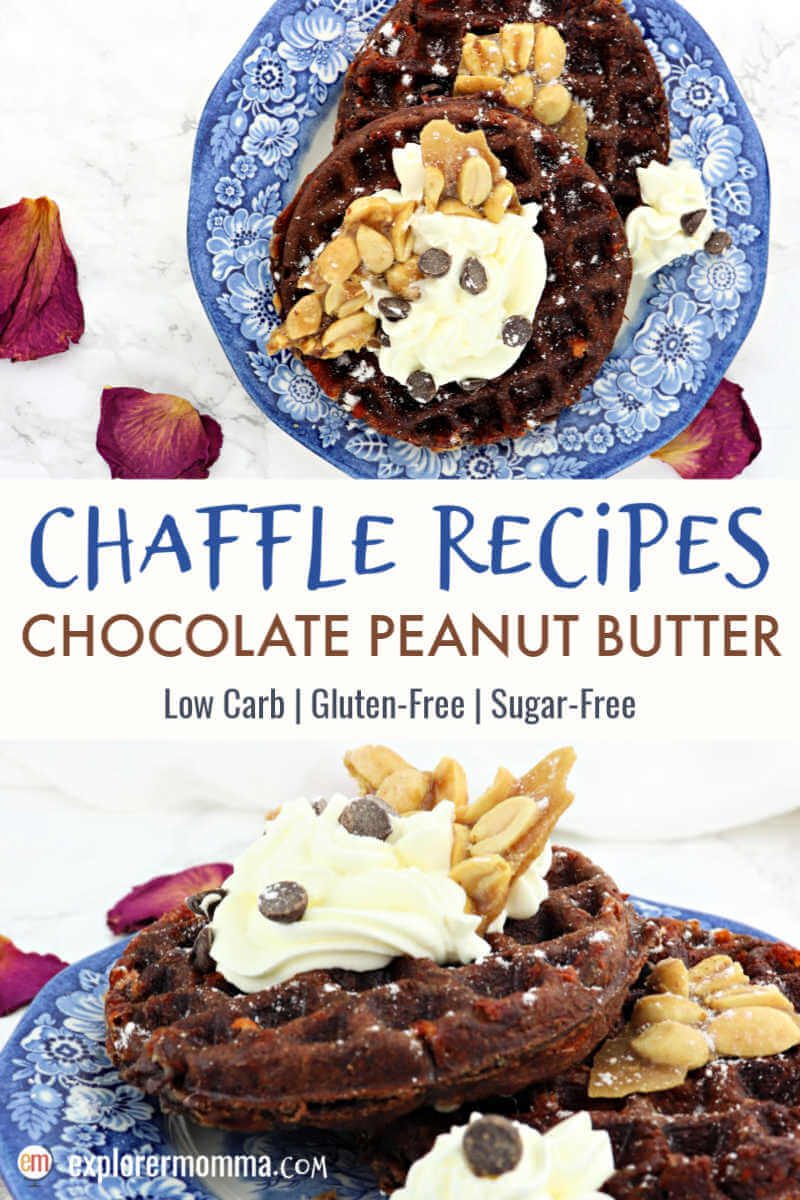 Tag me in your recipe pics on Instagram @explorermomma.
If you LOVE this recipe please consider giving it a five-star rating in the review area below!
📋 More keto chaffle recipes
more coming soon!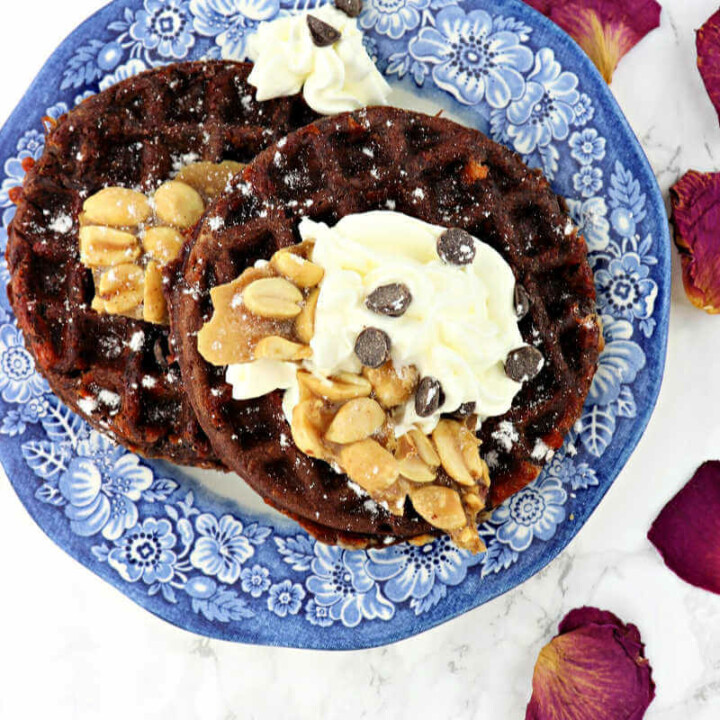 Chaffle Recipes: Chocolate Peanut Butter
Easy and delicious chaffle recipes! A twist on the favorite with low carb chocolate and peanut butter in a fabulous cheese waffle.
Ingredients
½ cup mozzarella cheese (shredded)
1 tbsp cocoa powder
2 tbsp powdered sweetener, e.g. Swerve Confectioner's
2 tbsp peanut butter (sugar-free)
½ tsp vanilla
1 egg
2 tbsp crushed peanuts (optional)
2 tbsp whipped cream (optional for topping)
Instructions
Place the shredded mozzarella, egg, vanilla, peanut butter, cocoa powder, and sweetener in a bowl.
Mix everything together with a whisk or spatula until all is fully incorporated.
Add in the crushed peanuts (if using), and mix well.
Heat the mini waffle maker. Spray with coconut oil. Pour half of the batter into the waffle maker and close the lid to cook. Cook for 4 minutes then carefully remove to a plate.
Top with fresh whipped cream and extra peanuts and sugar-free chocolate chips, or your favorite keto syrup.
Notes
Nutrition Facts
Servings 2.0 Amount Per ServingCalories 236 Total Fat 17 g Saturated Fat 5 g Monounsaturated Fat 4 g Polyunsaturated Fat 2 g Trans Fat 0 g Cholesterol 113 mg Sodium 246 mg Potassium 77 mg Total Carbohydrate 6 g Dietary Fiber 3 g Sugars 1 g Protein 15 g Net Carbohydrate 3 g
Nutrition Information:
Yield:

2
Amount Per Serving:
Calories:

236
Unsaturated Fat:

0g
*Nutrition Facts per MyFitnessPal.com. For the most accurate facts, calculate your own with the exact ingredients you use in the recipe.
NUTRITION DISCLAIMER
Please be aware I am not a medical specialist or nutritional professional. On this blog, I share recipes and what works for me. Please do not take anything on this blog as medical advice and always consult with your doctor before starting any diet or exercise program.
I use
Myfitnesspal.com
to calculate nutrition facts as a courtesy to my readers, and I remove erythritol from the final carb count and net carb count because it does not affect my own blood glucose levels.
This is as accurate as possible, but it's best to independently calculate nutritional information on your own with the specific ingredients you use.