Quick and easy keto strawberry jam is bursting with flavor! Sugar-free jam is perfect on your favorite low carb bread or in any recipe that calls for jam. Thickened with ground chia seeds, it's kid-approved, smooth, and delicious!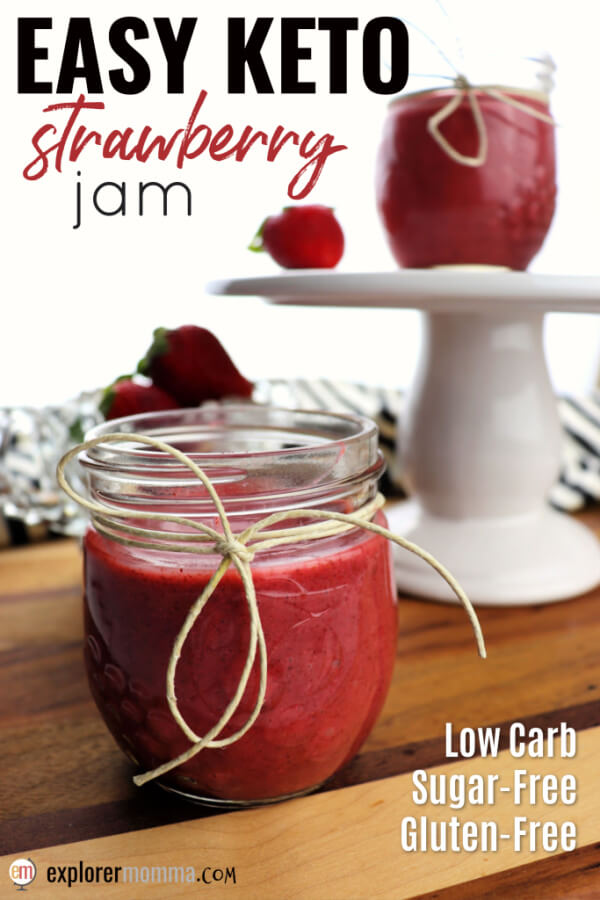 This post may include Amazon links. As an Amazon Associate, I earn from qualifying purchases.
It's March and for me, that means I'm getting tired of the snow and freezing temperatures and ready for spring! What about you? I've found lately I've been wanting to make refreshing salads and summer flavors. Perhaps that's because deep down I think if I encourage spring and summer enough it will come.
You know, if you build it? Let's make that "if you make it, spring will come". Or maybe we just need a good spring dance like on my kids' cartoon show. I digress…
Actually, I've been wanting to make all these desserts lately that include jam. Therefore, it came about naturally I would need to start out with a good keto strawberry jam recipe.
It goes without saying it should be super-simple and quick to put together.
After that, I could delve into the Swiss rolls, thumbprint cookies, and trifles I have on my mind!
So let's start with the basics. Easy-peasy Keto Strawberry Jam.
Scroll down to the bottom for the printable recipe or PIN it here for later!
"The rule is, jam tomorrow and jam yesterday – but never today."
"It must come sometimes to 'jam today'," Alice objected.
"No it can't," said the Queen. "It's jam every other day: today isn't any other day, you know."

– Lewis Carroll, Alice's Adventures in Wonderland and Through the Looking Glass
🍓 Are strawberries keto?
Have you been told no fruit on a keto diet? Well, that's true to an extent. However, strawberries and some other berries are perfectly fine to eat in the keto way of eating.
Strawberries, raspberries, blackberries, and blueberries are low sugar when it comes to fruit. They're low carb, and when eaten in moderation can be a flavorful addition to your diet.
Moreover, they're even better when you can get fresh ones from your garden or farmer's market in summer!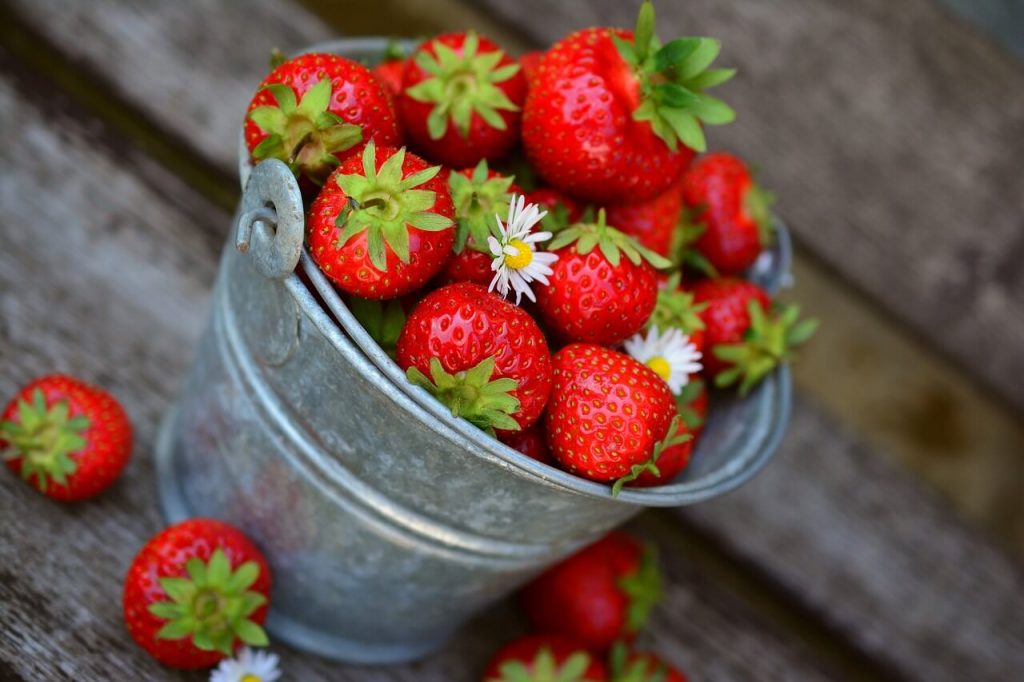 Always buy organic strawberries
The Environmental Working Group, or EWG, has some great recommendations for avoiding pesticides in your food. They state the average person eats about 8 pounds of fresh strawberries a year. In order to avoid the pesticides actually banned in Europe and dangerous to you and your family, buy ORGANIC strawberries.
Or even better, raise your own strawberries or buy locally where you know exactly what's gone into their raising. Ideally, I would also plan a trip to Alaska to find a wild strawberry patch. Or blueberry patch. Maybe spot some bears and moose.
🍽 Equipment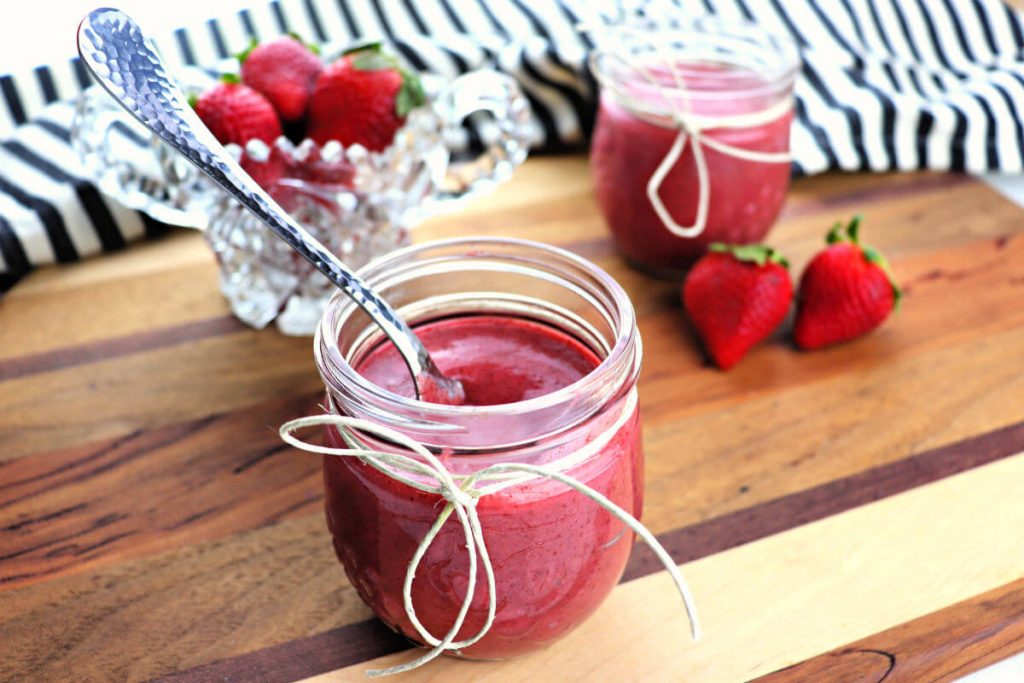 🥘 Ingredients in low carb strawberry jam
Strawberries
Chia seeds
Powdered sweetener
Lemon juice
🔪 Instructions
This recipe is so simple and easy it barely takes any time at all. Especially in winter, I make it even easier by buying a 16-ounce bag of frozen organic strawberries. Simply put it in the refrigerator to thaw and use when ready to make jam.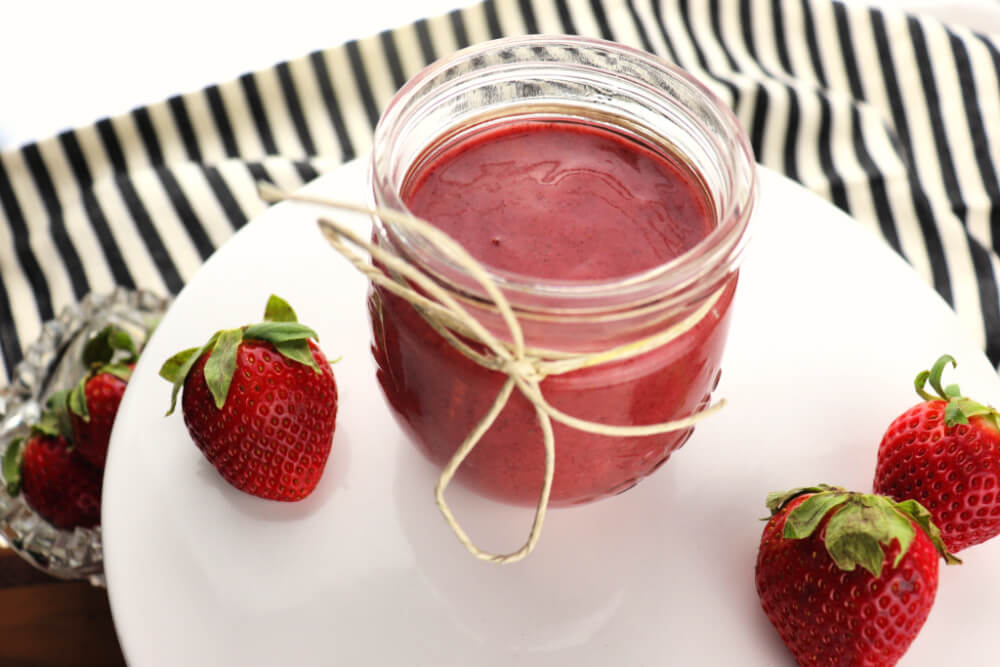 To begin, place a medium saucepan on the stove. Put in the entire bag of strawberries and any liquid if using frozen. However, if you're using fresh strawberries add in 4 tablespoons of water to help break up the berries.
First then, turn on the stove to a medium temperature and heat as you smash the strawberries down. I like to use a heat-resistant potato masher like this one. It makes the job pretty quick.
Next, whisk in the sweetener and lemon juice and simmer together all the goodness for 5 minutes or so. The lemon juice is to give the jam a little tang and help retain the beautiful red color. You can always leave it out if you don't have any, but I think it's worth it to use the lemon.
Now, remove the mixture from the heat and add the ground chia seeds.
What are chia seeds?
Good question! I've been using chia seeds for years in smoothies and as thickeners. Did you know you can make a vegan chia "egg" with one tablespoon of ground chia seeds and 3 tablespoons water? It's a great substitute, especially when you have a vegan in the household.
Probably the first I head of the chia seed was the old commercial for Chia Pets (cha, cha, cha, chia!). In fact, I have a Bob Ross Chia Pet actually sitting in the corner of my closet someone thought would be a fabulous Christmas present for me. I should break that thing out and watch the hair grow!
Chia seeds are small black seeds related to mint. They were recognized for their health properties by the ancient Aztecs and Mayans. In fact, "chia" is the ancient Mayan word for "strength."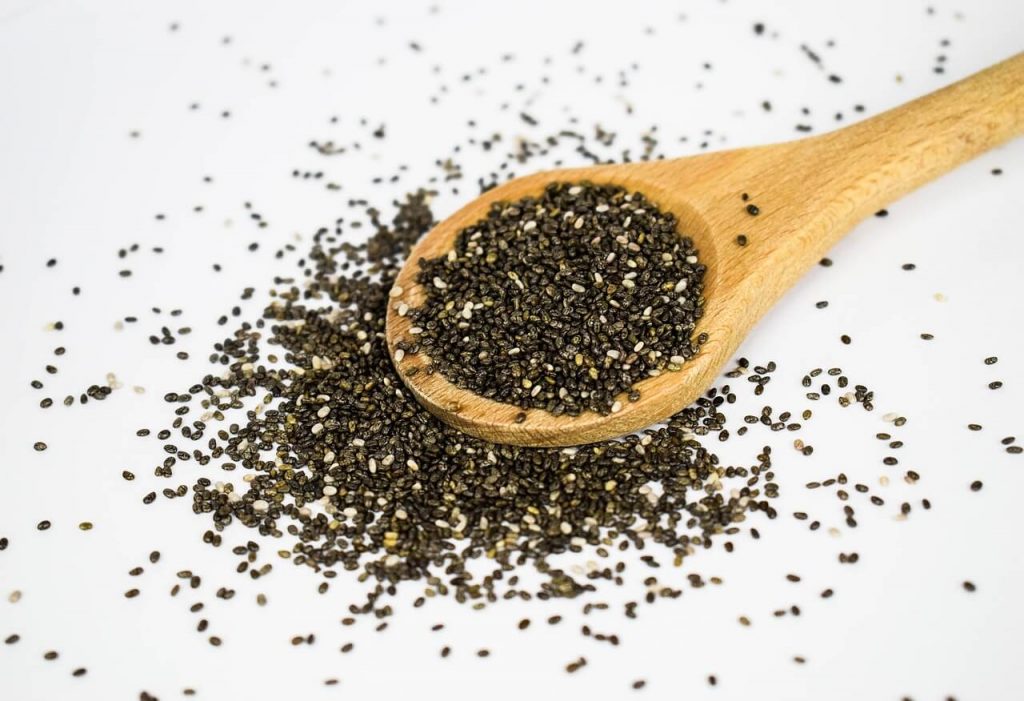 How to grind chia seeds
I find the easiest way to grind up chia seeds is in my coffee grinder. There are some people who keep two grinders, one actually for coffee and one for spices and seeds etc. I, however, am not one of those. To be sure, I make sure to clean it well, and it is a very versatile little gadget!
Adjust the grinder to finely ground and grind it up just like you would coffee beans. You can buy them already ground at some stores, but they can be hard to find.
Keto strawberry jam
Mix the ground chia seeds in thoroughly to combine and then set it to cool for at least 20 minutes. The chia seeds absorb the liquid and act as a gel for the jam.
Last, put it in a pretty jar (or regular jar) and refrigerate. The jam should keep in the refrigerator for up to a week. Now spread it on your favorite keto bread or biscuit cookie and enjoy!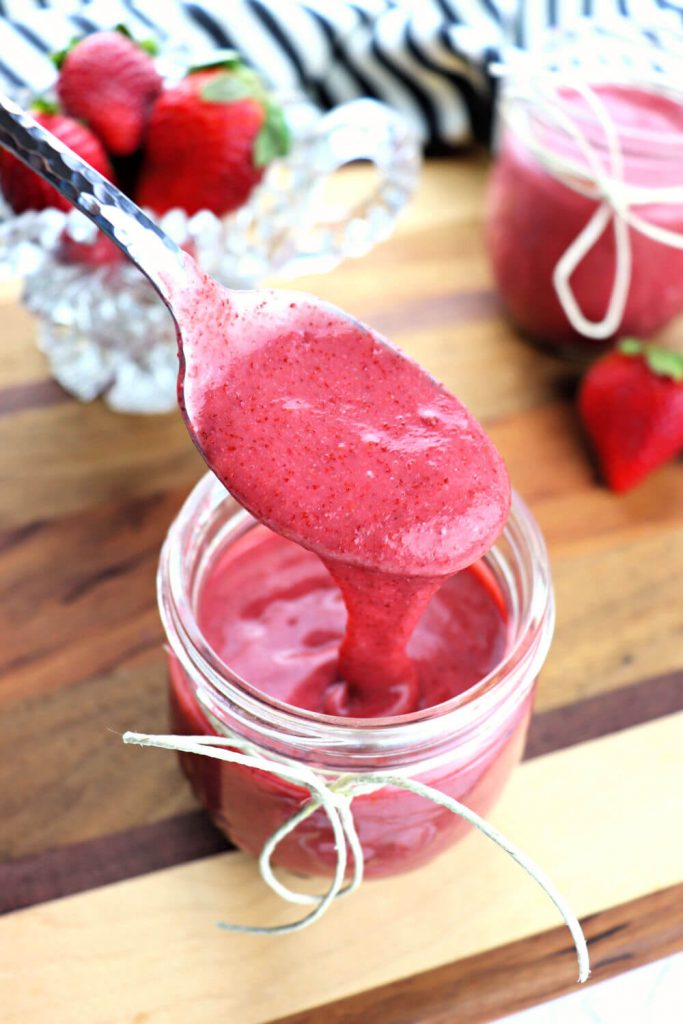 Jam on November took away the worries, It was like tasting summer…

– El Fuego
How to use a sugar-free strawberry jam
Do you love a good jam? The tang of the fruit is an awesome way to get the flavor in so many recipes. I've been known to eat it from the jar, on a keto butter cookie, and or in a jam tart.
Also, I have great plans to use it in dessert recipes in the future! What about you? What are your favorite ways to use jam?
It puts me in mind of an elaborate British tea or a visit to the Mad Hatter! Either is a good option, in my opinion. Enjoy!
Pin the recipe here!: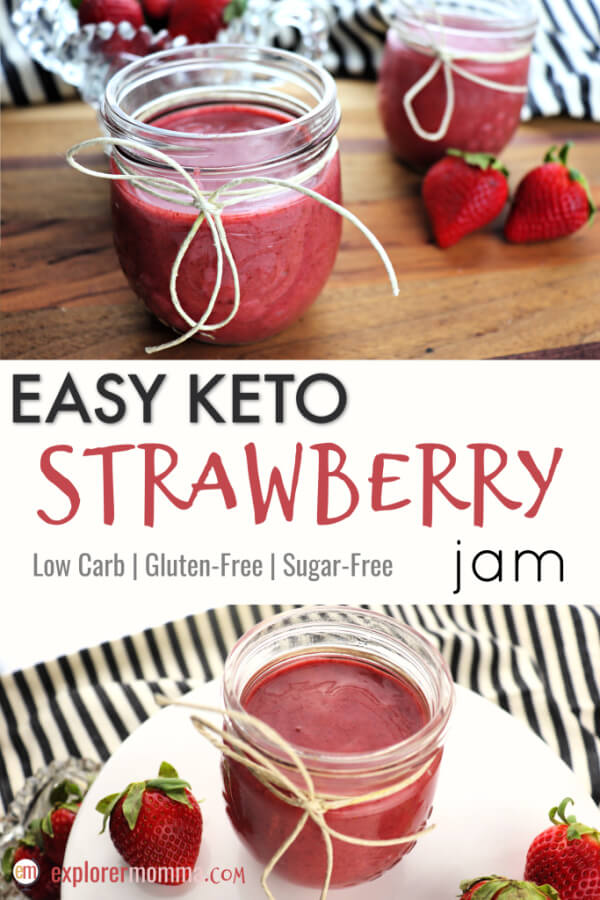 Tag me in your recipe pics on Instagram @explorermomma.
If you LOVE this recipe please consider giving it a five-star rating in the review area below!
🍰 Keto dessert recipes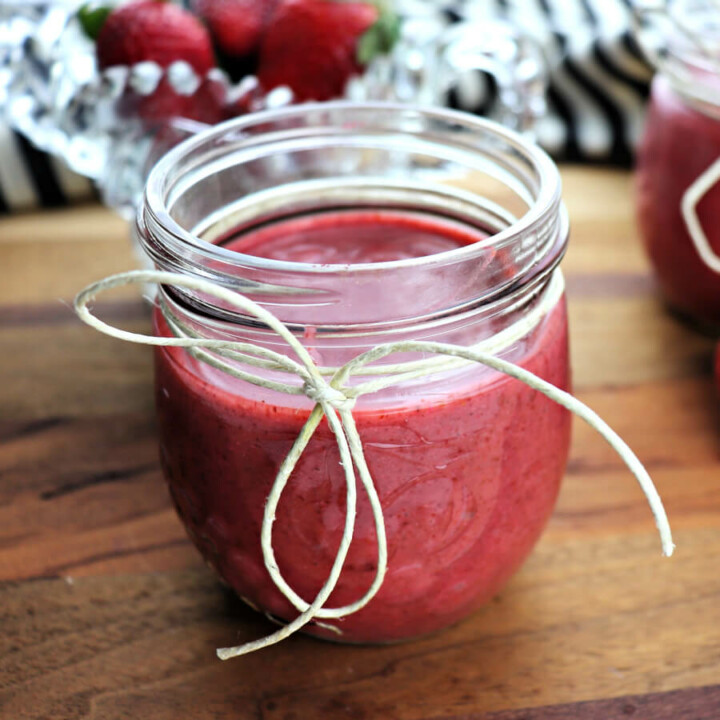 Keto Strawberry Jam
Super-easy Keto strawberry jam is sugar-free, bursting with flavor, and delicious! It's perfect on your favorite low carb bread with butter or in any recipe calling for jam.
Ingredients
16 oz strawberries
4 tbsp ground chia seeds
1/3 cup powdered sweetener (I use Swerve confectioners)
1 tsp lemon juice
Instructions
If using frozen strawberries, thaw them and put the entire 16 oz in a medium saucepan. If using fresh strawberries, put the strawberries in the saucepan along with 4 tablespoons of water.
Heat at a medium temperature and smash the strawberries down with a meat/potato masher. Whisk in the sweetener and lemon juice and simmer for 5 minutes or so.
Remove from the heat and add the ground chia seeds (whole chia seeds can be ground in a spice or coffee grinder). Mix thoroughly to combine and set to cool for at least 20 minutes.
Put in jars and refrigerate. Jam should keep in the refrigerator for up to a week.
Notes
Nutrition Facts
Servings 32.0 Amount Per Serving: 1 tablespoon Calories 14 Total Fat 1 g Saturated Fat 0 g Monounsaturated Fat 0 g Polyunsaturated Fat 0 g Trans Fat 0 g Cholesterol 0 mg Sodium 0 mg Potassium 32 mg Total Carbohydrate 2 g Dietary Fiber 1 g Sugars 1 g Protein 0 g
*Nutrition Facts per MyFitnessPal.com. For most accurate facts, calculate your own with the exact ingredients you use in the recipe.
Nutrition Information:
Yield:

32
Serving Size:

1 grams
Amount Per Serving:
Calories:

14
Unsaturated Fat:

0g
Nutrition Disclaimer
Please be aware I am not a medical specialist or nutritional professional. On this blog, I share recipes and what works for me. Please do not take anything on this blog as medical advice and always consult with your doctor before starting any diet or exercise program. I use MyFitnessPal.com to calculate nutrition facts as a courtesy to my readers, and I remove erythritol from the final carb count and net carb count because does not affect my own blood glucose levels.
This is as accurate as possible, but it's best to independently calculate nutritional information on your own with the specific ingredients you use. I expressly disclaim any and all liability of any kind with respect to any act or omission wholly or in part in reliance on anything contained in this website.